36 Stunning Back Tattoo Ideas for Women in 2023
Are you thinking about getting a big or small back tattoo? If yes, then let me tell you that it is a good way to turn your body into a work of art., and believe me you would want to see this art every day. Women getting tattoos on their backs has always been cool. There's no question that Women look great with tattoos on their backs, whether they're big or small. and no matter what style of tattoo it is.
Top 36 Back Tattoo Ideas for Women
The 36 beautiful back tattoos for women below will give you a lot of ideas for your own tattoo, no matter how big or small it is. Take these pictures to your tattoo artist or shop. They will work on making these beautiful tattoo ideas come to life on your back.
1. Bride Back Tattoo Ideas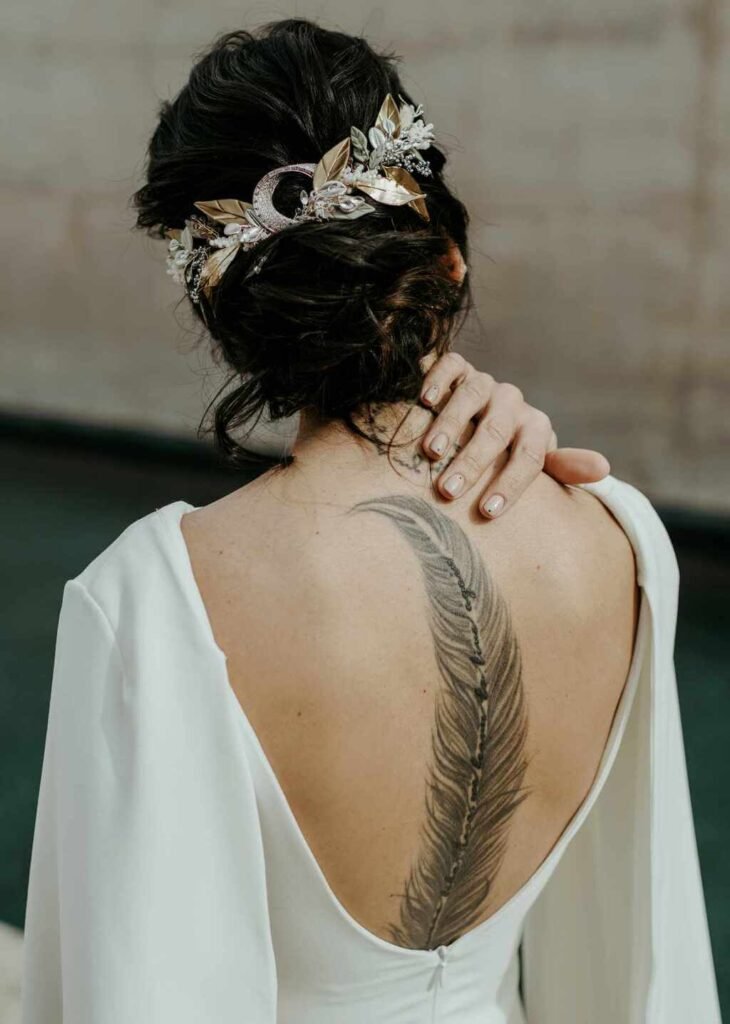 Cat was a belly dancer and Tim was an astronaut instead of wearing wedding clothes. After that, Cat got it tattooed on her back. What love!
2. Full Back Tattoos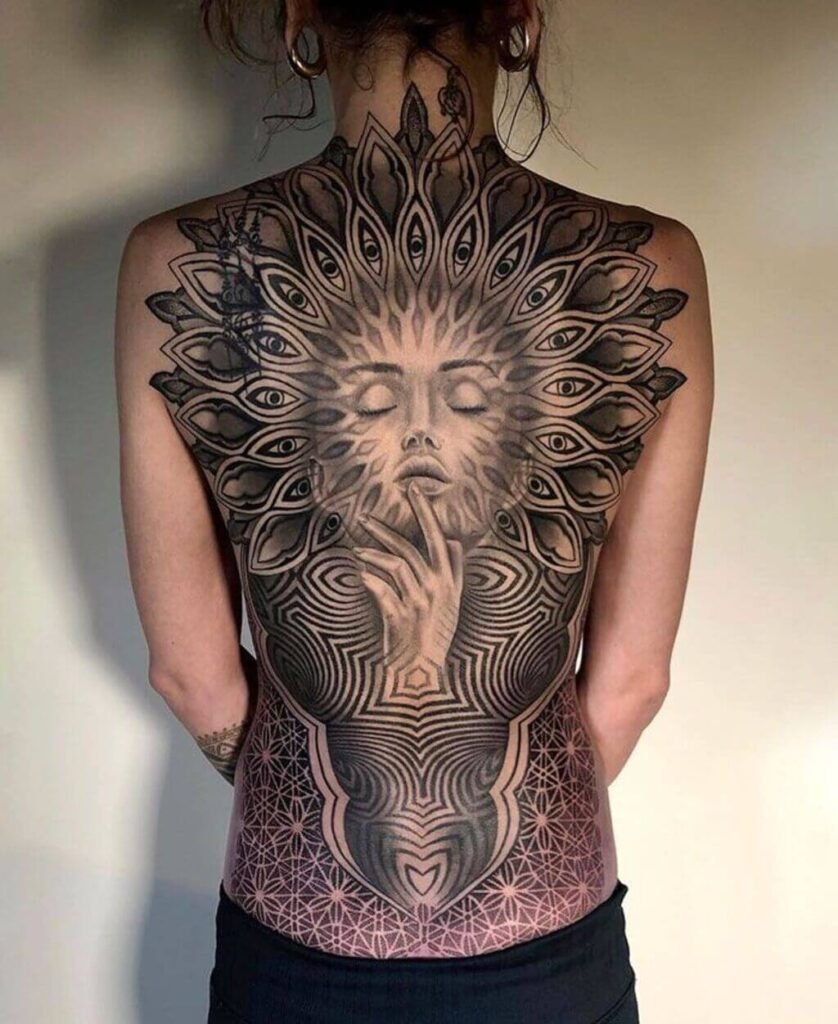 These tattoos can be of any subject you want. They can be of scenery, everyday scenes, abstract art, or something else. Most of the time, these works of art stand out because they are big and have a lot of.
3. Tribal Back Tattoo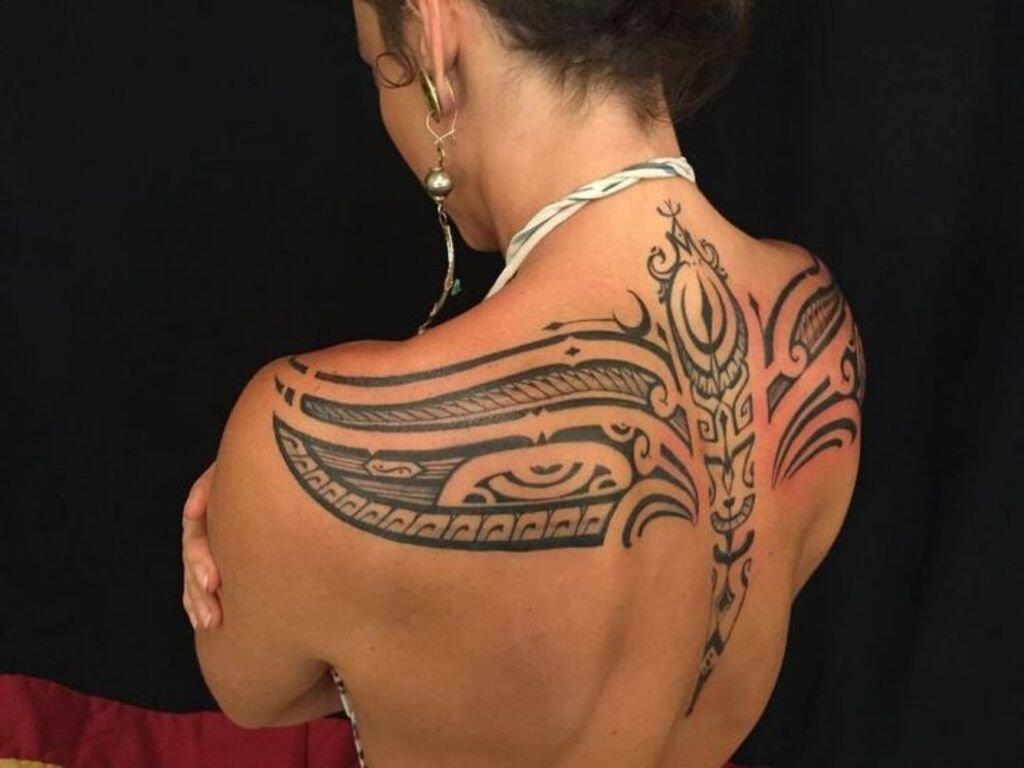 Most of the time, getting a tribal tattoo is linked to a rite of passage or a big change.
Modern designs come in a lot of different styles and can often be worn by people who aren't part of the cultural society.
Shoulders, arms, and sides are the most common places for tribal tattoos, but the back is often where they look best.
4. Dragon back tattoos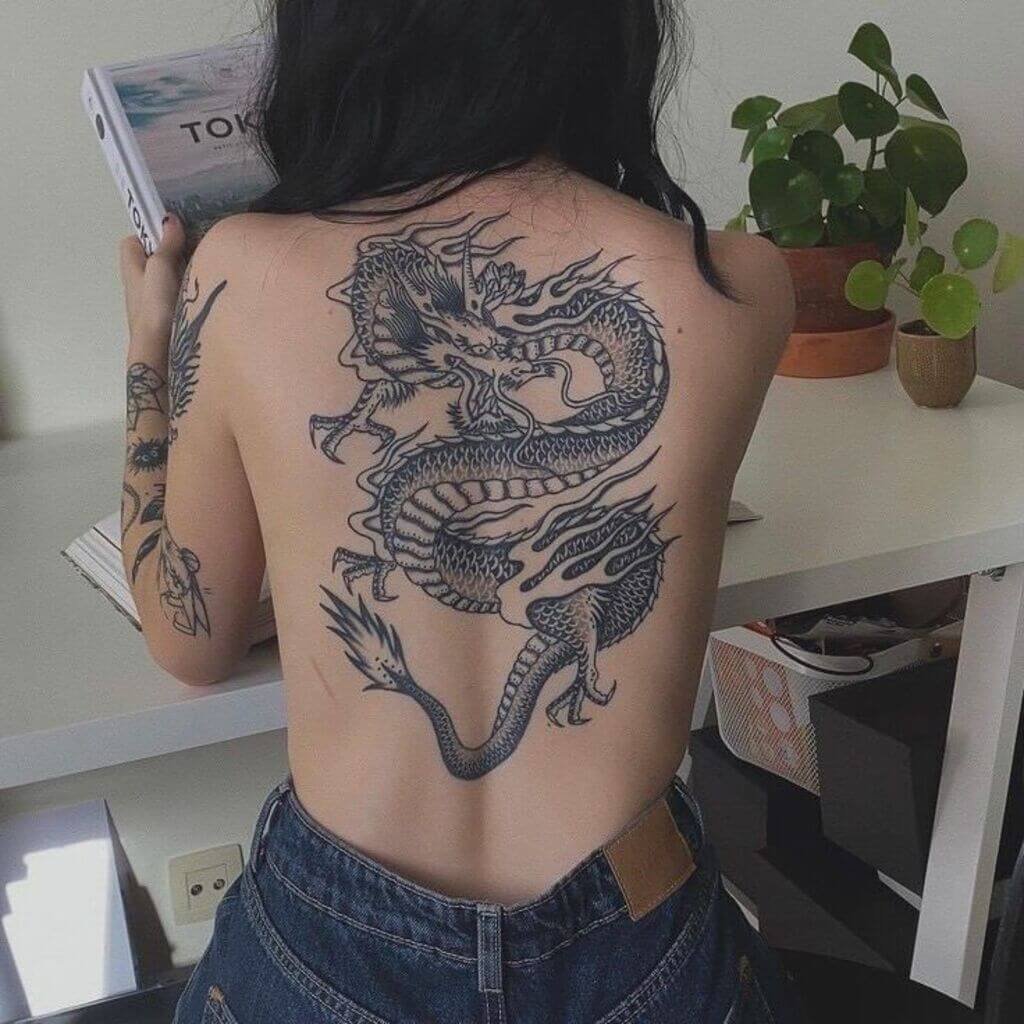 In different countries, dragons stand for different things. People in the west think of them as bad and bad for the world. In the east, on the other hand, they stand for royalty and power.
5. Arrow Tattoos
Women with these arrow-shaped back tattoos look very beautiful and seductive. For every woman, the lines show how important it is to have a goal in life.
6. Small Back Tattoo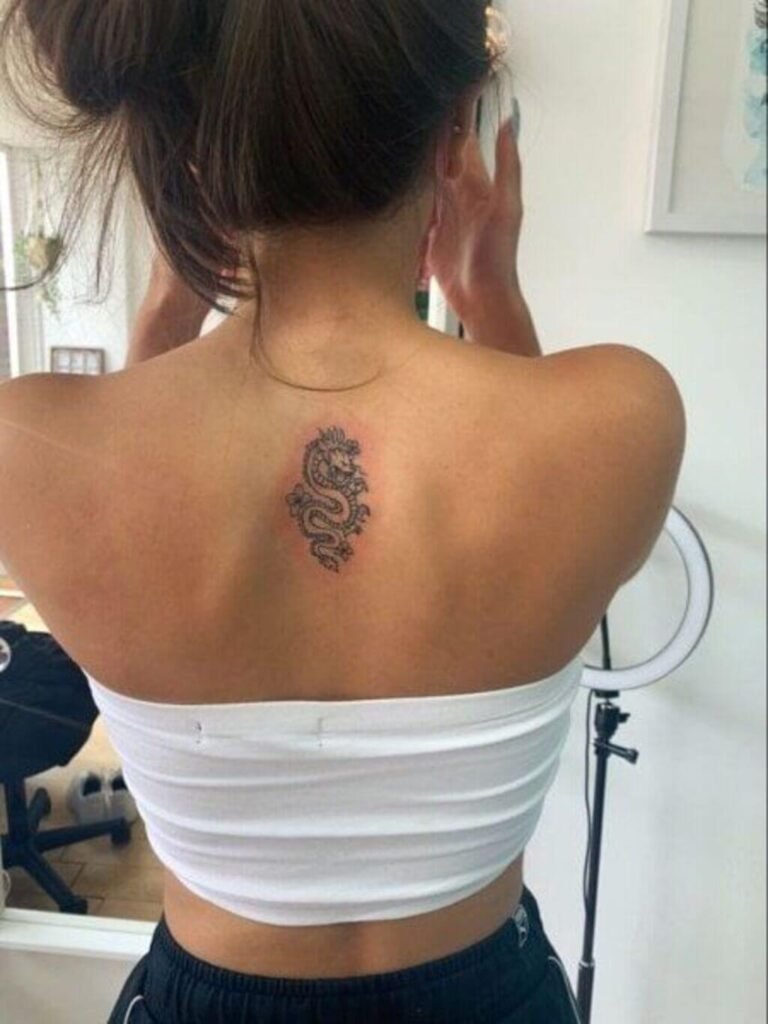 Due to the flat surface and space, your back is a great place for big tattoos. However, smaller patterns also look good there. When you want a simple, low-key look or just want to get inked, a small back tattoo might be a good choice.
7. Angel Back Tattoo
Most of the women who chose this angel back tattoo were sure of themselves. They pick it because it reminds them of a good life and a strong mind.
8. Lotus Back Tattoos for Women
Women can get lotus back tattoos in either black and white or colored ink. You can even be creative and try both.
One of the best things about lotus patterns is that they can be as simple as lines or as complicated as you can imagine.
9. Wings Back Tattoo
Wing tattoos often have a spiritual meaning. They can mean breaking free from problems and failures or becoming a better or more "angelic" person.
10. Simplicity of Art
Women's simple art tattoos are very beautiful and interesting. For viewers, simplicity is an important and interesting feature. Even artists think that simple art tattoos are romantic and beautiful. The mark on her back is something you can't get rid of.
11. Tree Tattoo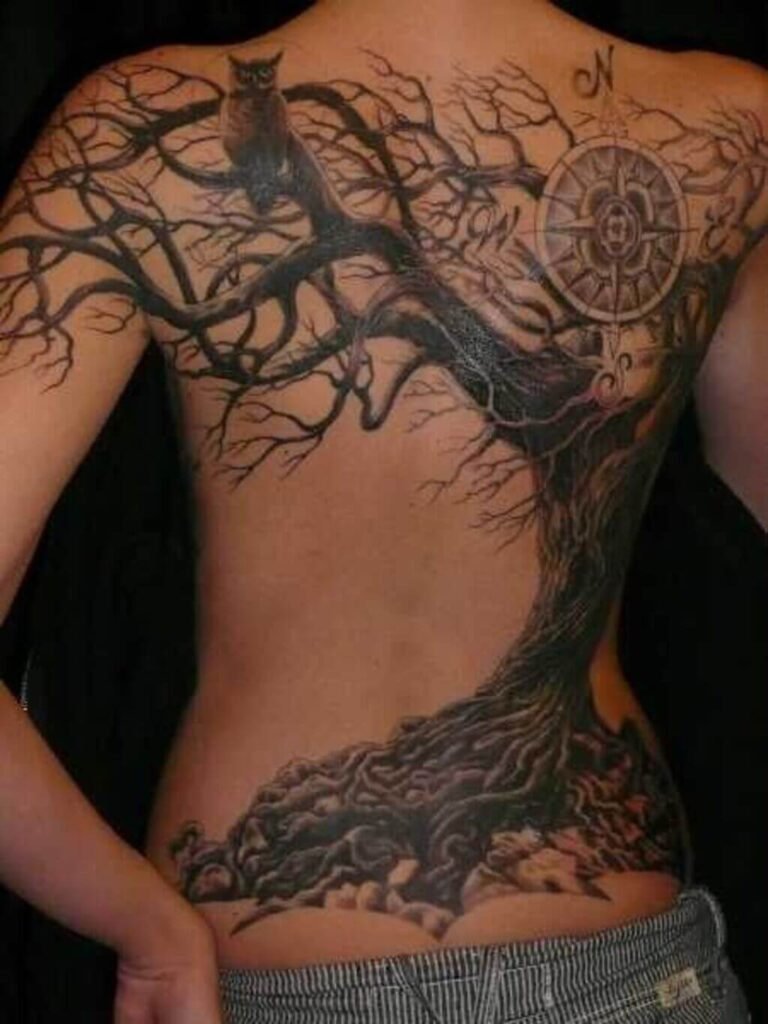 The tree in body art represents food, life after death, fertility, and freedom.
12. Simple Rose Sward Back Tattoos
The tattoo can stay black and white, but since it's a simple shape, you can add some colors to make it look better. You can put one simple design on your shoulder blade or spread out several simple designs on different parts of your back.
13. Small Bird Back Tattoos
Most women who get back tattoos choose birds, which is cool because birds look good on the back. They stand for freedom and going places.
14. Tree and Sun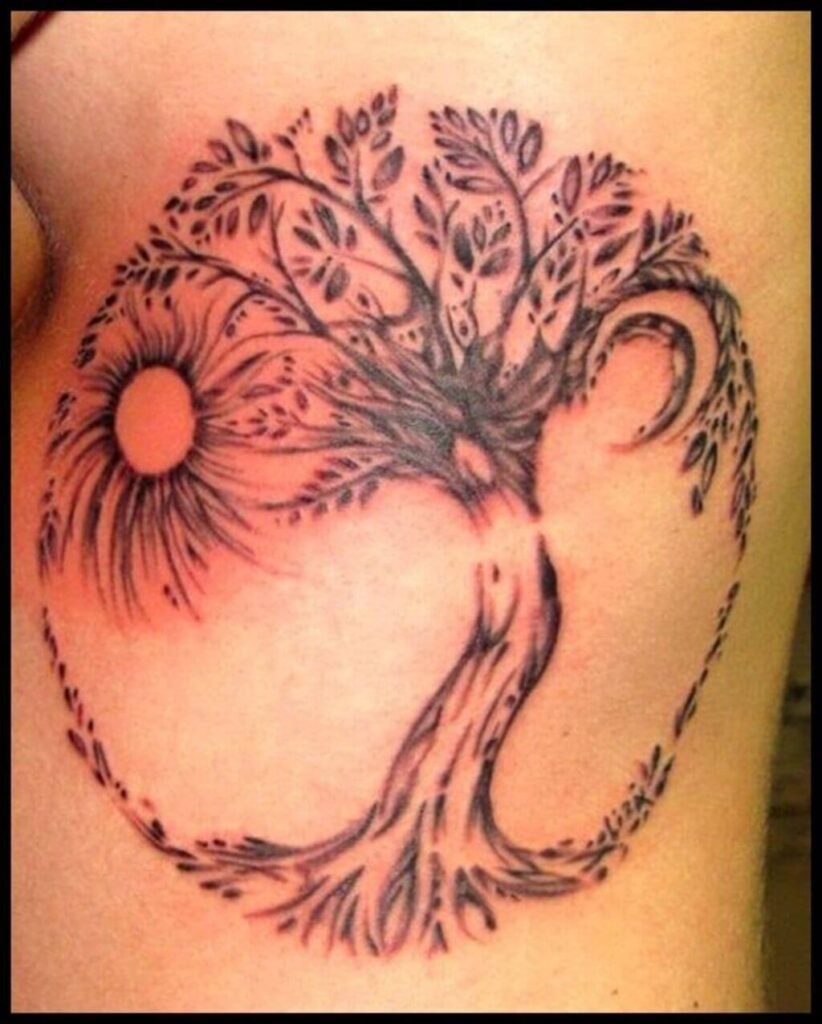 This beautiful red tattoo was done by Daemon Rowanchilde at Urban Primitive, which is outside of Toronto. It was created with Hadley Taylor, who has the beautiful art.
15. Blue dragon tattoo on the upper back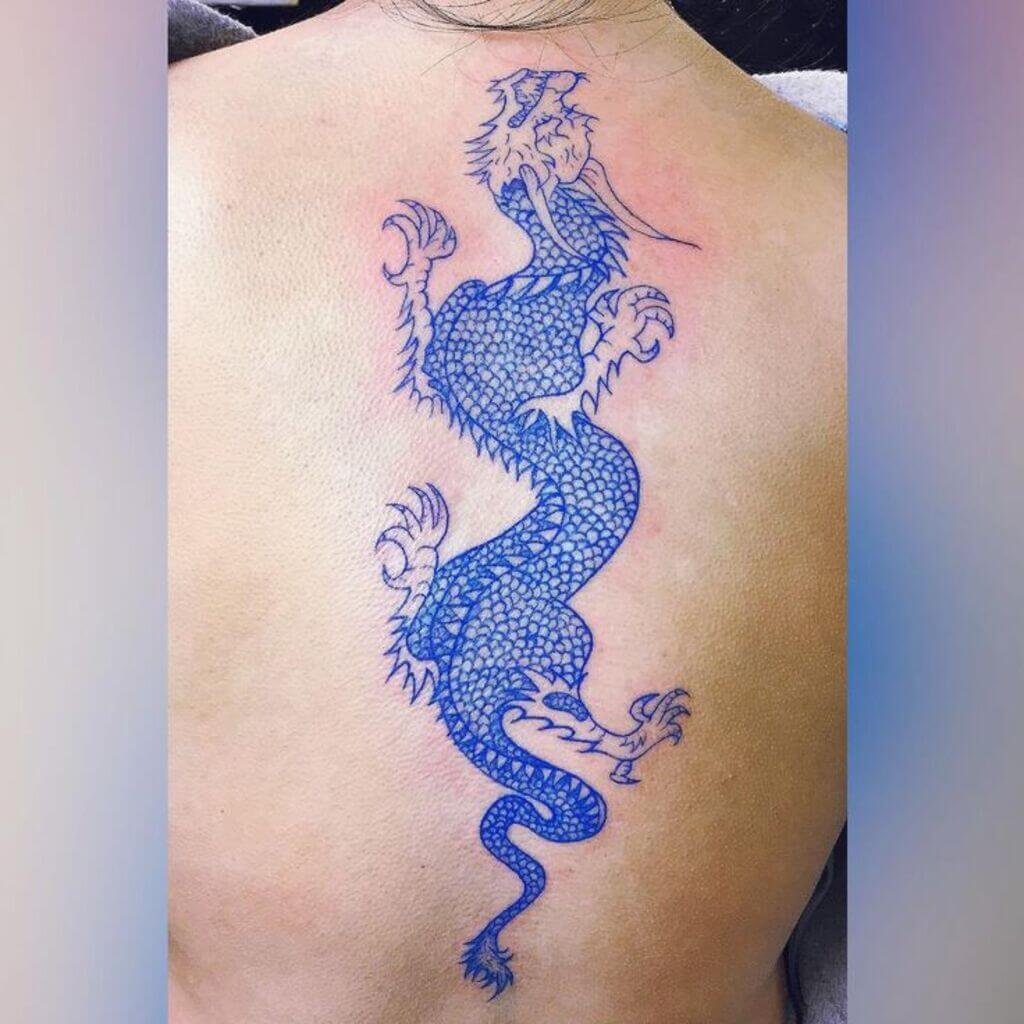 There are just the right amount of features in this dragon outline tattoo for it to stand out. The artist could have made the dragon completely black, but girls would not like it that dark.
16. Spine Tattoo
There is something dangerous and strange about the spine tattoo. You can use any straight line design, like Morse code, moon phases, a quote, or a tree.
17. Phoenix Back Tattoo
There is something about the phoenix that many guys can relate to. In myths, the strong, magical bird comes back to life from the ashes, stronger than ever.
18. Red & Black Rose Back Tattoos for Women
The most popular tattoo style right now is the red and black rose. Many people like them and try them on different parts of their bodies.
The most common tattoo design for women is a rose. In order to get the best rose tattoos, you should ask your tattoo artist to push themselves to the limit.
19. Fairy Back Tattoos for Women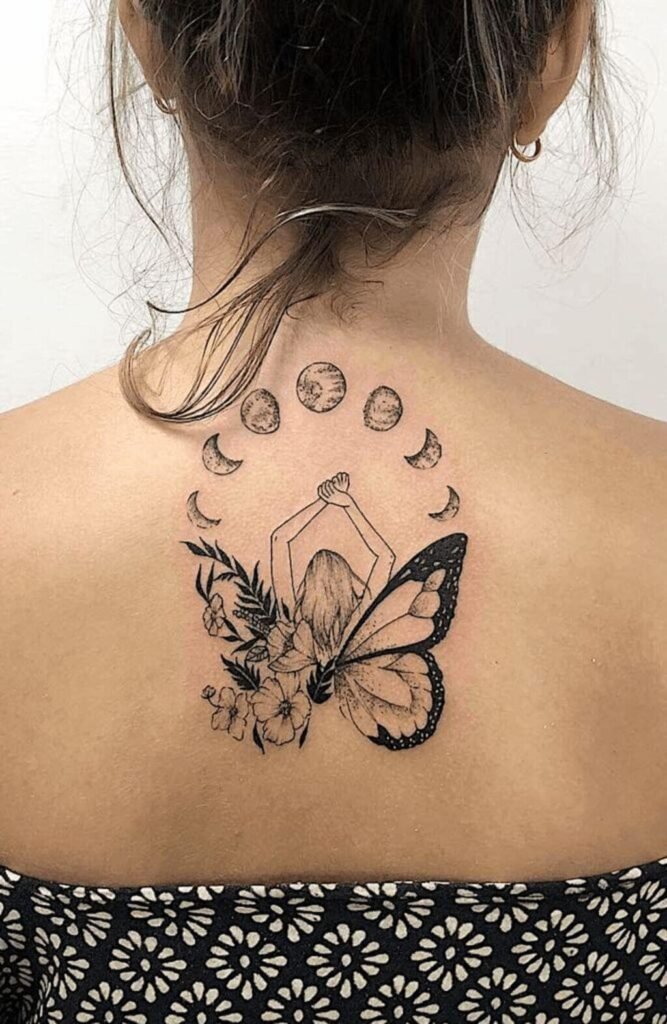 A lot of women think it's better to get a Spartan tattoo on their lower back. While many skilled tattoo artists think every woman has a great lower back.
If you want to give your fairy tattoo more depth and life, you can play around with different colors and shades. Give your artist a chance to be artistic and let their ideas flow over to you.
20. Heart Back Tattoos for Women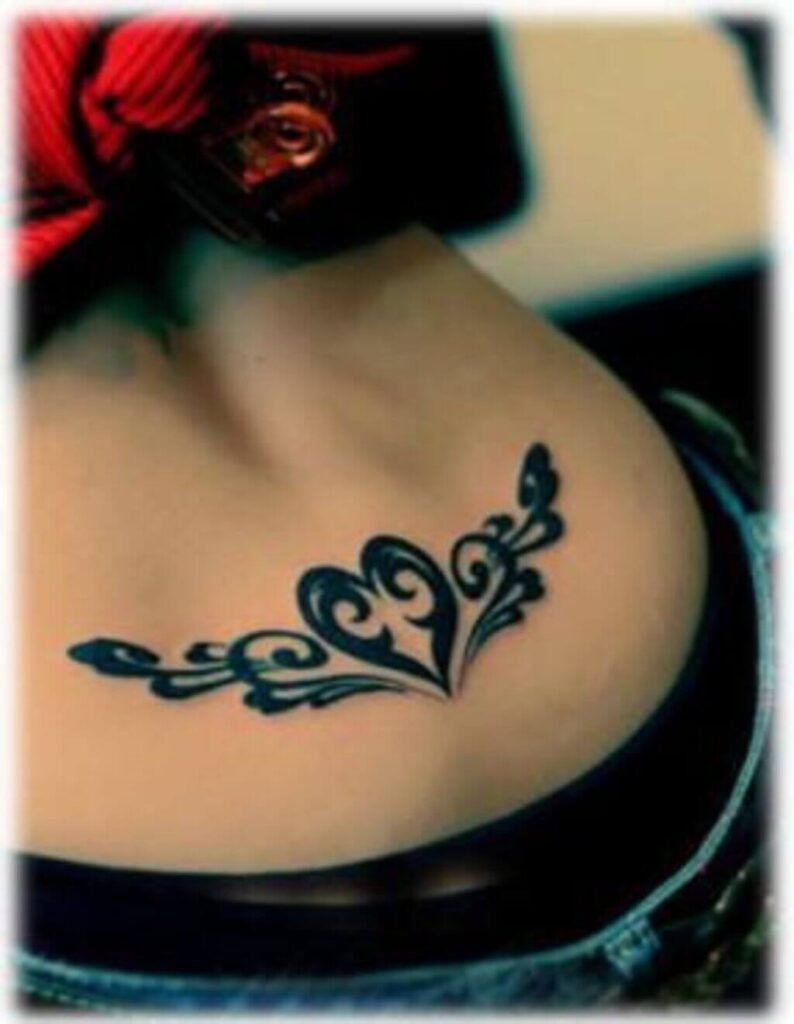 Most of the time, girls and women like getting a heart on their upper back. The watch has a heart shape on it.
Red, white, and black are the three colors that you should use. Pay attention to the small details that will make the heart look good.
For the back tattoos, you can ask your artist to come up with some interesting heart patterns.
21. Geometric Back Tattoos
22. Feather Tattoo
23. Back and Half Sleeve Tattoo
24. Blue Snake and Blood Moon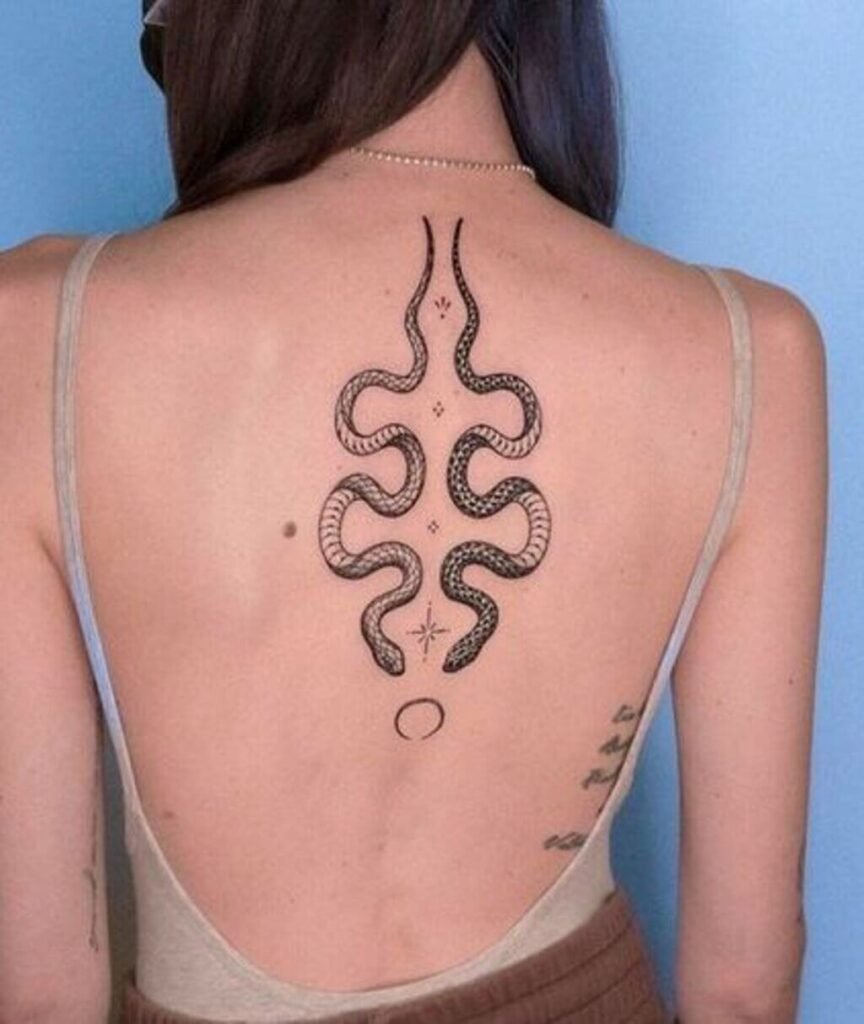 25. Snake Back Tattoos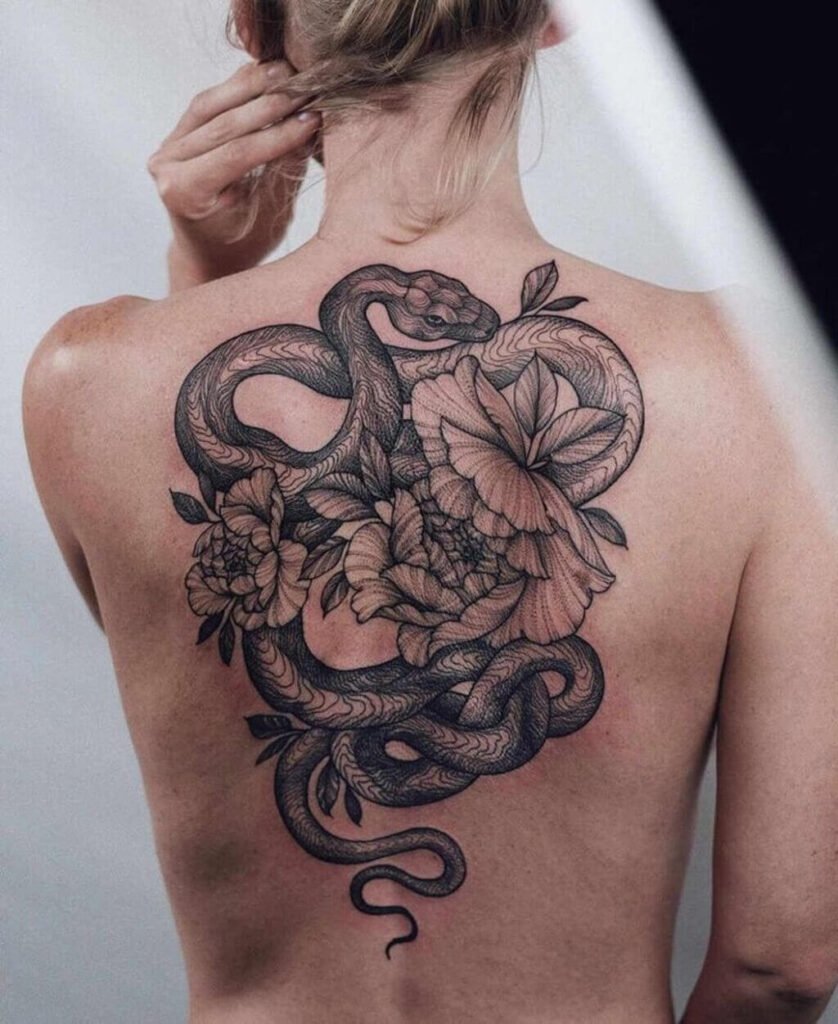 26. Compass Back Tattoo
27. Back and Neck Tattoo
28. Pink Floral Moon and Butterfly Back Tattoos for Women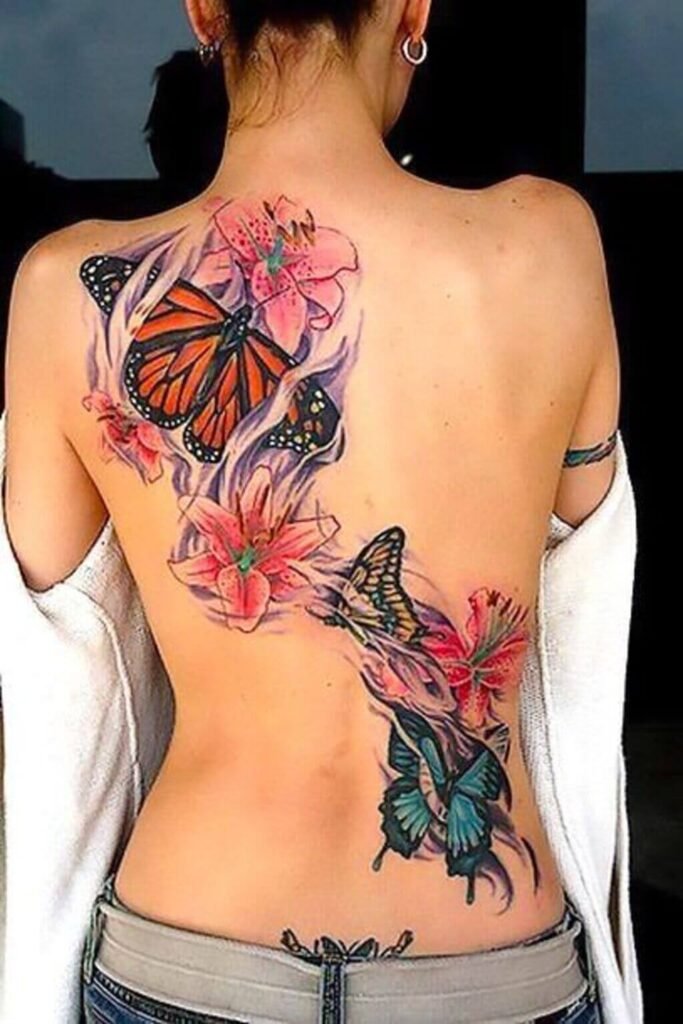 29. Eagle Back Tattoo
30. Quote Back Tattoo
31. Skull Back Tattoo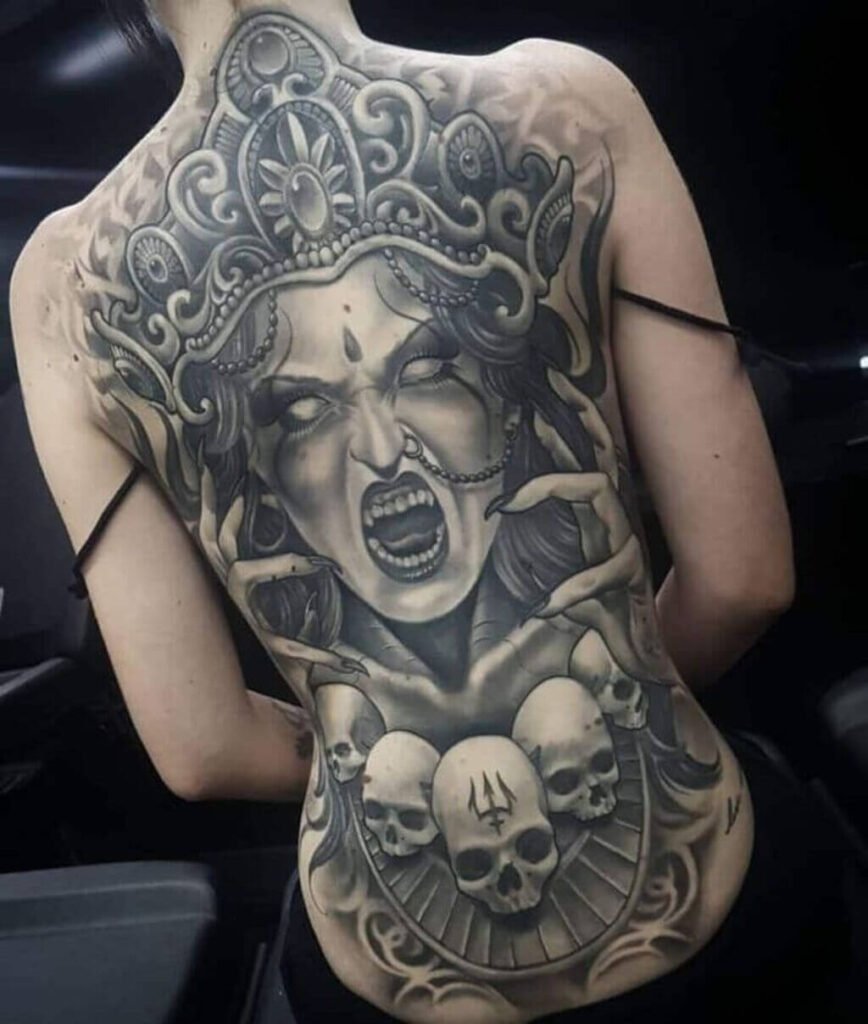 32. Wolf Back Tattoo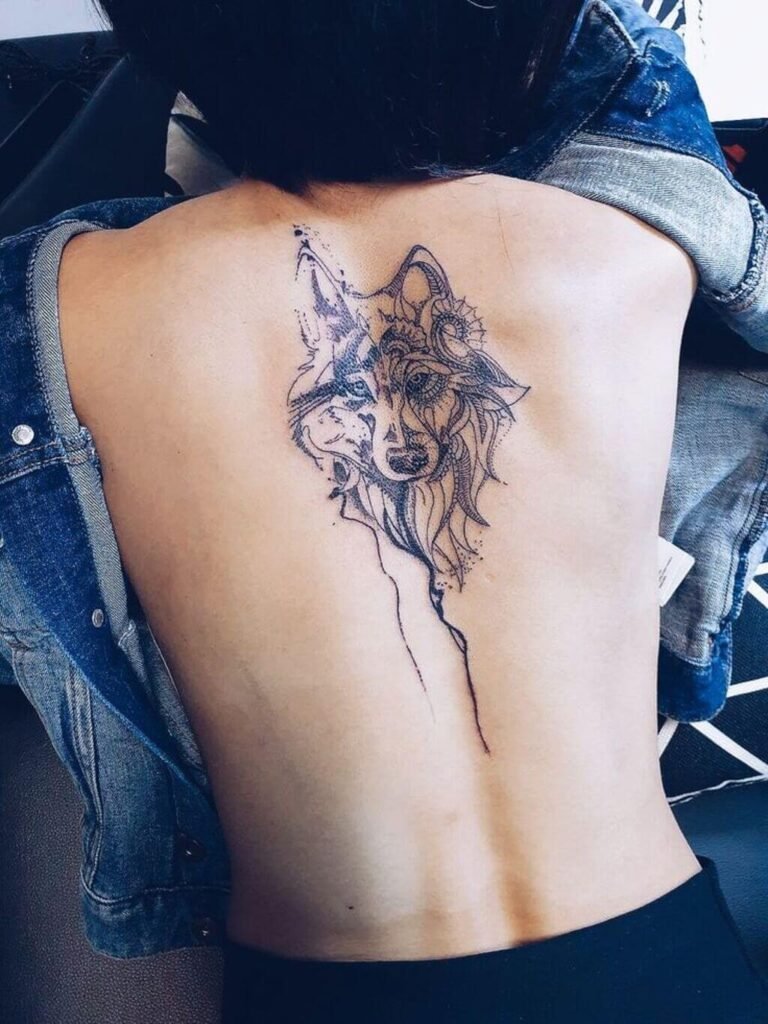 33. Circle the Tree Back Tattoos for Women
34. Full Back Dragon and Eagle Tattoo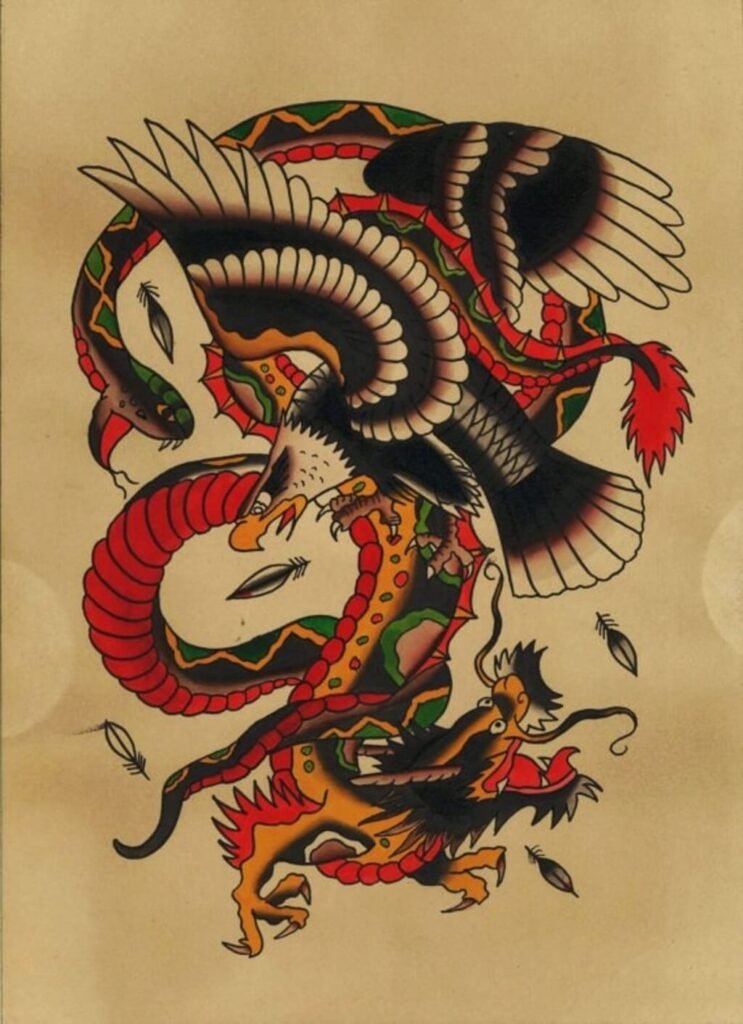 35. Butterfly Back Tattoos for Women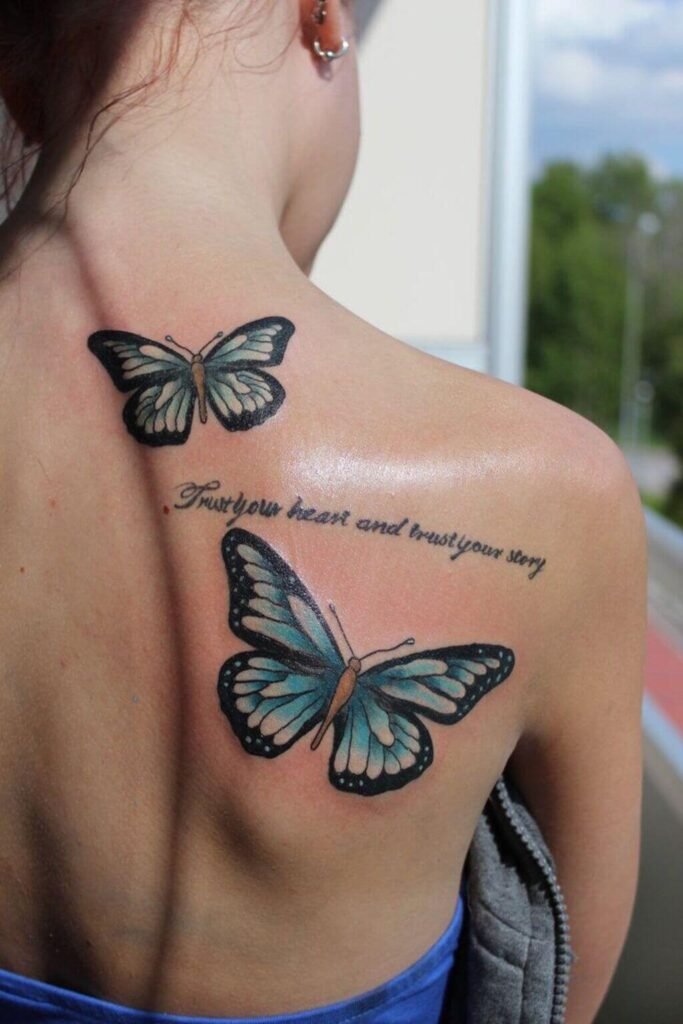 36. Butterfly Spine Tattoo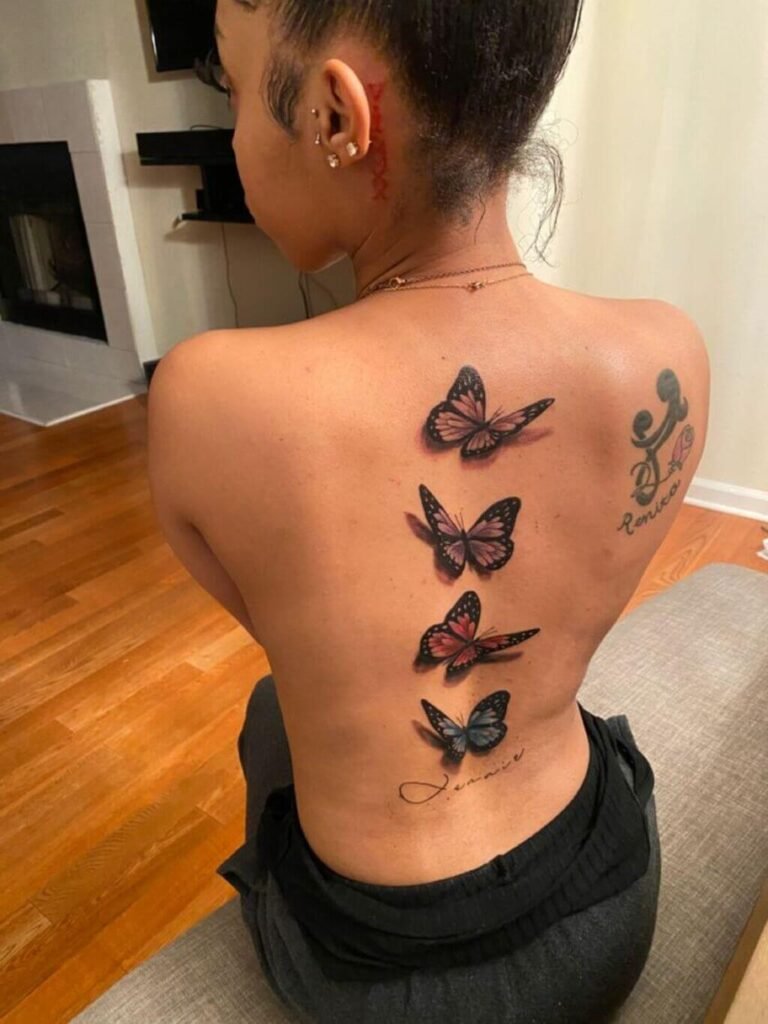 Visit Travel World Fashion for more ideas on stylish tattoos.
You May Also Like:
25+ Inspiring and Stylish Praying Hands Tattoo Designs
30+ Cool Patchwork Tattoos Ideas To Get Inspired
Butterfly Tattoo Meaning and Symbolism