How to Make Tent Camping More Comfortable
Tent camping is one of the most amazing experiences that helps to connect anyone to nature. But this amazing experience can be ruined if you don't sleep properly at night or find something unpleasant around your campsite.
This can happen for different reasons, including choosing the wrong campsite and gear, having unhygienic food, and many more. If you ever undergo such situations, the only question you may be looking for is: How to make tent camping more comfortable?
Well, by employing some simple techniques, you can make your tent camping comfortable easily. The techniques are choosing the ideal campsite, having the right gear, eating hygienic food, and so on.
If you like to explore more details about these techniques, go through the entire context.
How to Make Tent Camping More Comfortable?
It is crucial to take all necessary actions to feel comfortable at the campsite to get the most out of your tent camping. Unfortunately, most campers don't know how they can do that.
That's why we have talked about some effective techniques to make your tent camping comfortable. Let's see what these are:
Locate A Good Campsite
Choosing the right campsite is the most important thing for tent camping. In that case, you can locate a place nearer to nature that will help to make your trip most adventurous.
Since mosquitoes, flies, and other insects can ruin your camping experience, you have to avoid choosing a place loaded with different bugs.
However, if you're planning to spend a sweet moment with your family, you can select a campsite near national parks, safari parks, and any other parks.
Besides, if you like to perform different activities like swimming, hiking, or exploring, you should choose a campsite that offers these activities.
Choose The Right Tent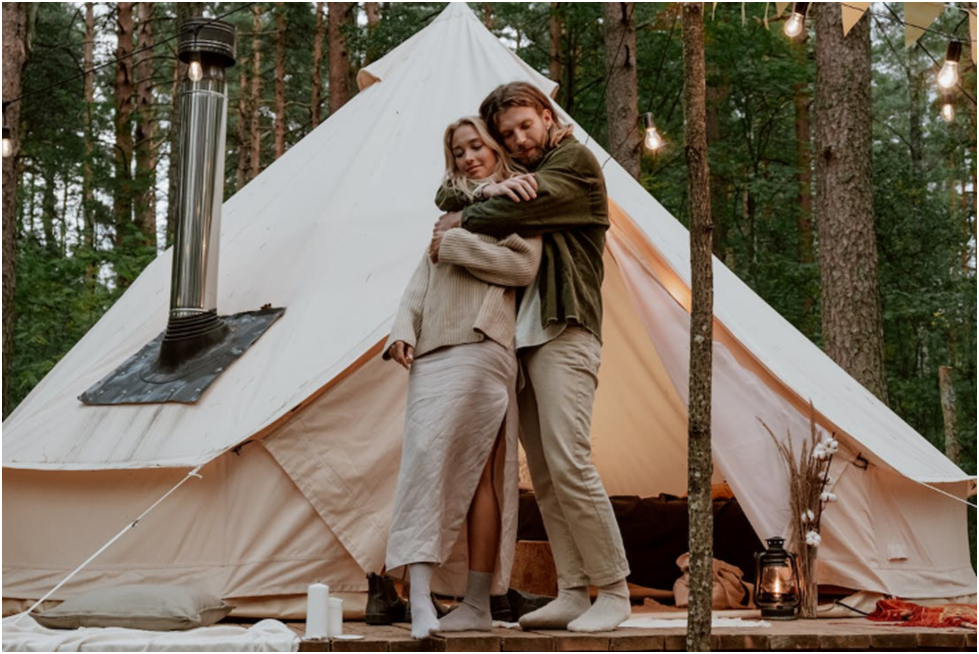 How much comfort you will get from camping mainly depends on your tent. If you have a tent that is not ideal for you and the campsite, you may not get your desired comfort.
In that case, having a tent spacious enough, ventilated, and convenient to set up will help you to get the most out of your tent camping experience.
Besides, you have to ensure your tent will protect you from water during the rainy season and hot sun rays on a sunny day.
However, you will find some tents with AC ports which are ideal for summer camping. Having the best tents for air conditioning will help you stay cool, even if the sun supplies scorching heat.
Carry Portable Power To Charge Your Electronics Devices
It is common to come camping with your necessary gear, including a mobile phone, laptop, and camera. Unfortunately, few campsites have any power source to charge electronic devices.
So, you should carry a portable power device to charge all your important devices. However, you can also bring a portable solar panel if you want. The solar panel will work as a power station to charge your device, using the energy from the sun.
Carry Eye Masks And Ear Plugs
For those who like to sleep in the morning or during the day, an eye mask can be a good solution to prevent excess light. This will create a barrier between your eyes and sunlight to enter light, making you sleep comfortably, even in daylight.
In contrast, earplugs prevent your ear from hearing all the noise outside. It will ensure you won't hear unpleasant sounds around your campsite, including birds chirping, making you sleep well.
Prepare The Ground Before Setting Up Tent
When setting up a tent, ensure no rocks and twigs are on the ground. This is because a single rock can discomfort you while sleeping on the tent floor.
For that, it is better to pick up all rocks and twigs to make the ground flat. However, you can use foam titles if the ground has different uneven spots.
This foam helps to make your tent floor flat as well as prevent transmitting cold moisture going into your bed. The good thing is foam titles are inexpensive and easy to transport.
Ensure sufficient Light And Heat
Even if you're planning to go to a camp in summer, you also have to consider the cold and the darkness. This is because sleeping in the campsite is completely different from sleeping between four walls.
For that, you should bring warm clothes, sleeping bags, and mattresses. Typically, mattresses will help you to prevent being in contact with soil moisture.
Not only that, but you have to also ensure enough light in your campsite. In that case, you can bring charging lights and lanterns to make enough ambiance at night.
Besides, it is also necessary to carry some small accessories like pocket knives, a compass, lighters, matches, and different cords, while going to a camp.
Wear Loose And Comfortable Clothes
You should bring and wear the right clothes, depending on the weather condition at the campsite. If you camp in winter, you have to wear warm clothes that make you feel less cold. Besides, the temperature can be down at night, making you feel colder if you don't wear warm clothes.
In contrast, for summer camping, you have to wear loose clothes that make you feel comfortable. Wearing gym shorts, underwear, and a t-shirt is the right choice for summer camping.
Cook On The Campsite
If you plan to cook food independently, don't forget to carry cooking instruments to the campsite. To cook your food at the campsite, you will need stoves, pots and pans, cylinders, kettles, plates, and cutlery.
You will find different mini stoves on the market specially designed to cook at the campsite. Whatever you bring to make your food, you should cook outside the tent. This is because single ash can cause a fully burnt tent.
However, some camping tents come with a veranda where you can store all the indoor kitchen instruments to protect from the rain.
Maintain Your Regular Routine
Just because of the camping, you should not break your regular routine. Although it is difficult to maintain your daily routine properly at the campsite, you should try to get up and go to bed on your regular schedule.
If you break the regular schedule, you may feel dizzy all day. For example, if you are used to having a cup of coffee or tea after getting up from bed, you should make your own coffee to drink at the campsite.
Typically, sometimes a little thing can help to improve overall comfort. The same rule should be followed at night, including going to bed at the same time that you normally follow.
Some Additional Tips To Make Tent Camping More Comfortable
By following the things discussed above, you can make your tent camping experience more comfortable. For your ease, here we have outlined some more tips to help make your camping easier and more comfortable.
Sprayer Cleaner: Bring a sprayer cleaner that can be used for all-purpose cleans. This is because you may not get enough water at the campsite. A sprayer cleaner will help you to clean anything with simple wiping.
Bin: It is not good to throw any waste around the campsite. For that, you can use a basket to keep the campsite clean. However, if you use a bin, you should cover the bin with the lid so flies and other bugs stay away.
A Pair Of Sandals: Although bringing a pair of sandals is common at the campsite, most people forget. You may not want to wear boots all day at the campsite. In that case, a pair of sandals will help you to walk around your campsite comfortably.
Toilet: Without a clean and accessible toilet, your tent camping can't be comfortable. So, you should choose a campsite where you will get a hygienic shower with a clean toilet. Additionally, you should carry enough toiletries so that you don't have to run for them in the middle of the camping.
Chair and Sturdy Table: It is difficult to spend all day lying in bed. You may need to sit sometimes. For that, you should bring a lightweight and portable chair and a sturdy table to the campsite. These will also help you to prepare your meal at the campsite easily.
Conclusion
Comfort should be the first priority while making any tent camping. This is because you can't get the most out of your camping enjoyment without comfort.
Unfortunately, most campers are unaware of how to make tent camping more comfortable. That's why we have discussed all the possible techniques to make tent camping more comfortable.
In general, choosing a good campsite, bringing the gear and instruments, and having hygienic food are the most necessary things to get a comfortable tent camping. Besides these things, there are some others you should consider that we have outlined in this context.