How to Personalise Work Uniforms That Reflect Your Company Image
You've done your research and are aware of the many advantages a custom work uniform may offer your business. It encourages cooperation, improves the customer experience, promotes brand trust, and does much more. Now, the time has arrived to design your business's uniform. But how do you even get started? What can you do to ensure you pick something that's a success and not a failure?
Customised workwear may greatly improve the way people see your company, but if it's poorly made, the opposite might also be true. So, how can you guarantee that the uniform design for your business yields only positive results while avoiding a negative staff experience?
Find a Reputable Uniform Supplier
There are several reasons why finding a good supplier is crucial. You want to be able to buy work clothes in a variety of sizes, and you want them to be of quality. You don't want to order something only to learn some staff members' sizes aren't available.
Finding a reputable uniform supplier where you can buy work clothes with confidence feeds into a further consistent design factor that companies frequently ignore: the upkeep of the uniform over time. Your employees' uniforms will experience wear and tear. If you're in the hospitality industry, they will also be susceptible to spills and stains. So, a reliable supplier means you can place replacement orders quickly and easily. Nevertheless, be ready just in case. Keep extras of your main sizes on hand to ensure that there is always enough for everyone.
Make Sure Your Uniform Is Appropriate for the Job
While having a good-looking uniform is crucial, don't forget that it should also have a functional purpose; it must be appropriate for the task at hand and convey the right message to consumers. 
Due to these reasons, different work responsibilities could call for specific uniform requirements. For instance, you would want the management of a restaurant to wear a distinctive uniform so that if a customer has a complaint, they can quickly identify who can assist. The bar personnel might need shorter aprons because they move around a lot. Hotel housekeeping is a physically demanding profession, so ensure the outfit can withstand the demands of the position.
Avoid Unisex Outfits
You'll want to avoid choosing uniforms designed to be one-size-fits-all. Decreased comfort is one reason for this. What works for one employee may not work for another. Your staff's ability to perform at work may also suffer if their uniform restricts their movement.
Ideally, the uniform should fit snugly. Having garments fitted to a specific body shape and size is one of the best methods to achieve that.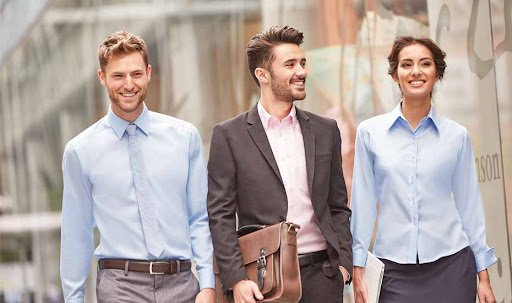 Source: piming.com
Get to Know Your Employees and Involve Them in the Desing Process 
It's crucial to consider your organisation's demographics. Is your staff older, younger, or a combination? Uniforms should not only flatter your employees but also provide them with something they enjoy wearing and make them feel good. Providing your team with a uniform that is breathable, fits well, and looks good will help boost morale.
The people who will be wearing the uniform, your employees, are best suited to explain what a regular workday comprises. Why wouldn't you ask them for advice?
Request feedback from your staff about the usefulness and style of the uniforms. When you have prototypes of potential designs, collect their suggestions and ask for comments. Employees should feel both physically and emotionally at ease in their work attire. You might be able to determine which textiles are the softest, but you wouldn't know some employee feels self-conscious wearing short sleeves, for example.
Also Read: 30+ Dark Academia Fashion Brands You Need To Check Out Today
Choose Fabric Carefully
You'll want your uniforms to last as long as possible in order to minimise the cost and environmental effect of having to repair or replace them. Select materials of superior quality that are comfortable to wear, don't wrinkle easily, wash well, and are strong enough to withstand daily wear. If you choose colourful uniforms, make sure they are resistant to fading.
Company uniforms can bring a team together by giving each employee a distinctive brand appearance. If your employees are representing your company in uniforms that have faded to varied degrees, it won't be a professional one. The fabric you select will ultimately rely on the appearance you want to achieve and the assignments you give your staff. If you buy from a reliable source, they can advise you on the finest textiles for your particular needs.
Aim to Have Your Brand Reflected in Your New Company's Uniforms
Your reputation is your brand. Your sales are governed by your reputation. Your profit is determined by your sales data. So make sure that your new custom uniforms complement the branding of your company as a whole. 
It makes no sense to select vivid red branded t-shirts for your new uniform when your signage, emblem, and marketing materials are purple. Make sure the design of your uniforms supports your marketing strategy. The consistency of colours is essential to branding success. Consistent branding is among the biggest mistakes you can make while attempting to successfully grow a firm and corporate identity.
Include Your Company Logo On the Uniform
Having your company's logo embroidered on your uniform could significantly change the public's perception of your personnel. Logo options, name tags and accessories are examples of minor touches that count. These may make or break a look and either enhance your brand's reputation or impact it negatively.
Allow Employees Wiggle Room to Accessorise
This can be an effective means for your employees to show their individual sense of style. If their selections fall within the parameters of the employee's uniform, this can let employees make uniforms their own. Statement necklaces, earrings, and other jewellery are options for women to enhance their uniforms. They can also decide to wear bright shoes in a variety of designs, which will make their entire outfit stand out. 
Men can experiment with various socks, shoes, and belts. These many style recommendations, if followed correctly, will boost your workers' self-esteem while they are at work.
For more fashion related information visit Travel World Fashion.