Spectacular Angel Wings Tattoo Design For Men & Women
Angels are often thought to protect and help people, and they are associated with purity and innocence. For these reasons, both men and women often choose to get tattoos of pictures of these celestial beings or, more specifically, their wings. This guide will help you choose the right angel wings tattoo design, whether you want to show how you feel and what you believe, honor someone, or just get some cool body art.
Angel Wings Tattoo Designs and What They Mean
There are many different designs, and each one means something different. For example, if you want to show off your religious beliefs, you could get a cross and angel wings tattoo. Or maybe you want to remember someone who has died. You can do this by getting a tattoo of their name or a cloud with their name in it.
The angel wings' most basic meaning is the one that stands out the most. The name "angel wings" makes me think of something holy, like a greater power watching over us from above, or something godly. So, for religious people, an angel wing tattoo is often a sign of protection from a divine being or a link to God or a greater power.
Where Should You Get a Tattoo of Angel Wings Tattoo?
For Females
Ankle

Wrist

Fingers

Hands

Shoulder

Neck
For Men
Chest

Biceps

Legs

Neck

Back

Forearms
35 Best Looking Angel Wings Tattoo Ideas
1. Simple Small Angel Wings Tattoo
You can't go wrong with this tattoo design idea if you're going for a minimalist look or just want a simple but important piece on your body. In this idea, there are two small wings on the back of the neck, on the wrist, or on the ankle.
2. Angel Wing Tattoos For Wrist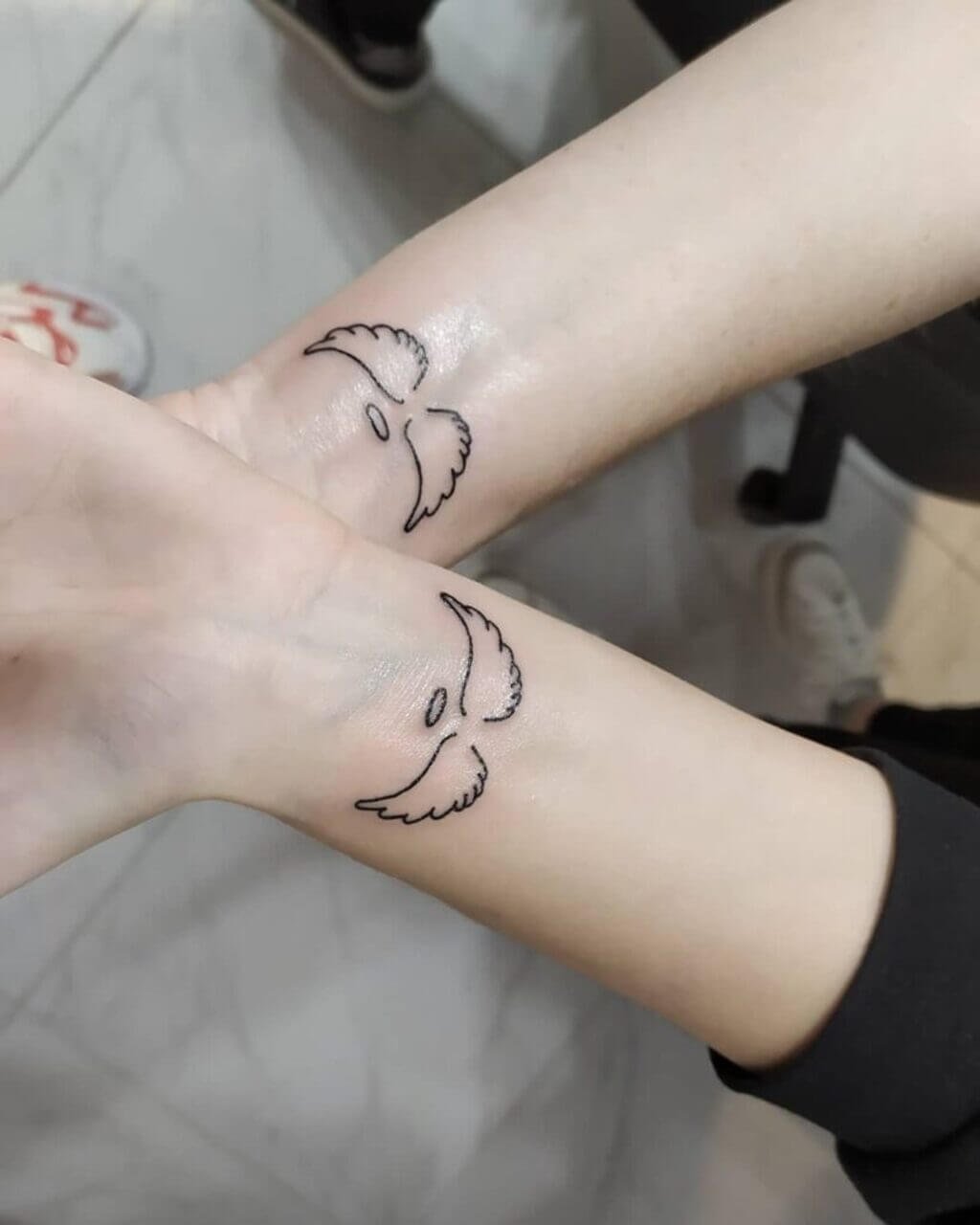 One of the best places for a woman to get a tattoo design is on her wrist. Tattoos here not only stand out right away, but they also look very cool. So here are some beautiful angel wing tattoos for the wrist for you to choose from. This angel wing tattoo stands out because it has a heart in the middle. We really like how the red ink gives the pattern a pop of color. 
3. Angel Wings Tattoo on Back
Certain patterns do look better with color, but sometimes black ink is all you need to make a point. Angel wings look more real when they are done in a single color, especially if the tattoo is big and has a lot of details. This would be a great way to go if you want this kind of tattoo on your back or chest.
4. Female Angel Wings Tattoo on Back Full
The most obvious place for angel wings to be seems to be on your back. If you like the meaning of this tattoo, you can get it done again on your back, but this time in a larger, more realistic pattern. 
The fact that you can hide in this place adds to its appeal, making it a special place where you don't have to stand out. This female angel wings tattoo is so big, this may cause some pain, especially in the area between the shoulder blades.
5. Angel Wing Tattoo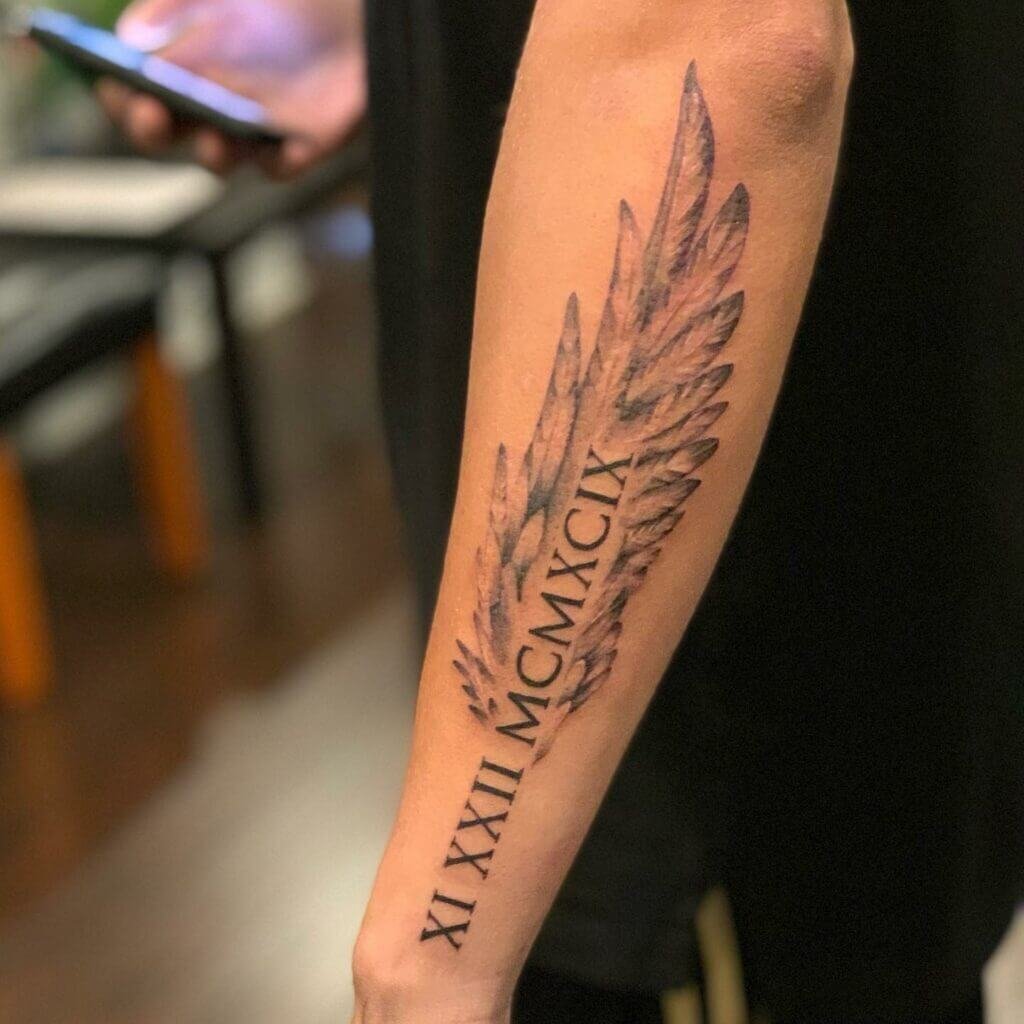 Angel wing tattoos are a representation of flight and protection. Some guys get angel wings tattoos to honor the memory of a departed loved one or to show their triumph over adversity. Although most commonly seen on the back, single wings on the forearm or bicep are also rather popular.
6. Angel Wings Tattoo On Neck
A second design option for your angel wing tattoo is to place the wings on your neck. When getting angel wings tattooed on your neck, you can select from a variety of designs and colors.
Angel wing tattoos on the neck are typically kept basic and minimalistic with few details. This provides the wearer a simple yet stylish appearance. However, if you wish, you can add other graphic elements, such as a halo or a sword, to increase the tattoo's symbolic significance.
7. Detailed Wing Tattoo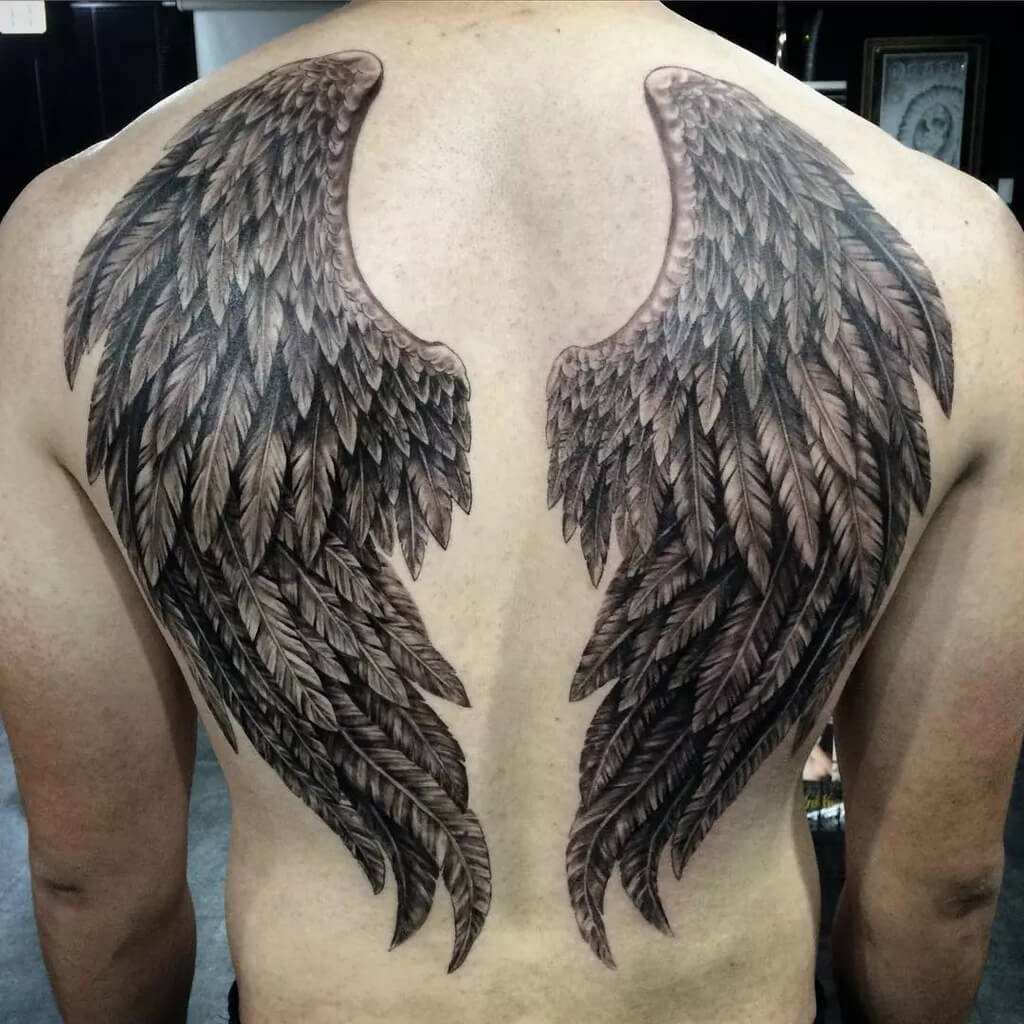 If you're searching for something with more detail and less shading, consider this one. This tattoo is not for everyone, since the tattoo is so precisely done, one has to go through pain for a while.
Also Read: 50+ Most Beautiful Breast Tattoos For Women
8. Angel Wings Chest Tattoo
Small, minimalist designs are not for everyone; for some men, bigger is preferable. This is why chest tattoos are so popular; the placement allows for as much detail as desired, and chest-shaped motifs, such as angel wings, look great.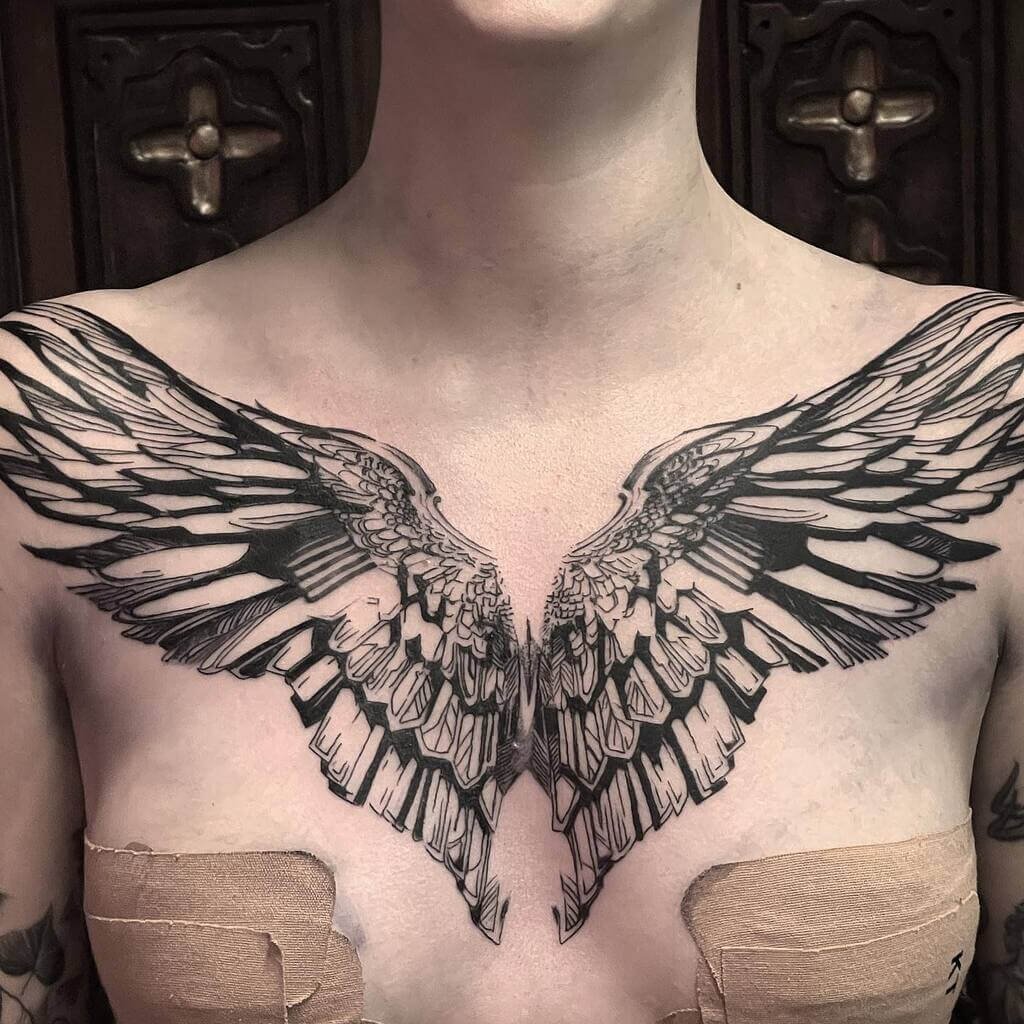 You can also hide your tattoo whenever you wish or flaunt it when you remove your clothing. The only disadvantage of this area? It will be painful due to the proximity to the bone. Nevertheless, if you can endure the agony, it is worthwhile!
9. Angel Wing Design Tattoo on Arm
In Christianity, the cross is a sacred symbol, and angels are celestial beings commonly associated with virtue and sanctity. Therefore, the combination of these two images results in a design that is both effective and meaningful. 
The cross and angel wings tattoo represents both religious freedom and the enduring memory of a deceased loved one. When males lose a loved one, they frequently choose to immortalize them with a tattoo that includes their name and date of death. This tattoo is both gorgeous and meaningful.
10. CHERUB Tattoo
Typically, cherub tattoos represent the innocence and purity of children or the love and defense of humanity. Some males choose baby angel tattoos to commemorate the birth of a child or the loss of a child.
11. Angel Wings Tattoo On Forearm
Angel wings tattoos are also often done on the elbow, which is a very popular design choice. Most of the time, if you want the pattern to work best, you should only use one wing on the forearm.
The wrist is another area that is easy to see and show off. So, if you get a wing tattoo on your wrist, you can make it as bright and colorful as you want.
12. Fallen Angel Wings Tattoo on Back
I have seen a fallen angel wings tattoo edited by SwarzezTier on DeviantArt. This tattoo took Swarzez 24 hours to draw. At the age of 18 he drew this tattoo.
In comparison to a baby angel, a fallen angel tattoo is often a sign that someone has lost their innocence. This style is great for a man who is looking for closure or who has been through traumatic events that have made him question his values.
13. Beautiful Watercolour Wings Tattoo
Adding a bit of color to your angel wing tattoo can make it stand out and draw more attention. There's no question that this huge back tattoo looks very cool.
14. Angel and Demon Wings Tattoo
A tattoo of an angel and a demon is often a fight between good and evil, or it could show a struggle going on inside the person. When someone gets the wings of these two creatures tattooed, they are thinking about light and dark. 
This choice can have a religious meaning or be a more personal way of saying that we all have good and bad things about us, and we need to find the right mix. When these pieces are detailed, they tend to make a statement. My personal thought is that they would look great on the back or chest.
15. Angel Wing Heart Tattoo Design
A heart and wings tattoo might be the perfect way to show that you like being able to choose your love partner. When you put these two images together, they mean something different than when you look at them alone: love and freedom, respectively.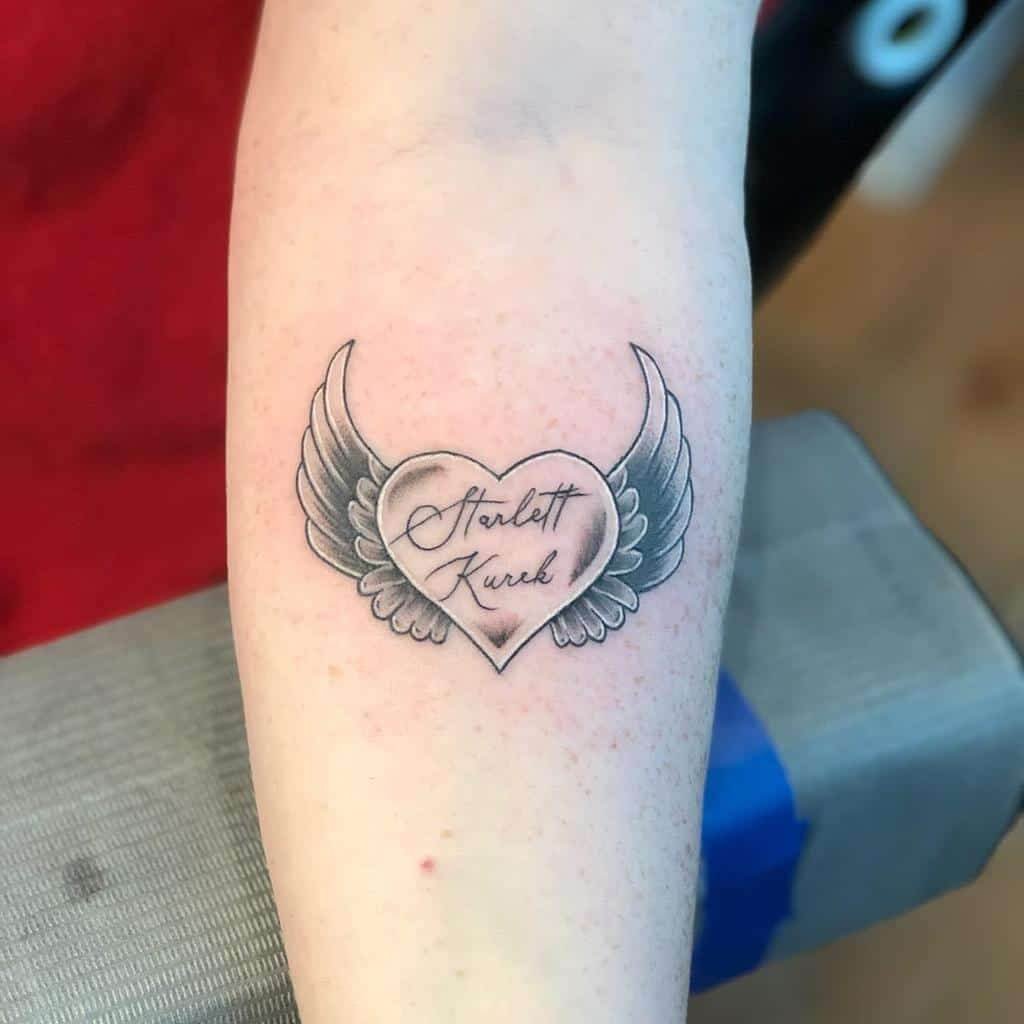 You can use these traits in your love life, and they can tell you that you are in charge of what happens in your relationships and your heart.
16. Michael the Archangel Tattoo
People think that Michael, an angel from the Bible, is in charge of all the angels. He is a fighter angel, and most art and tattoos of him show him holding a sword. I have seen people say that this archangel helps guys feel safe and strong. People who get a tattoo of Archangel Michael want to show that they are strong and in charge.
17. Artistic Angel Tattoo
Your angel wing tattoos don't have to mean anything in particular. You can just buy it because you like the way it looks! If you want a beautiful feminine back tattoo, you might want to think about this beautiful tattoo. This tattoo is a good choice for a back tattoo for women because of the fine details, beautifully shaded parts, and the way it is put together.
18. Name or Initials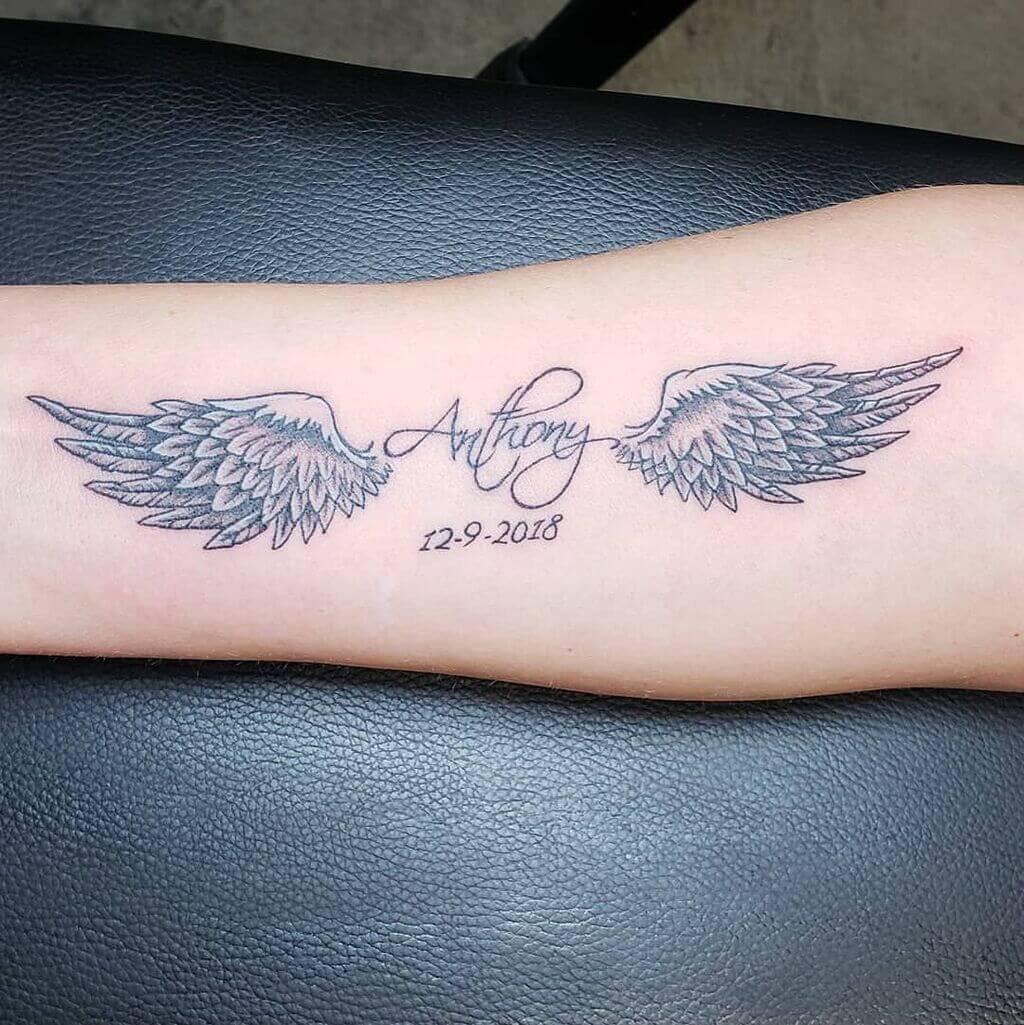 A name is a very common thing to add to an angel wings tattoo. This tattoo design is very moving because you can add the name of a loved one or a close friend who has died to honor them.
19. 'Believe' Angel Wing Tattoo
You don't have to just get an angel wing tattoo. You can add a word or a saying that means something to you. We love the look of this tattoo of angel wings with the word "Believe" in the middle. This beautiful tattoo looks even better because of the font.
20. Angel Wings Baby Tattoo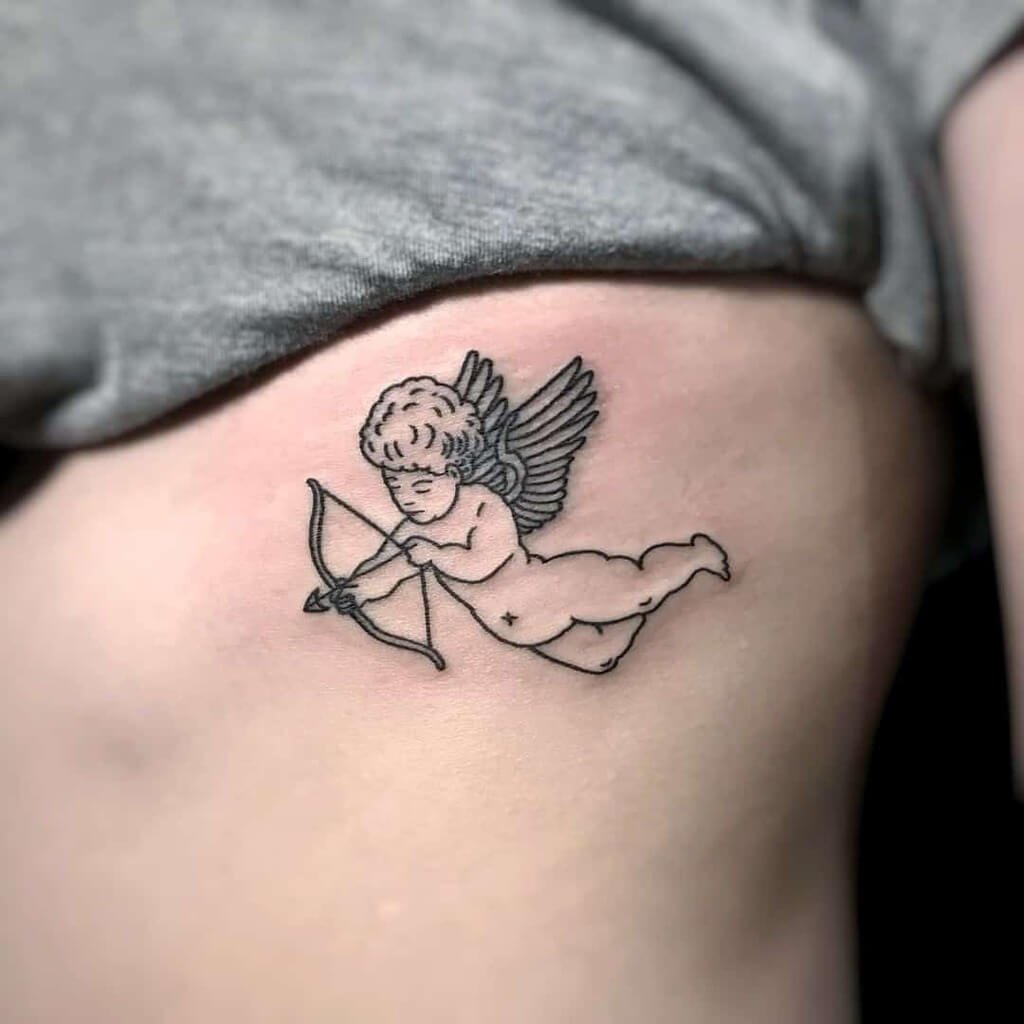 When you see a baby angel wing tattoo, you immediately think of purity and goodness. Children are seen as pure, and they could stand for the connection between heaven and earth. If you want to buy something that tells you of the beauty in the world, this is the perfect design!
21. Back of the Ear Tattoo
Angel wings are often used as a way to remember people because they are a sign of hope, safety, and faith. There are many different ideas that these pictures can show, so you can choose one that speaks to you. But where you put your ink is just as important as what it means.
A tattoo behind the ear is a great solution for men who want to show off their tattoos but still want to keep some privacy. Smaller designs can be used, which is good because getting a tattoo here is especially painful.
22. Angel of Death Tattoo
In Islam, Azrael is the angel of death. However, he has become a famous symbol, just like grim reaper tattoos, because they represent fear and death. Getting this tattoo could mean that you don't fear anything, either in this world or the next. If you want this tattoo to have a lot of detail, it should be on your thigh or chest.
23. Devil And Angel Wings Tattoo
One of our favorite tattoos is the one with the devil and angel wings. The main meaning of the tattoo is the fight between good and evil in the world and in the person who has it.
The most common way to use this idea is to make a pair of wings, one of which looks like an angel wing and the other like a devil wing. If you want to make the tattoo look better, you can also add the whole angel and devil to the image.
24. Angel Wings Halo Tattoo
Angel wings and crown tattoos are usually a sign that a loved one has died. The idea is that when someone dies, they go to heaven and can watch over and protect us from there. It's great for a man who wants to remember a loved one who has died.
The tattoo could be as easy as wings and a halo, but most people add dates or initials to make the design more personal. Since this is one of the most moving tributes you can get, it works best in places where it can be seen often, like the hand or wrist.
25. Tribal Angel Wing Tattoo Design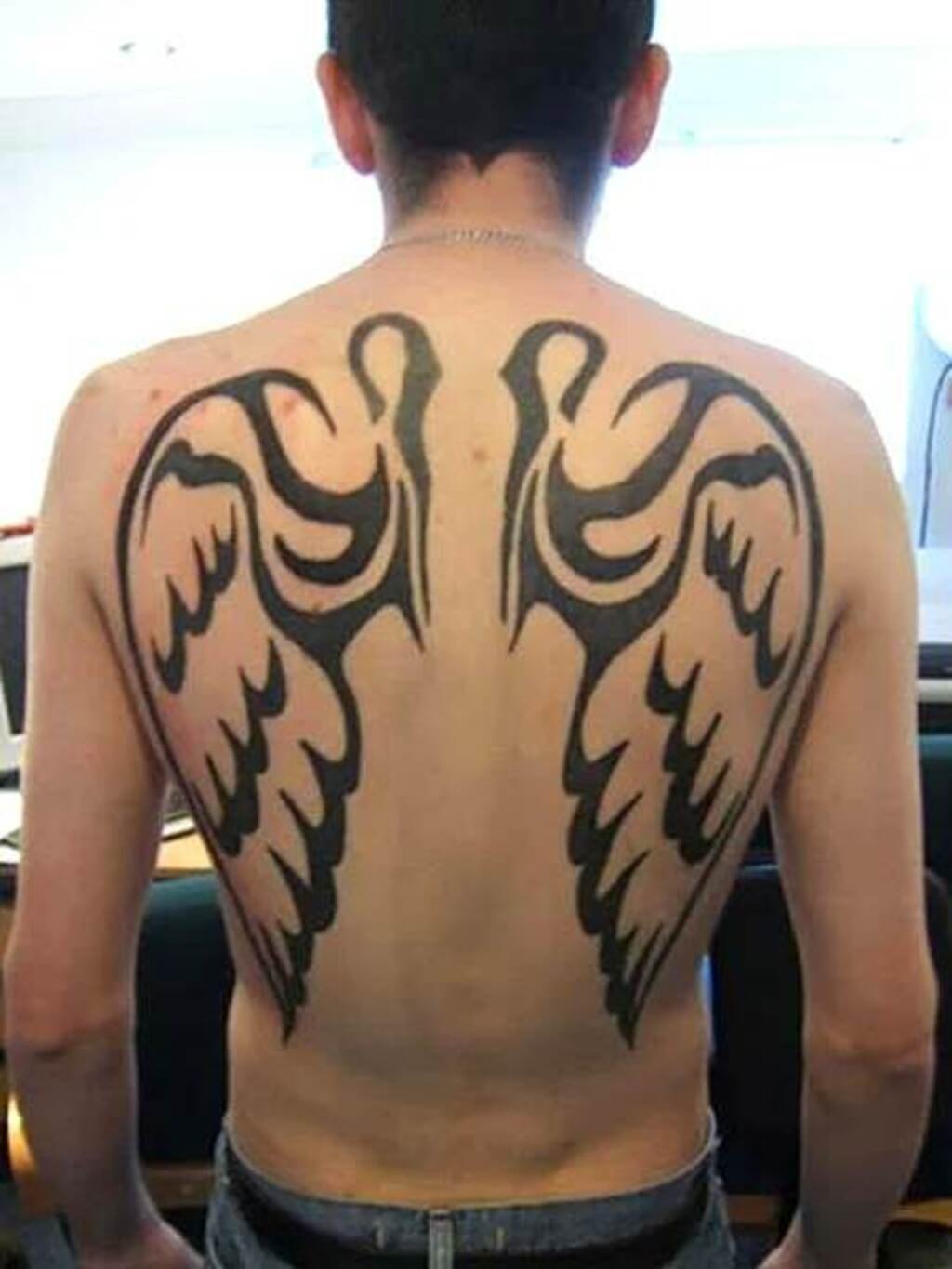 Tribal tattoos are always popular because of how unique they look and how many people like them. Native American tribes used tattoos for many different reasons in the past, including but not limited to protecting warriors, showing social standing, and decorating themselves.
In recent years, many symbols and pictures have been added to the original patterns, such as angel wings. You can count on a piece with strong lines that stand out. Usually, only black ink is used so that the important parts of the pattern can stand out.
26. Memorial Angel Tattoo
No matter what religion you are, you always hope that your loved ones are in a better place when they die. Many guys choose to honor their lost loved ones by getting a permanent reminder of them. You can add any special touch that makes you think of your loved one, like wings, angels, or halos.
27. Tattoo of an angel with butterfly wings
While you're looking for tattoo ideas, you can also think about putting angel wings and butterfly wings together. Depending on the design you choose, you can add a butterfly wing inside the angel wings to make it look more interesting.
You can also do a pair of wings with one side being angel wings and the other side being butterfly wings. This is what we did with the angel and devil tattoo. This way, you can give the pattern some cool color changes.
28. Angel Wings Tattoo With A Quote
Not interested in a simple angel wing tattoo? How about this with a small quote that makes you feel good? The edgy design of the angel wings makes them look both unique and beautiful, and the quote gives this tattoo even more meaning and importance.
29. Angel Wings Rose Tattoo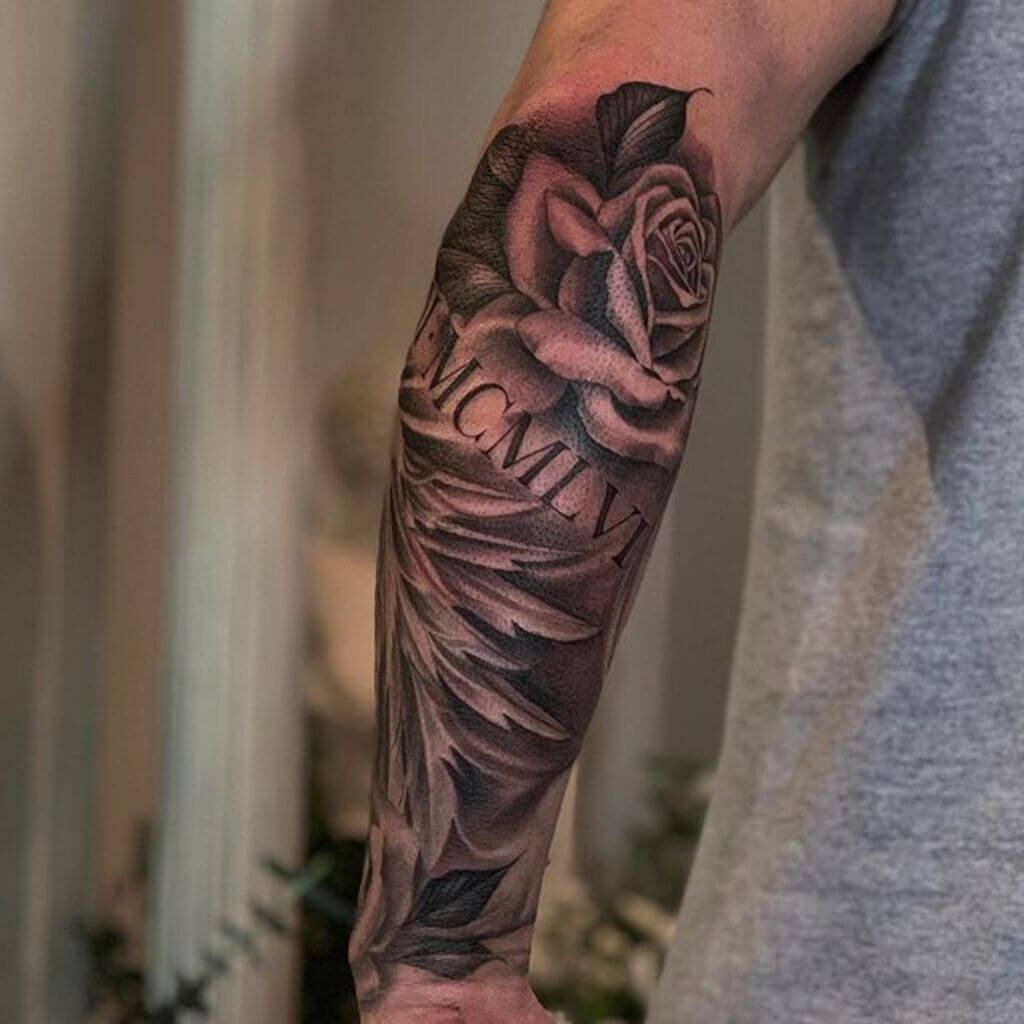 Angel wings stand for freedom, morals, and doing what is right. They can be great tattoos on their own, but many people add other things to the pattern to make it mean more to them. The rose tattoo is often seen as a balance between beauty and pain, since the thorns can hurt but also protect the bloom. If you put these two things together, it could be seen as a way to keep your innocence.
30. 3D Angel Wing Tattoo Design
When done as a realistic 3D tattoo, angel wings will surprise even the most experienced tattoo fan. If you want a design that will make people stop and look twice, you might want to think about this type of tattoo. The use of depth gives the pieces a sense of depth and life.
Before getting a super-realistic design tattooed on your skin, you should think about things like how you'll pay for a good tattoo. Because the artist will have to take more time and pay more attention to detail, this tattoo will cost more. Because of this, you should look for a professional with knowledge in this type of writing.
31. Little Angel Tattoo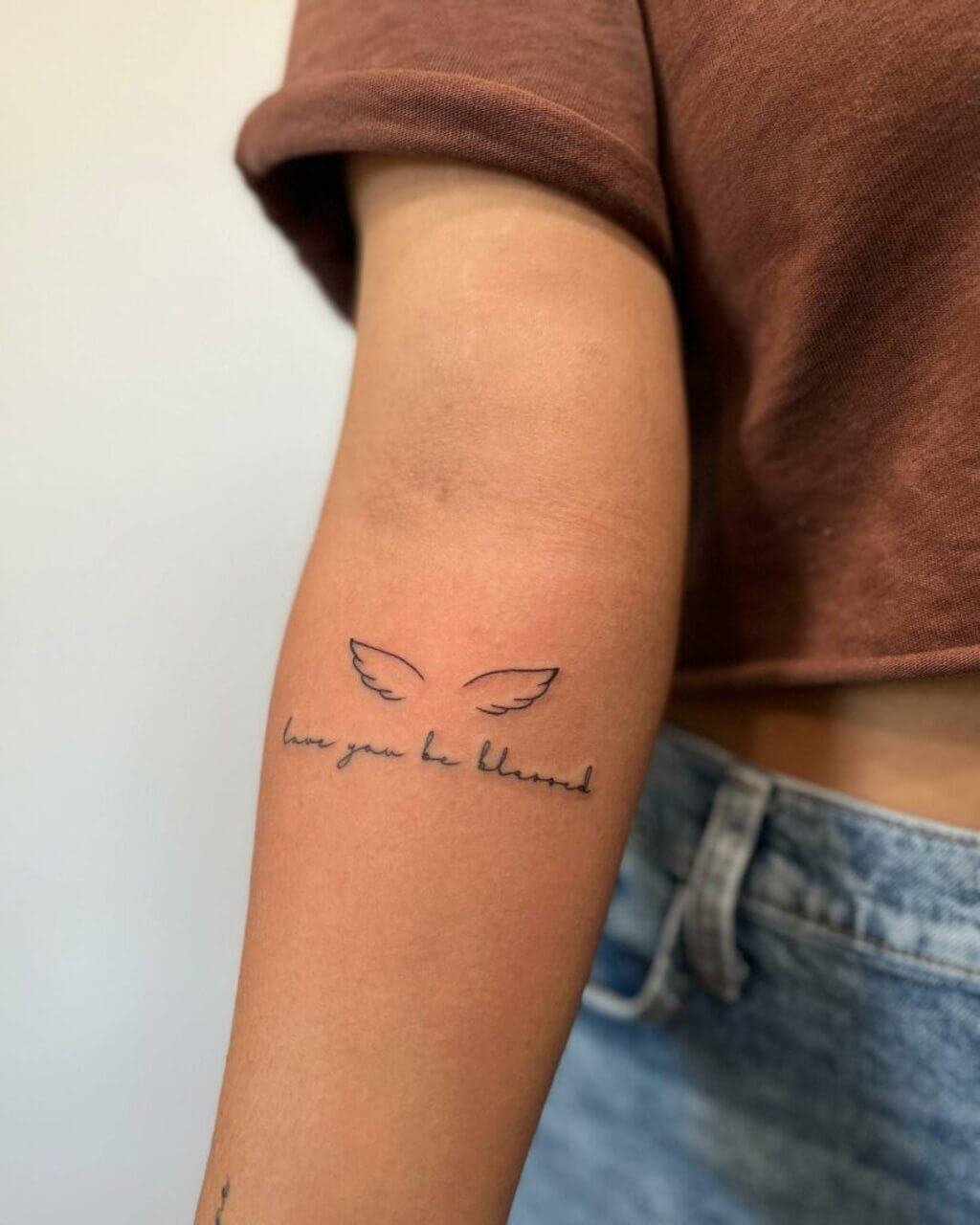 Little angel tattoos are small pictures that can be put on small places like the hand, wrist, or behind the ear. This type of tattoo is often used as a memory for a young child who has died or as an attractive design that is easy to hide.
32. Shoulder Wing Tattoo
Another place where the angel wings tattoo will really stand out is on the shoulder. The most common shape for the shoulder is an elongated wing that goes from the shoulder to the arm. You can also add a creative touch by making the tattoo go across your chest or back.
33. Dot-work Angel Wings
Add some geometric shapes and dot work to your angel wing tattoo design to take it to the next level. The lines and dotted circles in the middle of the angel wings make them look more upright. This is a great design for a tattoo on a woman's mid-back. 
34. Angel Wing Design on the Whole Arm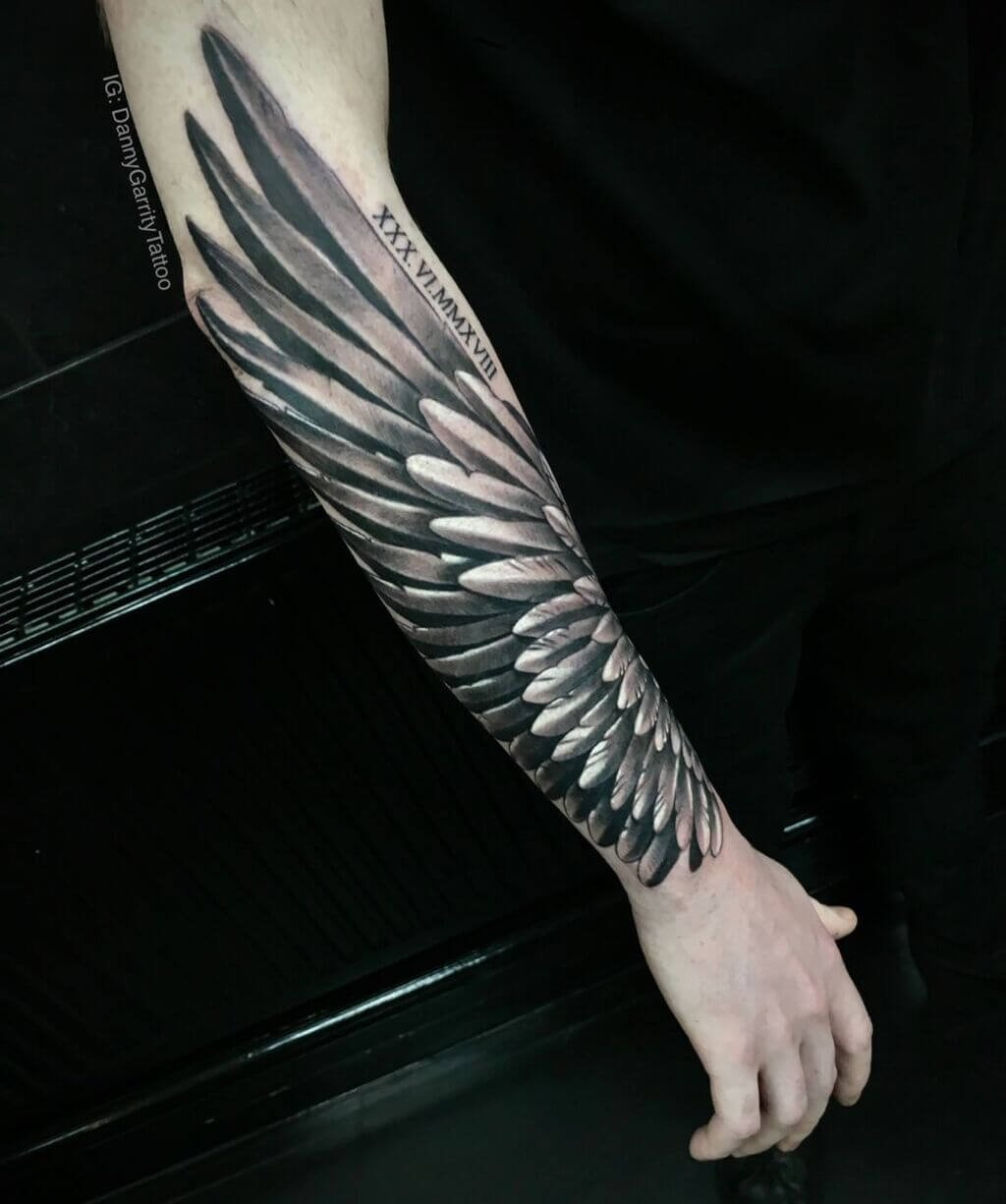 As important as the pattern itself is where a tattoo goes. If you want a tattoo but don't want to draw attention to yourself, a back or chest piece is a great choice. On the other hand, people who want to see their tattoo every day will choose places like the arm that are more visible. This is a popular spot for guys to get tattoos, and it's also one of the least painful places to get one. It can also help show off the wearer's muscles.
35. Pet Angel Tattoo
Another simple (or complicated, based on your taste) way to remember the death of a pet or other animal you loved. This tattoo can be put on the wrist, the blade of the shoulder, or the forearm.
FAQs:
What do tattoos of angel wings mean?
Angel wings can mean a lot of different things, like freedom, hope, and safety. For some, they are a way to remember a "guardian angel" who has passed away. Others see them as symbols of the Christian faith and how believing in God reminds them of their better, more holy side.
What does an angel tattoo mean?
Angel tattoos stand for safety, strength, guidance, and freedom. It also shows that God loves people because he sends angels to be prophets and messengers. Angel tattoos are often used as a way to remember loved ones who have died. This helps people who are hurting remember that their loved one is no longer in pain.
Where do you put a tattoo of angel wings?
Angel wings tattoos are flexible. Angel wing tattoos can be small and put on your finger or behind your ear, or they can be bigger and put on your back, chest, or arm.
What does a tattoo that says "fallen angel wings" mean?
A broken angel's wings are a sign of pain, loss of innocence, and falling. A creation like this can be made to remember a loss, a hard time in life, or the need to keep hope and faith.
More Articles on Tattoos:
Final Thoughts
Angel wings are some of the most popular tattoo designs out there. You can get an angel wings tattoo if you want a pattern that shows your spirituality and has a deep meaning while still being beautiful.
Follow us on Instagram travel_world_with_fashion.