Knitwear Chic: Embrace the Latest Sweater Trends and Be Warm and Fashionable
As the chilly winds of fall and winter make their presence known, it's the perfect time to warm up with the latest sweater styles. Knitwear can be a great way to keep warm and show off your style. There's nothing more stylish and cozy than a well-made sweater when the winter months come. Designers have created a variety of trendy and chic sweaters for this season that will elevate your wardrobe.
A sweater is more than just a practical choice for staying warm; it's an opportunity to exude a sense of style and sophistication while enjoying the simple pleasure of wearing one. Knitwear is no longer a mundane item or something reserved for grandmothers. Fashion has reinvented the sweater, making it a versatile, trendy piece that can be worn for any occasion. The latest sweater trends are available in various styles to suit any style.
Knitwear is a huge trend this season. It offers a variety of ways to look stylish and stay warm. This article explores the top sweater trends you should embrace and how you can effortlessly stay warm and stylish.
Pink Floral Drop Shoulder Knit Pullover Sweater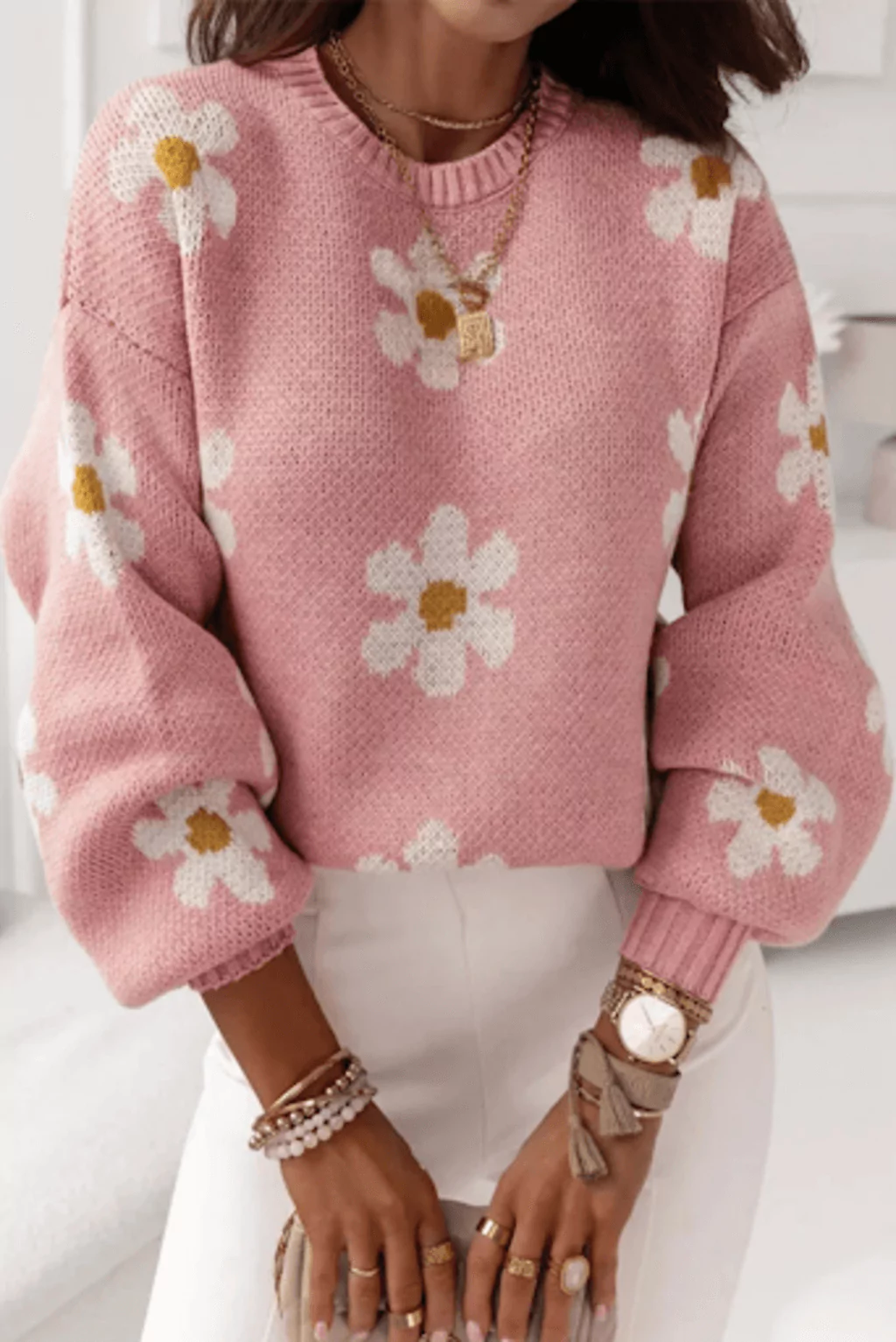 The floral pattern is not only for the spring and summer. A pink floral pattern pullover sweater with drop shoulders is a great way to embrace feminine charm this season. Soft pink color combined with floral patterns adds a romantic touch to your winter wardrobe. Combine it with high-waisted denim or a skirt for a stylish and elegant look.
White V-neck Drop Shoulder Knitted Sweater
The white drop-shoulder V-neck knitted sweater will never go out of fashion. This sweater is versatile and elegant. You can wear it with tailored pants and heels for an elegant office outfit, or layer it with a pleated skirt and ankle boots for trendy weekend attire.
Knit pullover sweater with raglan sleeves in Khaki and Animal Print
The khaki and animal print raglan sleeves knit pullover sweater will appeal to those seeking a bold and more adventurous look. The earthy khaki colors and animal prints make for a stunning visual effect. Pair this trend with dark wash jeans or black leather pants for a stylish and edgy look.
Rose Crochet Long Sleeve Knitted V-neck Sweater
A rose crochet knitted long-sleeve V-neck sweater will add a vintage touch to your winter wardrobe. The feminine V-neck and delicate crochet details create a romantic and feminine look. Style this sweater with ankle boots and high-waisted denim for an elegant and chic outfit.
Stay warm and fashionable throughout the seasons with Shewin's sweater designs. There is something for every fashion-forward individual at Shewin, from cozy cable-knit pullovers to trendy oversized cardigans. Whether you're lounging at home or heading out on a casual outing, its collection will keep you looking effortlessly stylish. Explore the world of knitwear chic with it and find the sweater that reflects your unique style.
White Rib Knitted Stripe Detail Henley Sweater
The White Rib Knitted Stripe Detail Henley Sweater combines style and versatility in a comfortable and sophisticated piece. This sweater is crafted with a ribbed texture that offers a snug, cozy fit. Striped detailing gives the classic white color a modern twist. Thanks to the Henley style neckline, it is perfect for casual or slightly dressier events. This sweater will enhance your style, whether you pair it with jeans to create a casual weekend look or layer it under a jacket for a more formal ensemble.
Beige Basic Ribbed Knit V Neck Sweater
A basic beige ribbed V-neck sweater with a basic knit is a wardrobe essential. This versatile piece is easy to dress up or down and goes well with many bottoms. Wear a collared t-shirt for a preppy outfit or a pleated midi skirt and ankle booties for a polished and feminine look.
These trendy sweaters will enhance your winter wardrobe and keep you warm. Try out different combinations, and be true to your fashion sense. Accessorize your outfits with statement jewelry, scarves, or hats.
Parting Thoughts
Feel free to experiment with knitwear chic. Experiment with colors, styles, and textures. Add some flair to your look by layering your sweaters. You can do this with scarves and hats. The key is to choose pieces that you are comfortable and confident in. So embrace the latest sweater trends, stay warm, and let your style shine this season. You can look stylish and chic while battling the cold with a great selection of sweaters. 
Don't compromise style for comfort as the temperatures fall. Be warm and stylish all season with the latest sweater trends. These sweaters come in various styles, from delicate florals to bold color blocking. They are perfect for creating stylish and comfortable outfits. Knitwear is a great way to stay warm, stylish, and comfortable.
For more fashionable tips visit Travel World Fashion. Follow us on Instagram travel_world_with_fashion.