Headband Wigs: The Ultimate Solution for Hair Loss and Styling
Hair loss can be a stressful experience for anyone, and finding the perfect solution can be challenging. For individuals experiencing hair loss, headband wigs can be a game-changer. 
These wigs are easy to wear, comfortable, and natural. In this article, we'll discuss headband wigs in detail, including what they are, their benefits, types, how to wear them, and styling tips.
Table of Contents:
What is a Headband Wig?
Wigs featuring a headband attached to the wig's front. The headband provides a seamless transition from the wig to the wearer's natural hairline, making it look like the wearer's hair.
Headband wig is designed for easy wear and is available in various styles, lengths, and textures.
Benefits:
There are many benefits of using a headband wig, including the following:
Natural Look:

Offer a natural look, and the headband helps to blend the wig with the wearer's natural hairline.

Easy to Wear:

Easy to wear and require no glue or tape, making them perfect for individuals with sensitive skin.

Comfortable:

Lightweight and breathable, making them comfortable for extended periods.

Versatile:

Available in different styles, lengths, and textures, making them perfect for various occasions.
Types of Headband Wigs
There are different types of headband wigs available, including:
Synthetic:

These are made from synthetic fibers and are affordable. They are available in different colors, lengths, and styles.

Human Hair:

These are made from natural human hair and are more expensive than synthetic wigs. They offer a natural look in different textures, colors, and styles.
How to Wear a Headband Wig
Wearing a headband wig is a straightforward process. Follow these steps to ensure a secure and natural-looking fit:
Prepare Your Hair:

Before wearing a headband, make sure your hair is clean, dry, and styled. If you have long hair, you can braid it or pin it to ensure it lies flat against your scalp.

Secure the wig Headband:

Slip it over your head, positioning it around your hairline like a regular headband. The headband should fit snugly but comfortably around your head.

Position the Wig:

Once the headband is in place, position the wig onto your head. The wig's front should sit directly behind the headband, and the back should be pulled down over the rest of your hair.

Adjust the Straps:

Most wigs come with adjustable straps at the back, allowing you to customize the fit to your head size. Tighten or loosen these straps until the wig feels secure and comfortable.

Blend the Edges:

Use your fingers or a wide toothcomb to blend the edges of the wig with your natural hair. The headband should help to hide any visible edges or gaps, making the wig look seamless and natural.

Style Your Wig:

Style your headband wig as desired, using a comb or brush to create the perfect look. Add hair accessories like clips or barrettes to enhance your hairstyle.
With these simple steps, you can quickly wear a headband wig and enjoy a natural and comfortable look all day. Remember to care for your wig correctly by washing it regularly and storing it safely when not in use.
Also Read: 25 Trending Wolf Haircut Ideas to Try Out in 2022
Styling Tips for Headband Wigs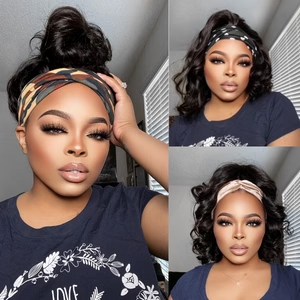 Headband wigs are a versatile and convenient way to switch up your hairstyle. The following tips will help you achieve the perfect look:
Use Heat Tools:

Many wigs are made with heat-resistant fibers, which means you can use flat irons or curling irons to create a variety of hairstyles. However, using these tools at a low temperature is essential to avoid damaging the wig.

Experiment with Different Headbands:

Headband wigs have a built-in headband, but you can still add extra headbands for a pop of color or style. Try different headband styles, such as wide bands, skinny bands, or embellished headbands, to switch up your look.

Add Volume:

Use a volumizing product like a mousse or root lifter if your headband feels flat or lacks volume. Apply the product to the roots of the wig and use your fingers to tousle and fluff the hair.

Braid or Twist the Hair:

Headbands come in different lengths, and you can easily braid or twist the hair to create various styles. Try a fishtail braid or a twisted updo for a chic and sophisticated look.

Use Hair Accessories:

Hair accessories like clips, barrettes, and scrunchies can add personality and flair to your headband wig. Use them to secure the hair or create unique styles and looks.

Trim the Wig:

If your headband wig is too long or has uneven edges, you can trim the hair to achieve your desired length and shape. It's best to have a professional stylist trim the wig to avoid damaging the fibers.
With these styling tips, you can transform your wig into a customized and unique hairstyle that reflects your personality and style. Remember to care for your wig correctly to keep it fresh and beautiful for longer.
Why HeadBand Wig?
At Luvmehair, every woman deserves to look and feel her best. We offer a wide selection of high-quality hair extensions, wigs like headbands, U part wig, Glueless lace wigs, and other hair care products designed to help women look and feel their best. 
We also offer a wide range of hair care services, including hair extensions, color services, and more. We believe every woman deserves to have the hair of her dreams and are dedicated to helping women achieve that goal.
Conclusion:
Headband wigs are an excellent solution for individuals experiencing hair loss or wanting to change their hairstyle without damaging their natural hair. They are comfortable, easy to wear, and offer a natural look. With different styles, lengths, and textures available, these wigs are perfect for any occasion. Use the tips in this article to wear and style your headband wig for a flawless look.
For the latest fashion-related updates visit Travel World Fashion.