A Comprehensive Guide to Curly Wigs: Everything You Need to Know
Consider a curly wig if you're looking for a way to change your look. Curly wigs can be a great way to add volume and texture to your hair, with various styles to suit any taste. 
In this guide, we'll cover everything you need to know about curly wigs, from choosing the right one to styling and caring for it. Read on to find out more!
Table of Contents:
Choosing the Right Wig for You
How Curly Wigs Work:
Curly wigs are a popular type of wig in various textures, styles, and lengths. They are made from either human hair or synthetic fibers and can be worn for various occasions, from everyday wear to special events. 
Curly wigs are an excellent option for people who want to change their hairstyle without committing to a permanent change.
Types of Curly Wigs:
There are several types of curly wigs available on the market. Here are the most common ones:
Loose Curly:

This

type of wig

features loose, relaxed curls that flow freely. They are typically made from human hair and have a natural look and feel.

Kinky Curly:

Kinky curly wigs have tightly coiled curls that resemble natural African-American hair. They are often made from synthetic fibers and can be styled in various ways.

Deep Wave:

Deep wave wigs feature defined; bouncy curls tightly woven together. They are famous for their voluminous look and can be made from human hair and synthetic fibers.

Water Wave:

Water wave wigs have a wavy texture that resembles beachy waves. They are typically made from human hair and have a natural, soft look and feel.
Choosing the Right Wig for You:
When choosing the right curly wig, there are several factors to consider. You can follow these tips to find the right curly wig for your needs and preferences:
Determine the Style and Length:
Before you start shopping for a curly wig, deciding on the style and length you want is essential. Do you prefer loose, flowing curls or tight, spiral curls? 
Do you want a short bob or a long, flowing mane? Knowing what you're looking for will help you narrow your options and make a more informed decision.
Also Read: 25 Trending Wolf Haircut Ideas to Try Out in 2022
Consider the Type of Hair:
Curly wigs can be made from either human hair or synthetic fibers. Human hair wigs are more expensive but offer a more natural look and feel. These can also be styled with heat tools like flat and curling irons. 
Unlike human hair wigs, synthetic wigs are more affordable and require less maintenance, but they don't look as natural and can't be styled with heat tools.
Think About the Cap Size and Construction:
A wig's cap size and construction are important considerations, as they can affect how comfortable and secure the wig feels on your head. 
Measure your head to determine your cap size, and look for wigs with adjustable straps or elastic bands for a more customized fit. Consider wigs with lace fronts or monofilament tops, which offer a more natural-looking hairline and part.
Try On Different Wigs:
One of the best ways to find them can offer advice and guidance on selecting the right wig for your needs.
Consider Your Lifestyle and Budget:
Finally, it's essential to consider your lifestyle and budget when choosing a curly wig. If you plan to wear the wig frequently, invest in a higher-quality human hair wig that will last longer and look more natural. 
A synthetic wig may be more affordable if you only want to wear the wig occasionally. Additionally, suppose you lead an active lifestyle or plan to wear the wig for extended periods. In that case, look for a wig with lightweight and breathable cap construction for maximum comfort.
Considering these factors, you can choose a curly wig that looks and feels great and meets your needs and preferences. With the right wig, you can enhance your natural beauty and confidence and enjoy a stylish and versatile hair accessory that you can wear for any occasion.
How to Care: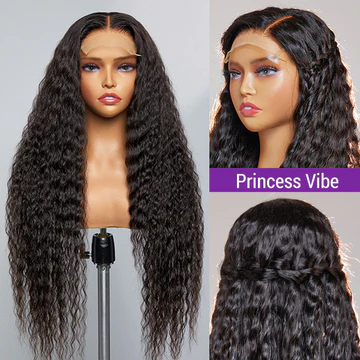 Proper care is essential to maintaining the quality and longevity of your curly wig. Consider these tips:
Wash the wig regularly with a gentle shampoo and conditioner.

Let the wig air dry on a wig stand or mannequin head.

Use a wide-tooth comb or pick to detangle the curls, starting from the bottom and working up.

Avoid using heat tools on synthetic wigs, as they can melt the fibers.

You should store the wig away from direct sunlight and heat in a cool, dry place.
Styling Tips:
Styling curly wigs can be fun and creative. You can use these tips to get the perfect look:
You can use a diffuser attachment on your hair dryer to dry the wig and enhance the curls.

Apply a leave-in conditioner or curl-defining product to keep the curls defined and bouncy.

Try braiding or twisting the hair for a unique and textured look.

Use hair accessories like headbands, clips, or scarves to add personality to your wig.
Why Choose this Wig?
The Luvmehair team is dedicated to providing our customers with the highest quality hair extensions, curly wigs, human hair bob wigs, human hair bundles, and products. 
We only use the finest 100% Remy human hair, and a 100% satisfaction guarantee backs our products.
Luvmehair is committed to helping our customers find the perfect hair to match their unique style. With our wide selection of colors, lengths, and textures, we have something for everyone.
Our goal is to ensure everyone looks and feels their best, so we proudly offer our products at an affordable price. Luvmehair is your one-stop shop for all your hair extension needs.
Conclusion:
Curly wigs are a versatile and convenient way to switch up your hairstyle. Whether you're looking for loose, bouncy curls or tight, kinky curls, there's a wig for everyone. Remember to choose the right wig, care for it properly, and experiment with different styling techniques to achieve the perfect look.
For more fashion-related information visit Travel World Fashion.