23 Witch Makeup Ideas That Will Scare the Hell Out of Everyone
Fall is on the way, which means Halloween is coming up soon. Ahead of you, your TikTok feeds will be overflowing with homemade costumes, delicious fall cocktails, and—most importantly—how-tos for Halloween makeup. A witch is one of the most classic Halloween costumes that has ever been popular. Simple and adaptable, you can make it as scary or as subdued as you like, depending on how extreme you want to go with your look. With Halloween witch makeup, the only restrictions are your imagination. There are so many variations available. 
Enhance your manicure with Halloween nail art while you're at it, and you'll be ready to celebrate Halloween with your witches!
In either case, dressing up as a traditional Halloween witch is always a smart idea. We have compiled the top selection of simple witch makeup ideas for you to feel inspired. 
1. Gothic Witch Makeup Ideas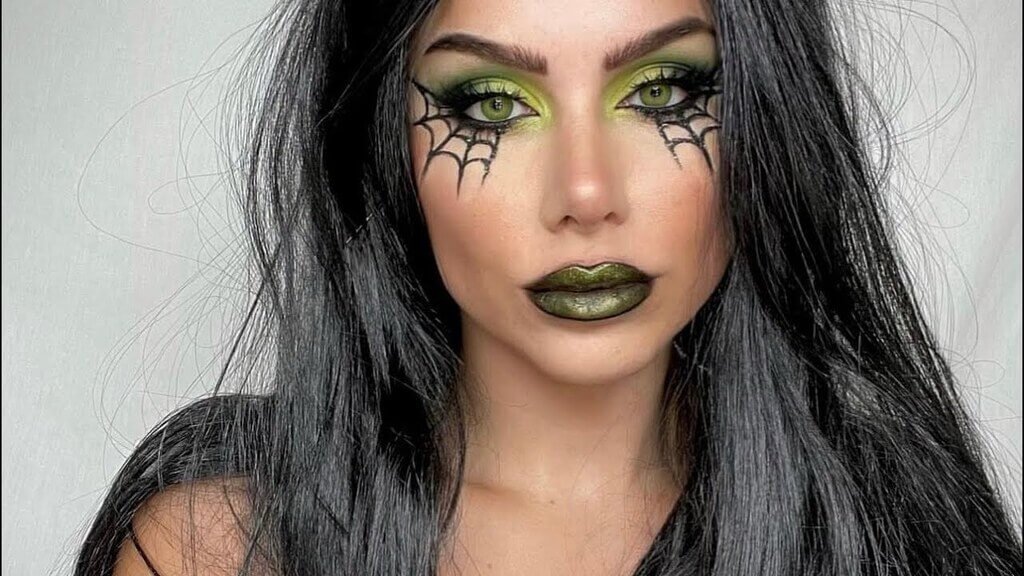 This witch makeup lesson by Erin Nicole TV is perfect for Halloween if you like a little bling. Start with a deep smokey eye, and then carefully draw spiderwebs from the smokey eye using liquid eyeliner. This part is hard, so if you want to get around it, you can buy spiderweb face stickers at Claire's. But what's the best part? Make those webs look like a million bucks.
2. Crazy Witch Makeup Halloween
This Halloween, if you want to look like the Wicked Witch of the West, you should try to copy this epic makeup moment from Makeupbyjalesse. It's stepped up a notch with emerald lids and a bold lip.
3. Cute Witch Makeup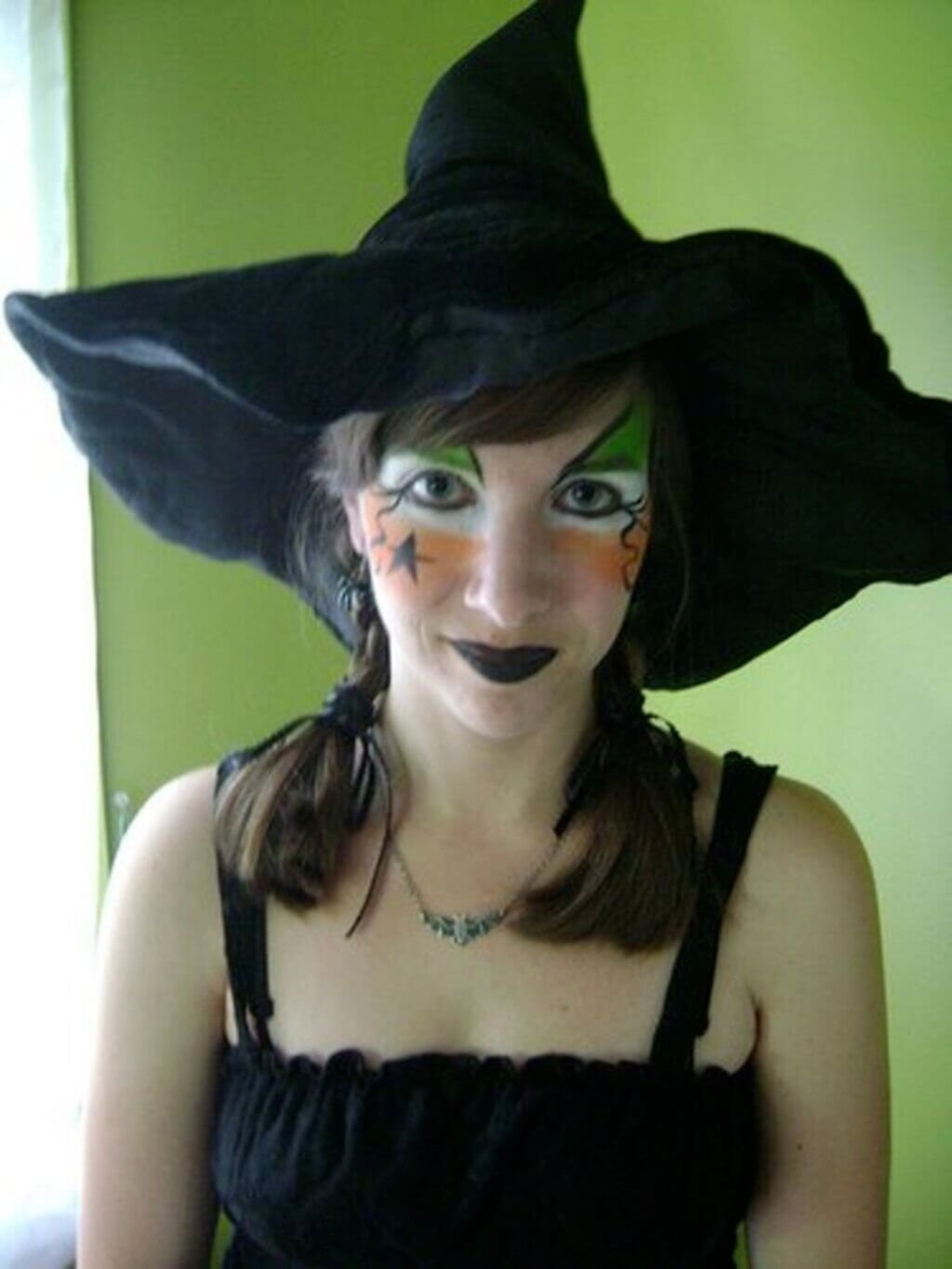 Use this makeup technique to make your witch look cute instead of scary this year. It has a bright eye with a light green color along the lower lash line. The lid is a sparkly deep purple. Put on some fake freckles to make your character look even cuter and to show that she is a good witch.
4. Mind-Blowing Midnight Look
Makeup artist Lauren D'Amelio gave this look a lot of drama. First, look at the eyes: Choose two colors from your best eyeshadow palette, one for your eyelid and one for your lower lash line. Then, use a dark liner to make winged lines on the top and line your lower waterline.
Sprinkle sparkle on top and let some of it fall on your cheeks. To make a crescent moon, gently press the top of a water bottle into your forehead to make a small circle. 
5. Classic Witch Makeup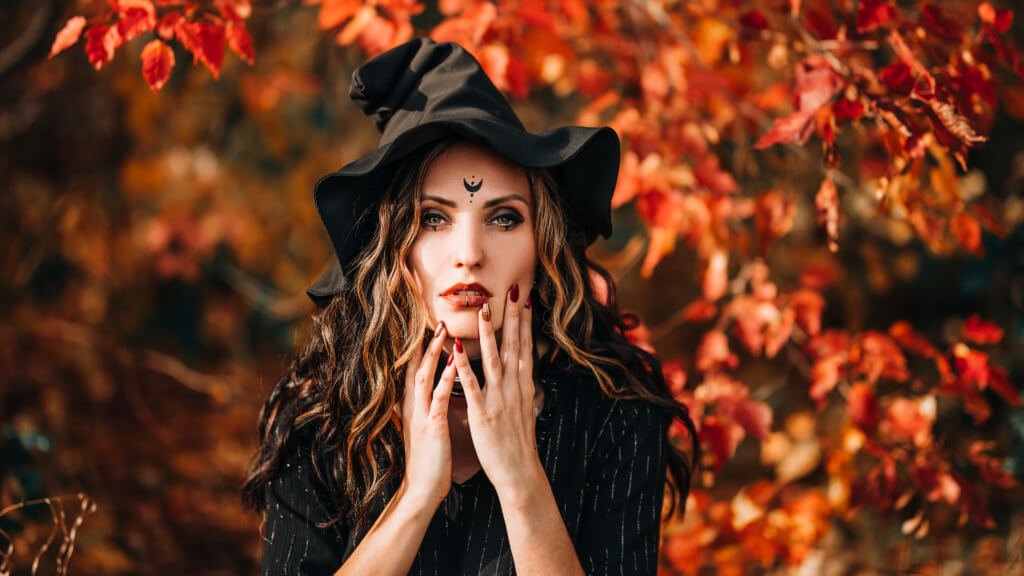 The basic witch makeup look is made up of three parts: a neutral base for the face, bold red lips, and dark eyes. To finish the look, don't forget to add a witch's hat and stick.
6. Ursula From Disney Inspired Makeup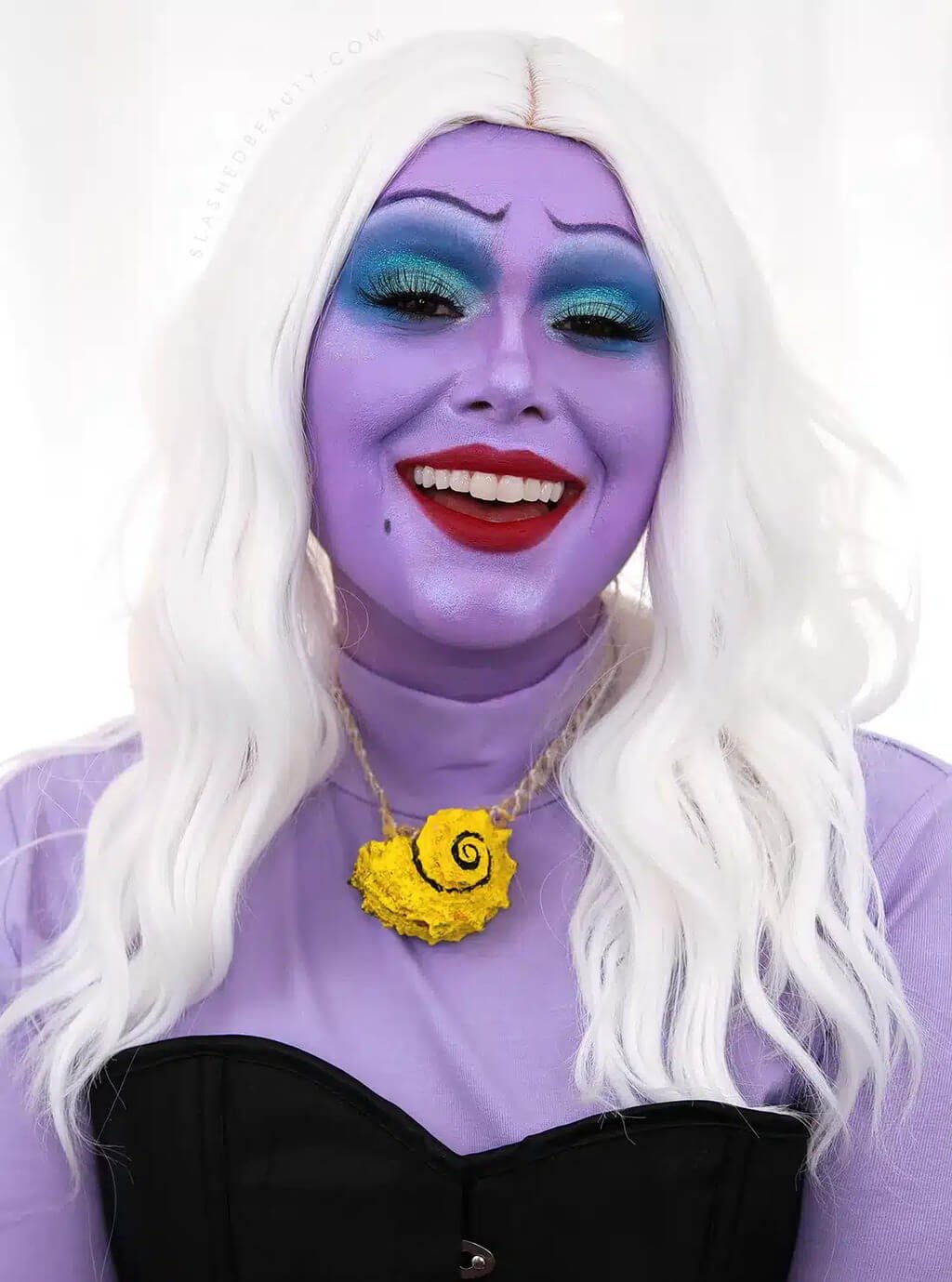 Are you ready for a new take on purple witch makeup? Enter this Ursula Sea Witch lesson that was inspired by Disney. If you don't want to be a land witch, you can be a water witch like Ash Levi did. Start by putting a thin coat of purple face and body paint on your face and neck.
Contour with a darker shade of purple blush or eyeshadow, and don't forget to add Ursula's signature beauty mark just below your lip.
7. Best Horror Story Witch
In keeping with the screen theme, here's a makeup lesson from Ronkeraji on how to make a witch look both scary and enchanting. After all, a matte black pout is about as evil as you can get.
8. Easy Witch Makeup
The use of colored contacts takes this easy witch makeup look to a whole new level. Just make a smoky eye with a base that is slightly gray, put in your contacts, and you're ready to go. You can also follow her instructions for making the curly wig if you want to go all out.
9. Magical Witch Makeup
Celebrate everyone's beloved trio of sister witches with these makeup looks, as well as the best Hocus Pocus Halloween costume ideas.
10. Cute Orange Witch Makeup Look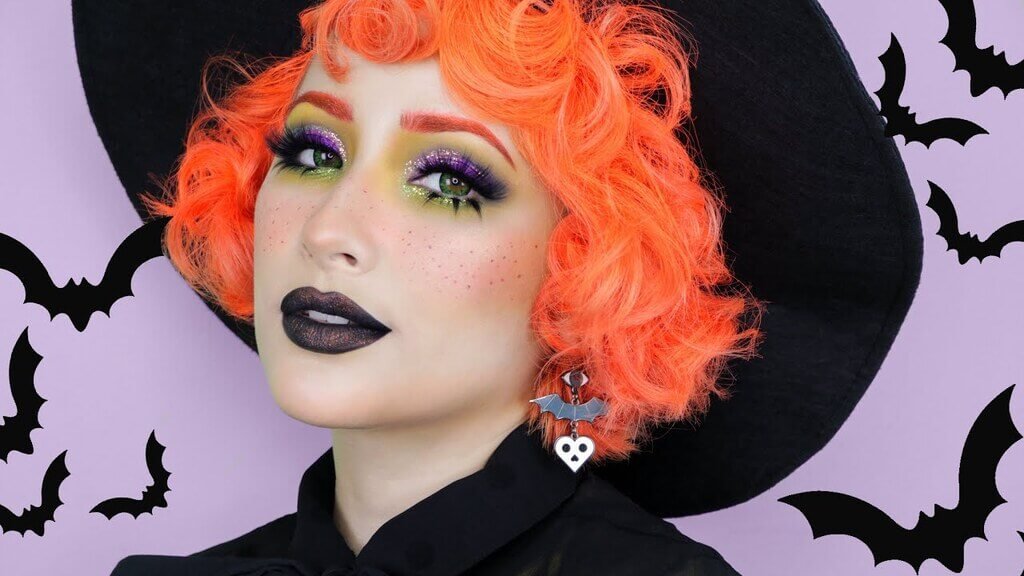 Say welcome to this adorable candy corn witch makeup look if you want to be the cutest little witch on the block. This tutorial, presented by YouTuber ahistrosa, requires a bright orange curly wig, a black lip, a green and purple glitter eye, and an abundance of absolutely adorable freckles.
11. Green Witch Makeup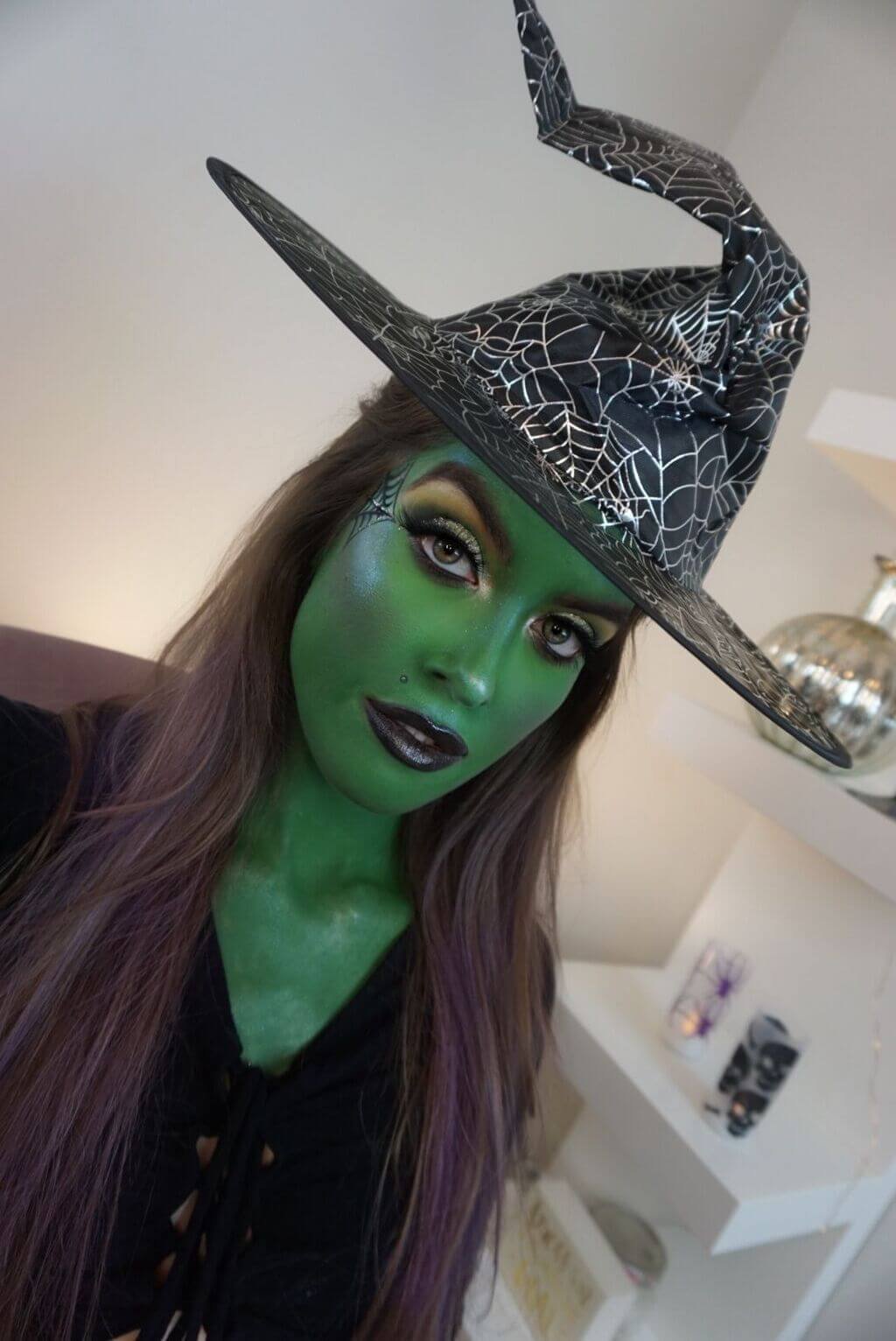 If you want to channel your inner Elphaba this Halloween, this ensemble from Madeyewlook, Twice may be more your style. The accents consist of tiny amounts of lime and a touch of strategic sheen.
12. Modern Scary Makeup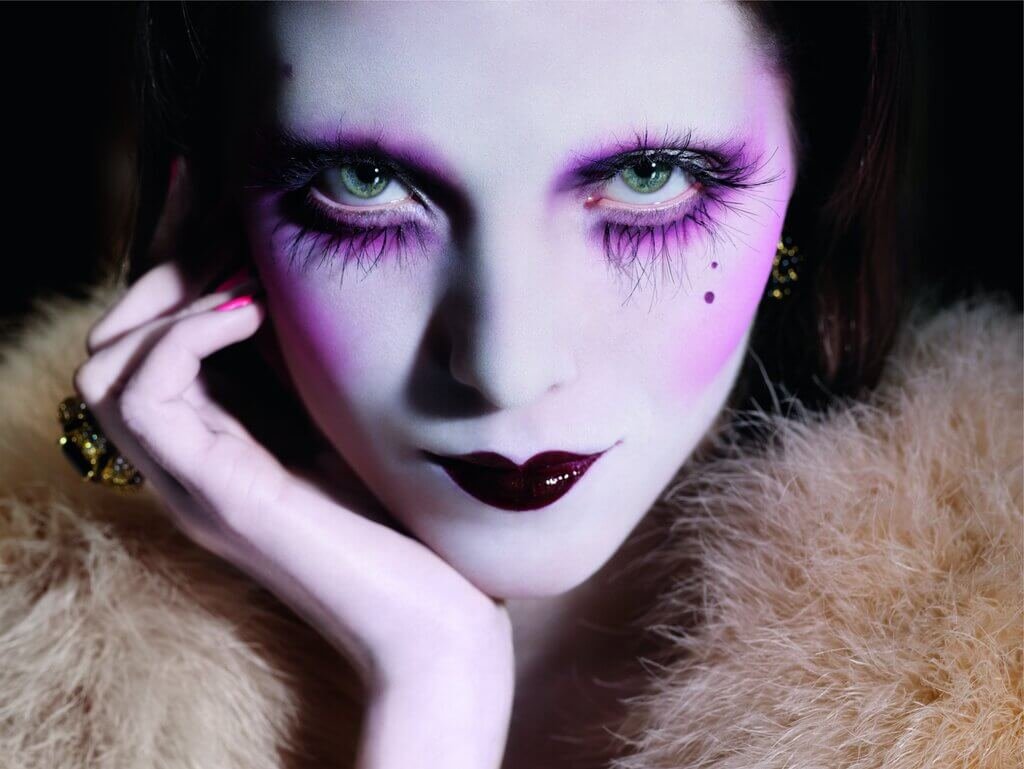 This straightforward witch makeup style is inspired by the classic Halloween film "The Craft." The look is updated with a shaved eyebrow, lined eyes, overlined lips, and a miniature upside-down cross for the finishing touch. Complete the costume with an all-black attire for maximum effect.
13. Celestial Scary Witch Makeup
A full face of green makeup is unnecessary to carry off a witch costume. For a more sophisticated appearance, apply makeup as you normally would, but use livelier colors, such as eyeshadow and lipstick in deep purple. Then, add a few enchanting embellishments, such as self-adhesive circular and star-shaped face and body jewels.
14. Silver Witch Makeup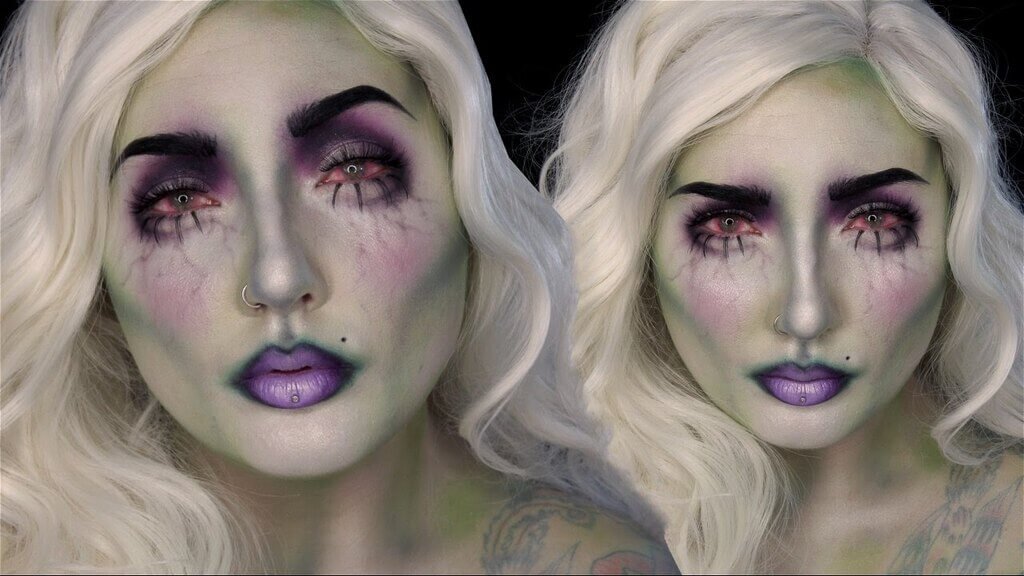 This appearance requires a long silver-toned gray wig, a black witch's hat, and a polished face of makeup with deep purple lipstick.
15. Dark Lip Witch Makeup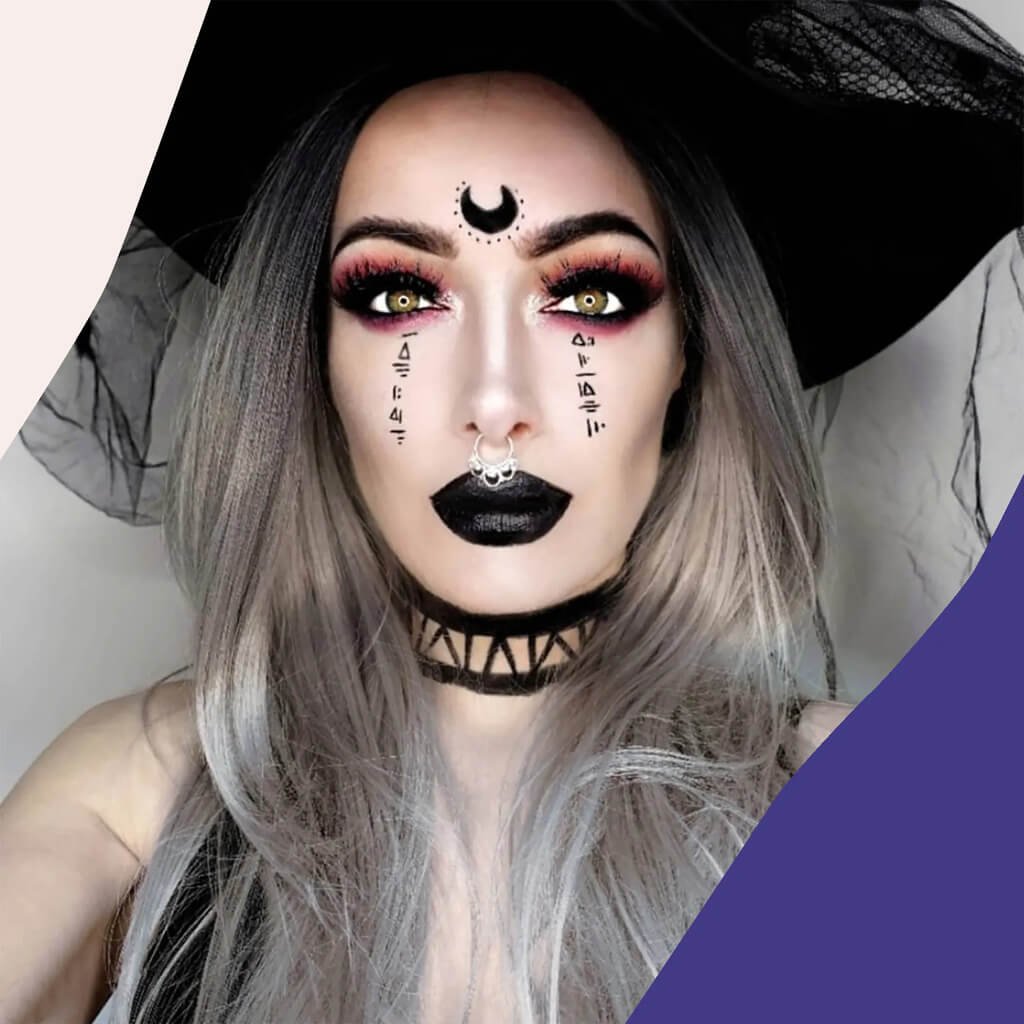 You wish to dress as a sorceress for Halloween, huh? Perhaps you want to keep things simple because you're not the type to go all out (or because you're not a cosmetics expert).
16. Skeleton Witch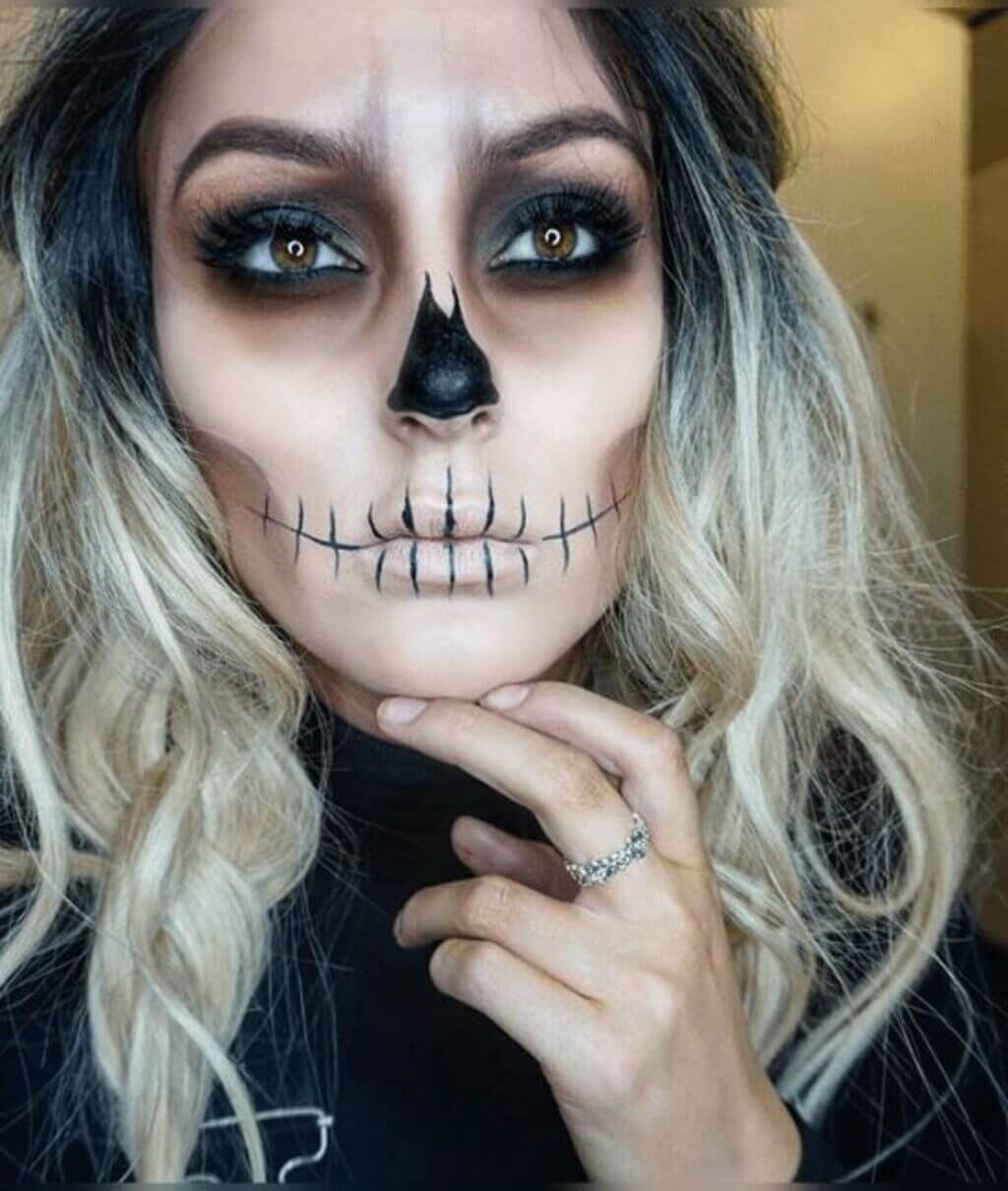 If you're a warlock who enjoys contouring, look no further. The transformation process of YouTuber MsAaliyahJay fascinates us, and we appreciate the versatility of the end result. Who are you? How about a skeleton? A Twilight-inspired fusion of the aforementioned? You may choose your poison.
17. Witch Eye Makeup
Make your irises stand out with green, a color favored by most spellcasters. This witch eye makeup will hypnotize your peers. Customizable gentle green shadow is featured on the base. Add a black spiderweb for additional spookiness.
18. Graveyard Witch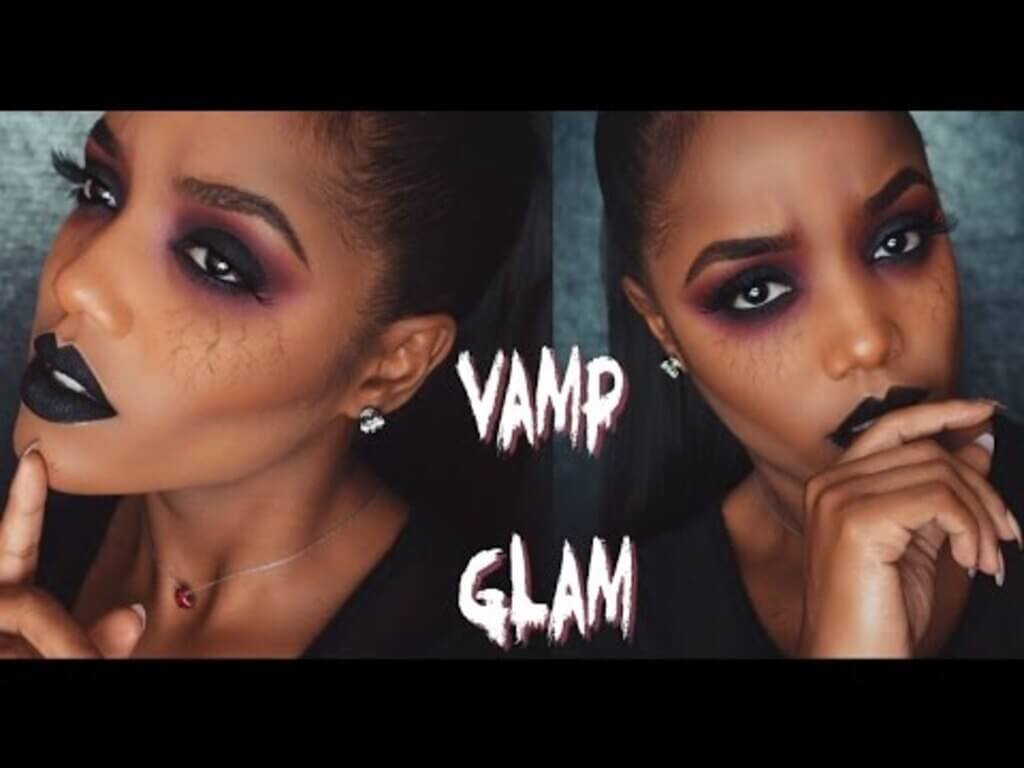 This scary look from Ellarie is most likely to be found in a graveyard. It includes bloodshot eyes and dark lips. This witch lesson is at the top of our scary list because you wouldn't want to run into her alone at night.
19. Lovely Witch Makeup
Just like "The Love Witch," which has been around for a long time. This 1960s-style makeup is all about bright, bold colors like pink and light blue. When matched with a soft pink, it will be like the movie and people will fall in love at first sight. Who doesn't love a great Twiggy eyelash moment?
20. Green and Purple Halloween Makeup
This unique combination of purple potion neck art and wavy purple hair is sure to cast a spell. Violet eyes and rosy lips add a touch of femininity.
21. Cute Halloween Makeup
Not sure if you want to go to the dark side this Halloween? Choose a bronzed dark eye with a lot of warm blush and some face glitter on top. Add a pretty pink lipstick to finish off the soft look that a good witch would wear.
22. Sexy Witch Makeup
Try this technique if you want to make your Halloween makeup look like that of a hot witch. When you're done, the look has a cut-crease eyeshadow moment that you can change by using a different color. It's also flexible enough that you can wear it with any outfit.
23. Scary Spider Makeup
Use vlogger Rocio Laura's guide on how to make a spider witch for a very unique look this Halloween. Tip: To make things easier, find an eyeshadow set with all the colors you want, like a few shades of black, purple, and white. 
Before you leave, you might also like,
For more makeup ideas visit Travel World Fashion.