30+ Blue Ombre Nails Design for Inspiration in 2023
Do you love rainbow nail art just like us? If so, stay right here because we're going to show you 25 ways to rock blue ombre nails. You might ask, "Why blue?" Well, there are so many shades of blue that everyone can find one they like. Blue is also easy to wear and looks good with other colors.
Ombre is also a popular nail trend, so the two of them together make for a stylish mani. Why don't you just do it? Check them out and pick one that will put you ahead of the fashion curve.
Best Blue Ombre Nail Ideas
Blue ombre nails are daring and attention-grabbing. The multitude of looks that can be created are suitable for nails of any shape.
1. Icy Blue Ombre Nails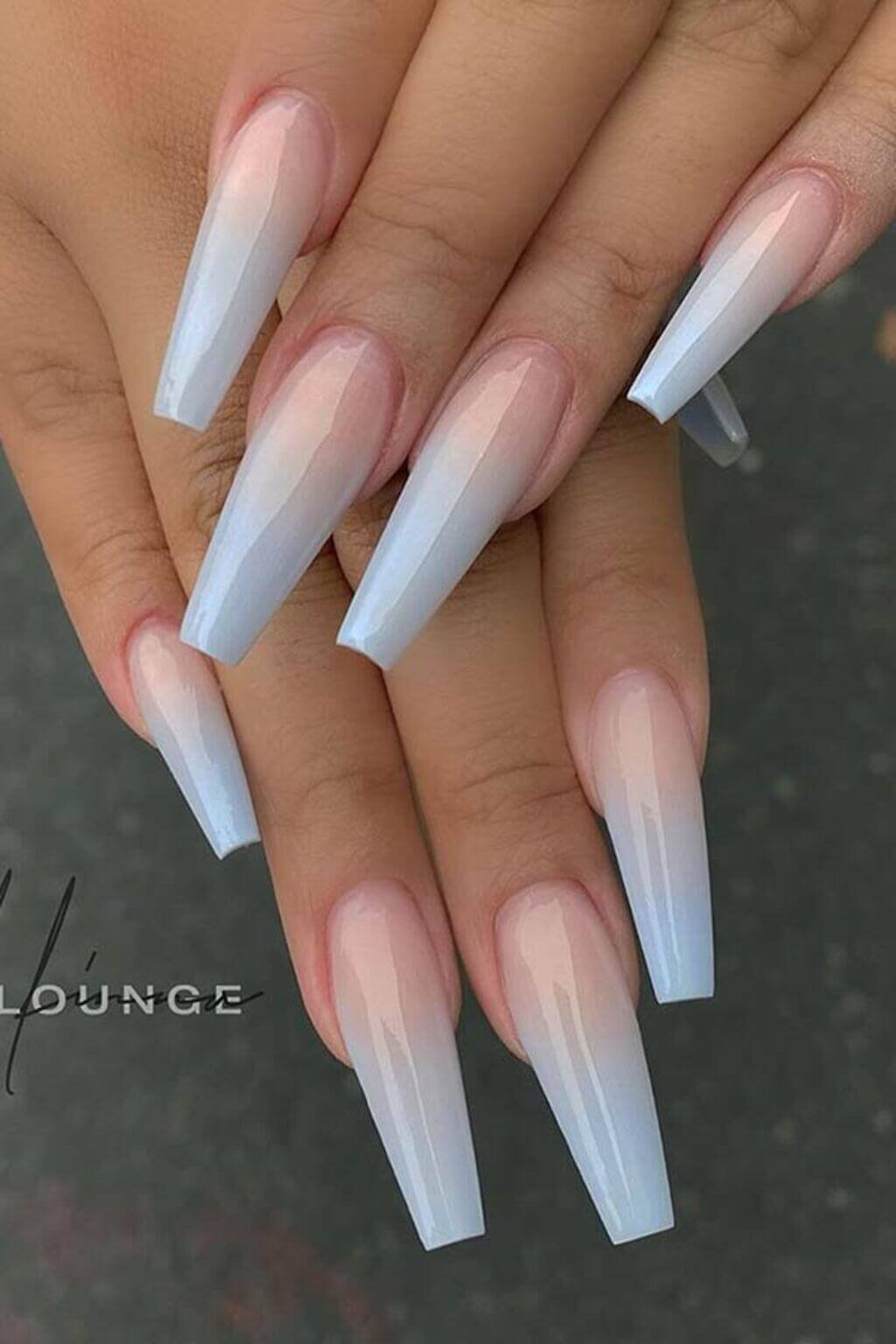 Source: stayglam.com
The first blue ombre suggestion we have for you is calm and stylish. For this style, the nails transition from a natural color to a stunning icy blue hue. We adore this shade of blue due to its adaptability; it is suitable for any occasion or season. Keep the appearance simple or add some rhinestones to the nails to add some flair.
2. Pink and Blue Ombre Nails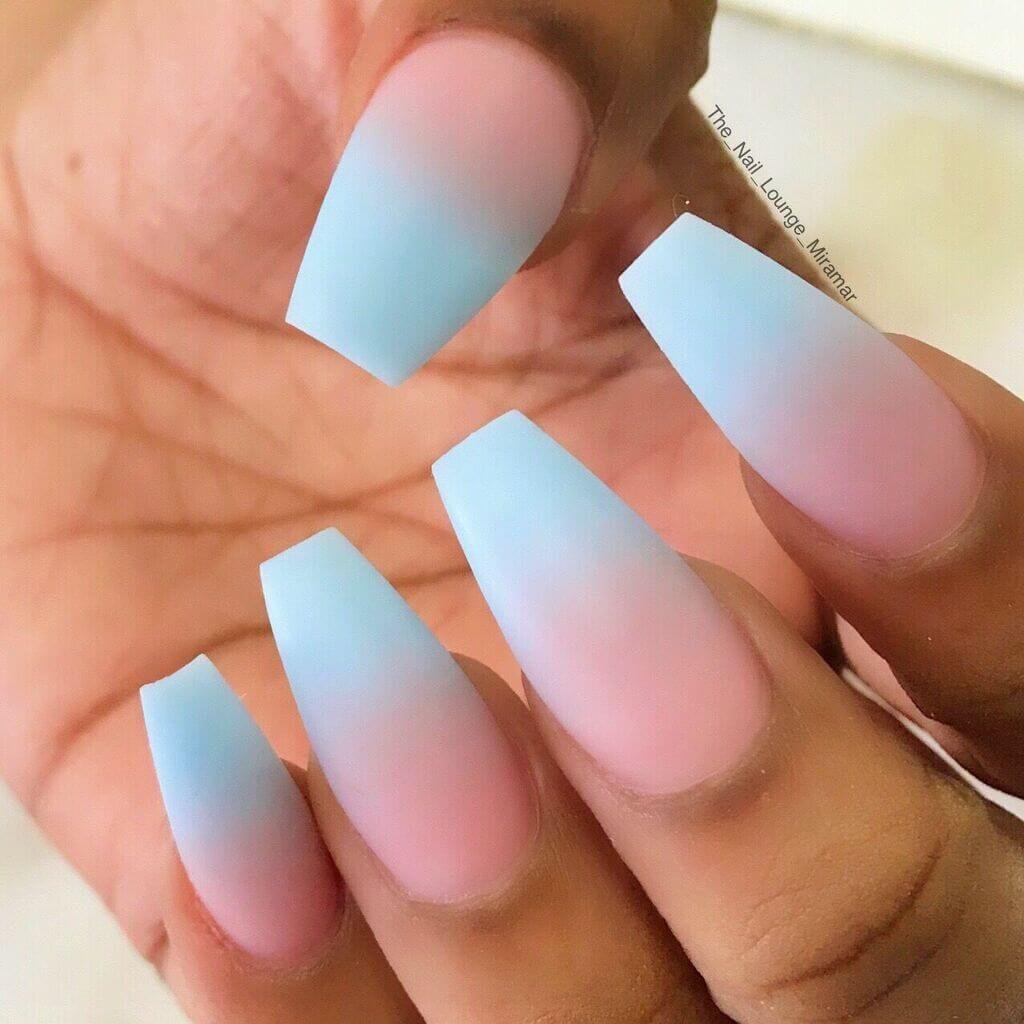 Credit: pinimg.com
Enjoy wearing colorful nail designs? If so, you might be interested in this! Here we have summery nails that are entertaining and daring. Therefore, for this appearance, the nails begin with a lovely light pink hue. Midway through, the color transforms to blue.
The pale pink and blue color combination is breathtaking! You can recreate this or use pastel colors for spring and deep, dark colors for autumn and winter.
3. Nude to Lavender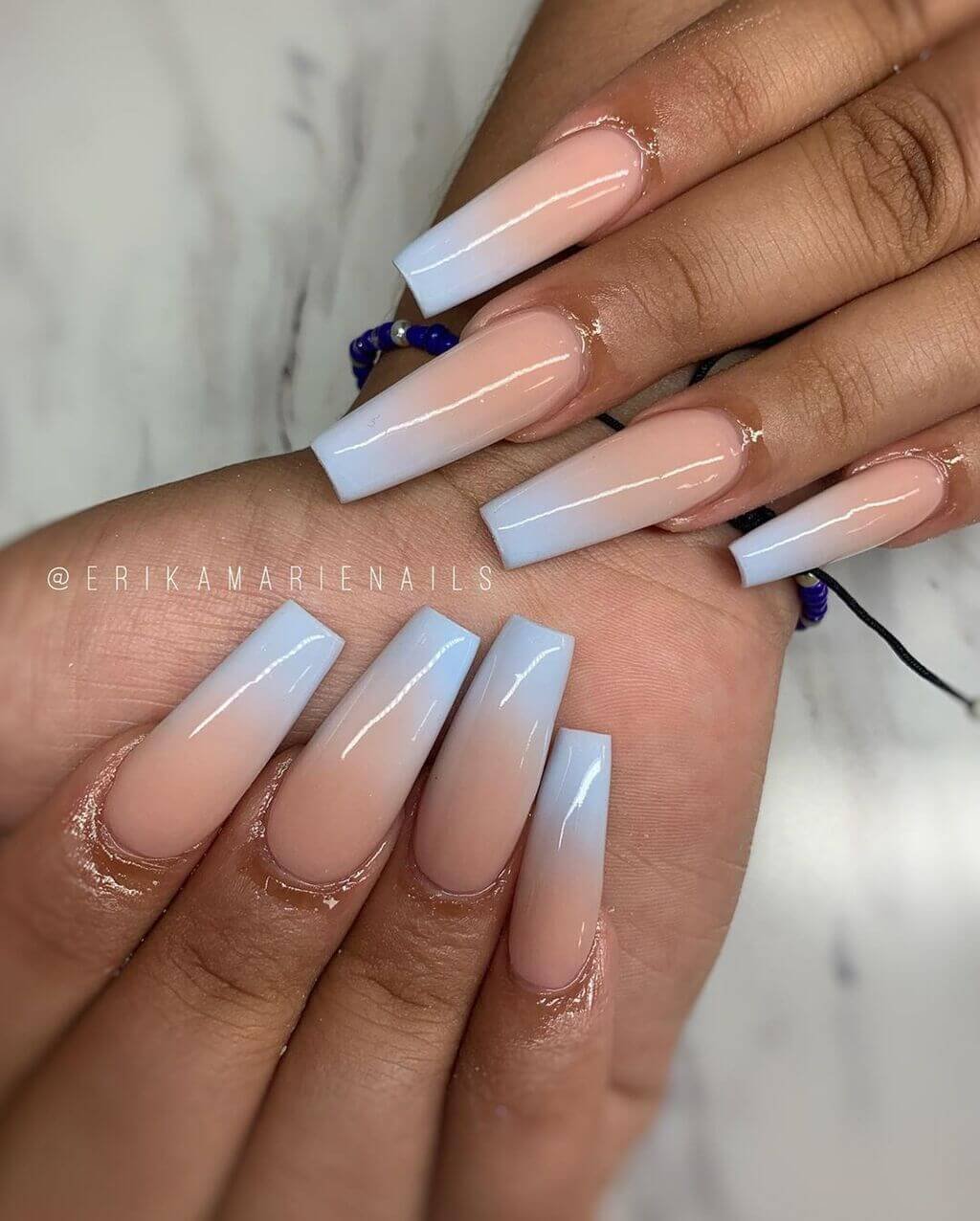 Source: lookslikecandy.com
Square coffin nails, run through a lavender-filled forest and allow the flowers to taint the ends. From a nebulous base to an even clearer light lavender blue, with a very slight blending at the extremities. This ombre blue style transitions from natural blonde to a light blue hue as if by divine design. 
4. Coffin Blue Ombre Nails
Source: pinimg.com
These designer ombre nails are mesmerizing from every angle, as a natural nail color gradates from light pink and purple to vibrant blue.
5. Starry Night's Spattering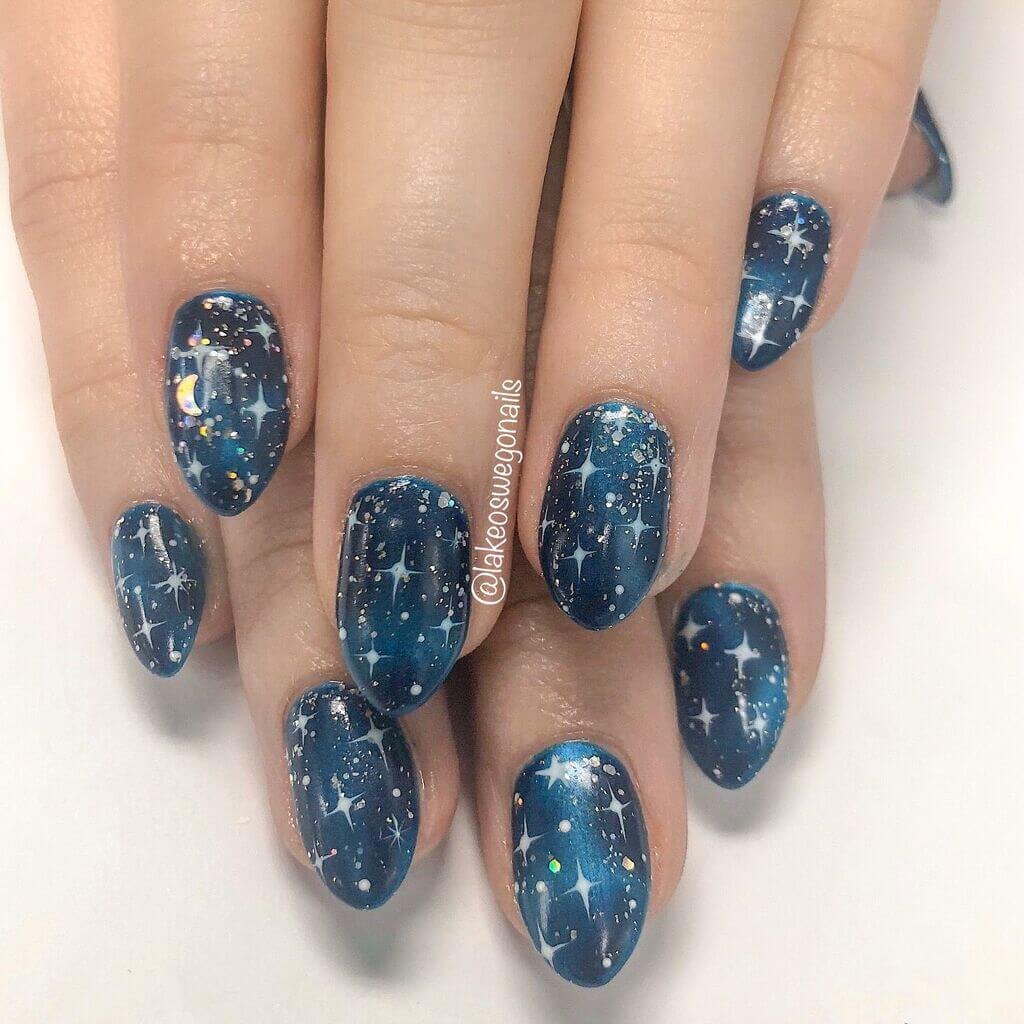 Image Source: pinimg.com
These silvery, shimmering nails incorporate the best elements of several nail art trends, including glitter tips, jelly nails, and, of course, a gradient, ombré effect. The dispersal of nail crystals and spangles that resemble stars makes the manicure resemble a starry night.
6. Royal Blue Ombre Nails
Source: barb.pro
There's nothing like regal blue to lend a touch of majesty to your ensemble! These regal blue ombre manicures are a unique take on the classic French manicure. Despite their length and the dramatic color of the royal blue, these nails are a discreet way to say, "Hey, I'm a badass." The ideal combination of subtlety and audacity. You can both have and consume your cake.
Also Read: 14 Different Shades of Brown Nails Ideas
7. Glossy Blue Nail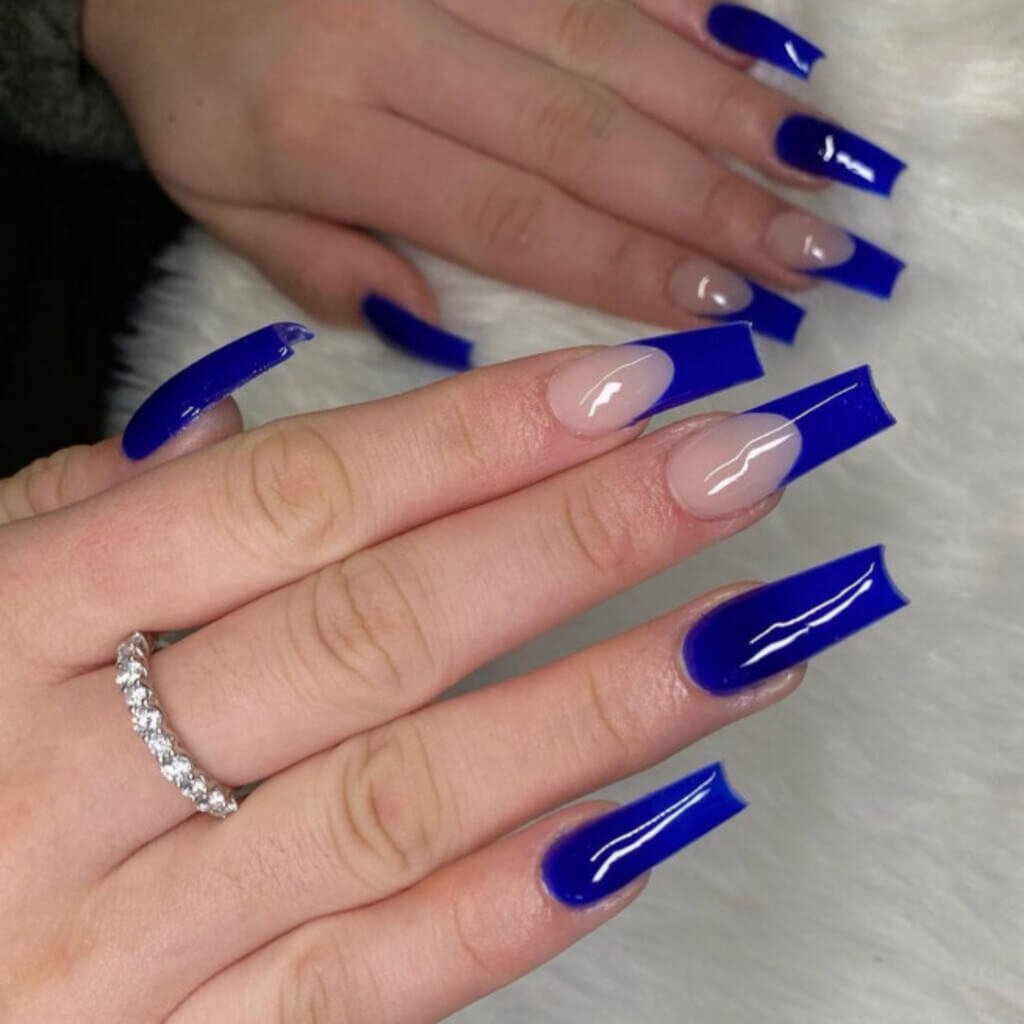 Source: itakeyou.co.uk
Possibly one of the most common examples of this style (and perhaps for good reason), this white and blue ombre style is particularly effective when the transition between the two colors is accomplished in this manner.
8. Dark Blue Stiletto Nails
Image Source: pinimg.com
Blue is so versatile. There are so many distinct shades of blue, and it also complements numerous other hues. One of the colors is black. Next, we have an eye-catching black and blue combination.
Therefore, these nails have a stiletto shape, and some have an ombre of black and blue glitter while others are simply sparkling. The combination of the deep blue and black is stunning. Anyone who wears these manicures will impress.
9. Shimmer Glass Shine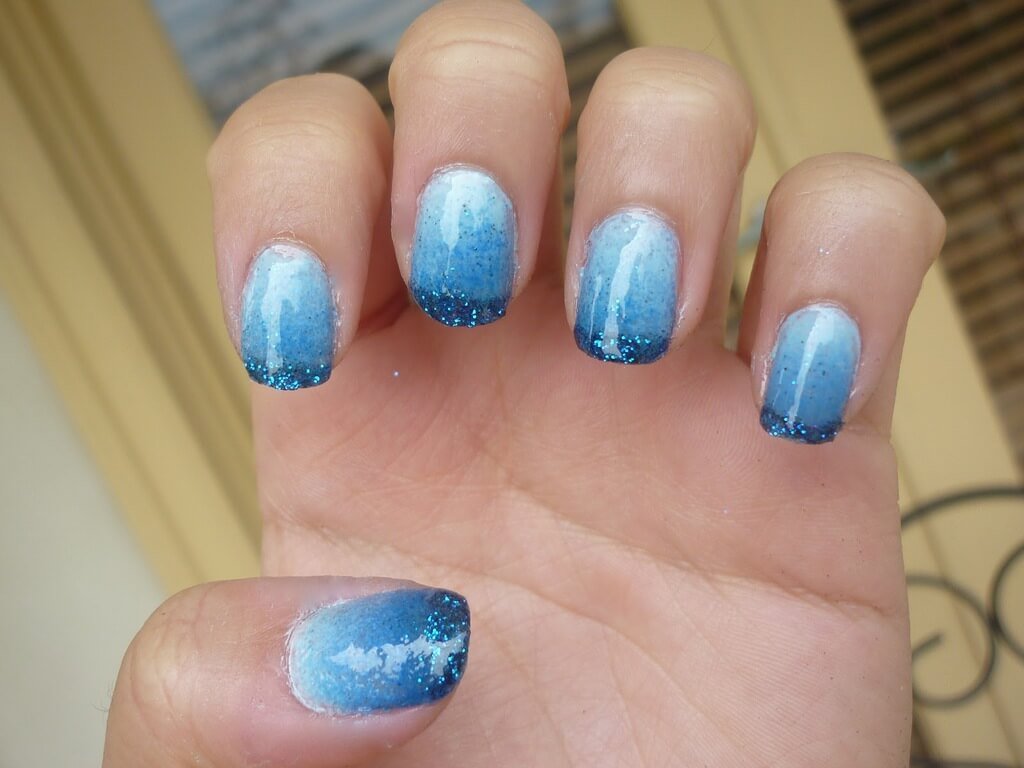 Source: blogspot.com
As transparent as can be seen. Take a clear nude base and apply a shimmering shade of light blue to the ends. If you gaze down at this magical unicorn-inspired glitzy design, you will see a rainbow illuminating a clear blue sky!
Capture its hallucinogenic appearance by infusing the light blue tip into a glazed clear nude base and dusting the tip's edge with icy blue glitter to please the eyes.
10. Abstract Ombré Tips
Source: zohna.com
The one-color-per-finger blue ombré nail was designed for low-key minimalists; however, this iteration, with its abstract French tips and metallic gold borders, is pure glitz.
11. Glitter Royal Blue Ombre Nails
Source: etsystatic.com
A winter brunch on a chilly day. A fabulous New Year's Eve celebration. A rendezvous in the open air. Regardless of the occasion, you'll feel like a monarch with these royal blue ombre glitter nails. Adding glitter to your blue ombre manicures is a fun way to jazz them up for a formal or dressed-up occasion…or if you're just feeling extra.
12. Long Blue Ombre Nails
Source: byrdie.com
The amount of royal blue you use is determined by the length of your nails (and personal preference), and I really like this length and generous use of blue.
13. Blue Ombre French Nails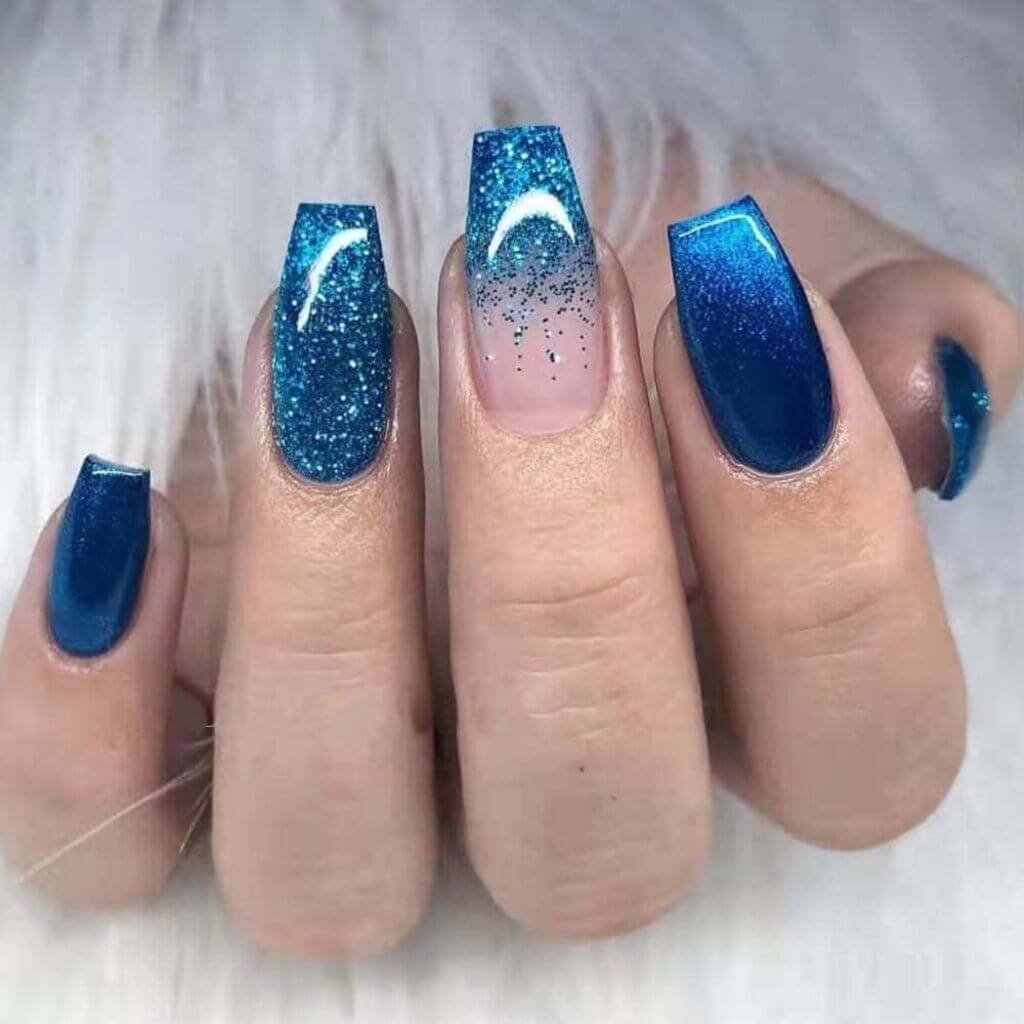 Credit: media-amazon.com
This next manicure features two fashionable ombre designs. Some of the manicures have the fashionable and popular French ombre, while others have a blue and beige ombre. As can be seen, both ombre designs complement each other beautifully.
You can recreate this or experiment with different colors. Use a lighter shade of blue in the spring and summer, and a darker hue in the autumn and winter.
14. Light Blue Ombre Nail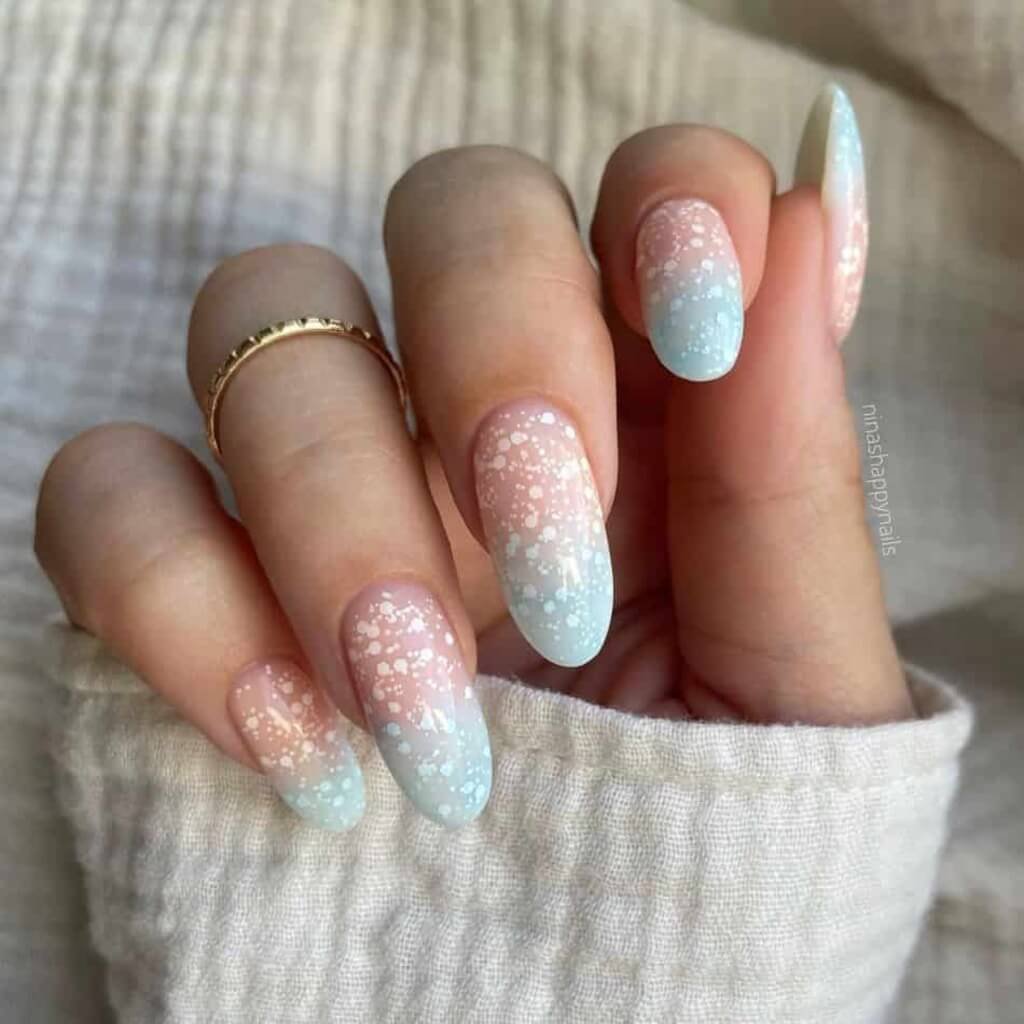 Source: styleyouroccasion.com
A blossom of orchids with a bare design looks best on extra-long coffin-shaped nails with delicate light blue ombre nails. Extend your classic cloudy effect of pale blue over a delicate nude foundation to the point that it dominates it.
15. Matte Finish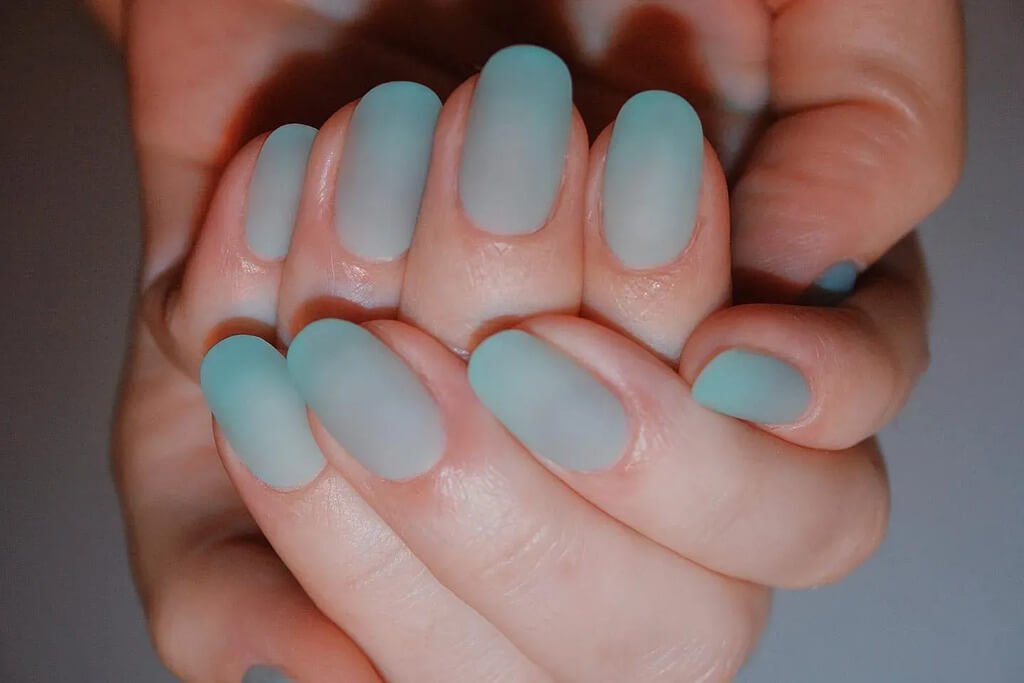 Image Source: vogue.in
It's difficult to say which aspect of this manicure is more eye-catching: the refined matte finish or the intricate butterflies adorning a few special nails?
16. Royal Blue Acrylic Ombre Nails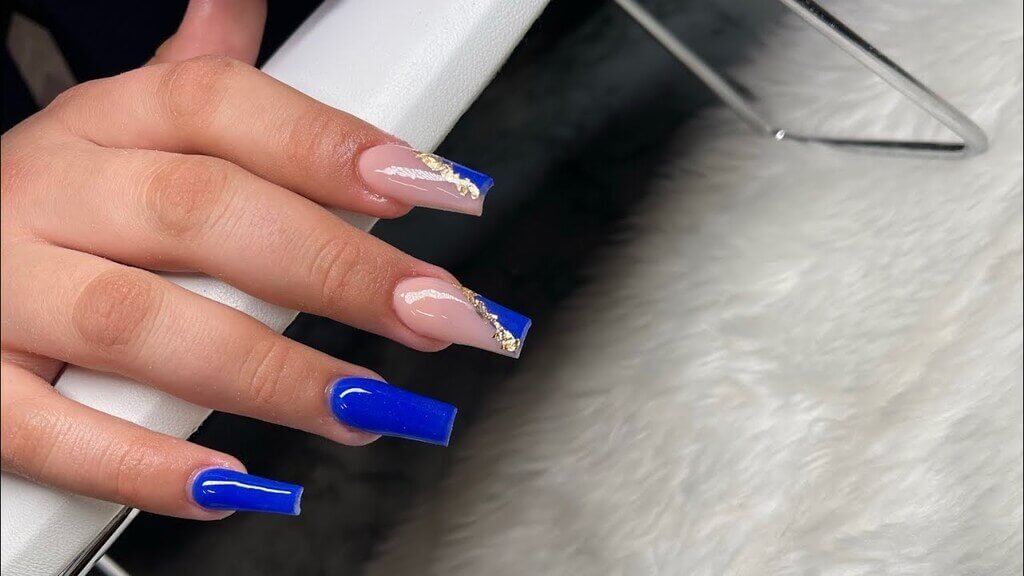 Source: ytimg.com
Long acrylic royal blue ombre nails are a statement in and of themselves, but this set ups the ante with a combination of solid blue and ombre manicures with butterfly accents. It's daring. It is humorous. It's enjoyable.
It undoubtedly makes texting more difficult, but who cares when they look so attractive? These royal blue ombre nails stand out even more because the ombre is inverted and the extremities of the acrylics are left clear, creating the illusion of butterflies in flight and enhancing their uniqueness.
17. Stiletto Nail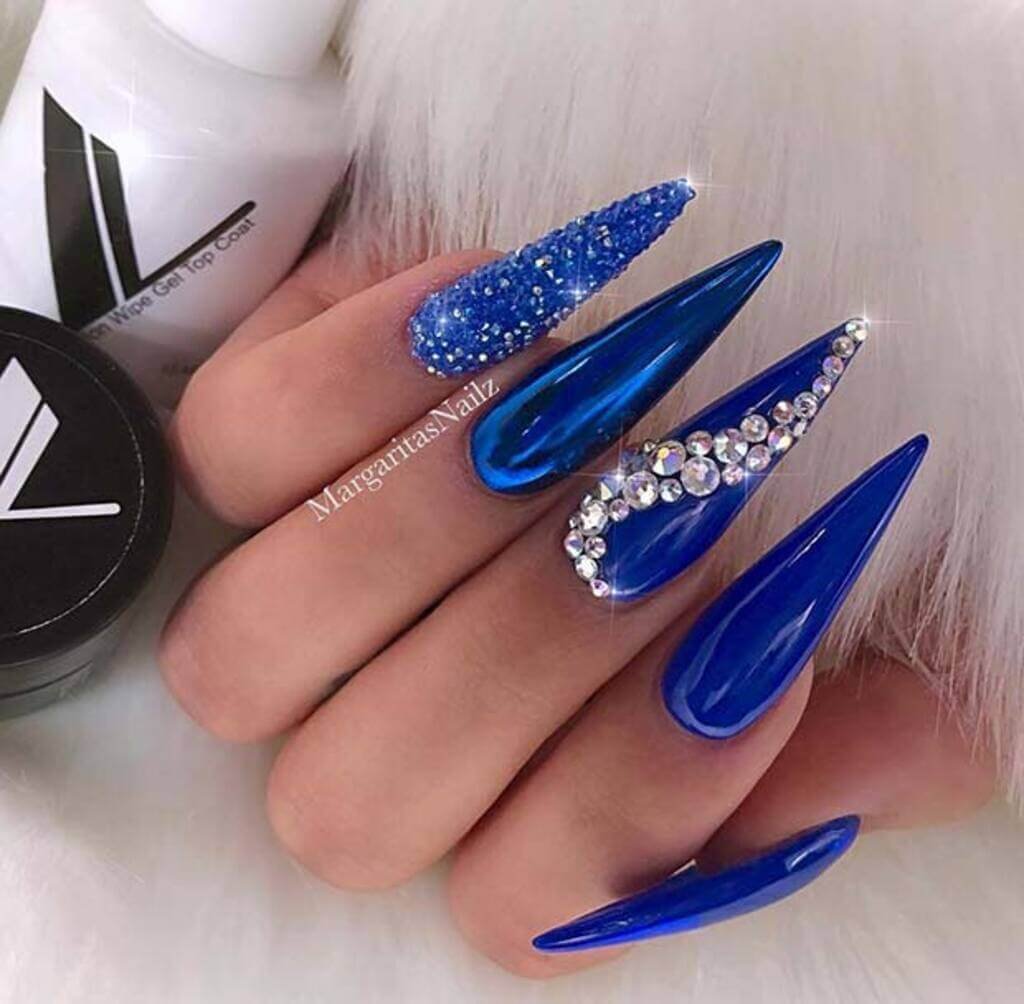 Source: stayglam.com
This ombre stiletto nail design features a beautiful application of royal blue and diagonally placed pearls.
18. Bold Sharp Nails
Source: weheartthis.com
If you like to make a statement with your nails, this concept is for you! Each of these long, pointed stiletto nails is adorned with a daring ombre design. All of the nails are sparkly, but some are decorated with traditional glitter and others with sequin-style dazzle.
Additionally, some of the nails are adorned with gemstones. The bright blue hue and glittering embellishments make the nails stand out. You can recreate this or experiment with a different blue hue. This design would look fantastic with navy and gold.
19. Aqua Femme
Source: blogspot.com
In this incredibly seductive and feminine design inspired by aqua blue ombre nails, we are reminded of our beloved oriental Disney princess from Aladdin. Princess Jasmine wore her signature turquoise pants, which were adorned with gold, and radiated feminine beauty and inner fortitude.
20. Airbrushed Result
There are several methods to create Ombré nails for slightly different looks, but the airbrush effect is by far the coolest. By leaving the remainder of the nail translucent, the pigment can really stand out.
21. Ombre Blue and White Nails
Source: lechicstreet.com
It is the classic ombre combination, with your preferred color fading into white. The turquoise glitter accent nail on the ring finger of these blue and white ombre nails adds a bit of a twist to the classic design. There is nothing wrong with a classic, but there is also nothing wrong with a little glitter.
22. Ombre in Cool Blue and Pink
Source: lechicstreet.com
Next, we'll show you another manicure that's bursting with color. This time, we have vibrant hues and glitter. Some nails feature a stylish ombre of beige and light blue, while others feature a vibrant combination of blue and pink.
We adore how the iridescent manicures alternate between colors. So, one is blue, the next is pink, and so on. It is a playful and bold manicure. Try to create a comparable appearance, or experiment with blue and another vibrant hue.
23. Combination of Colors
Source: vogue.me
A magical ombre combination of white, pink, and purple, finishing with a bright light blue tip. Set off your fantasy emotions with butterfly cut-out sequins on your accent ring nails. Allow them to float randomly over a complete baby blue base into a silver ombre tip to create an ephemeral, airy background for the butterflies to flourish against.
The butterfly sequins reflect the vivid fantastical hues with a gleaming display of color's pure delight. Add an additional gel glaze to your blue ombre acrylic nails in order to complete this hallucinogenic coffin manicure.
24. Shades Of Color Hints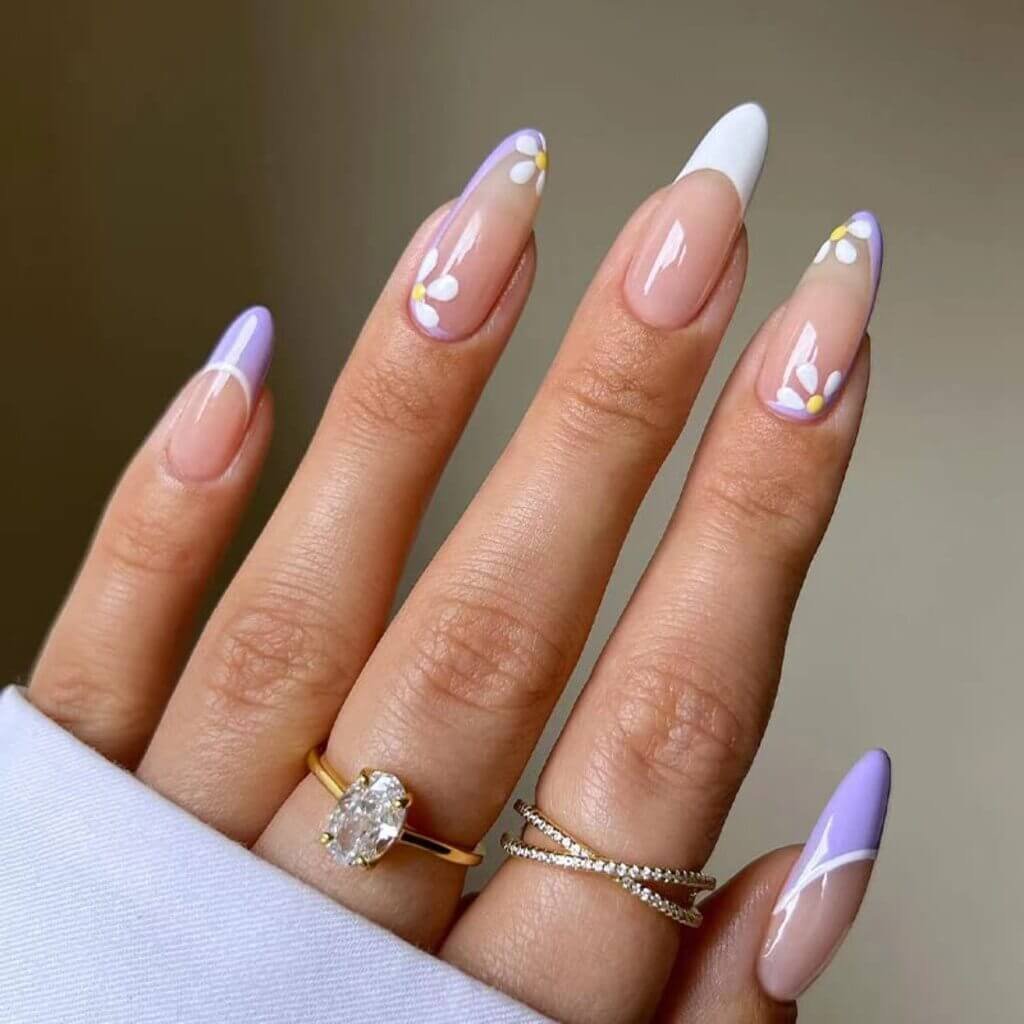 Source: media-amazon.com
The lightest hues of blue are so subdued and muted that they are nearly white, making them ideal for ultra-subtle renditions of the classic French manicure. Not only do these short, oval-shaped nails feature an unexpected hue, but the ombré fade is a stylish alternative to conventional tips.
25. White and Light Blue Ombre Nails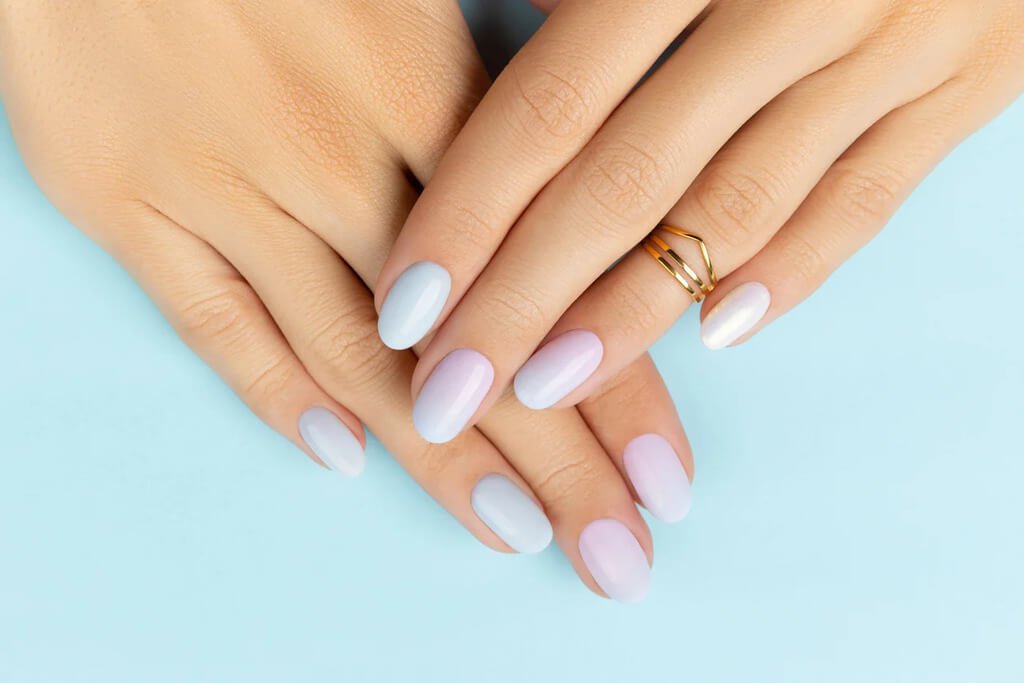 Source: zohna.com
As long as you desire something light, light blue and white ombre manicures deliver. This delightfully delicate color scheme emanates beauty. Nails with a light blue and white ombre pattern are for blue lovers who want a feminine touch.
26. Rounded Blue Nail
Image Source: shopify.com
With a nearly square (slightly rounded) tip finish and tiny dots and shading in the middle, this would look good in any color, but royal blue is a particularly lovely touch.
27. Stunning Blue and Black Gradient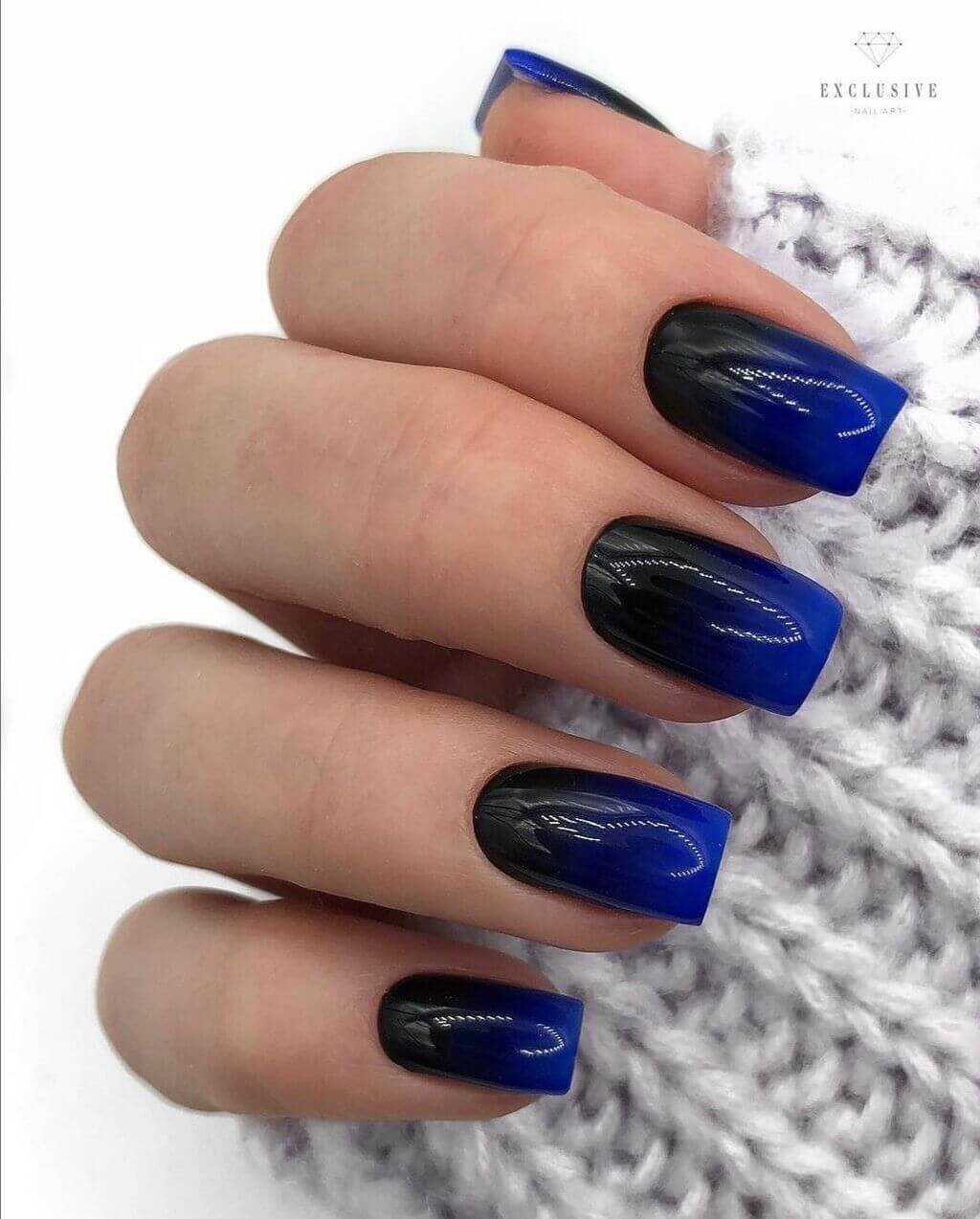 Source: pinimg.com
We have long black nails with a blue ombre that sparkles. On the manicure artist's page, you can view a video of the nails in motion, allowing you to fully appreciate their shimmer. These manicures are essential for a special event.
28. Cone-Ice Cream Sundaes
Source: wordpress.com
On the tiniest nail, use delicate detail and build your varnish to give texture to an adorable little ice cream cone on a contrasted stiletto tip with a pointed tip.
29. Divine Clouds
Source: glam.com
This blue ombré manicure, painted on short, almond-shaped nails, draws inspiration from the heavens with a soft gradient that fades into butterfly-studded clouds.
30. Ombre Nails with Blue Diamonds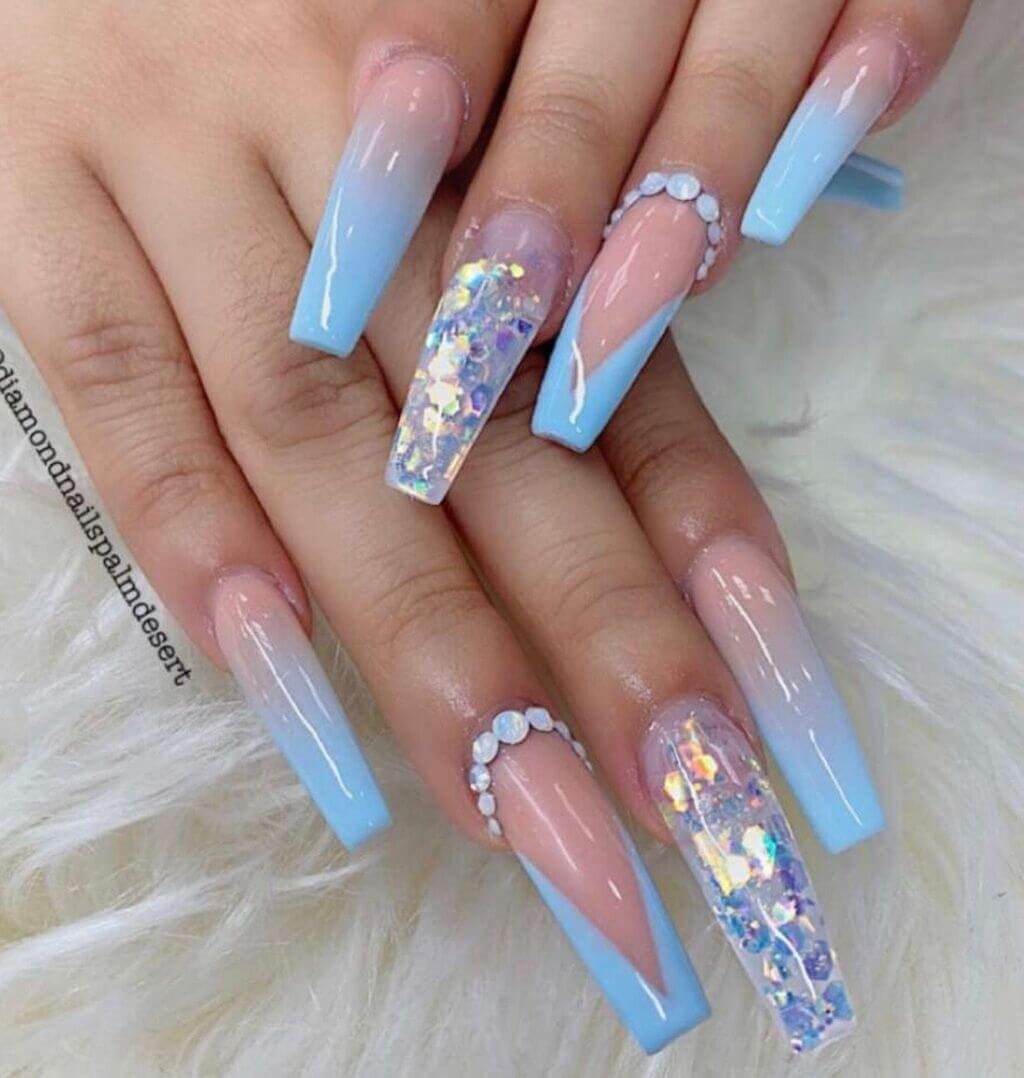 Image Source: pinimg.com
Diamonds are a woman's closest companion. And these blue ombre manicures with diamonds certainly demonstrate it. If even glitter is too subdued for you, request that your manicurist use diamonds. Blue ombre manicures with diamonds are essential for Instagram trolls and the proudly Extra.
31. Cute Royal Blue
Source: twimg.com
This design is unique, but it was simply too adorable to pass up. Beginning with a profound royal blue hue, each fingernail gradually fades to white.
32. Blue Ombre and Butterflies
Source: etsystatic.com
Want a manicure design that will enhance your appearance? Then this is intended for you. Here are coffin nails with an ombre of pale pink and blue. On the accent manicure are glittering silver butterflies. As you can see, it is so beautiful! The vibrant hues and insects are ideal for summer.
33. Be Brave and Brilliant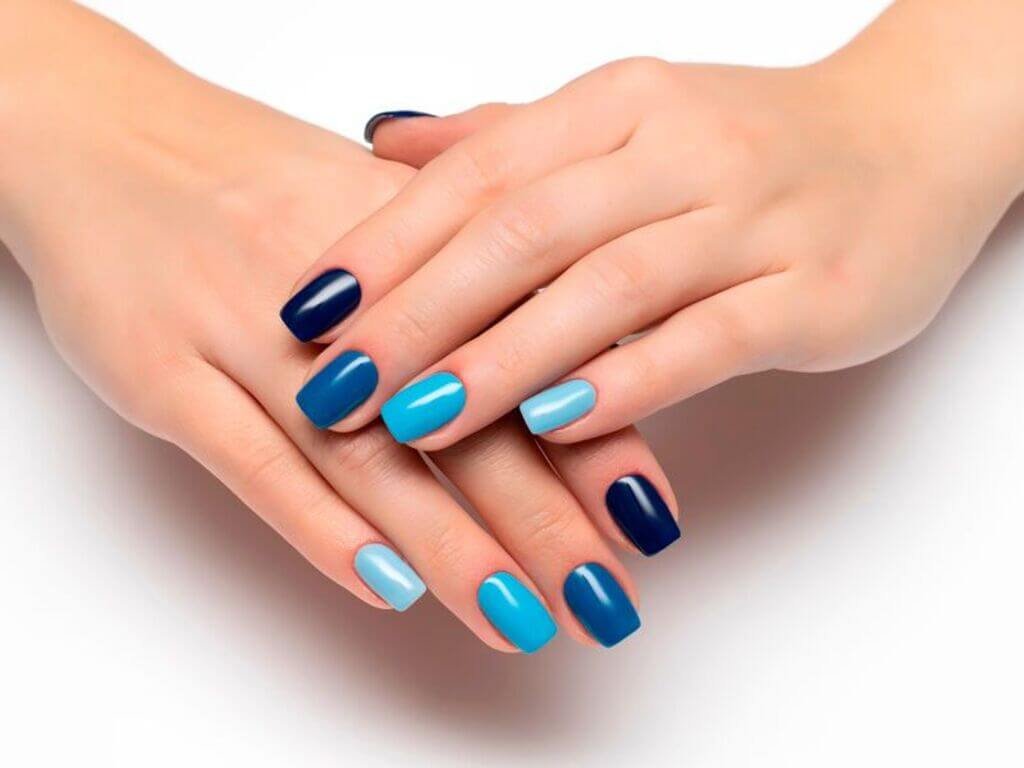 Credit: naildesignsjournal.com
Shine brilliantly with blue ombre manicures that will make you stand out! Each nail on a long, almond-shaped set of almond-pointed nails should be painted with varying shades of vibrant to pale blue. Start with the blue that is the brightest on the forefinger and end with the lightest shade of blue on the smallest nail. 
So That's it, Folks
So, there are 33 different ideas for blue ombre nails on the list. I hope you'll know what to do the next time you go to a salon or a shop that sells beauty products.
Also Read: Classy Short Nail Designs
FAQs
How to take care of your ombre blue nails?
The first thing you should do is make sure your nails are as dry as possible. This means that you shouldn't get them wet for at least 24 hours after getting them done. This means washing your hands and taking a shower. After that, you should keep them from getting wet as much as possible by wearing gloves when you do dishes and only cleaning your hands when you need to.
What's the best nail shape for pink nails?
Almond-shaped nails tend to look good on everyone and are very classy. If your hands and fingers are short, you should choose oval and almond shapes.
Do ombre nails last longer?
This depends on what kind of shine you use. If you use regular nail polish, this should last about a week or two, based on how strong your nails are. Gel nail polish will stay on longer.
We hope you like these blue ombre nail designs and found a design you'd like to try! Do not forget to visit Travel World Fashion for more nail art.