14 Different Shades of Brown Nails Ideas to Look Stunning for Your Next Travel Trip or Event Party
Nails in Brown is a great way to get the look you want without spending a fortune. It's an easy and affordable way to get results that are Close to Your Skin! Brown nail polish is quickly becoming popular this season. There are many different shades of brown acrylic nails, like espresso, chocolate, cinnamon, and mocha, that show how versatile the color is.
Here are the different shades of brown nails that will be popular in 2022.
This time i thought to apply some different shades to make my new slay travel look. So chose to have brown paint put on my nails at this time.
I didn't know that I would have to choose from different shades of brown and modern patterns to finish it.
I put together an article that sums up all of my research to save you time.
You can find the perfect match for you inside this article!
Different Shades of Brown Nails and Design for Your Next Travel Look 2022
Brown is the best colour to wear on your nails in the fall. You could go for a simple French manicure with brown tips or a bright colour. Use a different colour of nail polish on the other fingers to make your hands even more noticeable. Brown is the colour of peace, and many people think that when they paint their nails brown, they feel the most at ease.
If you want to find the perfect shade of brown acrylic nails or brown nail paint, you don't have to look any further than this page.
1. Cinnamon Brown Shades of Nails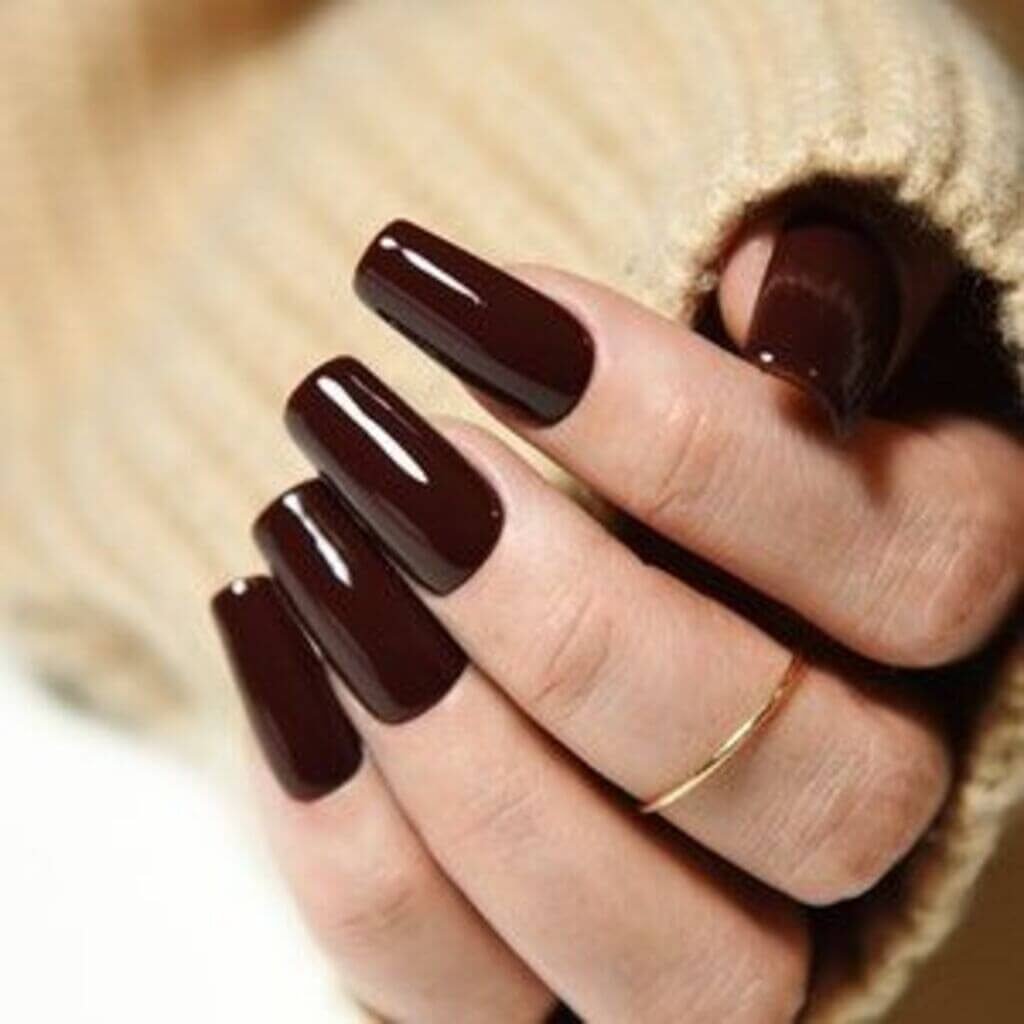 This colour could be good for women who want to look bold and sassy. Also, this colour gives the impression of being both elegant and bold. Make sure you have longer nails so you can enjoy it and get the most out of it. They look sexier on longer nails.
Cinnamon or light brown nail polish looks great on darker skin and nails that are a little longer. Make sure to wrap the nail polish around the top edge when applying this one to keep it from chipping and to make it last longer. As for the design, it's a brown Yin-Yang pattern.
2. Chocolate Brown Shades of Nails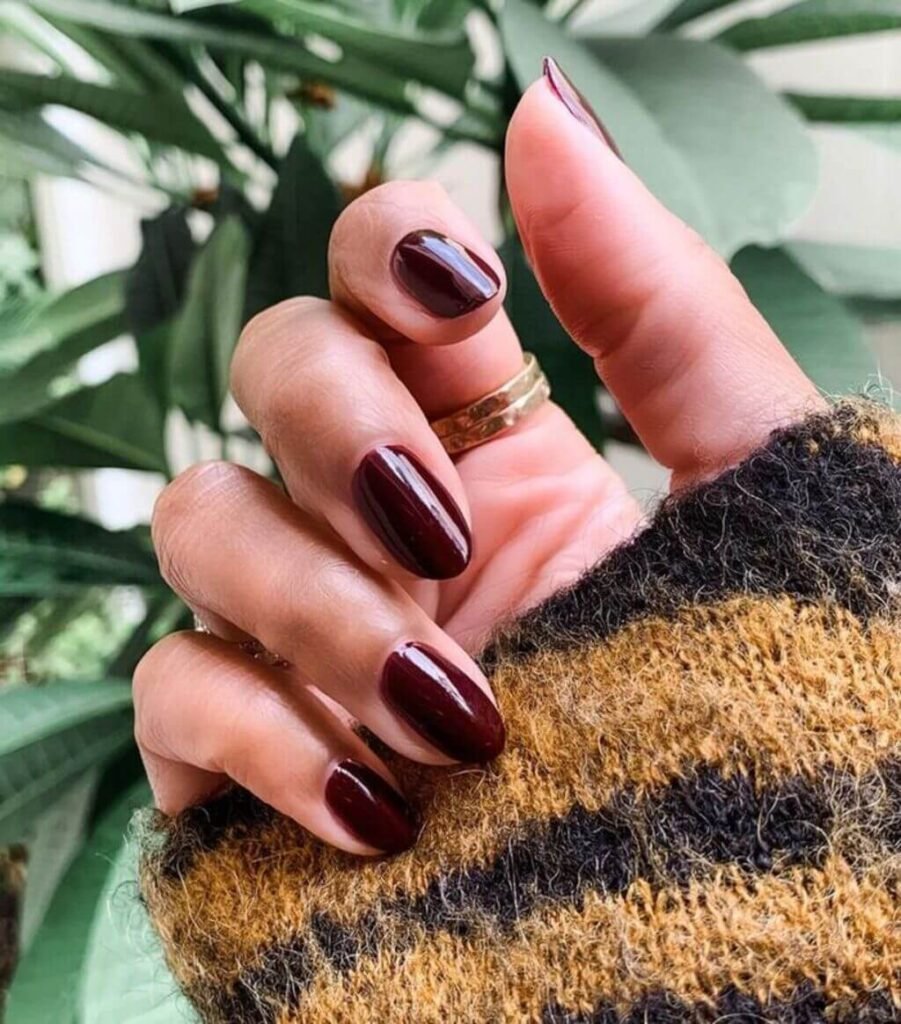 Every makeup bag should have a deep, rich chocolate brown colour. Why? Because the colour is not only trendy, but also very pretty. It looks good on both very dark and very light skin tones. Brown nail polish has the same effect as dark red in that it makes you look happy, grown up, and special.
The colour choice could be dramatic and warm, showing that even the darkest brown nails are welcome. This looks great on every skin tone and nail length. It's perfect for the fall and winter, but you should have it in your collection all year long. Also, this is a colour that people who like the look of the 1970s and 1990s can use to get that look.
3. Matte Brown Nails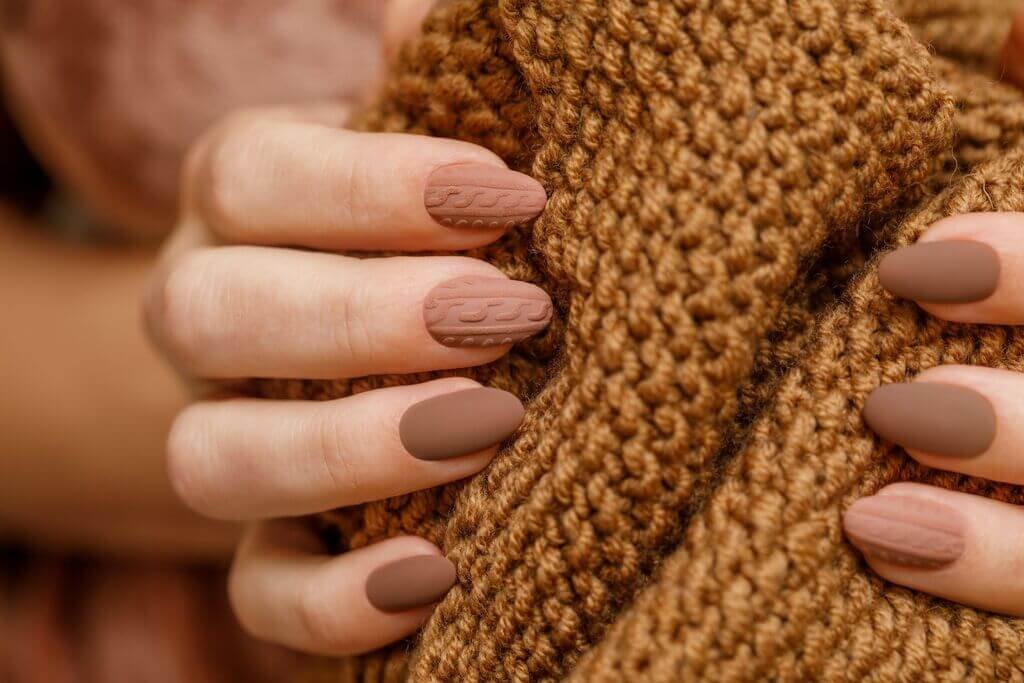 These light brown nails are a great mix of matte and brown tones. It's one of the best nail designs for people who want to stay in the background. Matte brown nails are the height of sophistication, with just a touch of edge. For a sleek and elegant look, don't add any decorations or patterns.
Also, it makes you feel good and makes your hands look more attractive than ever. Matte nails look smooth and do not shine. Matte paint can even hide flaws, and Gen Z is becoming more and more interested in it. It also looks flat and frosty, which is perfect for the winter.
4. Eggplant Brown Shades of Nails
If you want a colour with a hint of purple, eggplant is the one for you. An eggplant brown acrylic nail design looks great on nails of any length, but it looks even deeper and darker when paired with a glossy top coat.
Since the cold makes nails more dry and brittle, you should use a moisturiser and file them often to keep them from getting caught and breaking. Don't forget to put oil on your nails. Deeper and darker colours also make your nails look rich and make your hands look strong and elegant.
5. Brown Swirl Nails
Another popular nail style that has been seen recently is swirl nails. The nice thing about this manicure is that you can make pretty designs on your nails with almost any colour, like our favourite brown fall nails.
To get the look, draw one or more curved lines on your brown fall nails and finish by applying a topcoat. You can make the swirl as long as you want (from top to bottom, around a corner, or anywhere between). You can make it as thick and as many colours as you want. The goal is to make a finish that is colourful and almost relaxing to look at.
6. Wild Black and Brown Nails Design
Have you ever considered painting your nails to look like wild animals? It has nothing to do with cute nail art, like putting little animals on your nails. Instead, they were painted black and brown. You can add a fierce animal print that makes it look elegant and unique.
7. Heart Shapes and French Brown Acrylic Nails
Dark brown acrylic nails in different French shades are sure to get everyone's attention. Also, the brown patterns in the nail accents that look like hearts are beautiful. You should try this cute nail art style.
8. Glittery Shades of Brown Nails and Design
Do you like to wear bright nail polish but find it hard to keep your nails from getting messy? Do you want a simple, reliable nail polish that goes with your favourite clothes but doesn't make your nails look too sexy? If you said yes, you should check out this simple but beautiful design.
10.Brown & Gold Glitter Nails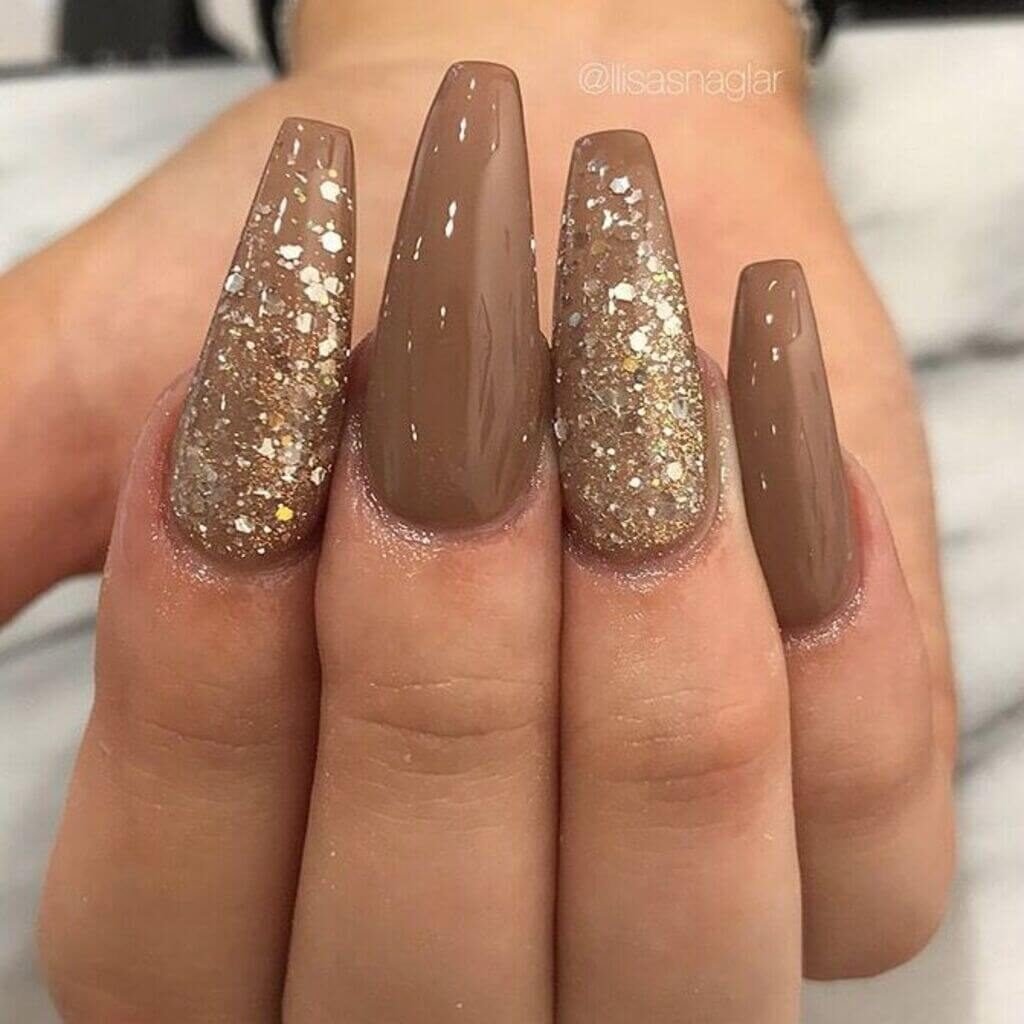 Brown & Gold Glitter Nails are another beautiful fall nail trend is to put gold glitter on your favourite shade of brown acrylic nails.
The way gold and brown look together is beautiful. Also, if you like glitter, you can use a lot of it with this manicure design.
Now that salons are reopening, nail art is becoming more popular again, and glitter nails are one of the most popular trends. Glitter adds colour and texture to summer manicure trends, from sheer glitter bases to elaborate metallic motifs.
These were some great brown nail designs for fall 2022 that would make your brown nails sparkle and shine.
11. Glossy Brown Nails
We all know that glossy nails last longer than matte ones. But if you want to try something new and exciting this season, we suggest taking a break from glossy nails every so often.
If you want a simple but elegant manicure style for fall, you should use a solid colour on your brown french tip nails. You should use a glossy brown, it will look very high-end.
If you have trouble painting straight lines, use your favourite brown nail polish or buy press-on nails that will give you the look of a brown manicure.
12. Taupe Caramel Browns
With its creamy shine, taupe caramel brown is the perfect mix of a bold and simple look. The colour looks great on skin with cool undertones that is medium to dark. Don't forget to put on the long-wear top coat, because when the taupe caramel brown manicure chips, it's very obvious.
Caramel nails are rich and thin, but they have a lot of colour. It's even better if you want your nails to be a different colour than the usual nude. Caramel nails look good on anyone with yellow undertones in their skin.
13. Caramel Shades of Brown Nails and Design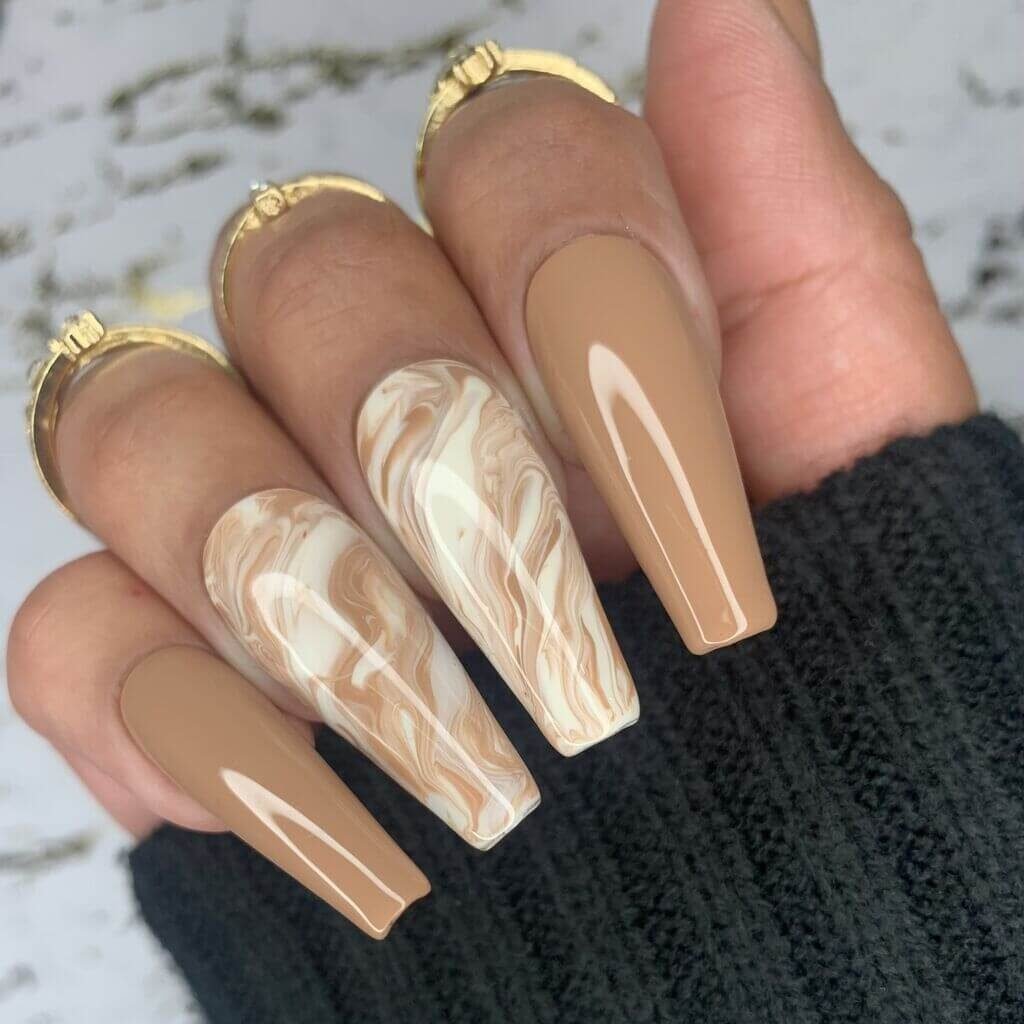 Caramel-colored nail polish is great for people who like to be a little less flashy. Warm and golden skin tones look great with light brown nails. Because of this, the skin looks even more golden and browned. What person wouldn't want that? On the other hand, a caramel tone might quickly make pale skin look sickly because the undertones don't go well together.
If you still want to try it, you should. What matters most is that you like it. French-tip nails that are caramel brown go well with any skin tone that has yellow undertones.
14. Mocha Brown Nails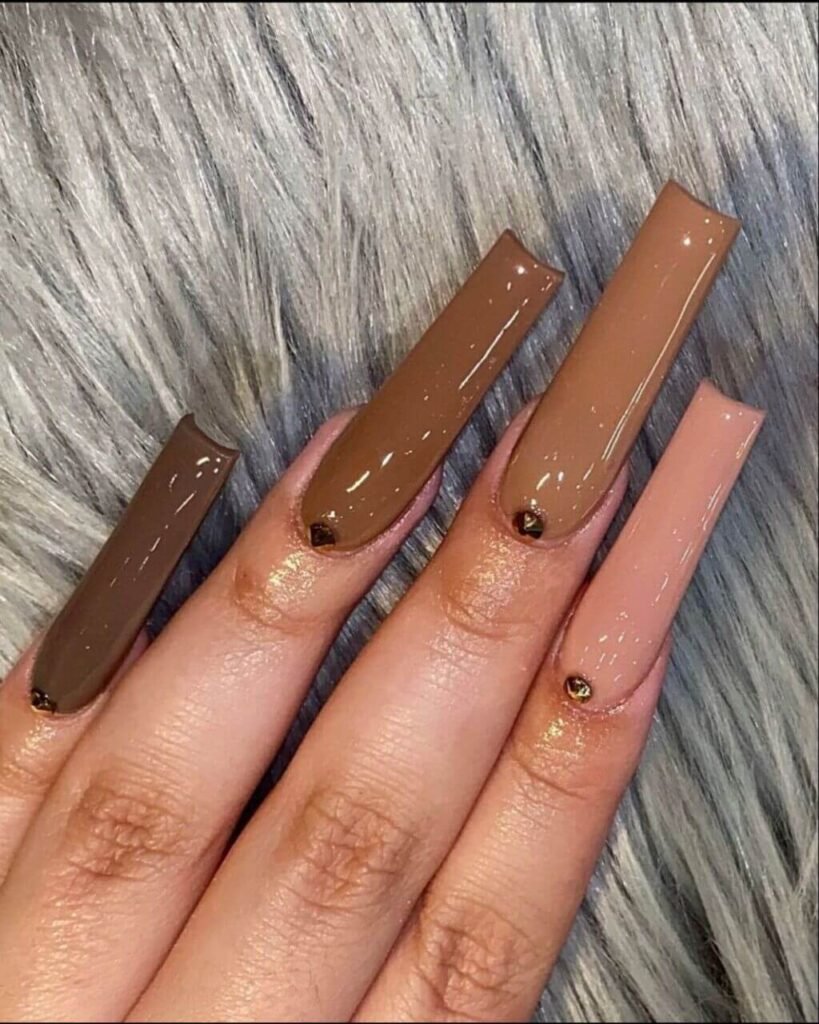 We can all agree that caramel is the exact opposite of mocha. The calm brown colour goes well with light skin tones. The chilly style is the most subtle of the three, and it fits well with how we live our lives. It makes your nails look like they are well-kept brown french tips without drawing attention to them.
It can also go with almost every other colour. At this pace, everyone who wants to get in on the trend of brown fall nails will be able to. You can find a mocha shade of brown that is very relaxing and classy for going out with friends or just hanging out.
12 Images of Different Shades of Brown Nails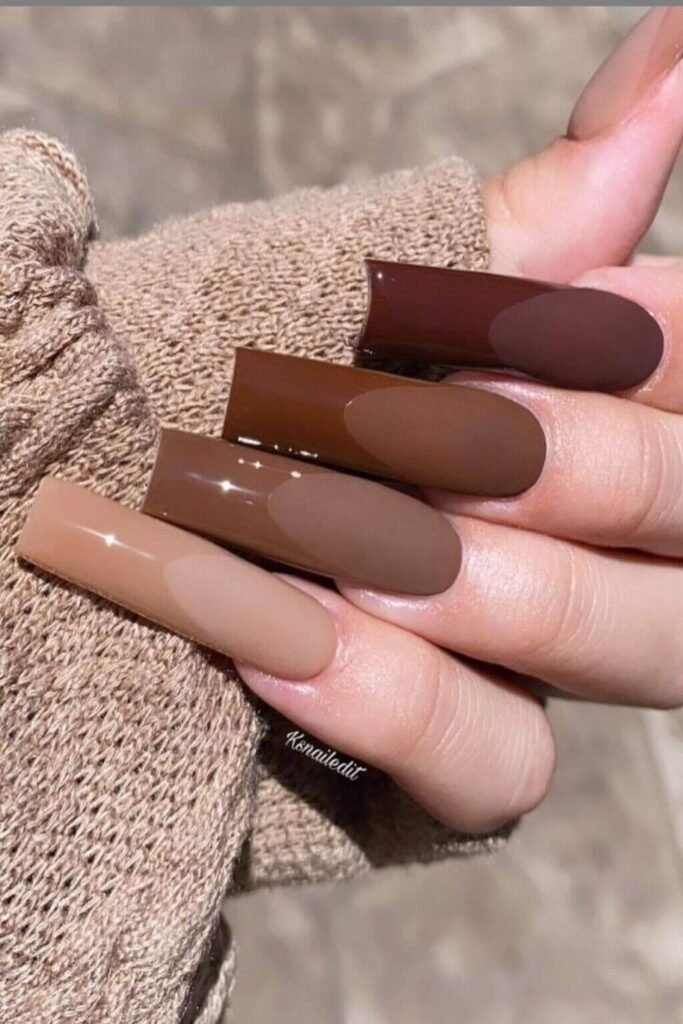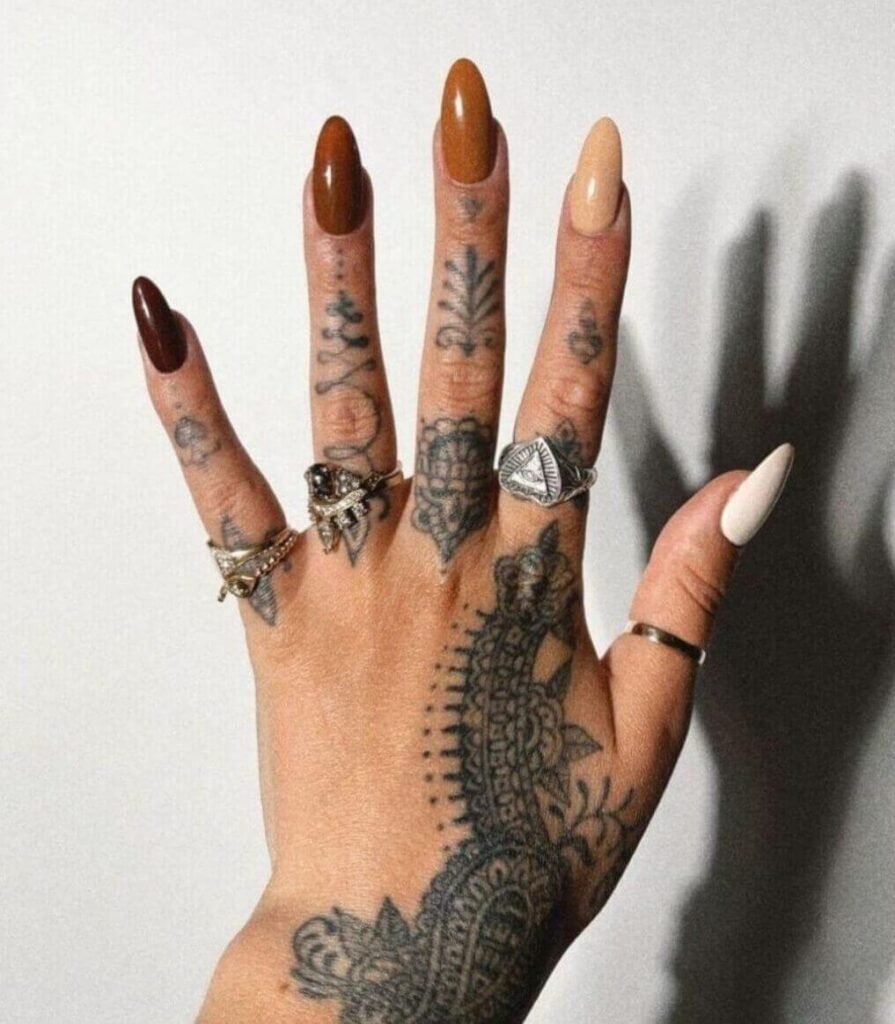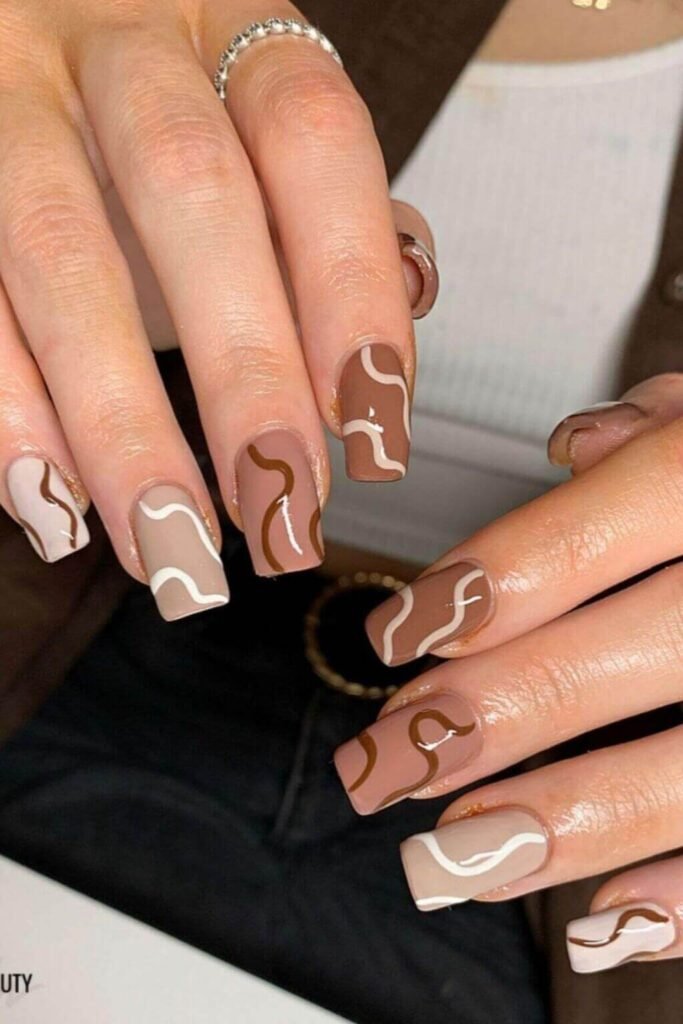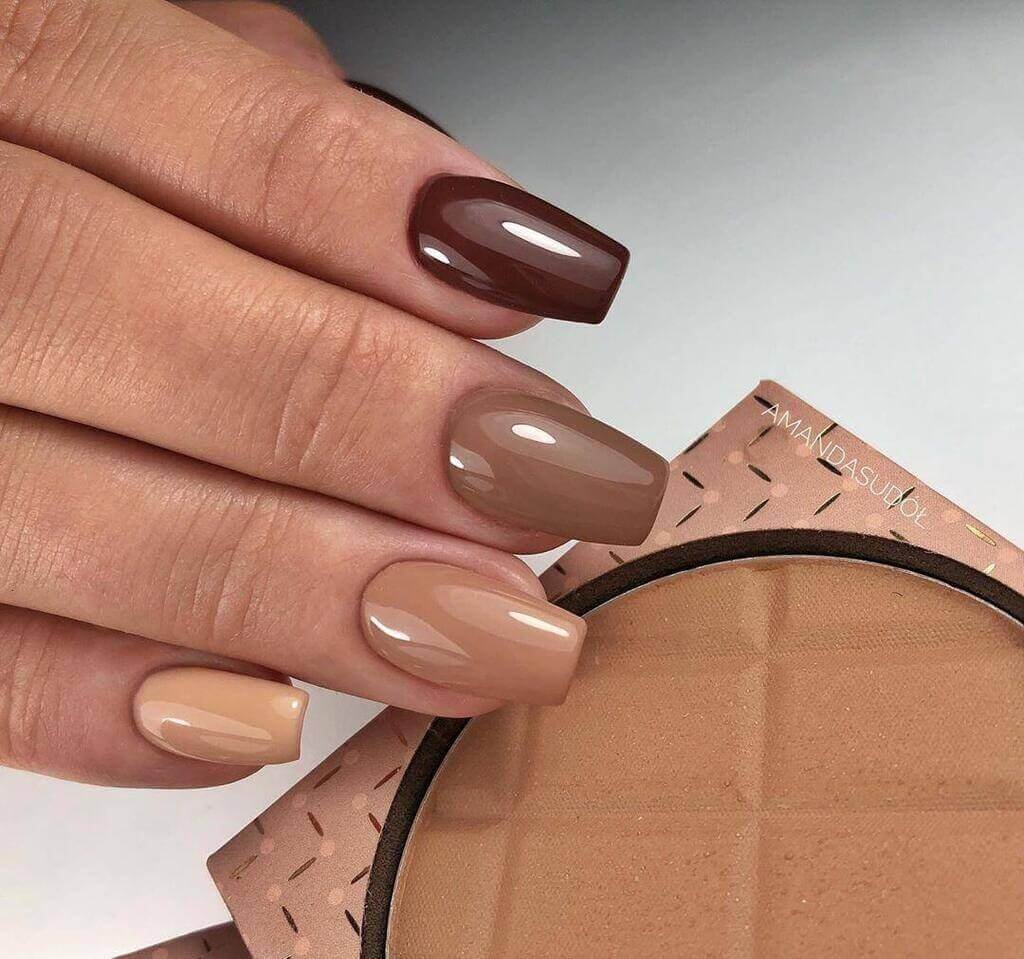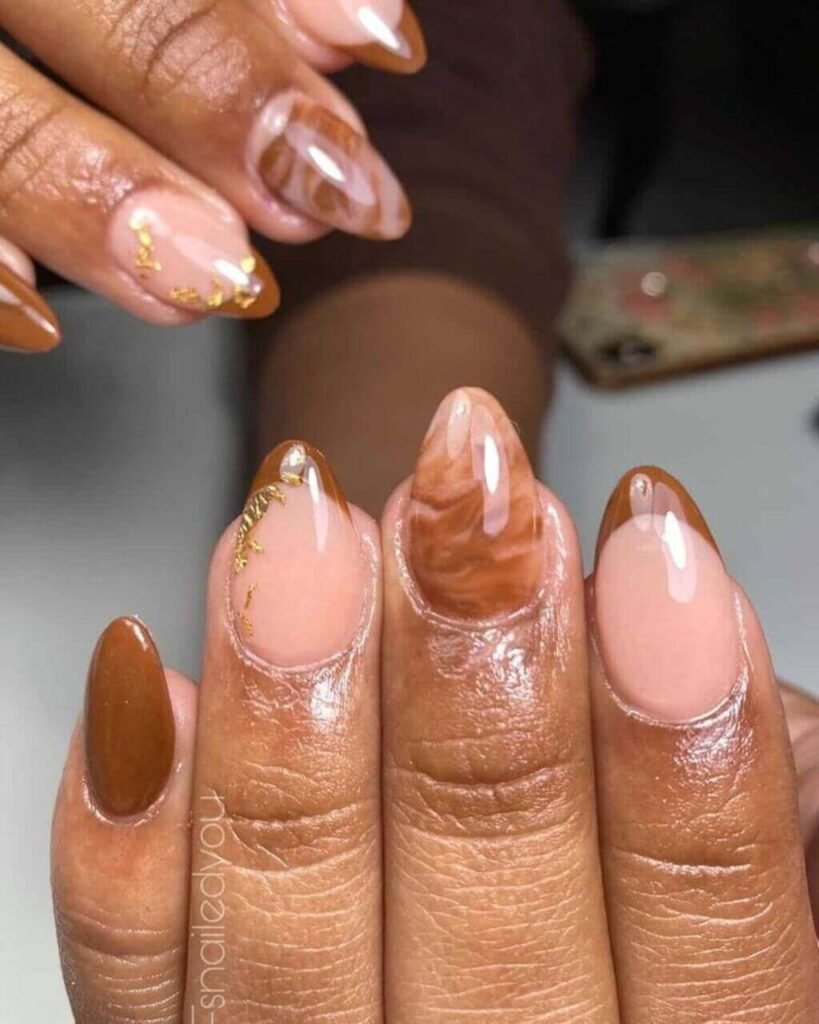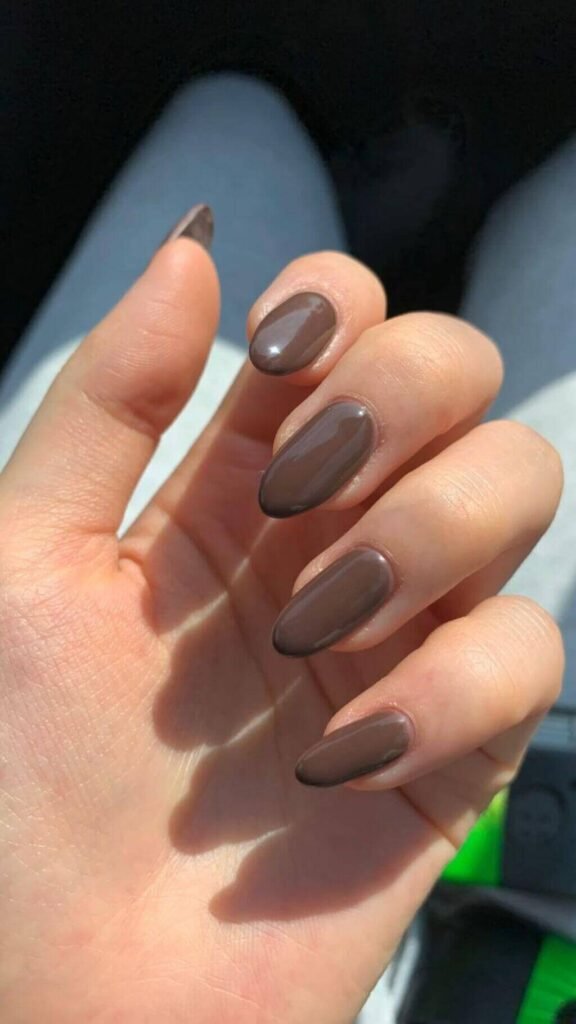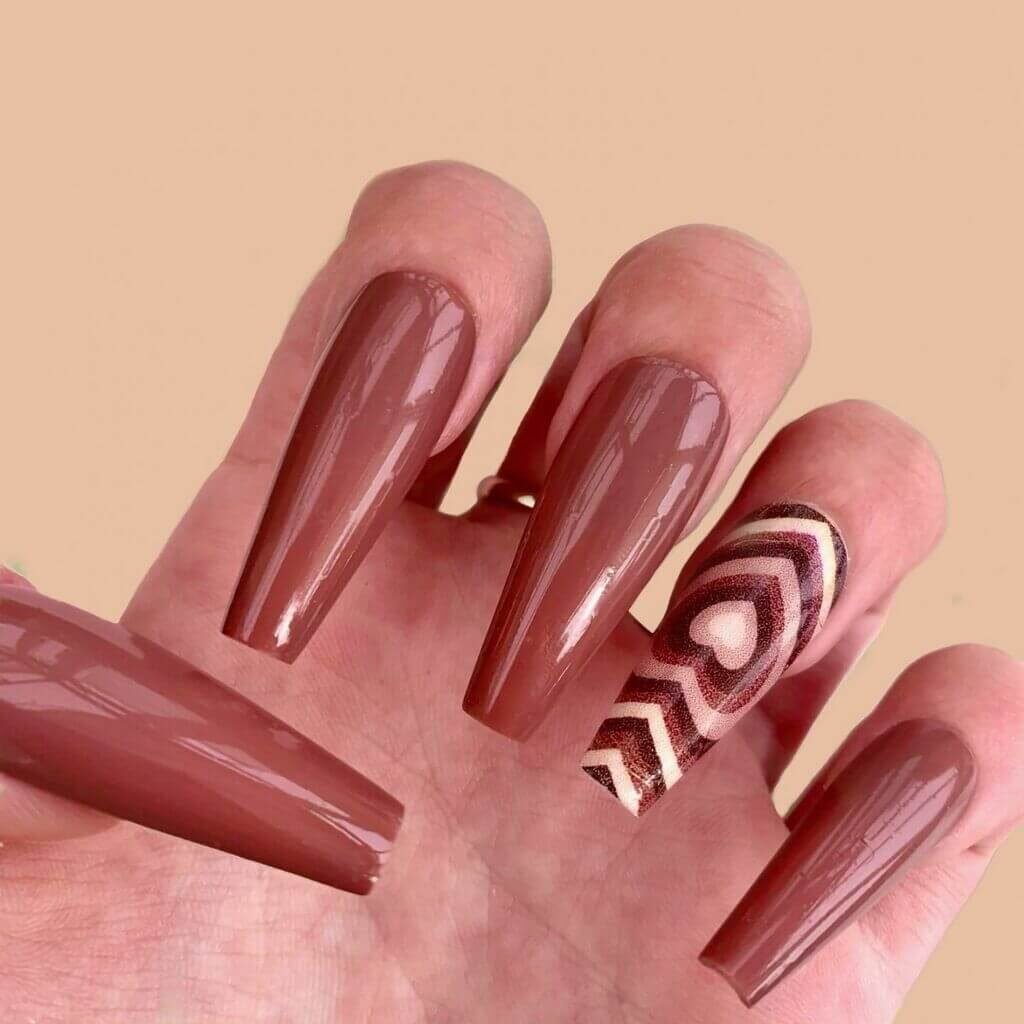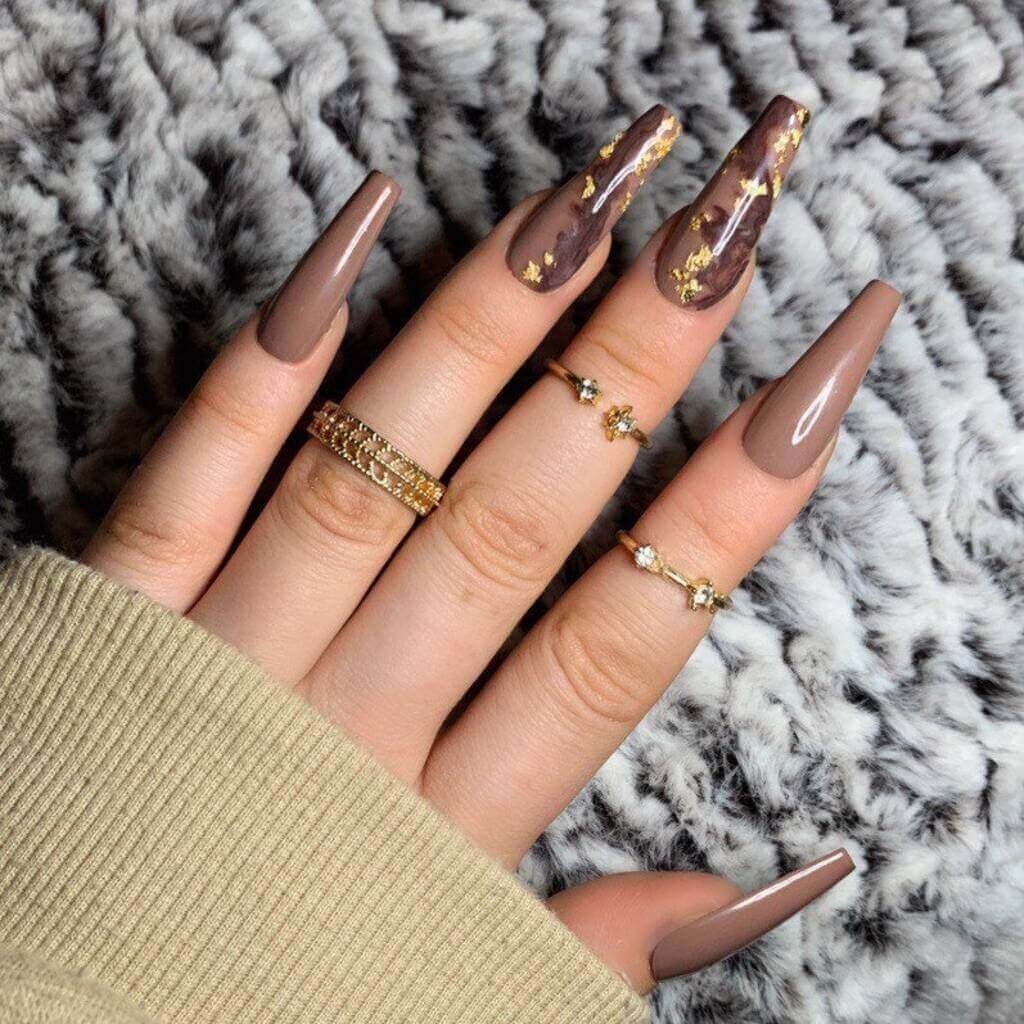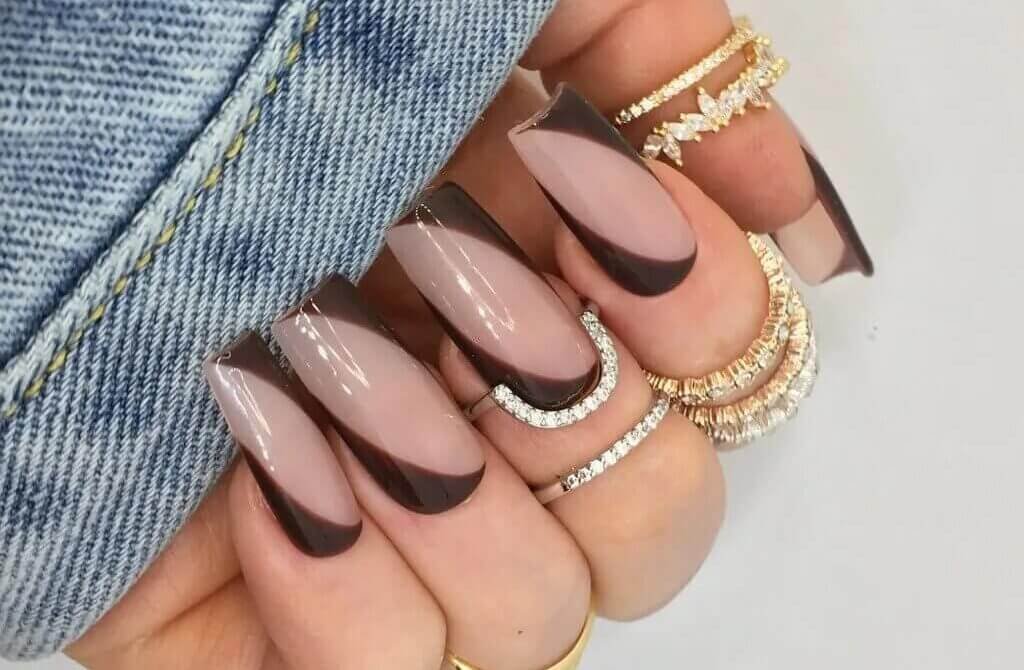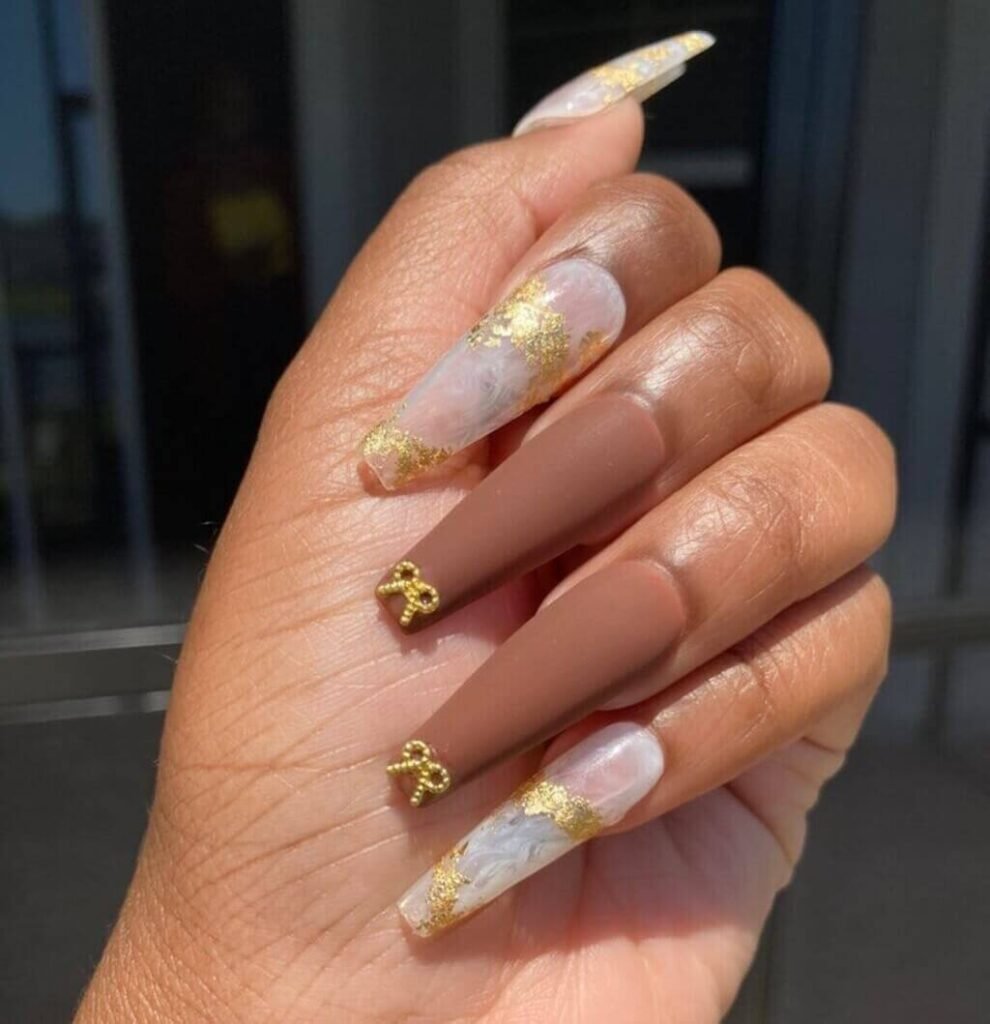 Conclusion
Try coming up with new brown manicure designs with the help of skilled nail artists. To add a few lines, we can say that brown nail polish is always in style.
You can wear brown nail polish anywhere, whether you're going to work or meeting up with friends. Find out more of this kinda cool ideas on Travel World Fashion