Flower Market Nyc: Complete Botanical Shopping Guide
Not everyone knows this, but here in New York City, we are lucky enough to have our own little jungle oasis to walk through. The floral district is a neighborhood in New York City on West 28th Street between Sixth and Seventh Avenues. It smells the best and has the most plants of any neighborhood in the city. Even though it's not as popular as the neighborhoods around it, it's a lively gem that both floral designers and people who own flower shops visit often.
The flower market in New York City starts to get busy around 5 a.m. when shops start to line the street with big plants. Once the first fern hits the ground, this busy marketplace can't be stopped. When you walk into a flower market, it can be hard to know where to start. That's why we're giving you all of our expert tips on how to get around this crazy, blooming paradise.
Where is the Flower Market NYC?
It's between Sixth Avenue and Seventh Avenue on West 28th Street. You'll know you're in the right place as soon as you turn the corner. Seasonal plants, trees, and shrubs overgrow the sidewalk, making it hard to get from one shop to the next.
Important Things to Know About the Flower Market in New York City
The shops in the NYC Flower District open at 5 a.m. and close around noon, so it's a place for early birds.
Plan for the slowest time of year, which is summer, and the busiest time, which is around the holidays.
Most of the shops on 28th Street are between 6th and 7th Avenue. There are stores that only sell fake flowers or vases, and there are stores that only sell orchids and trees.
The only way to really understand the New York Flower Market is to walk through it and stop in each store. You'll soon see that each store does have its own specialty, which is what makes this place so unique.
Some of the vendors take credit cards, but most of them only take cash. I'm not sure if that's something new, but just in case, bring cash.
Tips on How to Shop in New York City's Flower District
Best Time to go to Flower Market NYC
The Flower District is open all year, but the best time to go is in the spring, from mid-March to early June, when there will be the most flowers to choose from and the weather in NYC will be nice enough to enjoy browsing and walking around outside.
Most shops are closed on Sundays, so the best and really only time to go is in the morning, Monday through Saturday. The vendors usually start selling to the public around 8 or 9 AM (they only sell to wholesalers and retailers at 5 AM), and they stay open until around noon or 1 PM. However, there are a few that stay open as late as 5 PM.
Choosing Best Flowers for the Best Season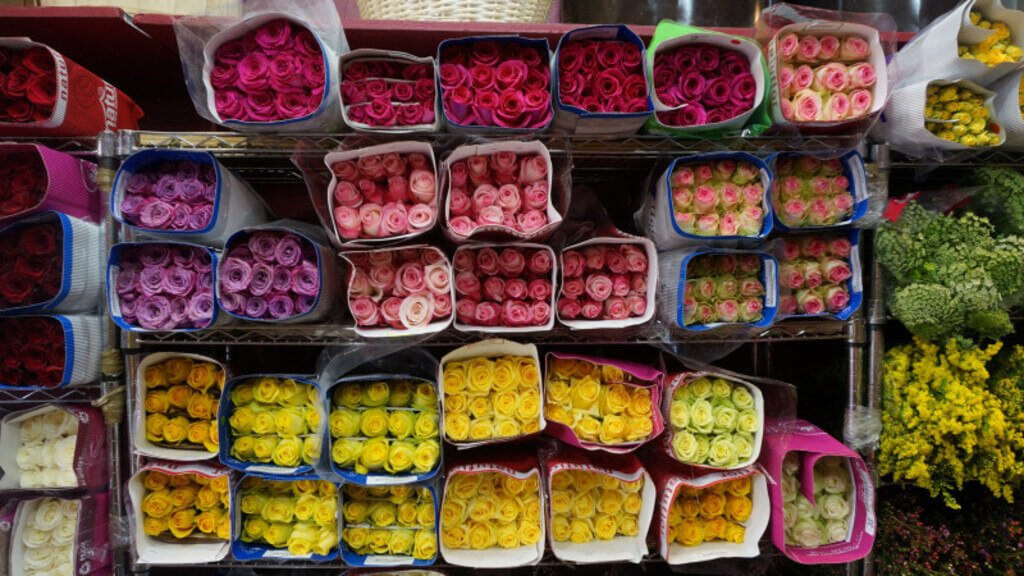 Spring is usually the best time to buy flowers at the market because there are so many colours and types to choose from. However, there are some flowers that stand out from each season that you may want to consider.
Berries, calla lilies, eucalyptus, and pods are all signs of fall.
Roses, narcissus, amaryllis, and buttercups bloom in winter.
Anemones, peonies, and sweet peas bloom in the spring.
Hydrangeas, sunflowers, dahlias, and freesia are all summer flowers.
Orchids and tropical cuts are available all year.
Set Your Budget: Buy a Mix of Expensive and Cheap Flowers
If you see a favourite flower at the NYC flower market that you haven't seen in a while or that is only available for a short time, buy it right away if your budget allows it. When you know that a certain flower will make you happy, you can spend a little more on it. Then you can use what's in season to fill in your arrangement.
You know that the price will be lower and that they will be fresh. In the end, this will give you a fresh assortment for your home that is just right.
Be Aware of NYC Flower Market Trends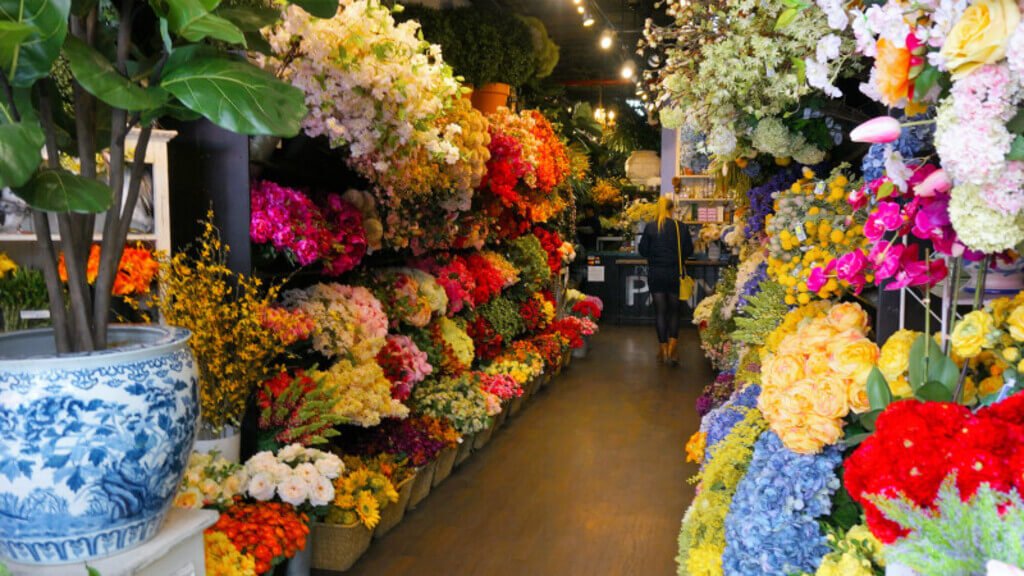 Tropical flower arrangements are very popular right now. Brands like Ovando, Brrch Floral, and Metaflora NYC all have businesses and accounts devoted to this Caribbean flower trend, which includes banana leaves, wild protea, fun-colored orchid leaves, and anthurium.
Also, baby's breath and orchids that have been dyed in pastel colours and glossy anthuriums, birds of paradise, and hybrid tea roses are used in the new wave of 1980s-inspired arrangements that are popping up in New York right now.
How to Identify Which Flowers Are the Most Healthy?
This one is tricky because it depends on what kind of flower you're talking about! Sometimes, a flower that looks sad and dull can be brought back to life with warm water and a new cut.
On the other hand, if you see a flower turning brown or a change in colour, or if it is very open, that means the flower is probably nearing the end of its life and won't last much longer.
Best Flower Shops In the New York City Flower District
Lasting Art
Location:
New York, NY 10001 110 W. 28th St.
Opening hours:
Monday through Saturday, from 8 a.m. to 4:30 p.m.
About:
The New York Times called this place a "fantasyland," so you probably don't want to miss it. Even though there are no "real" flowers here, you can find almost everything else you need to decorate your home or garden. Stop by to look at their amazing fake flowers, fabrics, and art supplies.
Jamali Floral & Garden Supplies
Address:
New York, NY 10001 149 W. 28th St.
Opening Time:
Monday through Saturday, 6:30 a.m. to 5:00 p.m.
About
This store has everything you need for your home and garden. The huge store has a huge selection of both decorative items and things for the garden. Shop for decorative items for your home like vases, silk flowers, fake potted plants and succulents, candles, holiday decorations, and a lot more.
Ode à la Rose
Address:
New York, NY 10001 120 W. 28th St.
Opening hours:
Monday through Friday, 9 a.m. to 6 p.m., and Saturday, 10 a.m. to 3 p.m.
About:
Are you looking for elegant bouquets with a focus on roses? Then you don't need to keep looking. This French shop makes bouquets "the French way, with elegance and according to the seasons," as they say themselves. They have locations in New York City, Chicago, and Philadelphia. They even deliver to more than 1,500 cities in the Northeast and Midwest of the United States, so you might be able to have a bouquet sent to your house.
Tropical Plants and Orchids, Inc.
Address:
New York, NY 10001 106 W. 28th St.
Opening hours:
Mon-Sat 6:30 AM-5:30 PM, Sun: 9AM-5PM
About:
Looking for plants and flowers from far away? Here is the spot. They have a huge selection of both indoor and outdoor plants, like orchids, succulents, cactus plants, and other exotic blooms. Some of the most beautiful and colourful flowers in all of New York can be found here. They also help with events, landscaping, and design.
Cuts Caribbean
Address:
New York, NY 10001 120 W. 28th St.
Opening hours:
Monday through Friday, 5:30 a.m. to noon, and Saturday, 6 a.m. to 1 p.m.
About:
Another place to find flowers, plants, and leaves that you won't find in most flower shops. They have a smaller storefront, but the unique things they sell are reason enough to stop by.
Gabriela Wakeham Design of Flowers
Address:
New York, NY 10001 120 W. 28th St., #4G
Opening hours:
Monday through Friday, 8 a.m. to 6 p.m., and Saturday, 9 a.m. to 1 p.m.
About:
This is the best place to go for modern, high-end flower arrangements. This flower shop is upstairs, away from the hustle and bustle of the street, and has some of the best bouquets with the most elegant designs. Many people who know a lot about flowers give them high marks and recommend them.
How to Get to the Flower Market/District in New York City?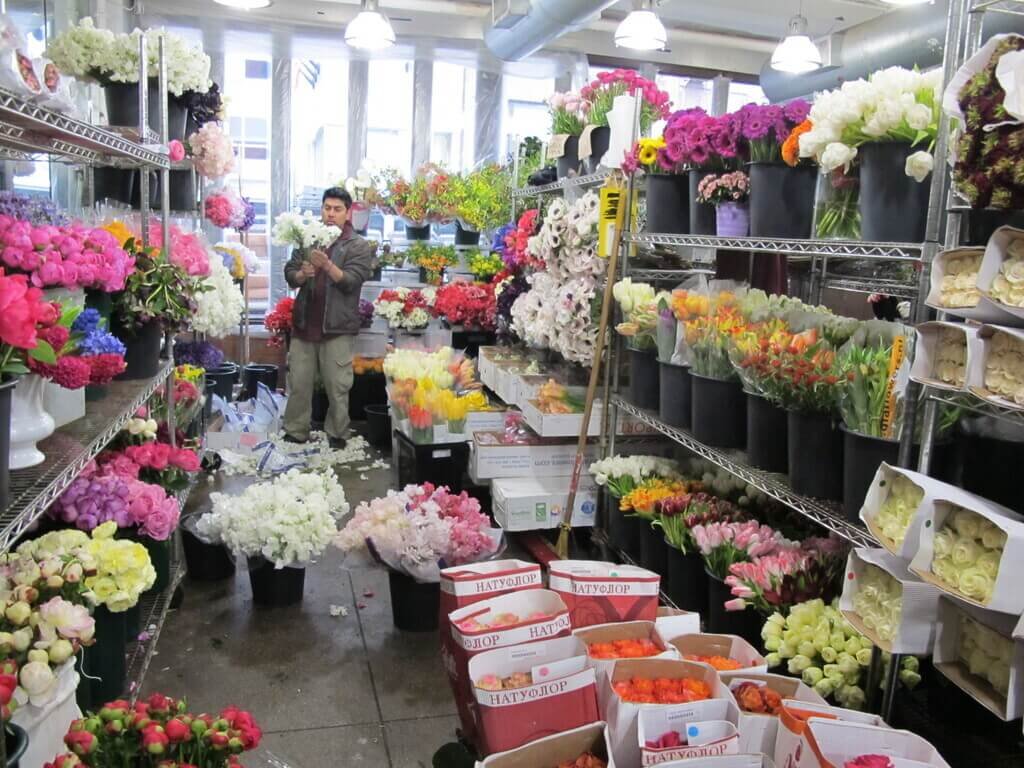 You can get to the district in a number of different ways. Here are some thoughts:
Take a Taxi or car
Take it to where 28th Street meets 6th Avenue or 7th Avenue. If you have a car, you will need to find the closest parking garage or a spot on the street.
Bus
Find out where the bus goes from where you are. There are a lot of public buses in New York City, which is a good way to get around Manhattan.
Subway
The yellow line (R, W) stops at the 28th Street station, which is the closest. This is a stop for locals. At 14th Street–Union Square or 34th Street–Herald Square, you can change from the express (N, Q) to another line.
Interesting facts about New York's Flower Market
The NYC Flower Market has been around for more than a century.
The NYC Flower Market has been around for more than a century.
Most of the time, the market opens early, around 5 am. The majority of shops close at 11 a.m., but some are open until the middle of the afternoon.
Market opens early, around 5 am. Most shops close at 11 a.m., but some are open until the middle of the afternoon.
Some shops at the flower market only sell wholesale, but not all of them, so be sure to ask!
Conclusion:
Hope you have liked our article. Don't forget to visit Travel World Fashion for more amazing articles like this. Comment below your thoughts.