Best Time to Travel to Cancun | Weather Guide Month by Month
Hello lovely readers, Welcome to our blog where you are going to know the best time to travel to Cancun and also a month-by-month guide of weather in Cancun. You should know that Cancun's peak season is December through April. Although the crowds can be heavier, you will still enjoy near-perfect weather and get the best and cheap room and flight rates for a winter getaway to the beach.
Avoid traveling between mid-March and early April as spring breakers often visit the Yucatan's beaches.
You can also get significant discounts in the late spring, summer, and fall. However, Cancun summers can be scorching and the fall months can be prone to severe storms.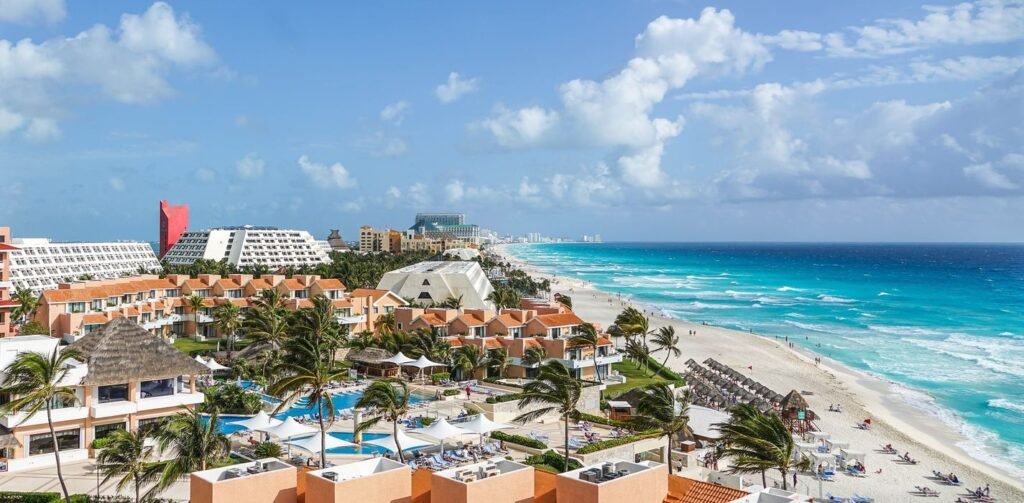 When is The Best Time to Go to Cancun
December to April is The Best Time to Travel to Cancun
Although room rates can be more expensive during this time of the year But can be still affordable if you book at least 3 months in advance. Crowds will be your greatest concern, rather than budget concerns. This is especially true in March and April when Cancun becomes the hub for spring break activity.
The best thing about this time is spring break parties. You will surely enjoy these parties and a fiery environment where everyone is chilling like they are never gonna get these days back in their life. And believe us you will feel the same, So for the proof, you can see the photo's that we have added below.
So according to us the best time to travel to Cancun is December to April.
Important Events
Spring Break (Mid-March to early April).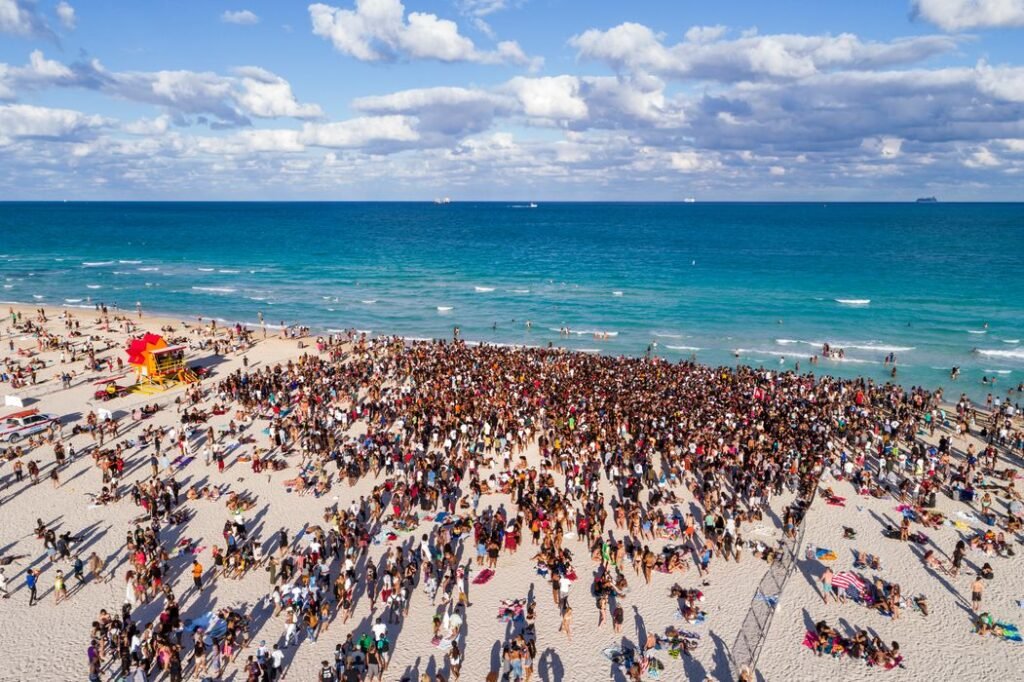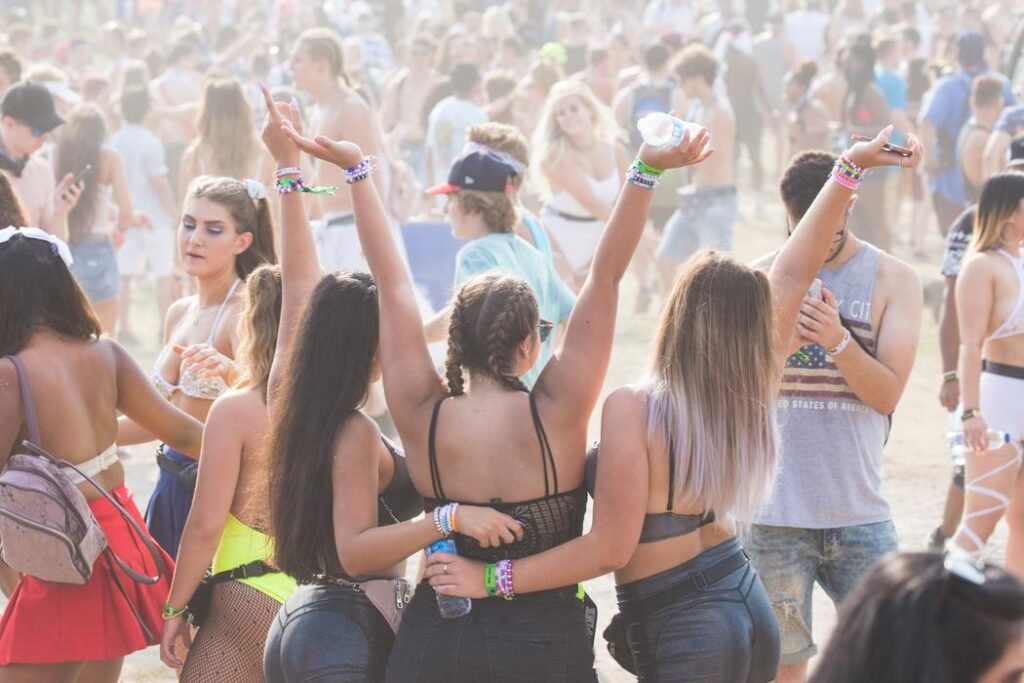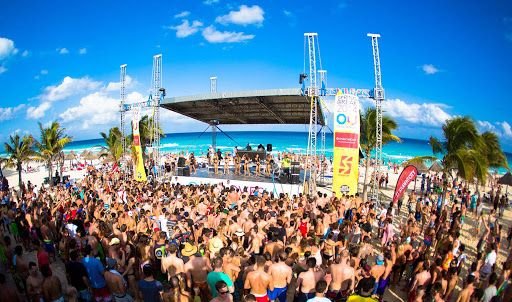 Hurricane season in Cancun
Hurricane season begins in June and lasts until October. Sometimes, November. Storms come more likely from August to October. The chances of a hurricane occurring in September or October are higher than that month of August. The Atlantic season is also affected.
As mentioned, hurricanes are very rare in Cancun. In fact, only two of the three most recent hurricanes have struck the region in the past 30 years.
Please read the below list of Cancun's weather by month to get more pieces of information.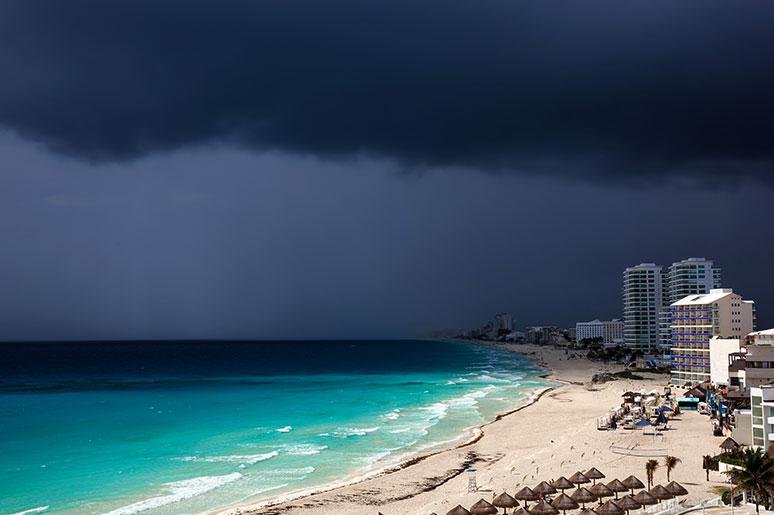 Cancun Weather by Month
Cancun in January
Cancun's January weather is warm, dry, and sunny. Night temperatures drop to 20 degrees Celsius.
Cancun's location at the edge of a tropical jungle means that it is always humid. However, the humidity drops to its lowest point in January. This makes it an ideal time to go out and explore the jungles and ruins.
You can also spend wonderful days at the beach or exploring downtown Cancun.
Cancun Weather in February
January's beautiful and balmy weather continues into February, which is slightly warmer, drier, and less likely to see rain.
Although the humidity is slightly higher, it's still pleasant for in-country exploration.
Cancun Weather in March
Cancun is best visited in springtime. Cancun's average weather is still mild with moderate temperatures, lower humidity and low temperatures. However, it offers smaller crowds and great prices for lodging and travel.
March weather in Cancun: March is the second driest month of the year in Cancun. It has warm days and cool nights with highs on average of 29 degrees Celsius. The average Max temperature can be 29degC and the Average rainfall is 37mm.
Cancun Weather in April & May
Cancun's April weather is light and quick, with only three days of rain in the month. This makes it the city's driest month.
The days are getting warmer with average highs of 31 degrees Celsius.
The humidity is high during this period, but it's still pleasant enough to venture out into the jungles or ruins.
May is the third-driest month, particularly towards the end. You may see some short storms during this month.
Although there is heavy cloud cover and high humidity, You can see plenty of clear sky and warm mornings and evenings.
The beach breeze may make it seem like you don't notice the humidity. However, mornings (and the first few days of the month) are the best time to visit Chichen Itza and the adventure parks.
Cancun Weather in June & July
The average June temperature is 32°C, and the average monthly rainfall almost doubles to 115mm. This month marks the beginning of the rainy season.
Remember that tropical storms are unlikely to hit and have a 1-in-4 chance of happening. They also tend to be brief and swift when they do.
Cloud coverage is higher than in previous months. June also marks the beginning of hurricane season.
The beaches are cool and comfortable due to the constant ocean breeze.
July has fewer rainy days, but more storms. July is hot, muggy, and the hottest weeks are in the second half of July and the first half of August.
The ideal way to cool down in July is to swim in the cenotes or in the ocean. Although the temperature rises to 32degC daily and there is 103mm of rain, the water temperature remains constant at 28degC.
The best option for inland exploration is to drink plenty of water. However, it may be better to stay on the beach.
As the baby turtles begin to break out of their shells, they make their way towards the water. Whale sharks are almost here, and nesting turtles are also at the beaches.
Cancun Weather in August & September
August in Cancun is hot and humid.
The highest temperature is 33 degrees Celsius, with rainfall at 136mm. The ocean has risen to 29 degrees Celsius.
To beat the heat and humidity, We recommended you to visit cenotes and lounge on the beaches during this month. This month is the last chance for wildlife enthusiasts to see nesting turtles, baby turtles, and whale sharks all in one place.
September is Cancun's most rainy month. Ten out of thirty days are given to rainfall and the remainder to overcast skies.
Rainfall averages 185mm. However, it is heavy and often, but clears up quickly.
Although the chances of hurricanes occurring are high, they are rare.
The bidding ends for whale sharks, and they are almost gone by the end of the month.
Cancun Weather in October & November
Although October's average rainfall is only 157mm, there are more rainy days than usual.
The months begin with cloudy, rainy days. However, the weather changes with each passing week. The month ends with beautiful beaches, clear skies, and gentle temperatures.
The last few nesting turtles lay their eggs in October, before returning to their watery homes.
The average daily temperature is 29 degrees Celsius In the month of November. It becomes clearer, and it's less likely to rain.
Rain (average rainfall is 95 mm), and humidity are felt at the beginning and end of the month. As the month progresses, temperatures drop, and days become more comfortable for exploring the jungles and ruins.
The sea turtles had all left the area by the end of the month.
Cancun Weather in December
The best time to visit Mexico is during Christmas, and, if you can, the best time to visit Cancun!
This month is amazing, with cool days and nights, brilliantly sunny skies, clear skies, and short rains that vanish as quickly as they appear.
In the second half of the month, the dry season begins again and continues until March.
The average daily temperature is 28 degrees Celsius and the rain is 70mm. Meanwhile, the ocean is refreshingly cool at 27 degrees Celsius.
This month is a great time to make the most of Cancun's amazing beaches. There is excellent visibility for snorkeling and diving, and you can see the last baby turtles returning to the sea.
Conclusion
This breakdown of Cancun's scene in terms of weather, hotels and flights, crowds, and family friendliness, Now we hope it will help you make planning your visit easier than ever!
Cancun is a wonderful, multifaceted city that can accommodate different tourist groups.
It is a wonderful city to visit all year, but we have a breakdown that will help you get the most out of Cancun, and also it will help you to find find out the Best Time to Travel to Cancun.
More From Travel World Fashion
For travel blogs visit Travel World Fashion.