44 Best Adults Only All Inclusive Resorts in the World
Adults only all inclusive resorts are great for people who want to get away from it all. They take the stress out of planning a trip because all the little details are taken care of for you. Couples and groups can enjoy their vacations without having to worry about planning. They can also enjoy all-you-can-eat and all-you-can-drink perks in an environment without children.
At these all-inclusive resorts for adults, you can get everything you need for a vacation in one place and for one price. This includes drinks, dance clubs, comfortable rooms, and gourmet food. Let's start having fun!
At one of these top adults-only all-inclusive resorts around the world, you can get the best care and rest while making the most of your vacation.
Best resort for adults only for good service
1. Le Sivory Punta Cana by PortBlue Boutique, Dominican Republic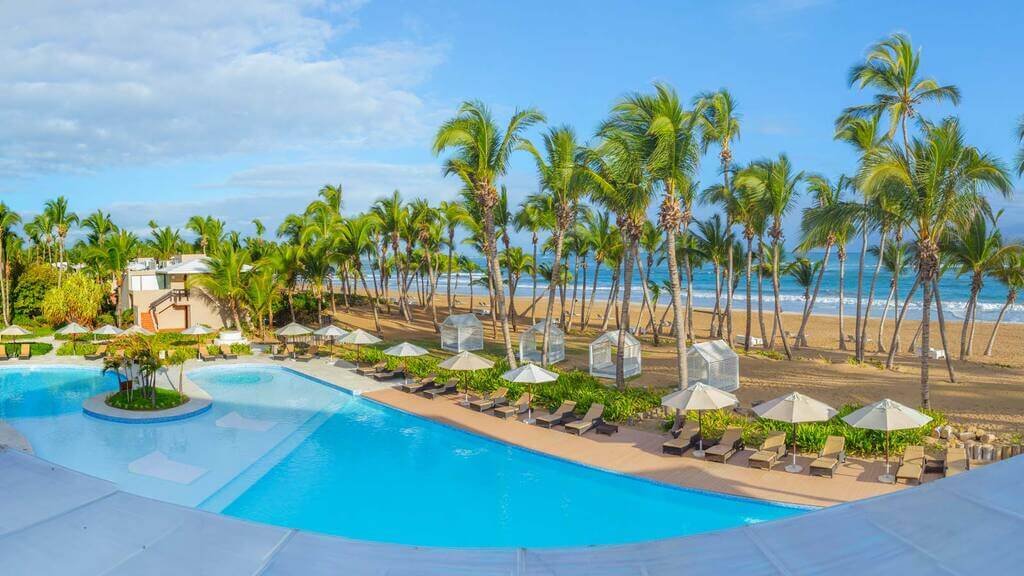 The adults-only Le Sivory Punta Cana is a great place with a quiet, high-end vibe. It is also in a quiet spot right on the beach that is hard to beat. There are only 55 rooms here, and they all have terraces or patios. Many of the rooms have private pools, hot tubs, and views of the ocean.
Dining is a huge hit with past guests, and we loved it when we were there in 2018. You can choose from a variety of places to eat, from fine dining to casual outdoor dining with a view of the beach.
The beach here is never busy or noisy, which is wonderful. There won't be any crazy party nights, and the hotel has a beautiful pool, spa, and gym. The peace and quiet at Le Sivory Punta Cana stands out in a region that isn't always known for it.
2. Casa Velas, Puerto Vallarta, Mexico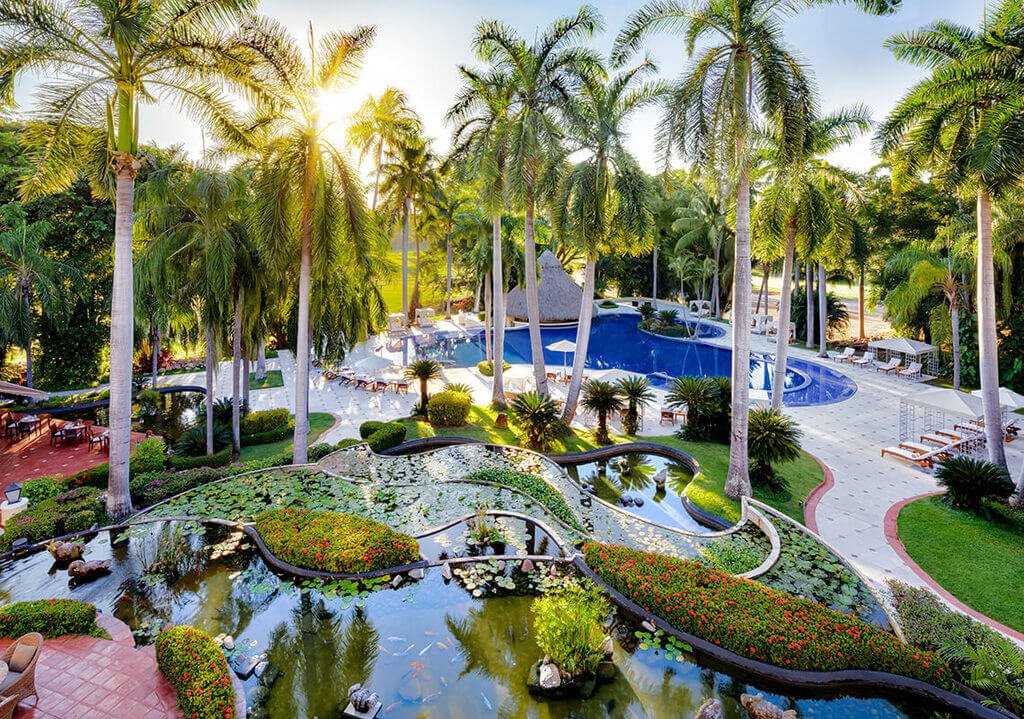 This hotel was made to look like a private Spanish hacienda. It has 80 large suites, some of which have private pools and Jacuzzis. All of the suites are on the 18-hole golf course in Marina Vallarta.
Even though Casa Velas isn't right on the ocean, guests have free access to Táu Beach Club, which is only five minutes away by private shuttle. Táu Beach Club has a pool concierge, loungers, and chairside service, as well as tropical cocktails and sushi all day long.
Here, guests get the best of both a small, cosy property and a big resort, since they can also go to the nearby Grand Velas to take gym classes or eat at other restaurants, though TripAdvisor reviewers love the on-site Emiliano restaurant.
The staff is "friendly," "helpful," and "outstanding." On the property is also the ABJA Spa, which has treatment rooms for singles and couples, a hydrotherapy area, a fitness centre, and a beauty salon.
3. Kandolhu Maldives
Every sandy corner of the utopian Kandolhu resort is filled with romance. This sanctuary, which is on a private island in the North Ari Atoll of the Maldives, is so luxurious that you'll forget you're not a king or queen.
The service is excellent, the food is delicious, and the setting is probably the most beautiful adults only all inclusive resorts for adults in the world.
Overwater bungalows are built on stilts over the clear blue water. From their private plunge pools, guests can watch fish swim around the offshore reefs.
You can only get to this exclusive resort by seaplane or boat. There are only 30 villas, so you can expect a level of luxury, privacy, and comfort that you won't find anywhere else.
4. Pueblo Bonito Pacifica Resort & Spa
This amazing resort in Cabo San Lucas has only 154 rooms, but the service is top-notch. If you want a resort that isn't full of college kids and loud parties, Pueblo Bonito Pacifica is a great choice.
The golden exterior of the building and the blue ocean and pools look great with the earth-colored furniture and decor. The beach is too rough to swim in, which is too bad.
But the hotel has regular shuttles to its sister hotels in downtown Cabo San Lucas and to the beach where you can swim at El Médano.
If you want extra care, you can choose a room in the Towers, which comes with your own butler.
5. Sandals LaSource Grenada
This luxury resort for couples only has 225 rooms and is spread out over 17 acres on the southwestern tip of Grenada. It's definitely more romantic than party-like, with fire pits, gazebos, and swinging chairs on a pier that looks out over the water.
All of these things make the property look and feel like Sandals. Some of the rooms have private pools, soaking tubs, and butler service, and the elegant, modern decor is one of the main reasons why people come here. The white-sand beach is nice, but it's not very big for how big the property is.
6. Excellence Oyster Bay, Jamaica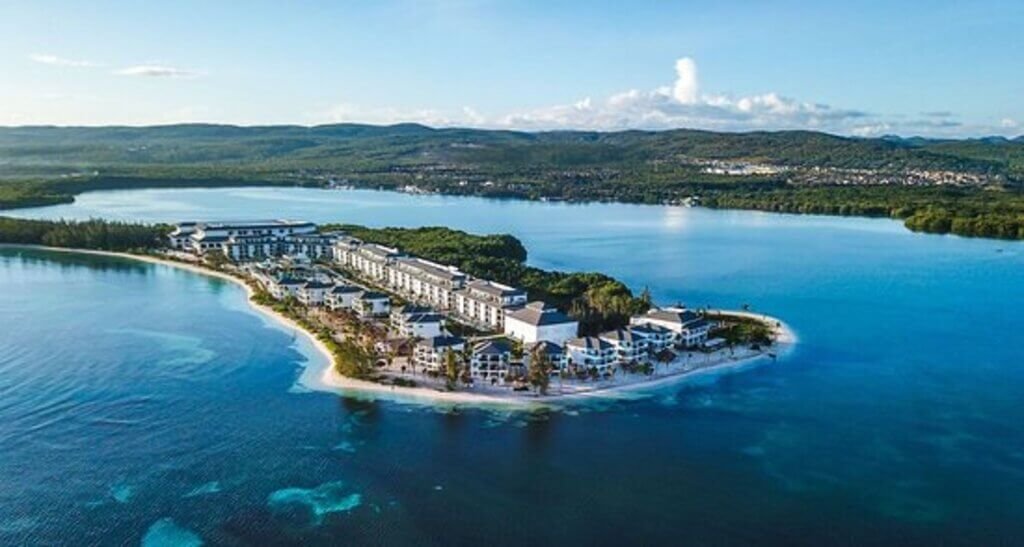 Looking adults only all inclusive resorts where you can get sun, blue seas, white sand, and a lively atmosphere on your own private Jamaican peninsula? Excellence You might be a good fit for Oyster Bay. Here, there are large rooms and suites with private hot tubs or pools on the terraces. Almost all of them have a view of the sea.
There are a lot of elegant and different ways to eat, like a big breakfast and lunch buffet and dinner a la carte options from Italy, Spain, and Asia. The spa at the resort is one of the best in the area. It has a relaxing hydrotherapy circuit, and the white-sand beach goes all the way around the resort.
The atmosphere is high-end without being snobbish, and the evening shows bring in a lot of resort guests. The private peninsula setting makes you feel worlds away from the rest of Jamaica or anywhere else, which is what resort life is all about.
7. Jade Mountain Resort, St. Lucia
The Jade Mountain Resort in St. Lucia is one of the most romantic places to stay because it combines the natural beauty of the Caribbean with beautiful architecture. The property is on a hillside and has beautiful views of the Piti and Gros Piton mountains and the coast. Taking in the high-rise views is easily the best part of the resort.
Suites that are eco-friendly have an open layout and 15-foot ceilings. They also have whirlpool tubs, in-room infinity pools, and butlers. There are many spa services to help you relax and feel better, and the resort's sky deck is a great place to enjoy refreshing drinks, live music, and a memorable view of the stars.
The most affordable option is the all-inclusive package, where you can eat award-winning organic food from a nearby plantation.
8. Laid-Back Atmosphere at this All-Inclusive, Adults-Only Cancun Resort
The Golden Parnassus Resort & Spa is perfect for adults who want to hang out, make new friends, and dance the night away. The vibe there is best described as "laid-back." At this resort, the staff really shines. They work hard to make sure everyone is having fun and has a drink in their hand.
The food here is good for any mood, from Japanese sushi to crepes for people who need a sugar fix in the afternoon. Here, both experts and beginners can try sailing, windsurfing, or a good old-fashioned pedal boat for the first time or get better at what they already know.
9. Tierra Magnifica, Nosara, Costa Rica
This adults only all inclusive resorts for adults has only 24 rooms. These rooms are hidden in a lush jungle on a popular island known for its unspoiled nature, reliable surf, and laid-back atmosphere.
The small resort has a waterfall, a nature trail, and meditation decks. It also has sweeping views of the ocean and the sound of howler monkeys off in the distance.
You can also go on guided nature tours into the rain forest to see colourful birds and native animals. If you want to see the jungle in a different way, you can zip line through the trees or kayak along the Rio Nosara and Rio Montana.
Other perks include free breakfast made to order, afternoon snacks, personal laundry, and unlimited access to the Gilded Iguana Surf Club, which is just a 10-minute drive away and has places to swim, surf, and stand-up paddleboard.
10. Secrets The Vine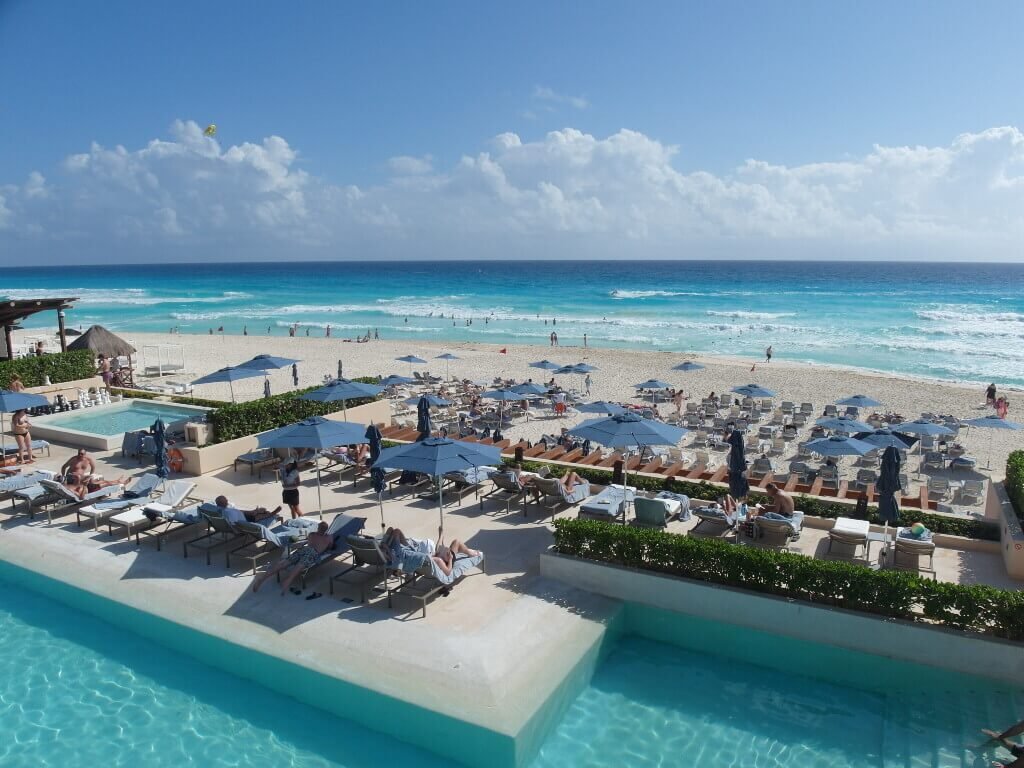 This Secrets The Vine resort is a great place to stay if you want to relax. It has modern luxury and fun details like outdoor chandeliers.
The rooms are big, bright, and quiet. You can see the coast and Nichupté Lagoon from the windows. Ballenas Beach is only a 3-minute walk away, and it's a great place to go kayaking or scuba diving.
The six restaurants on-site offer à la carte gourmet food with tastes from the Mediterranean, Asia, Peru, and Mexico. On top of that, this resort is only for adults and has a hair salon, gym, spa, sauna, and steam room, making it a great place for work or play.
11. The Palms, Zanzibar, Tanzania, Africa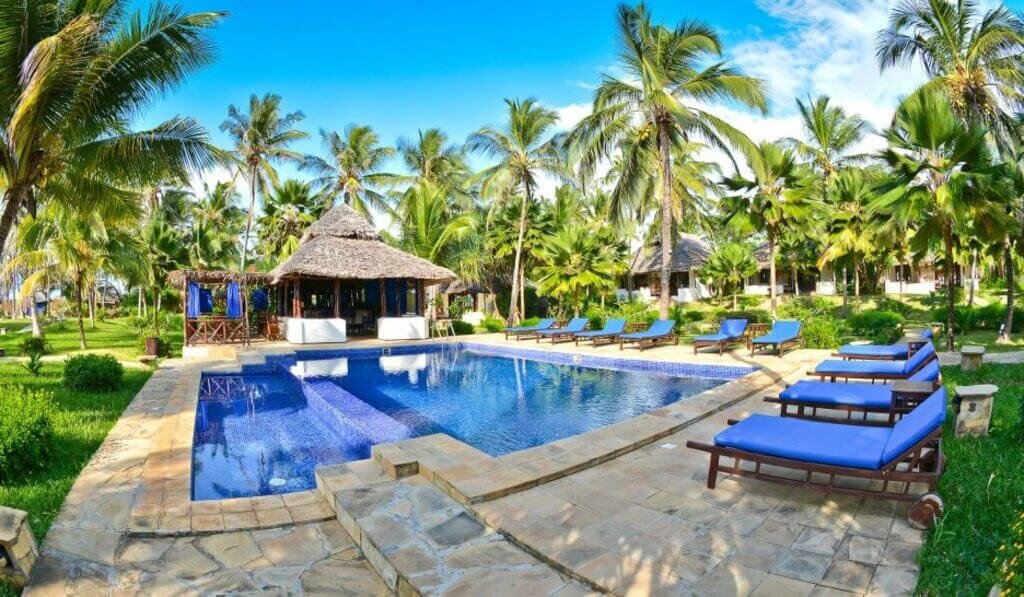 Don't miss The Palms Zanzibar if you want a romantic vacation in a place that should be on your bucket list. This African wonder is one of the best adults only all inclusive resorts in the world. It is full of luxury and romance. In fact, it has been chosen as one of the world's most romantic resorts.
Here, guests can swim or snorkel in the clear blue ocean, learn to kite surf at the Water Club, take a scuba lesson, or just relax on their private veranda on a silk-draped Zanzibar bed. The seven large villas have great views, a bedroom, a living room, and a full bathroom right next to the bedroom.
All meals, afternoon tea, drinks, and non-motorized water sports are part of each stay.
12. The Lodge at Woodloch, Hawley, Pennsylvania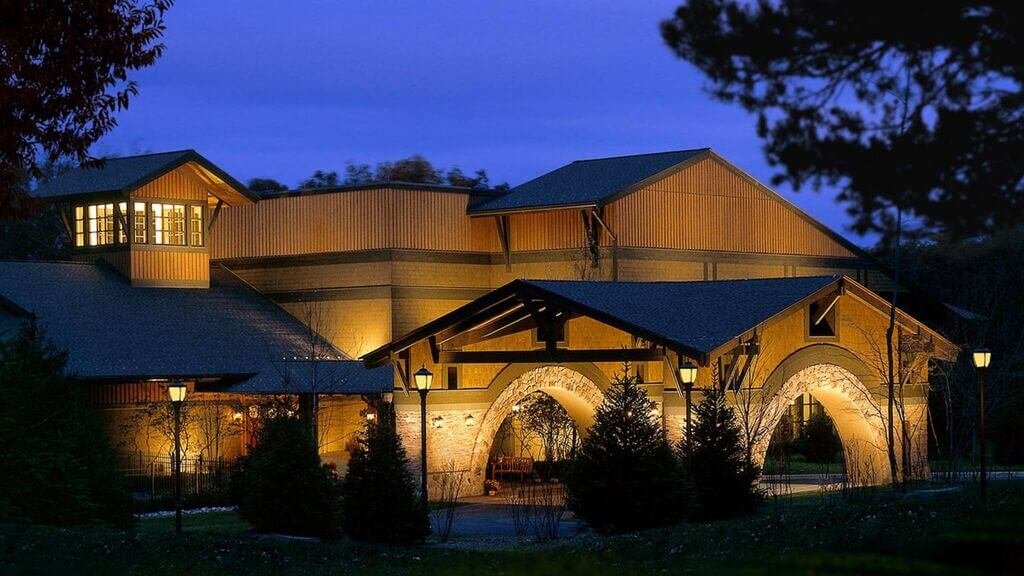 You might be surprised to learn that a high-end, all-inclusive resort for adults only is less than two hours from both Philadelphia and New York City.
The beautiful setting of this award-winning destination spa is easy to get to, but the 500 wooded acres and 15-acre private lake in northwest Pennsylvania feel like a world away from city life.
The deal is sealed by the large rooms, gourmet food options, and wide range of things to do.
In the summer, there are lake activities like kayaking, stand-up paddleboarding, and fishing. There are also chef-led garden dinners, and for a small fee, a sommelier can pair wine with the meal.
After your activities, make sure to relax in the spa, indoor pool, or hot tubs.
13. Secrets Wild Orchid Montego Bay, Jamaica
Secrets Wild Orchid Montego Bay is a large adults-only resort in Jamaica that is a good choice for an all-inclusive vacation. With a long list of high-end amenities, the hotel has many restaurants and bars, as well as a spa, a movie theatre, and a shopping centre.
At the peninsula beach area, which has fine white sand and calm blue water, water sports are king. This popular Jamaican resort has a swim-up bar and an open-air restaurant where you can relax. There are also dance classes, cooking classes, ping-pong, and jogging trails that can help you get more out of your trip.
This resort has modern rooms with flat-screen TVs, stocked minibars, and Jacuzzis on the balcony if you upgrade to a luxury suite.
14. Cancun's A South Beach Vibe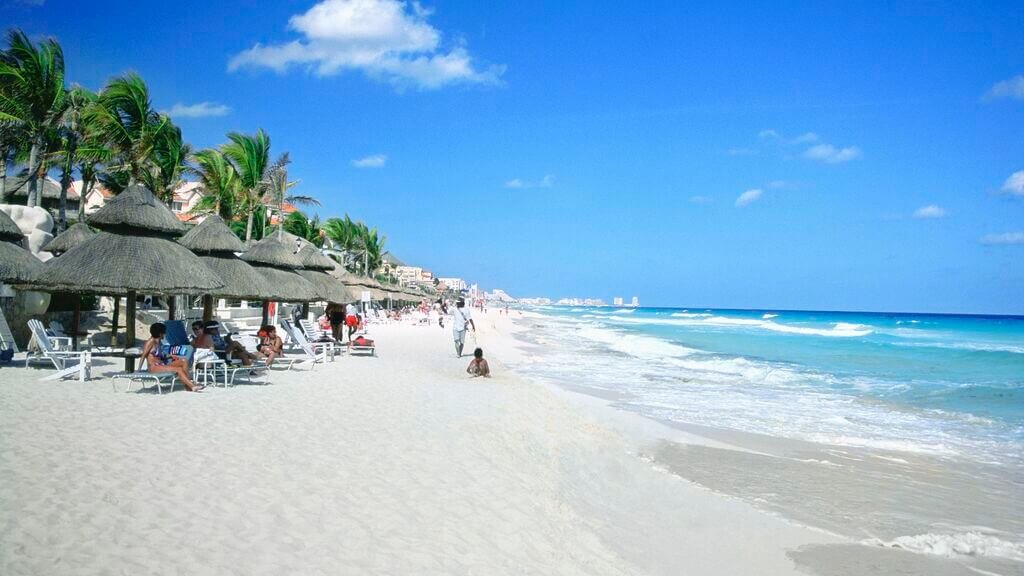 The young fashion crowd at ME Cancun gives it a cool South Beach vibe. Weekend beach parties at the world-famous Maxim Beach Bar and a beautiful lobby with sculptures that look like a fashion show catwalk add to this vibe.
The food is very good, and there are many healthy options. In the large main pool, sun loungers that are submerged offer a cool break from the hot sun. You can also swim up to the bar for a drink.
The beach on the property is one of the best in the area, and there is full WiFi coverage so you can post to Instagram and make your friends and family back home jealous.
15. Royal Davui Island Resort, Fiji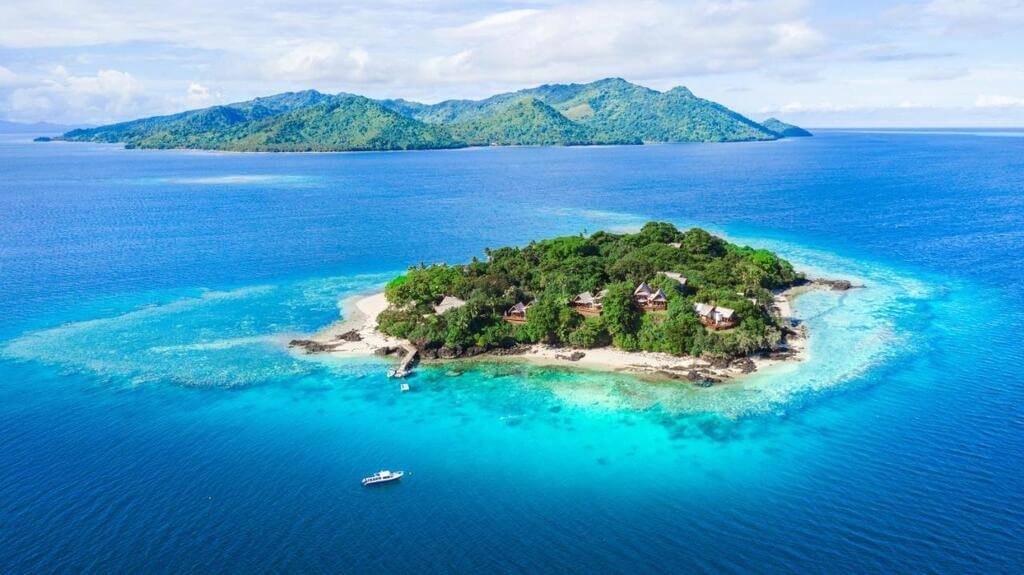 One of the best all-inclusive resorts for adults in the world is a Fijian work of art. This haven is on a private island in the Beqa Lagoon and has the cleanest, whitest sand beach. Each vale (also called a villa) has a thatched roof, traditional wood finishes, a private plunge pool, separate lounge room, sun deck, and spa bath.
At the best all-inclusive resort for adults in the world, you can expect great service from friendly staff and a luxurious oasis with the most fun and relaxing amenities.
Your stay includes sailing trips on a Hobie Cat, a kava ceremony, cooking classes, guided tours of the reef right off the coast, use of non-motorized water sports equipment like kayaks and snorkelling gear, coconut classes, local entertainment, and beach games.
When it comes to food, the menus change every day and only use the freshest ingredients. All of the meals and a picnic on the beach are free.
16. Excellence Playa Mujeres, Mexico
We gave Excellence resorts two names because they are so nice (in this list, at least). Here, the Excellence branch is north of Cancun in the upscale resort community of Playa Mujeres. Modern, luxurious rooms are big and have big whirlpool tubs. Some rooms have swim-up access or private plunge pools.
There are so many features that it's hard to keep track of them all. There are seven pools, 10 restaurants, 11 bars, and a high-end spa. Many people like the place because it's out of the way, but keep in mind that you're not here to party like a rock star. Instead, the atmosphere is a mix of just enough liveliness and calm, and the beach is beautiful.
17. Hurawalhi Island Resort, Maldives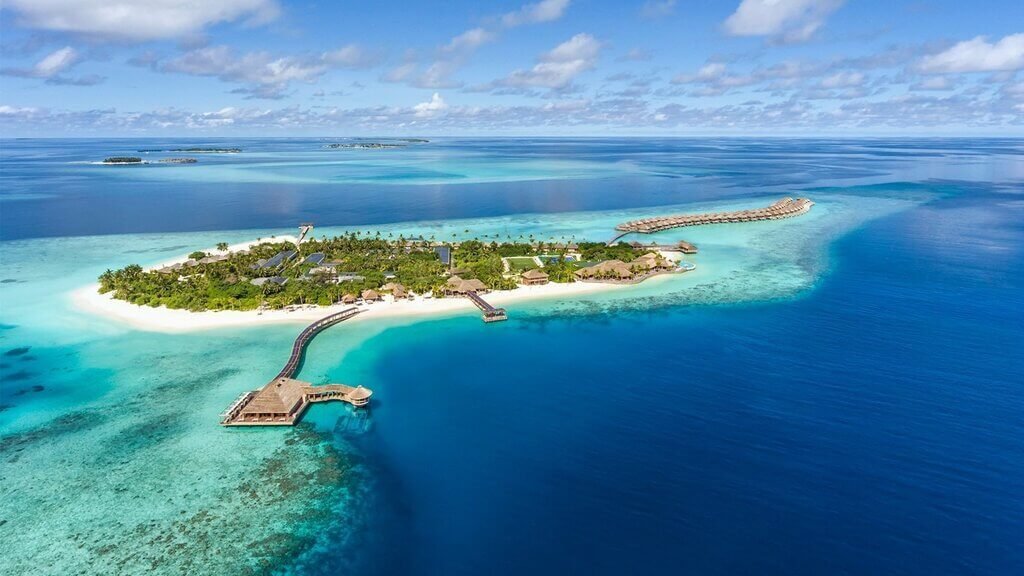 The Hurawalhi Island Resort is best known for its luxurious setting and five-star amenities, like plush overwater villas, hammocks in the water, and a busy reef right off the beach.
The most well-known thing about the resort, however, is its amazing underwater restaurant, which is called the 5.8. Undersea Restaurant.
At the world's largest all-glass underwater restaurant, it's hard to pay attention to the delicious food when you can watch the colourful sea life outside the huge windows.
The all-inclusive plan at the Hurawalhi Island Resort will make sure you don't go hungry! At Canneli Restaurant, all meals are included. For lunch and dinner, you can go to Kashibo or J.F.K. Drinks are also free, as are the snacks and drinks in the mini bar.
But if you want to eat at one of the best Undersea Restaurants, you'll have to pay a little more.
Also Read: 13 Best Caribbean Islands with Mountains For Hiking
18. Luxury Bahia Principe Sian Ka'an
This adults-only resort in Mexico is a great place to get away from it all. It has modern decor and large apartments. The private beach and golf course are only a 10-minute walk from Bahia Principe Sian Ka'an, which is a quiet but exciting place to stay.
If you're looking for a place to spend your honeymoon, you can't go wrong with a penthouse with a jacuzzi on the roof. You can order room service at any time, or you can try one of the four restaurants on-site. It may sound strange to say this, but the buffet is especially tasty.
At one of the four sparkling pools, you can relax with a fun drink. You can also go to Bahia Principe Luxury Akumal, its sister hotel on the beach, to enjoy the waves and white sand. You also won't want to miss going to the Aktun Chen Cenote and natural park, which is close by.
19. Secrets Maroma Beach Riviera Cancun, Mexico
Secrets is a love story for adults only. Maroma Beach Riviera Cancun is located on a beautiful stretch of white-sand beach and has a lot of popular places to eat. And what goes better with eating as much as you want? No limits on the best cocktails.
For this reason, there are no less than six bars and a great pool area on the property. The rooms are big and nicely decorated. They have four-poster beds, separate sitting areas, and private balconies.
Travelers who want direct access to the pool can choose a swim-up suite on the ground floor. Between trips to the beach and pool, the spa is a great place for a romantic break.
20. Meliá Punta Cana Beach Resort
This adults-only all-inclusive resort is a great place to get away from everyday life. It is on the warm, breezy Bávaro Beach, which is surrounded by golden sand, tall palm trees, and the turquoise-blue waters of the Caribbean Sea.
At Meliá Punta Cana Beach, there are seven restaurants with a wide range of cuisines, including Asian, Greek, Spanish, and Tex-Mex, as well as many vegan and vegetarian options.
You can also have a romantic dinner on the beach under the stars.
If you stay at the Level Wellness Suites by Stay Well, you can take things to the next level because you get one spa treatment per day at the Yhi Spa. The huge spa has 10 suites with private outdoor showers and 3 suites for couples with private Jacuzzis, saunas, steam rooms, and other amenities.
21. Warwick Paradise Island, The Bahamas
The Warwick Paradise Island is a high-end resort with 250 rooms and suites for adults only. It is near Nassau Harbor on Paradise Island, which is home to the Atlantis Resorts.
The style is fresh and modern, which isn't always the case on Paradise Island or at Bahamas all-inclusive resorts. All of them have good features, and many of them have balconies with views of the harbour.
Warwick Paradise Island has a white-sand beach with a small, fenced-in swimming area and free snorkelling gear.
There is also a big lagoon-style pool with lots of lounge chairs. The all-inclusive package covers tips and a wide range of a la carte and buffet restaurants that serve everything from pizza to pan-Asian food.
There are also a lot of wellness options, like a gym, tennis, basketball, and the beautiful Amber Spa.
22. Sandals Grenada, Grenada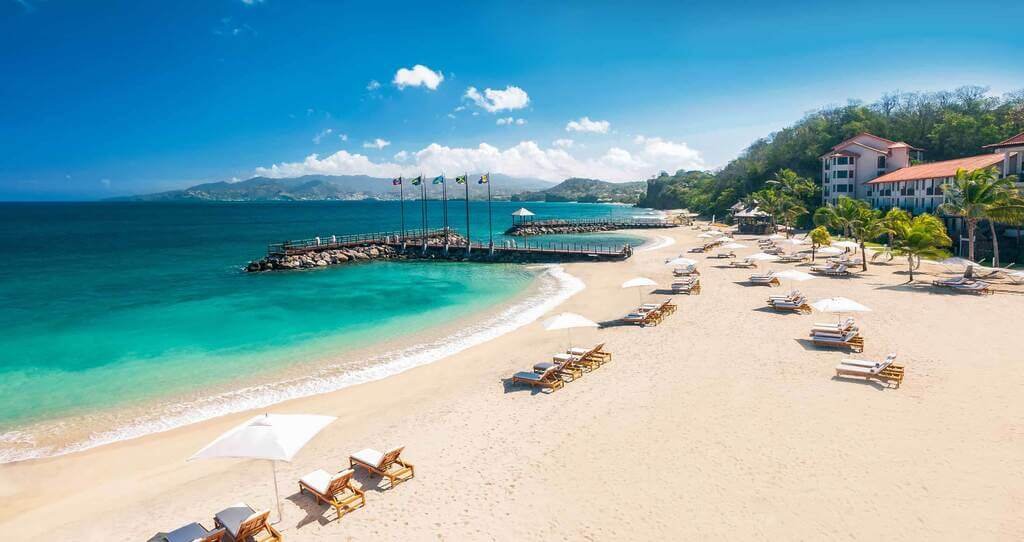 Sandals Grenada is an all-inclusive luxury resort for couples that is in the middle of the southwestern tip of Grenada. The resort is on acres of beautifully landscaped land and has multiple pools, a state-of-the-art spa, and delicious restaurants.
There are many places for couples to hang out, like a fire pit, gazebo, and swinging chairs on a pier that look out over the water.
You can choose from different room types with different amenities. The Butler level rooms are the most luxurious, with a personal butler to take care of your every need.
All of the rooms have flat-screen TVs, minifridges, and rainfall showerheads. Some suites also have a private deck with an outdoor soaking tub.
23. Alila Ventana Big Sur, California
It may seem impossible to find a beautiful, all-inclusive resort in the middle of California's wild Central Coast, but Alila Ventana Big Sur does it with its location, views, and ultra-gourmet food.
The small, 59-room resort is on 160 acres of rolling meadows and redwood forests. It looks out over the beautiful Pacific coast and offers many ways to enjoy the beautiful surroundings, such as bike tours and "forest bathing."
The small, 59-room resort is on 160 acres of rolling meadows and redwood forests. It looks out over the beautiful Pacific coast and offers many ways to enjoy the beautiful surroundings, such as bike tours and "forest bathing."
24. Twin Farms, Barnard, Vermont
The 300-acre Twin Farms in Barnard, which is about 80 miles southeast of Burlington, has 20 luxury cottages and activities that change with the seasons.
In the fall, you can see the beautiful New England foliage while canoeing on the resort's peaceful pond or biking on paths covered with leaves.
In the winter, you can ski downhill or cross-country on the resort's private trails, or you can just curl up by the fire with a good book. The best times to play tennis, fish, and swim are in the spring and summer.
At Vermont's only five-star, all-inclusive Relais & Chateaux resort, the rates cover all activities, three farm-to-table meals a day, and picnic snacks.
Chef Nathan Rich and his team come up with new menus every day. They do this by using Vermont's best ingredients, which they get from the property and from partners in the area and nearby.
25. Sanctuary Cap Cana, Dominican Republic
Sanctuary Cap Cana is always a popular choice for adults who want an all-inclusive vacation. This classic Punta Cana resort has pools with beautiful designs, a great spa, and some of our favourite places to eat in the area.
Most rooms have a view of the ocean, and all rooms have their own outdoor space. In the Castle section, there are suites that open up to a pool that looks like a moat, and the Terrace Tower Suites have hot tubs outside.
The luxurious Honeymoon Suites have their own plunge pools, and the Castle Island Suites are on their own private islands that you can get to by a bridge.
26. Komandoo Maldives Island Resort, Maldives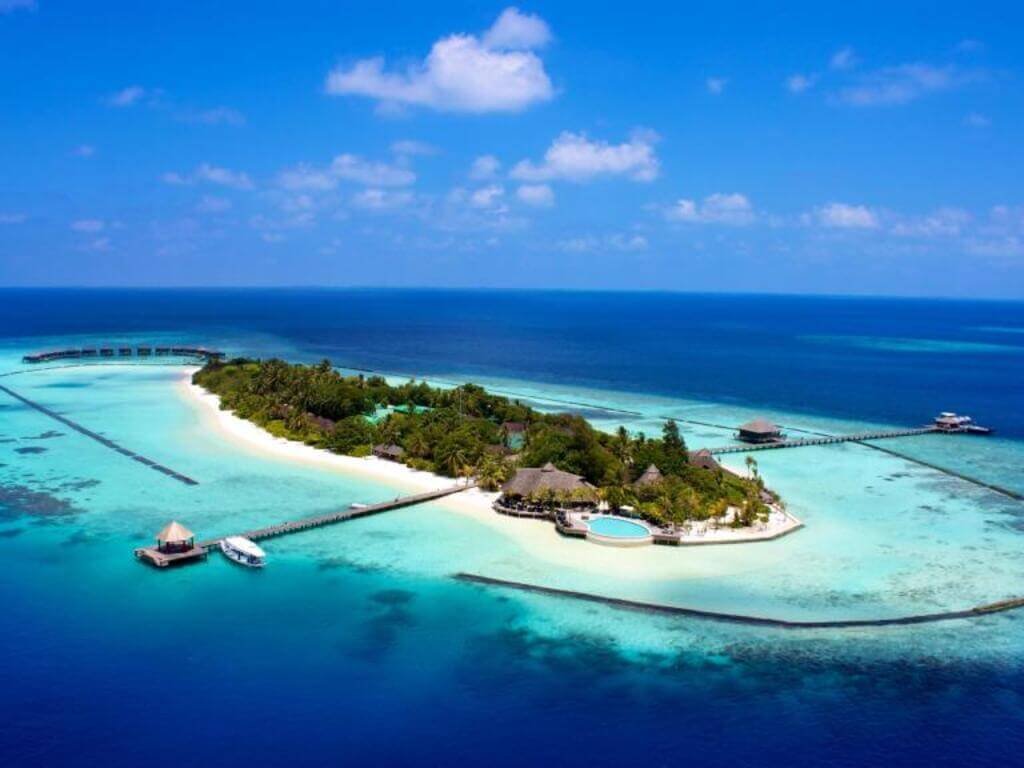 We've all seen pictures of its beautiful private islands, which are surrounded by white sand and turquoise water that is so clear you can see right through it. Overwater bungalows are perfect for couples who want to spend a romantic vacation together they'll never forget. Komandoo helps them live out their dreams.
Even though it's hard to get here—you have to take an extra 40-minute seaplane ride from Male airport—you'll love the privacy as soon as you arrive.
This small resort is one of the best places for couples to stay in the Maldives. It is in the Lhaviyani Atoll.
There are different kinds of villas, from beach villas with Jacuzzis to villas on stilts over the water.
The all-inclusive Plus Package has a few more perks than the all-inclusive Gold Package. You'll get the same buffet meals, snacks, drinks, à la carte dinner at Aqua, their underwater restaurant, and access to non-motorized water sports.
Just like with the Gold Package, you will get a free sunset cruise, a one-hour spa treatment once a week, and half-hour group snorkelling and windsurfing lessons.
With the Plus Package, you can also get 20% off food and spa services at Aqua.
27. Paradisus La Perla
This beachfront resort in Playa del Carmen has 394 rooms with all the amenities and luxuries you need for a great vacation. With four outdoor pools, a spa, a sauna, and a health club, you have everything you need to relax and forget about your problems.
At the 14 restaurants at Paradisus La Perla, you can get delicious Mexican, Asian, and other foods. The breakfast buffet at Hadar and dinner at Fuego are both very popular.
If you don't want to take classes in tango, yoga, or making sushi, you can go to the soft sand beach or the Xcaret Eco Theme Park. This park gives a unique view of the natural and cultural beauty of Mexico.
28. Excellence Punta Cana, Dominican Republic
Excellence Punta Cana is one of the best resorts in the Dominican Republic. It is on a white-sand beach. Elegant rooms with beach themes and Caribbean colour accents come with free toiletries, stocked minibars, and balconies with furniture.
You can upgrade to a room with a beautiful view of the ocean, and swim-up suites have their own private pools. Meals, snacks, and drinks are all included in the price, and there are many places to eat on the property that serve everything from gourmet to casual food.
When the sun goes down, people go to the bars by the pool and on the beach. The yoga studios and spa treatments at the hotel's spa are great places to relax and get ready for another day of vacation.
29. Marquis Los Cabos, San Jose del Cabo, Mexico
This modern property stands out against the rough mountain landscape at the tip of the Baja California Sur peninsula because of its modern style and bright accents.
The adults-only, all-inclusive resort is right on the beach where the desert mountains meet the Sea of Cortez. It combines luxury, romance, and real Mexican style in a way that seems effortless.
Every night of the week has a different theme for entertainment, such as fire performers, circus acts, Mexican dancers, and a burlesque cabaret show.
All stays come with suites, five dining options, a spa, and three oceanfront pools. You can upgrade to a private casita to get a garden with a plunge pool or a rooftop pool and sundeck.
30. Haven Riviera: Best Adults Only All Inclusive Resort in Cancun
Haven Riviera Cancun is just south of Cancun. It is right on the beach and has all the perks of an all-inclusive hotel. It's also just for adults and doesn't have the wild party vibe of Cancun's Hotel Zone (which is just up the coast).
All 333 rooms have private balconies or terraces with whirlpool tubs or swim-up pool access, and most have views of the ocean and/or main pool. If you want something extra luxurious, check out the Serenity Club rooms, where you'll have your own beach area and access to a private lounge.
Previous guests have said great things about the food and drinks. You can choose from Mediterranean, Asian fusion, and buffets.
31. Le Blanc Spa Resort Los Cabos, Mexico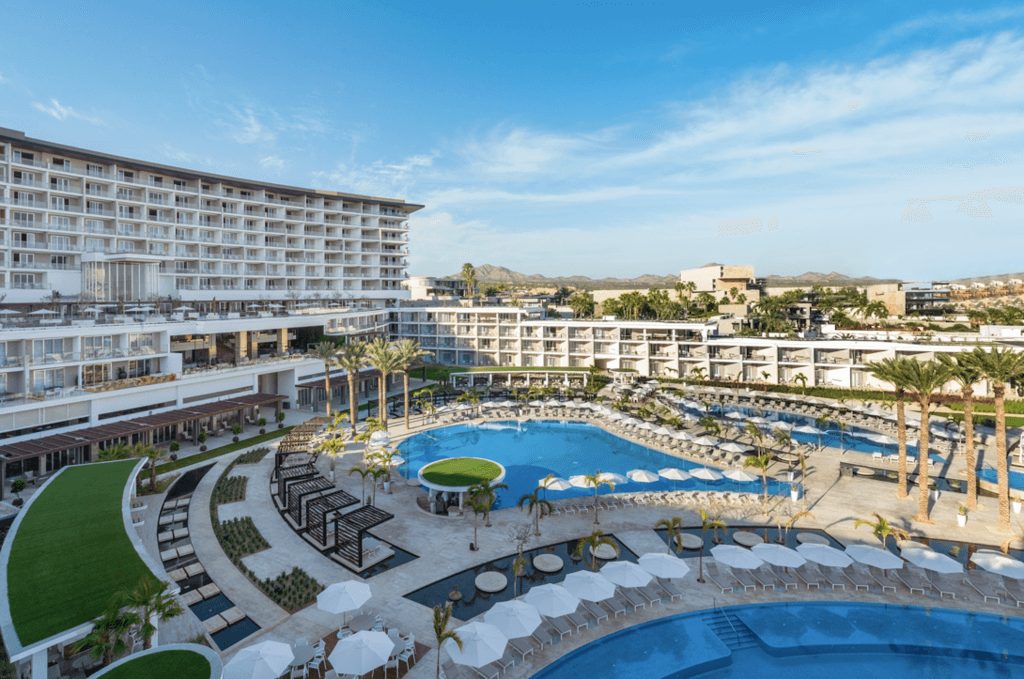 Book a room at the Le Blanc Spa Resort Los Cabos in Mexico if you don't want to do anything during your trip. Each room at one of the best all-inclusive resorts for adults in the world comes with butler service.
You won't have to clean your shoes, plan your day, draw your own bath, or even pack or unpack your suitcase.
The design of the resort is as sleek and stylish as you'd expect from a luxury resort, and the area around it is very romantic. From the floor-to-ceiling windows in the rooms, you can see the bright blue waves crashing on the white sand beach.
There are private balconies, deep soaking tubs, and other high-end amenities in the large rooms and suites. Some of the suites have their own plunge pools.
All of the meals at the hotel's four restaurants and in your room are included. Drinks, yoga and fitness classes, TRX, aqua spinning, and hydrotherapy are all good examples.
You can have a romantic swim in one of the infinity pools or pay extra for a spa treatment.
Not surprisingly, Le Blanc Spa Resort is also deemed one of the top resorts in Cancun for couples.
32. Galley Bay Resort & Spa: Adults Only All Inclusive Resort in Antigua
Galley Bay Resort & Spa is one of the best resorts for couples in the world. It is on a 40-acre property in Antigua. The rooms and suites on the beach have both modern amenities and a Caribbean feel. Soaking tubs and views of the ocean add a touch of luxury.
It has a large beach area where you can relax in peace, and a natural lagoon-like pool with sun loungers so you can take in your surroundings.
The open-air spa is a great place for couples to get massages, and you can choose how to eat, from Caribbean barbecue to fresh seafood, on an à la carte basis.
You can get drinks at the TeePee Bar with a view of the ocean or choose from a variety of fun water sports that are included in the price.
Snorkeling, kayaking, and trips on catamarans are all popular things to do, but many people are happy to spend a day relaxing on the three-quarter mile-long beach.
33. Sonesta Ocean Point, St. Maarten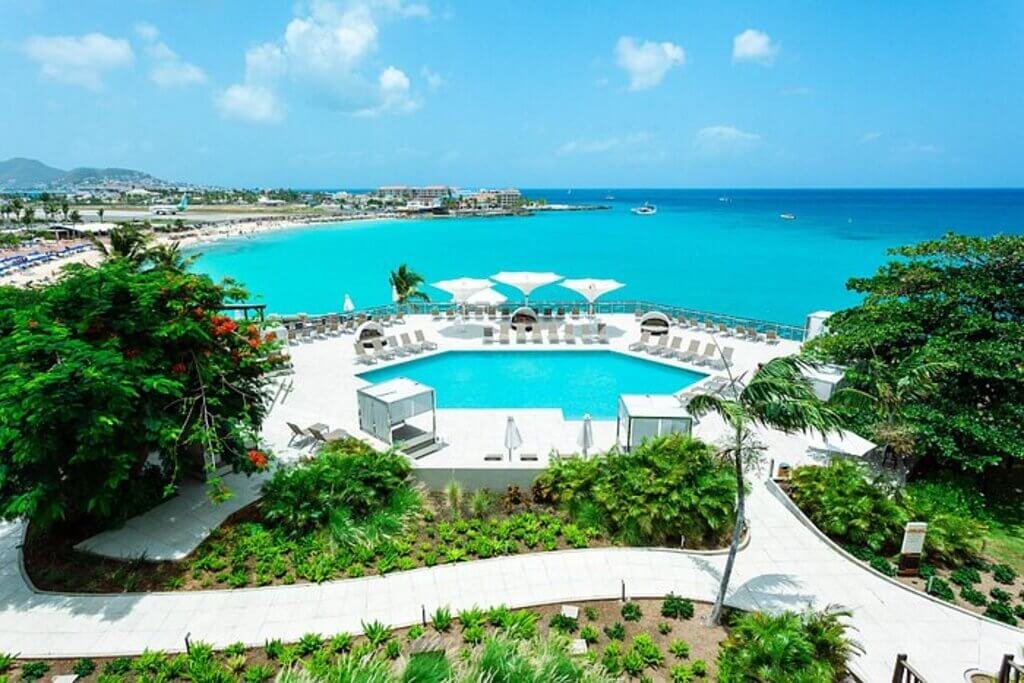 St. Maarten is known as the "Friendly Island," and if you stay at the Sonesta Ocean Point Resort, you'll know why. This all-inclusive resort for adults is open to everyone, and it says on its website that it is also LGBTQ-friendly (which is not always the case in the Caribbean).
The 130-suite, ultra-luxurious "resort within a resort" sits on the island's westernmost point, which is a great place to see the beautiful views of Maho Bay. It's right next to the Sonesta Maho Beach Resort, Casino & Spa, so guests can use all of its facilities.
It has three pools, including the Edge, which is on a cliff and has a beach with no steps. It also has four bars and three restaurants.
Other resort features include room service that is available 24 hours a day, a state-of-the-art fitness centre, a wellness area where yoga and outdoor exercise classes can be held, and private cabanas.
In most types of suites, personalised concierges and butler service are added to the amenities.
34. Zoetry Paraiso de la Bonita, Puerto Morelos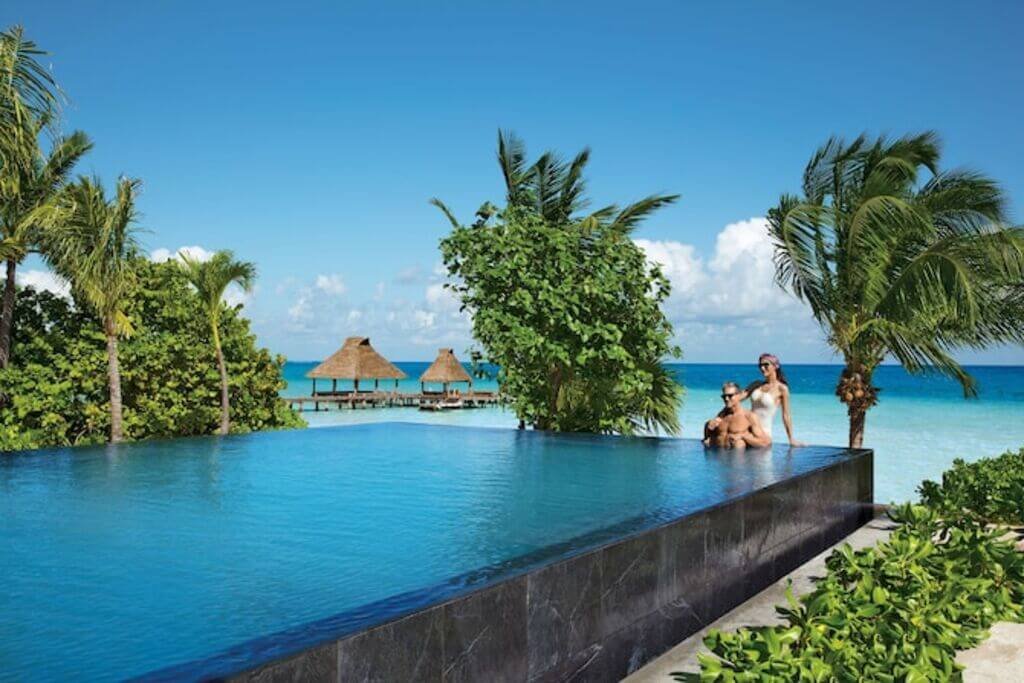 The Zoetry Paraiso is a romantic, wellness-focused boutique hotel on the Riviera Maya that has only 90 suites. The suites' different designs give guests different ways to spend their time. For example, Terrace Suites have small indoor gardens next to the bath, and Plunge Pool Suites have small outdoor pools.
The pool area and beach have loungers that are great for couples, and the resort's dining options add to the idea that it is a healthy place to stay.
You'll get some pretty cool extras for free here, like a bottle of tequila, a bottle of champagne every day, a one-hour sunset sail on a Catamaran, maid service three times a day, and private airport transfers with a chauffeur for each room.
35. Likuliku Lagoon Resort Fiji, Fiji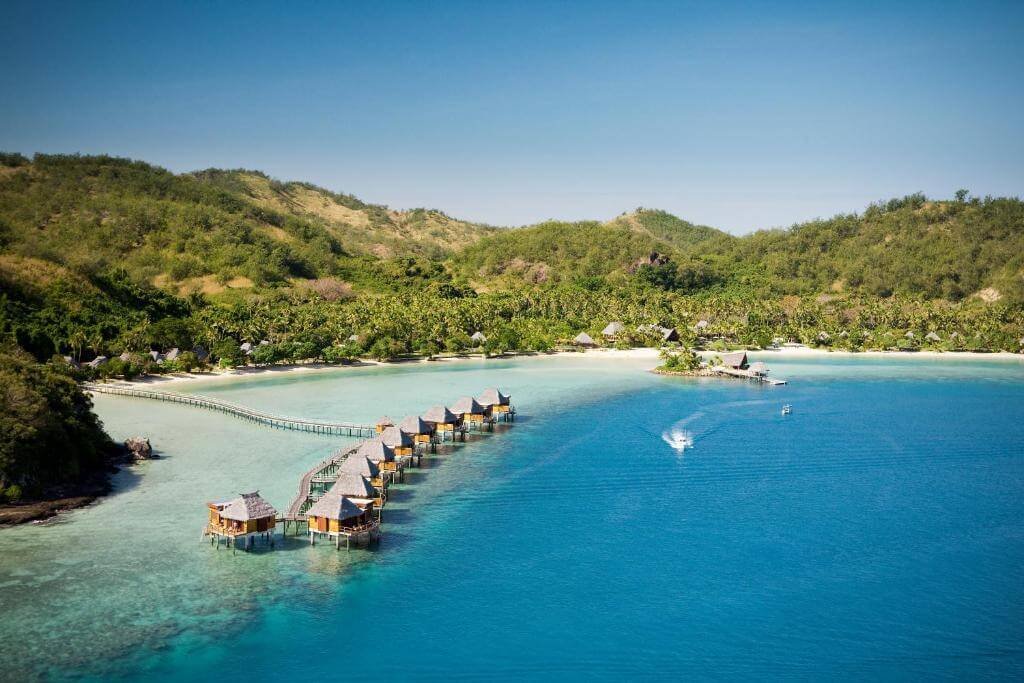 The Likuliku Lagoon Resort in Fiji is so nice that it's hard to find anything wrong with it. It is, after all, known as one of the best all-inclusive resorts in Fiji.
Your five-star luxury overwater bungalow has the sweet smell of tropical flowers and the salty smell of the sea. It also has a private deck that is so wonderful, you won't want to leave.
The 10 overwater bures are beautiful and are some of the best overwater bungalows in the world.
On land, there are 18 more bures that are just as nice and have views of a garden, coconut grove, or lagoon.
All of your meals are included in your stay, but drinks are extra. You also get a sarong and can snorkel and do other non-motorized water sports. Friday nights are always fun.
At the "end-of-week party," people from a nearby village dance and play music for the guests. After that, they eat a traditional South Pacific and Fijian Lovo grill.
36. Valentin Imperial
Rooms at the Valentin Imperial are unique because they are set up around a large, winding pool. Whether you stay in a "Silver" or "Golden Superior" suite, you can expect world-class service and a lot of entertainment planned by them.
When it comes to food, most all-inclusive resort packages are hit or miss, but Valentin Imperial is a sure hit. Their à la carte menu for breakfast and lunch will fill you up.
You can choose from 7 different à la carte restaurants, which serve food from Asia to Italy.
This all-inclusive Mexico resort is just for adults. It has a full-service spa, tennis courts, and access to Playa Secreto, a private beach. If you're feeling adventurous, the hotel can also set up trips for scuba diving, snorkelling, and kayaking.
37. Iberostar Grand Hotel Paraiso – Playa Del Carmen, Mexico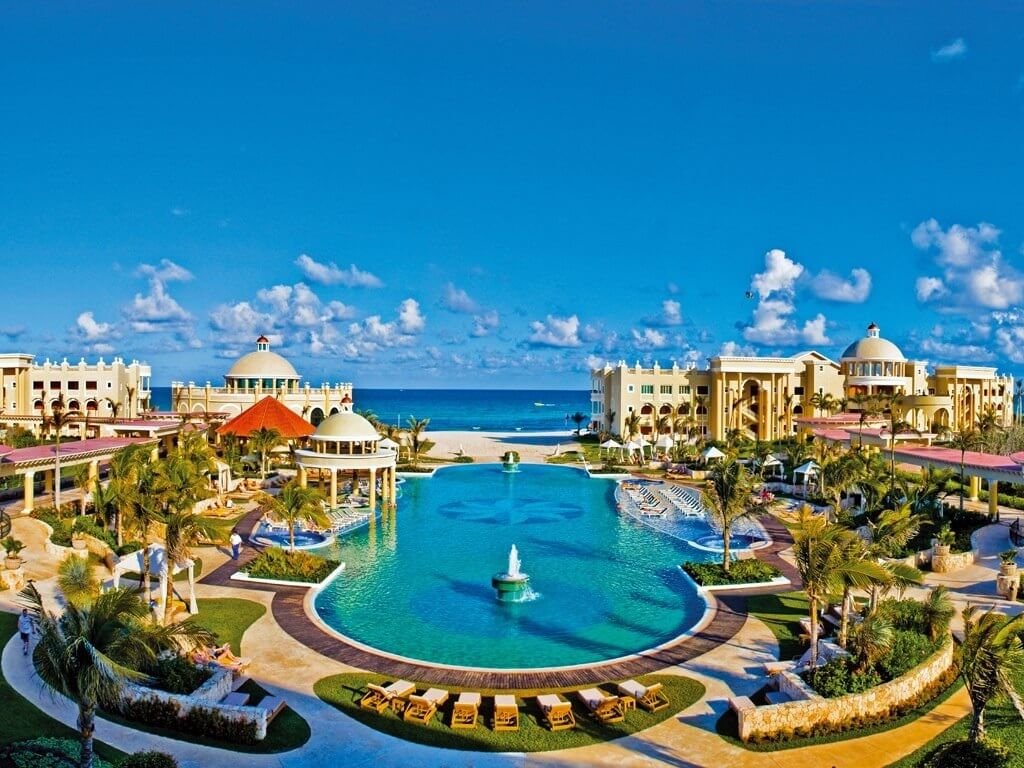 The Iberostar Grand Hotel Paraiso in Playa del Carmen, Mexico, is one of the best resorts with a private beach in the world. It is a great place for travellers who want to relax. In Riviera Maya, the architecture and decor are influenced by both Baroque and Roman styles, and the lobby is full of intricate details.
After you walk in, you're surrounded by palm trees and other exotic plants and animals, and the rooms and suites have balconies so you can take in the beautiful scenery.
In the guest rooms, there are separate sitting rooms and chaise lounges, as well as personalised minibars and jet tubs.
The on-site pool and nearby beach are both beautiful places to spend your vacation, and those who want to stay active can take advantage of the recreational sports and nearby golf course.
38. Bungalows Key Largo
Bungalows Key Largo is the place to go if you want a romantic getaway that is easy to get to. It is the first and only all-inclusive resort in the Florida Keys. It is on Key Largo, the most northern island.
At this all-inclusive resort in Florida, there are only 135 private bungalows spread out over 12 acres. This gives you a lot of privacy, especially since you'll have an extra-large veranda with an outdoor soaking tub and shower.
Spend your time exploring the property with free activities like paddleboarding, kayaking, and riding Huffy beach cruisers. You can also enjoy multicourse meals at gourmet restaurants and beachside eateries.
For an extra fee, you can go out on one of two floating tiki boats for a nautical happy hour, take a sunset cruise on Lady B, a 56-foot catamaran, or relax in the spa.
If you're already planning your next trip, one of these all-inclusive cruises could be a great choice.
39. Civana Wellness Resort & Spa, Carefree, Arizona
It makes sense that Civana Wellness Resort & Spa chose to open in the town of Carefree, which is a good fit for the business (just north of Scottsdale).
Here, you can spend your days enjoying free wellness activities like mindfulness, movement, personal growth, outdoor adventures, and creative arts. You can also swim in the main resort pool, play tennis or pickleball, hike or bike on miles of nearby trails, and relax in a luxurious room made of natural materials.
Plus, you can eat and drink as much as you want (except alcohol), and each adult gets a $200 spa credit so they can relax even more.
40. Hyatt Zilara Cancun
You won't want to leave the beautiful Hyatt Zilara in Cancun, which has 307 rooms with jet tubs, views of the ocean, and high-end toiletries. This resort really has everything you could ever want in a place to go on vacation.
Enjoy the unique indoor and outdoor pools, the large spa, the beach that is perfectly clear, and the delicious food at the six restaurants.
With a full gym, tennis court, pilates classes, and beach yoga, you'll be able to work off those extra treats.
You can relax at the end of a busy day by having a few drinks on a day bed with a view of the aquamarine beach or by going to one of the nightly themed parties or shows.
41. El Dorado Casitas Royale by Karisma, Riviera Maya, Mexico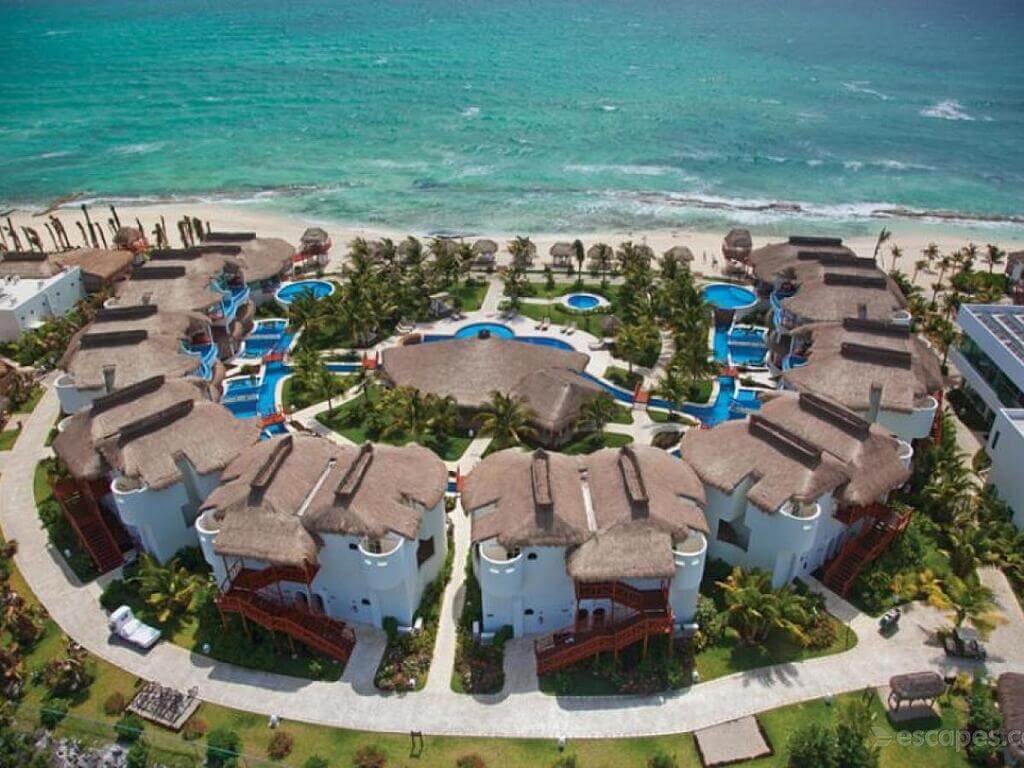 At this romantic resort, you don't have to spend a lot to get a suite. Every room is a large "casita" suite with king-size beds, balconies big enough to lounge on, outdoor showers, and beautiful views of the surrounding nature.
You can also book suites with a private pool and bar, which is pretty much heaven on earth.
Even though it will be hard to get out of your room, you should because your stay includes 13 restaurants and 17 bars.
There are also 14 pools (yes, you read that right) and activities like archery, tasting mezcal, and tasting wine.
A unique thing about the resort is that it has a Temazcal, which is a type of Mayan sweat lodge, as well as a variety of spa treatments that use native products and methods.
42. TRS Coral Hotel, Playa Mujeres: Adults Only All Inclusive Resorts in Mexico
When it comes to adults only all inclusive resorts for vacations, TRS resorts do it right. Again, like the best places on this list, the property has just the right amount of activity and gives you every chance to unwind and relax. Like its sister hotel down the coast in Akumal, TRS Yucatan has a lot to do in and around the pool during the day. However, couples and groups of friends are just as likely to spend the day in the shade sipping margaritas and tropical drinks.
The resort has great food. It serves high-end dishes from Spain, the Mediterranean, and, of course, Mexico. The presentation is incredible, and the drinks are also creative (we recommend saving plenty of room for dessert at every meal).
Prices also include a gourmet dinner with several courses and a great show with singing and dancing at Chic Cabaret. What's the best? The beach is really beautiful.
43. Chiva-Som, Thailand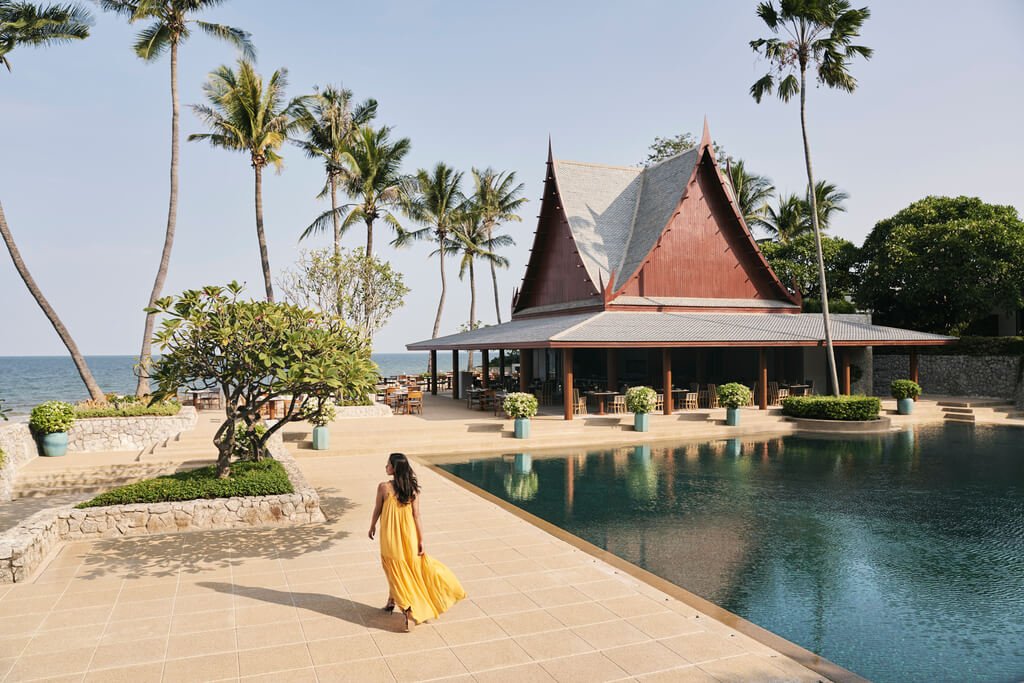 Chiva-Som is called one of the world's best destination spa resorts for a good reason. Located in a dreamy beachfront locale in Hua Hin, Thailand, this first-class property prides itself on rejuvenating the body, mind, and soul of each guest.
Chiva-Som has all the must-haves we look for in every top resort: a spa, fitness centre, outdoor pool, and first-rate dining facilities.
In-house health professionals can help you come up with a plan to improve your health and make the most of your stay. Depending on your goals, they can make a perfect programme of activities, treatments, and classes to help your body and mind feel better.
This amazing place for health and wellness also has a bathing pavilion with a steam room, cold plunge pool, and Jacuzzi.
Included in your stay are three wellness cuisine meals per night of stay, complimentary exercise and relaxation classes, daily afternoon tea, access to the water therapy suites and gym, private butler service, a physical analysis, and one wellness treatment per person per night of stay.
44. Hilton Playa del Carmen: Adults Only All Inclusive Resorts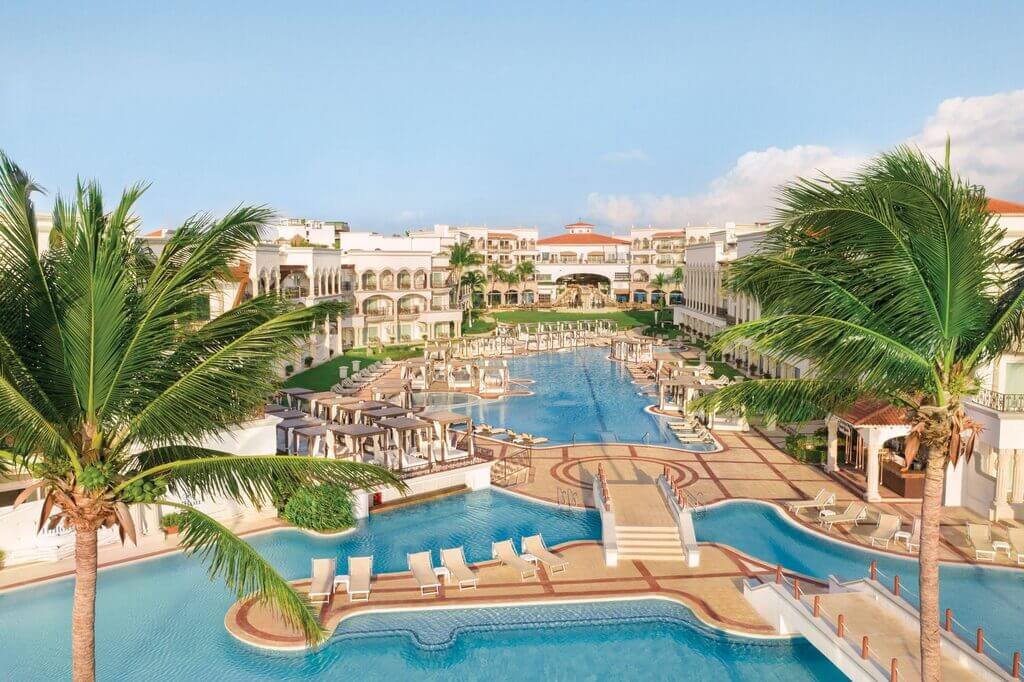 The quality and service at Hilton Playa del Carmen are what you'd expect from a Hilton Hotel. The rooms are beautiful. Expect cool pops of colour breaking through the warm wooden tones of the furniture and spacious rooms overlooking the beach or garden.
You can pick a room that fits your budget from a wide range of options. Some have big porches, private hot tubs, hammocks, and more.
Just rent a cabana to relax in, go shopping in the small shops, or get a facial at the spa. If you're brave enough to walk through the seaweed on the beach, you can cool off in the ocean, which is crystal clear.