25 Best Things to Do in Tulum – 2023
Tulum, Mexico, is a great place for tourists to go sightseeing. It's full of fun things to do and has everything from Mayan sites to great food to beautiful beaches. We've made a list of the top 25 things to do in Tulum.
In recent years, Tulum has become a very popular place for tourists. People told each other how great this small town really is. Now, people from all over the world visit Tulum, and it seems like there's a new hotel on every corner.
Where is Tulum? Along Mexico's Riviera Maya, about two hours south of Cancun, you'll find this tropical paradise. Also check out the best time to travel to Cancun, a guide on the weather of Cancun month-by-month. Tulum is a great place to go scuba diving because it has many cenotes and caves to explore. It also has beautiful beaches with white sand and clear water. So let's dig into what are the things to do in Tulum Mexico.
About Traveling Tulum, Mexico
According to the Yucatan Times, almost 10 million people visited this area in 2016. This is because it has beautiful scenery, nice people, and is generally safe.
The price of going to this part of Mexico has gone up because of the number of wealthy tourists who come here.
Things to Do in Tulum – Getting Around Tulum
Bikes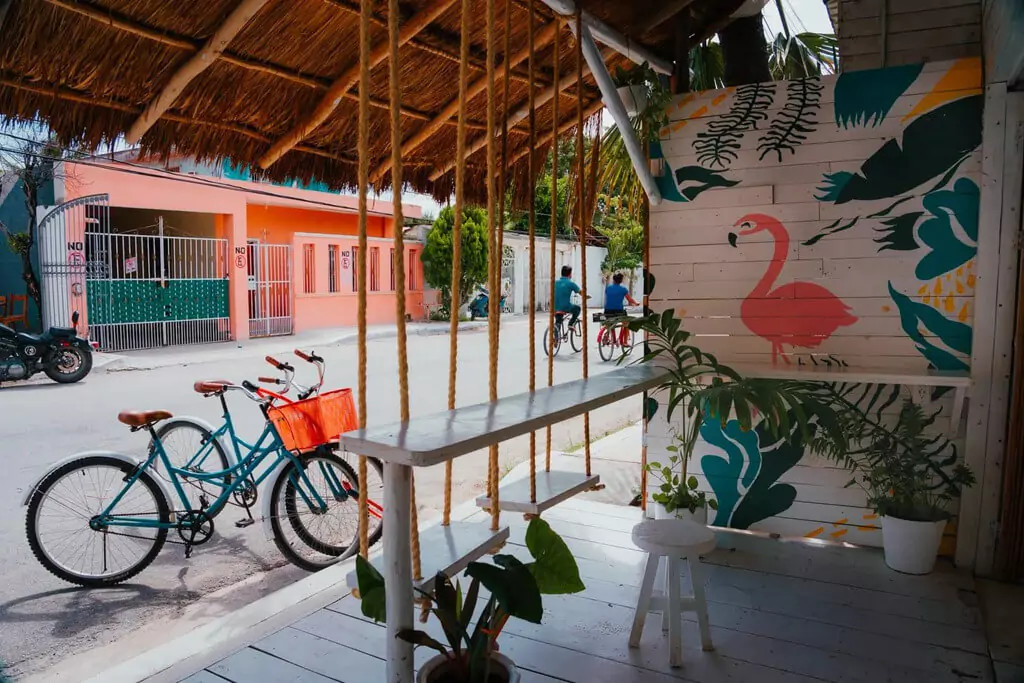 Source: bucketlistbri.com
Due to Tulum's unique layout – the coastline, its main attraction is separated from the city center by a short drive or a lengthy walk – it is recommended to rent bicycles for at least a couple of days. This will provide you with greater independence than if you had to rely on taxis.
Bicycle rentals in Tulum are relatively economical, costing approximately $150 pesos ($7.50 USD) per day and typically including a lock and helmet. 
Rent A Car
Source: digital-nomad-couple.com
Some travel websites have also reported problems with auto robberies (especially at night) and police scams in which officers draw over drivers and demand a bribe. If you rent a car to in Mexico, you will not need an international driver's license because your U.S. license is valid there.
Taxi
Source: playadelcarmen.com
You can use taxis to get from your hotel to the shore, as well as to the ruins and the nature reserves. You can locate them in the vicinity of the hotel districts and the bus terminal. Fortunately, the fixed fares are affordable.
Taxis in Tulum range between $50 and $600 pesos ($3 and $30 USD). Expect to pay approximately $200 pesos ($10 USD) to travel from the highway to Tulum seashore, although prices may be higher on weekends. 
On Foot
Source: myguide-cdn.com
Walking is always an affordable option, and it is also feasible in Tulum. Depending on your location, you could walk from the hotel areas to the beaches, the ruins, and even Tulum Pueblo.
Top Things to Do in Tulum, Mexico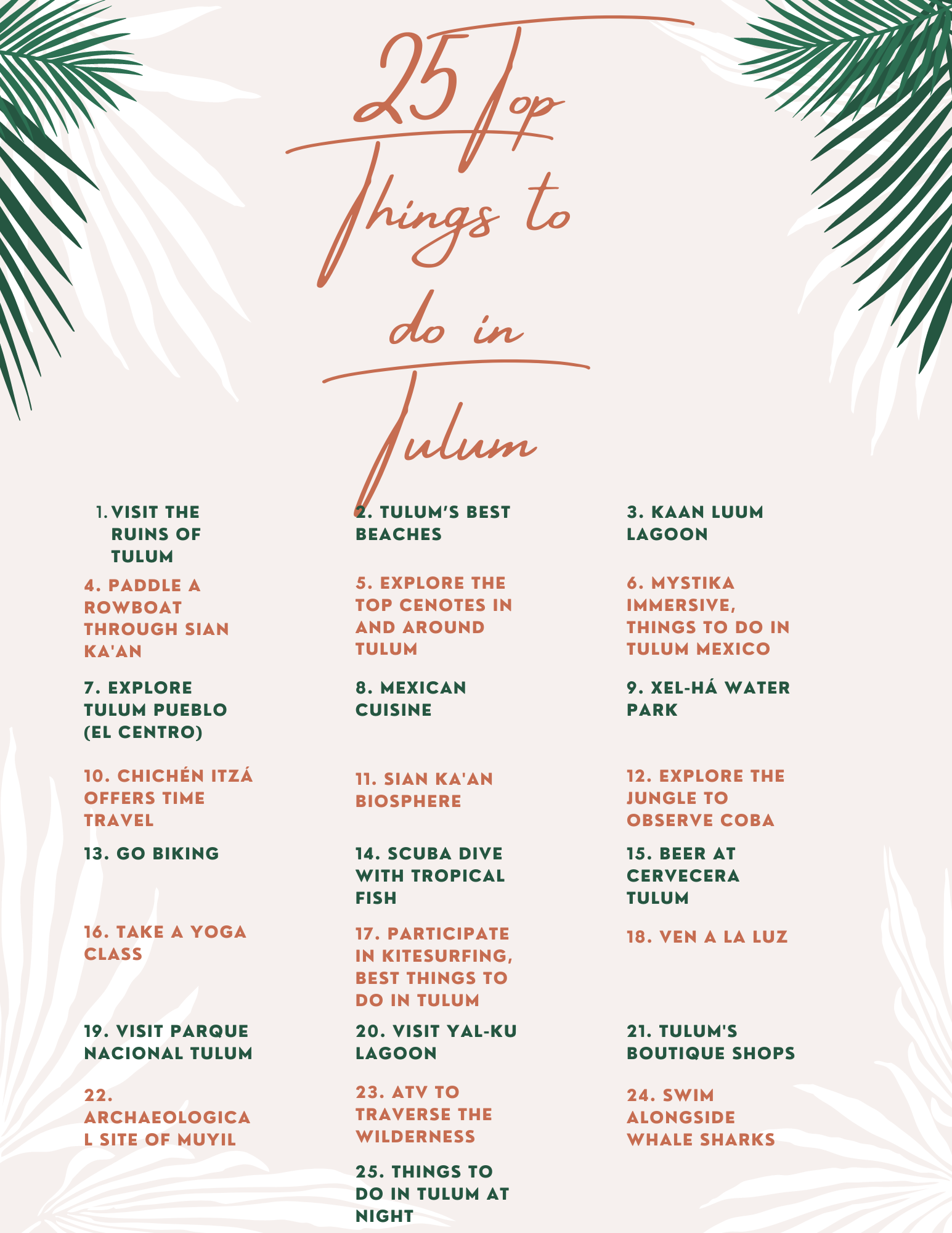 There are so many interesting things to do in Tulum that it can be difficult to choose. Therefore, we've done the legwork for you by curating this list.
1. Visit the Ruins of Tulum
Source: elitevoyage.com
The Tulum Archeological Site is a clifftop Mayan city from the 13th century that is the highlight of any journey to Tulum. The ruins, which are perched 12 meters above the shimmering Caribbean Sea, are the ideal backdrop for photographs.
The 5-meter-high fortifications that surrounded the city may have contributed to the name Tulum, which is Maya for fence. 
Important structures at the Tulum ruins include the Templo Dios del Viento or Temple of the Wind God, Pyramid El Castillo, Temple of the Descending God, and Temple of the Frescoes. 
The gates open at 8:00 a.m., but lines can be lengthy. So arrive earlier.
2. Tulum's Best Beaches
It is difficult to choose which beach to sunbathe on due to Tulum's abundance of beaches with soft dunes and dazzling waters.
Hang Out at Playa Paraiso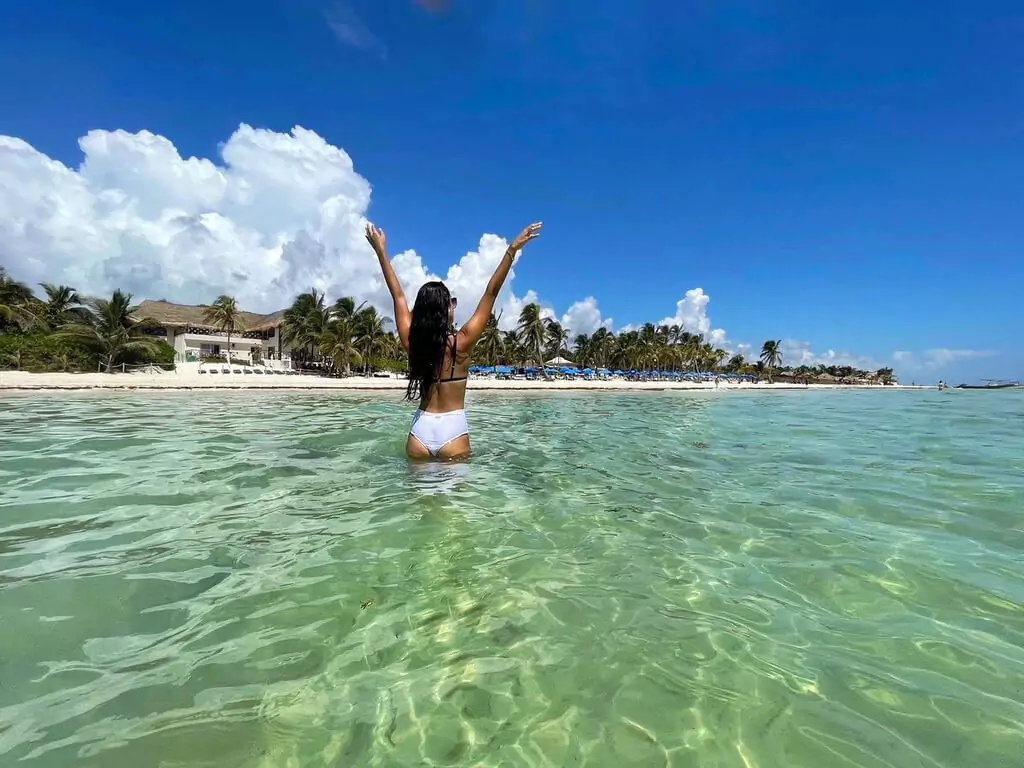 Source: myguide-cdn.com
Tulum's beaches are the town's primary attraction, and Playa Paraiso is the best of the group. Once you see the beach's white sand and turquoise water, you'll realize why it was awarded the Travelers' Choice award by TripAdvisor as the finest beach in all of Mexico.
Playa Ruinas
Source: wikimedia.org
It is the secluded shoreline located immediately beneath the Tulum Ruins. It is only accessible through the archeological site and opens at 10 a.m. Making a visit to this natural marvel one of the best free things to do in Tulum.
Ziggy's Beach
Source: tripadvisor.com
Ziggy's Beach is a beach club with an entrance fee of $35 USD that includes the use of a lounge lounger. This family-friendly shoreline is ideal for families on vacation.
Santa Fe Beach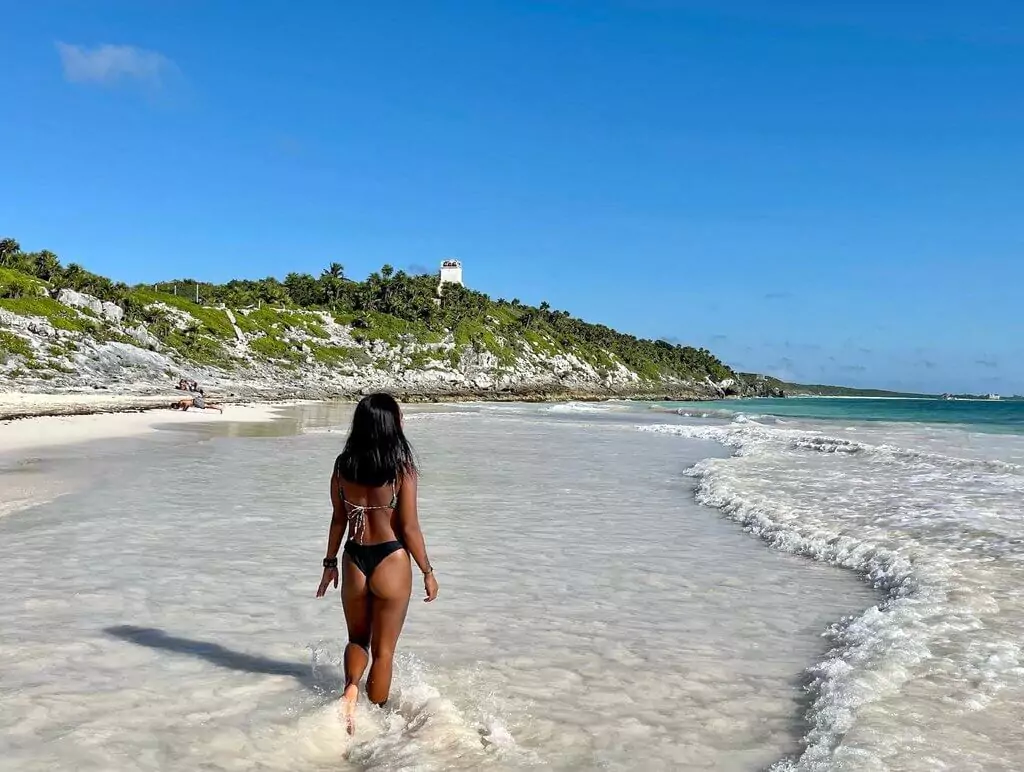 Source: squarespace-cdn.com
Santa Fe Beach is a tranquil public shoreline located just south of the ruins and north of Playa Paraisao. It is dotted with beachside eateries and watering holes.
3. Kaan Luum Lagoon
Source: cdn-hotels.com
The Kaan Luum Lagoon is an exotic alternative to the white sand beaches of Tulum. Enjoy an invigorating afternoon by entering the vast blue lagoon, which reportedly exudes an enchanting aura, for a small fee.
At the water's border, swings and hammocks are available for relaxation. The shore has a tower that you can climb for a better view, but the calm, electric blue water is the primary attraction. There is a large swimming area for wading in the warm waters, but scuba divers can investigate a vast drop-off.
4. Paddle a Rowboat Through Sian Ka'an
Source: westmauicondos.com
Explore this biodiverse World Heritage Site as you embark on a daring kayaking expedition. Paddling stealthily through the mangrove labyrinth and across the placid lagoon, you will investigate the ancient trade routes.
Keep your camera available, as the Sian Ka'an Reserve is home to crocodiles, sea turtles, ospreys, and iguanas, among other species. No prior expertise kayaking is required.
5. Explore the TOP Cenotes in and Around Tulum
Cenote exploration is one of the most popular activities on the Yucatan Peninsula, as they are literally everywhere. There are simply too many to see them all, so you must pick and choose carefully.
Dos Ojos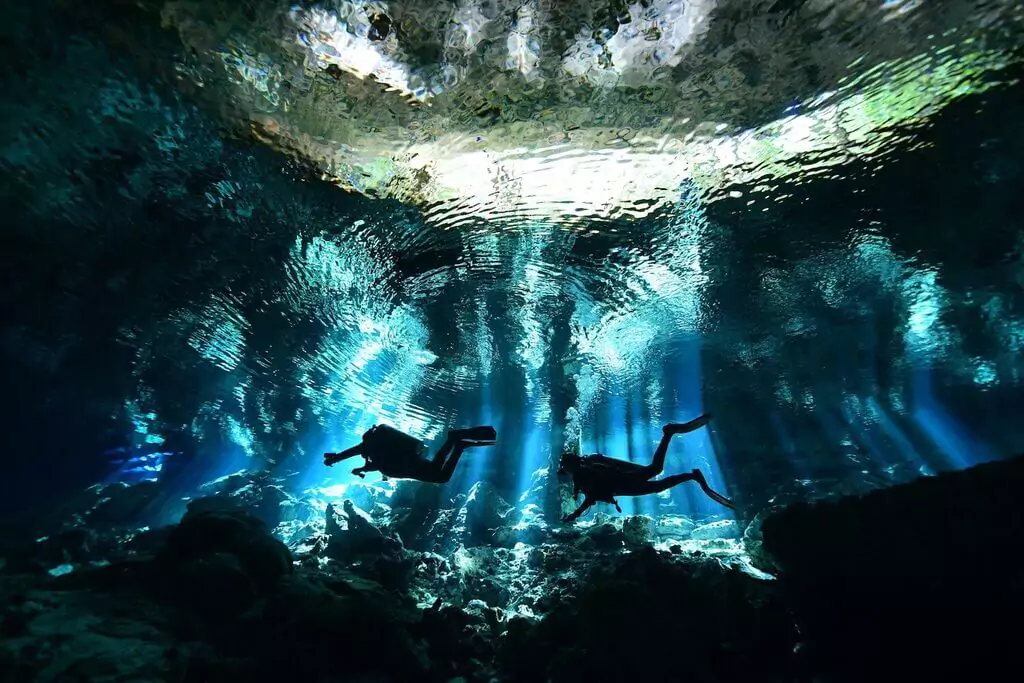 Source: aguaclaradivingtulum.com
This cenote is a complex network of underwater caves. From land, it appears as though there are two distinct cenotes, but they actually connect underwater. 
Dos Ojos Cenotes have one of the most expensive entrance fees, at 350 pesos ($18 USD). Nonetheless, if you have never seen a cave with brilliant blue water, you should visit this one regardless of the cost.
Gran Cenote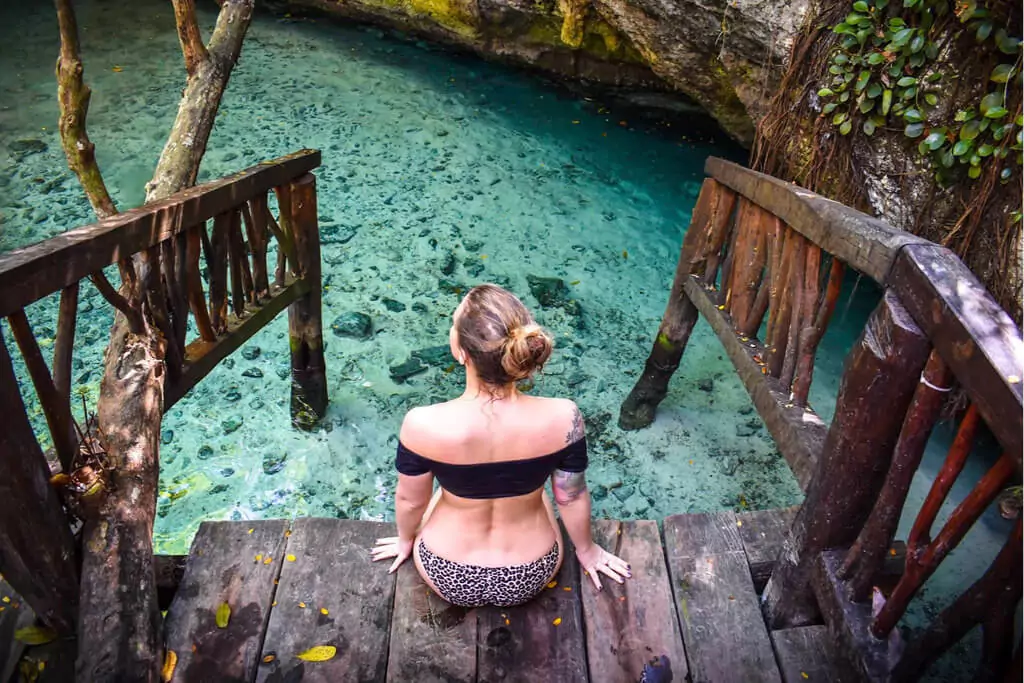 Source: uprootedtraveler.com
Gran Cenote is a prominent cenote located near Tulum. The cenote contains both caverns and an open-air section. Per individual, the entrance fee to Gran Cenote is 100 pesos ($5 USD).
Cenote Calavera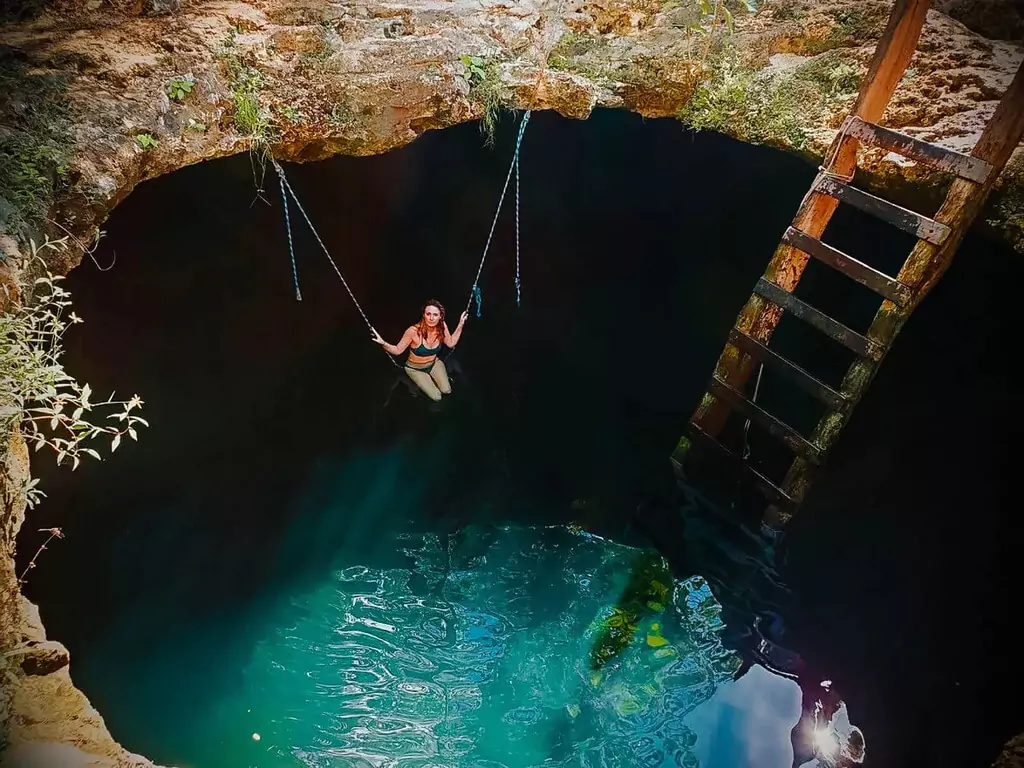 Source: bucketlistbri.com
In Mexico, Cenote Calavera is one of my fave cenotes. This small cenote is nothing more than a hole in the earth, but beneath it are diving-friendly caverns. In recent years, it has gained tremendous popularity and is now extremely congested.
Cenote Calavera now has a per-person entrance fee of 250 pesos ($12.70 USD) and can be reached by bicycle or taxi from Tulum.
Cenote Azul
Source: uprootedtraveler.com
Cenote Azul is a large, breathtaking open-air cenote. It is extremely enjoyable for swimmers and cliff jumpers. There is even a modest swimming area for children, making it ideal for families.
Cenote Azul is located between Tulum and Playa del Carmen and is accessible by taxi or public transportation. The entrance fee is 120 pesos (approximately $6 USD).
6. Mystika Immersive, Things to do in Tulum Mexico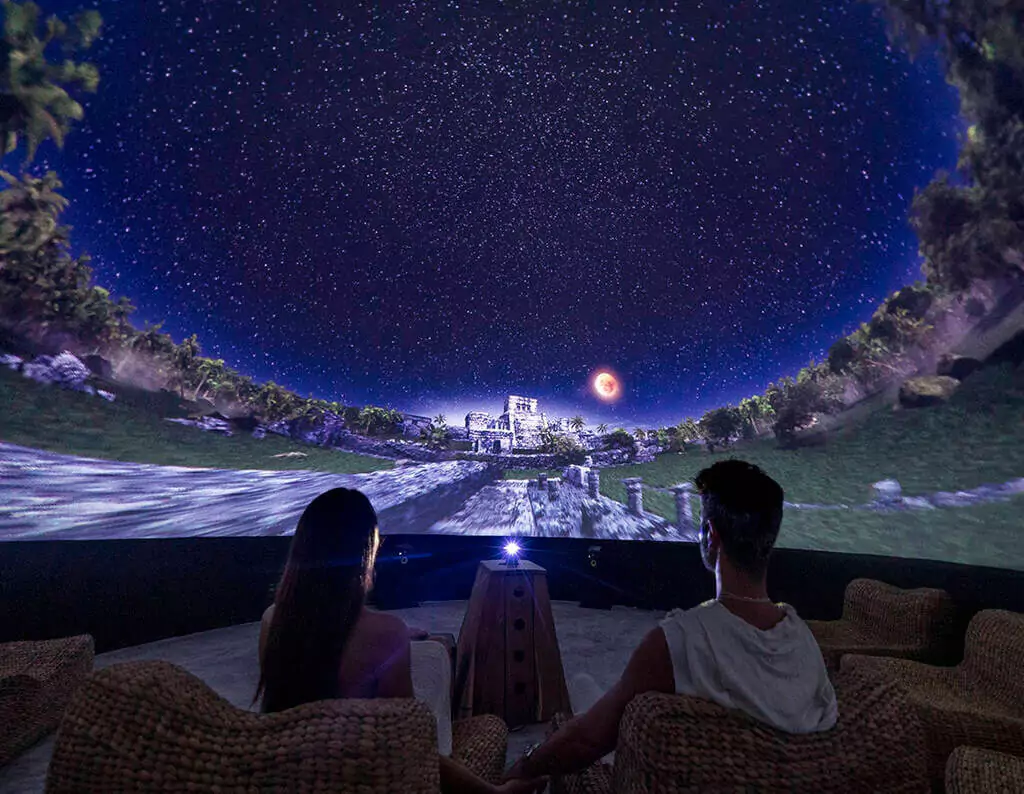 Source: cancunairport.net
Mystika is a one-of-a-kind sensory experience designed to connect the viewer with Mayan cosmology, Mexico's most remarkable natural sanctuaries, and the spiritual power of horses as symbols of healing, wisdom, and evolution. Recommended duration of 1-2 hours.
7. Explore Tulum Pueblo (El Centro)
Source: cdn-hotels.com
Tulum is actually comprised of three distinct areas, all of which are commonly referred to as "Tulum," which can be somewhat perplexing for first-time visitors.
Tulum Town (also known as Tulum Pueblo or El Centro) is where locals conduct commerce. There are grocery stores, local restaurants, and other Mexican businesses in this area.
Tulum Beach (also known as the Tulum Hotel Zone) is the location of all the beaches, resorts, and tourist shopping. This location is approximately 5 to 10 minutes by car from Tulum Town. This distance would take about an hour to cover on foot, which is not advised. Instead, a bicycle or taxi should be used.
8. Mexican Cuisine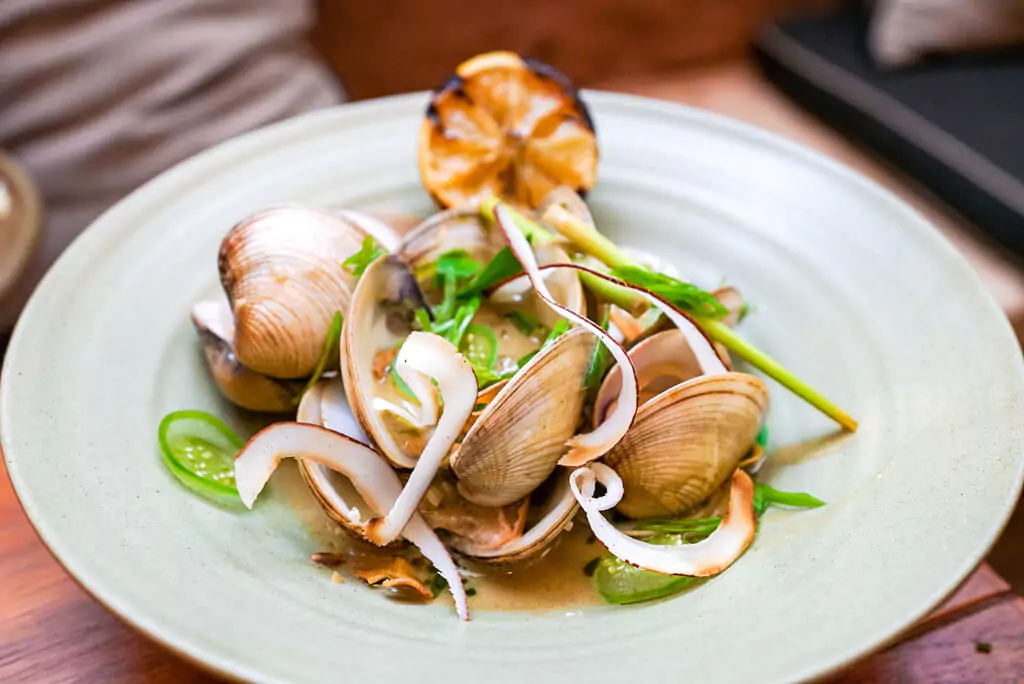 Source: coupleinthekitchen.com
Mexican cuisine is incredible! The inclusion of a food tour on this list of top things to do in Tulum is therefore not surprising.
Burrito Amor, located on the main road at the southern end of Tulum, provides some of the most delicious cuisine in the city. And, best of all, the average price is only 100 pesos ($5.25), making it a welcome respite from Tulum's recent price inflation.
From the humble taco to other delectable Mexican dishes like mole (mole is so good! ), you'll eat your way through the streets of Tulum, and you'll depart with a full stomach.
9. Xel-Há Water Park
Source: cancunalltours.com
After a brief journey along the coast to the north, you will reach the magnificent Xel-Ha Water Park. Xel Ha, another of the peninsula's famous nature-and-theme parks, is a popular family destination.
The park is situated around a large stony inlet and is rich in history in addition to its water-based activities. According to the Maya, Xel-Ha is an archaeological site where water was produced. The inlet was also used as a Spanish settlement in the later years.
Visitors can snorkel alongside colorful fish, stingrays, and barracudas in the lagoon. You can hike, explore the jungle and caverns, or view everything from a zipline.
10. Chichén Itzá Offers Time Travel
Source: rackcdn.com
Looking for a fill of jungle temples? Then you should travel to Chichén Itzá to boast about your pyramid expertise. This is one of the most important archaeological sites in Mexico and the best location to experience Mayan magic.
Visit El Castillo and the Temple of the Warriors before you depart! If you wish to explore without throngs, you should arrive early.
11. Sian Ka'an Biosphere
Source: squarespace-cdn.com
Sian Ka'an translates to "gateway to heaven" or "source of the sky." Since 1987, the Sian Ka'an Biosphere, located just south of Tulum, has been a UNESCO World Heritage Site. 
Sian Ka'an is 5280 km2 in size and is home to over 300 bird species, 120 km of coastline, diverse flora and fauna, coral reefs, a lagoon, and approximately 23 Mayan archaeological sites.
Booking a Sian Ka'an boat excursion or kayaking tour to explore the jungle mangroves and saltwater lagoons is a popular activity.
12. Explore the Jungle to Observe Coba
Source: expedia.com
Tulum's ruins are beautiful for their location, but if you're looking for a larger Mayan pyramid, you don't have to travel far.
The Coba ruins are a much more enjoyable day excursion from Tulum than the famous Chichen Itza ruins, despite being slightly less well-known.
Why? To access them, you must bike through the dense jungle (renting a bicycle costs 45 pesos, or $2.40). In addition, you can still ascend the main pyramid at Coba, whereas ascending is prohibited at the more famous Chichen Itza ruins.
To reach the summit of Coba, you must ascend 120 steep stone steps, but the exertion is well worth it for the views from the top.
13. Go Biking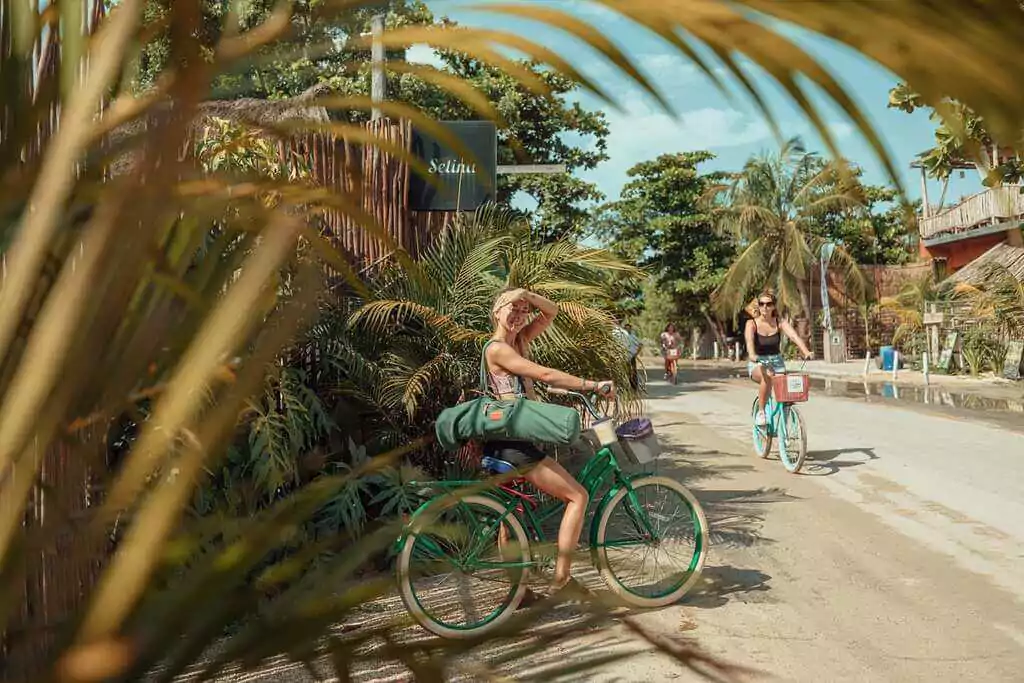 Source: cloudinary.com
The only thing paradisiacal Tulum and chilly Amsterdam have in common is a passion for bicycles. Visitors to Tulum will observe an abundance of bicycles along the coast and throughout the city. It is a fun and enjoyable method to travel from point A to point B and to explore off the beaten path. Those residing in the urban area must also possess a bicycle.
There are a number of large bike lanes between the city center and the gorgeous beaches. Several smaller paths head into the neighboring hills. The Avenida Coba has a cycling lane and leads to the Coba Ruins.
Ola Bike Tulum and Paolo are two of the most prominent bike rental businesses in Downtown Tulum. Ola Bike will deliver the bicycles to your hotel.
14. Scuba Dive With Tropical Fish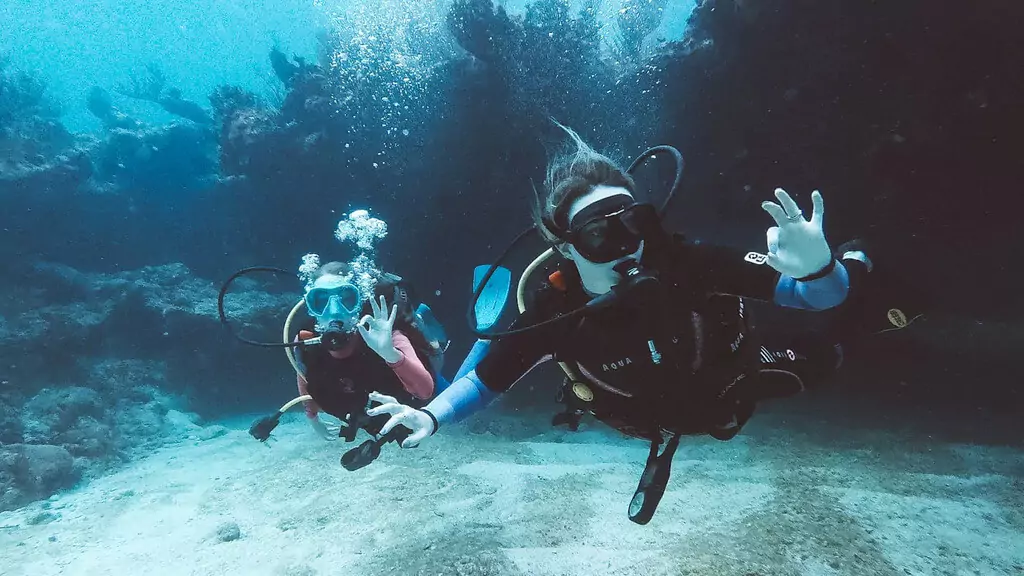 Source: bucketlistbri.com
The calm Caribbean waters encircling the peninsula of Tulum are ideal for snorkeling. Put on your mask and explore the mystical kingdom of the sea that lurks beneath the waves.
As you float above the second largest coral reef in the world, sea turtles and vibrant fish will be your constant companions. For something a little unusual, snorkeling in a cenote in the jungle is a surreal experience.
15. Beer at Cervecera Tulum
Source: otstatic.com
If you appreciate craft beer, you must visit Cervecera Tulum! This is arguably the world's coolest brewery, serving delectable craft beer in a setting that will blow your mind.
Cervecera Tulum is situated on the periphery of Tulum, approximately ten minutes from the city center. There is a massive Tulum sign in front that is arguably more impressive than the actual Tulum sign (it is!). 
Once inside, claim a table and start the beer flowing.
16. Take A Yoga Class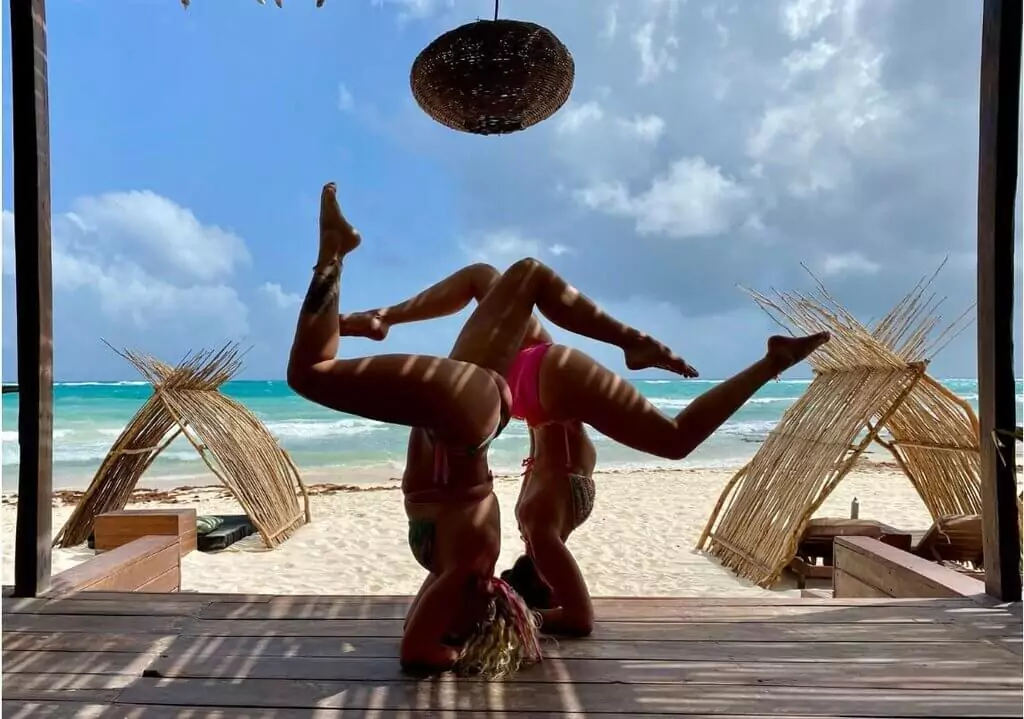 Source: squarespace-cdn.com
As Tulum is a popular destination for hippie/bohemian/new-age types, there are numerous yoga retreats, music therapy sessions, and other types of health and wellness activities available.
Visit Naga Tulum or the beachfront yoga studio at Sanara if you're seeking to unwind and immerse yourself in yoga sessions during your stay.
17. Kitesurfing in Tulum, Best Things to do in Tulum
Source: kasahotelkuyen.com
One of the few drawbacks of Tulum's magnificent beaches is that they can become blustery at times. However, this also makes Tulum the ideal location for kitesurfing.
Along the south shore of Tulum, there are numerous surf schools that will teach you how to crush those waves. It is a fantastic adventure activity and one of the finest workout options in Tulum.
Reserve a lesson with a certified International Kiteboarding Association instructor and spend a few hours on the water.
18. Ven a la Luz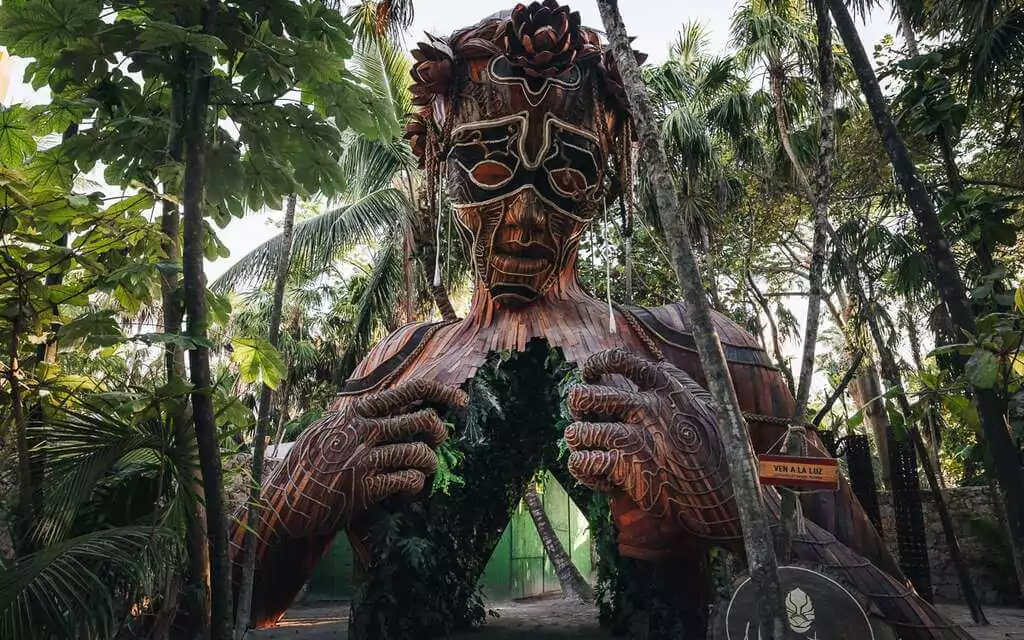 Source: weseektravel.com
The Ven a la Luz is frequently at the summit of the Tulum bucket list for photographers. The colossal wooden sculpture is located in Ahau Tulum's public art park, which contains a number of extraordinary works.
Daniel Popper designed the famous 33-foot-tall sculpture made of rope, timber, a steep slope, and vegetation. The sculpture depicts a woman with her bosom exposed. The entrance, which is surrounded by verdant vegetation, is intended to demonstrate the connection between humanity and nature while drawing attention to Tulum's fragile ecosystems.
It is an extraordinary work of art that is one of the most popular photo locations in Tulum.
19. Visit Parque Nacional Tulum
Source: travel-assets.com
In 1981, Tulum National Park was established as a protected natural area. Along this stretch of the Caribbean coastline, it is intended to preserve the Mayan ruins and the neighboring ecosystems.
The archaeological site is the centerpiece of this mini-park, but you can also explore the ancient Yucatán forest. The beach is one of the finest in the region and should not be missed.
20. Visit Yal-Ku Lagoon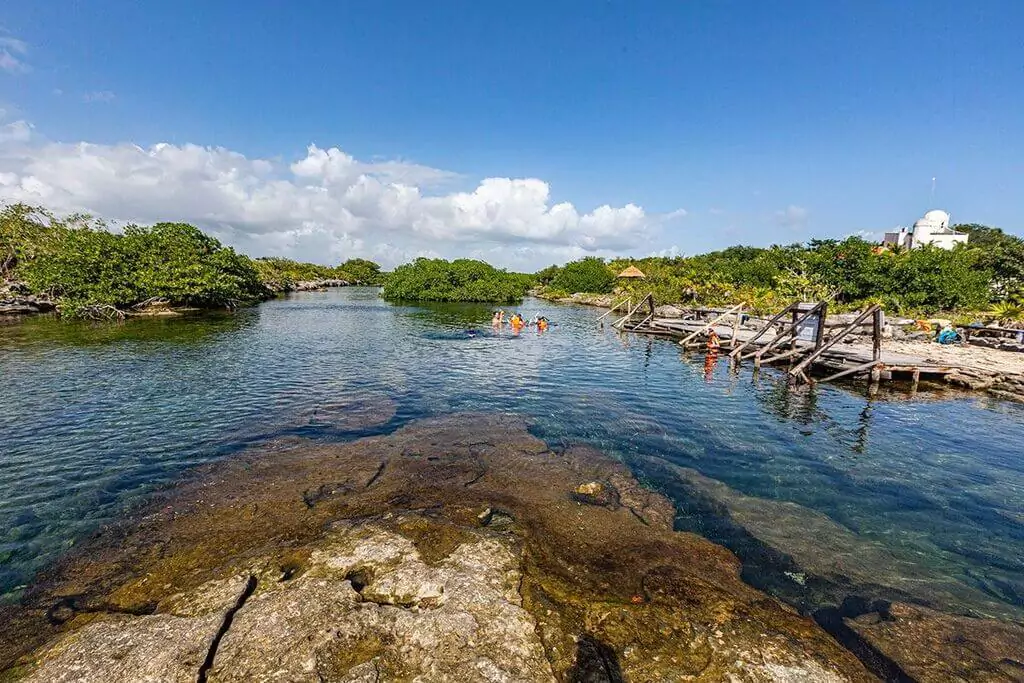 Source: letstraveltomexico.com
The stunning Yal Ku Lagoon is a popular location for snorkeling and sunning and is only 30 minutes by car from Tulum. What distinguishes Yal Ku? It is a cenote that empties into a lagoon that serves as a sea inlet.
Due to the combination of saltwater and freshwater, the lagoon is the ideal location for snorkeling. Small fish populate the shallow waters near the cenote, whereas tortoises, stingrays, and larger fish inhabit the deeper waters near the ocean. 
There are stores nearby that sell refreshments and that rent snorkeling and diving equipment.  
21. Tulum's Boutique Shops
Source: lebrasse.com
If you are a fashion-conscious individual, you will adore Tulum's abundance of boutiques selling hippie-inspired clothing.
It is not surprising that purchasing is one of the most popular activities in Tulum. Prepare yourself for financial shock, because Western prices dominate here.
Along Tulum's south beach road are several clusters of popular stores; simply walk or bike along the road and stop along the way.
22. Archaeological Site of Muyil
Source: cancunadventure.net
If you had to visit only one of the twenty Mayan monuments near the Sian Ka'an Biosphere, it would be the Muyil Pyramid. The Muyil Archaeological Site dates back to 350 B.C. and is situated along an important trade route that led to Coba.
The pyramid is in close proximity to the Sian Ka'an Lagoon and is a site to see. To reach the destination, you must first traverse a raised boardwalk through dense forest and over marshland. The primary structure is known as El Castillo and is over 55 feet tall.
23. ATV to Traverse the Wilderness
Source: vivalatravelista.com
On an ATV excursion, you will bounce along forest trails and slide across muddy pools as you speed through the jungle. Maintain your forward momentum as you race along hidden paths in search of new exploits.
Self-propelled exploration of the Riviera Maya is a ton of joy and an excuse to let your hair down. Take a plunge in a cenote to wash away the dust.
24. Swim Alongside Whale Sharks
Source: islamujerestrips.com
Don't let the word "shark" evoke Jaws and frighten you away from this incredible once-in-a-lifetime opportunity in Tulum! Whale Sharks are commonly referred to as the "gentle giants" of the Mexican River.
Whale Sharks measure between 5 and 10 meters (16 to 33 feet) in length, but they move slowly and are docile. Swimming with Whale Sharks is a bucket-list item for many, and fortunately, it is possible in Tulum.
25. Things to do in Tulum at Night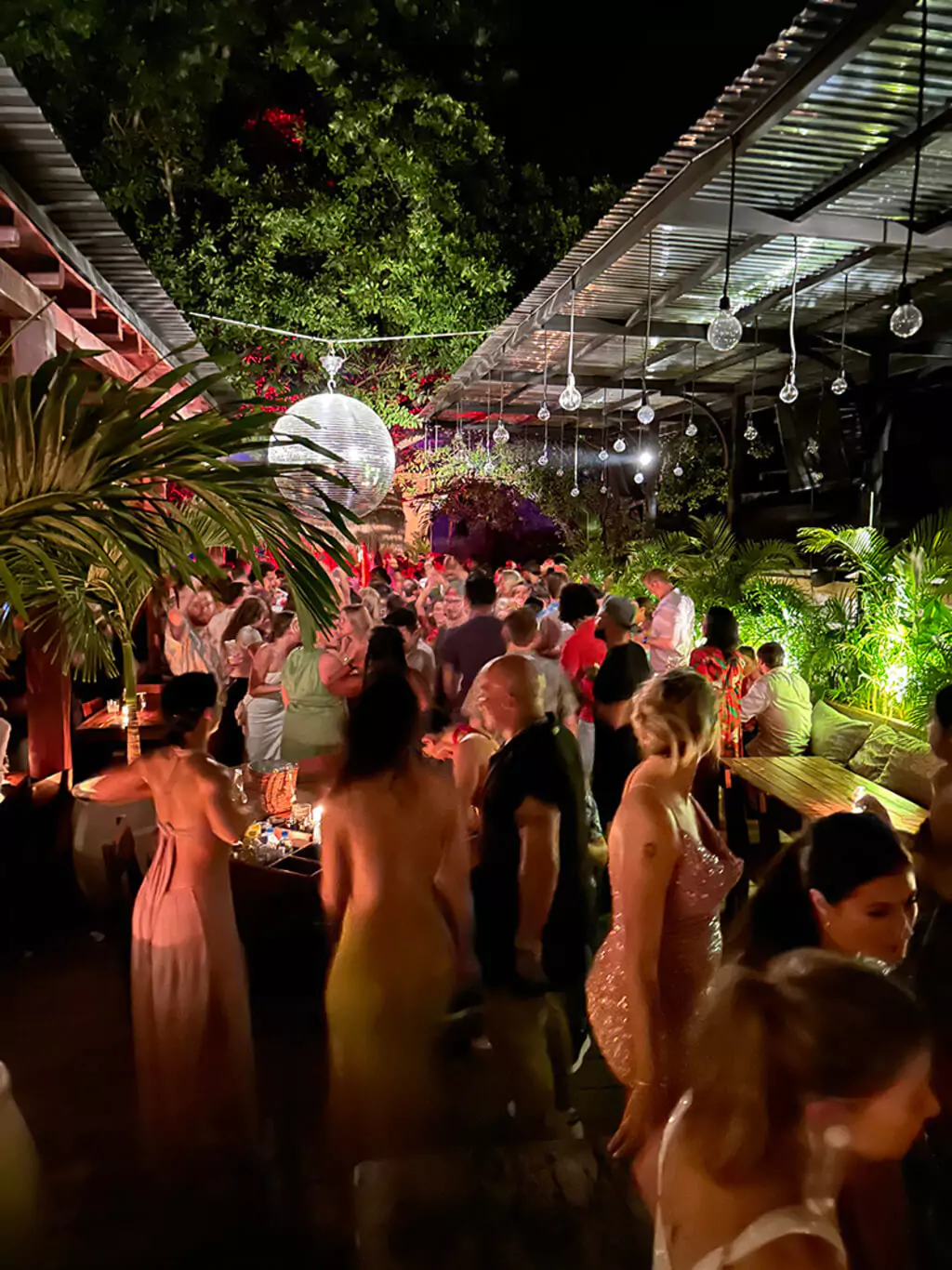 Source: digital-nomad-couple.com
Tulum's nightlife is vibrant, and beach bars are packed virtually every evening, especially on weekends. Here are some of the top Tulum bars. If you want to venture out anywhere, these are the best things to do in Tulum at night.
Santino bar is legit the place to be in. This teeny-tiny pub and club in the heart of town has a small but pulsing dance floor, strong cocktails, and the best music in town.

Gitano – Enjoy beverages and tapas at this open-air jungle bar!

The Papaya Playa Project is well-known for its full moon and weekend events. 

All Saints – Good vibes and amazing beverages!

Batey – Known for its blue-colored beetle parked outside, this bar is well-known for its indigenous drinks made with fruits such as prickly pear! 
FAQs:
1. How Long Should You Stay in Tulum?
If Tulum is not your major destination on the Yucatan Peninsula, 2-3 days should plenty. However, if you intend to utilize it as a base to explore the rest of the area, 7-10 days will allow you to visit a number of local centers, Mayan sites, and enjoy some quiet beach time.
2. Is It Safe to Travel to Tulum?
Mexico has its share of drug cartel issues, but Tulum is relatively safe in comparison to other parts of the country.
3. When is the Best Time of Year to Visit Tulum?
December to January – These late winter months are well outside of hurricane season and have the best overall weather.
From February until April – Outside of hurricane season, the spring months in the Yucatan are stunning. The first two months of February and March are still lovely.
May to November – The hottest and wettest months in Tulum are undoubtedly May to around the middle of October, however the rain normally comes for a few hours, dumps heavily, and then it's sunny again.
4. What are the Most Popular Tulum Activities?
Snorkeling, diving, zip lining, going on day tours, exploring cenotes, and eating local food at beach bars and restaurants are among the most popular activities to do in Tulum.
Wrapping Up
Tulum is definitely all about getting ready, getting set, and chilllll, and visitors always leave feeling renewed by the Mothers of the Ocean and Nature.
What are your best things to do in Tulum or secret cenotes to visit?
As always, best wishes and safe travels. Keep visiting Travel World Fashion for more travel blogs.