34 Places with the Clearest Water in Florida | Beaches, Springs & Parks
Are you about to go on vacation and want to know where is the clearest water in Florida? You've found the right spot. In this article, we will walk you through where to find crystal blue water in Florida, which are the beaches in Florida with the clearest water, and blue beaches in Florida.
35 Must Visit Places With the Clearest Water in Florida
We have made a list of the 10 best places in the state of Florida with the cleanest beaches and waterways.
1. Miami Beach, Florida
There's a good reason why Miami Beach is so well-known. Miami also has clear, beautiful water for tourists to enjoy, which is another reason why so many people go there. The area also has some of the best restaurants and bars, which makes it a great place for people who like to have fun. Also, Miami is clean and exciting, which makes it a great place for tourists.
There are many places for visitors to rent a boat, learn how to snorkel, and do other water-related things that make the whole trip epic.
2. The Florida Keys
The Florida Keys are the best place to go boating in Florida because the water is so clear. Without it, the Keys wouldn't be as popular with tourists as they are. The water is so clear that boaters can do a lot of different things, making it the perfect "tropical paradise" that we all want.
Near Key Largo, Islamorada, Marathon, and Big Pine Key, where you can snorkel and dive near the water, are the most popular places to go boating in The Florida Keys. The Islamorada Sandbar, Marvin Key near Key West, and the many islands and anchorages close to Big Pine Key and the other Lower Keys are all popular places to go.
3. Dry Tortugas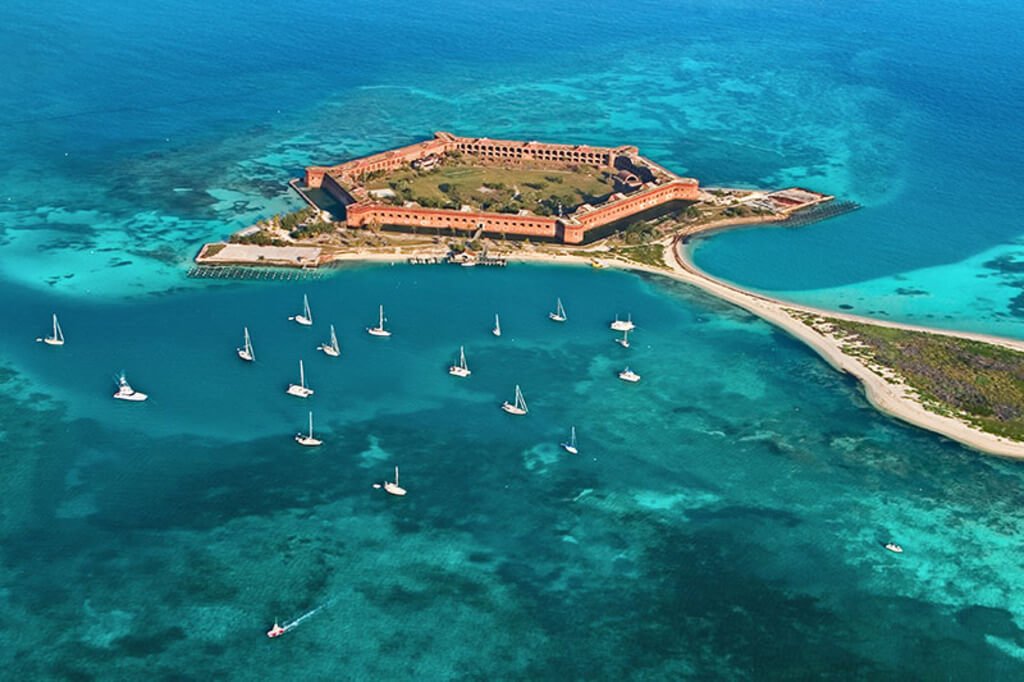 In the Gulf of Mexico, 70 miles west of Key West. Some of the most beautiful water in Florida is in the Dry Tortugas. Now, you'll have to take a boat, a ferry, or a plane to get there, but if you want Florida beaches that are blue and quiet, trust us when we say it's worth the trip.
Dry Tortugas National Park is a tropical paradise that covers 100 square miles and has seven small islands. This is the place with clearest water in florida, and the park was made a national park in 1992. The sand is white and soft.
The water is also home to the third-largest tropical reef in the world and the only one in the United States. It is a must to snorkel or scuba dive here.
From November to April, when the winds are less strong and the water is clearer, is the best time to go. Because it is so far away, you can always find a spot all to yourself.
4. Destin, Florida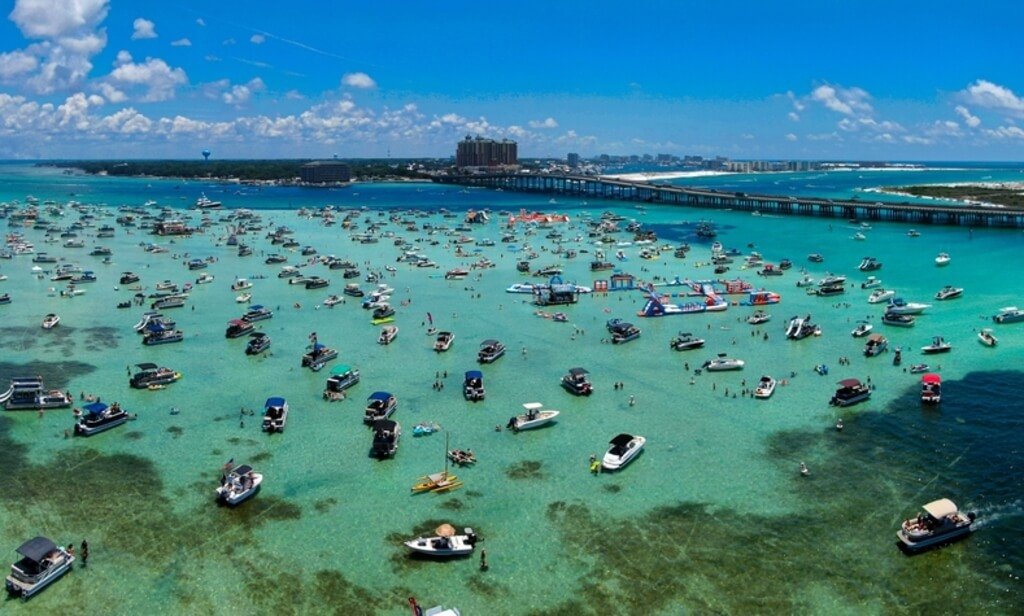 Destin, Florida, is a great place to go if you want clear water. It's easy to see why this part of the Panhandle of Florida is called the Emerald Coast. The water here is a beautiful shade of emerald green, and the white sand beaches are also stunning.
Destin has a lot more to offer than just beaches. You can go to HarborWalk Village and Destin Commons and eat at great restaurants.
Henderson Beach State Park in Destin, Florida, is one of the most beautiful beaches there. The water is clear as glass, and the sand is fine and white.
It's a great place to relax and take in beautiful views. You can even watch a Florida sunset from there. Do fishing, swim, and camp at Henderson Beach State Park, which is a great place to do all of these things.
You can catch a lot of fish in the Gulf of Mexico, and it's a great place to kayak.
Henderson Beach State Park should be at the top of your list if you want to go to a beautiful beach. There are also beaches at Norriego Point and James Lee Park in the city
5. Jupiter Beach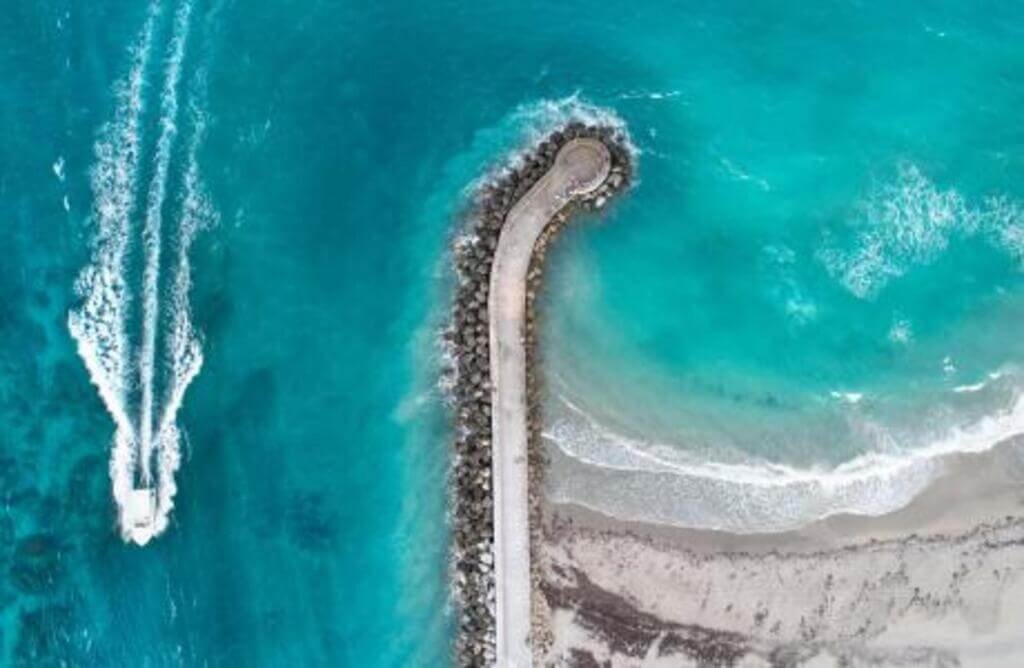 Jupiter is a great beach for going with your family. The water is a bright blue colour, and there are many small, calm bays.
Bring a raft to Jupiter Beach Park and let the kids float along in the clear, calm water. Jupiter is great not only for kids, but also for all the animals. There are many beaches in Jupiter that allow dogs. Bring beach toys for everyone in your family.
If you want to do something more exciting in the water, go to Florida Shark Diving in Jupiter. This is a once-in-a-lifetime chance to swim in the clear water. Join a group of experienced divers and dive without a cage.
The sharks swim through the water and really put on a show, which might start to feel like a dream. You will always have pictures of the really beautiful ocean water.
6. Panama City Beach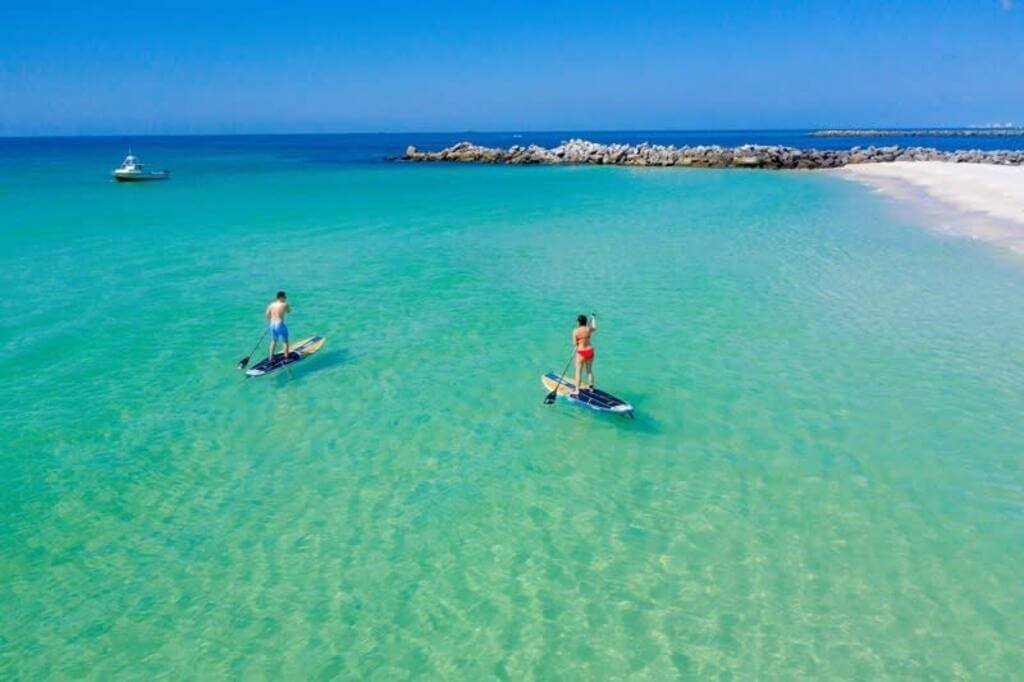 "Shell Island" in Panama City Beach is a lot like "Crab Island" in Destin. This is not a sandbar, though. Shell Island is a barrier island that protects St. Andrew Bay. It is 7 miles long and has no people living on it. Shell Island is a great place to go boating in Florida to enjoy the clear water, and many people do just that.
7. Ginnie Springs
If you want to be sure that the water in Florida is clear, you should go to Ginnie Springs. The water here is always a beautiful turquoise colour and 72F/22C, so it's a great place to cool off from the hot weather in Florida.
Even though swimming in clearest water in Florida is a must, there are many other fun things to do in the water. Paddling boarding, tubing, canoeing, and kayaking are all fun things to do here.
And if you are a certified diver, you can explore an amazing cave system underwater. In fact, the water here is so clear that you can see the cave entrances from above.
8. Palm Beach
It is a long beach on the east side of the island with the clearest water. People think of the beach as a boater's paradise because it is a good place to dive, fish, and go boating for fun. Peanut Island, which is in Palm Beach, is a popular place.
This part of Florida is the best place to go boating in all of Florida, so boating fans should come here.
9. Siesta Key
Siesta Key Beach is on Siesta Key, which is an island off of Sarasota's coast. The very fine, white sand here helps reflect the sun and make the water look clearer.
The water at this beach is known for being some of the clearest water in Florida. In fact, Siesta Key has been called the best beach in the U.S. more than once.
It's a great place to relax and enjoy the Sunshine State's natural beauty because the gulf water is clear and the beaches are made of soft quartz sand.
A day at the Siesta Key Beach is like nothing else. The sound of the waves crashing against the shore, the smell of salt in the air, and the feeling of sand between your toes.
It's a great place to spend a day or two because people can swim, fish, kayak, and stand-up paddleboard there. In the morning, you can even do yoga on the beach for free.
10. The Rainbow Springs State Park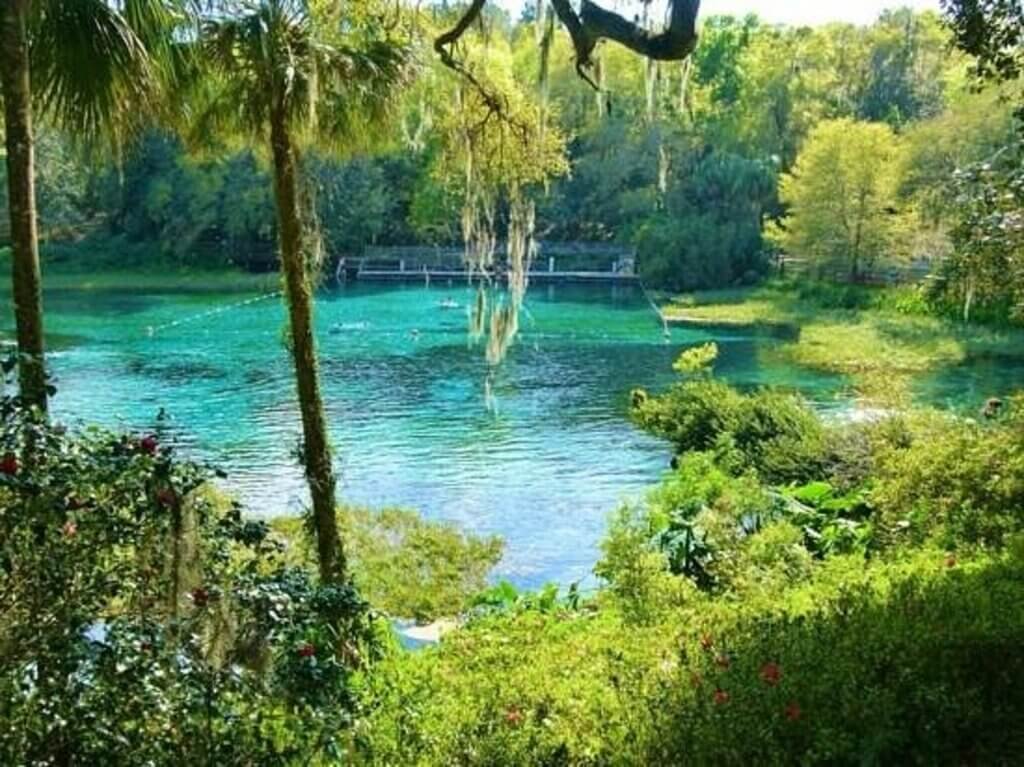 Rainbow Springs State Park is a great place to go if you want to be in the middle of nature. The water is beautiful there!
Rainbow Springs State Park is different from most of the other places on the list because it has big trees and lots of greenery. Tube-riding along the river is one of the most popular things to do. There is nothing like floating down a calm, blue river with your feet up and getting lost in your own thoughts.
After a long morning at the park swimming, snorkelling, and tubing, nothing tastes better than a picnic. You can book outdoor grills at Rainbow Springs State Park for a great way to end the day. Enjoy your favourite grilled food while you watch the water.
Rainbow Springs State Park is a great place to go with family and friends if you want to live like you're at summer camp. Just bring some towels and a cooler and head over there.
11. Biscayne National Park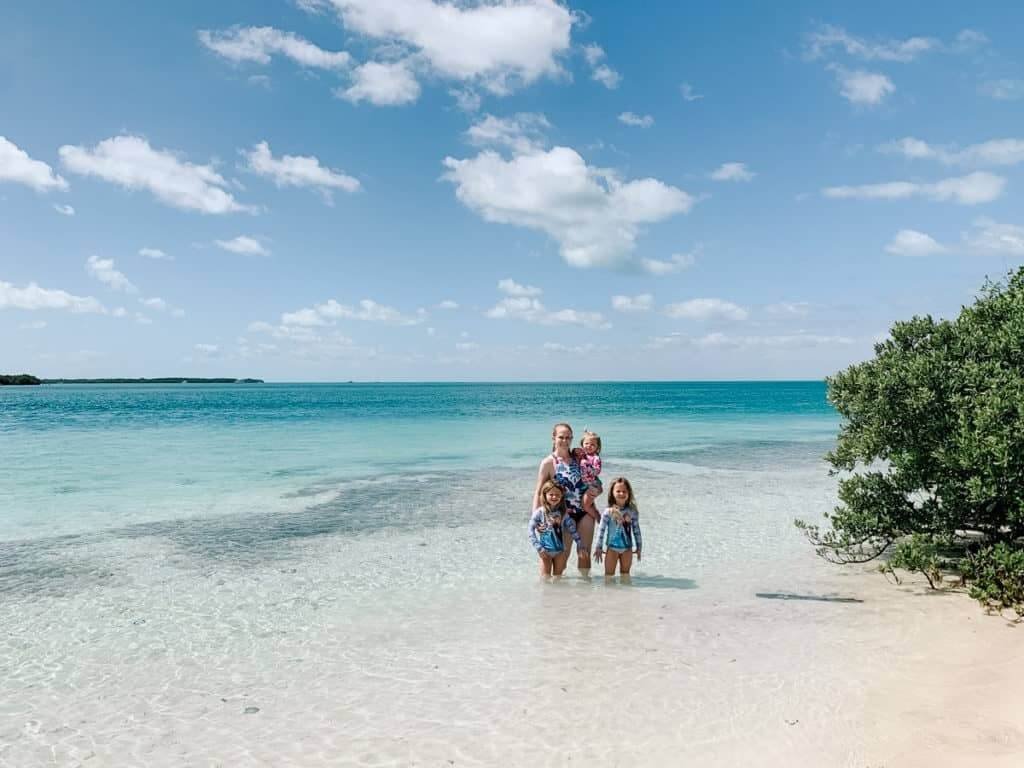 The boat is the best way to get out and see the park. If you don't have your own boat, you can take a tour with the Biscayne National Park Institute. You can go snorkelling, kayaking, or paddleboarding.
If you don't want to get in the water, they have a great Heritage of Biscayne Tour that takes you around the park and stops at one of the keys. Our kids and us had a great time on this tour.
If you are in this part of southern Florida, you will be close to Everglades National Park. Take some time to explore this unique national park and take a boat tour of the Everglades.
12. Freshwater Springs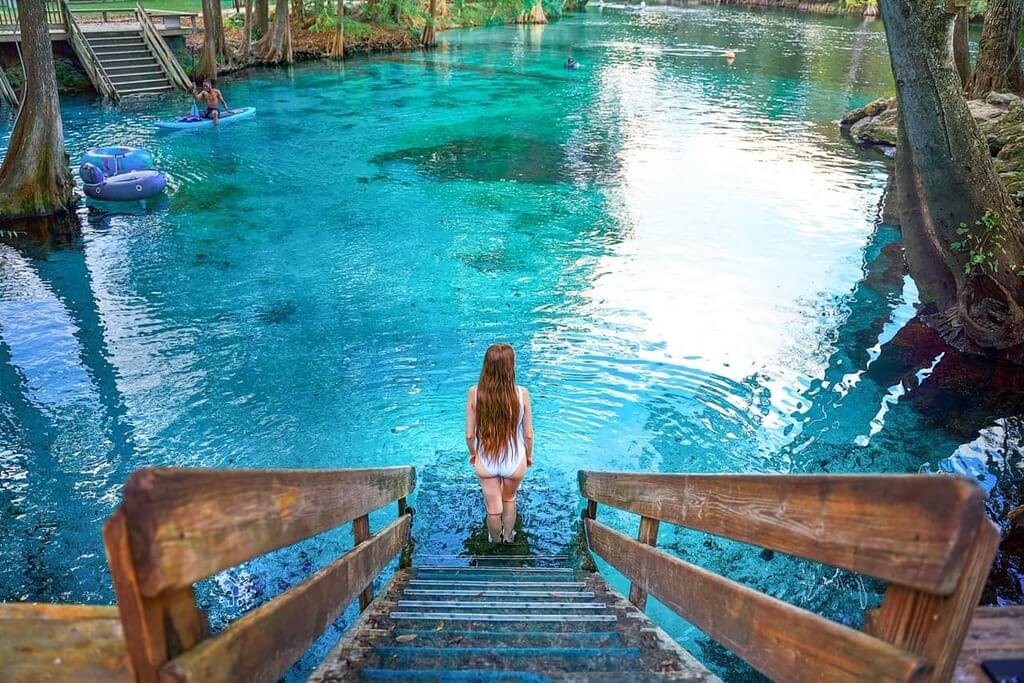 Florida has more than 600 freshwater springs, but you can only get to a few of them by boat. Silver Glen Run and The Rainbow River should be at the top of your list.
Silver Glen Run is the waterway that goes from Silver Glen Spring to Lake George. This area is popular with boaters, especially on weekends during the Summer. Silver Glen Run has water that looks like a swimming pool and is always a refreshing 72 degrees.
The Rainbow River starts at Rainbow Springs State Park and flows south until it meets the Withlacoochee River. From there, it flows to the Gulf of Mexico. Up to a certain point near the spring head, people can boat on the Rainbow River. As you move upstream, the water gets clearer.
13. Beer Can Island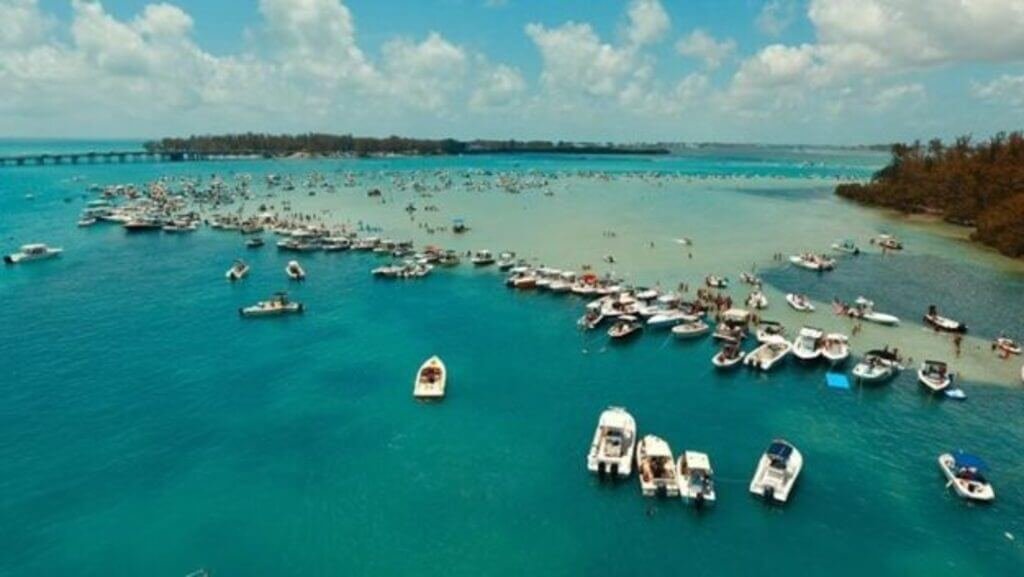 Beer Can Island is a bit of a hidden gem. It feels almost magical and far away. When we come here, we feel like we've been to a real tropical place.
You can get away from it all in this area, which has some of the clearest water in Florida. It's not easy to find, so be sure to read our directions.
I'll tell you that Beer Can Island is a dream for photographers. The water is clear, the sand is white, and there are pieces of driftwood on the beach. This place looks like a dream paradise where no one lives.
Florida has two Beer Can Islands, and I'm not talking about the party island off the coast of Tampa. This Beer Can island is in the northern part of Longboat Key, in Sarasota.
14. Navarre Beach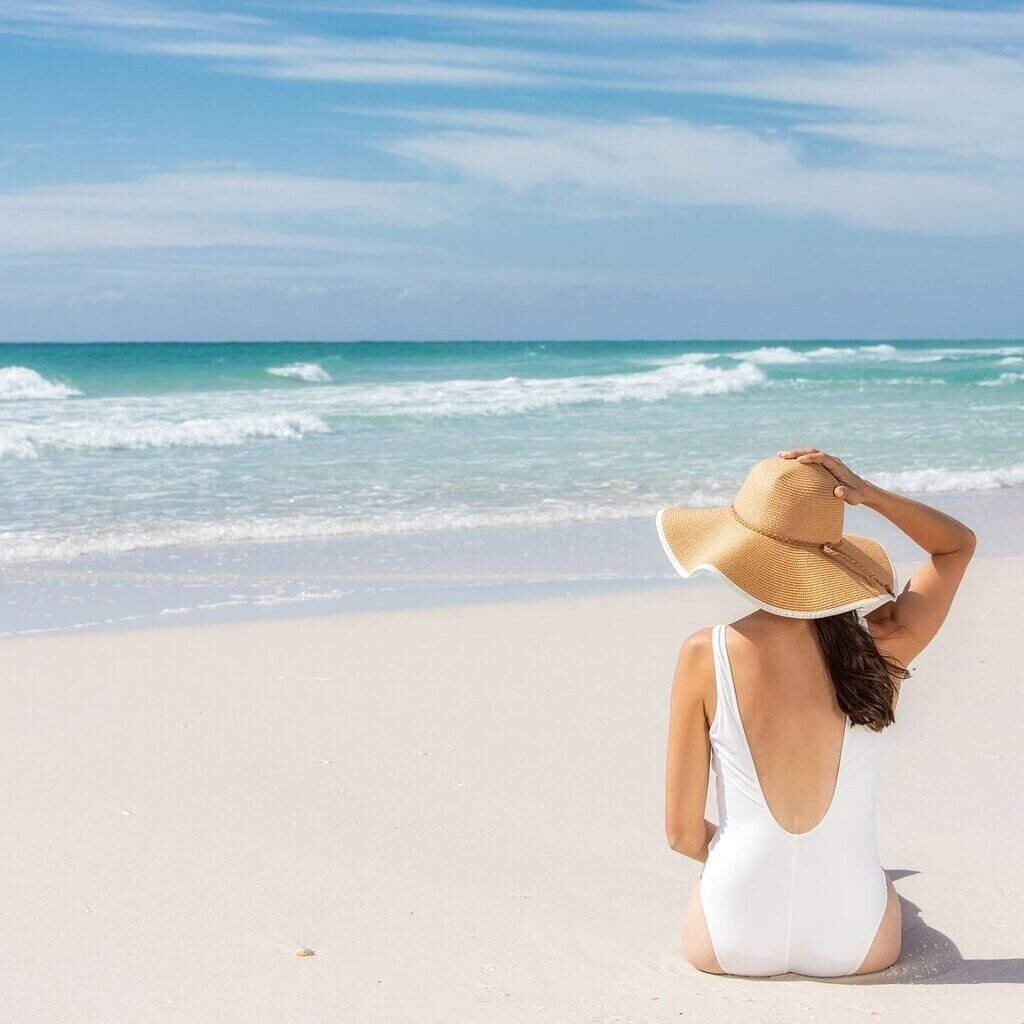 People in the Pensacola area, in particular, love Navarre Beach. The water at the beach is very clear, and there is an island with beautiful views and sea life. This beach hasn't been turned into a tourist spot, so it looks rough and natural. It's quiet and peaceful, and the views are stunning.
So, this is the best place to go if you want to go to a beach that is quiet, clean, and hasn't been touched by people.
15. Grayton Beach, Florida
Grayton Beach near Santa Rosa Beach is another great place with clearest water in florida. The sand is as white as sugar, and the water is so clear that it's hard to believe.
Grayton Beach is on the Gulf of Mexico. It is in South Walton County. It's a nice place to swim, fish, and lay out in the sun.
Charles Gray, an army major in the late 1800s, gave the town its name. The sand on the beach, which is made of quartz and shells, is also grey.
People who go to Grayton Beach can enjoy the clear water and the many things they can do there. Popular places to eat like Chiringo and The Red Bar are close by.
16. Kelly Park Rock Springs
Like Rainbow Springs State Park, Rock Springs is a haven for people who love nature and has water that is as clear as glass. Rock Springs is a place where you can go on an adventure that not many people know about.
A kayak tour is one of the best ways to learn about wildlife and nature. Paddle down Rock Springs Run on your own or with a tour group to see animals as they walk, swim, or fly by.
As you move through the water, you might see a deer or even an alligator. Some companies even let you rent kayaks with see-through bottoms so you can get an even better look at the wildlife down below.
Try camping at Rock Springs if you want to go on a long adventure. Spend the day riding bikes, walking, or riding horses along the water. Once you're done, go to one of their campsites and look at how the night sky is reflected in the water. Springs Run is a unique place to get in touch with nature.
17. ISLAND OF NORTH CAPTIVA
Small and artsy North Captiva Island is ideal for creating a relaxed mood at the beach. The island's southern half is a wildlife preserve, while the northern half is more residential.
Because there are no public transportation options to the island, there won't be many people around. Approximately seven times a day, the ferry runs. This is the location for you if you want some quiet time on a gorgeous Caribbean-style beach.
18. Crab Island
Try Crab Island if you're up for an adventure and want to do something a little out of the way. Let us tell you that the water here is perfect.
Crab Island is near Destin, in particular on the north side of the Destin Bridge. Now, people call it an island, but it's actually just a sandbar. Even though there is no land, the water is very shallow, which is strange since you are in the middle of the ocean.
The place is so unique that it has been written about on HGTV, Good Morning America, and in travel magazines and newspapers all over the world.
Depending on the time of day and year, the bright blue water is one to four feet deep. To get here, you'll need a boat, but there are also shuttles and tours that go there.
We really think you should try Crab Island because it is something different.
19. Anna Maria Island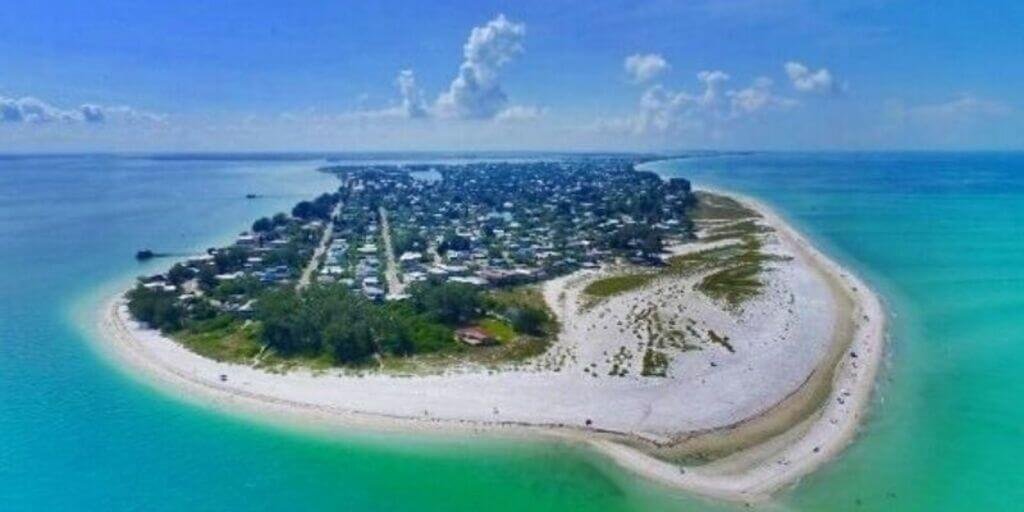 Here is another beach in Florida that is different and interesting. The water at Anna Maria Island beach is clear and looks like emerald. This is why the beach is so exciting. Even though there aren't many hotels, bars, or restaurants on the beach, it is very private, which gives it a very different way of life.
20. Caladesi Island
One of the best places in Florida to enjoy peace and clear water is Caladesi Island. This state park is on the northern end of the barrier island, north of Clearwater Beach. It is a great place to get away from the crowds.
This remote area can only be reached by boat or the ferry. Caladesi Island is full of fun things to do, like kayaking through the mangroves, swimming, hiking, fishing, and camping.
You can bring your own lunch or eat at Cafe Caladesi, which serves burgers and other casual food. Caladesi Island in Florida is a great place to spend a day relaxing because the water is clear and the atmosphere is calm.
21. Devil's Den: Cave with the Clearest Water in Florida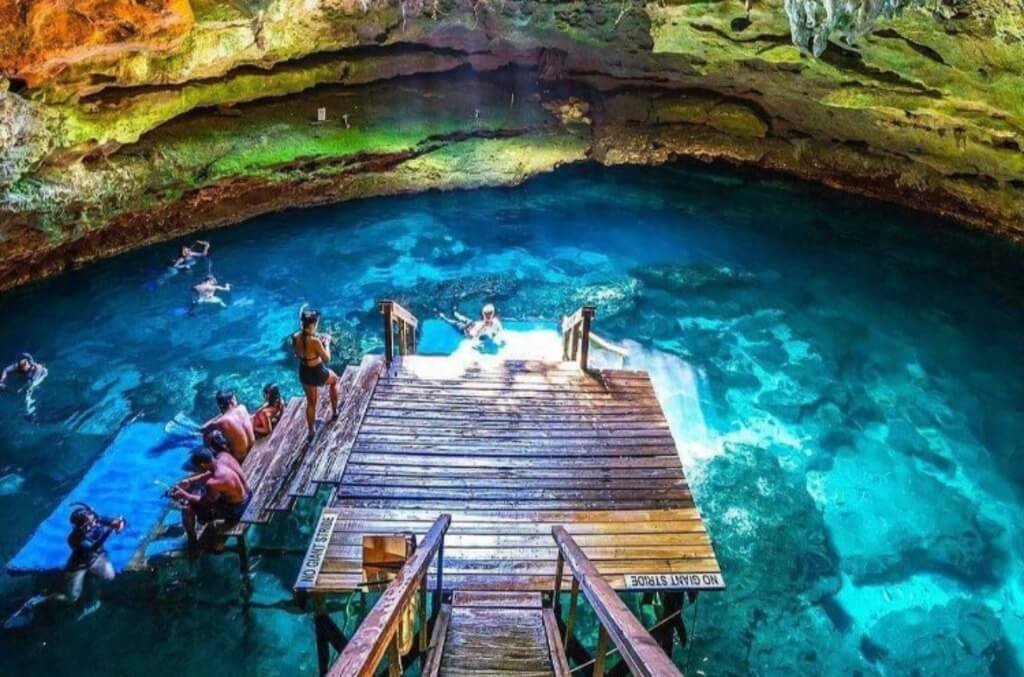 This scary-sounding attraction lives up to its name because it is an underground cave with turquoise water.
Devil's Den is about 30 minutes south of Gainesville and is a place where you can live out your dreams of being underwater. Climb down and see how nature has changed over a very long time. Divers can go on an underwater adventure either with a snorkel or with SCUBA gear.
Since most of the cave is covered, this is a great place for people to visit in the winter. Unlike most of the places on the list, Devil's Den has risks and requires advanced swimming skills, so it may not be good for the whole family.
When you look down, you will see small cave animals and fossils that are millions of years old. Devil's Den is a thrilling way to explore the bright blue waters of Florida, whether you like taking risks or are looking for a unique experience.
22. Bahia Honda State Park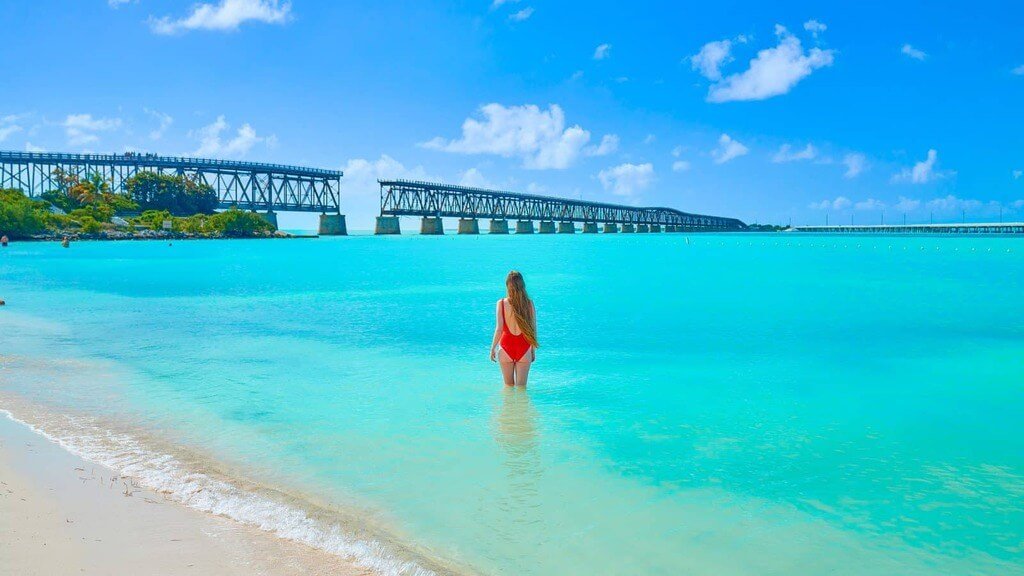 Bahia Honda State Park on Big Pine Key is a great beach to spend the day at if you're taking a road trip through the Keys or staying in a more central place. It has palm trees, beaches with white sand, and great water.
This is a great place to snorkel because the water is so clear. You can snorkel right off the beach or take a boat to one of the best reefs in the Florida Keys, the Looe Key National Marine Sanctuary. You can rent snorkelling gear at a park kiosk if you want to snorkel from the shore.
Even if you don't want to snorkel, Bahia Honda State Park is a great place to stop. We had a great time playing on the beach and taking in the beautiful surroundings. One of our favourite places to visit in the Florida Keys was here.
Gilchrist Blue Springs is the newest state park in Florida. It is about 40 minutes northwest of Gainesville and about an hour south of the border between Florida and Georgia.
It is a second magnitude spring that sends out 44 million gallons of fresh water every day. The water is some of the clearest in Florida, of course.
It's a great place to swim, kayak, canoe, and paddleboard. You can also stay here if you want to make a longer trip out of it.
23. Smathers Beach
The water is very clear and the beach is made of sand. The size of Smathers Beach makes it even more interesting. It is one of the biggest in the area, which means it can be used for many different things.
Smathers Beach is also pretty clean and easygoing, making it a good place for tourists and other people who want to relax and have fun on a beach. Compared to some beaches, it doesn't have big hotels or a lot of fun things to do, but it does have a good environment and sports.
24. Sanibel Island
Sanibel Island has some of the best beaches on the Gulf Coast, so you should go there if you want to find them.
The island is known for its beautiful shells and gorgeous Florida sunsets, but the clear water is the best thing about it. You can find lots of quiet places to swim or relax on the beach.
There are many beaches to choose from, but we think the best one is Blind Pass Beach on Sanibel Island. Why? First of all, the sand here is completely clean. It is also well kept and doesn't have a lot of seaweed or trash.
The water is also very clear, which makes it great for swimming, snorkelling, and just about any other beach activity you can think of.
25. Crystal River: Where You Will Get Clearest Water in Florida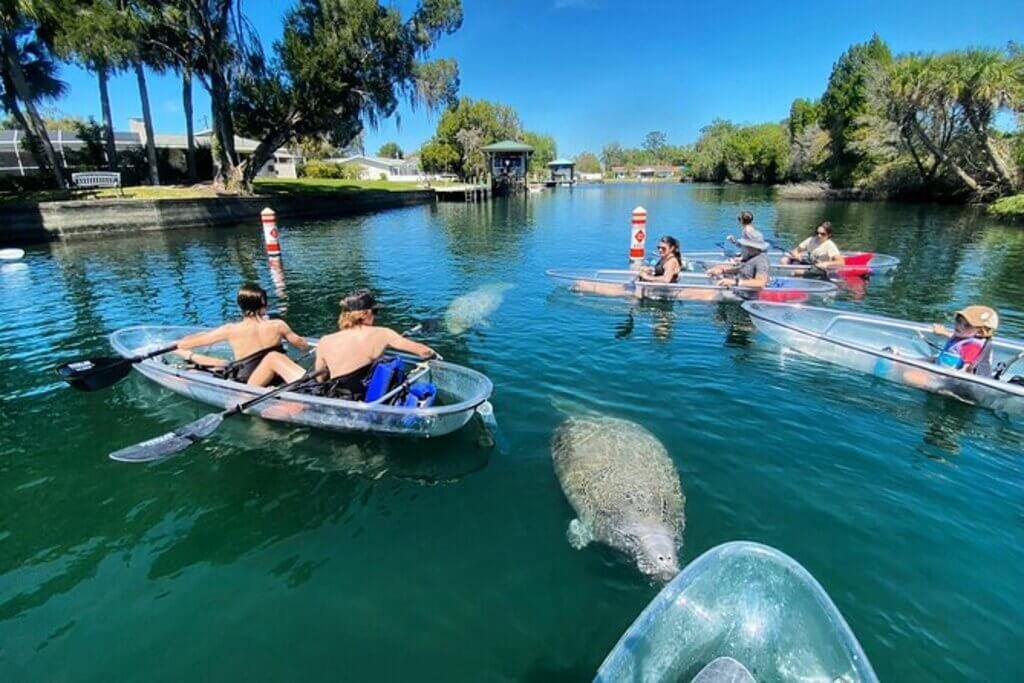 Crystal River is a small town in the middle of Gainesville, Orlando, and Tampa. It is on the west coast of Florida. The manatee is what makes Crystal River special.
Crystal River is one of the best places to see manatees swimming in clear water. They are even on the emblem of the city. There is a wildlife refuge at Three Sisters Springs. The winter is the best time to go there to see one of the most endangered animals in the United States.
To see these beautiful animals up close, rent a kayak and look down while paddling. You can also rent snorkelling gear and float in the turquoise water to get a clear view.
There are many rules about seeing the manatees in Crystal River, so make sure to read up on them before you go. Crystal River is a place you shouldn't miss if you want to see everything Florida has to offer.
26. Honeymoon Island State Park
Honeymoon Island is a small island off the coast of Tampa that feels very Caribbean. It is one of Florida's most popular state parks because the beach has beautiful white sand and the water is turquoise. A lot of people go there to see wild birds like pelicans, eagles, and osprey, as well as to enjoy the beach.
We had a lot of fun on Honeymoon Island. We went in February, when the water was still warm enough to swim in and the sand was perfect for my kids to build sandcastles and look for shells. They could have spent all day playing there.
27. Boca Grande
Boca Grande is one of our favourite places in Florida. It is in the middle of a great place for boating and at the northern end of Charlotte Harbor. This amazing place to go boating includes the beautiful islands of Cayo Costa, Useppa, Cabbage Key and North Captiva, Little Gasparilla, and, of course, Boca Grande. This place has beautiful water, especially in the spring.
28. Rosemary Beach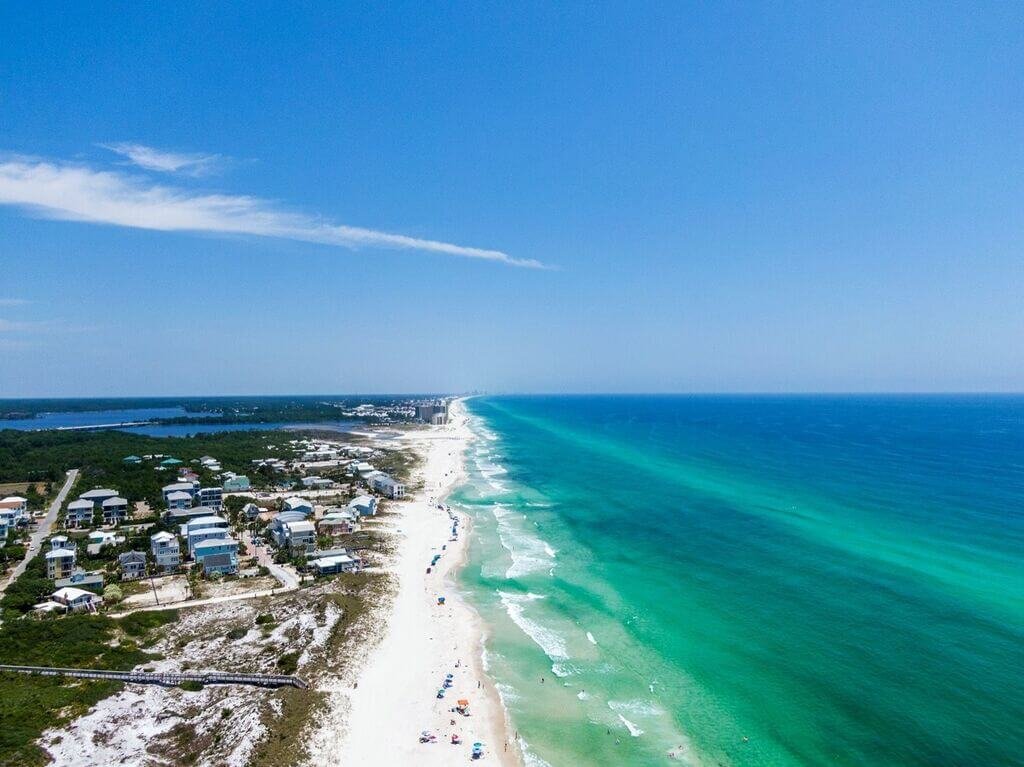 It's not a very well-known beach in Florida, but it's getting more and more popular. Less than an hour from Panama City, the water is the most beautiful in Florida and the sand is soft.
First of all, you should know that this beach is not open to the public. However, if you are staying in the area or live there, you can use it. We think it's important to stay in this area and go to this beach.
It's never too crowded, always clean, and there are beach chairs to use. What could you want more of?
With its wrap-around porches, shuttered windows, and candy-colored houses, the town is just as pretty as the beach.
There's a public beach a mile away called Inlet Beach, but if we were you, we'd just bite the bullet and stay in the area so we could spend a day at this great beach.
29. Biscayne Beach With Clearest Water in Florida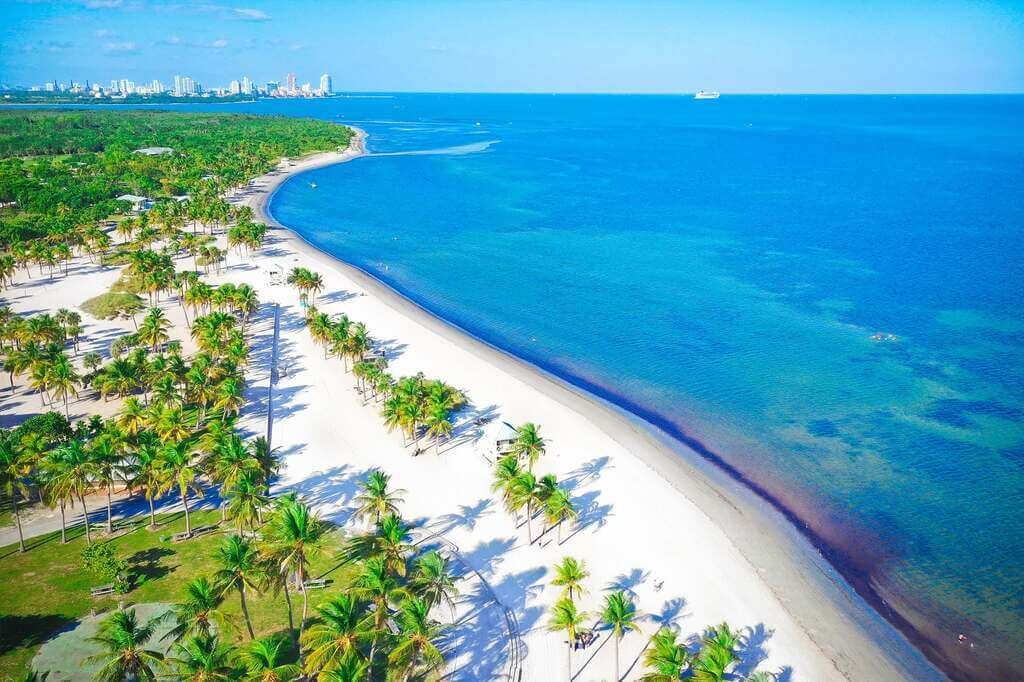 If you know about Biscayne National Park's beautiful clear-water beach, it's a great place to spend a sunny day in Florida. Since most of the park is ocean water, there are lots of places for people to enjoy its beautiful beaches. Snorkeling, kayaking, and paddleboarding are all popular things to do here, but a lot of people also come just to see the view.
30. Vero Beach
Vero Beach is in a part of the state called The Treasure Coast. It is on the Atlantic Coast.
The Indian River Lagoon is right next to this city, which is known for its clear water and beautiful beaches.
In fact, the water here is some of the clearest on Florida's Atlantic Coast. This makes it a popular place to swim, snorkel, and dive.
People like South Beach Park because it has places to have picnics, a grill, food vendors, and, during the summer, lifeguards. After you're done at the beach, take a walk along the trail.
This Beach is known for its great shopping, nightlife, and restaurants like Ocean Grill and Crab Stop, as well as its beautiful beaches. The Beach has a number of museums, parks, and golf courses.
Vero Beach is a great place to enjoy all that Florida has to offer, whether you want a romantic getaway or a trip with the whole family.
31. Gilchrist Blue Springs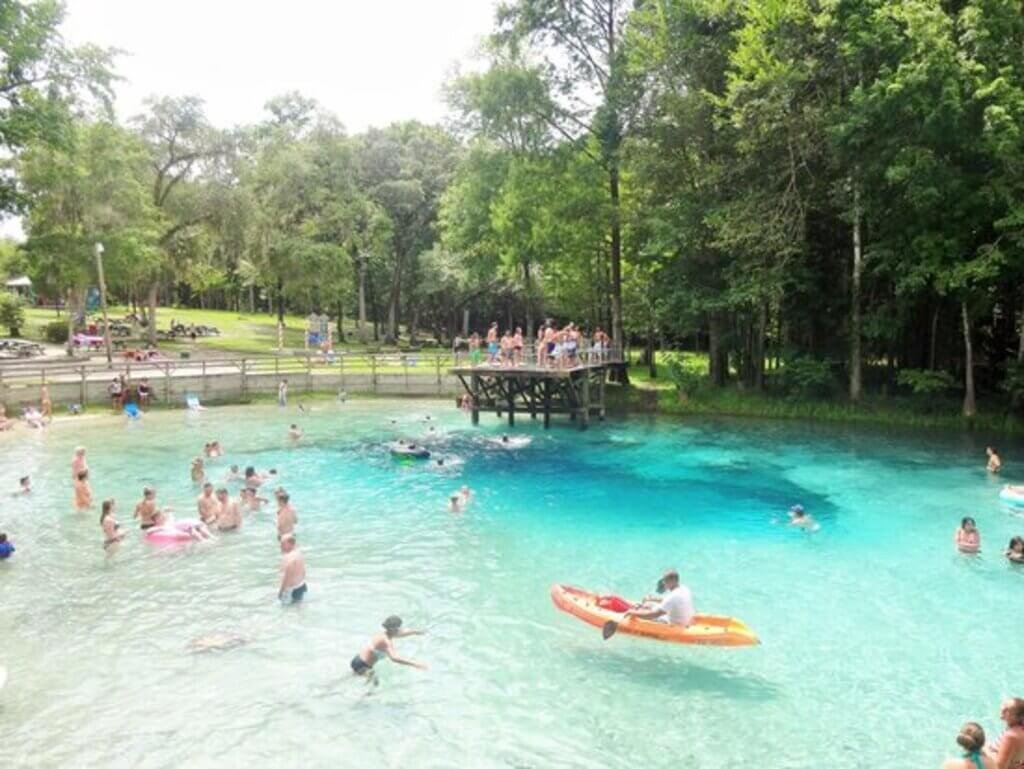 Gilchrist Blue Springs is a state park that is about 30 miles northwest of Gainesville. This is a new park in Florida. It is made up of several bright blue natural springs.
Gilchrist Blue Springs is a great place to camp overnight because there are so many different springs to check out. Here you can bring an RV or tent and rent a space for a small campsite fee. Spend the whole day exploring the beautiful natural pools of water if you chose to camp.
You can swim or rent snorkel gear. If you want then go diving if you have a SCUBA certification. There are snack stands and places to rent gear, making it easy for families to spend the day there. You can end the night by going to the grills and chilling out at a picnic table while looking at the natural springs.
32. Tampa Bay Beach
One of Florida's most enchanting beaches is St. Pete Beach. The beach is white and powdery, and the water is crystal clear. It's the ideal location for unwinding and taking in the breathtaking views.
Beautiful white sand beaches and some of Florida's purest waters may be found at St. Pete Beach. It's understandable why this sleepy seaside town is frequently rated as having some of the nicest beaches in the country.
St. Pete Beach, which is situated on a barrier island off the west coast of Florida, is a refuge for beachgoers, nature enthusiasts, and adventurers alike.
There is something for everyone to enjoy among its many offerings. There are many ways to enjoy yourself in the sun, from kayaking and fishing to swimming and lounging on the sand.
33. Fort De Soto State Park: Place with Clearest Water in Florida
Fort De Soto Park is a stunning and historic beach to visit right off the coast of St. Petersburg, Florida. Although this beach does get popular on the weekends, you can anticipate significantly smaller crowds and lovely beaches throughout the week and off-season.
The beach games, swimming, and fort exploration were all excellent fun for us. Along with finding some cool shells on the beach, we observed a lot of dolphins in the vicinity.
If you have the necessary equipment, you can camp here as well, which would be a lot of fun. The campsite has 236 sites with nice amenities like utilities, barbecues, picnic spaces, and laundry.
34. ST AUGUSTINE
Northern Florida's St Augustine is a stunning and quaint city. The Spanish adventurers who constructed it in 1565 left a significant European influence, as shown by the Spanish architecture and cobblestone streets. Additionally, there are stunning beaches.
St. Augustine is a fantastic choice if you're seeking for family holiday options outside of Orlando. The St. Augustine Aquarium, St. Augustine Wild Reserve, and Alligator Farm Zoological Park are wonderful family-friendly destinations that everyone will love.
A ancient fort and a lovely lighthouse with a climbable top are also present. If you want to combine some history with gorgeous beaches, this is one of the best locations to visit in the Sunshine State.
Conclusion:
Finally, these magnificent beaches offer access to clearest water in Florida. All of these beaches provide breath-taking vistas and waters that are crystal clean and ideal for swimming, snorkelling, and simply taking in the breathtaking environment.
There you have it, then! These fifteen beaches are likely to provide what you're looking for, whether you're searching for a leisurely day by the water or an active beach day packed with activities. For more this kind of articles please visit Travel World Fashion.