Potato Chip Rock Hike in San Diego: A Complete Guide 2023
Have you ever wondered why people talk so much (or even obsessively) about potato chip rock? If you're still wondering about these things in your head, this article is going to help. San Diego is a fun place with lots of adventure activities and hiking trails. It's one of those trips that even non-hiking travelers choose to take because of the scenic views.
People love to visit the beauty and scenic views of this hike because they want to take photos. It is one of San Diego's neighboring attractions located close to the city. Here, in this guide, you will learn some things before embarking upon a Potato Mountain trip.
Overview of Potato Chip Rock Hike in San Diego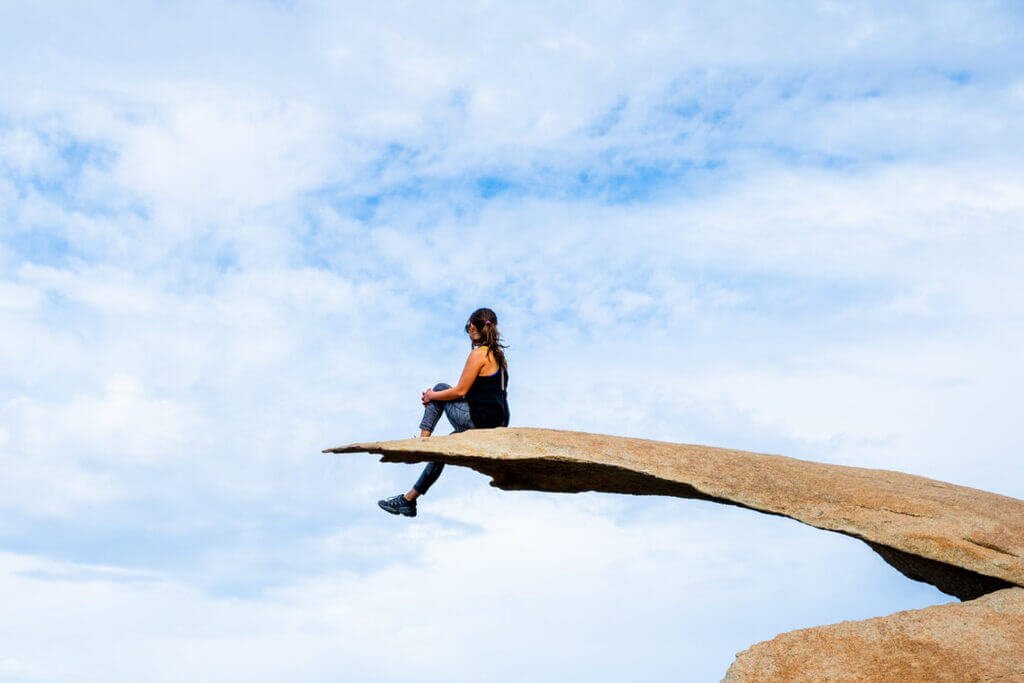 Source: pinimg.com
Potato Chip Rock Hike is a beautiful hike that takes you through the mountains of San Diego County. You can enjoy the view of the Pacific Ocean from the top of the mountain. The trail is also known as "The Potato Chip Trail". This hike has been around for many years now. People have enjoyed it since then. There are several reasons why people like this hike. Here are some of them:
1. It is a short hike.
2. It is an easy hike.
3. It is a great way to get exercise.
4. It is a good way to spend time with family or friends.
5. It is a good option if you want to see the ocean.
6. It is a good choice if you want to go on a picnic.
7. It is a good activity for kids.
8. It is a good experience for beginners.
9. It is a good alternative to other hikes.
10. It is a good idea to do it during the summer
Because the trail is so exposed, it's extremely important to bring plenty of water and sunscreen. Even though the trails may be accessible all year round, inexperienced people should avoid using them during hot weather. We recommend getting up early to enjoy good weather and avoid the heat later in the day.
Where Is Potato Chip Rock?
Source: pinimg.com
The Potato Chip Rock Hike begins in Poway, which is about 30 minutes north of downtown San Diego. There are several ways to hike to Potato chip Rock, but this is the most scenic and has restrooms and facilities. 
Go to this location: Lake Poway, California, 14644 Lake Powy Road, Poway, CA 92064.
This hike, which starts at the Lake Powy park in Poway, California, is probably the most popular trail to Potato Chip Rock. The park has bathrooms and picnic tables. It also has plenty of parking. There's an additional charge for weekend and holiday rentals. On weekdays, however, there is no extra charge. It's totally free for Poway residents who have an ID.
It's best to leave as soon as possible. The gates usually open between 5:30am and 7:00am. Check the website above for exact times. When you go hiking for the first time in the morning, it's glorious. When you leave at 8-9am, there will be lots of people on the trail, so you'll need to prepare for them. It's well worth getting up early for it.
Essential Points to Know Before You Visit the Potato Chip Rock Hike in San Diego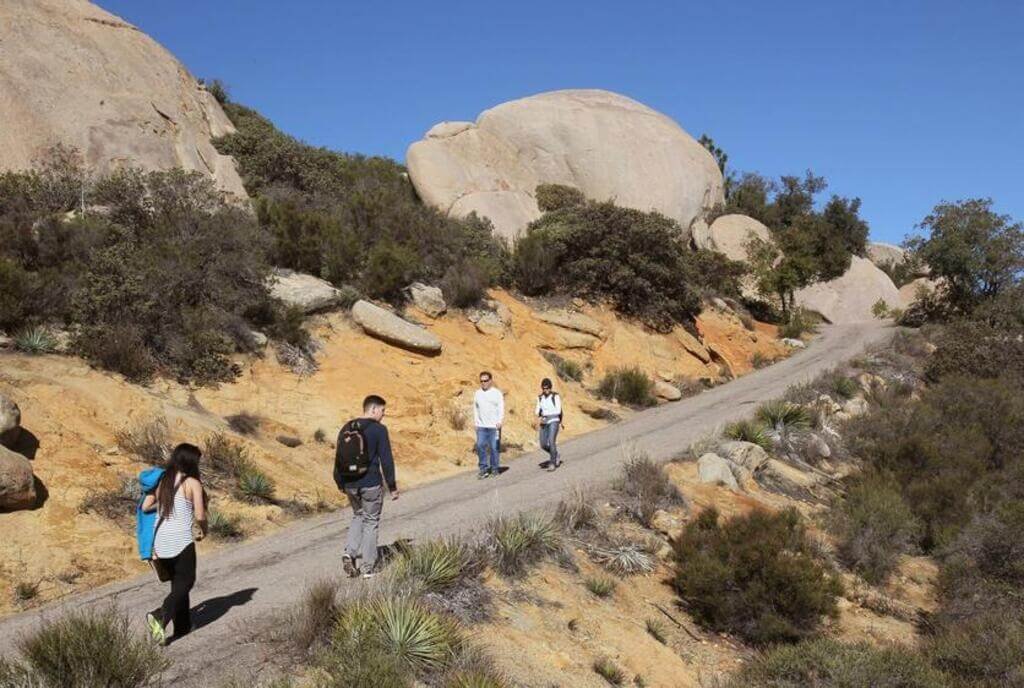 Before you think of trekking to the fascinating destination known as Potato Chip Rock, you need to know certain things. There are several things you need to think about if you want to enjoy it completely. Here is everything you need to know about location: from location to its height, here's everything you need to know.
Elevation Height: 2800 feet above ground level.
Restrooms: There are many restrooms in the parking area. There are also a few portable toilets along the path.
Best weather: Winter and spring are the most preferred weather of the year because they are
Location: Potato Chip Rock is a popular tourism destination in Southern California. It is located in a non-incorporated area of the San Diego district, between Poway and Ramona.
Distance: 7.5 miles or 12 kilometers
Parking Fees: Because it is situated inside Lake Poway Park, there are indeed plenty of parking spaces available. The gates are open for business from 6 a.m to sundown. Visitors from other cities and places besides Poway must pay a parking fee of $10 on weekends and holidays. However, the parking fees are completely free on weekdays.
Trekking Time: It takes around three to four hours to complete the entire trek.
Is Potato Chip Rock Hike in San Diego?
Yes, as long you're not an idiot. People get hurt here if they do stupid things like climbing out onto the rock or trying dangerous poses. If you fall from the rock, it's about a 40-foot drop.
There's an easy jump onto Potato Chip Rock, but when people land on it, it can shake a bit which can be frightening. Standing on the rock isn't too hard, and you won't fall hundreds of feet if the rock breaks. You might break a couple of bones, but you'll be fine.
Potato Chip Rock Hike in San Diego Hiking Tips: Choose Your Trailhead
When I heard that Potato Chip Rock was almost eight miles roundtrip, I couldn't believe it. After that, I learned that there are a lot of different ways to get to the top of Mt. Woodson, and in the surrounding area. For this post, I will be talking about the two most popular ones. They're just on either side of a mountain and can technically be done as one hike, but most people just go back the way they came because there's no point in going up when you can't come down. All trails are dog friendly as long they are on a leash. Just make sure to clean up any messes they leave behind!
These are the starting points for each trailhead. Lake Poway trail starts on the left near the water. Route 67 trail is at the bottom right corner of the map. And Fry-Koegel Trail is the one off the golf course on the right side.
Fry-Koegel Trailhead
This is a nice trail. You can go hiking by yourself or with your dog or bring your horse, but you might need a permit. if you want you could ride horses on trails like this one. You can get there by car. But you should be careful because there are some sharp rocks. And you need to watch out for poison oak.
Hiking along the Route 67 trailhead, hikers should take note of the following information.
First, there are many trails that lead to the top of the mountain. Second, the trail gets very steep as you get closer to the summit. Third, the trail is narrow, making it difficult to pass other hikers. Fourth, there are often people who come down the mountain looking for a place to camp. Fifth, if you hike up the mountain, make sure to bring water because it is hot and humid. Sixth, if you hike up, make sure to bring sunscreen because the sun will burn your skin. Seventh, if you hike up and want to go back down, make sure to carry some water because it is hot down there.
Mt. Woodson Trailhead – Lake Poway
A hike along the Mount Woodson Trail in Poway, California is a great day trip. There is plenty of parking, and restrooms, and the views are spectacular. However, there is a lot of walking involved, and there is no shade. Hiking this route requires some fitness as well.
address: Mount Woodson Trail, Poway, CA 92064
It has a large parking lot ($5 fee required for cars, $2 fee required for motorcycles), restrooms, it passes by Lake Poway on the way to the top, and there is a shuttle service from the trailhead. It's really beautiful here. But, it's also a 7.5-mile hike with no shade and moderate difficulties.
Mt. Woodson Trailhead – East (Route 67)
You start hiking by mistake, but the trail ends up being quite nice. No parking is available, but it's free. The path is steep, but the view is great. You'll see Butt Cheek Rock, and you'll get some exercise as well.
Safety Tips for Hiking to Potato Chip Rock Hike in San Diego
Hiking trails should be avoided during the summer months due to the heat. Camelback-style backpacks are useful for carrying water or other supplies. Hats and sunglasses help prevent sunburns. You should always wear sunscreen while hiking. Apply it before you go out and reapply frequently.
Hiking shoes are very important because you'll be walking up and down hills and uneven terrain. Bring hiking poles to help you stay balanced when going up and down slopes. Stay on the trail. Rattlesnakes and other hazards can be found while hiking. Dogs are allowed but should be kept under control.
1. Bring plenty of water.
2. Wear a hat and sunglasses to protect your eyes.
3. Don't hike during the hottest part of the day.
4. Camelback style backpacks are useful.1. Put on sunscreen before departing on a hike and reapply at top or as often as needed
2. Hiking shoes are important
3. Wear sturdy hiking shoes
4. Plan your hike for morning instead of afternoon to avoid hot weather
5. Wear hiking poles
6. Use sunscreen
7. Reapply sunscreen frequently
8. Wear protective clothing
9. Be aware of potential hazards
10. Avoid dehydration
11. Drink plenty of water
12. Bring extra snacks and water
13. Pack light weight items
14. Carry a map and compass
15. Stay hydrated
16. Leave early
17. Don't go alone
18. Take breaks
19. Have fun!"
How Are We Going to Reach Potato Chip Rock?
To reach Potato Chip Rock in Poway, take a stroll around Poway Lake. The journey from the freeway is around 5 to 10 minutes, and parking is $10 on weekends and holidays if you don't reside in Poway. After you park in the top parking lot, the climb starts near the bathroom and goes around the lake.
When you get to the top, you'll see a beautiful view.
Sitting more than 2,800 feet above the ground will be an amazing experience.
Is the destination safe for people to visit since it is so high up?
The place is safe for people who don't do anything stupid there. People get hurt here when they do stupid things like try to get into dangerous positions. If you fall off the cliff, you'll fall about 40 feet. People think that the potato chip rock can hold more than 100 people at once. This is because the place is strong enough to handle it.
Best time to Visit the Potato Chip Rock Hike?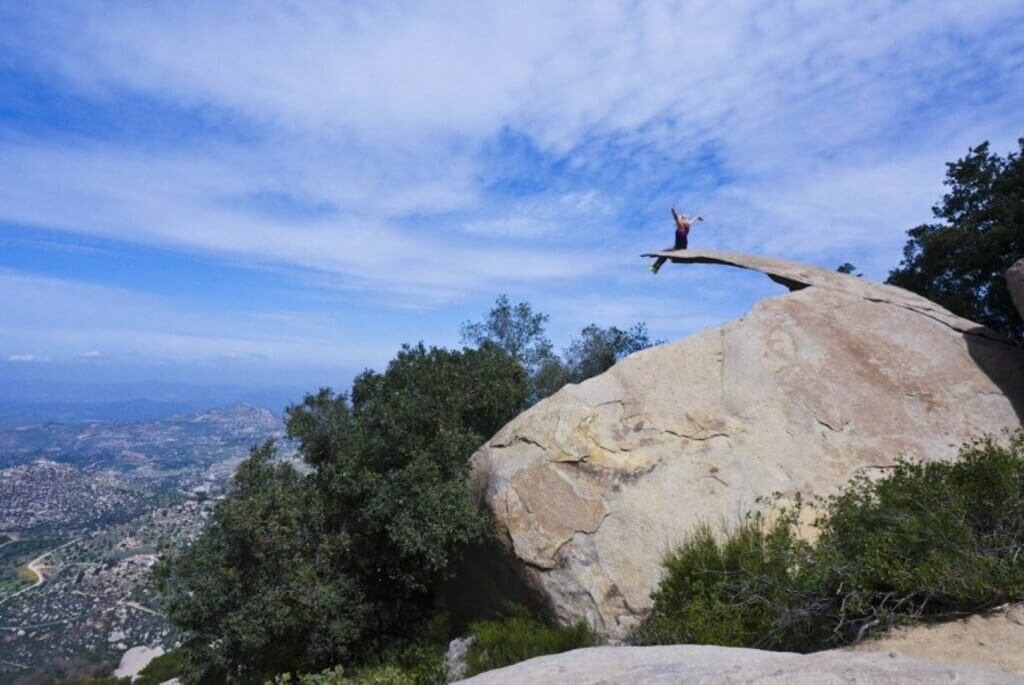 Hikers come to this unique, thin rock at the top of Mount Woodson to take pictures and enjoy the beautiful views. The hike to Mt. Woodson isn't hard and only takes a few hours to finish. There are a few different ways to get to the top of the mountain.
Even though the Potato Chip Rock is open all year, the best times to hike there are in the winter, spring, and fall. People don't go there in the summer because it's very hot and dry. If you go in the summer, the best time to go on the hike is early in the morning.
This is because the weather is cooler at this time of day. Also, less people are out and about in the morning, making it the best time to go exploring.
If you want to hike along the potato chip rock, we offer some tips and advice. You can make your hike more meaningful by following these tips.
Tips on What to Do While Hiking on Potato Chip Rock Hike
We have some tips and advice for you if you want to hike along the Potato Chip Rock. With the tips below, you can get more out of your hike.
Hike With the Right Hiking Gear for the Outdoors
You should choose a hiking outfit that keeps you cool and supports you. Clothes made of materials that are light and absorb moisture will help. The trek takes 3 to 4 hours of walking, so loose pants or shorts are best. A trip can be more relaxing and fun if you wear clothes that are easy to move in.
Use shoes that are made for hiking or trekking, like hiking boots or rubber shoes. To avoid getting a tan, you should also bring sunscreen along with your clothes and shoes. It will also keep dust and UV rays from hurting your skin.
Walk to see the sun rise
Since the destination has a great view, you should plan your hike for the best time. The best time to see the sunrise is in the morning. You can enjoy the place more in the morning because there are fewer people there. Sunrise is also a peaceful time to hike and walk along Potato Mountain because of the temperature. Most people like to use this time to take interesting photos of themselves at the place.
Choose the Right Way to Go
You can take a long way or a short way to get to your destination. Choose the route based on what you like and what you think is best. But we suggest that you choose the trail that works best for your body and fitness level. If not, you might have to suffer because no one is there to help you between the routes.
The longer route starts at the Poway chip rock trail, while the shorter route starts at Highway 67. The road starts where the fire station is, which is north of Poway Road. The longer distance goes about 8 miles, while the shorter distance only goes about 4 miles.
Avoid Weekend Hikes
Since this place is a popular tourist spot in California, there are a lot of people there during the holidays. People like to go there on the weekends and holidays because parking is free. But because of the crowds they have to deal with, they now regret their choices. Going during the week will be more fun and give you more time to relax and enjoy the scenery.
In summary:
Hiking is an excellent way to enjoy nature. You should wear sunscreen and bring along a backpack filled with necessities such as food, water, maps, and a compass. The trails are safe and well maintained.