25+ Black Nail Designs You Have To Try in 2023
You've reached the dark side. Black is one of the few colours that really stands out. It's a colour that's often linked to strength, sophistication, and power, so it's not strange that it's been used to make manicures. Black nail designs that are simple and black are the essence of understated beauty. They can say a lot with just how simple they are.
From sleek and modern to understated and elegant, black nail designs give you a lot of ways to show off your style in a chic and simple way.
27 Best Black Nail Design Ideas
Prepare to be inspired by these stylish black nail designs, and you'll probably find one you want to try at your next manicure.
1. Classic Black Nail Design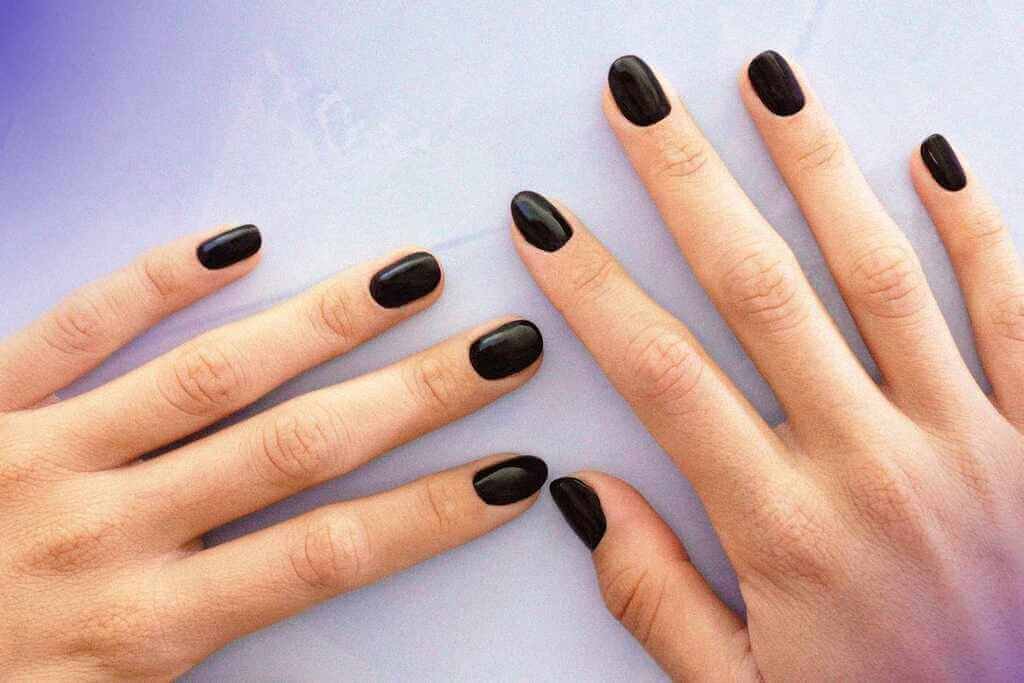 Classic black nails will never go out of style and look great with any outfit. They not only make you look rich, but they can also give your style a little edge. Try a classic black nail pattern if you want your nails to look put together and stylish.
2. Black and White Nail Designs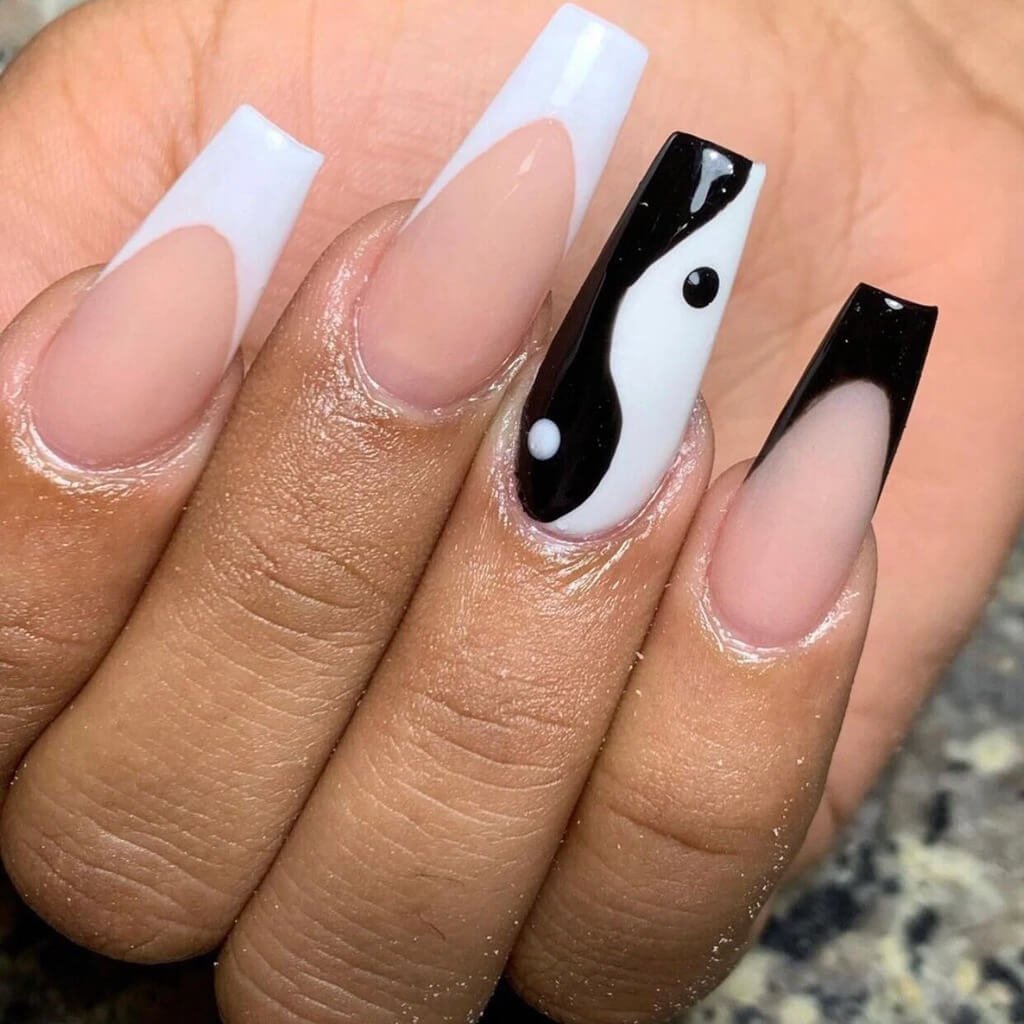 Some people might think that black nail paint is too dark and gothic, so why not try black and white nail design to ease into the look? The yin-yang is a great design with a lot of value. The symbol stands for duality, cause and effect, and how one force affects another in a direct way. It's a great way to show off your nails and make a serious statement about life.
3. Simple Black Nails Design
Wear your favourite high-end brands on your black coffin nails, which are simple but stand out. You can get this look with nail stickers or stamps of the names of your favourite brands and a very glossy top coat.
Also Read: Classy Short Nail Designs
4. Matte Black Nails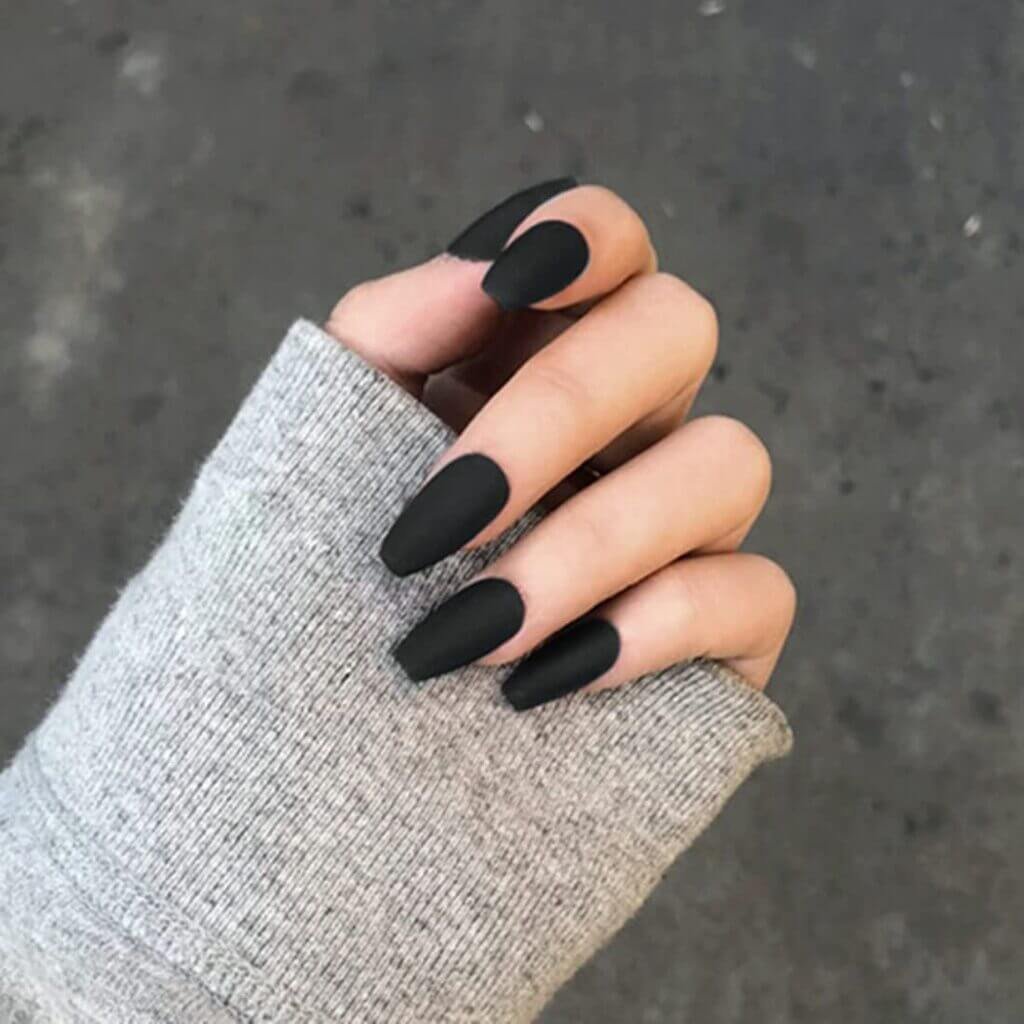 One of the best ways to stand out is to paint your nails black. It's such a bright colour that it's sure to draw attention to your hands. While glossy polishes are great, matte polishes look especially trendy. Try line art to make your look even more interesting. It takes precision and a steady hand to add it to your look, but the end is beautiful.
5. Black and Gold Nail Designs
In the last few years, flame nail art has become a very popular beauty trend, and it's still one of the hottest looks to try. For this style to look its best, your nails should be long and pointy. Start by putting on your black base coat. 
You can choose to make it matte or shiny. Then, put on your flame sticker. The best way to do it is with stickers, unless you are really good with nail tools, in which case you should try it. Even though the manicure is easy, the combination of gold and black is eye-catching. This makes it very wearable.
6. Dark Universe
Coffin nails in dark colors are great for a dramatic galaxy-themed design. If you use bright glitter to make galaxy art, black nail polish will make it stand out, giving you an out-of-this-world look.
7. Matte Black Heart Design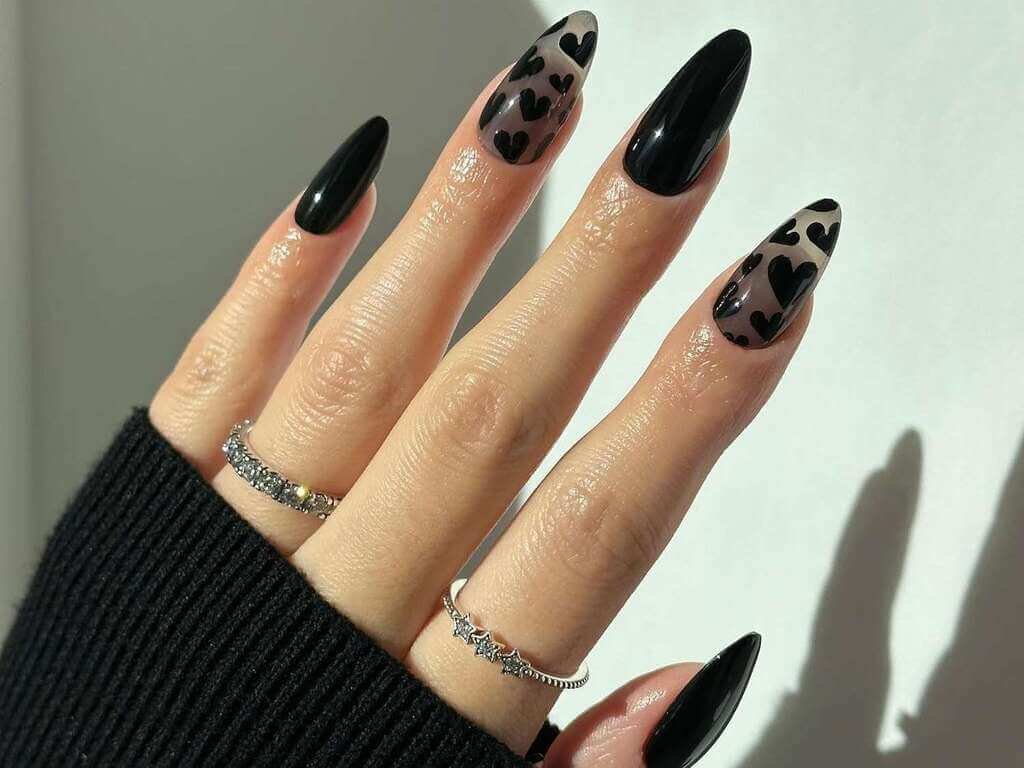 Grab a nail dotting tool, dip it in black paint, and lightly place two dots next to each other in the middle of the nail bed. The dots should be close together but still have some space between them. Connect the dots to make a v-shape, add some shading, and you have the most beautiful matte-black heart on a white background.
8. Classic French Tip Black Nails
Classic French tip black nails are great if you want to change up the usual white French tip manicure in a unique way. They give the classic nail pattern a touch of the new and edgy. It's a great choice for people who want to be themselves while still looking elegant and stylish.
9. Snake Design on Black Nails
If you're brave, you can try painting your nails black on one hand and white on the other. This is a visually interesting choice on its own, but if you add snake art in a contrasted color (like white on a black nail), the result is a very cool look. It also stands for a lot. Snakes not only look cool and can be wrapped around the nail, but they also have a lot of value.
10. Matte Black Nails that Sparkle With Rhinestones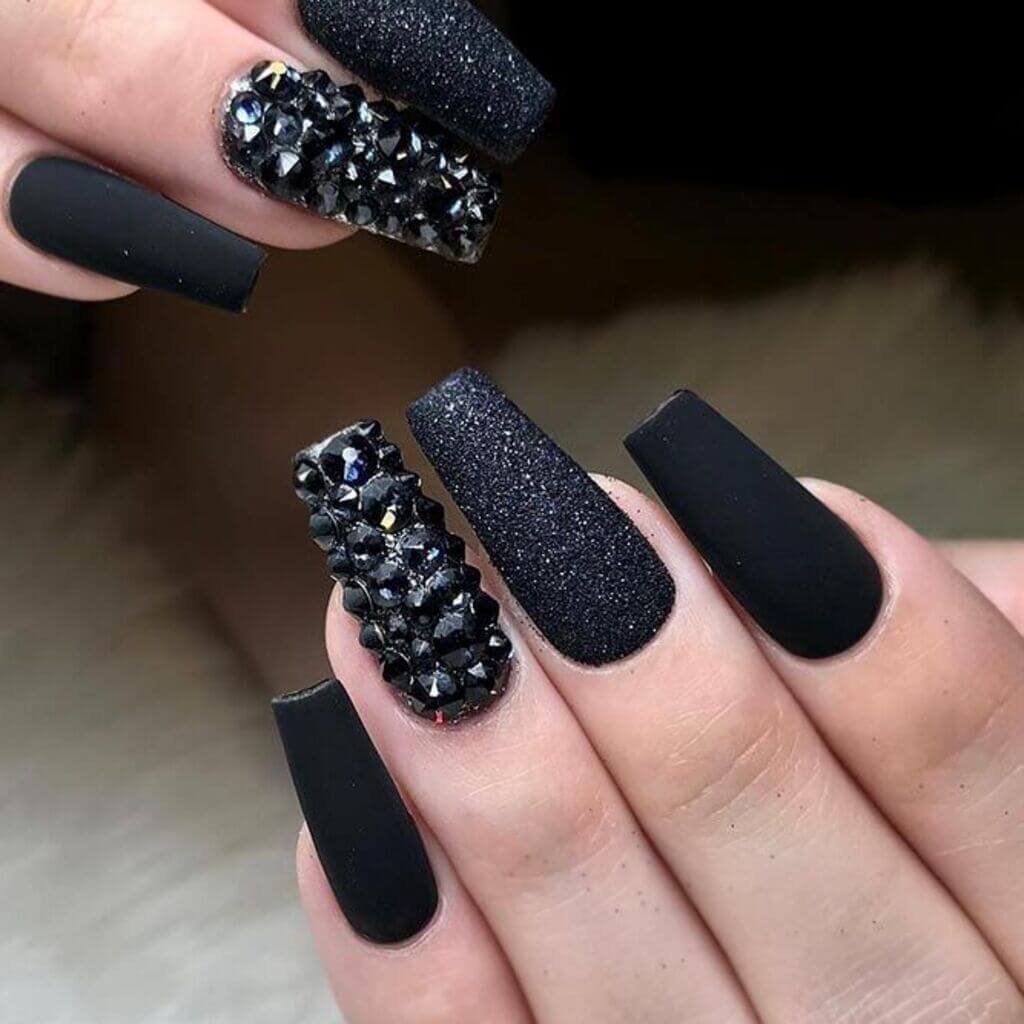 The early 2000s are calling you on your Sidekick. This blinged-out look goes best with low-rise jeans, an Ed Hardy t-shirt with rhinestones, and kitten heels. It's everything you dreamed of when you were younger. And the members of Generation Z who want to bring back low-rise pants.
11. Flashy Nail Design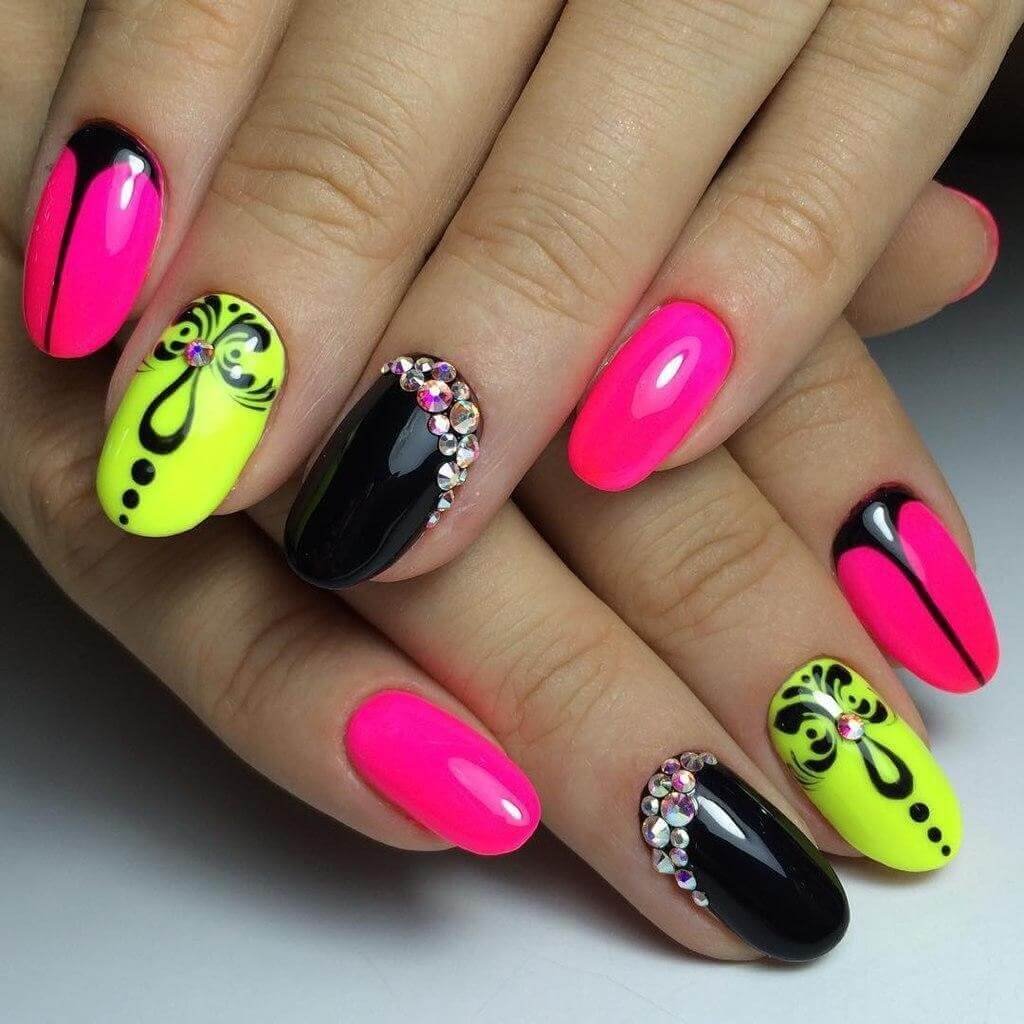 For special events like prom nights and weddings, this shape will make you want to use a lot of flashy nail art.
So don't be afraid to add jewels and other decorations to your black coffin nails, like ribbon charms, black 3D flowers, and black tips with glitter lines. 
12. Cream + Black Cable-knit Nails
Now we're talking about winter nail art, which is a design for a matte finish and a cozy time of year. The 3D design stands out against a shiny, clear base coat, and since you'll only be using nail art that looks like a knitted sweater on the top half of your nails, a thin stripe connects the thick and smooth paint textures.
13. Modern Black Nails Designs
If you like the standard black French tip look but want something a little more fun, go for the modern French tip look. By adding extra lines, swirls, or other unique features to a traditional design, you can make it look trendy and catchy. This style lets you show off your creativity while keeping the classic beauty of a French tip manicure.
14. Matte Black Coffin Nails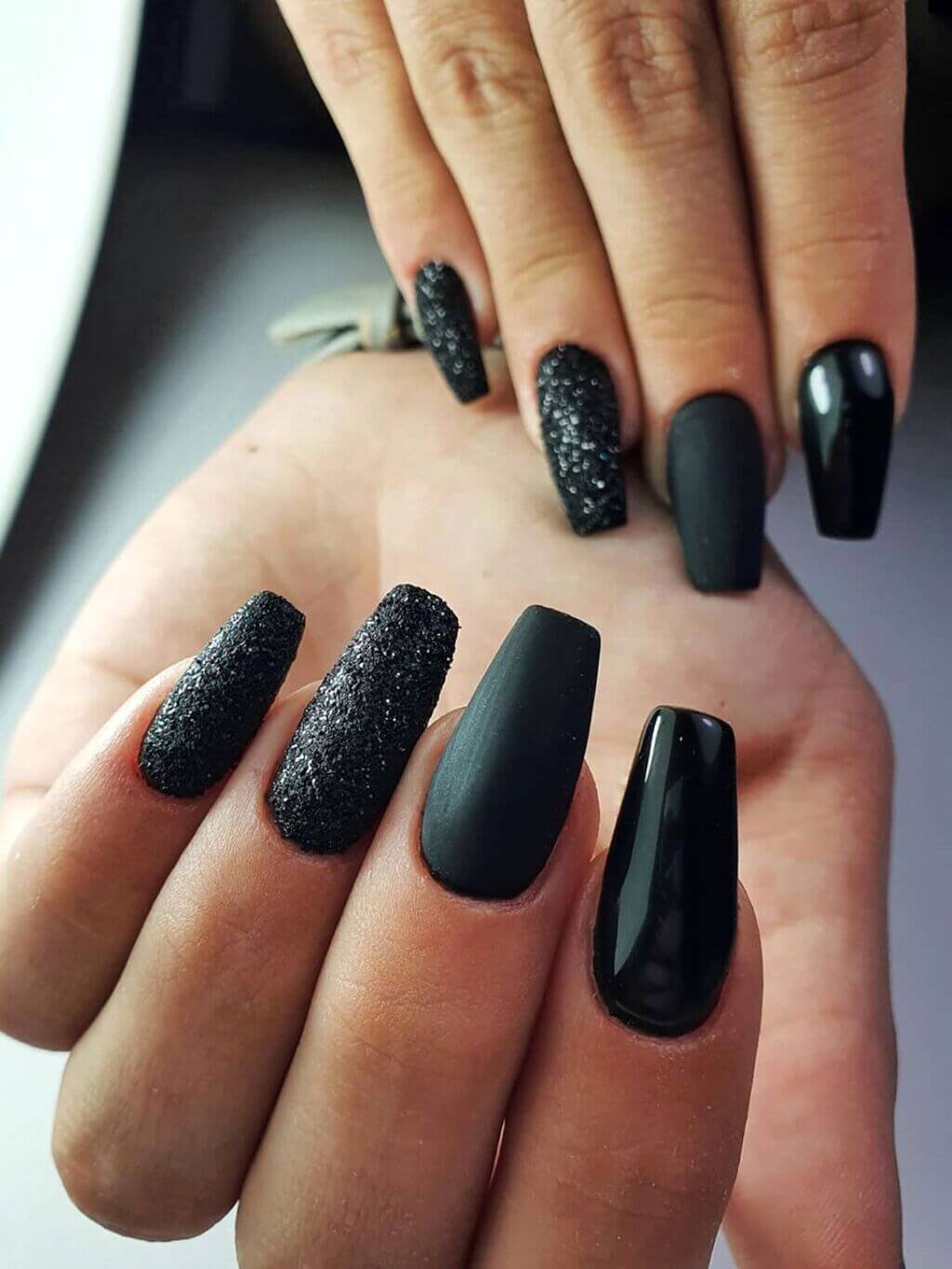 Here's a great idea for matte black nails with different shapes that look like coffins. Add rhinestones to matte black nails and switch them out with bare nails that have matched leopard and flower prints.
15. Star Constellation + Black Nails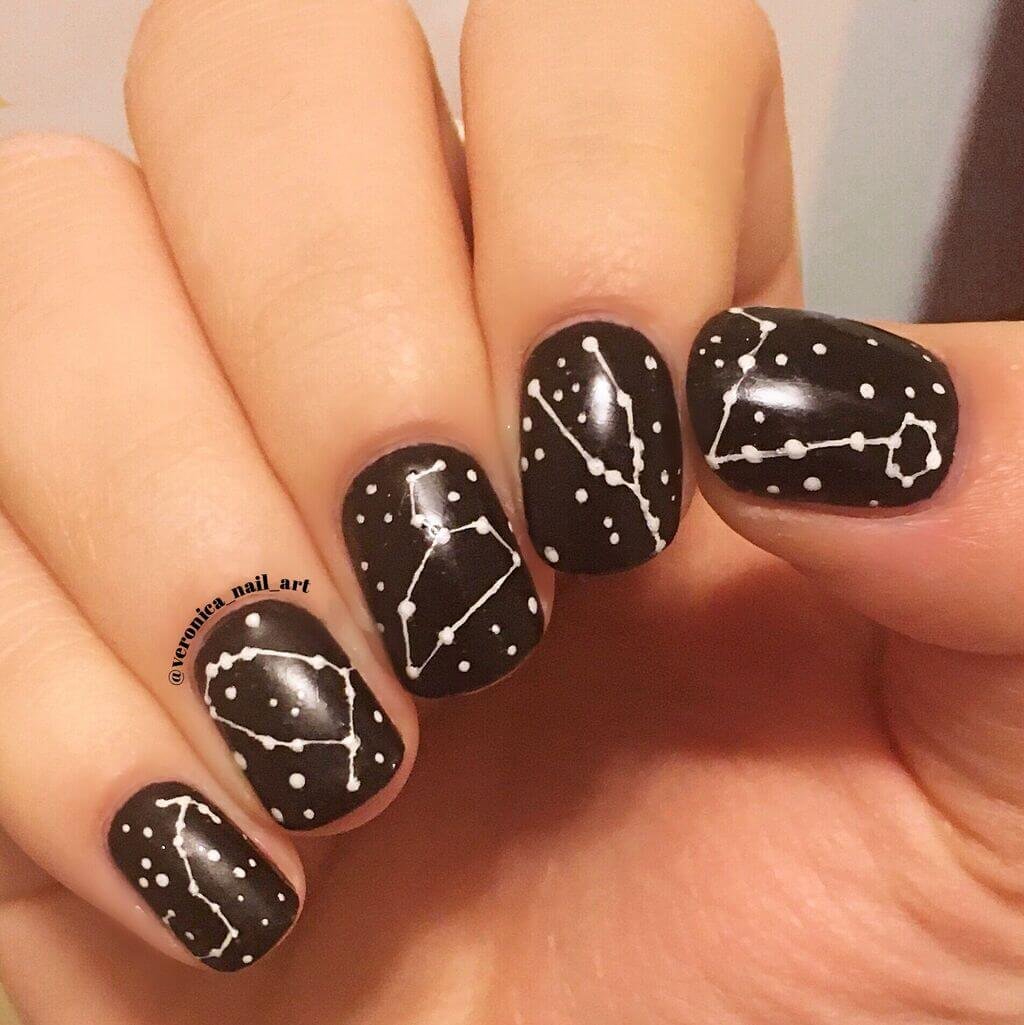 At the moment, star cluster nail art is very popular, and for a good reason. It is clear, beautiful, and full of meaning. Some people see our sky as a sign of their hopes and dreams, while others see it as a sign of luck or safety. You can get creative with this look.
For example, you could add a sticker of your zodiac sign to make it more about you. Think about making one nail the centre for a more wearable look and pairing it with simpler designs for the best astrology-inspired art.
16. Black nails with black tips that are shiny
These matte black nails with a tiny bit of shine on the tip are serious. "Business," in this case, means your next seance.
17. Euphoria Nails
"Maddy's Mugler nails" is what people call these black coffin-shaped nails.
This negative space nail art with a thick wavy pattern along the sides is a classy tribute to the style of famous fashion designer Thierry Mugler. It was inspired by the manicure that Maddy Perez wears on the TV show "Euphoria."
18. Zodiac Sign Black Nails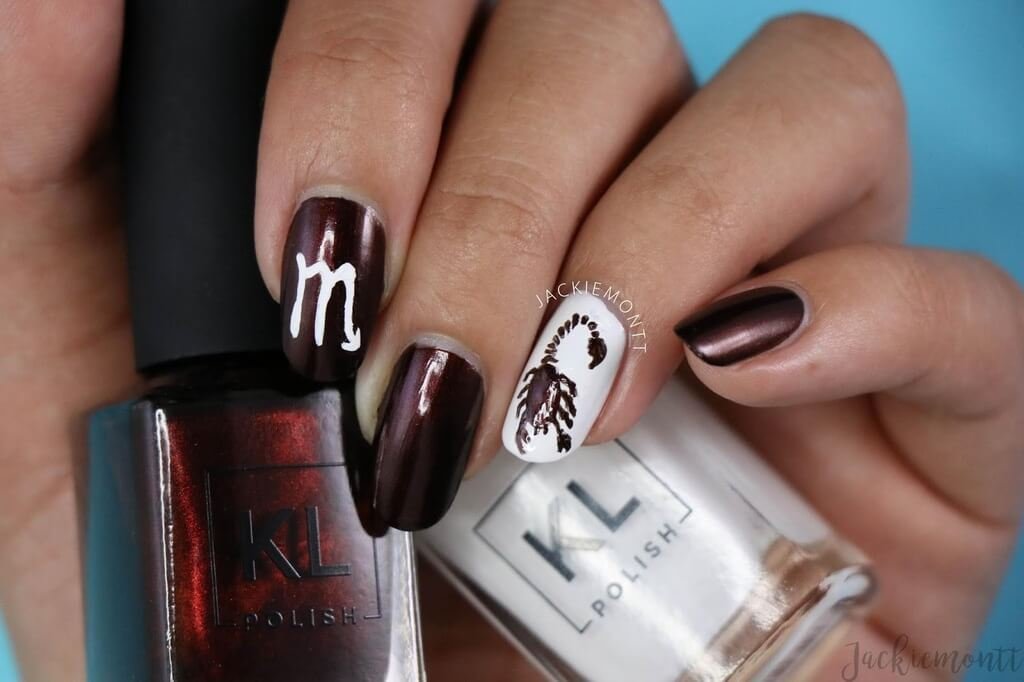 Even though I don't know what my rising, sun, and moon signs are, I do know the right golden nail art decal to try out the constellation nail trend. 
19. Ombre Black Nails
With a gradient effect, ombre black nails are chic and trendy. They add a bit of drama to your nails. From dark to light shades of black, these nails create a look that is both interesting and stylish. Also, glossy black nails are a modern take on the classic black manicure and are great if you want an easy way to look cool with your nails.
20. Cute Black Nails Design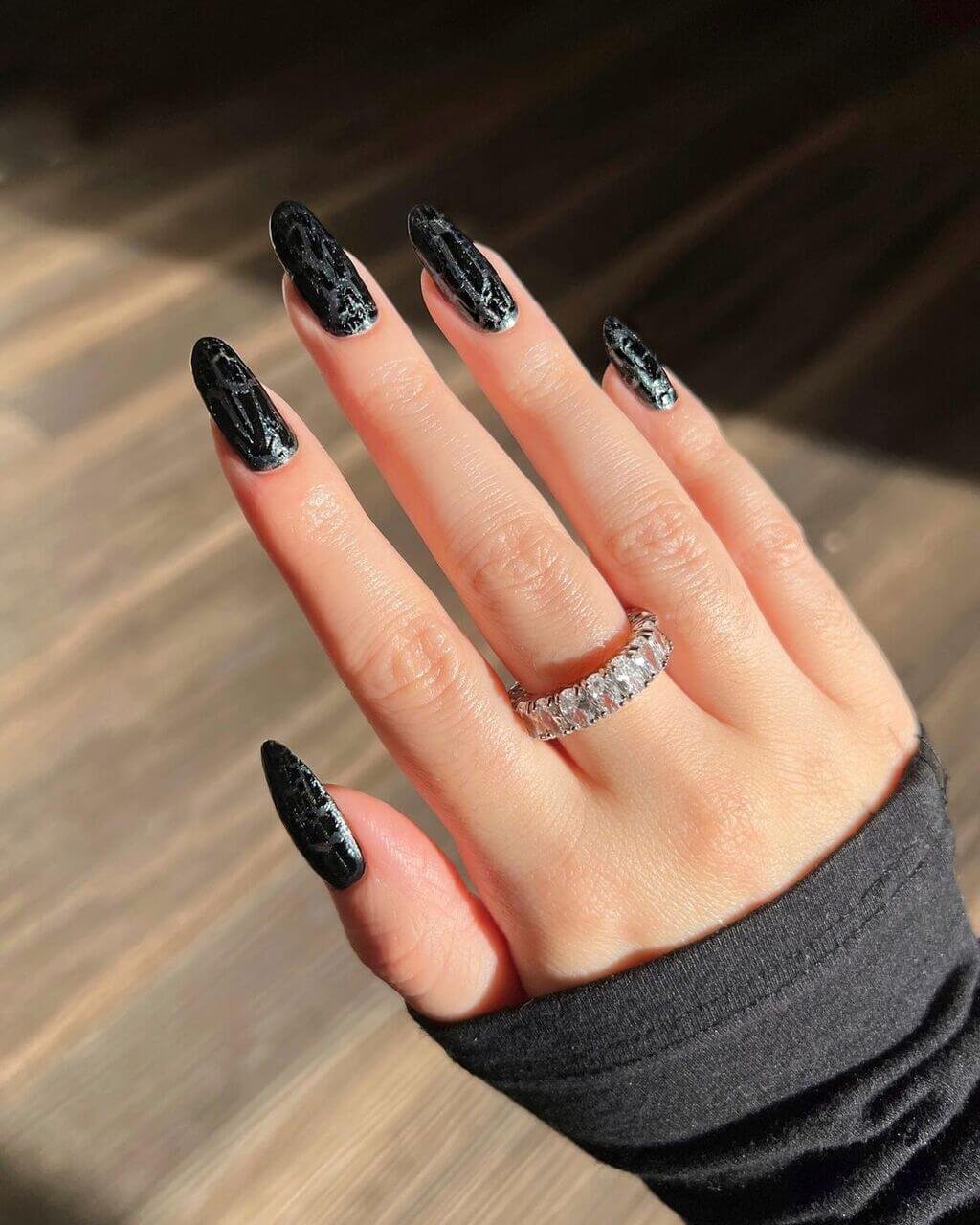 When it comes to nail art, your imagination is often the only thing that holds you back. It's a chance to show off who you are and have a lot of fun. Take ideas from things you like, like a cute cat pattern or the sun and moon.
For a cleaner look, it might also help to stick to a theme. Still, when it comes to cute nails, there are no hard and fast rules about what you should or shouldn't do.
21. Nail Wraps with a Black Base and Rainbow Polka Dots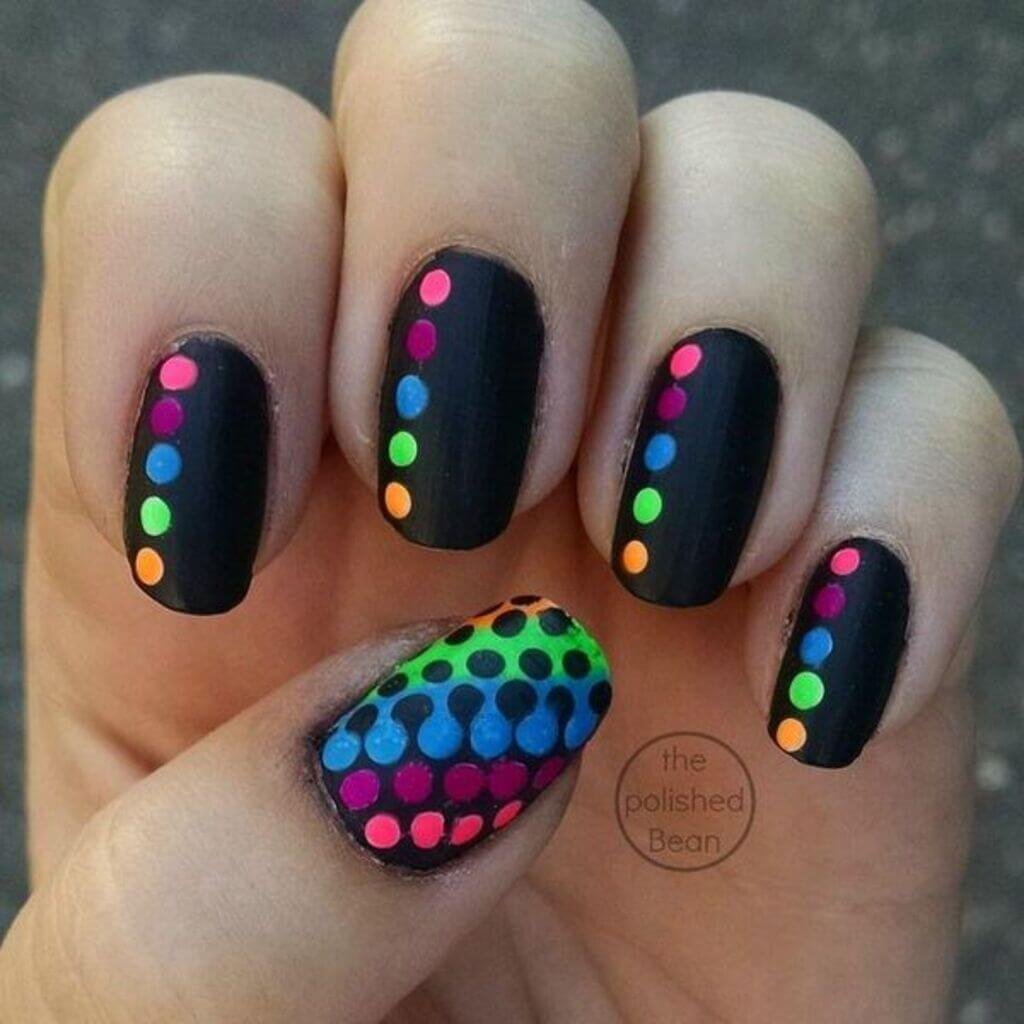 Try these nail wraps instead of putting Saran wrap on your nails the next time you want to. Oh, you don't normally feel like that? All right…nor do we…
22. Black Nail Designs: Tortoise Color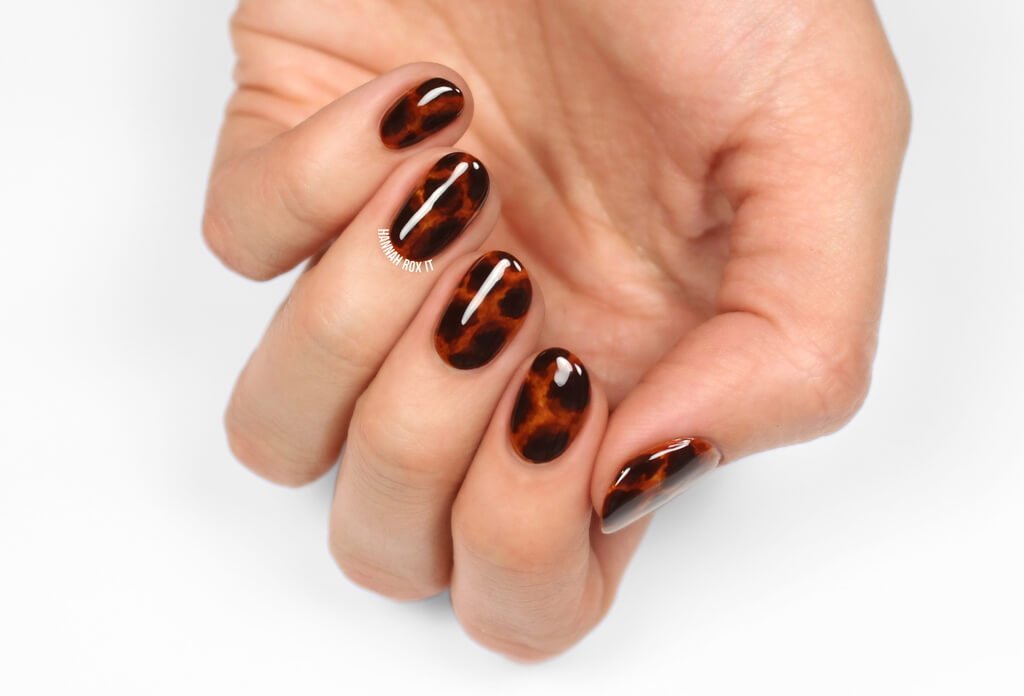 The dark leather print looks great with black. So, one of the black coffin nail ideas you should think about for your next manicure is to pair black nails and black tips with tortoiseshell nails and tips.
23. Black Matte Italics Nails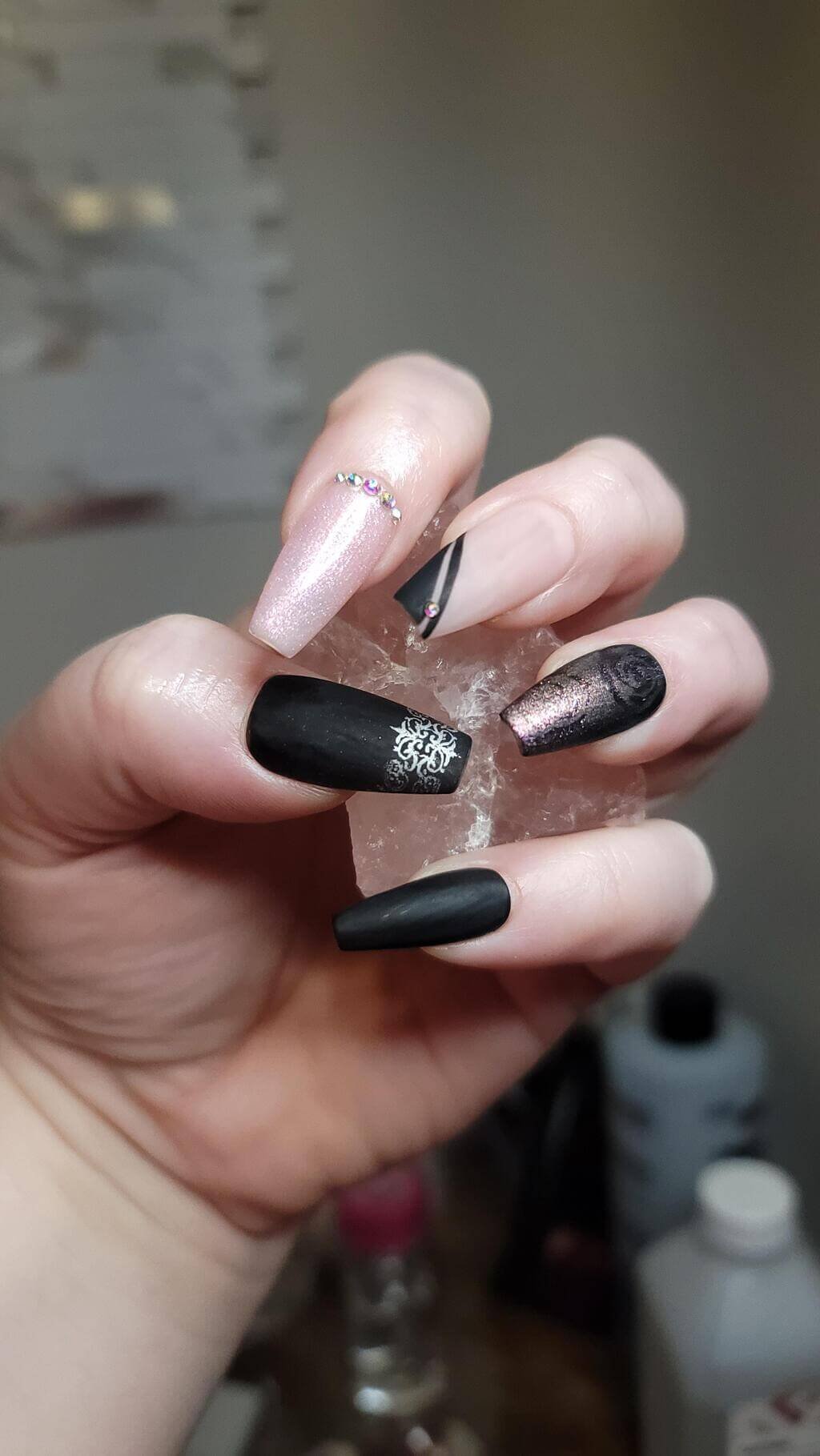 To find the right nail polish to go with your all-black matte manicure, all you have to do is look for a colour at the opposite end of the colour wheel, like an ultra-nude matte gloss. 
24. Black Metal Nails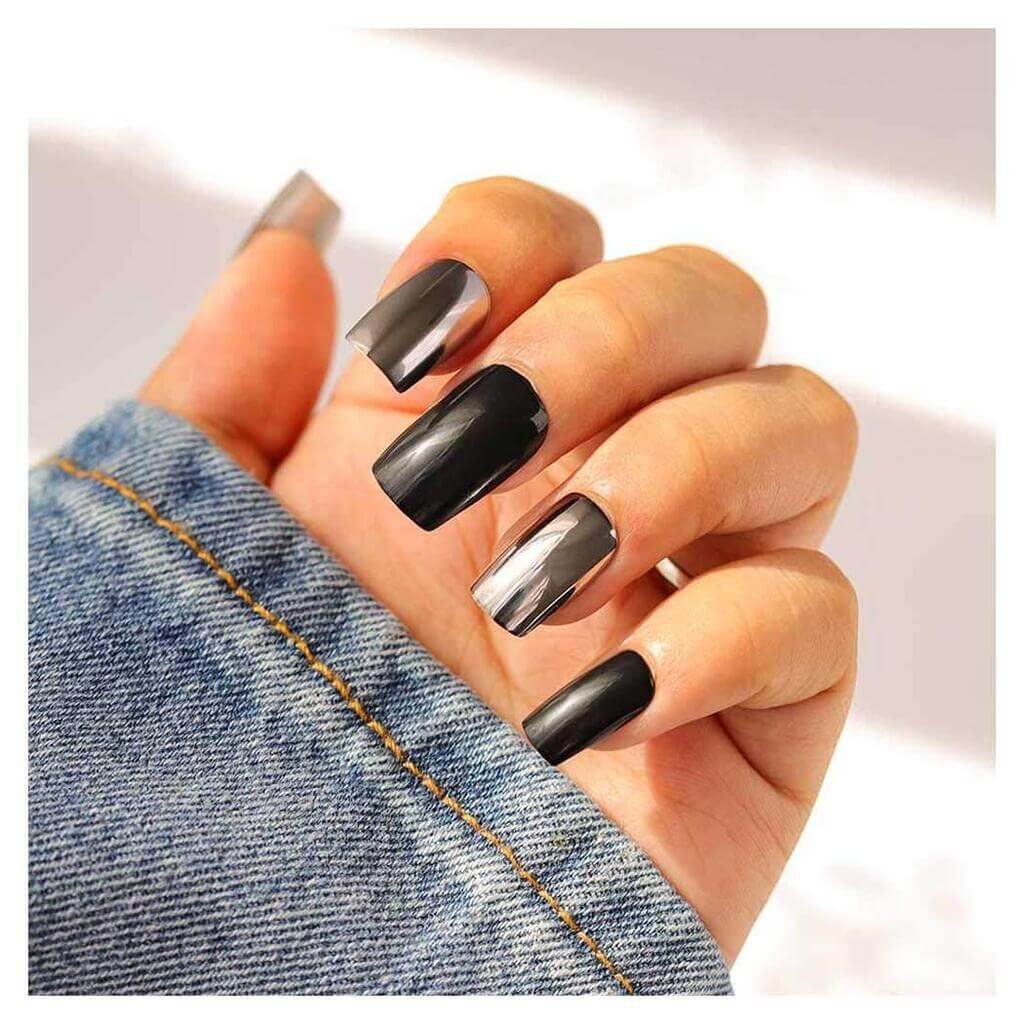 Right now, chrome nails are popular, and for good reason. Black metal nails look cool and edgy because their finish is smooth and shiny. It's great for people who want to look bold but still put-together. When you put together the dark, shiny black and the modern chrome, you get a cool, unique look that's great for people who like to try new nail designs.
25. Black White + Nude Classy Nails
You can be as creative as you want with bold manicures, which are a great way to show off your style. People will be drawn to your hands if you have black and white nude nails with artsy designs.
The art is a little harder to make because it needs negative space at different angles, but once you figure out how to do it, the end is stunning. Choose stickers that match a theme or show off your style for a truly unique look. You can also try to make your own patterns if you have a steady hand and a lot of time.
26. Holy Cow Nail Art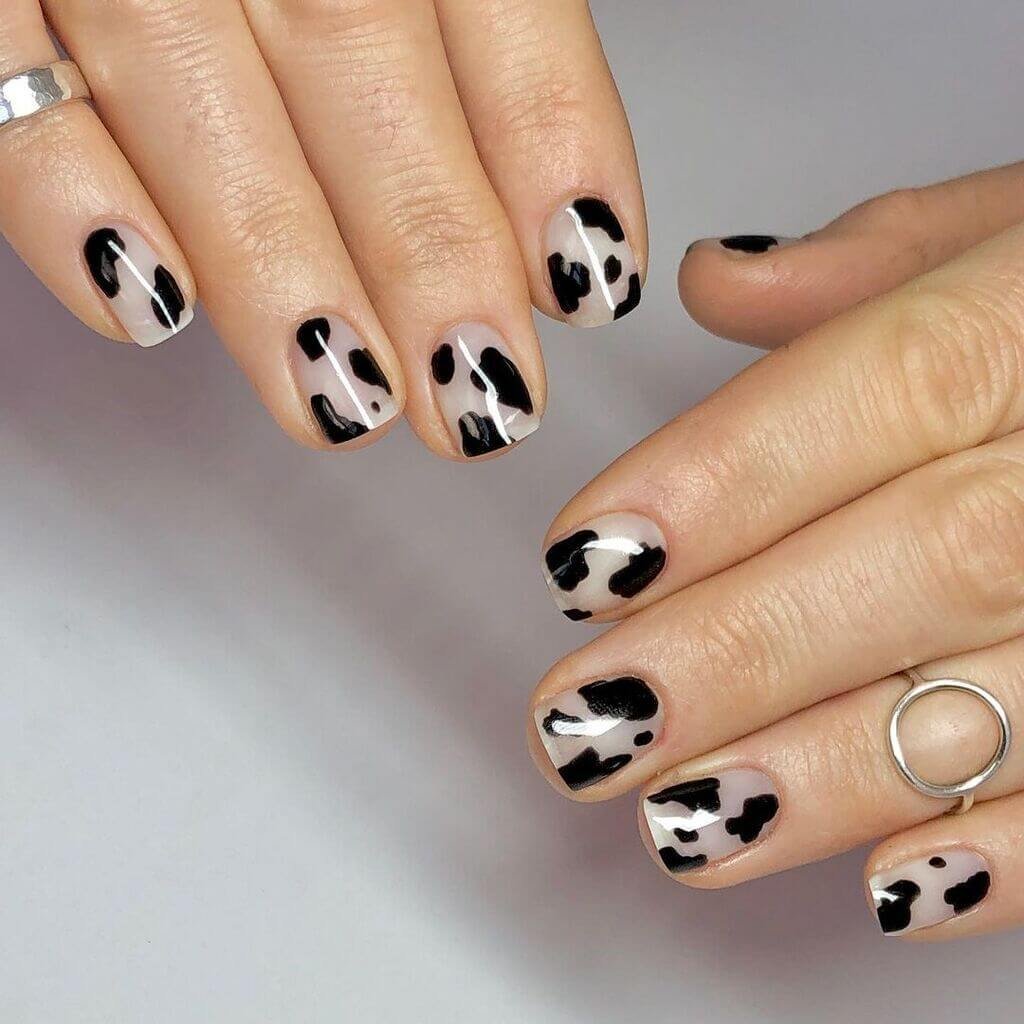 Leopard print is so last season! Our new favorite nail design is a cow print. Even so, the sheep are a little upset.
27. Let That Nails Sparkle
Even black coffin nails should have sprinkles on them. Black nail polish is the perfect background for colorful beads. This gives you a simple but eye-catching pattern you can wear every day.
FAQs
What Does Wearing Black Nails Symbolize?
There are a lot of different things that can be said about black nail paint. These can include being confident or taking risks. It is an attention-getting color. It can also be worn with a lot of different things.
Are Coffin Nails and Ballerina Nails the Same?
People often think that coffin nails and ballerina nails are the same type of nail shape. This mistake is easy to make because a real coffin and dancing shoes are both shaped in a similar way.
What Is the Nail Shape That Will Be Most Common in 2023?
The almond-shaped nail will still be one of the most popular nail styles in 2023. The form, which is narrower on the sides and wider at the base, looks good on longer nails and can be used with a wide range of nail polishes and nail art.
How Are Coffin Nails and Square Nails Different?
The sharp points on the sides of coffin nails make them different from square nails. 
On the other hand, square nails have flat, boxy sides, so the thickness doesn't change from the nail bed to the free edge.
Wrapping Up: 
With so many nail design styles to choose from, it can be hard to decide what to do for your next manicure. The best thing to do in these situations is to choose something simple but stylish. Because black is always in style and the coffin nail shape is sleek and modern, black coffin nails are a good choice. There are many ways to wear black coffin nails, which is a good thing. You can choose simple elegance by getting modern French nail tips or mixing matte and glossy textures. Do visit Travel World Fashion for more nail design ideas.
You might also like: