25 Cute Halloween Nails That Are Actually Scary
The scary season is almost here, which means it's time to start thinking about our cute Halloween nails, costumes, and makeup.
Even if you don't like getting dressed up, Halloween nails are a fun way to show some spirit. They're fun, they're not expensive, and they're not too hard to do yourself. Plus, really, is there ever a good reason not to have a really fancy manicure? Right on.
There are a lot of nail artists on Instagram who are just as excited about October 31 as you are. There's more to Halloween nails than black matte polish and ghosts.
There are at least a few Halloween nail art ideas out there for everyone, whether you like to do your own or buy them. From scary witch makeup to best outfit for Halloween, make this season a blast. Keep reading for the 2023 Halloween manicure ideas that you will want to take a picture of.
25 Creative Ideas for Halloween Nails
1. Halloween Nails Short Nails That Have Eyes
With these eye-shaped nails, you can't go wrong, whether you're dressed as Weird Barbie or just want to add a creepy touch to your favorite shade of pink. The best part, though? With Nails of LA's Big Energy Nail Wraps, it's easy to do it yourself.
2. The Iridescent Ghosts
Who knew ghosts could be so cute? Get the chrome powder ready for this set by Gabi De la Cruz. It has a pink-glazed base and cute but creepy ghosts wearing witch hats.
3. Hailee Bieber's Neon Nails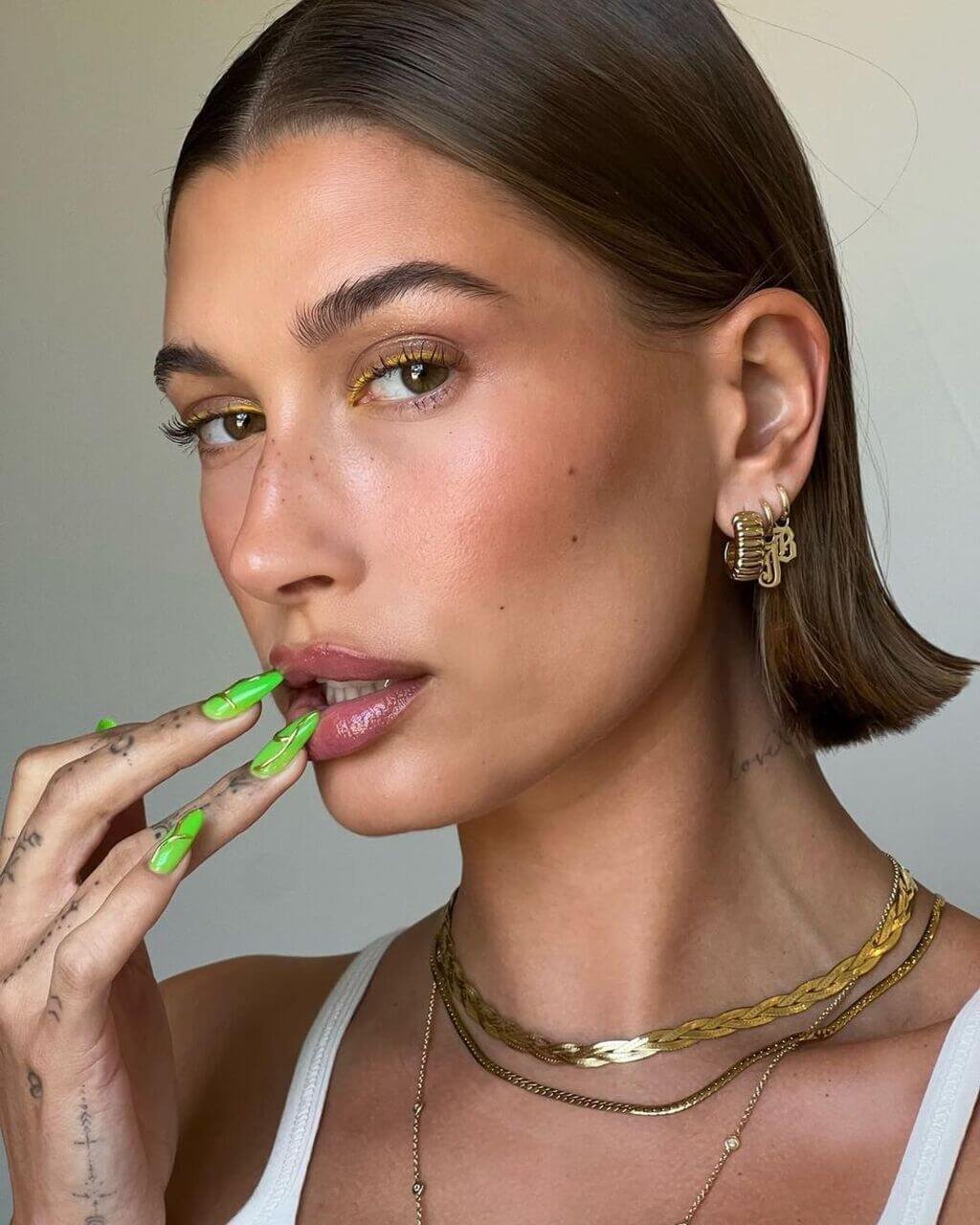 This bright and bold look could be Hailey Beiber's Coachella 2023 nails, but it would also be great for Halloween 2023. You don't even have to touch up the gold! At your scary party, the glow-in-the-dark polish will look great.
4. Funky and Creepy
If you want to dress up as Beetlejuice for Halloween or just want to be creepy without being too much, these nails are just the right amount of scary.
5. Gothic Style Halloween Nail Art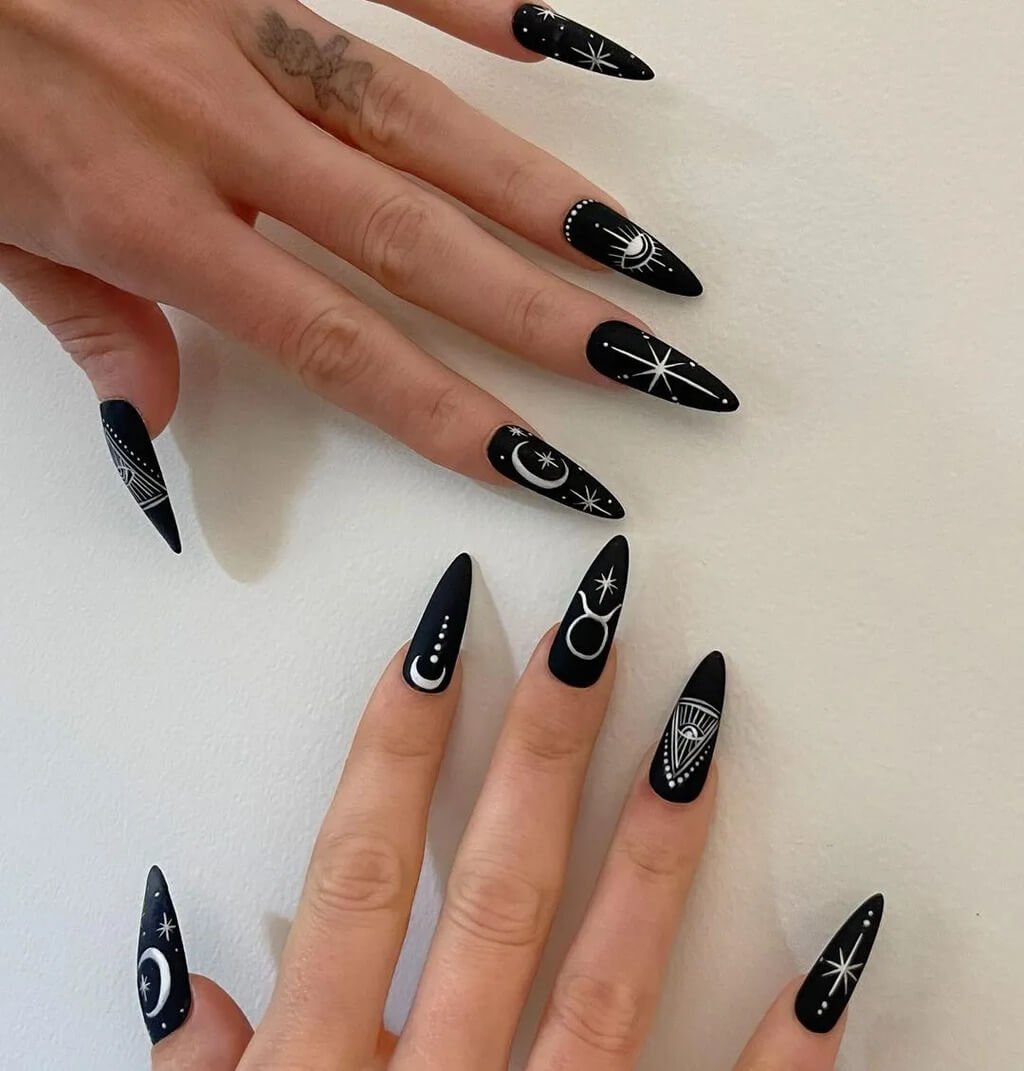 Look at the Taurus sign on Megan Fox's nails—she wore them for her birthday in May. This goth glam manicure is great for Halloween, though. Use press-on nails to get the look.
6. Halloween Black Nail Art
If you wear French manicures all year, here's a way to make them more Halloween. On the dark gray tips of this manicure by Katie Alice are little black bats. It's a fun nod to one of our all-time favorite old memes (remember the "It's frickin' bats" video?) and it also makes a great outfit.
7. Halloween Natured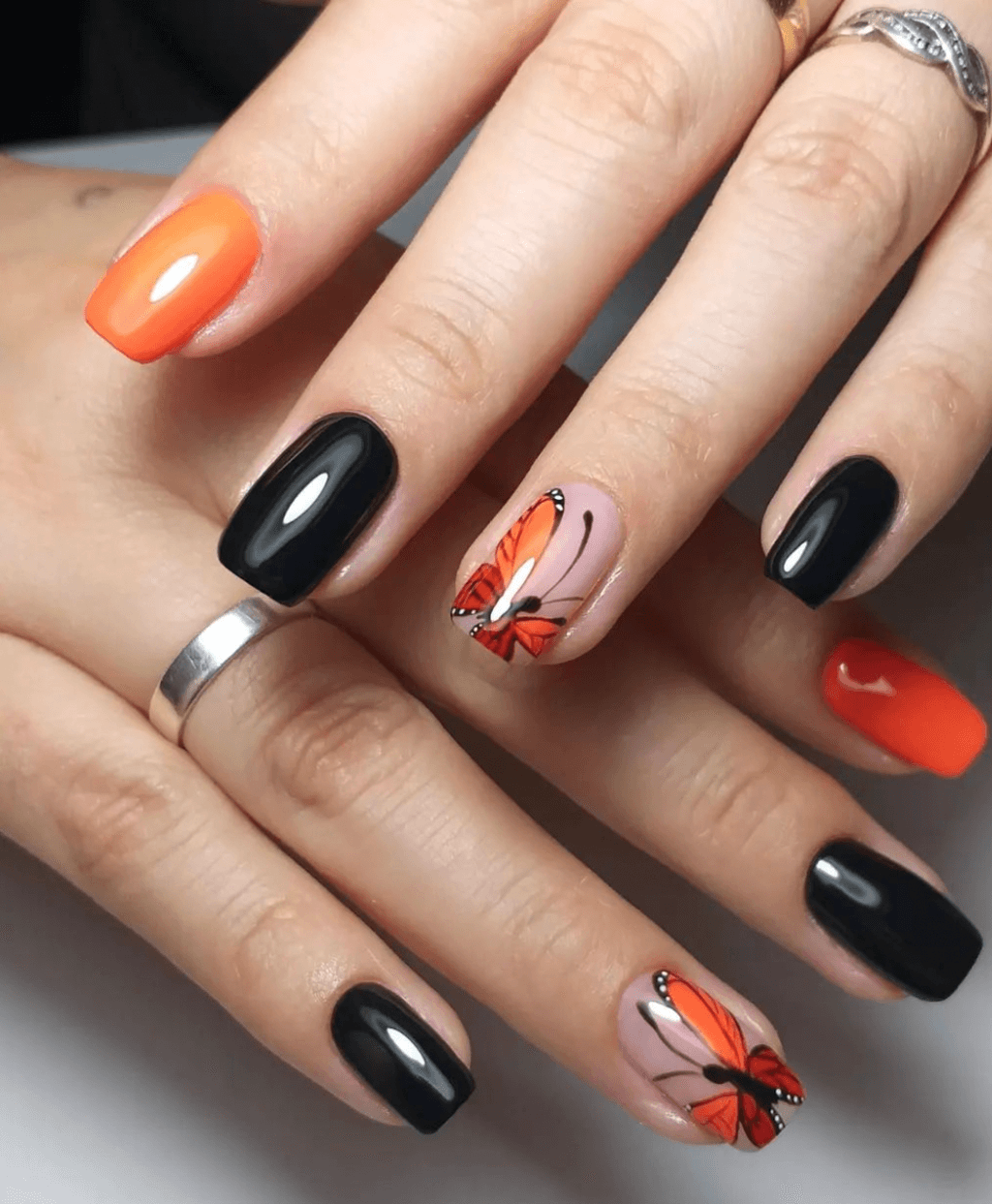 Display your biophilia with this butterfly-inspired manicure. How appropriate that the colours of monarch insects match those of Halloween. Start working with your favourite orange, red, and black manicure.
8. Skeleton Cute Halloween Nails Short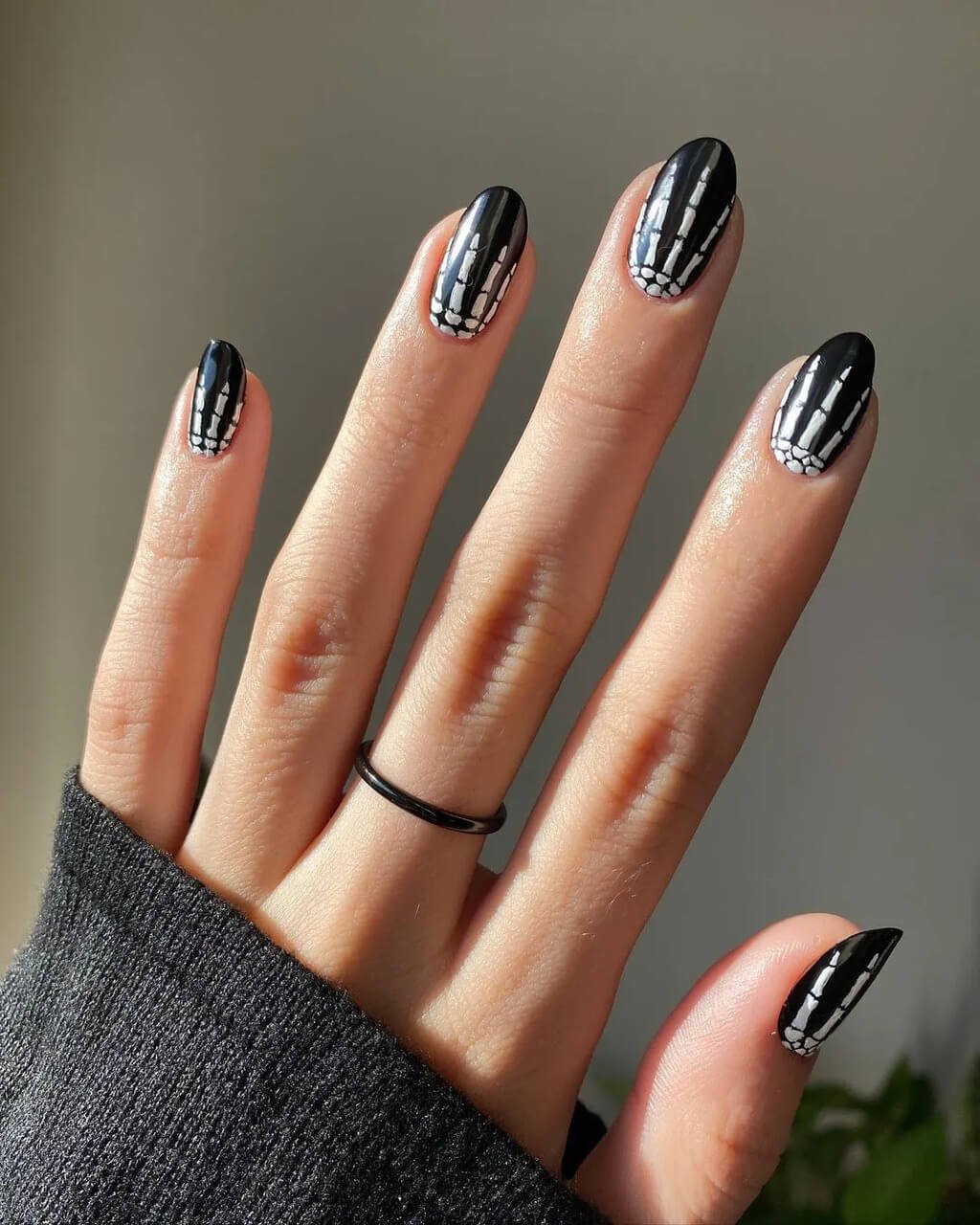 This skeleton nail art may be eerie, but it's so amazing!
9. Groovy Nail Print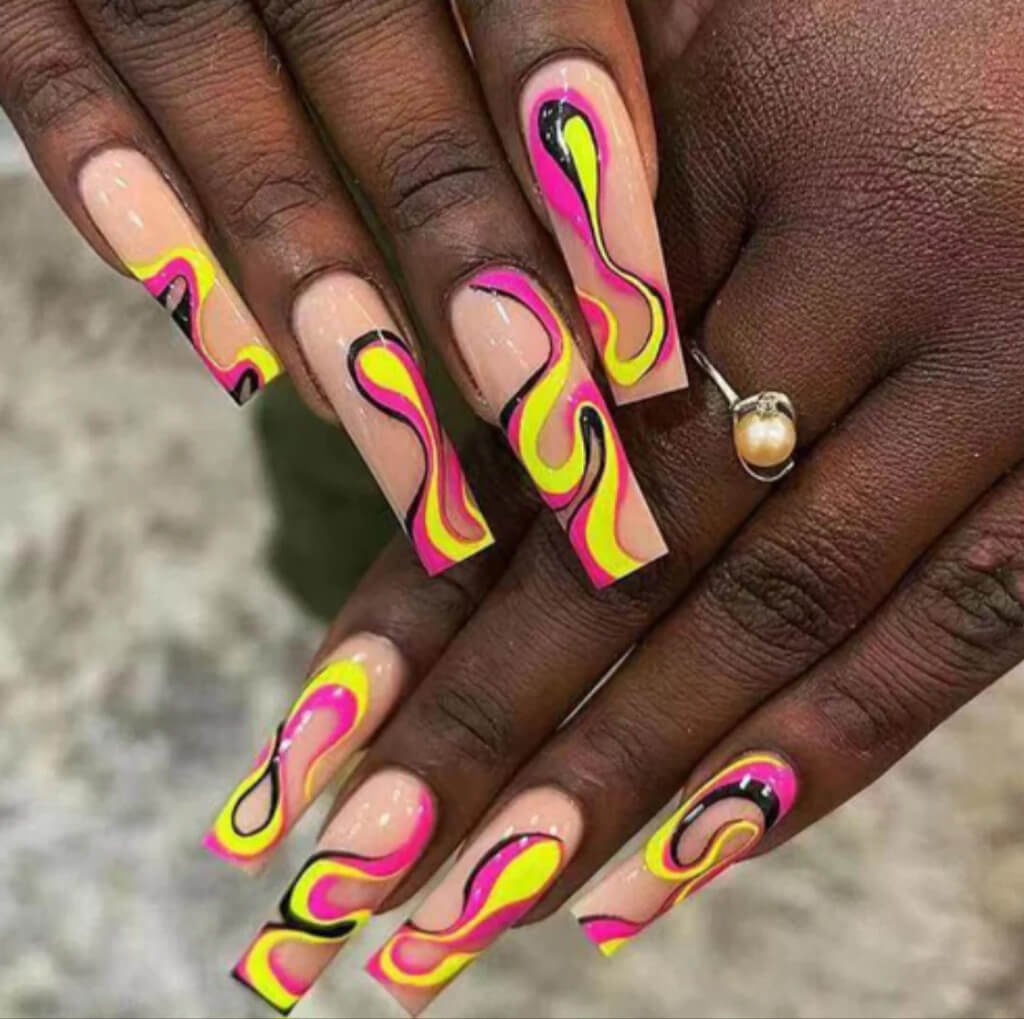 Donning a costume of Barbie, a completely groovy woman from the 1970s, or anything bright and colourful? These manicures are the ideal accessory for your costume. Our advice? Use extremely vibrant neon colours to make this appearance pop.
10. Citrus Awnings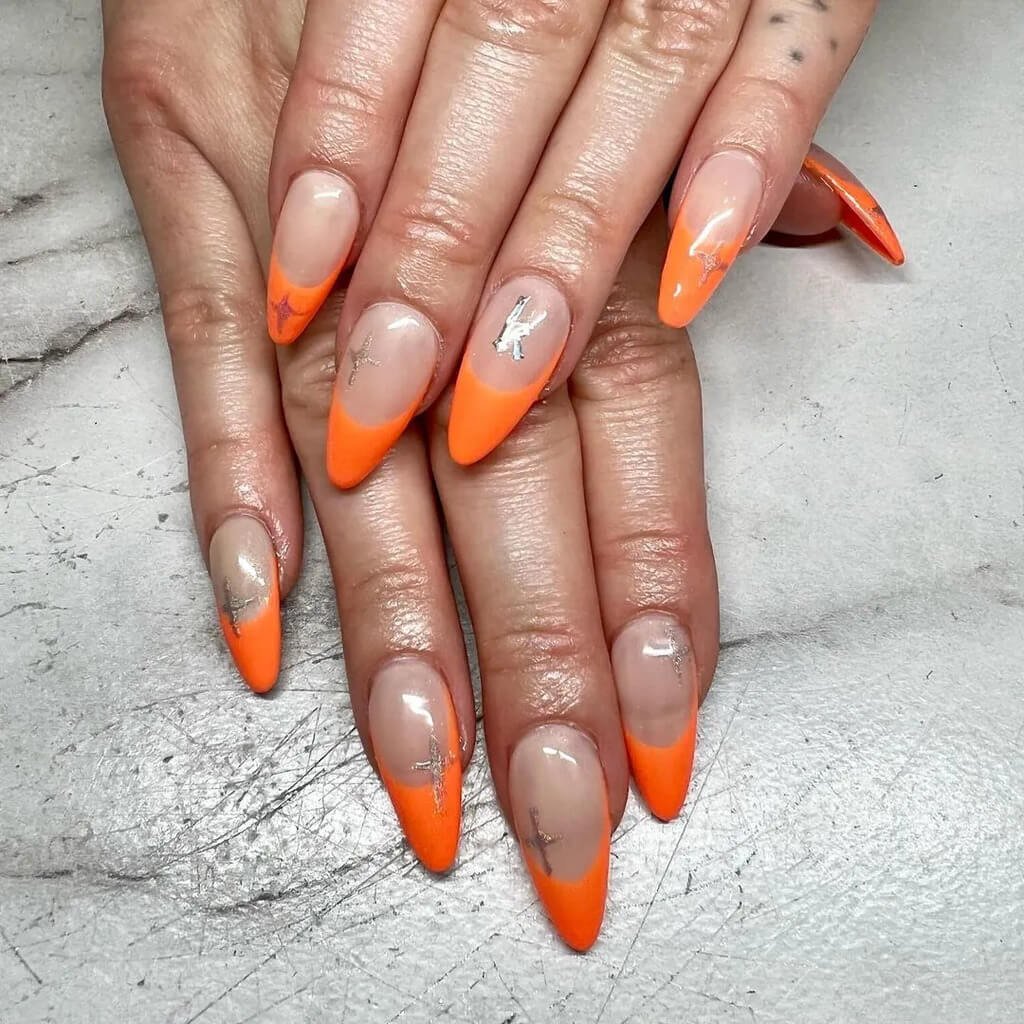 This vibrant manicure will enliven your day and get you in the Halloween spirit.
11. Pearlescent Drawing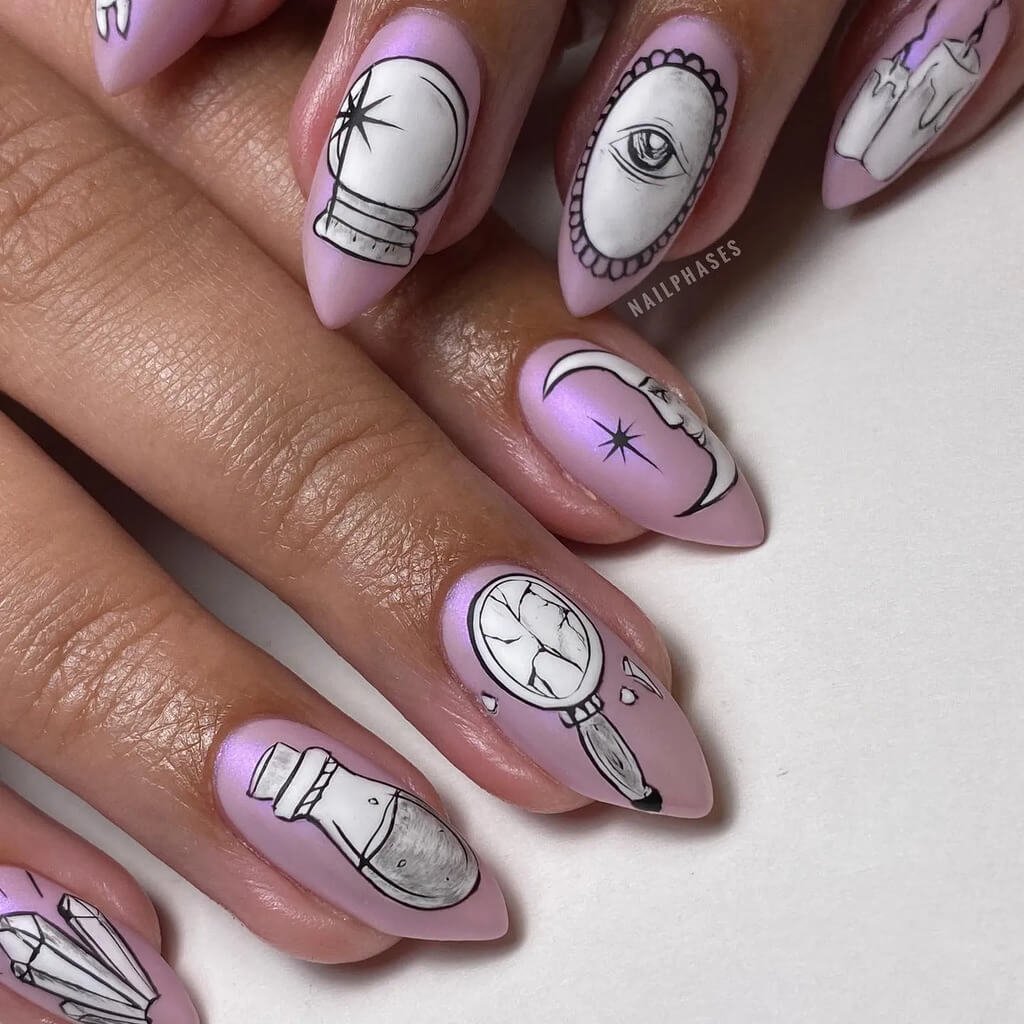 Want a cute Halloween nail design that is neither frightening nor horrifying? The Texas-based nail artist Nat McMains hand-painted a mirror, crescent moon, and crystal ball onto a pearlescent purple base for this manicure.
12. Stop Joking Around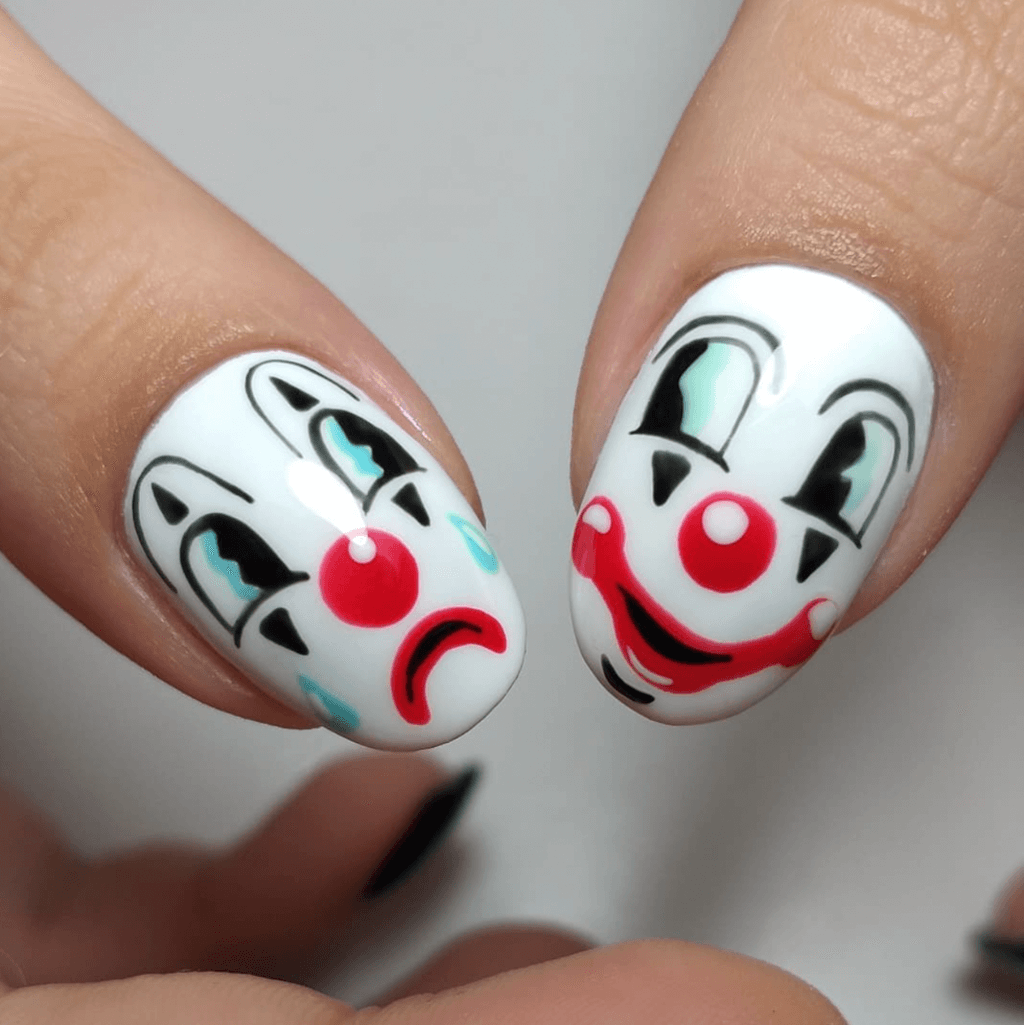 Depending on who you ask, clowns are either adorable or terrifying; I fell into the latter category. Everyone agrees, however, that a decent clown manicure is a conversation starter. Using a thin brush and black nail varnish, outline the eyebrows, eyes, and inner mouth with a white base. Use red to outline the mouth and create a circle for the nostrils.
13. Insect-like Mani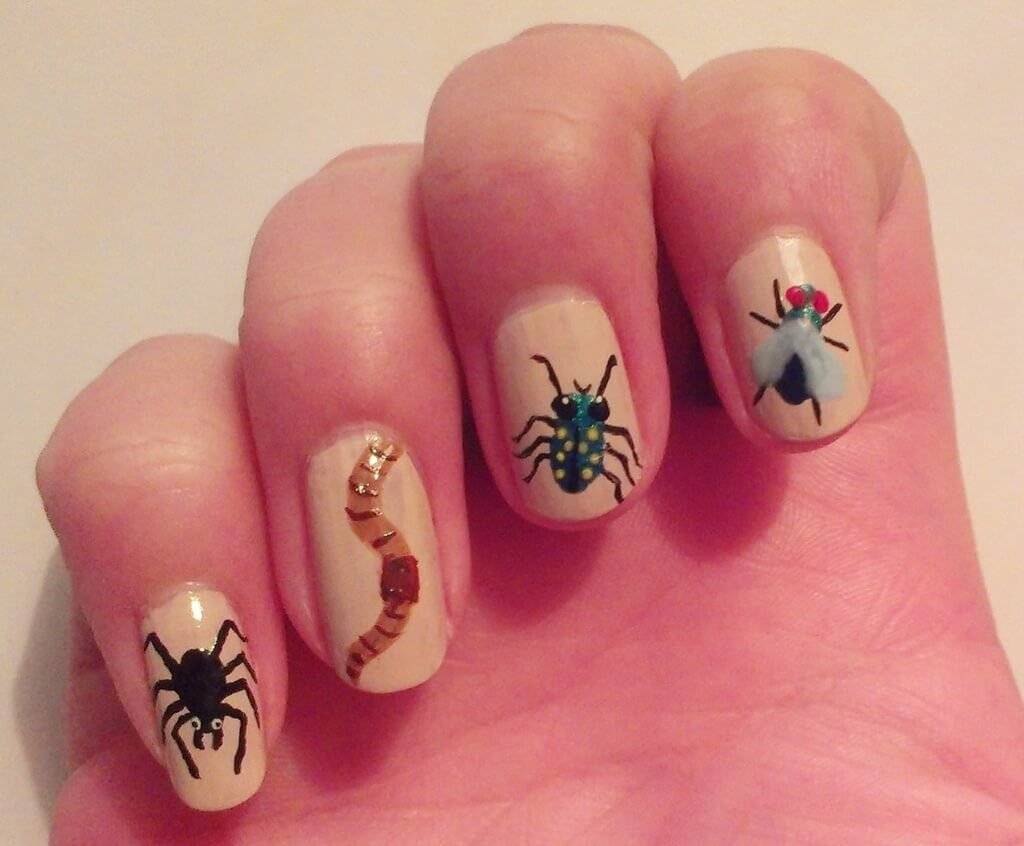 This insect- and bug-inspired nail design is perfect for the spooky Halloween season. Is it just us, or is this kind of adorable?
14. Best Soul Mates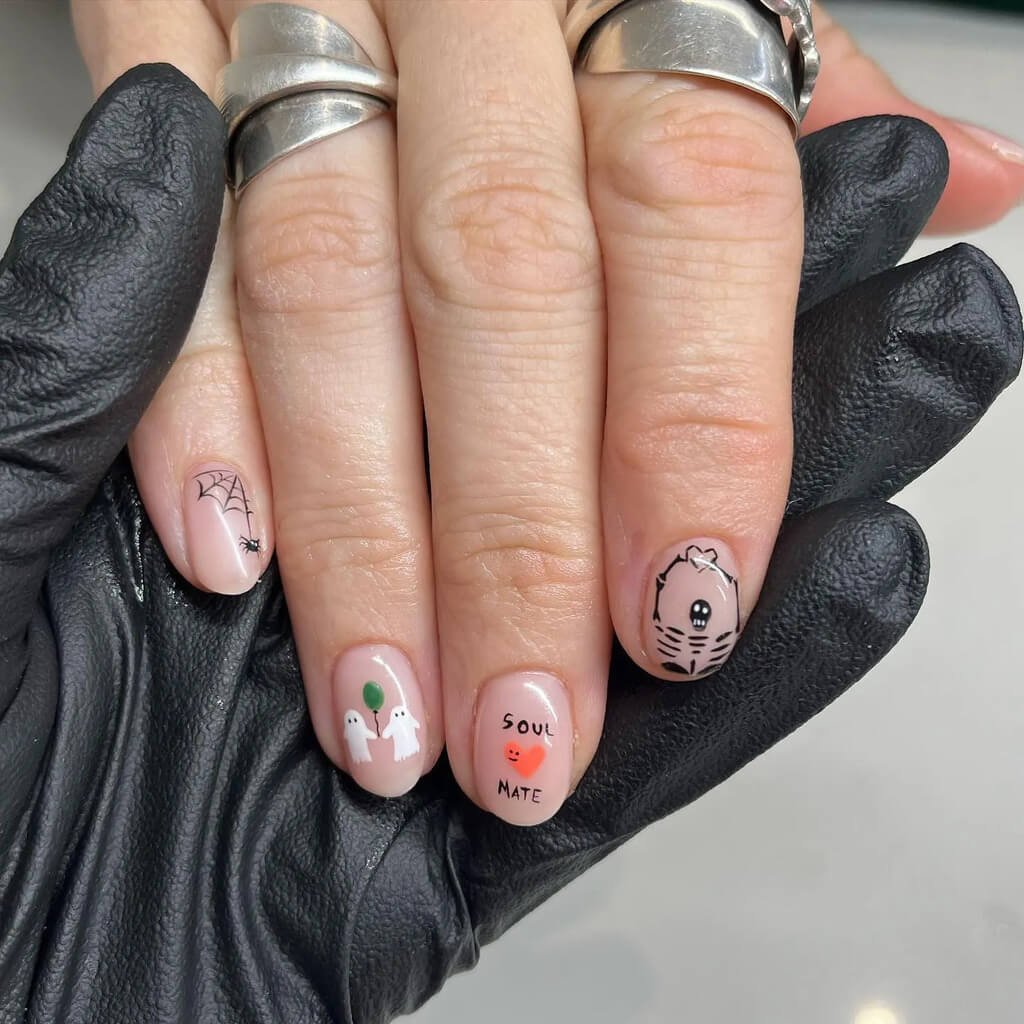 This hauntingly amorous manicure was created by Charlotte Bradwell of Cavan Studio in Sheffield, United Kingdom, for Halloween and Valentine's Day enthusiasts. Bradwell applied a sheer pink base before painstakingly painting small creatures in love atop it.
15. Spider Spines Tips
Spider tips will modernise your French manicure! Simply draw a small circle and a larger circle to form the spider's body, then draw three upward-pointing lines on each side of the body, connect the lines, and go downward. Finish with a clear topcoat, and you're done! Amaze partygoers with your DIY tarantula manicure.
16. All Stitch Design
To create the stitch designs, you will need a baby pink nail polish, a black nail polish, and an extremely fine manicure brush. Beginners can easily master stitched French tips, whereas nail artists with more experience can create bloodied knife and spider web designs. 
17. Snake Pattern
This snake-print design is ideal for Halloween and chic enough for everyday wear; it checks all of our autumn nail boxes.
18. Anything Other Than Dull Black and White
Try a design similar to Avril Fernandez's for Halloween manicures that are slightly more understated with the theme. It is an altogether black and white manicure with floral, flame, yin and yang, and checkerboard patterns on each nail. With two skulls dangling from each thumb like cherries, both thumbs are imbued with Halloween enchantment.
19. Tips Dexter Approved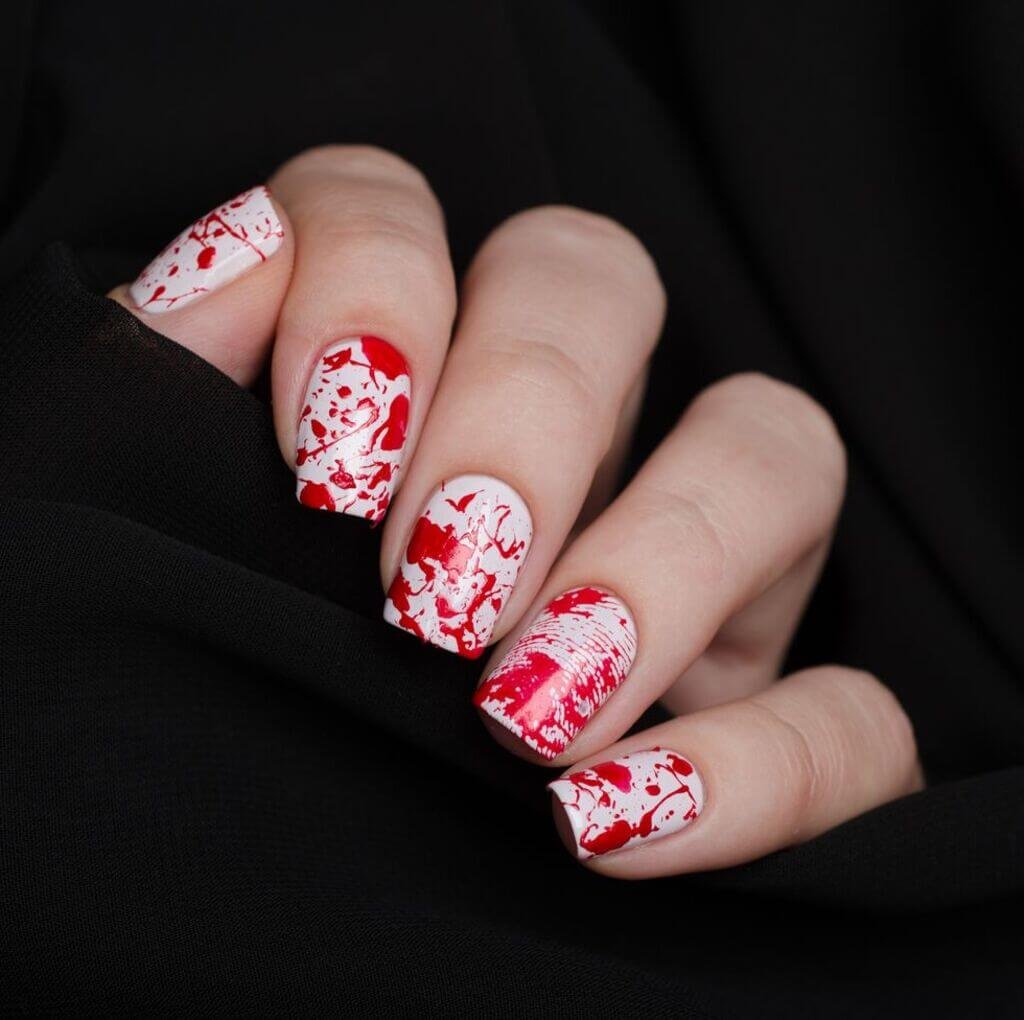 This nail design is simple to replicate, particularly because the dirtier it is, the better. After allowing a white base coat to dry, splatter red nail varnish with a clean mascara spoolie or brush.
20. Blood Splatter Nail Art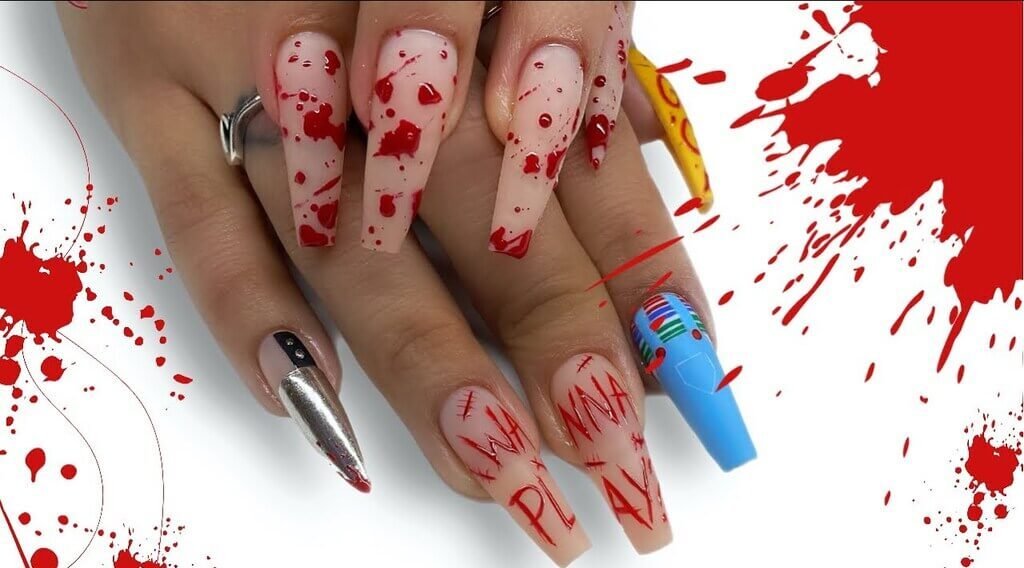 Whether you're the Queen of Hearts or an old-fashioned sorceress this Halloween, this nail art design is to die for.
21. Cloudy Skies
Since spring, have you been counting down the days until Halloween? This Halloween-themed manicure is calling your name. Boo!
22. Simple Coffee Halloween Nails
When Halloween and minimalism collide, Bailee Tabag achieves this appearance. Its matte finish and autumnal hues lend the pumpkins, spiderwebs, and ghosts style and sophistication.
23. Venomous Gasses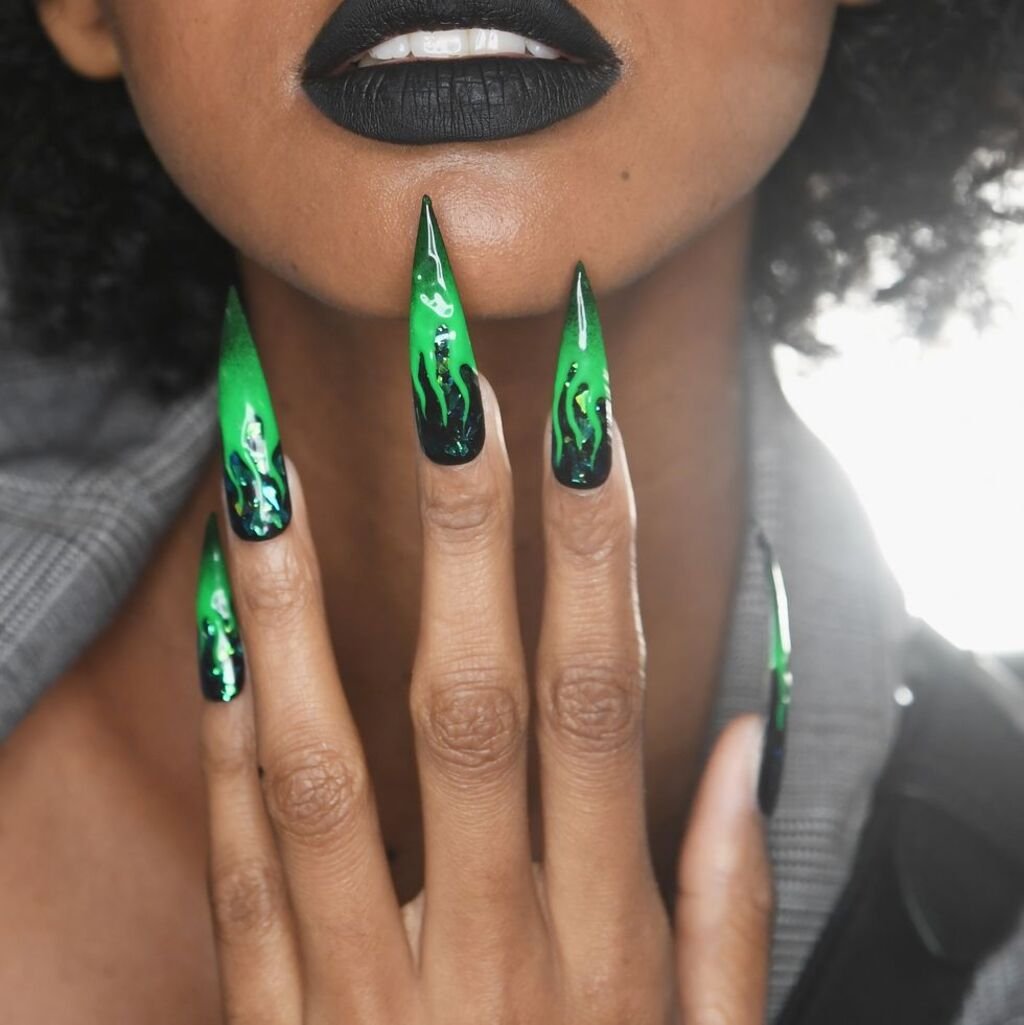 With manicures this daring, you don't need a costume. The design of green flames on a black background makes the outfit stand out. However, as a concluding touch, apply additional dark polish to the nail tips to really tie everything together.
24. Green Ghosts Nail Art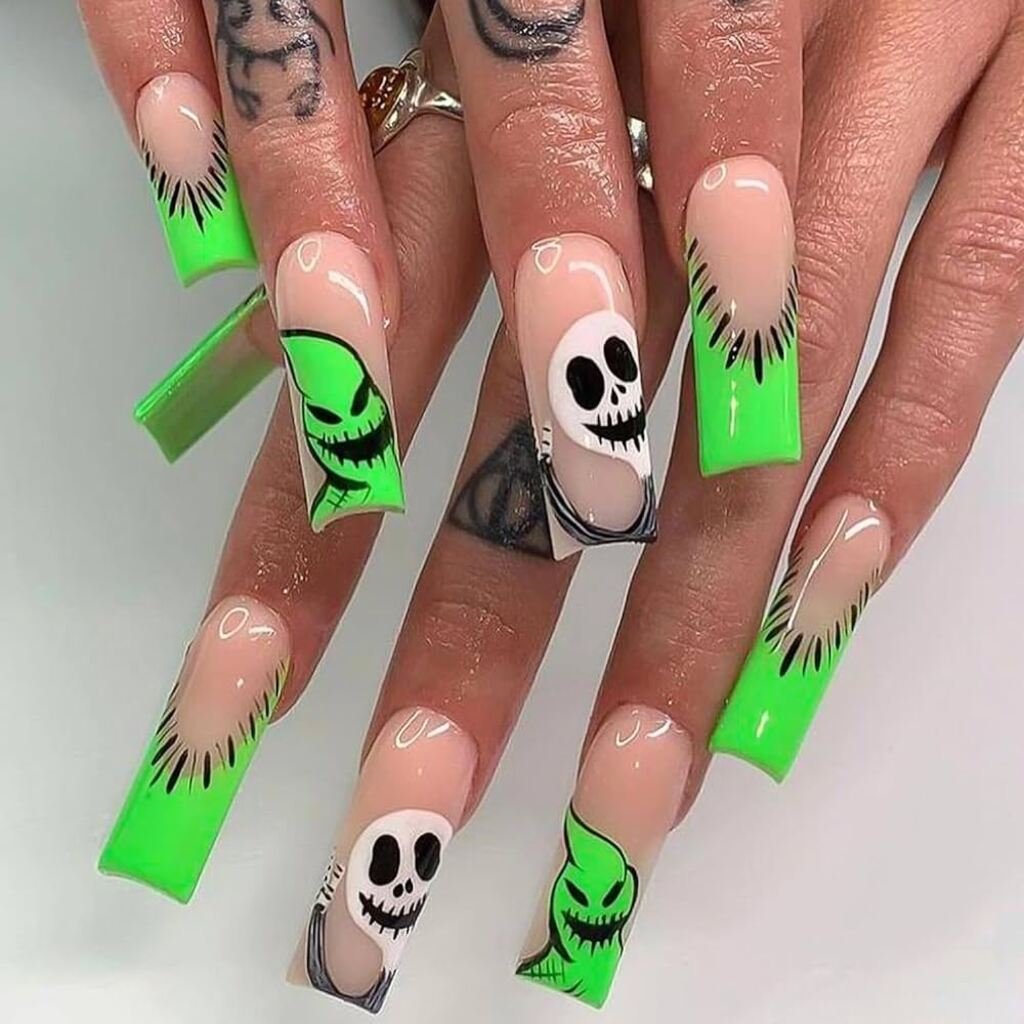 It gives Emma Chamberlain, and the muted green tones make it a neutral way to get into the Halloween spirit.
25. Scary Witchy Nail
For a more seductive Halloween aesthetic, paint your nails wine red and decorate them with decals of stars and snakes.