16 Awesome Neck Tattoo Ideas for Men & Women
If you ask anyone who wants a tattoo, the neck is definitely not the first place that comes to mind. Getting a neck tattoo is not everyone's cup of tea. As it is very painful to get. Let us check out neck tattoo ideas for men and women.
The neck is more visible than the arm and the back. Because of this, getting a tattoo on the neck takes more thought and care. Also, because the skin on the neck is thin, neck tattoos could hurt more than tattoos on the arms or legs.
When it comes to neck tattoos, a lot of people aren't sure what to think. Some think they're linked to gangs or jail, while others think getting one means you'll be out of work right away. But that's not always the case, and these creative people showed that neck tattoos can be just as beautiful as any other tattoos. Some side neck tattoo looks very harmonious.
But before you go get your own tattoo on your neck, let us help you choose the right piece. Here are the coolest, most stylish, and best-looking neck tattoos of 2024.
Beautiful neck tattoo ideas for men and women
1. Small and simple neck tattoos for women
The neck is not a big place. But getting a tattoo on your neck is a big deal because it is so visible. So it's always best to start with something easy and small. But simple doesn't mean dull.
And a small tattoo gives you the most options for how to show or hide it.
2. Back neck tattoo men
The back of the neck is one of the most common places for guys to get tattoos. It looks good with a small or simple pattern, and it's a great place to get your first neck tattoo. Because you can hide it with a shirt with a collar or your hair. But if you have a tattoo on your shoulder or back, you could connect it to a tattoo on your neck.
3. A new-style pink rose tattoo on woman's neck
It's like a big juicy kiss is being planted on the neck by this big red rose. Compared to the similar New School style, the colours in the Neo-Traditional style are usually more subtle. This tattoo is not for a "shrinking violet"
4. Vintage artistic neck tattoo
Some people like tattoos that mean something to them, while others get them because they look good. One of them is this. This small tattoo is classy and beautiful, and you can hide it with different hairstyles.
5. Full Neck Tattoo for Men
A full neck tattoo goes all the way around your throat and looks like a cool collar. Guys who want a tattoo that will make them stand out should think about getting a full neck tattoo. This location makes geometric patterns, intricate designs, and black ink stand out.
6. Blackwork flower tattoo on the neck of a man
Here is a lovely example of the Black Work style. Even though there are solid planes of black ink, the colouring is what stands out. To get this look, different shades of grey are used.
7. Simple small leaves neck tattoo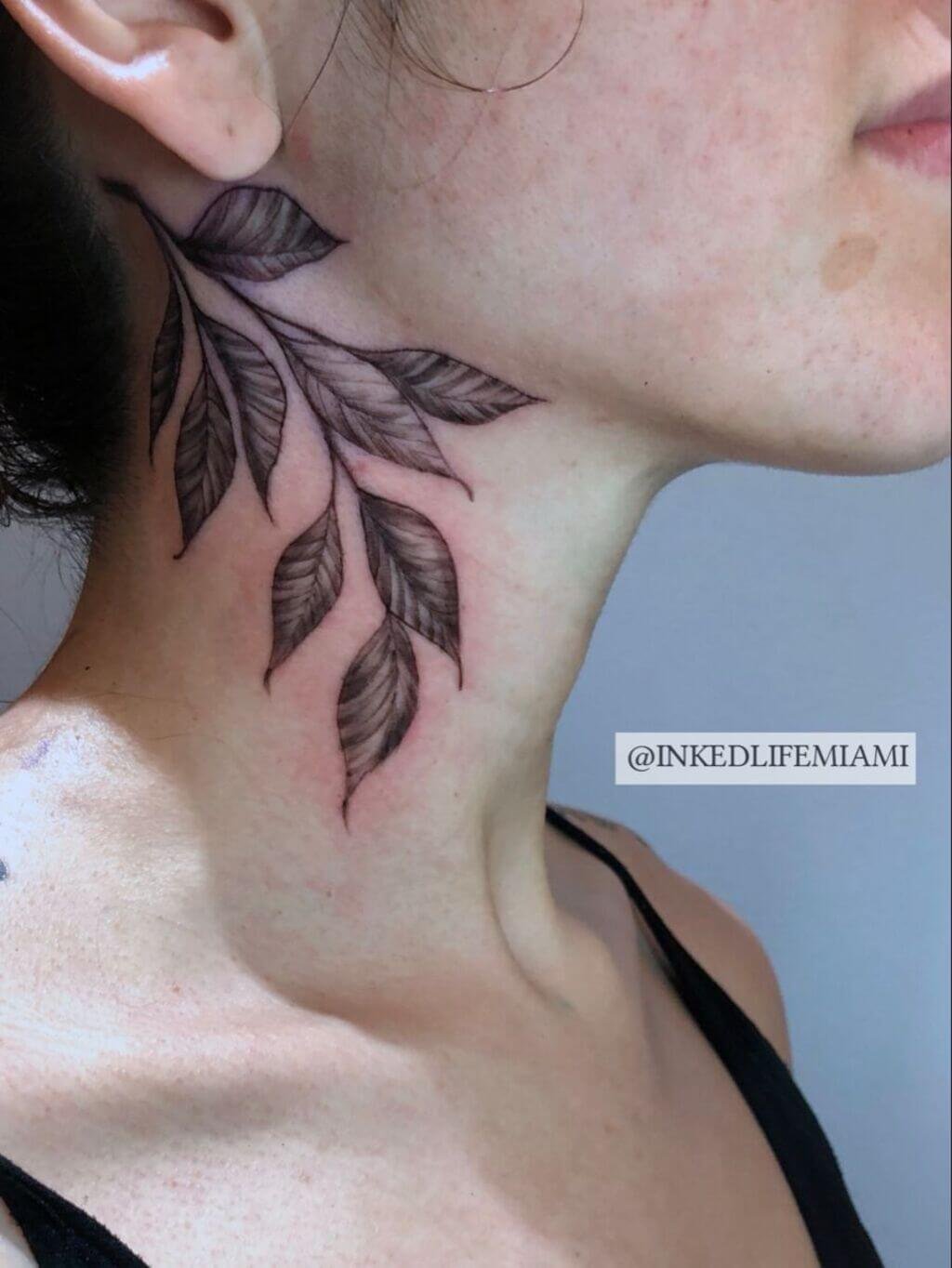 It makes sense that a lot of women have floral tattoos. They are simple, but they give the face a fresh feeling. For example, a small leaf tattoo on the back of the neck looks like a natural ornament.
8. Small Neck Tattoo
Neck tattoos look good on people of all sizes, but small tattoos look especially good here. You could use Roman numbers, a single word, or a simple symbol, among other things. A smaller tattoo is a great choice for your first neck tattoo or if you can't take much pain but still want a neck tattoo.
9. Cool neck tattoo ideas
Beautiful Line this woman's chin is covered with work. Made up of straight and curved black lines that are all the same thickness. It looks like ancient Egyptian writing. I'm curious what it says.
10. Stars on the neck
If you're proud of your star sign, you can show it off on your neck. But your sign can be shown by more than one picture.
11. Angel Neck Tattoo
One of the most famous tattoo designs for men is an angel. Because they can mean a lot of different things. Angels are important to the Christian beliefs of some guys. For others, they are a way to pay homage to old art. Angel wing tattoos often have a lot of movement and smooth lines, which makes them a good fit for the small curve of the neck.
12. Back of neck tattoo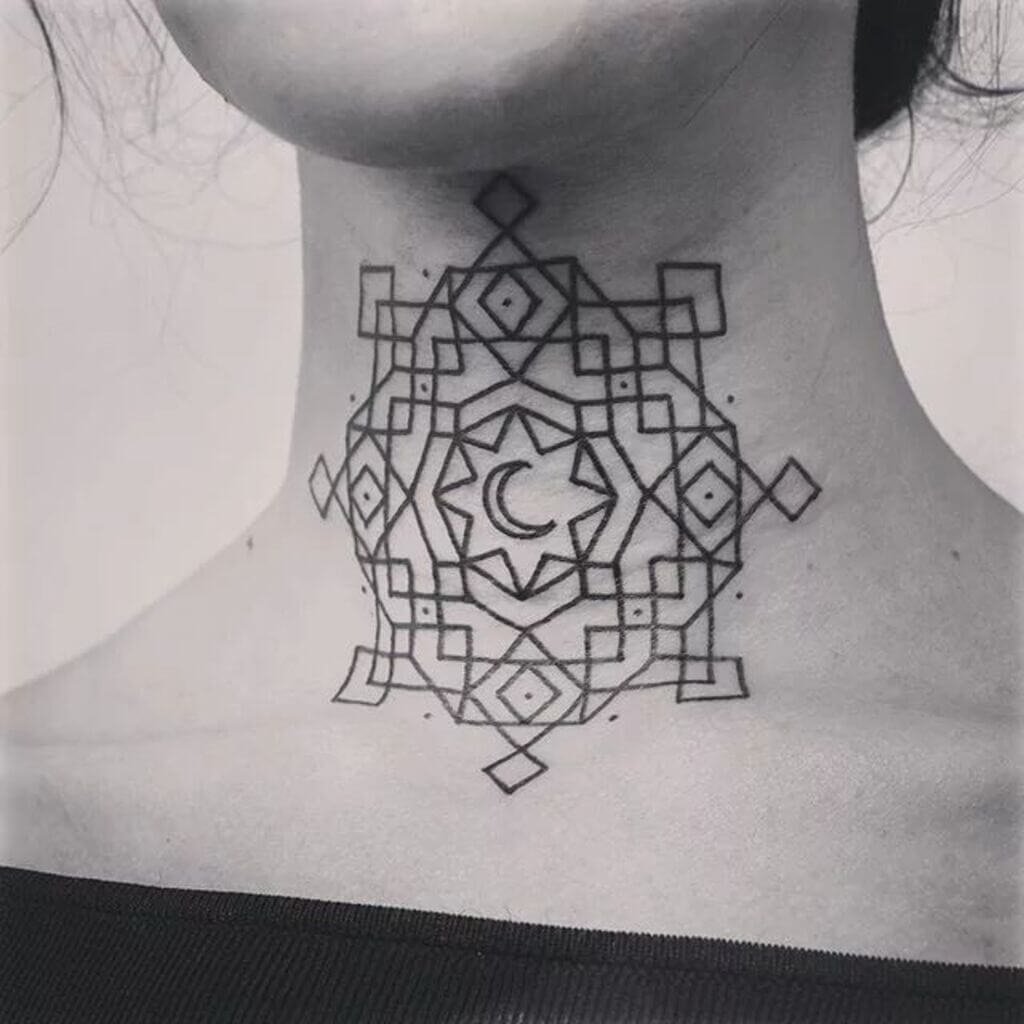 Any design can be used for a tattoo on the neck. This neck tattoo is an example of the Line Work style. The outline of the beetle is made of black lines, and the pattern around it looks like wings. The wings are shown in a good way by using a simple style.
13. Women's small flower tattoo
In Buddhism, the lotus flower is a symbol of peace and zen, which is why many women get tattoos of it. People think that getting a lotus tattoo will protect their inner peace.
So, if peace of mind is important to you, a small lotus flower tattoo like this one might be what you're looking for. Also, because it's close to the head, you can change your hairstyle to hide or show it. This gives you the most freedom.
14. Neck Tattoo Up Front
A tattoo that stands out can look great on the front of your neck. It will always be seen by other people, making it the perfect place for a piece of art or something with value. Keep in mind that getting a tattoo on the front of your neck is especially painful because the skin is thin and there are a lot of nerve ends there.
15. Butterfly neck tattoo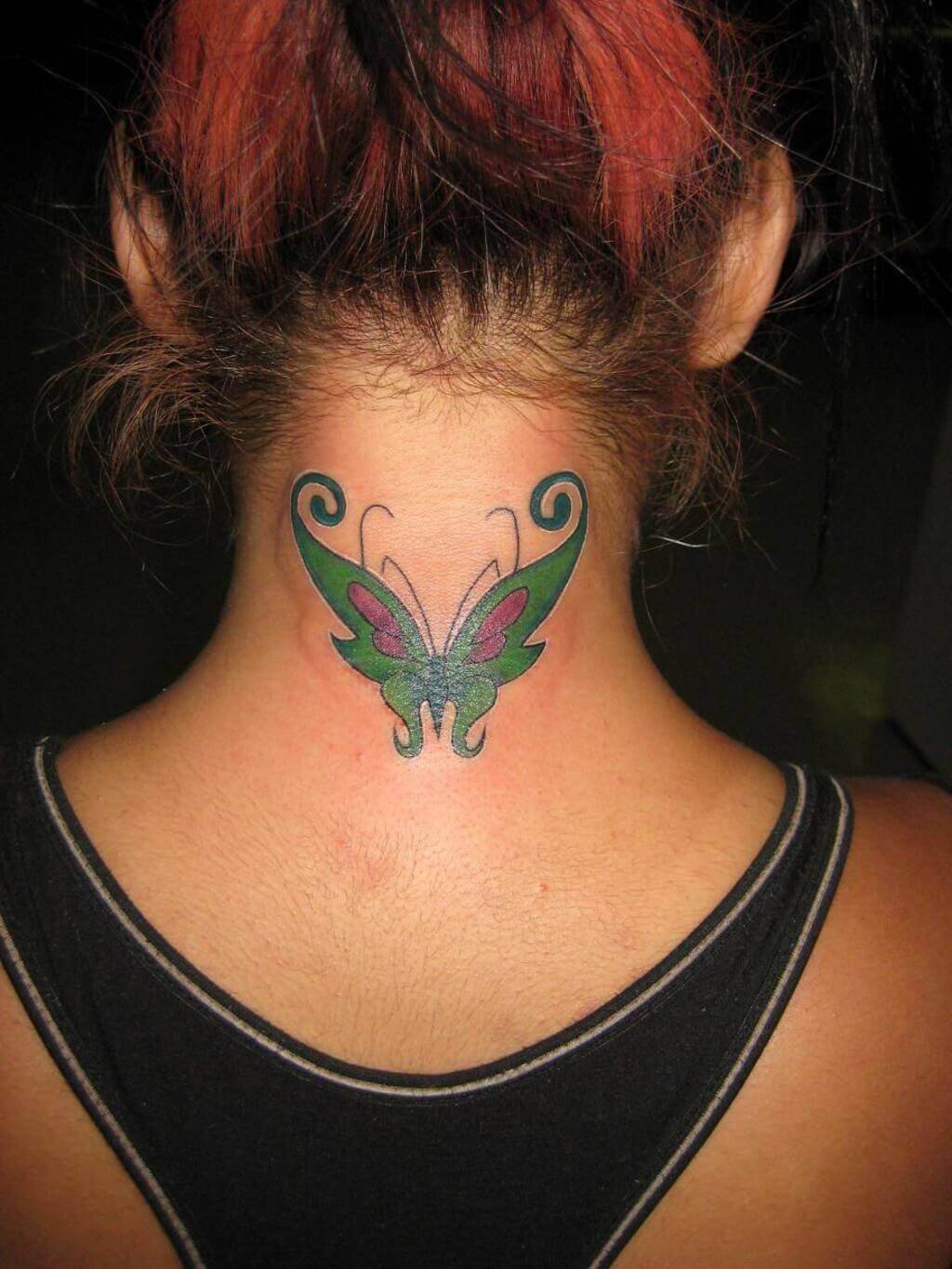 By getting a butterfly tattoo on your neck, you can simultaneously display your fortitude and sensitivity. You will also have the opportunity to demonstrate your sense of style. From my modest standpoint, the butterfly tattoo adorns the neck more beautifully than any other. Butterfly neck tattoos provide the opportunity to express one's individuality in a daring yet whimsical manner.
16. Side neck tattoo
Realistic, perhaps? Indeed, it resembles a sculpture that one might encounter in Italy. This degree of realism requires the use of contrast, tinting, and three dimensions. Moreover, exceptional ability. Exclusively rendered in the Black and Grey style, with the use of black ink.
FAQs:
Do neck tattoos cause pain?
It is generally quite excruciating to get a tattoo on the neck. There are individuals who assert that the discomfort experienced on the sides of the neck is more tolerable (6-8).
Are neck tattoos dangerous?
No more dangerous tattoo than getting a tattoo on the neck. The greatest potential hazard, in addition to the general distress caused by the needle and the artist's pressure, is an allergic reaction. Aside from that, bear in mind that a neck tattoo is more exposed to the sun, and UV radiation exposure can occasionally cause sensitivity to the ink.
Do women find neck tattoos attractive?
A mere 10% of females and 17% of males find neck tattoos alluring. A greater number of tattoos diminishes one's appeal to individuals of the opposite sex.
Which one is your favorite neck tattoo? For more tattoo ideas visit Travel World Fashion.