Western Wear: The Perfect Blend of Fashion and Function
Country clothing is popular not just among those living in rural areas but also among fashion circles and people from all walks of life. From the rugged landscapes of the outback to the bustling city streets, this type of clothing has been present in many aspects of modern life. And while there are countless Western brands on the market, few of them offer a level of quality and style that comes close to Thomas Cook clothing in Australia.  
Read on to discover why this brand is a go-to choice for those seeking the perfect blend of style and durability. From their iconic country boots to their meticulously crafted clothing that carries the iconic "Man from Snowy River" logo, they've become a symbol of excellence in the realm of Australian country fashion. 
Range of Products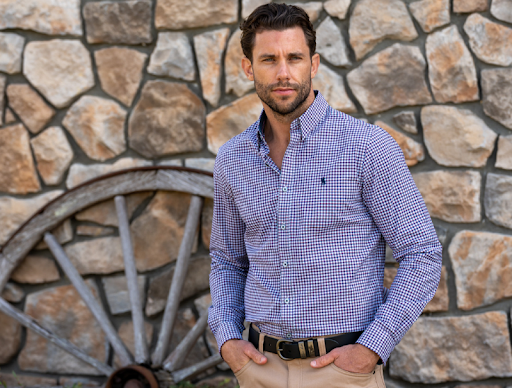 Shirts
Whether you're looking for a casual everyday shirt or something more refined for special occasions, you'll find comfortable Thomas Cook shirts to suit your style. They are designed to withstand the demands of outdoor activities, work environments, and everyday wear. Constructed from high-quality fabrics, they're built to last and maintain their shape even after long use and washing.  
Thomas Cook shirts feature a fusion of traditional and modern design elements. You can show off your personal flair by selecting from a variety of colours, patterns, and prints. They provide something for everyone, whether you favour solid colours, checks, stripes, or unusual motifs.
Made from quality fabrics, Thomas Cook shirts can withstand the demands of physical work while keeping you comfortable. Whether you're mowing the lawn, doing maintenance tasks, or enjoying outdoor adventures, Thomas Cook shirts are a practical option that allows for ease of movement and protection. 
But it's not just about outdoor activities. These shirts are also great for simply relaxing at home. The relaxed polos and button-ups offer a comfy and carefree look that's ideal for lounging or spending time with family and friends. After a hard day, you can relax in comfort thanks to the plush fabrics and loose fits. 
Pants
Moreover, Thomas Cook offers sturdy, long-lasting jeans. High-quality denim that balances comfort and toughness is what this brand specialises in. The quality denim feels warm and cosy against the skin and is durable enough to survive everyday use. 
There are options to suit different body shapes and stylistic preferences, ranging from traditional straight-leg jeans to contemporary slim or relaxed fits. These jeans are available in a variety of washes, from light to dark, so you can pick the one that best suits your style.
Outerwear
From jackets to vests, the outerwear collection from Thomas Cook will keep you comfortable and protected in various weather conditions. Whether it's a lightweight windbreaker or a heavy-duty winter coat, expect their outerwear to provide reliable protection. 
The company pays exceptional attention to the design and construction of its clothes to ensure functionality. Many of its jackets feature practical elements like adjustable hoods, storm flaps, and multiple pockets for added convenience. These features enhance usability and provide additional protection from wind, rain, or snow. 
Also Read: 30+ Dark Academia Fashion Brands You Need To Check Out Today
Accessories
The brand's accessories are just as well-made and detailed as its clothes, from hats and belts to purses and wallets. The intricate designs can boost your overall appearance and go well with the line of outfits. 
Tomas Cook accessories provide your outfit with the finishing touches that make it cohesive, whether you're dressed up for a formal occasion or keeping it casual for everyday use.
From a Small-Town Bootmaker to a Staple in Country Fashion
Thomas Cook is a company that embodies the essence of the Wild West, where cowboys roam and expansive vistas beckon exploration. This renowned company has been producing Western apparel of the highest calibre for almost a century.
Thomas Cook, a visionary and ardent adventurer, launched the company with the goal of offering durable and fashionable clothing to cowboys, ranchers, and outdoor lovers. In 1924, he began making premium cowboy boots. The business immediately established a reputation for its superb craftsmanship and attention to detail despite its modest beginnings.
Today, the brand's range of clothing can withstand the rugged demands of the outdoorsy lifestyle. Whether you're on horseback, tending to cattle, or simply embracing the Western culture, its garments are built to last. The company simply understands that comfort, durability, and functionality are key when it comes to outfitting those who live and breathe the cowboy way. 
Thomas Cook blends traditional Western aesthetics with contemporary trends. Its designs showcase the timeless elements of cowboy fashion, such as denim, plaid, and leather, while incorporating modern twists and durable materials.
Is Western Wear Still Trending?
While Western clothing comes from the Wild West, its influence has spread far and wide, transcending geographical boundaries. Its appeal lies in its unique blend of rugged charm and timeless fashion. It's not just about the cowboy boots and hats; it's about the whole ensemble—the denim jeans, plaid shirts, leather jackets, and fringe details. These elements evoke a sense of adventure, freedom, and a connection to the great outdoors. 
In recent years, Western wear has experienced a resurgence in mainstream fashion. Celebrities, influencers, and designers all embrace this iconic style, incorporating Western-inspired pieces into their collections and personal wardrobes. It's not uncommon to see celebrities rocking cowboy boots or flaunting Western accessories on red carpets and social media platforms. 
Moreover, Western wear is becoming a staple in festival fashion. Whether it's Coachella or Stagecoach, music festivals nowadays are a playground for Western outfits. The combination of denim cutoffs, flowy blouses, cowboy hats, and fringe accents creates a bohemian yet adventurous vibe that perfectly complements the festival atmosphere. 
The versatility of these clothes also contributes to their ongoing popularity. You can dress them up or down, making them suitable for a range of occasions. Pairing a flannel shirt with jeans and boots creates a casual and effortlessly cool look while accessorizing with a leather belt or a statement buckle adds a touch of Western flair to any outfit. 
Designers infuse contemporary trends and innovative materials into Western designs, giving the style a fresh and updated feel. This fusion of classic and modern elements keeps Western wear relevant and appealing to fashion-forward individuals. 
Thomas Cook apparel will have you look always in style, whether you're a true cowboy or cowgirl, a fashionista looking for a unique look, or someone who enjoys the rough charm of Western culture. So go ahead and sport that Western outfit with confidence while channelling your inner cowboy or cowgirl!
For latest fashion ideas keep visiting Travel World Fashion.