5 National Parks in Illinois to Visit in 2023
Do you want to see some of Illinois's beautiful and famous national parks? You're in the right spot.
Illinois stands out because of its beautiful nature and amazing historical places.
These National Parks in Illinois have amazing historical sites, amazing statues, beautiful parks, famous trails, and much more.
Read on to learn about some of the most interesting national treasures in Illinois.
When you look at these national parks, it's easy to see why Illinois is one of the most popular places to visit in the Midwest. Illinois, which is also called the "Land of Lincoln," has a lot to see and do.
What is a National Park, then?
In the United States, the National Park Service, which is part of the Department of the Interior, is in charge of running national parks.
List of the top five national parks in Illinois:
1. Mormon Pioneer National Historic Trail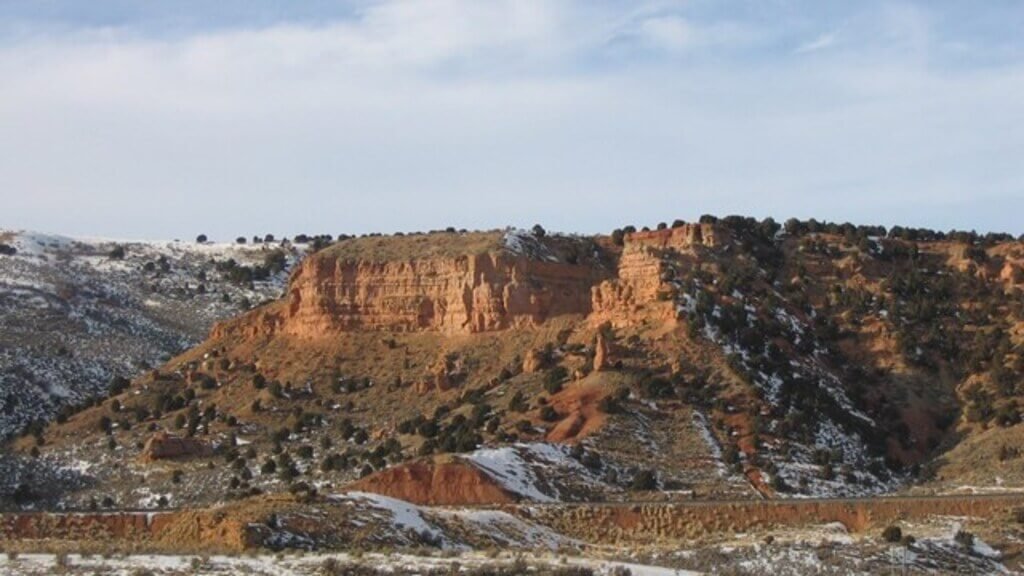 The Mormon Pioneer Trail is another national historic trail in Illinois. It tells the story of how Mormons came to live in the United States.
In 1827, the Mormon Pioneer Trail began in Nauvoo, Illinois. It went through Iowa on its way to Great Salt Lake, Utah, where it ended.
Between 1846 and 1869, more than 70,000 Mormons travelled west on this path.
Joseph Smith was the first person in the Mormon story. He was the one who found the famous set of golden plates. These plates were important to the Mormon church because they had messages on them about God's church.
In 1830, when the Book of Mormon was made, it was made from these plates.
Smith started getting more and more followers, and in the end, he chose to move the Mormon church to Illinois.
Smith's ideas and views, on the other hand, started to get him into trouble after he moved to Illinois.
In 1844, a mob broke into the jail where he was being held and killed him.
Brigham Young, who took over after him, saw that staying where they were was dangerous, so he started a big move to Utah.
Starting on March 1, 1846, about 500 Mormon waggons and 14,000 Mormons went 1,300 miles across Iowa's prairie to the Missouri River.
This path came to be called the Mormon Trail.
You can go to the Nauvoo National Historic Landmark while you are in Illinois.
In Nauvoo, if you go to Parley Street, you'll find the boat launch for the Mississippi River.
After they were forced to leave Nauvoo in 1846, the emigrants took the ferry across the river at this dock.
2. Pullman National Monument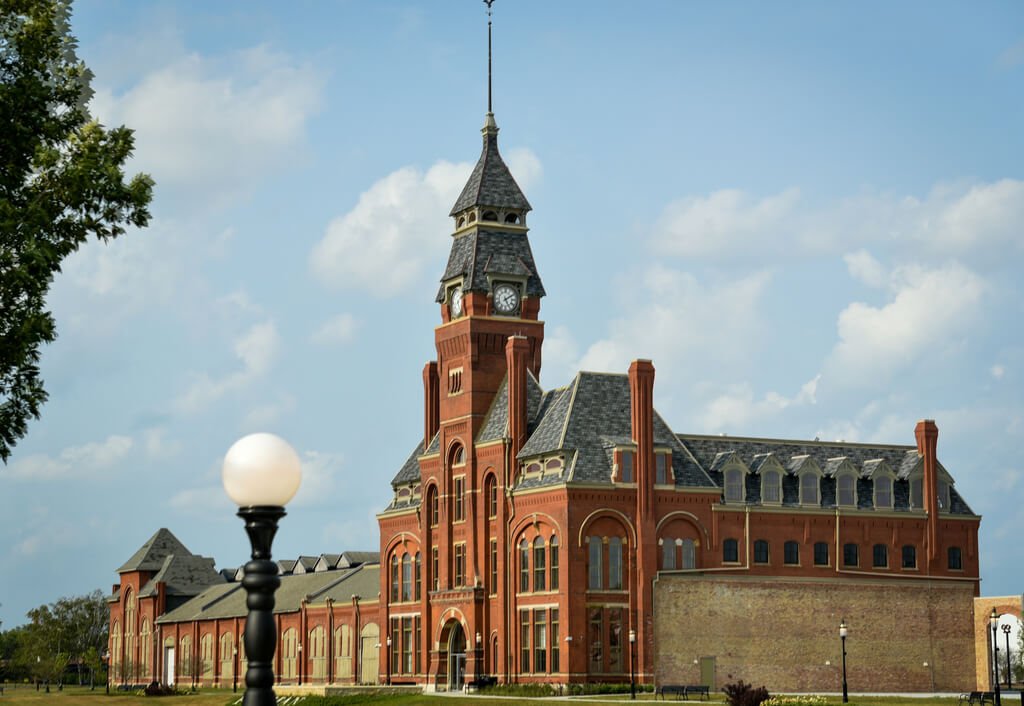 Pullman Park is a 1.02-acre place to play that is tucked away in the Pullman neighbourhood.
The town's founder, George M. Pullman, gave this park to the town of Pullman.
Here, you can take a break on one of the park benches that are scattered across the open green area.
Pullman Park is the best place to go in Chicago if you want to enjoy the beauty of nature.
One of the National Parks in Illinois remembers an important part of the past of work in the United States. The Pullman National Monument is what this is.
This community had a big impact on American history because it was the first model for a planned industrial town in the United States.
This town was built in the 1880s, and one of its best features is that everything is close enough to walk to.
Today, this design makes the memorial a great place to visit for a day trip to Chicago, where you can walk around the whole thing.
Things to Do in Pullman National Monument
When you go to the Pullman National Historic Site, you can learn a lot about the past.
You should plan to spend at least a half-day at the place so you can do everything it has to offer.
Check out the area around the Administration Clock Tower.
The Administration Clock Tower is a good place to start your own walk of the neighbourhood.
Here, you can look at displays that give you an overview of the area's past.
The National A. Philip Randolph Pullman Porter Museum is a good place to go.
In the Pullman National Historic District, there are a lot of museums.
The National A. Philip Randolph Pullman Porter Museum is a good place to go.
Here, you'll learn about the struggles African Americans at the Pullman Company went through to get a voice and rights in the community. You'll also learn about A. Philip Randolph, who was the leader of the Brotherhood of Sleeping Car Porters, the group that fought for these things.
3. Lewis and Clark National Historic Trail
There are some really great National Parks in Illinois. One of them is a famous trail that honours the adventures of two famous travellers.
The Lewis and Clark National famous Trail follows the famous routes that the Lewis and Clark Expedition took when they left and when they came back. As a former history teacher, thinking about the Corps of Discovery and their amazing journey gives me goosebumps.
In honour of the Lewis and Clark Expedition (1804–1806), the Lewis and Clark Trail links 16 states: Pennsylvania, Ohio, West Virginia, Kentucky, Indiana, Illinois, Missouri, Kansas, Nebraska, Iowa, South Dakota, North Dakota, Montana, Idaho, Washington, and Oregon.
The National Park Service is in charge of taking care of the trail. It's not a hiking trail, but there are places along the way where you can go camping, boating, or horseback riding.
It's a great chance to see the USA and learn about the brave guys (and one woman) who didn't have an air-conditioned SUV to make the trip.
Things to do at Lewis & Clark National Historic Trail
The St. Nicholas Landmark is on the opposite side of the river from where the Mississippi and Kaskaskia rivers meet. On November 27, 1803, Meriwether Lewis, William Clark, and the rest of their group camped there.
You can learn a lot about the French impact in America by visiting Fort de Chartres.
Piney Creek Ravine is a 198-acre nature park that has been set aside so that many people can enjoy its beautiful scenery. When Lewis and Clark went through Illinois, it was a wild place with lots of trees.
The Lewis & Clark Bicycle Trail is made up of paved roads, bike paths, and unpaved rail-trails, as well as a few short stretches of gravel roads.
You can learn a lot about the Corps of Discovery and get a great view of the river at the Chester Welcome Centre. (From the NPS)
4. Trail of Tears National Historic Trail
In the National Trails System, there are 30 national trails that have been named by Congress.
Many of these trails are less than an hour's drive from most cities, and they are spread out all over the country.
The road of Tears is a national historic road that shows us how Native Americans lived and what they went through.
The trail has been around since 1830, when the Indian Removal Act was passed by Congress.
President Andrew Jackson signed a law that made it possible for "Indians living in any of the states or territories to trade lands and move west of the Mississippi."
In short, white Americans told original Americans to give up their own land and move thousands of miles away from their homes and original lands.
This act let the tribes trade their more attractive lands for land on the undeveloped western prairies.
This was especially true in the southeast, where many Native Americans lived before they were moved.
The U.S. Army moved into tribe land and forced 16,000 Cherokee Indians to leave their homes in Georgia, North Carolina, Alabama, and Tennessee.
If you know anything about America's landscape, you know that Georgia is a long way from Illinois.
The Cherokee people had to walk more than 5,043 miles (8,115 km) to get to their new land. The Trail of Tears National Historic Trail is still a national park service place in Illinois because of this.
Today, the Trail of Tears goes through Oklahoma, Arkansas, Mississippi, Alabama, Georgia, Tennessee, Kentucky, Illinois, and Missouri. It goes through these states in a number of different ways.
Native Americans were forced to leave their home lands, which was bad enough. But the paths to their new homes were also dangerous.
On their way to what is now Oklahoma, about 4,000 Cherokee people died.
Most of the people who died were old, young, or sick, because the conditions were so bad.
Because of the harsh winter, people either went hungry or died.
Many scholars think that you can't fully understand American history without knowing about the terrible events of the Trail of Tears.
In 1830, people would have walked along this dangerous road barefoot, but today you can hop on the trail and explore with hiking boots, a horse, a bike, or even a car.
Part of the route that goes through Illinois is a 69 km (43 mile) walk along the Golconda-Cape Girardeau Trace from the Ohio River to the Mississippi River just west of Ware in modern-day Illinois.
Things to do at Trail of Tears National Historic Trail
Many people who died on the way are buried in the Campground Cemetery, which is just outside of Anna in southern Illinois.
You can also go to the riverfront of the Golconda. About 9,000 Cherokees crossed the Ohio River here.
5. Lincoln Home National Historic Site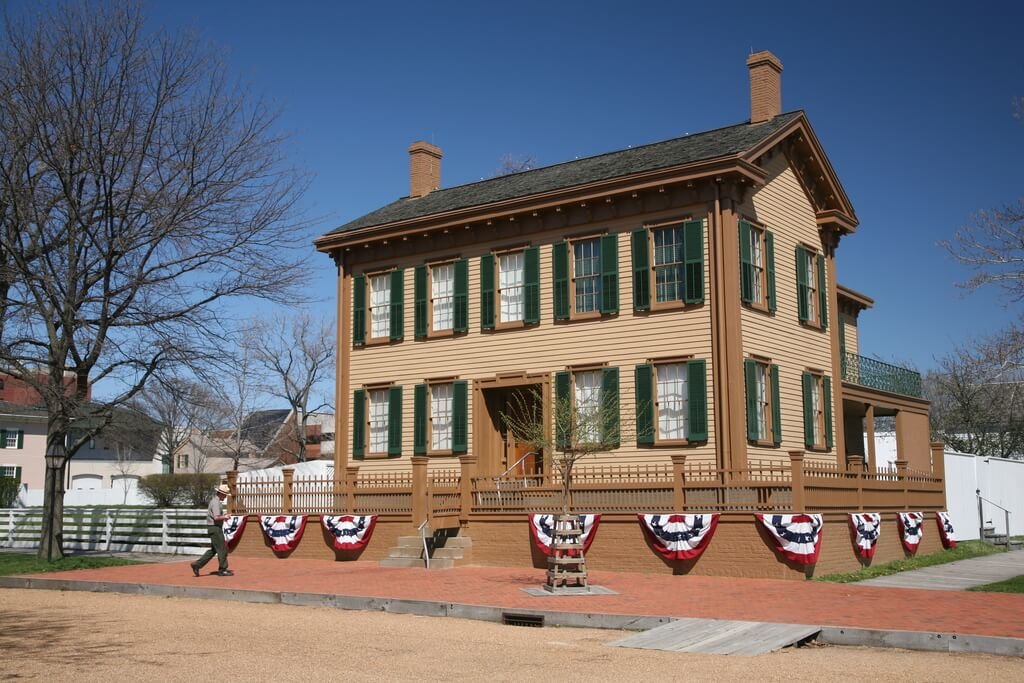 The Lincoln Home National Historic Site is in the middle of Springfield, Illinois. It is made up of the house where Abraham Lincoln raised his family before he became the 16th President of the United States.
Abraham Lincoln only ever lived in this one house. Abraham Lincoln and his wife Mary Todd had four kids. Three of them were born in this house.
It was named a National Historic Landmark for the first time on December 19, 1960. In 1972, it became a national historic site.
More than a dozen historic houses, including the Lincoln House, are spread out over four blocks.
Things to do at At Lincoln Home National Historic Site
At the Lincoln Home Historic Site in Springfield, Illinois, you can learn about almost 200 years of history.
You can do a lot of different things and have a lot of different adventures in the many historic buildings that surround the Lincoln Home.
Plan to spend at least 2 hours at the Lincoln Home Historic Site so you can see everything it has to offer.
Watch a show about the life of Lincoln.
While you're in the Visitor Centre reserving tickets for the tour, you can go into the movie theatre to see a short film about the life of Abraham Lincoln and his family in Springfield, IL, and get a quick look at the famous home.
Two 20- to 25-minute pictures are shown every other day.
Check out the rest of the area.
Plan to spend some time in the neighbourhood where the Lincoln Home is while you are there.
Within a four-block radius of the house, you can find a lot of self-guided tours and displays.
Through the Dean House show and the Arnold House exhibit, you can learn about the history of the area.
The National Underground Railroad Network to Freedom spot, which is in the Jameson Jenkins lot, is a must-see while you are there.
How Many National Parks Are There in Illinois?
Even though Illinois doesn't have any official national parks, the National Parks Service runs two places that are owned by the federal government.
The Lincoln Home National Historic Site is one of these places. This is where Abraham Lincoln lived before he became the 16th President of the United States. It is in Springfield, Illinois.
The other is the Pullman National Monument, which is a National Historic Landmark and is part of Chicago's first planned industrial town.
In addition to these historic places, the Land of Lincoln is also home to three beautiful National Historic Trails.
Some of these are the Lewis and Clark National Historic Trail, the Mormon Pioneer National Historic Trail, and the Trail of Tears National Historic Trail.
We will talk about all of these well-known sites in more detail below.
Illinois doesn't have any national parks, but it does have a lot of great State Parks that are worth visiting.
Starved Rock State Park is one of the best state parks in Illinois. It's also a great place to bring your dog to play. Pere Marquette State Park is another popular state park in Illinois. It is the biggest state park in the state. Click here for a review of the best state parks close to Chicago.
Conclusion
Even though Illinois doesn't have any official national parks, there is still a lot of history and wildlife to discover.