29 Best Ghost Towns in California | 2023 Updated List
We've put together a list of the best ghost towns in California for people who like reading about the old gold rush.
If you like ghost towns, California is a great place to visit. Because of the past of the gold rush in the area, there are a lot of ghost towns in the Golden State.
During the 1800s, towns would pop up out of nowhere and stay that way for a few years before dying out again. The hot, dry weather in California has helped keep many of these towns in great shape, and some of them still have historical parts from when they were mine towns. Since there are so many to choose from, it would be hard to see them all. So, here is a list of the 20 best ghost towns in California to get you started on your journey.
California Has 20 Haunted Towns
1. Silver City Ghost Town
The Silver City Ghost Town is a well-preserved old west town that lets you see how a typical Californian lived in the 1800s.
The homes and buildings are full of the things they would have had when the town was alive, and some of them are shops where you can buy goods and things to remember the town by.
Those who want to see everything Silver City has to offer can take a guided walk.
Silver City Ghost Town is at 3829 Lake Isabella Boulevard, Bodfish, CA 93205.
2. Bodie Ghost Town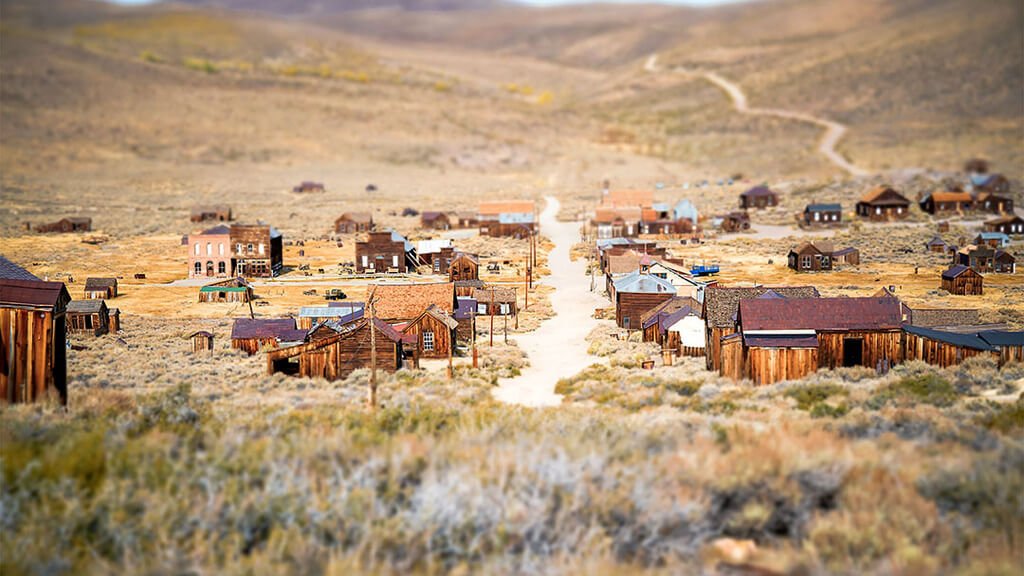 Bodie is without a doubt one of the best California ghost towns. Even though it's not being renovated in a specific way, it's been kept in good shape and is protected as a state historic park. In 1859, Waterman S. Body, a miner from the area, gave the town of Bodie its name. Twenty years later, 9000 more hopefuls came to the area. They dug up over 10,000 pounds of gold ore from the 30 gold mines on the mountain. By 1882, the town's growth was beginning to slow down. Then the terrible fires of 1892 and 1932 put an end to Bodie.
3. Shasta State Historic Park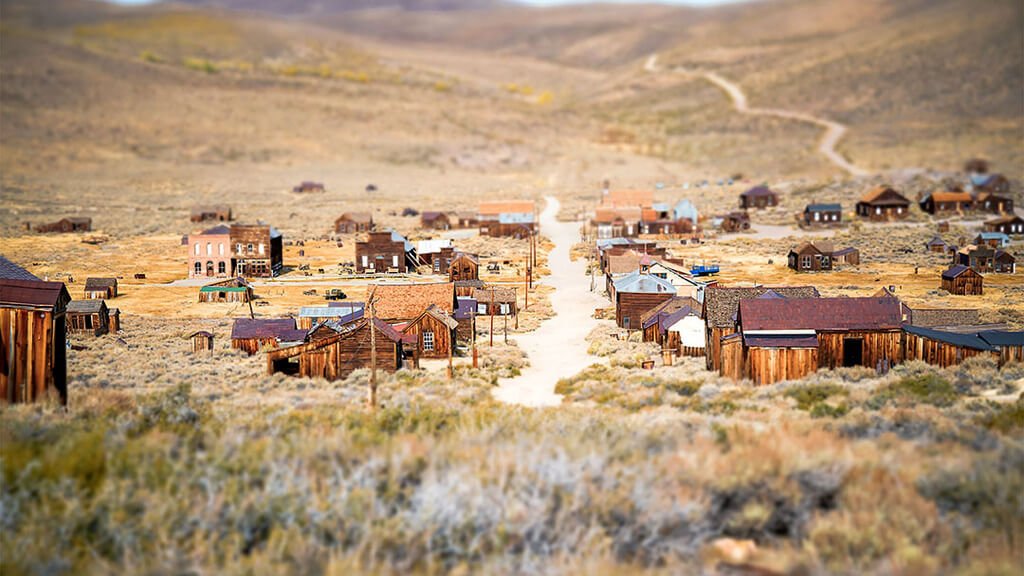 In the 1850s, Old Shasta was the most important city in the northern mining area of California. In the longest row of brick buildings north of San Francisco, the town had hotels, shops, and saloons. But when the Gold Rush on the rivers in the north of the state lost its shine and the train was rerouted through the town of Poverty Flats (now Redding), the people of Old Shasta left for better places, and the town faded into history.
At Shasta State Historic Park on Highway 299 west of Redding, you can see the ruins of a city that are falling apart. Don't miss the jail cells and gallows in the beautifully renovated County Courthouse from 1861. The building is now a museum where you can see a collection of Old West guns and mining items and learn about the town's interesting past.
4. Calico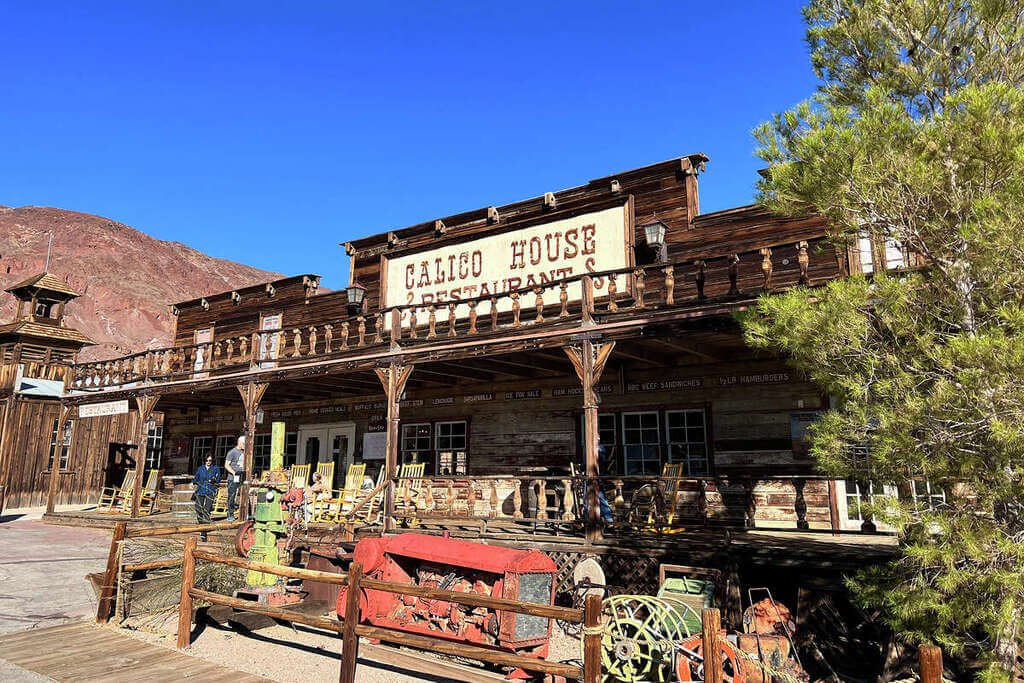 Calico is a great place for people and children to visit and look around. The place is right next to the well-known Route 66. The first people who lived in this old mining town in the woods did so to get silver ore. When the price of silver dropped in the 1890s, though, its people left.
Back in the 1950s, Walter Knott bought this town. He moved a lot of the buildings to his private site in the Eastern United States. The houses that stayed were fixed up so that they looked like they did in the 1880s. Even though it is a ghost town, the owners have turned it into a big tourist attraction with a lot of amenities.
People often go to this town to look at its old houses. The mine that used to draw so many people is now open for trips.
You can also go back in time by going to the jail, the blacksmith's shop, or the town hall. You can relax with a drink at the bar, just like the people who used to live there did, and you can buy something to remember your trip at the gift shop.
5. Ballarat
Ballarat is the best ghost town in Southern California, though it is not as big as some others. Ballarat is a ghost town in the California county of Inyo.
Around 1900, the number of people living in Ballarat town started to rise, and the town finally got a post office, a school, three hotels, and a number of saloons.
Back in the day, there were more than 500 people living in Ballarat. People knew about Ballarat town because of the prospector Seldom Seen Slim, who was also known as Charles Ferge.
Seldom Seen Slim has lived and worked in Ballarat, California, for more than 50 years. He is also buried here; you can still find his grave in Ballarat ghost town.
Another prospector named himself Shorty Harris and lived in Ballarat. In Ballarat, he also took his last breath.
After 1960, nobody lived in Ballarat anymore. Even now, you can still find old tools used to mine for gold.
Rock Novak, who is 61 years old, lives in Ballarat ghost town. He says he is in charge of taking care of the town. He owns a store where you can buy soda and beer.
6. Manzanar National Historic Site
Manzanar National Historic Site isn't like most dead towns in California because it has nothing to do with the gold rush.
During World War II, the U.S. government put more than 100,000 Japanese refugees and Americans of Japanese descent in camps across the country. One of the camps was Manzanar National Historic Site.
During the war, up to 10,000 people were forced to live at Manzanar in long barracks with a dining hall and a community house.
Residents were mostly free to move around the property, but armed guards walked around the whole outside.
I've been to Manzanar National Historic Site, and it's a great place to stop. The old community hall has been turned into a visitor center by the park guards.
The informational screens do a great job of remembering this terrible time in American history.
You can also walk through some of the old homes, visit the cemetery, or drive around the self-guided loop.
7. The Golden Cactus Ghost Town & Museum
The Golden Cactus Ghost Town is a small town that has been kept in great shape. It has a fully restored general store that is still open for business.
It's run by nice people who are happy to talk to you and try to answer any questions you have.
A small museum tells a bit about the town's history and shows some of its artifacts. It's a great place to stop on your journey to learn about history and have a drink.
The Golden Cactus Ghost Town and Museum is at 10325–10599 Sterling Road, Pearsonville, 93527.
8. Malakoff Diggins State Historic Park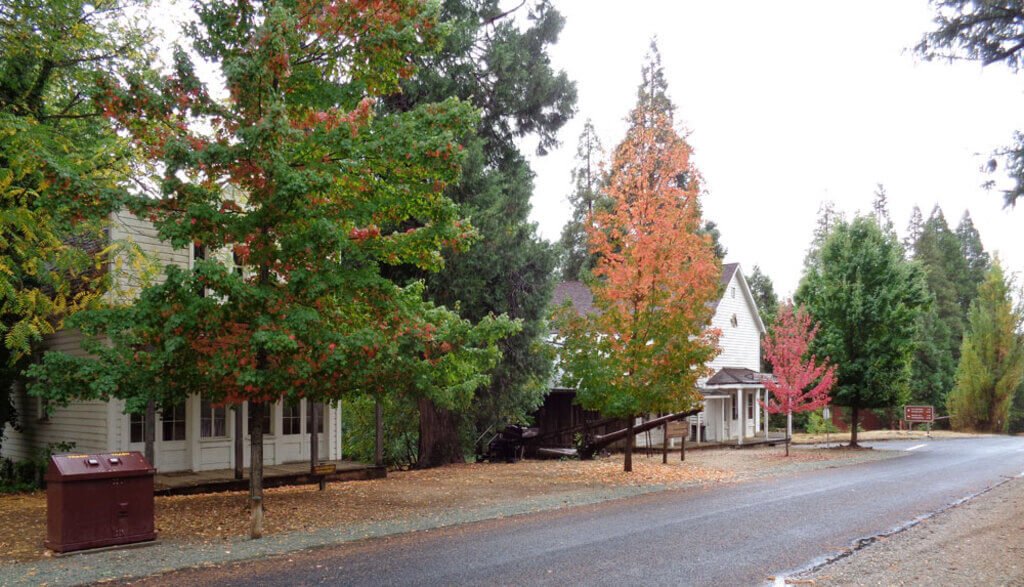 Malakoff Diggins is one of the most well-known ghost towns in California. It has the biggest hydraulic mine in the state. It is a 3,000-acre park that includes the town of North Bloomfield and the Diggins site. In 1884, the area's mining led to the first environmental case in the United States. The court's decision made hydraulic mining illegal, so Malakoff Diggin had to close its mines.
9. Empire Mine State Historic Park
Empire Mine State Historic Park in Grass Valley is a great place to see and do a lot of interesting things. Learn about one of California's oldest, biggest, deepest, longest, and richest gold mines at the tourist center. 5.6 million ounces of gold were dug over the course of 100 years. To get an idea of how big the mine is, you can look at the scale model of the mine's five-square-mile network and then walk outside to the opening of the real shaft, which gives you a small look into a 367-mile underground maze.
Take a tour of Bourn Cottage, a beautiful country estate where no cost was spared to build a two-story stone citadel modeled after the noble estates of 19th-century England, complete with redwood interiors and leaded-glass windows, to change gears mentally and physically.
10. Cerro Gordo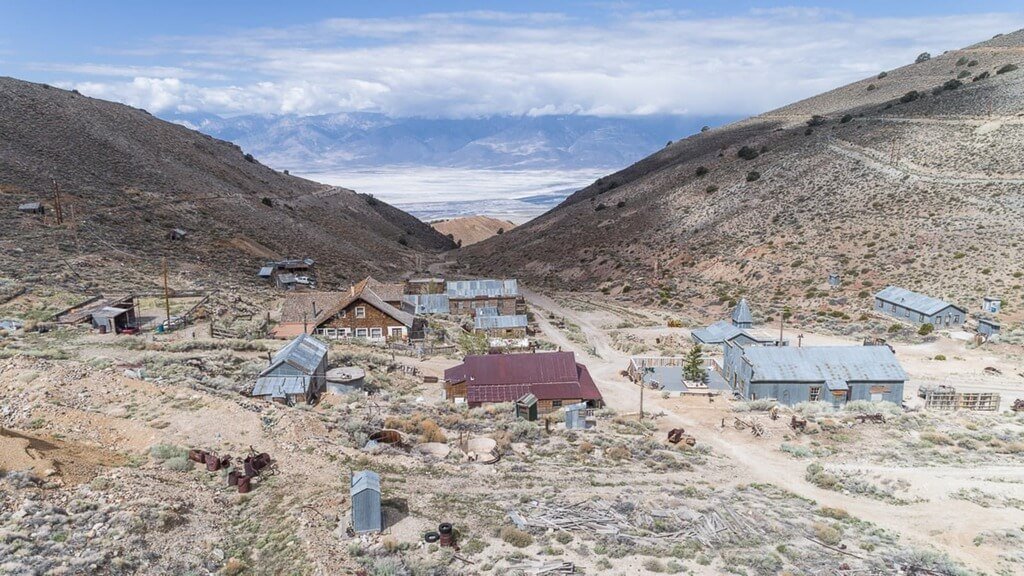 This town is different from the other dead towns in California because it has not been fixed up for tourists nor has it been left to die. Right now, people are putting the town back together. The town is owned by private people, and their website lets you book a tour. The name comes from the Spanish word for "fat hill," which makes sense since there was so much silver in the area when it was at its best.
This is a town north of Death Valley National Park where silver is mined. It helped make Los Angeles's business what it is today. Unfortunately, the mines ran out, just like in other mining towns of the time.
This town is a great place to visit if you want to see a dead town that is being fixed up. There are many buildings and people in the town who can teach you about its past. The gift shop even has things you can take home with you.
11. Keeler, CA
Keeler ghost town, which used to be called Hawley, is another almost-dead town in California. About 60 people still live there.
The close Cerro Gordo mine led to the growth of Keeler, and the town's success was tied to both the mine and Owens Lake. Both the mine and the lake have seen better days, but that's too bad.
Owens Lake used to cover 100 square miles, but it has shrunk a lot since the main river that fed it was moved to give water to Los Angeles.
At its peak, there were about 2,500 people living in Keeler. It was the southern end of the Carson and Colorado Railroad, and the old train station is now a famous place to visit.
Keeler also had a busy public pool that has since been emptied and left empty.
The Cerro Gordo tramway was built to move ore from the Cerro Gordo mines. It is one of the most interesting things about the dead town of Keeler. The trolley breaks off in the air in a way that is almost dramatic.
12. Robbers Roost Ranch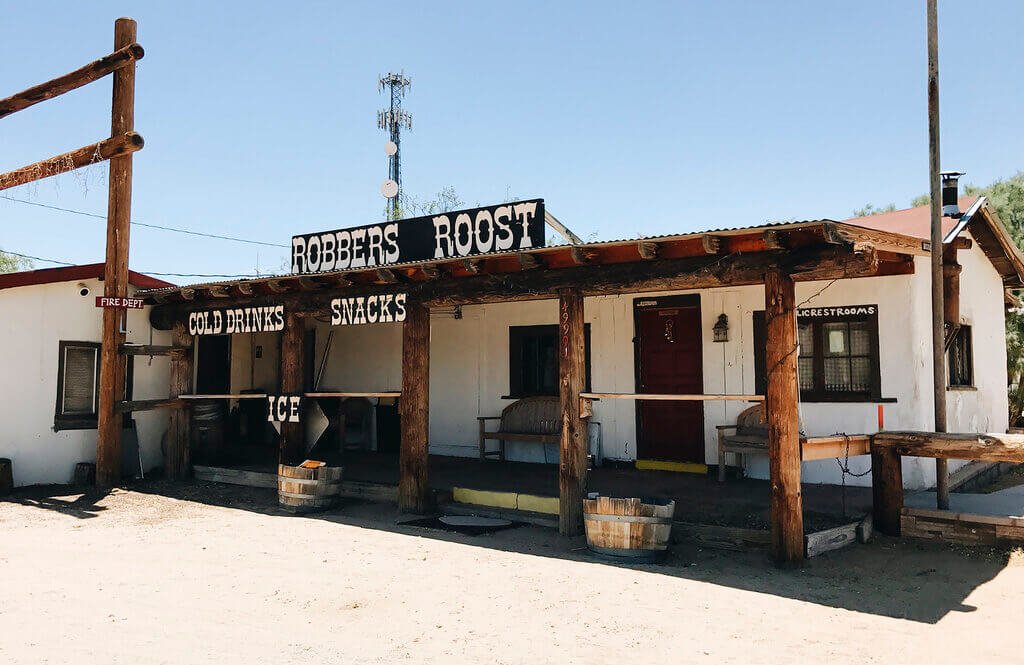 The Robbers Roost Ranch ghost town is made up of a small group of old buildings, artifacts, and signs that tell visitors a little bit about the area's past.
Robbers Roost Ranch is a place where you can visit a ghost town as part of a longer trip through the California countryside. It has a mini-mart, cabins, ATV trails, and beautiful places to take pictures.
The address for Robbers Roost Ranch is 49901 CA-14, Inyokern, CA 93527.
13. Darwin
Darwin is another 'almost' ghost town in California. The town is named after a prospector named Darwin French who came to the area in 1850. Also named after him are the nearby canyon and falls. In 1874, when lead and silver were mined in the area, the first people moved to Darwin. Because of the Eichbaum Toll Road, the town was able to keep running. When Death Valley became a national park in 1933, the town was cut off from the rest of the country. When they made a way to get into the park, the new road went around Darwin, which was bad for the town's future. There are still about 40 people living in Darwin, and they are a bit wary of visitors, so please respect the private land.
14. Randsburg
In the 1890s, gold, silver, and tungsten were found in the high-desert hills near Randsburg. This was when the town was at its best. In 1899, there were more than 3,500 people living there, but now there are only about 70. This small town is south of Ridgecrest and is a lively stop in the middle of the empty Mojave Desert.
Order a root beer float from the soda machine in the General Store, which was built in 1904, and look at the embossed tin ceiling. Stop by the Rand Desert Museum to look at the mining equipment. A few antique shops might or might not be open, but The Joint, a family-owned saloon that has been around since 1955, is a safe bet for a cold beer served with a real dose of Old West style.
15. The city of Panamint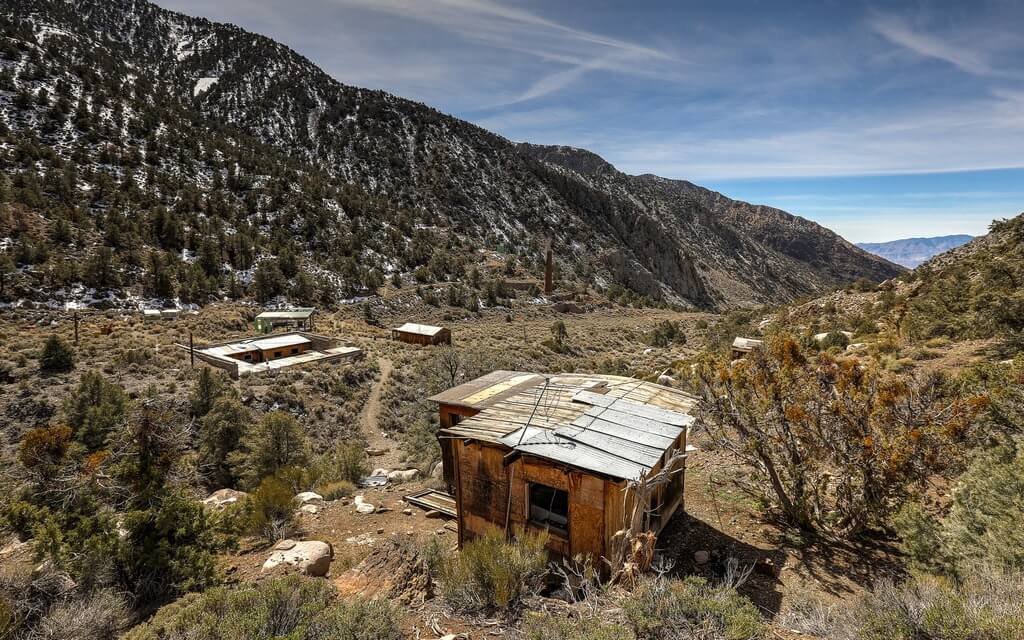 Death Valley National Park is where this town is. In this area, outlaws found metal, and the senator at the time put money into this business. From 1873 to 1875, 2,000 people worked here in the silver mines. During the California Gold Rush, laws did not do much to control this town, which was true of many places.
In 1876, a flash flood hurt a lot of the town, and people left. At the moment, the only way to get to this abandoned town is to walk about 7.5 miles. This quiet place is very far from where most people go and can't be reached by built roads.
People who have been there have said that it feels creepy. When you get there, you'll see what's left of Main Street, which used to have a red-light area and many saloons.
16. Leadfield Ghost Town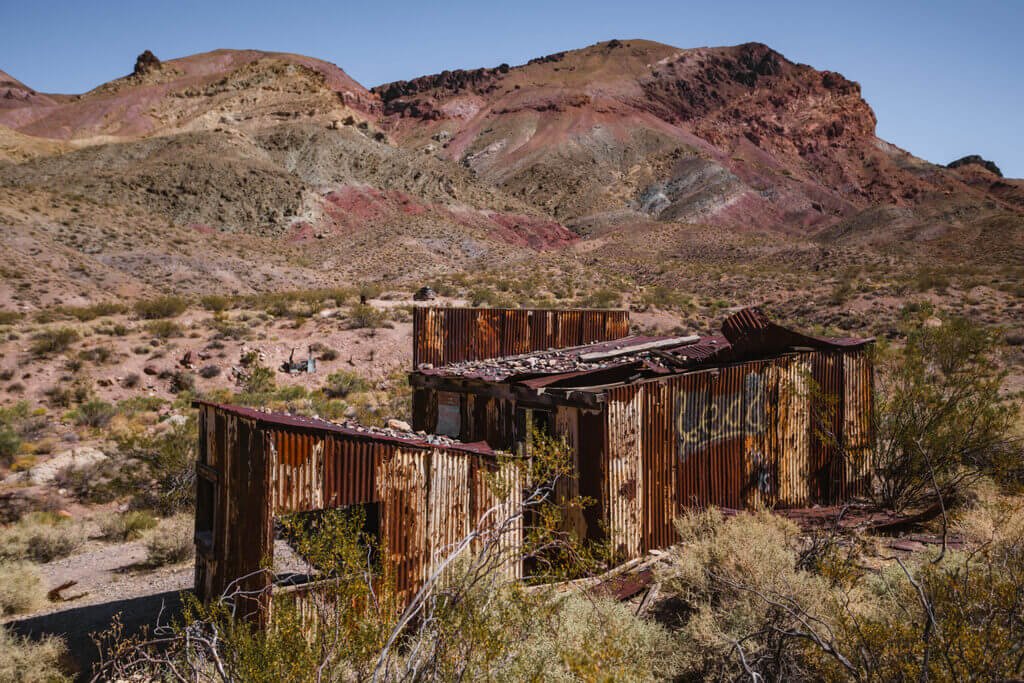 Leadfield Ghost Town is another of my favorite ghost towns in Southern California. It is close to Death Valley National Park, which is a popular place to visit in California.
Before 1900, miners set up towns to mine lead and copper, but they couldn't just mine because it was too expensive to get their goods to market.
Charles C. Julian, a businessman, saw the possibility for mining in Leadfield town in 1926. But his business went bankrupt in the end.
When the post office closed in February 1927, Leadfield became a ghost town.
At Leadfield Ghost Town, you'll hear nothing and feel like you're on the edge of your seat.
There are a number of mines you can get into. When you watch Mine, you'll think about the past of old mining.
The area around Leadfield Ghost Town is big, so you'll need a lot of time to look around.
17. Rhyolite, Nevada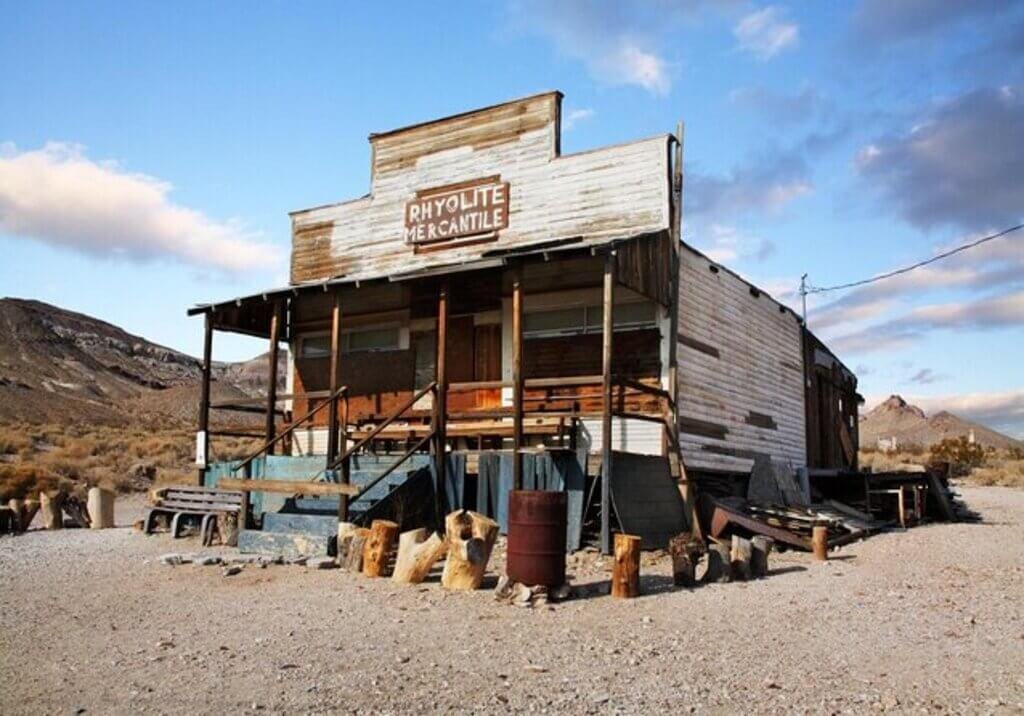 It was one of the most important mining towns of its time and is right on the border with California.
Also, it's a cool place to stop if you're driving from Las Vegas. I just drove through Beatty, Nevada, and I wish I had known to stop in Rhyolite! It's a beautiful but empty place.
Rhyolite was at its best from 1905 to 1911. It had 50 saloons, 19 hotels, 2 churches, a stock exchange, and even an opera house.
The Bottle House, which is made of beer bottles given by the 50 saloons in town, is one of the most well-known original buildings in the town.
The Goldwell Museum, which has outdoor modern art installations, is another famous place to visit near this ghost town.
18. Bombay Beach Ruins
Bombay Beach was a popular beach resort for many years, but when its environment started to dry up in the 1980s, it was no longer used.
Bombay Beach is different from most ghost towns because it is mostly made up of abandoned trailers instead of houses.
This has also led to a lot of artists going to Bombay Beach and using it as a place to make some of the most colorful street art you've ever seen.
The Bombay Beach Biennale art festival is held there every year because this part of the California ghost town is so famous.
Bombay Beach is at 9576 Avenue G, Niland, 92257.
19. Barstow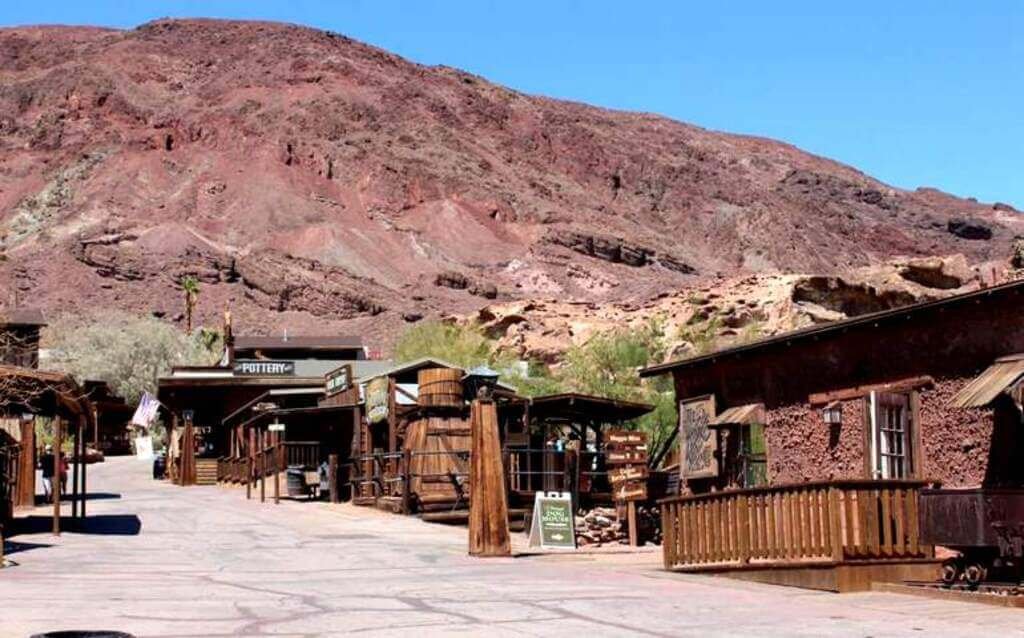 This dusty town in the middle of nowhere is where you can find some of the best relics from when people moved west. There are also some good discount stores. The Route 66 Mother Road Museum, which has a lot of weird stuff from the area, is the first stop. Road signs, pictures, and other oddities from the 1950s and 1960s take you back in time to when pioneers were looking for the California dream.
Just west of Barstow is the strange but strangely beautiful Elmer Long's Bottle Tree Ranch, which is the work of a local artist. It is made up of welded metal "trees" that are decorated with old bottles, toys, and other scraps. It's a bright example of the region's folk art culture, which is still going strong.
Visit the California Welcome Center in the Outlets at Barstow for more ideas on what to do in the area. There, you can also look for deals on popular brands like Calvin Klein, Skechers, and Michael Kors.
20. The Red Mountain
People also call this place Red Mountain Mining Town. Red Mountain used to be called Osdick.
In the early 1920s, the Osdick family made this area a village. Red Mountain had more than 400 people living there.
Red Mountain ghost town is in San Bernardino County, which is in the U.S. state of California.
This dead town is bigger than other ghost towns in Southern California, so it is different from them.
The abandoned school, church, and other buildings in the Red Mountain ghost town make it feel very spooky. When you walk into this town, you can feel a hundred different things.
Red Mountain ghost town is still home to more than a hundred people today. So, it's easy to talk to people there.
People still use the old gas station, general store, and other buildings in this dead town, which is an interesting fact.
Even at night, Red Mountain ghost town is pretty busy, and the people who live there put on a number of events every year.
21. The Gold Mine in Tropico
Tropico Gold Mine is a mine town from the early 1900s that has been left empty. Now, Tropico Gold Mine in Southern California is a dead town.
In 1894, a prospector named Ezra Hamilton started bringing people from all over the United States to this spot to mine for gold.
Around 1950, Tropico became one of California's most successful gold mines.
Tropico Gold Mine did not have a good name for a long time, which was a shame. People started to leave this place after 1950.
In the 1980s, the Tropico Gold Mine was finally shut down for good.
Tropico ghost town is surrounded by hills, which makes it more appealing to tourists.
Now, Tropico is privately owned, and this whole area is closed off by the owner. And no one is allowed to come in.
Tropico Gold Mine ghost town is a place where no one lives anymore, so you won't find any people here.
The Tropico Gold Mine ghost town was used in a number of Hollywood movies. This Tropico is a well-known ghost town in Southern California.
22. Colonel Allensworth State Historic Park
Allensworth was formed in 1908 by Colonel Allen Allensworth.
Allensworth was born into slavery, and his dream was to build a community that respected the "dignity of the human spirit." At the time, he had the highest rank of any African American in the military.
The old schoolhouse from 1912 was still being used until 1972. There was also a church and a library in the town.
Colonel Allensworth's death in 1914 and the water table going down made it hard for the town to grow. Still, some people lived there for a long time.
As Colonel Allensworth State Historic Park, the home of Colonel Allensworth and his wife Josephine has been kept the same as it was in 1912.
Every year, on the second Saturday in October, Colonel Allensworth State Historic Park holds a rededication ceremony to honor Allensworth's goals.
23. Goffs
Goffs is a classic dead town that hasn't been changed or fixed up in any way.
Here, you can look around some run-down buildings, like a diner, school, some houses, and a few old, broken-down buses.
You can now visit a newly opened museum to learn more about the town, and an active level crossing shows you how important the town was in the early days of the railroad.
119246 Goffs Road, Essex, 92332, is where Goffs is.
24. Drawbridge, CA
None of the other dead towns I've talked about on this list is falling apart as fast as Drawbridge.
Drawbridge is in south San Francisco Bay, near San Jose. In 1876, it was just one house on Station Island for the person who ran the drawbridge.
Over the next few decades, there were more people living there. By the 1880s, every weekend a thousand people came to see it. During Prohibition, people went shooting, fishing, and swimming. The town also had a few speakeasies.
At its peak, Drawbridge had about 90 buildings. By the 1930s, the town was sinking into the river because the water table had changed.
Today, people can't go to Drawbridge dead town because it's not safe.
You can watch the movie below or go to the Don Edwards National Wildlife Refuge to see what's left of the Environmental Education Center.
25. Gardner Field
Gardner Field used to be a US military base where pilots were trained during World War II. It was built in the 1940s.
When the war was over, most of the base was destroyed, and what was left was left to the weather.
All that is left are cement structures and pavements, which are mostly covered by sagebrush and sand.
But there is still enough left to give you an idea of how the base looked when it was in use.
Knowing that so many young men were trained here only to die a short time later gives the place an eerie feeling.
Gardner Field is in Maricopa, 93252.
26. Eagle Mountain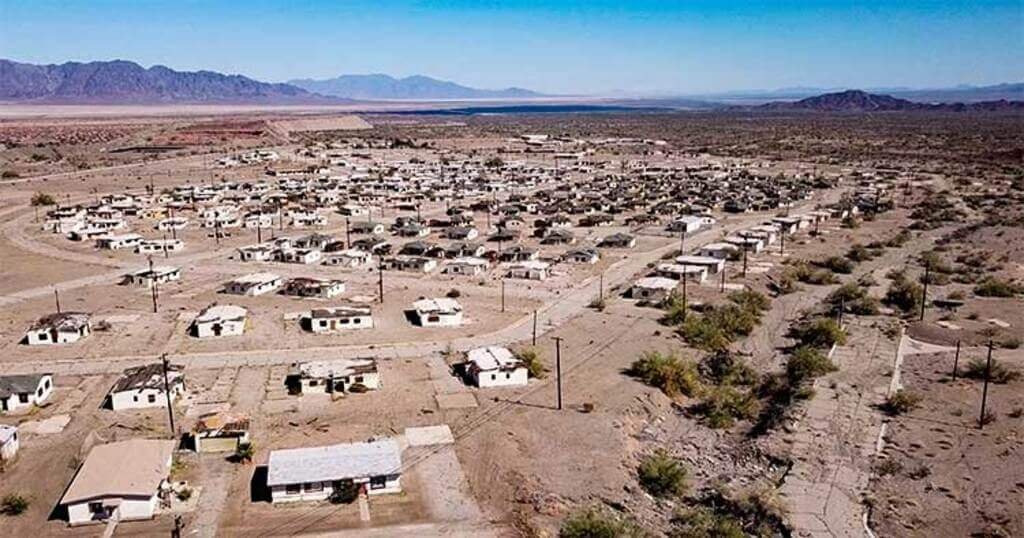 Since it's California's biggest dead town, I couldn't leave it out. Also, you can get a good idea of the place by watching the drone video at the end.
In 1948, Henry Kaiser opened the Eagle Mountain iron mine. It became the most important iron mine in Southern California very quickly.
Soon, they built a town with 400 homes to make it easier for the workers to live in this very remote area. Eagle Mountain is at the "butt end" of Joshua Tree National Park, so you could say it's in the middle of nowhere.
At its peak, there were 4,000 people living in Eagle Mountain. The town had a shopping area, a gas station, a post office, and a school.
In the 1980s, there was no more iron mine, and the town went the same way. Around the town today, there is a fence, but the school is still in use.
This movie shows the ghost town in a great way. It adds to the wonder of the city, but the simple truth is that Eagle Mountain was left empty because the mine dried up.
27. Masonic Mining Camp and Chemung Mine
The Masonic Mining Camp and Chemung Mine are made up of a small mining house and a faraway mine.
The house gives you an idea of how isolated this kind of mining would have been, but what's left of the mine itself isn't much and isn't in very good shape.
But when you add the nearby Chemung Mine, which has lasted a lot longer, the area is a great place for people who want to learn about the California Gold Rush.
Chemung The one I have is in Bridgeport, 93517.
28. Old Chinese Camp Town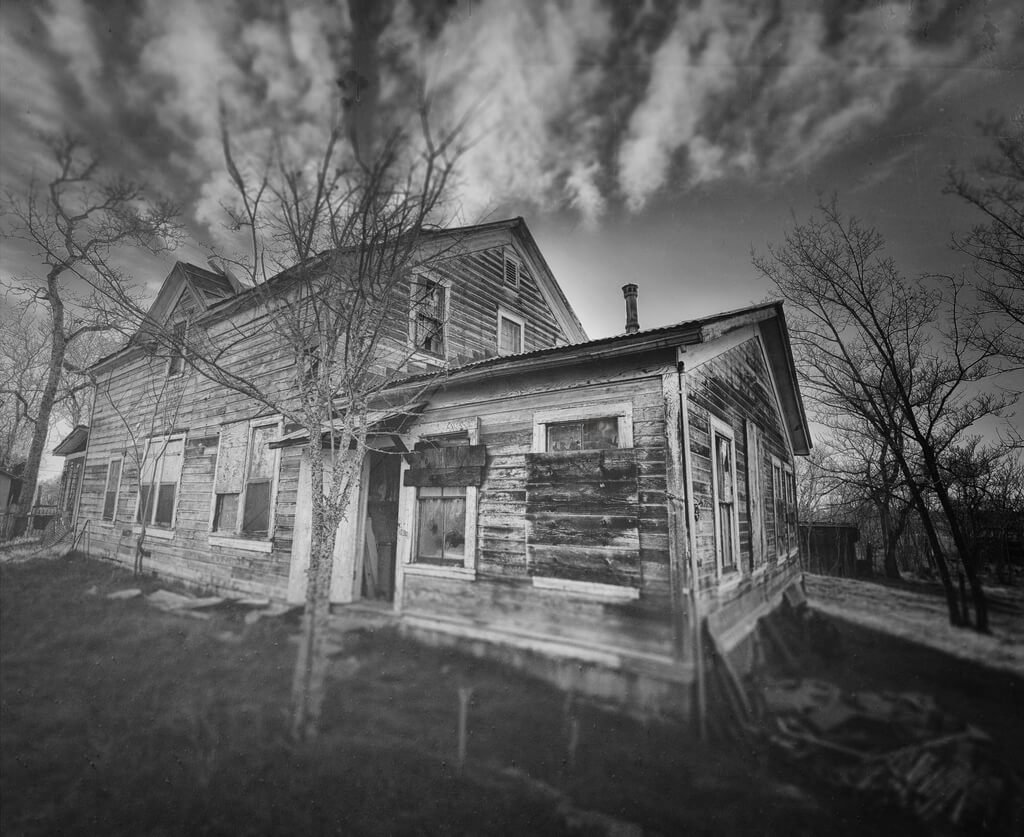 Some people might not think of the Old Chinese Camp Town as a real Ghost Town because some people still live there.
But fans of dead towns will find plenty of the usual things to do, so it is worth including.
The ruins of a mining town from the 1850s let you look around one of the older towns in the area, and plaques tell you about the town's past.
The church and graveyard, which look like they came straight out of a western, are the town's crowning glory.
A cute little shop where you can buy drinks is also a nice touch.
Old Chinese Camp Town is at Chinese Camp, 95309, 10001–10015 Main Street.
29. Canon City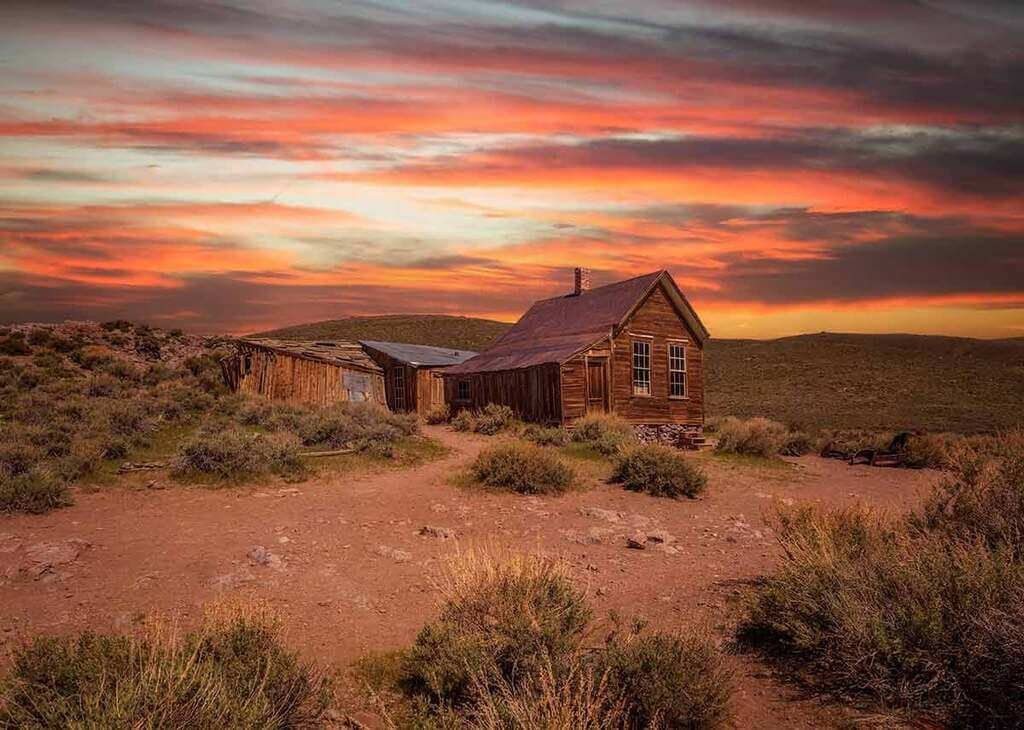 Canon City was founded in 1851, and it quickly grew into a busy town with shops, saloons, hotels, a blacksmith, a school, a post office, and two sawmills.
Forty years later, in 1891, gold was found just upstream, and the town was abandoned just as quickly as it had been built.
Some of the old buildings and some of the canons, which gave the city its name, are still there.
It is a famous ghost town in Northern California. There are historical markers that tell you a little bit about the town's past.
Canon City is in Junction City at 8690 Canyon Creek Road, 96048.
Read Also:
9 Strange Staircases in the Woods | Spooky and Random Stairs
Most Haunted Castles in the World That are Spooky as Hell
17 Indiana Haunted Places | Spooky As Hell
Top 20 Best Ghost Towns in Arizona 2023