21 Fun Things to Do in Wichita Falls, Texas
Wichita Falls used to be known as a center for agriculture, but now it is a busy city with a lot to do for tourists. Some of them are lush parks, interesting museums, and charming sites like the World's Littlest Skyscraper.
This is a great place to start a tour of the American panhandle when you include things like farmer's markets and historical walks that pay tribute to this agricultural powerhouse. So
21 Best Things To Do in Wichita Falls Texas
1. Go for a walk through the beautiful Wichita Bluff Nature Area
At Wichita Bluff Nature Area, you can go for long walks and enjoy a quiet afternoon. The Wichita Bluff Trail is a great place to walk with your family if you all like to try new things. With its paved walks and bike paths, this is a nice place to spend a day with your family. Don't forget to bring your own food and set up in the picnic spot under the trees.
If you are only in Wichita Falls for a short time and want to get some exercise in the morning, this is a great place to jog.
2. Castaway Cove Waterpark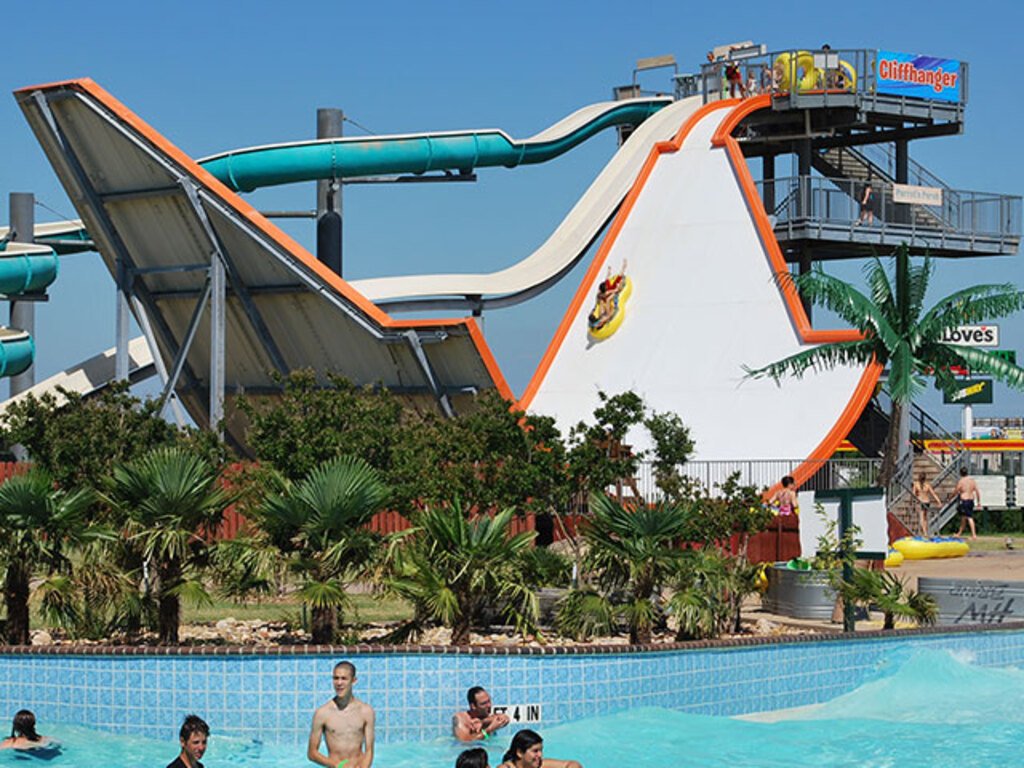 On a hot summer day, Castaway Cove Waterpark is the right place to take your kids. There are things to do for kids and adults of all kinds. It's one of the best water parks in Texas for a reason!
Nellie's Rolling River is a lazy river that runs between the other sites. It is fun for younger kids. Buccaneer Bay is a multi-level play system for little kids that has water guns, small slides, and a lot of other water features.
Adults and older kids will love the bigger water slides at Castaway Cove, like Pirates Plunge, which has a 37-foot free fall and can go up to 40 mph. Pirates Plunge has a 360-degree loop and a see-through bottom so that people can watch people slide down.
Shipwrecked Beach, a wave pool with geysers and entrance to the lazy river, and Hideaway Harbor are both fun places for the whole family to play. At Hideaway Harbor, bigger kids, teens, and adults can play water volleyball, and little kids can practice their coordination and confidence by crossing a rope.
When it's time for everyone to go inside, you can rent a swimming cabana at Castaway Cove.
You can do a lot of different things during the summer. Castaway Cove offers discounts for seniors and military members, as well as season passes for people and families. This makes it one of the best things to do with kids in Wichita Falls, especially if you have a big group.
3. World's Littlest Skyscraper
Every person who goes to Wichita Falls should go see the "World's Littlest Skyscraper."
In 1919, when the 480-foot skyscraper on 7th Street in downtown Wichita Falls was being built, buyers gave J.D. McMahon $800,000.
Investors who gave the building the go-ahead didn't notice that the specs were written in inches instead of feet.
After it was built, the building was only 480 inches tall, not 480 feet.
The owners who sued McMahon did not get any money back for the money they lost.
Since the investors had already agreed to the suggested changes, the judge sided with McMahon.
The name "World's Littlest Skyscraper" stuck after Ripley's Believe It or Not! called it that.
The four-story tower is on the list of historic places kept by the National Park Service.
4. Visit Depot Square Historic District
The Depot Square Historic District in Wichita Falls is made up of six blocks and has historical buildings, shops, and restaurants. The Old Kemp Grocery, which was built in 1892, and the Old Wichita Falls Route Building, which was built in 1909, are both old sites that you can visit.
A fun way to spend some time in the town is to walk around this area, look at the buildings, and check out the shops.
5. Kell House Museum
Some of the most important artifacts in the city are kept in the Kell House Museum, which is known for its beautiful design and interesting history.
It was built in 1896 and was home to the family of one of the city's leaders, Frank Kell, until about 1980.
The people of Wichita Falls were able to keep the building's original look and glory by turning it into a museum.
The museum has real antiques from the Kell family, as well as decorative arts, clothes from the past, rugs, and much more.
Stepping into this beautiful building is like going back in time to the Victorian era right away.
Frank Kell, one of the area's founding fathers, used to live in the house, which is now a museum and an important piece of history.
6. Lucy Park
Lucy Park is one of the best places to see the natural beauty of this part of the United States. It is in a bend of the powerful Wichita River.
In the park, there is a big duck pond with ducks and geese that live there. The area is a popular place to have a picnic.
You can pack a picnic and eat in the middle of one of Wichita's best green spaces. When you're done eating outside, you can enjoy all the other outdoor activities that Lucy Park has to offer, such as disc golf, a large swimming pool, and playgrounds that kids will love.
7. Have a family day at Lake Wichita Park
Sometimes, all it takes to make our day a little better is to take a step back, enjoy the world around us, and spend time with the people we love. If you're in Wichita Falls with your family, make sure to take them to this huge park. It has a lot of fun things to do.
There are a lot of trails for walking and riding, and there are also picnic shelters for the best meals you can have outside. There is a playground and other places to play sports for the kids.
8. Lake Arrowhead State Park
At Lake Arrowhead State Park, you can fish, camp, hike, ride horses, swim, and do other things. This park is 524 acres big and has things for the whole family to do.
Lake Arrowhead State Park is mostly known for its places to fish. As long as you stay on land, you do not need a fishing ticket to fish in the park. Beginners can learn how to fish in the park without having to buy gear because you can take a fishing pole from the park headquarters. However, you have to bring your own bait.
Junior Rangers can be kids of any age who do tasks from the Junior Ranger Activity Journal, which they can get at headquarters. You can also take a Junior Ranger Explorer Pack when you pick up the activity book. This is a backpack full of tools and fun things for kids to do.
Every day, people can go to Lake Arrowhead State Park. During the busy Spring and Summer seasons, they suggest booking passes online because they often sell out. Anyone over the age of 13 has to pay $4 to get into the park.
9. Discover the Region's Artistry at Kemp Center for the Arts
The history of the Kemp Center for the Arts is a lovely story about how friends helped each other and worked together.
Mrs. Kemp asked businessman Joseph Alexander Kemp to build a public library in 1916. In 1918, the people of Wichita Falls got together to raise money and give the library 4,000 books.
Anyone who likes art will enjoy a visit to this museum.
Many people come here just to experience the area's famous culture and artistic offerings.
Kemp Center for the Arts has a sculpture garden that is always outside, workshops that are open to the public, and a banquet room that is great for all kinds of parties.
10. Kemp Center for the Arts
People who like art should go to the Kemp Center for the Arts. This place has an art gallery, a sculpture park, and events that are all about art. A lot of these events, such as art classes, art auctions, and consumer shows, are free to visit.
11. Tiered Waterfall at Lucy Park
Lucy Park is one of the best places in this part of the United States to see how beautiful nature can be. It is hidden in a curve of the strong Wichita River.
This park has a wider range of plant and animal types than most. The clean Wichita River runs right next to Lucy Park. In the park, there is a step-shaped pond where you can watch wild birds.
This park has a lot of great things to do in Wichita Falls, like camping, walking through the grounds, seeing the famous multilayered waterfall, and more.
In the park, there is a big duck pond where ducks and geese live. It is the place where both locals and tourists like to camp and have picnics the most.
If you are going with kids, you should also check out the disc golf and adventure park.
12. Wildcats Hockey Stadium
If you like hockey, you can't miss this fun thing to do in Wichita Falls. Even if you don't like hockey, a game here is a sight to see if you've never seen one before.
The Wichita Falls Wildcats are a minor league team that plays here. When they play their area rivals on their home field, there is a lot of friendly competition.
You can also enjoy fun theme nights here, and one of the best things about the place is that you can use the rink on your own after the game.
This means you can skate on the same ice as the Wildcats, and it's worth coming here just to spin around on the ice by yourself.
13. Lake Kickapoo
The big Lake Kickapoo is 29 miles from Wichita Falls. This is where you should go if you want to go fishing in the area.
Anglers will love the variety of fish here, and there are plenty of fish all year long.
If you don't want to fish, taking a boat out on the lake is a great way to see some of the green beauty around you.
The pond was built in the 1940s and is named for the Kickapoo tribe, who have lived in this area for a long time.
14. Kell House Museum
Kell House Museum, which was built in 1909, is a grand building that everyone who walks by notices. It shows the past of Wichita Falls through the eyes of the Kell family, who made a big difference in making the city what it is today. Kell House Museum stands out because it has a Neo-Classical exterior and a Victorian-style interior. When you walk into the Kell House Museum, it's like going back in time. Here, you can see a lot of things from the early 20th century, like original family furniture, decorative arts, and historic clothes. past fans will love the museum's rich past and the fact that they offer tours.
The Santa House, as the locals call it, is a unique part of the Kell House Museum. During the holiday season, the Kell House Museum is decked out with holiday decorations to make it look like it did 100 years ago at Christmas. Kell House Museum has an exciting, candle-led walk of the historic house for one night only as part of its holiday events.
15. Museum and Hall of Fame
The Professional Wrestling Hall of Fame was started in 1999. It has everything to do with American professional wrestling. You can find out about the best wrestlers and the sport's past. There are also wrestling items and artifacts to look at in the specialty museum.
16. River Bend Nature Centre
The 20-acre River Bend Nature Centre is a place where people can learn about the environment. It was built to strengthen ties between North Texas and Southern Oklahoma.
Both states have beautiful and different nature landscapes. It has a lot of interactive programming and lots of activities and displays, making it a great place for the whole family to spend a day.
The River Bend Nature Centre will be a highlight of your trip to Wichita Falls, whether you explore the marshes and nature trails there or look at the butterflies in the Nature Conservatory.
17. Wichita Falls Winery
The Wichita Falls Vineyards and Winery is a must-see for wine lovers. It is owned and run by a family, and they use the agricultural history of the area to make delicious drinks that tourists are sure to enjoy.
The winery has a tasting room that you can visit by making an appointment. The helpful staff will tell you all about how the wines are blended and made, and you can try local products right out of the barrels.
There is also a gift shop where you can buy a bottle to take home with you.
18. Wichita Falls Railroad Museum
The Wichita Falls Railroad Museum is in the downtown Historic Depot Square, next to the railroad tracks. It is a great place for anyone who loves trains. Train fans from all over the country and the world know about the Wichita Falls Railroad Museum. The best part is that visitors can get on real train cars and steam engines and look around Pullman Troop sleepers, baggage cars, and cabooses.
The Wichita Falls Railroad Museum is made up of a three-track yard that holds 15 moving stock units, 8 motor car units, and a lot of other things. The museum has a lot of information about Texas's railroading past, and the people who work there also have some great stories to tell. In the gift shop, you can find lots of toy trains and other fun souvenirs that show the past of the Wichita Falls Railroad Museum.
19. Urban Air Adventure Park
Urban Air Adventure Park is a place where you can jump on trampolines, but it has a lot more than just trampolines. There are activities for kids of all ages and skill levels, so bigger kids won't be bored and younger kids will have plenty to do.
The Urban Air Adventure Park tube playground is for kids who are less than 52″ tall. It has slides, tubes, a viewing bubble, and other things. Small children can gain confidence and improve their motor skills on the tube area.
Older kids can play dodgeball on trampolines, practice flips in the drop zone, learn how to fall on the runway, and play basketball on trampolines in the slam dunk zone. On the warrior obstacle course, kids who are bigger than 41″ can race against each other and their parents. It has uneven platforms, hanging rings, and curved running walls.
Check out the Urban Air Adventure Park's weekly activity plan to find unique things to do while you're there.
20. Wichita Falls Dog Park
On Fairway Boulevard, you can walk your dog around Wichita Falls Dog Park. At the corner of Fairway and Langford is where it is. There are two open areas for small dogs and big dogs.
The goal is to give dog owners a safe place where they can let their dogs run free. Make sure you always keep an eye on your pets and clean up after them if they make a mess.
The Wichita Falls Dog Park can be used every day.
21. Coyote Ranch Resort Family Campgrounds and Cabins
If you are looking for things to do in Wichita with kids, Coyote Ranch Resort is a great choice. You and your family can stay in a Pacific Yurt, an RV site, a house, a cottage, a campsite, or a cottage.
Coyote Ranch Resort has three swimming pools, three parks, and a ton of other things to do. During the busy season, Coyote Ranch has a small farm with animals that kids and adults can visit, as well as gem digging and fishing where you catch and then release the fish.
Children love to run around and look around in the Miner's Maze. It's 6,000 square feet, but parents don't have to worry about their kids getting lost because they can watch from an overlook. Keep an eye out for events like laser tag, paintball, and treasure hunts in the maze at Coyote Ranch while you're there.
There are many family-friendly activities at Coyote Ranch, such as a bubble pool, an inflatable obstacle course, hay rides with squirt guns, arts and crafts with a guide, and giant pillows that send you flying through the air.
Parents and kids can relax together around the campfire with s'mores after a day of fun activities.
Also Read:
Best time to visit in Bali
10 Things to Know About Costa Rica Before You Go
9 Things Nobody Tells You About Visiting Costa Rica