26 Best Things to Do in Fredericksburg in 2023
Fredericksburg, Texas is a great place to go with friends and family because it has a lot of history going back to the 1800s.
There are many free things to do in Fredericksburg, which is a great place because it has nature, urban, and social features all in one place.
Germans who moved to Texas around San Antonio and started building their own piece of the American Dream are the ones who gave the city its past.
So, when you're looking for things to do in Fredericksburg, you want to make sure you visit the most important places and help the community grow, since many shops and restaurants are family-owned or have been around for decades.
Many of the things to do in Fredericksburg are important and should be treated as such.
Check out our ideas for a weekend in Dallas, which is one of the most culturally active places in the state and is only a 4-hour drive north from Fredericksburg.
Let's look at all the cool things to do in Fredericksburg, Virginia.
26 Things to Do in Fredericksburg
1. Visit Fredericksburg Wineries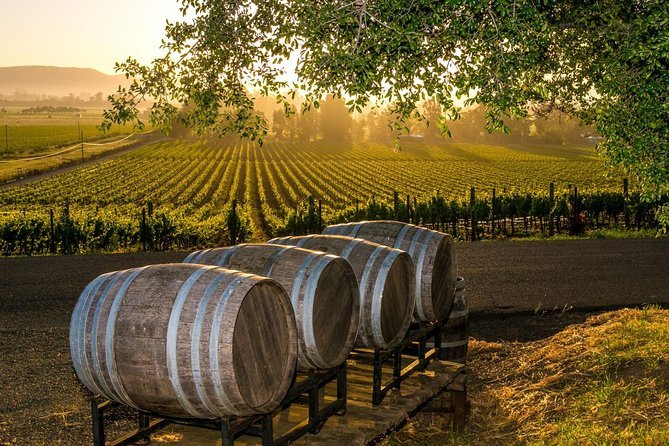 In the last 10 years, wineries in Fredericksburg have gotten more attention from national media and won more awards than ever before. Live music, good food, and a fun environment also help.
There are more than 50 wineries and tasting rooms along the 30 miles of road between Fredericksburg and Johnson City, Texas. Look for wines like Viognier, Albarino, Sangiovese, and Tempranillo, which are made from grapes that grow well in the Mediterranean.
With a designated driver or one of the many chauffeured groups, a trip to the Texas wineries is a great way to spend a day or weekend. There are always new wineries opening, so you can go back more than once and always try something new. Augusta Vin, Slate Theory, Pedernales Cellars, and Heath Sparkling Wines are a few of our favorites.
2. Fredericksburg's Main Street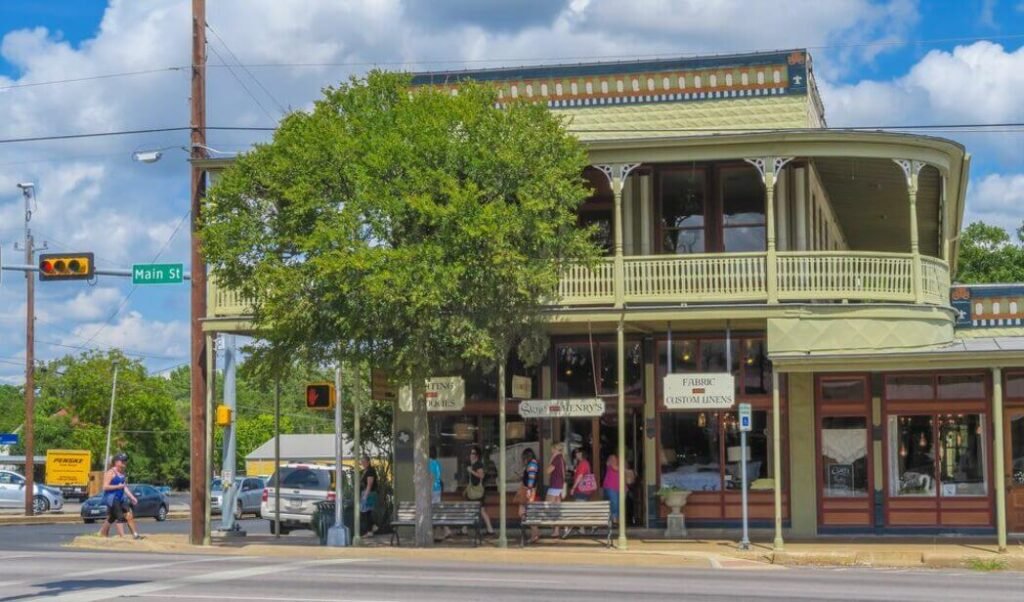 Inside the historic buildings on Main Street's stretch, you'll find a variety of unique shops selling jewelry, home goods, clothes, and art.
As you might think, most of the city's day-to-day activity happens downtown on Main Street, which also has a lively nightlife after the sun goes down.
If you're looking for things to do in Fredericksburg, especially at night, you should always start on Main Street if you're looking for the most basic things to do on a trip, like a good restaurant or a variety of shops and bars with interesting decor.
The whole street is lined with places you can visit (and come back to) as often as you want, and we suggest making it one of your stops every time you come.
3. Rest Your Feet at Marktplatz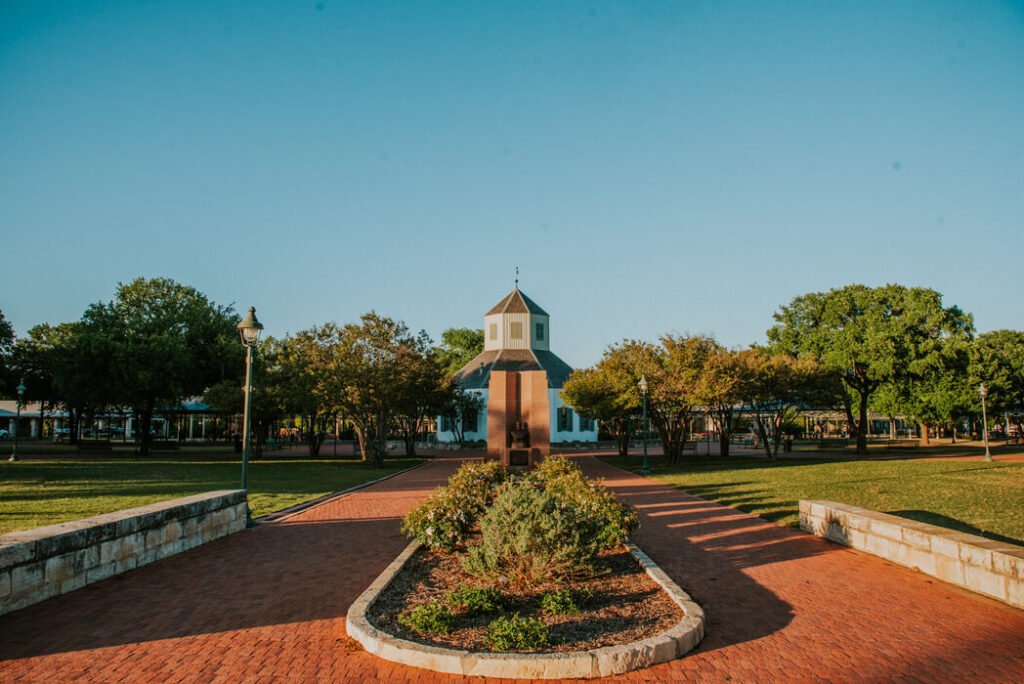 This area in the middle of Fredericksburg is where the town's first church and school used to be. We'll talk more about that below. On either side of the square are the two main shopping districts.
The grounds are full of large gardens and are used for many fairs and special events in Fredericksburg. They are also a popular place for weddings. It's also a great place to take pictures.
Even if there's nothing going on, just walking around Marktplatz is a fun thing to do.
After a morning of buying, you can relax in the park with its historical sculptures, picnic areas, and lots of green space.
During the warmer months, Marktplatz comes to life with a farmers market that features a wide range of homegrown treats, such as food made from local ingredients and live music by local bands.
Part of the park is turned into an outdoor ice rink for the holidays.
No matter what time of year you go, Marktplatz is the center of life in Fredericksburg. Its main goal is to bring people together and help them make a living.
4. National Military Park of Fredericksburg and Spotsylvania
This park in Virginia remembers four important Civil War battles: Fredericksburg, Chancellorsville, The Wilderness, and Spotsylvania.
In the park, there are many statues and memorials, such as the 127th Pennsylvania Volunteer Monument, the Fifth Corps Monument, and the Humphreys' Division Monument. It also has the Chatham Manor, the Ellwood Manor, the Salem Church, and the house where Stonewall Jackson died. All of these buildings were important during the Civil War.
5. Pick some wildflowers from Texas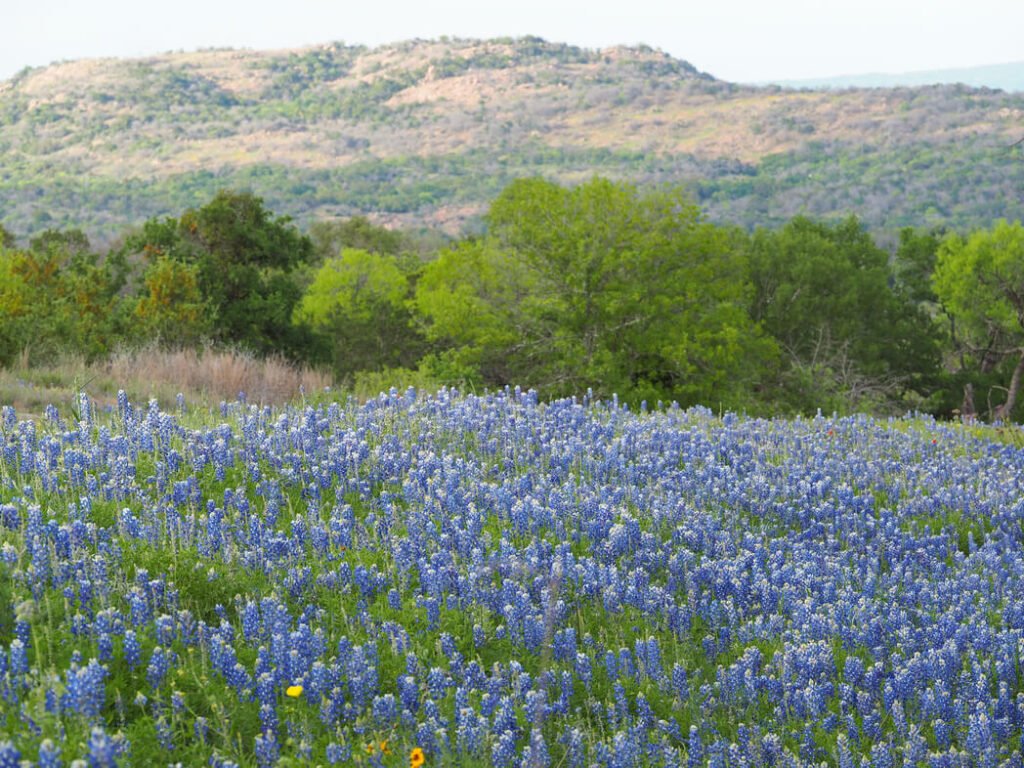 At most flower areas, you can only look but not touch the plants. At Wildseed Farms, you can pick a bouquet. This family-owned country retreat has over 200 acres of blooming fields and a beautiful butterfly garden.
6. Take a Texas Safari Wine Tour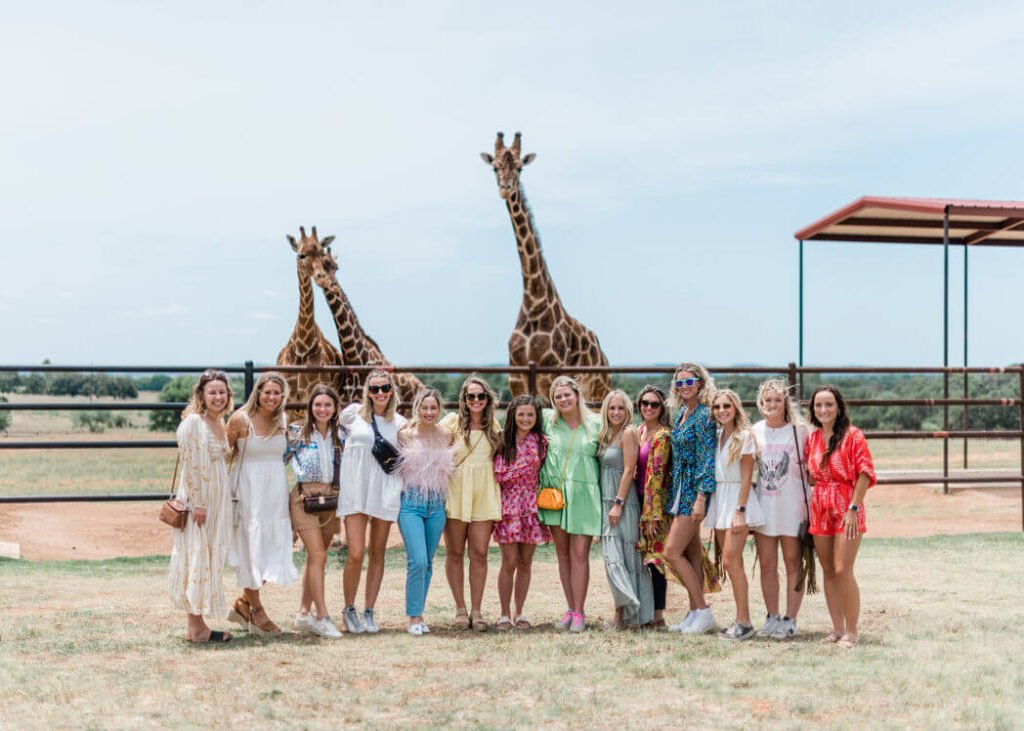 Animals and wine? Yes, thank you! Grapetown Vineyards is an 85-acre working farm with rare and rescue animals. It is also the only vineyard with a full bar winery. At Grapetown Vineyards, there is a drink for everyone, whether you want a soda, beer, or a wine that has won awards.
Guests on the safari wine tour drive around to see camels, saved zebras, alpacas, American bison, and other animals. By doing this, you can get close to the animals and feed some of them, making memories that will last a lifetime.
Also, Grapetown Vineyard is the BEST farm for families because there are so many things for kids to do there. Behind the winery's tasting room, there is a sandbox, a playground, yard games, and friendly goats that you can pet.
Grapetown Vineyards is one of the best things to do in Fredericksburg. The reason is because there are so many fun things to do there.
7. Go to the Pacific War National Museum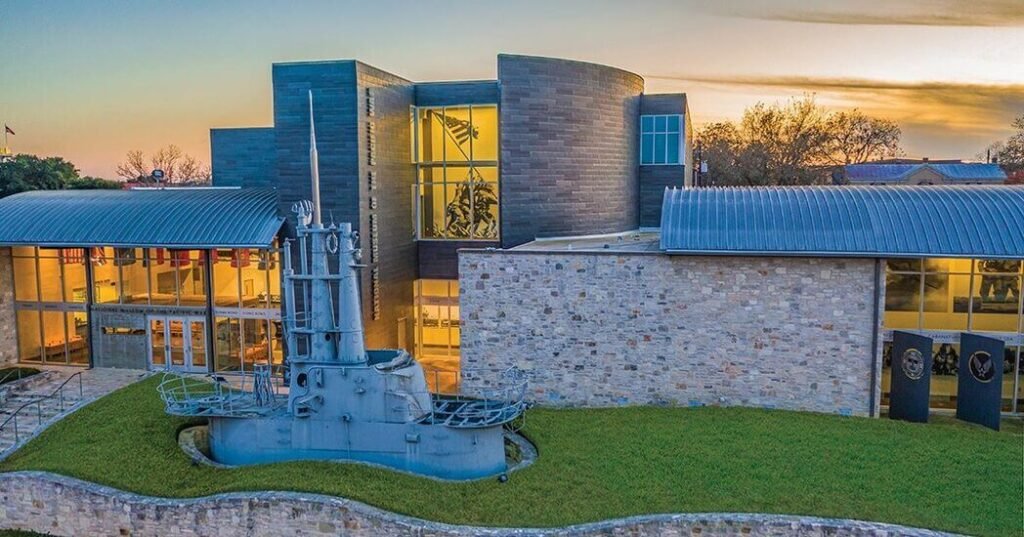 The National Museum of the Pacific War was not a small-town museum. We could tell as soon as we walked in. With thousands of artifacts and large pieces of machinery that you would usually only see in places like the Smithsonian, the in-depth exhibits bring the war in the Pacific Theater to life.
The Pacific War Museum is made up of three buildings. Two of them are standard museums that focus on Admiral Nimitz and the battles in the Pacific during World War II.
The third building is an outdoor area called the Pacific Combat Zone. Here reenactments of the battles bring them to life right in front of your eyes. The National Museum of the Pacific War should be on your list of things to do in Fredericksburg, Texas, if you are at all interested in history.
8. Luckenbach
There are only 3 people living in this town 13 miles from Fredericksburg, and the only buildings that are still standing are a post office/saloon/general store and a dance hall. However, it is known as the famous home of country music.
The music venue Luckenbach was started in the mid-1800s by one of the first German settlers to move to this part of Texas. It became famous all over the country when Waylon Jennings and Willie Nelson released a song called "Luckenbach, Texas (Back to the Basics of Love)" over a hundred years later.
In the 1990s, Luckenbach was all over the country music scene again as it found and made famous new areas of the genre.
Even if you don't like country music, it's hard to ignore the community's rich past and the fun of free jam sessions for people of all ages.
9. Get on top of Enchanted Rock
The huge batholith in Enchanted Rock State Park, which was once a holy place for Native Americans, is only 20 minutes away from Fredericksburg. At the top of this pink rock dome, you can see a beautiful view of the Texas Hill Country, which is one reason to climb to the top. In the state park, people who like being outside can walk, have a picnic, and camp overnight.
10. Japanese Garden of Peace
The Japanese Garden of Peace is part of the National Museum of the Pacific War. It is a quiet place downtown and a contrast to the buildings around it that talk about the sadness of war. The stones, raked gravel, and water feature in the yard are all meant to represent something. In fact, the garden is a sign of the friendship between Admiral Nimitz and Japan's Admiral Togo Heihachiro. It was given as a gift in their honor.
Even though the park is part of the Pacific War Museum, you can also go there on its own. It's one of the best things you can see in Fredericksburg for free.
11. Washington Heritage Museums
The Washington Heritage Museums in Fredericksburg are a group of historic sites that are all in the center of town and are only a few blocks away from each other. The Mary Washington House, the Hugh Mercer Apothecary, and the Rising Sun Tavern are all part of this center of American history.
You can buy tickets for one or all of the museums online or in person. The Heritage Pass gives you full entry to all of the museums if you use it within three months of buying it.
The Hugh Mercer Apothecary Shop is just a few minutes away. It is now a museum about the history of medicine and pharmacies in Colonial America. Before joining the Army during the Revolutionary War, Dr. Mercer took care of Mary Washington and worked for the town of Fredericksburg for 15 years.
Visit the Rising Sun Tavern on Caroline Street. It used to be the home of George Washington's younger brother Charles. In 1792, the house was turned into the town tavern, where tired visitors stayed for the next 35 years.
One of the best things to do in Fredericksburg, VA, is to go to one of these museums.
12. Wildseed Farms
One of the best things about Fredericksburg is that it has a mix of many different things.
If you'd rather be outside enjoying nature than stuck in a bar or restaurant, the Wildseed Farms might be the perfect place to get away.
On the 200 acres of land that make up the site, there are a lot of wildflowers and butterfly gardens.
As you walk through the grounds, you'll see beautiful rows of plants and animals that will really help you get a clear head.
Fredericksburg is known for its beautiful organic art that brings joy to both residents and tourists.
You'll be amazed by how beautiful the Wildseed Farms are, and you could spend a whole day just enjoying their beauty.
On your way out, you can also stop by the Market Center, which has the Blossoms Boutique and the Brewbonnet Biergarten.
13. Enjoy European Cuisine in Texas Hill Country
Just off Main Street, you'll find Otto's German Bistro, which is a unique place to eat.
Looking for something to eat in Fredericksburg? Well, this restaurant in the middle of the U.S. South serves farm-to-table German food made with products grown and made nearby.
The meals are always as fresh as possible because the menu is changed for each season. You can't go wrong when they have duck schnitzel, truffle pasta, and their famous wurst platte on the menu.
Otto's also has several handmade beers and wines made in the area. After all, this German town is in the middle of Texas wine country and has some of the best wineries and breweries in the state.
Their beautiful outdoor patio, which is lit up, is a great place to have a cozy but fancy dinner in the evening.
14. National Cemetery at Fredericksburg
The National Military Park is where the Fredericksburg National Cemetery is. It is where the bodies of more than 15,000 Union troops are buried, but only about 2,500 of them are known.
On Mayre's Hill, where the graveyard is, you can see the city of Fredericksburg. It's a peaceful place to walk around and think about life.
15. Elk Store Winery and Distillery is a great place to try wines.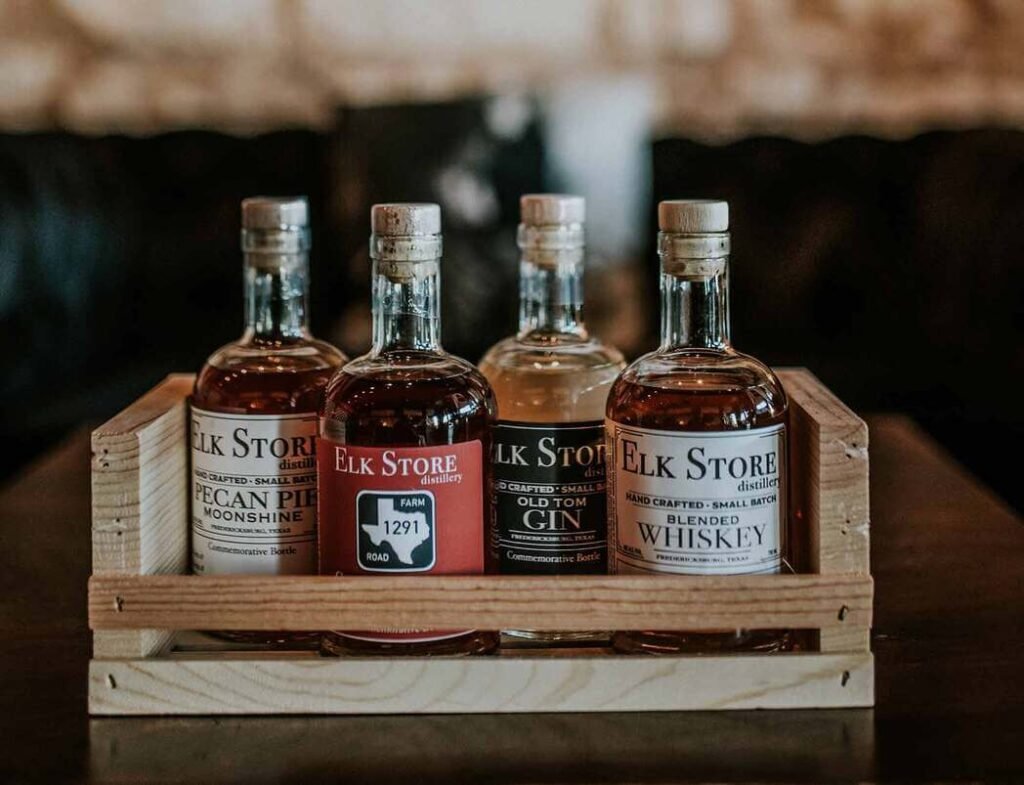 The Elk Store Winery & Distillery makes triple-still drinks by hand in small batches in a real copper still. Moonshine, gin, rum, and whiskey are some of the high-end drinks that are made in-house.
You can try one drink from The Elk Store Distillery, or you can try them all to get the full picture. Once you find something you like, you can drink a spirit on the rocks or in a cocktail you made yourself.
Small batch drinks can only be bought at The Elk Store Winery & Distillery, so make the most of your time there.
This is also a great place to go if someone in your group likes spirits more than wine or vice versa. The Elk Store Winery & Distillery, as the name suggests, also makes and sells wine by the glass, the bottle, and by the taste. So that everyone can drink and be happy.
16.Lyndon B. Johnson National Historic Site
In Stonewall and Johnson City, Texas, just a short drive away, there are two places where people can learn about the life of Lyndon B. Johnson, who was the 36th president of the United States. The Lyndon B. Johnson National Historical Park is made up of all of these places.
The LBJ Ranch is in Stonewall, which is only 14 miles from Fredericksburg. It has important places from the President's life. You can see the one-room schoolhouse where he learned to read, his grandparents' house, and the Johnson family graveyard. A walk of the Texas White House, where Johnson spent about a quarter of his presidency, takes you back to the 1960s and gives you a fascinating look at the man behind the office. The Texas White House is still closed for repairs as of January 2023, but it can be seen from the outside.
LBJ's childhood home and other important places from his early life are in Johnson City, which is close by.
17. Walk Around the Chatham Manor Grounds
Chatham Manor is a beautiful Georgian house with a lot of detail. It is also a tomb for Virginia's past.
This beautiful manor was built in 1771 and has been through a lot of interesting things, like a memorable slave rebellion in 1805.
It was also the site of a Civil War fight and the headquarters of the Union.
Sad to say, the war did a lot of damage to the beautiful house, and its floors and walls were stained with blood.
The men who camped and fought there burned down the land and cut down the trees.
The property has been fixed up, and even though people can't go inside the house, they can walk around the gardens, fields, and outbuildings.
At 120 Chatham Ln, Fredericksburg, VA 22405, the Fredericksburg and Spotsylvania National Military Park includes Chatham Manor.
18. Gari Melchers Home & Studio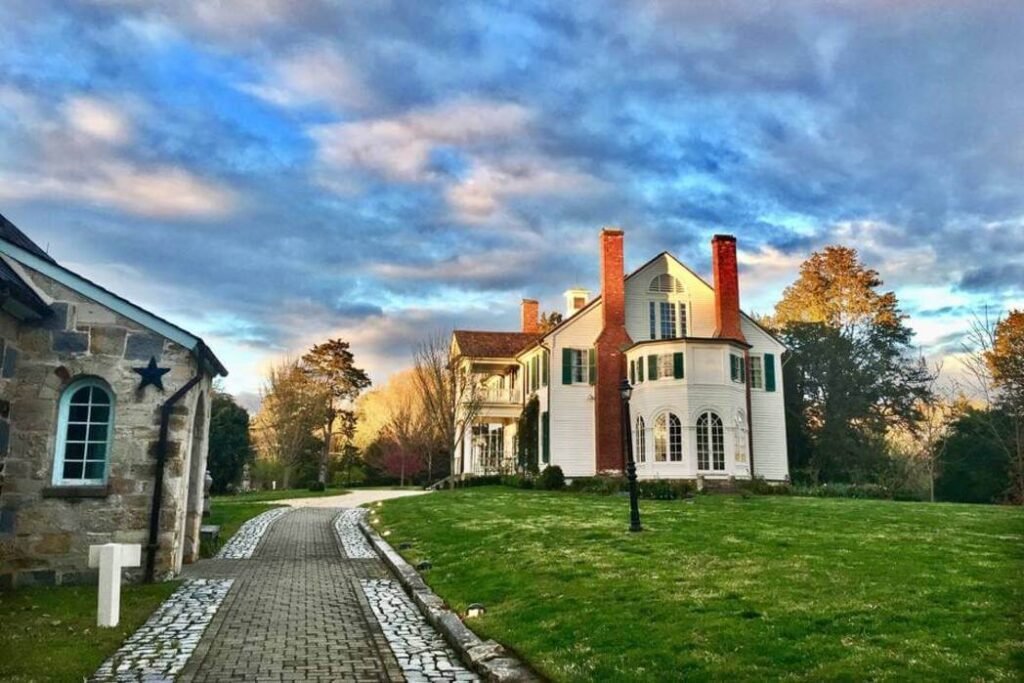 The Gari Melchers Home and Studio, also called Belmont, is just a few minutes north of town. It is where an artist worked and lived in the 19th century. Melchers was born in 1860. He was mostly known as a figure and portrait painter in both the American and European art scenes. Today, Melchers' studio shows off the artist's best works and explains how he worked so carefully. The ancient house next door gave him comfort and ideas, and people can still go there today.
Gari and his wife Corinne take care of the property's gardens, which add to the peaceful mood and make it easy to imagine the painter taking an afternoon stroll through the perennials before going back to work.
The gardens and grounds can be explored at your own pace, but the best way to see the home and studio is to take a tour. Tours run all day and don't need to be booked ahead of time unless your group has ten people or more. Every day, people can go to the Gari Melchers Home and Studio.
19. The Chisholm Trail Winery
In time, you might find that we serve the best wines at dinner in Fredericksburg.
The Chisholm Trail Winery is where you can find the "Spirit of the Old West." Quarter horses and Longhorn steers are free to roam around Spring Creek, and you can try some of the best grapes grown in Texas.
The Chisholm Trail Winery has about 1200 square feet of land, and guests can take a guided tour of the vineyard to learn more about its beauty and past.
The Chisholm Trail Winery got its start in the wine business in 1999. Every time you go there, you'll have a well-tuned experience and something to remember.
The company is planning to add an even bigger barrel room to its building, which already has a 15,000-gallon wine tank.
20. Go to the Angel of Marye's Heights Monument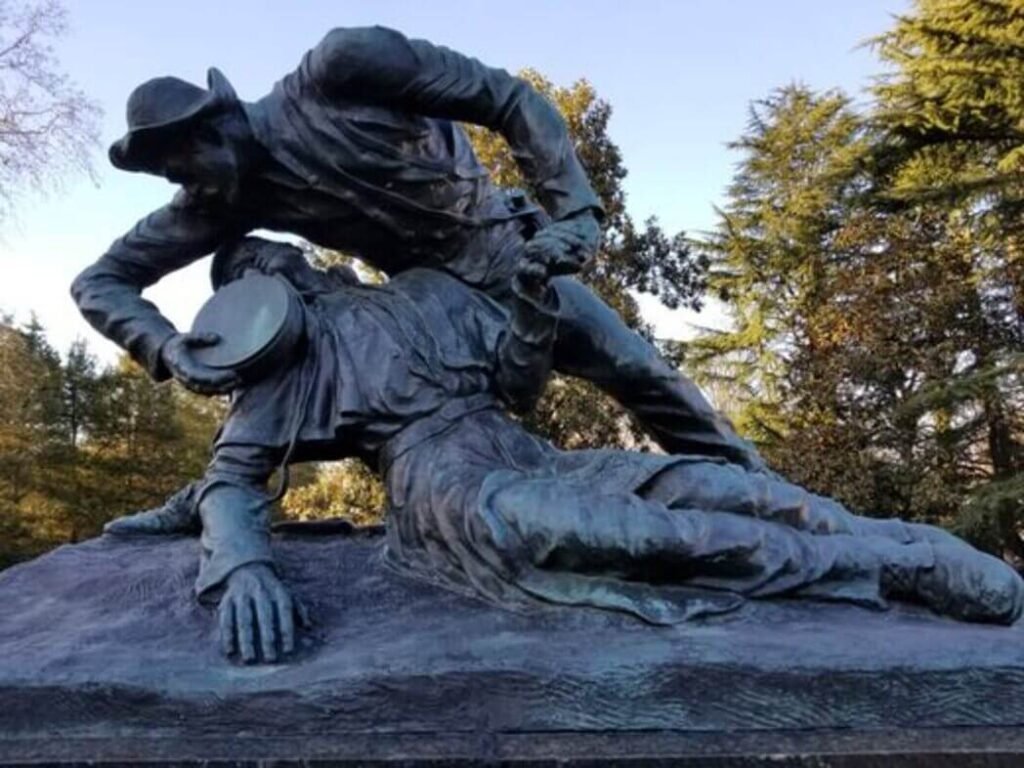 Richard Rowland Kirkland, who was only 19 years old at the time, became known as the Angel of Marye's Heights for what he did during the bloody Battle of Fredericksburg.
Kirkland, a Confederate fighter, put his own life in danger many times to bring water to people who were hurt or dying on the battlefield. He did this without caring about his own safety.
Most of them were Union Army men who had died.
The Sons of Confederate Veterans gave him a bronze monument after he died in 1965. It shows how kind and brave he was.
This statue is in Fredericksburg National Military Park, and anyone interested in the Civil War should definitely check it out.
21. Go to the Old Tunnel State Park to see a bat emerge.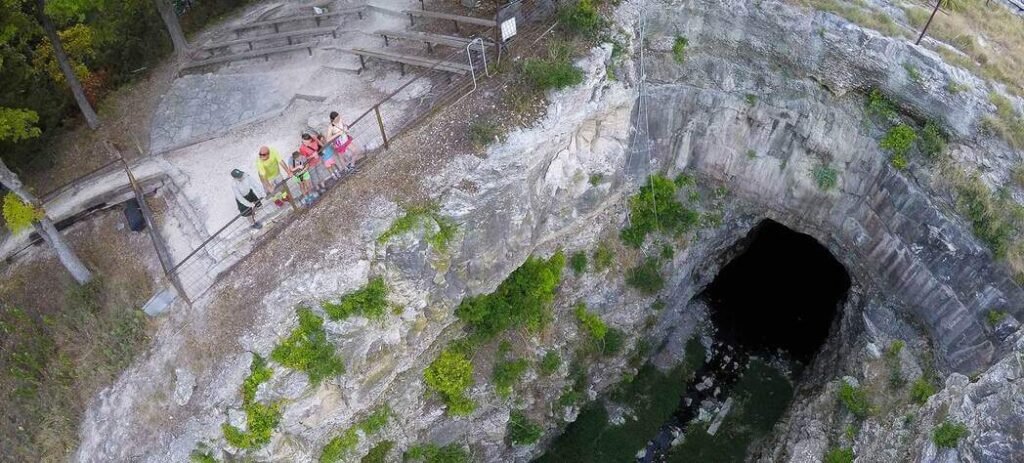 Imagine seeing a group of Mexican free-tailed bats soaring up out of an old tunnel.
Well, you can do that from May to October at the Old Tunnel State Park.
The Old Tunnel State Park is a railroad tunnel that stopped being used around 1940. It is now a famous place to watch bats leave their home in the tunnel.
As the bats fly higher, predators in the air catch some of them, and predators on the ground are just waiting to eat bats that fall to the ground. It's an amazing opportunity that you can't pass up.
Also, one of the most famous and free things to do in Fredericksburg is to go to the Old Tunnel State Park.
22. The James Monroe Library and Museum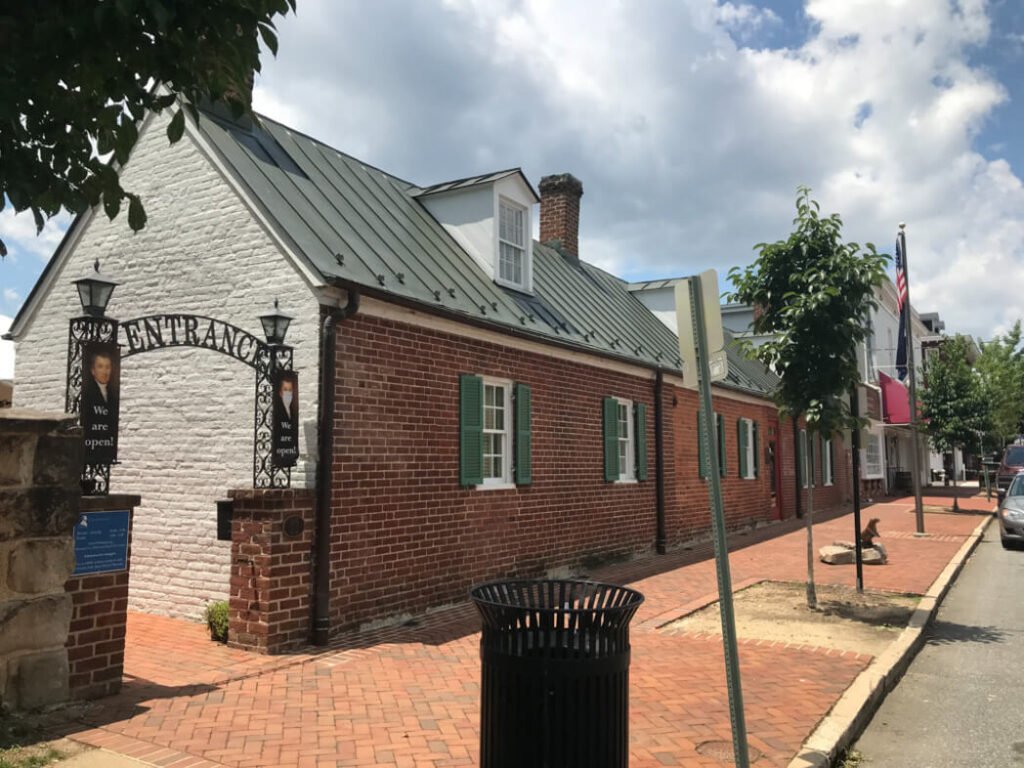 James Monroe was the fifth President of the United States. The James Monroe Museum and Memorial Library honor his life and work. It opened in 1927, and it was made by his children and grandchildren.
The late president had an office and worked as a lawyer in this building. It now has a lot of artifacts and family heirlooms in it. Find out about everything from Monroe's old letters and papers to the dinner plates he used. It gives a more close look at the President and is a must-see for anyone interested in history.
23. Have a beer at the "Granddaddy" of brewpubs
The oldest brewery still open in Texas is the Fredericksburg Brewing Company. Since 1994, they have been serving German-American food and making homemade beer. They call themselves the "granddaddy" of brewpubs in Texas because of this.
All of the craft beer is made on the premises. There are no tours of the brewery, but from your table you might be able to see the makers at work. Behind the bar, you can also see the vats and tools used to make the beer. And your host is always happy to tell you more.
At the Fredericksburg Brewing Company, there are at least five kinds of beer on tap out of more than 20. Peacepipe Pale Ale, Enchanted Rock Red Ale, Not So Dumb Blonde Ale, and Pioneer Porter are some of their regular beers that you should try in a flight.
24. Go to a farm and pick peaches.
About 40% of the peaches in Texas come from the area around Fredericksburg. Orange gems hang heavy on trees outside of town in the spring and summer, inviting people to pick their own at the nearby farms.
You can also buy peaches and delicious peach ice cream at a lot of street stands. In the Texas Hill Country, getting a tip is one of the best ways to welcome summer.
25. Culture at Central Rappahannock Heritage Center
People who want to learn more about this place can visit the Central Rappahannock Heritage Centre. This is a very interesting museum.
It is a celebration of the culture and history of Fredericksburg and the area around it. This focuses on how the Rappahannock River affected the lives of the people who lived there.
It shows how people used to live by displaying their photos, love letters, wedding paperwork, and other trinkets and memories.
The Central Rappahannock Heritage Center is in Fredericksburg, Virginia, at 900 Barton St #111, 22401.
26. The Catholic Church of St. Mary
Source: pinimg.com
One of the coolest places to go is in a place with a lot of bright buildings.
In 1846, a group of religious German immigrants started St. Mary's Catholic Church. The property is made up of two different towers that belong to the church.
The older tower is called the "Marienkirche," and it was built in 1861. The newer tower is called the "New St. Mary's," and it was built in 1908.
In the past, church services were held in people's homes. Later, these services were moved to the Vereins Kirsche.
Catholic Church is still a site worth seeing and one of the cool, free things to do in Fredericksburg.
Also Read: