32 Things to Do in Stockton, California – 2023 Updated List
Stockton is a mid-sized city in North Central California that is known for its many waterways and unique cultural sites. Some of the best museums, parks, and entertainment sites in the area are in Stockton. These include the historic Bob Hope Theatre and the more modern Stockton Arena.
In March and April, the yearly Chinese and Cambodian New Year's Celebrations get everyone in Stockton and the surrounding area excited and happy. From the well-known Stockton Marina to the one-of-a-kind Wat Dhammararam Buddhist Temple, Stockton is full of surprising things to do.
32 Things to Do' in Stockton, California
1. Wat Dhammararam Buddhist Temple
The Wat Dhammararam Buddhist Temple is one of Stockton's most interesting places to visit. Cambodian refugees started the temple, which has a beautiful temple building and many statues of gods. During a visit, you can look around, learn some facts about the building, and take pictures of your colorful surroundings.
2. Downtown and the Waterfront
Some of the most popular things to do in Stockton are on the shore along the San Joaquin Delta waterway and in the nearby downtown area. At Banner Island Ballpark, you can watch the Stockton Ports play baseball in the minor leagues. At the Stockton Arena, you can cheer on the Stockton Heat hockey team. At the Bob Hope Theater, you can see a show or a movie. It was built in 1930 and is on the National Register of Historic Places. It has many features from the past.
The Haggin Museum is a beautiful brick building in midtown that has the biggest collection of J.C. Leyendecker's work. His famous illustrations have appeared on more than 300 covers of the "Saturday Evening Post." At the Children's Museum of Stockton or the Pixie Woods Amusement Park, families can have fun that is good for them.
3. the Stockton Marina
The Stockton Marina in Downtown Stockton is the best place to go for entertainment in the city. It is near famous places like the Banner Island Ballpark and the Stockton Arena.
The marina runs along the beautiful waterways of the San Joaquin Delta and the Stockton Channel. Every day, thousands of people come to the marina to see the best sights and scenery in the city.
From the great free art along the Joan Darrah Promenade to the great places to eat and drink, the port is a great place to hang out and get a feel for the area.
Stockton Marina is at 445 W Weber Ave ste 128-b, Stockton, CA 95203.
4. Bob Hope Theatre
The Bob Hope Theatre has been around since 1930 and is a popular place for shows in the city. The door to the theater is beautiful, with a marble mosaic floor, and the seats inside are made of soft red velvet.
At the theater, you can see dance shows, concerts, and other live shows. Going to the Bob Hope Theatre is a great way to spend an evening that you won't forget.
5. Stockton Heat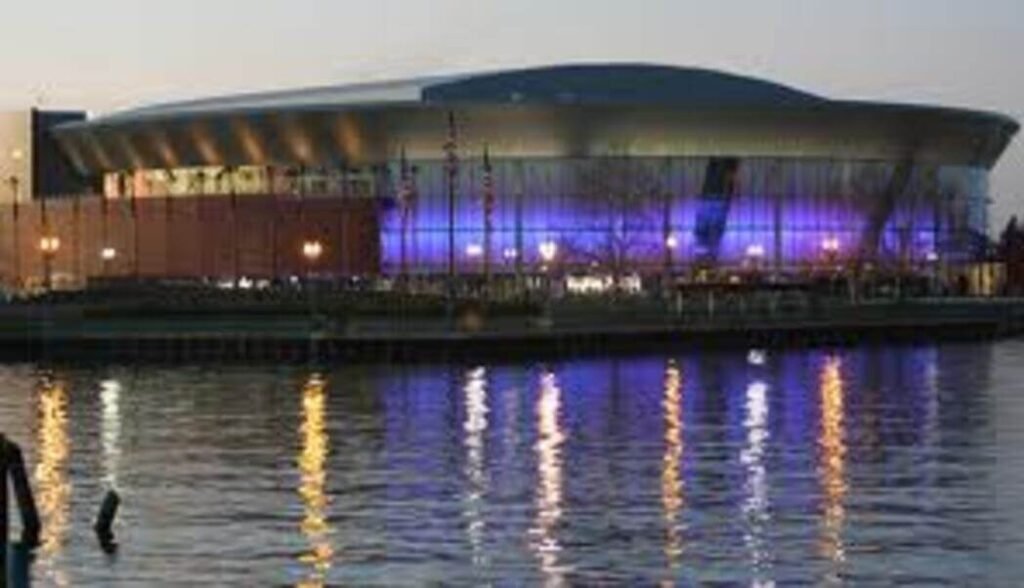 If you like to watch ice hockey, you should go to the Stockton Arena to watch the Heat play. The Stockton Heat are an ice hockey team that plays in the American Hockey League. They played as the Adirondack Flames in New York before becoming the Stockton Heat in 2015–16. People in the area have grown to like their new team, and on game days you can really feel the excitement. Since the venue is on the water, there is a lot to do before and after games in the area.
6. The Haggin Museum
The Haggin Museum is in Stockton's famous Victory Park. It is all about the history and arts of California. The museum was started in 1928, but it didn't actually open until 1931. The museum's galleries are full of artifacts and displays, including the area's biggest collection of paintings and drawings by J. C. Leyendecker and Albert Bierstadt. There, you can also see works by artists like Jean-Leon Gerome, Pierre-Auguste Renoir, and Rosa Bonheur. Stockton's past is shown in museums and galleries that have a wide range of artifacts and historical documents set up in rooms and businesses that would have been common in San Joaquin at the time.
7. Shop at Miracle Mile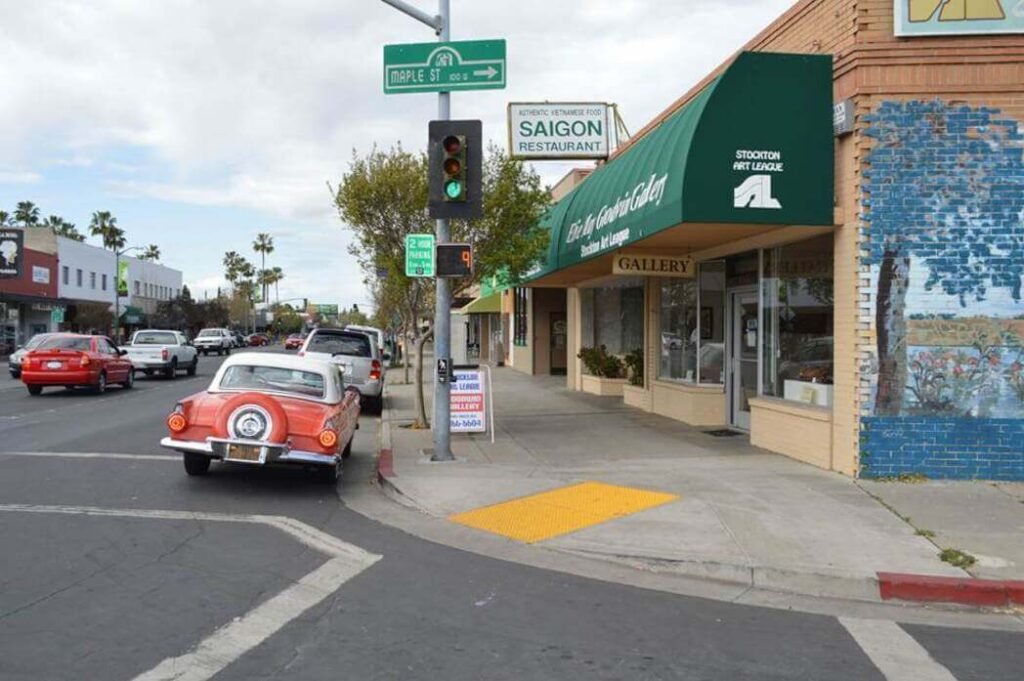 Stockton's Miracle Mile runs along Pacific Avenue. It was started by a group of local businesses in 2007 and has since become one of the most popular places to shop and eat in Stockton.
Along Stockton's favorite mile, there are specialty shops, boutiques, and busy places to go out at night. It's a fun place to take a walk and see all the sights.
The mile has a lot of permanent shops and businesses, and it also hosts famous events like wine walks and car shows. Before you go, check to see what's going on along the mile.
Address: 221 Tuxedo Ct, Stockton, CA 95204. This is where Miracle Mile is.
8. Stockton Marina and Joan Darrah Promenade
The Stockton Marina is on the city's waterfront next to McLeod Lake. The Joan Darrah Promenade is a beautiful path that goes through the marina. It's a great place to take a walk along the pretty waterfront, where there are lots of boats. Around the harbor, you can also find places to eat and other things to do after your walk.
9. Stockton Children's Museum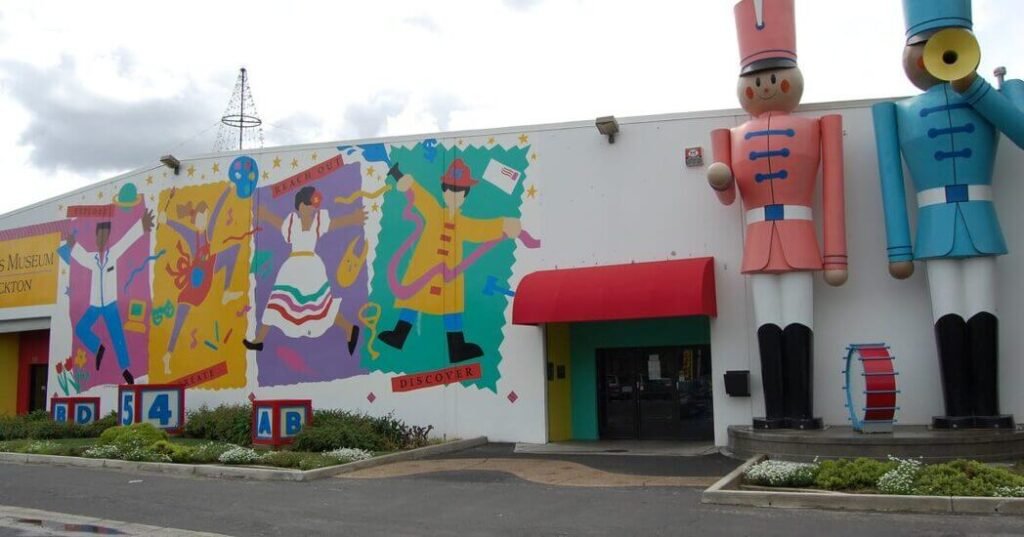 Janet Geng was a teacher who was hurt in the terrible Cleveland School Shootings of 1989, which killed 5 kids and hurt 30 others. Geng's scary experience helped her focus her thoughts and lead her to create the Stockton Children's Museum, a place where kids can play in a safe place. Children can learn and play with the exhibits at the museum, which is a fun place for them to go. There is also a permanent exhibit called Kidsworld. It is a child's version of a miniature city and takes up 22,000 square feet. It has a post office, banks, and grocery shops.
10. University Park World Peace Rose Garden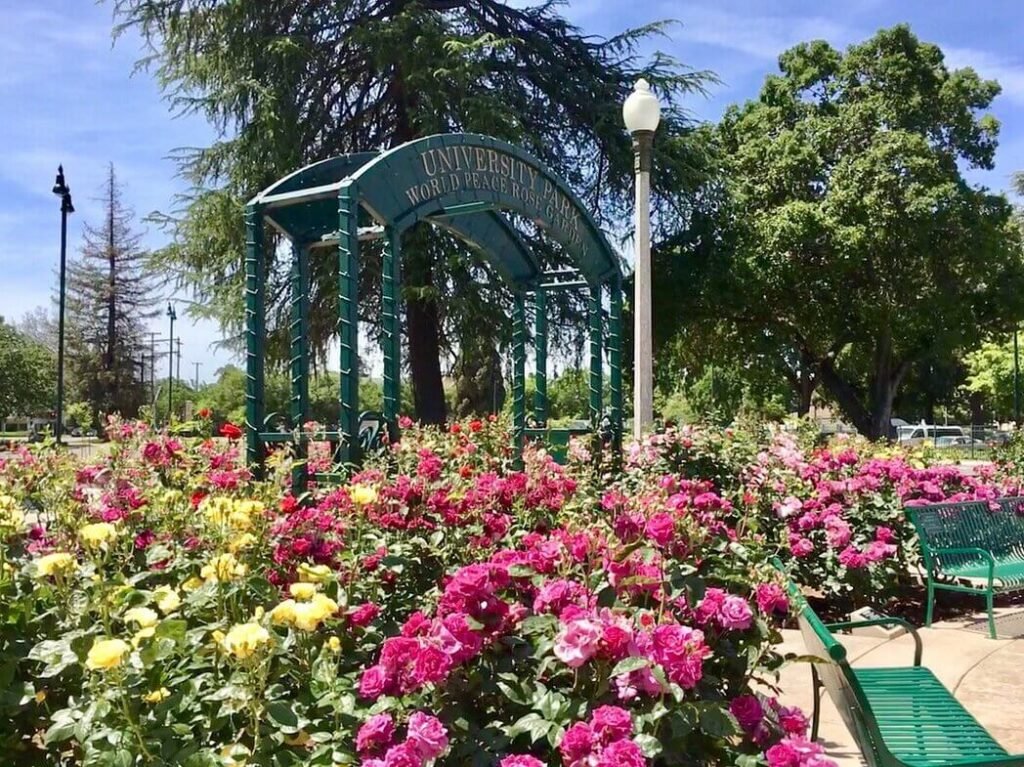 Kevin and Sandy Huber started the University Park World Peace Rose Garden in 2015. It is a beautiful 102-acre (41 ha) public place with a variety of uses that is both inspiring and beautiful to visit.
The garden has more than 250 rose bushes and a lot of heartfelt messages from students all over the world that tourists can read for free.
This beautiful rose garden is one of the best free things to do in Stockton. There is even a big lake where you can have a picnic in the afternoon.
The University Park World Peace Rose Garden is at 599 E. Magnolia St., Stockton, CA 95202.
11. Swenson Park Golf Course
Playing a round of golf at Swenson Park Golf Course is one of the best things to do in Stockton, CA, on a nice day. The course is one of the best in San Joaquin County and has both an 18-hole and a 9-hole course.
There is also a driving range, a disc golf course, and a diner called The Fox Den. You can also take classes if you are new to golf or want to improve your skills.
12. Trip to the Delta Center for the Arts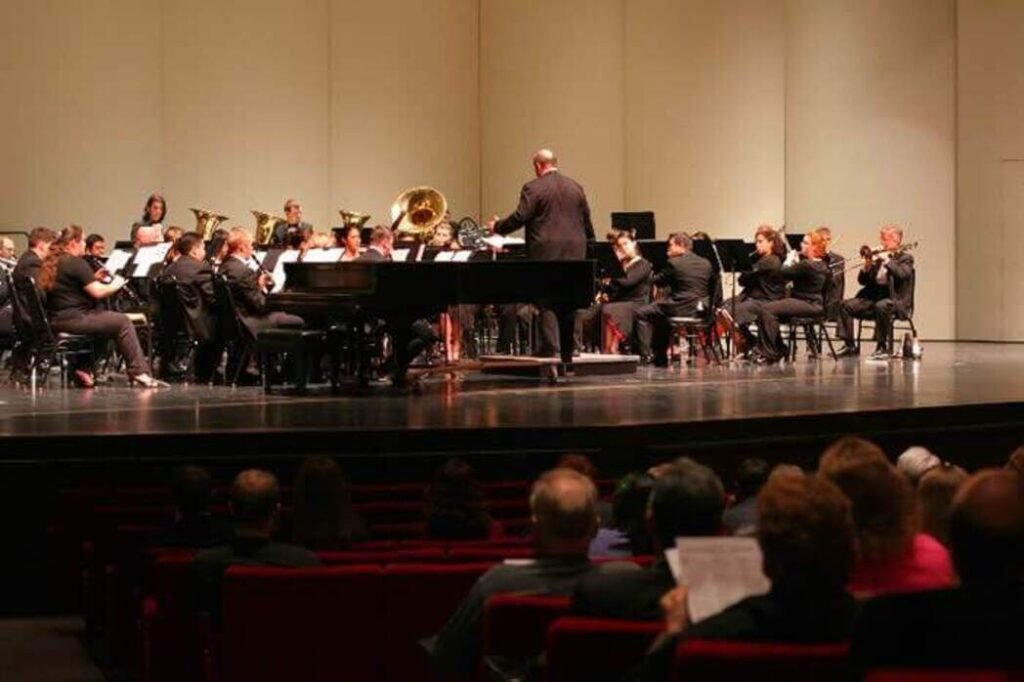 There is a Fine Arts section at San Joaquin Delta College in Stockton. The Delta Center for the Arts is part of this section. The Stockton Symphony Association plays a lot of traditional music, and there are always a lot of other great things to do. You can see art shows, plays, dance shows, and a lot of other things there. Many of the shows are put on by college students, and ticket costs are always fair.
13. Stockton Arena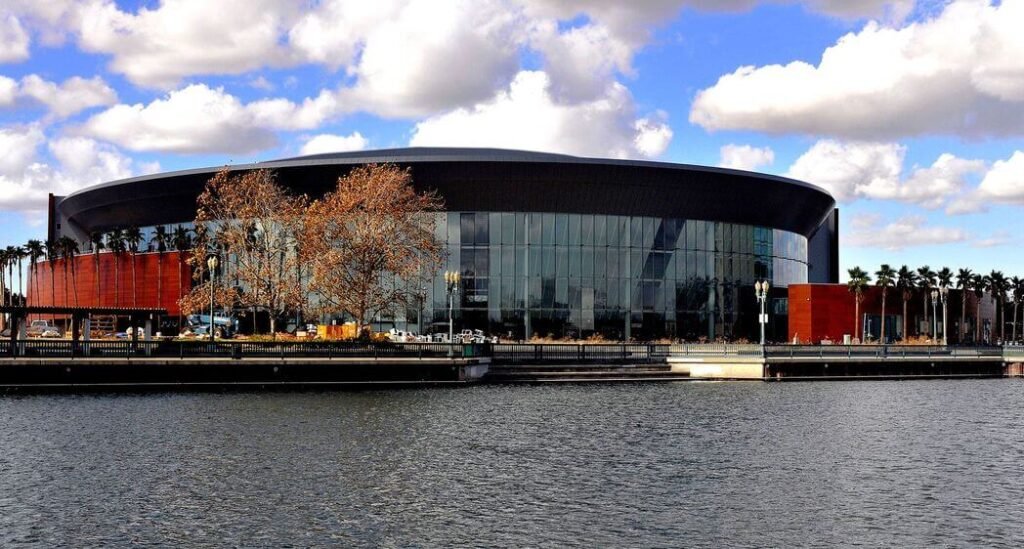 Since it opened in 2005, all of the area's biggest shows, sports games, and other big events have been held at the Stockton Arena. The arena has room for 12,000 people and is home to the Stockton Heat of the American Hockey League and the Stockton Kings of the NBA G League. Stockton Arena is in the beautiful center area of the area, right next to the water, near places like the University Plaza Waterfront Hotel and the Banner Island Ballpark. Some of the most well-known events that have happened there are the ArenaBowl, Smackdown/ECW, and several mixed martial arts (MMA) matches. Check their website's calendar to find out what's going on while you're in town.
14. Fruit Bowl in Stockton, California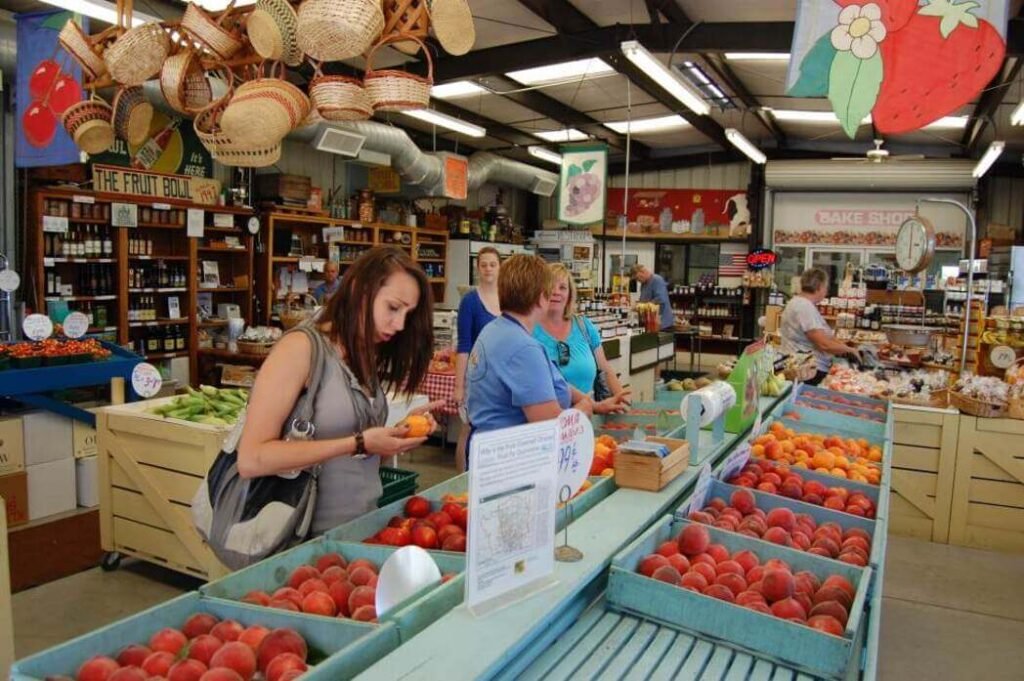 In 1947, Frank and Ina Lucchetti started the Fruit Bowl so that people in Stockton could get the best fruits, jams, and baked goods.
The location is the Lucchetti family's ranch on East Waterloo Road, where they grow and sell more than 65 kinds of peaches, nectarines, plums, and almost everything else in their big produce store.
At the venue, you can buy everything from homemade pies to Italian goods brought in from other countries, such as award-winning olive oils from Bava, Bozzano, Sciabica, and Corto.
This great place in Stockton is sure to have everything you need, whether you want a special treat or farm-fresh ingredients.
Address: The Fruit Bowl is located at 8767 Waterloo Rd, Stockton, CA 95215.
15. Banner Island Ballpark
Banner Island Ballpark is on the Stockton Waterfront and is home to the Stockton Ports Minor League Baseball team. Going to a game at the field is a fun idea because you can meet people from the area and cheer on the team. During the normal season, which runs from April to September, you can go to a game.
16. Pixie Woods – Louis Park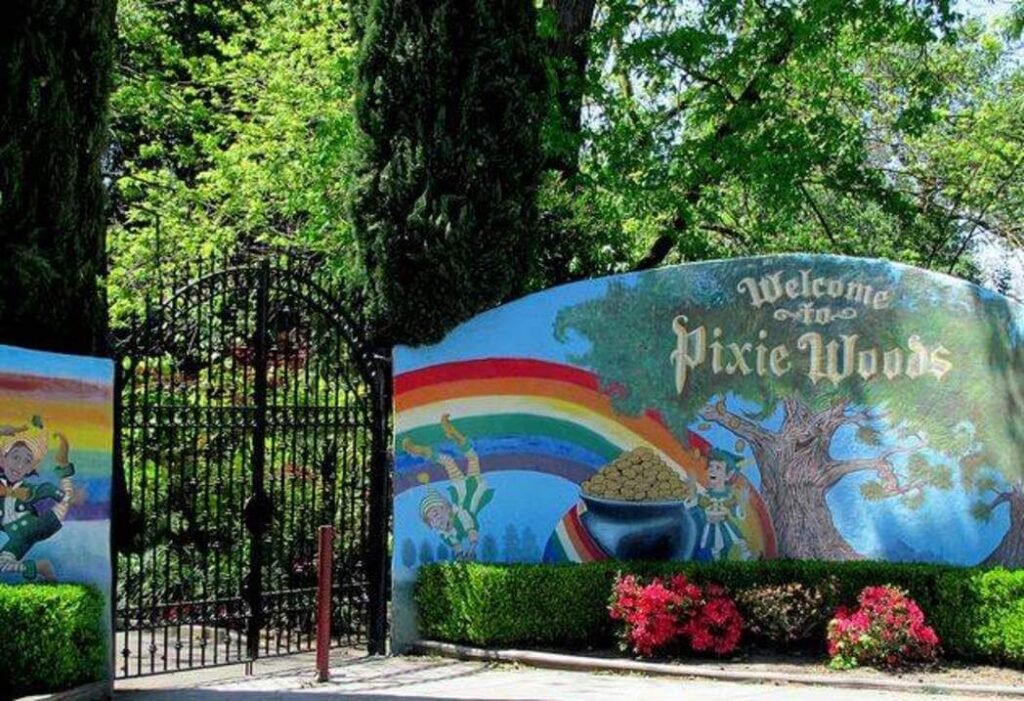 The enchanted forest and magical paths of Pixie Woods are great for kids of all ages and will take you far away from reality into a fantasy world. As soon as you walk through the colorful gates, you'll be taken to a world where play and imagination are the most important things. There are many things to do in the park, such as play places for kids like Miner's Cove and Dragon Water Play Area. Kids can spend the day riding the Pixie Express train, cruising through Pirate Lagoon on the Pixie Queen Boat, or going for a spin on the carousel. Kids love the small, fun sights, so if you're in Stockton, be sure to check them out.
17. Annual Cambodian New Year's Celebration
The Cambodian New Year's Celebration is a famous parade held every April to celebrate the new year. It brings all of the Cambodian people in the area together for a big cultural show.
This three-day event is free to attend and welcomes people from all walks of life. It is held at Stockton's Wat Dhammararam Buddhist Temple and has traditional Cambodian food and music acts.
Not only is Stockton's Cambodian New Year's parade one of the biggest outside of Cambodia, but it's also one of the best free things to do in the area, making it a great thing to add to any Stockton schedule.
Address: At 3732 Carpenter Rd, Stockton, CA 95215, there is a Cambodian New Year's party.
18. Lincoln Center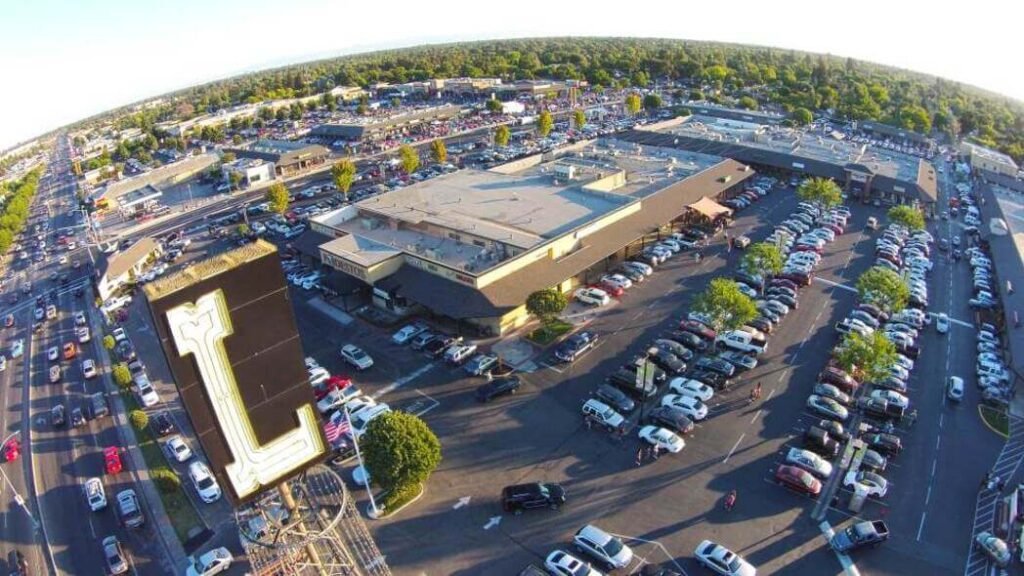 Lincoln Center is a great place to go shopping when you're in the city. It has a mix of small shops and chain stores, like Sephora, as well as shops that aren't part of a chain. After you're done shopping, you can eat at one of more than 20 restaurants, take-out spots, or juice bars.
19. Barkleyville Dog Park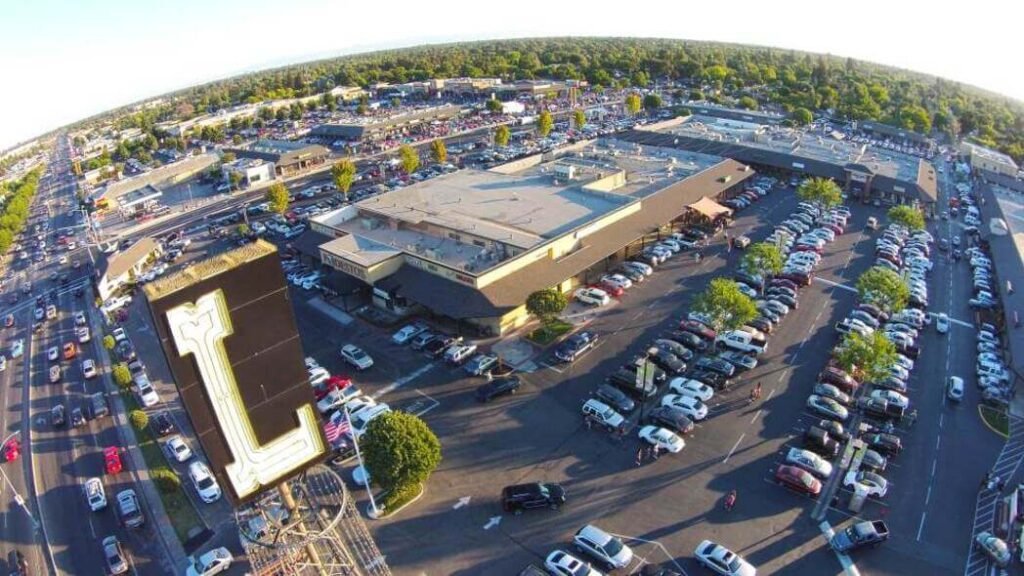 If you take your dog to the Barkleyville Dog Park, he or she will feel like he or she is in heaven. The park is a place where dogs can run around without leashes, and both big and small dogs have their own areas. There is an obstacle course with chairs and water fountains if your dog is feeling especially active. The park's parking lot is small, and the park gets crowded at peak times, so it's best to get there early to make sure you can park close to the park. Local dog owners love Barkleyville Park, so take your dog there today and see what all the fuss is about.
20. Stockton Certified Farmers' Market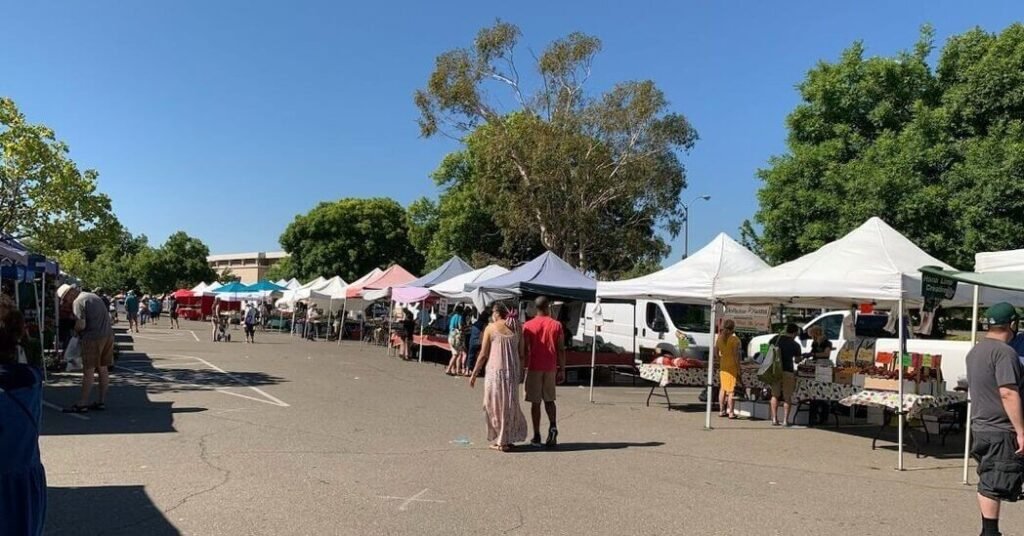 The Stockton Certified Farmers' Market was one of the first in its field when it opened in 1979. Every Saturday morning, a dozen vendors would set up tables under the Downtown Freeway for a few hours so that people could easily buy fresh fruits and veggies from the source. Today, almost 40 years later, the market is still going strong at the same time and place, but there are now more than eighty sellers. It is one of Northern California's biggest Southeast Asian Farmers' Markets. You'll be able to buy farm-fresh fruits and vegetables, as well as eggs, honey, fish, baked goods, plants and flowers, and a variety of delicious freshly-cooked foods.
Stockton, CA 95205, 2707 E Fremont St #9, phone: 209-943-1830
21. Chinese New Year's Parade
Like the Cambodian New Year's Celebration, the Stockton Chinese New Year's Parade is a yearly event where people of Chinese descent from Stockton and other places come together to celebrate the start of the New Year in a big way.
The biggest parade in San Joaquin County takes place in downtown Stockton. Traditional Chinese folk dances and dancing lions and dragons are some of the highlights.
The show is one of the unique things to do in Stockton, and it's free and open to people of all ages. It also has a long list of fun things to do.
Because of COVID, the events were canceled from 2020 to 2022, but they are happening again in 2023.
22. Stockton Memorial Civic Auditorium
Stockton Memorial Civic Auditorium is one of the oldest buildings in the city. It opened in 1925. The venue is a fun place to spend the evening because it has music and other shows. You can also get a drink at one of the bars near the theater before the show starts.
23. Delta Speedway
The Delta Speedway in Stockton is a fun place for the whole family to spend a night out. From April to October, it's open every Saturday night. The track is an oval-shaped dirt track that is 1/7 of a mile long. Micro Sprints, Junior Sprints, and Super 600 classes all run around this exciting track, which is sure to make for a fun night. A night here is fun for the whole family, so get there early, eat something, and then sit back and watch the races.
24. Little Manila
Since the 1930s, most of the people living in Little Manila in Stockton have been Filipino Americans. At first, Filipinos moved to the Central Valley to work in agriculture, and Stockton quickly became their home. At that time, the racist rules that were in place stopped these people from going to school, getting better jobs, or even going to Main Street. As Filipinos set up companies and groups to meet their needs, the area south of Main Street soon became their own community. As you walk around the streets today, you'll see signs of the hotels, restaurants, shops, food stores, and other places that used to serve the Filipino community. The once-bustling neighborhood is being brought back to its former glory. The National Trust for Historic Preservation has called it "one of the nation's most endangered historic places."
25. The San Francisco Bay Area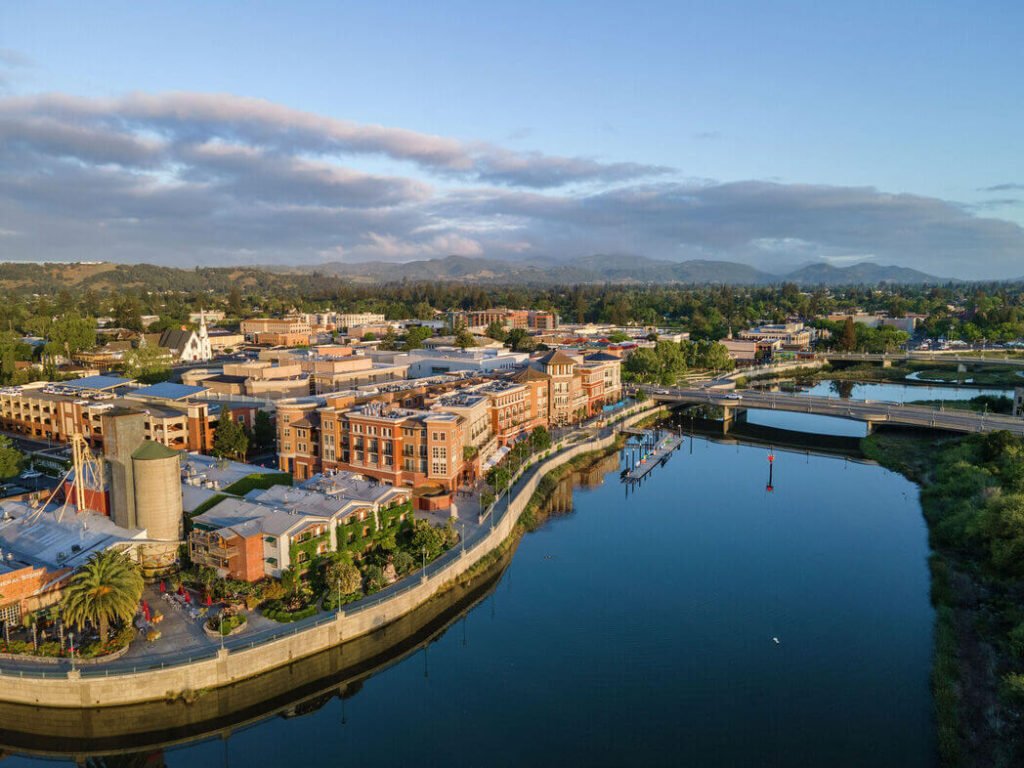 The Bay Area is less than 129 km (80 miles) from Downtown Stockton. This makes it a great place to go for a day trip to see and do everything that San Francisco, San Jose, and Oakland have to offer.
The Bay Area is one of the best places to live, and it has famous sites like the Golden Gate Bridge, Alcatraz Island, and Fisherman's Wharf that are worth seeing.
All of this and more is easy to get to if you stay in Stockton. Downtown Stockton is less than 90 minutes from three of the most historic, cultural, and touristy towns in the world.
26. The Victory Park
The Haggin Museum is right next to Victory Park, which is a famous park in the area. There are paths, playgrounds for kids, and places to have a picnic or a barbecue. It's a great place to hang out with friends or family and get some fresh air.
There are also events in the park, like 'Concerts in the Park,' which have free live music in the nights. You can bring a lunch to eat while watching the show, and dogs are welcome too. In the past, there have been R&B, Rock, and Latin music styles.
27. Japanese Garden At Micke Grove Park
Come to the Japanese Garden at Micke Grove Park if you want to take some time to relax, look at beautiful cherry trees, and forget about your problems. Duke Yoshimura made the park in 1959. He had just come back from fighting in World War II. Around the outside of the yard are 60 Kwanzan flowering cherry trees, and in the middle are 5 Akibono cherry trees. In the park, you can see a koi fish pool, lanterns, and a pagoda with five stories. In the garden, there is an angle bridge. This bridge reflects the Chinese belief that evil spirits can only move in a low, straight line. Since evil spirits can only move in a low, straight line, they can't cross the bridge and get into the garden.
28. Dave Wongs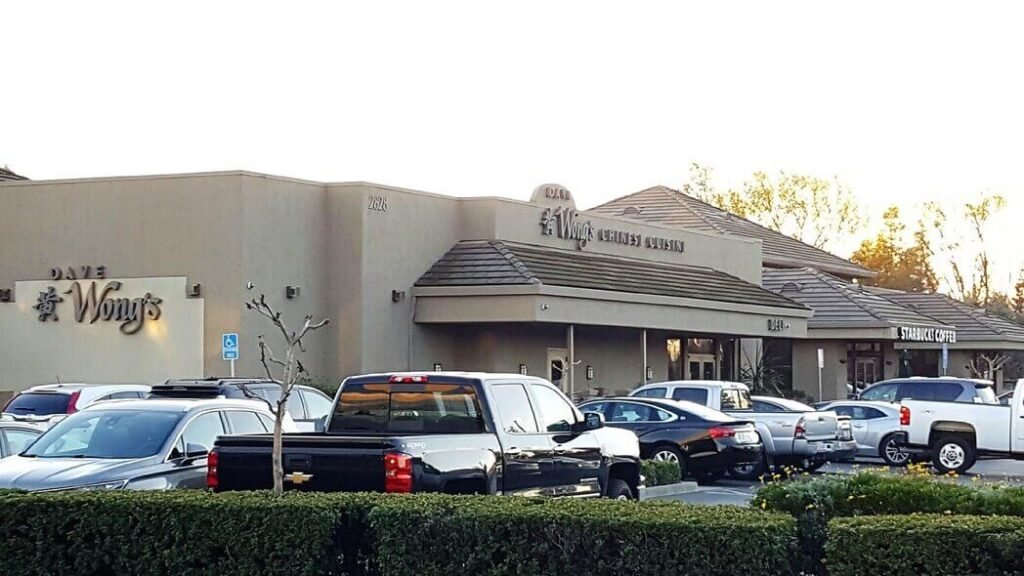 When you walk into Dave Wong's restaurant and bakery, you'll feel like you're in Asia even before you take a bite of their delicious food, because it's filled with modern and classic works of art. The highly popular restaurant was the dream of two people who moved to the United States from mainland China and worked as busboys and prep cooks when they first started out. Since they started their restaurants in the 1970s, they have done very well. You'll be able to eat delicious Cantonese food and other meals that are based on those from other Asian countries. The steak and mushroom fried rice and the Tai Pan Dinner, which has pork chow mein, fried prawns, almond chicken greens, and sweet & sour pork, are two of their most popular dishes.
29. Oak Grove Regional Park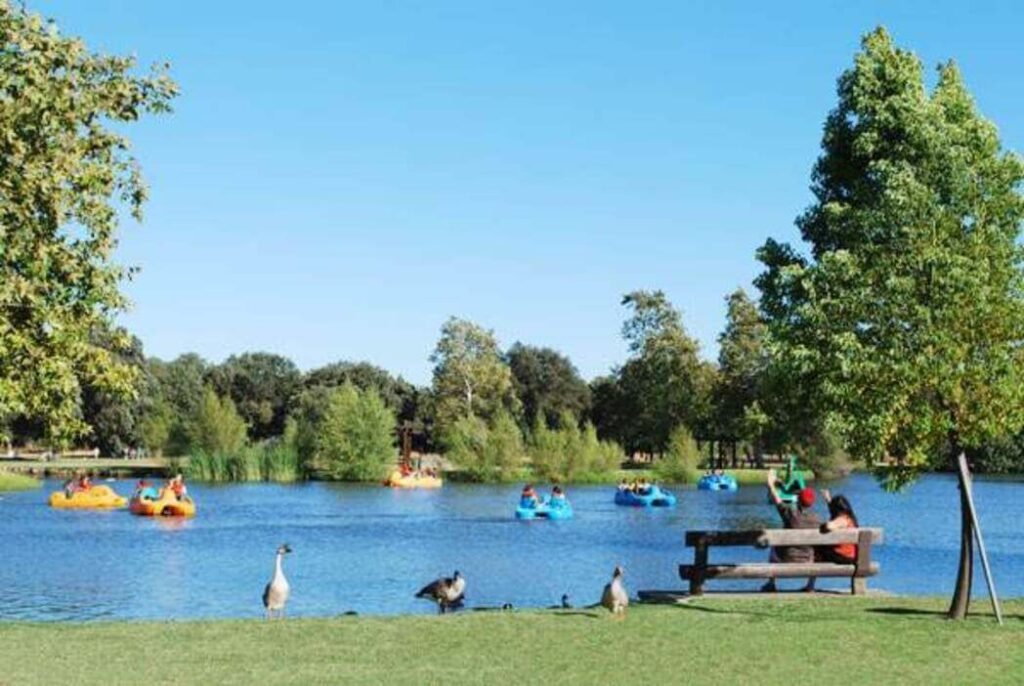 Oak Grove Regional Park is a beautiful 180-acre (73 ha) outdoor spot with a nature center, several hiking trails, a 10-acre (4 ha) freshwater lake, an 18-hole disc golf course, parks, picnic areas, and BBQ grills.
Throughout the year, the park has a variety of events and fishing challenges, and visitors who want to get closer to the lake can rent paddleboats.
Oak Grove is one of the best places to go outside in the San Joaquin Valley. It's free to visit and has lots of fun things to do. If you're in Stockton, you should check it out the next time you're there.
30. Dine at Market Tavern
The Market Tavern is also a great place to eat in Stockton. This cozy restaurant offers a wide range of food, such as Nashville fried chicken sandwiches, pizzas, beef stroganoff, and vegan sausage rigatoni. There is also a kids' menu and sides like mac and cheese, cooked spinach, and broccoli with garlic butter.
You can have wine, beer, or homemade sodas like pear and basil, lemon rosemary, and hibiscus with your food. There are also craft drinks available.
31. Valley Brew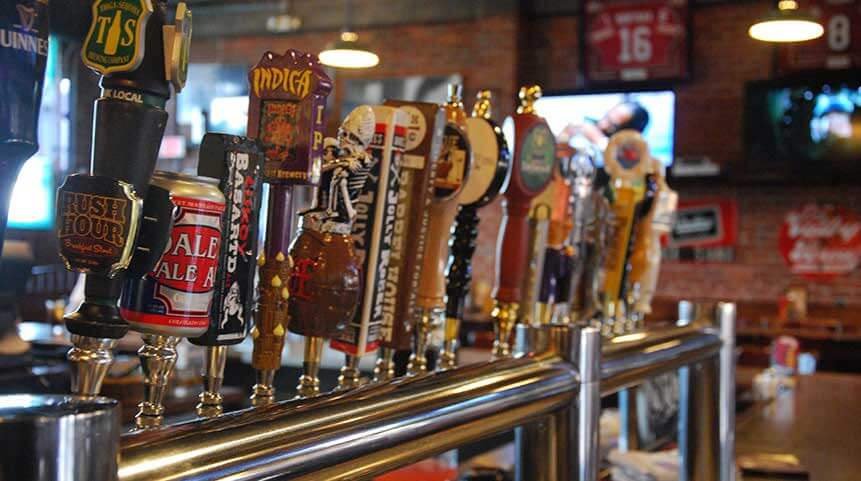 Valley Brew was made in Stockton until prohibition, and it was a neighborhood favorite. When alcohol was made illegal, the brewery had to close, and Stockton was left without a brewery. This went on for a long time, until the Valley Brewing Company was started up again in 1994. As time went on, the business changed hands, and now it's run by a great couple who care about using local ingredients and giving their customers a memorable meal and drink. Watch out for Take 5 Jazz at the Brew, a club where many well-known jazz musicians have played.
32. Road trip to Napa and Sonoma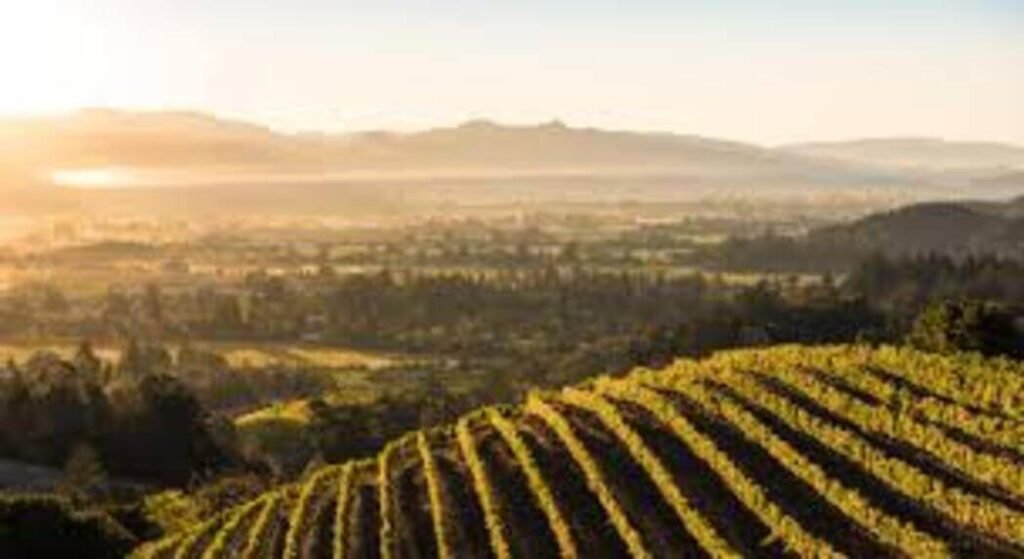 From Stockton, it takes just under two hours to get to Napa and Sonoma. People go to these places because they have a lot of farms that they can tour and try wines at.
You can also do a lot of other things in Napa and Sonoma, like ride in a hot air balloon or bike through the beautiful scenery. If you want to go to Napa with your family, there are lots of things for kids to do there as well.
Also Read:
Best time to visit in Bali
10 Things to Know About Costa Rica Before You Go
9 Things Nobody Tells You About Visiting Costa Rica
Top 5 Most Romantic Places for Unconventional Dates in North America
Top 5 Most LGBT-Friendly Romantic Places in South America
21 Beautiful North Carolina Islands To Visit
21 Fun Things to Do in Wichita Falls, Texas
27 Best Things to Do in Fredericksburg in 2023
32 Things to Do in Stockton, California – 2023 Updated List
23 Best & Fun Things to Do in Eugene Oregon
Spitting Caves In Oahu: A Geological Wonder in Hawaii
9 Best USA and Canada Border Vacations to Visit With Family
29 Best Ghost Towns in California | 2023 Updated List