21 Beautiful North Carolina Islands To Visit
Did you know that North Carolina has a lot of islands that are great for a relaxing summer vacation? Here are the best islands in North Carolina and what you can do on each one.
North Carolina is best known for its beaches and dreamy mountains in the west. It's a great place to go on vacation, especially to the islands where you can get away from the busyness of everyday life.
Here, you can experience the charm of the South and see long areas of the Atlantic Ocean.
The islands of North Carolina are full of beaches, parks, fun things to do, and small, charming towns. No matter what kind of holiday you want, the barrier islands of North Carolina have it. Here are the North Carolina islands we think are the best.
21 Most Beautiful Islands in North Carolina
1. Roanoke Island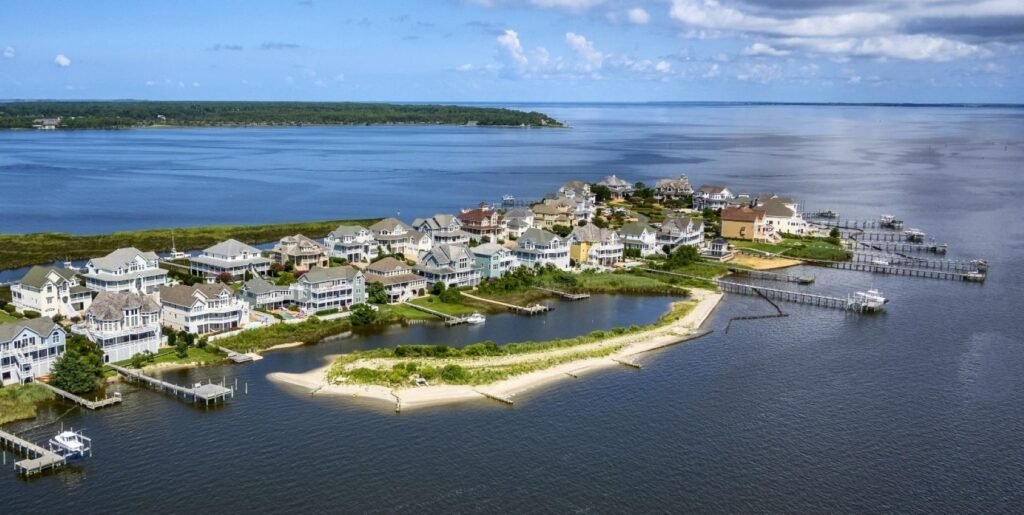 Roanoke Island has a lot of history and beauty. The town of Manteo, the Lost Colony, and the Roanoke Island Lighthouse are all located on this island. People choose to vacation or visit this eight-mile island in the OBX because it has a past that goes back thousands of years.
2. Pea Island
If you like to watch birds, you'll love the Pea Island National Refuge. It's a safe place for many kinds of birds, like raptors, geese, eagles, sanderlings, terns, herons, egrets, and falcons. Also often seen are Loggerhead sea turtles. If you're looking for beaches, the beach on Pea Island is a great place to swim and do other water sports.
As you explore the rest of the island, you'll find different environments, such as dunes, brackish water, and marshes. There is a visitor's center where you can learn about the nature places nearby and walk on a few nature trails.
If you go there at certain times of the year, you might be able to catch an event like the Crabbing Rodeo or Wings over Water.
3. Island of Ocracoke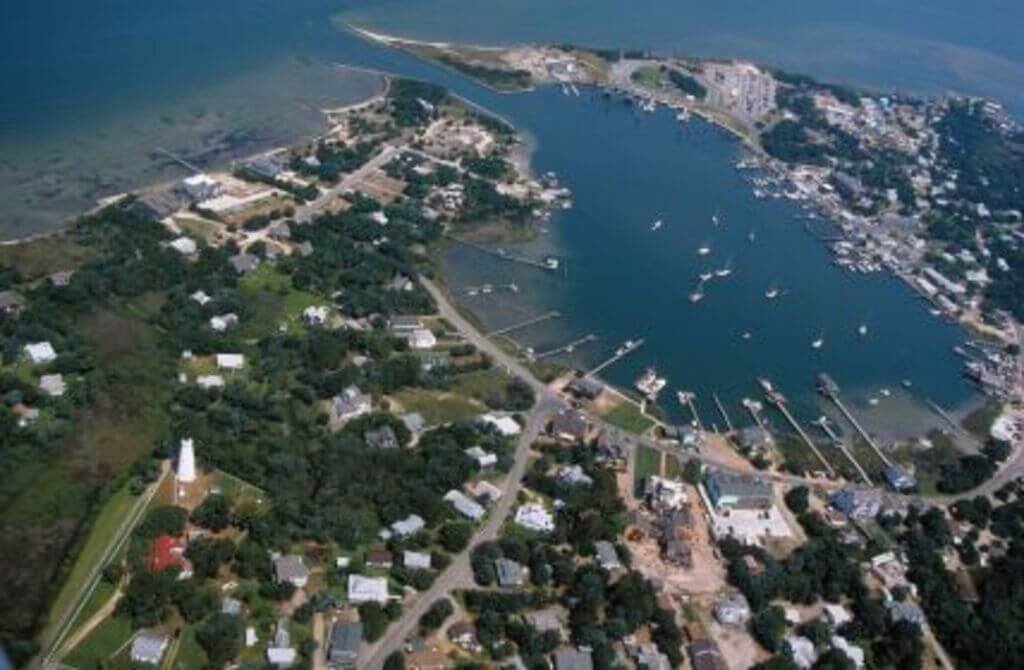 Ocracoke Island is one of the three islands that make up the Cape Hatteras National Seashore. It is the perfect place to go on vacation if you want to see miles of unspoiled, clean beaches and some beautiful sunsets.
The only way to get to Ocracoke village, which is on this 16-mile-long barrier island in North Carolina, is by one of three ferry lines, a private plane, or a private boat.
The best thing about Ocracoke Island is definitely the miles of beaches that aren't crowded or built up.
Here you can try kayaking, surfboarding, SUPing, wave runs, parasailing, fishing, and even clam digging.
Springer's Point Nature Preserve is another great place to get back in touch with nature. It has a 0.8-mile nature walk that goes through a maritime forest, salt marshes, and wet grasslands.
Check out the Teach's Hole Blackbeard Exhibit and Pirate Store to learn about pirate history, hike the Hammock Hills Nature Trail to see a variety of plants and animals up close, visit the British Cemetery, soak up the sun at Pamlico Sound beach, go on a ghost tour, and check out the different places to shop and eat.
4. Island of Masonboro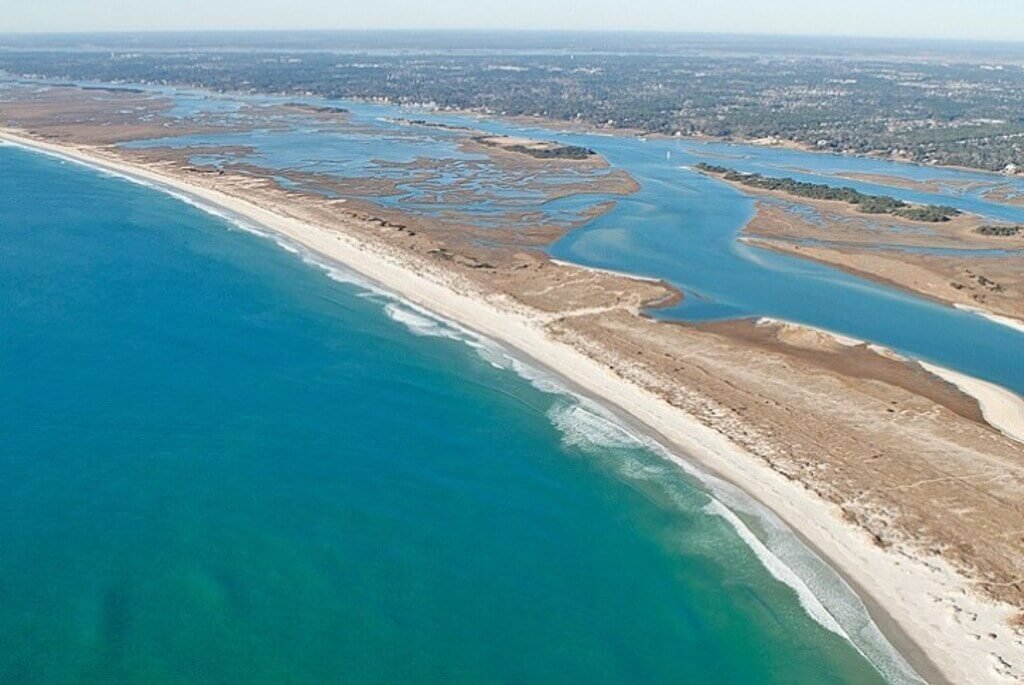 This barrier island got the name "Unspoiled Island" because it is North Carolina's best-kept secret when it comes to barrier islands.
It has beaches and woods that haven't been touched by humans. This lets many different ecosystems grow and thrive.
In southern North Carolina, nature lovers should go to the island environment that has been left alone the longest.
There's a lot to do, like walk along the beach, hike through the forest, watch local animals, go kayaking, or camp.
Masonboro Island is just south of Wrightsville Beach, off the coast of Wilmington, North Carolina. You can only go there by boat.
The North Carolina Ferry only takes 30 minutes to get there.
5. North Carolina's Bald Head Island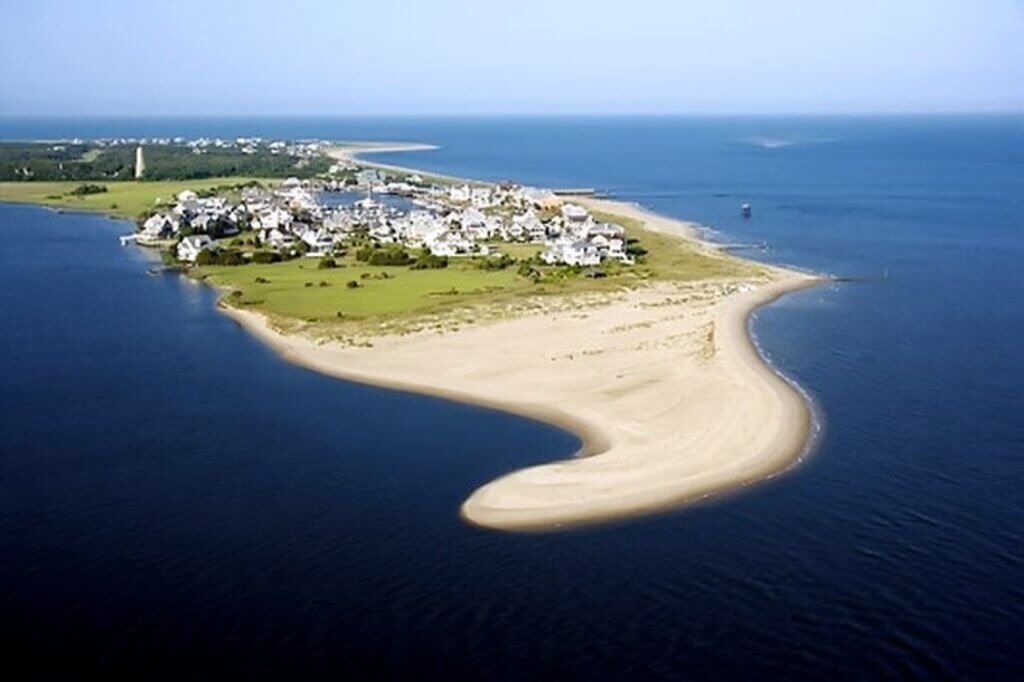 Bald Head Island is the most southern place that people live in North Carolina. It is at the end of Cape Fear in Brunswick County. It is an important part of the American Revolutionary and Civil Wars. This island is popular today as the main setting for the 1989 movie Weekend at Bernie's. Three lighthouses have served the island. The Old Baldy Lighthouse was built in 1817. and it is the oldest lighthouse still standing in the state. This is no longer in use but can be toured through the Smith Island Museum.
The island is known all over the country for the number of birds and sea turtles that nest there. It also has 14 miles of beautiful beaches and sights like the Bald Head Island Club golf course, which Links magazine named the number two course renovation in the country. Many of the places to stay on the island offer free temporary passes to the Bald Head Island Club and the Shoals Club, which have gourmet restaurants and access to marinas.
6. The island of Topsail
Pirates are the main thing on Topsail Island. Local stories say that pirates would hide in the water between the mainland and the island and wait for ships that they could steal from. Terrifying! Amazing! One of our favorite North Carolina islands!
Today, Topsail Island has 26 miles of beautiful beaches, turtles that are fun to watch, and natural, untouched plants. There are many different kinds of places to stay, so there's something for everyone.
You can fish off the Jolly Roger Pier, swim, visit the Karen Beasley Sea Turtle Rescue Center, take a boat, and check out the great restaurants. We also think you should go to Quarter Moon Books and Gifts, which has been around for decades and is a must-see place.
Also, pirate stories say that Blackbeard hid wealth on Topsail Island, but no one has ever found it.
7. Hatteras Island
Hatteras Island is a popular tourist spot in the Outer Banks, and for good reason. This island is almost as long as all the other islands in the Outer Banks. Along the island, there are a number of towns, such as Rodanthe, Waves, Salvo, etc.
Bring your four-wheel drive to the Cape Hatteras National Seashore if you want to see wild beaches and rough coastal scenery. People often spend a whole week in this beautiful place because there is so much to do here.
8. Island of Birds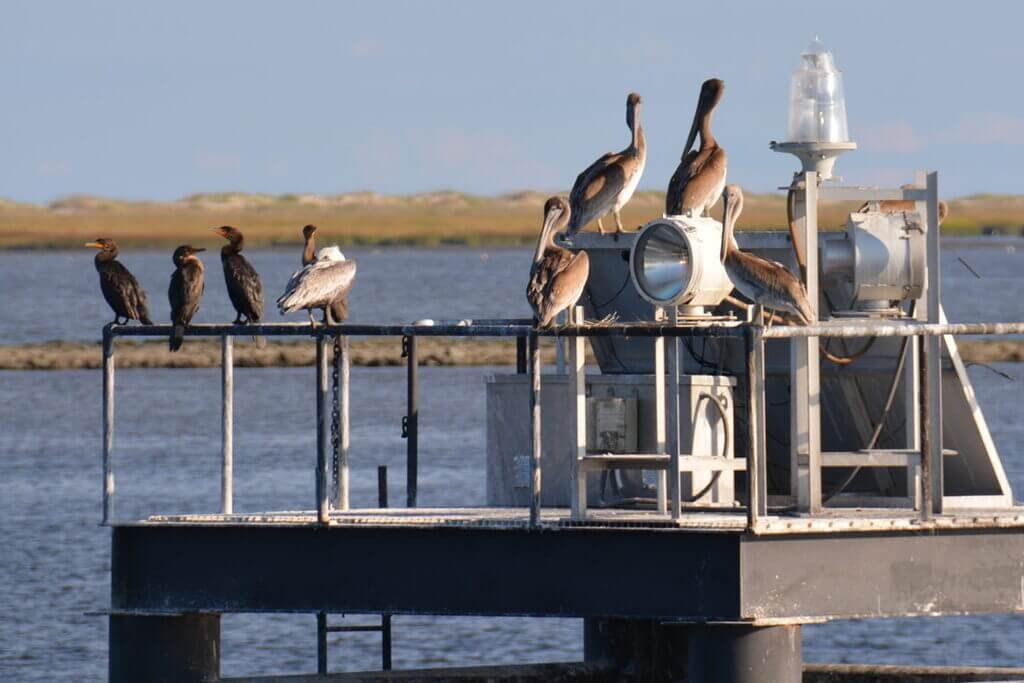 If you think that Bird Island will live up to its name by being a place where you can see lots of birds, you won't be wrong. This barrier island on the southwestern coast of the state is a choice among people who like to be in nature.
It has a nature park where sea turtles and many types of birds live, such as horned grebes, painted buntings, black skimmers, wood storks, and American oystercatchers. The only way to get to Bird Island Nature Reserve is by boat, but once you get there, you'll have access to a scenic boardwalk, beautiful stretches of beach, and a day-use area where you can get close to fields, salt marshes, and dunes.
People also like to go fishing, and they have the chance to catch redfish, grouper, and sea bass. Before you leave, don't forget to write down your thoughts and dreams for the future from the day and drop them in the Kindred Spirit Mailbox.
9. Cedar Island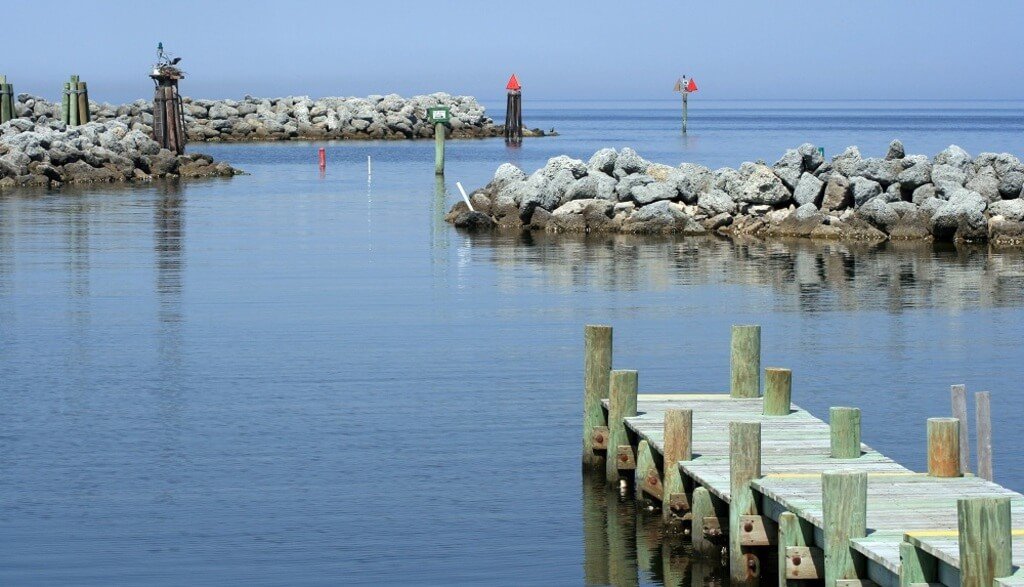 Cedar Island is a small beach town on the edge of North Carolina. It is about halfway between the Outer Banks and the Crystal Coast.
More than half of the island is part of the Cedar Island National Wildlife Refuge, which is a great place for wildlife lovers to enjoy a wide range of activities.
Pamlico Sound, which is 30 miles wide, is a great place for families to go swimming and beaching because there are rental houses and campgrounds right on the water.
If you're going on a trip with your whole family, you should stay at Cedar Island Resort. You should definitely try fishing on Cedar Island, whether you've done it before or not.
Bird watching, watching animals, hiking, biking, kayaking, boating, etc. are some other outdoor activities.
Take the Cedar Island Ferry to nearby Cape Lookout National Seashore, Cape Hatteras National Seashore, or quaint Ocracoke Island if you like to swim, surf, collect shells, fish, and do other things outside.
10. Shackleford Banks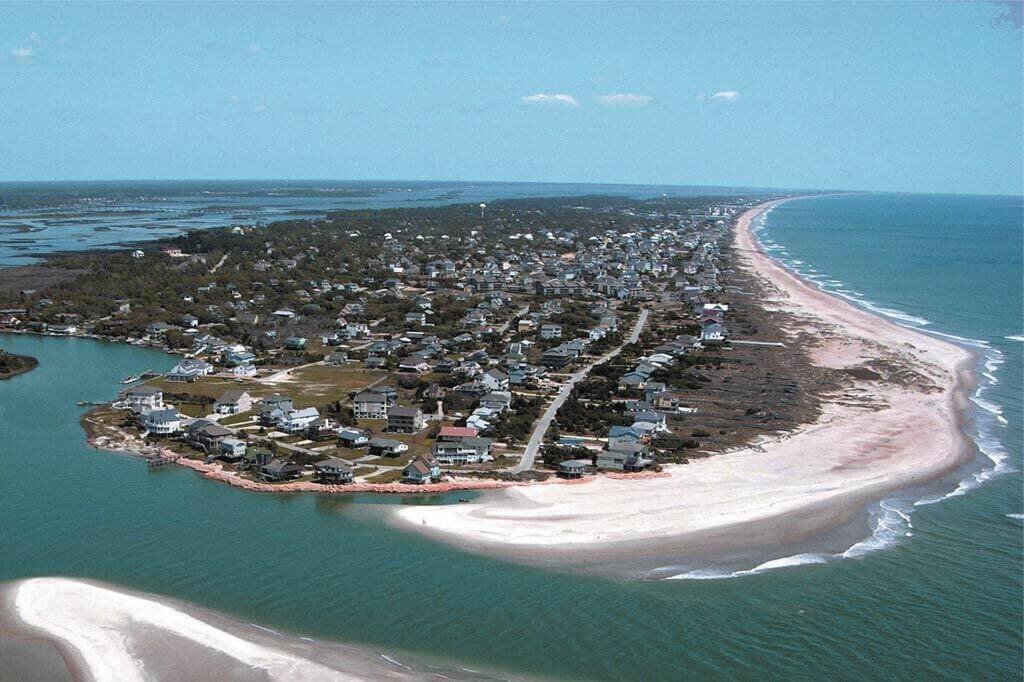 Wild horses roam peacefully on Shackleford Banks, a unique island in the Cape Lookout National Seashore.
People think that this herd came from Spanish ships that sank in the 1500s.
There are also sparrows, sea turtles, and dolphins on the island and in the water around it.
Since the island is well-kept, the only things to do are things you can do outside, like hiking, fishing, relaxing on the shore, and watching the local animals.
South of Harkers Island, across the Back Sound, is Shackleford Banks.
The North Carolina Ferry goes to the island along the Crystal Coast.
11. Bodie Island
Since 1811, when the Roanoke Inlet was closed, Bodie Island has been a part of the Outer Banks peninsula. Its name is not very accurate. It now goes from Nags Head to Oregon Inlet and is taken care of by the Cape Hatteras National Seashore, which stretches for more than 70 miles along the Outer Banks.
Unlike the nearby tourist areas of Hatteras and Ocracoke Islands, Bodie Island is a mostly natural paradise that hasn't been developed much. It's a great place to go boating, kayaking, fishing, and watching birds. The 10-mile island is also home to the historic 1872 Bodie Island Lighthouse and the Oregon Inlet Fishing Center, which is one of the biggest fishing centers in the area. Several beaches allow off-road cars, and the Oregon Inlet Campground, which is run by the NPS, has places to stay for the night.
12. Harker's Island
Harker's Island is a beautiful and remote island that is only 30 miles north of Emerald Isle. The Cape Lookout National Seashore is here, so there is a lot of rough beauty here.
Getting to Harkers Island from Emerald Isle takes about half an hour via US-70 and Harker's Island Road. The people who live on the island are called "hoi toiders." They speak a unique form of English and are the descendants of the first settlers from the 18th century.
Today, the island is a big tourist spot for people who like to watch waterfowl. It is also home to the Core Sound Waterfowl Museum and Heritage Center, which has art and paintings of waterfowl. In December, more than 10,000 people who like ducks come to the island for the Core Sound ducks Festival. The National Park Service Visitor Center for nearby Cape Lookout National Seashore is also worth seeing. It has a film about the park and games for kids.
13. The Island of Figure Eight
Figure Eight Island is one of the most remote islands in North Carolina. It's so quiet there that it almost feels like a ghost town. If you want to get away from the crowds and find a quiet paradise by the sea, this is the place to go. The best way to enjoy the island is to stay in one of the beautiful vacation houses you can rent.
You can look for seashells, go fishing, swim, boat, or ride a bike. Don't forget to keep an eye out for the many kinds of birds that live in the area.
14. Knotts Island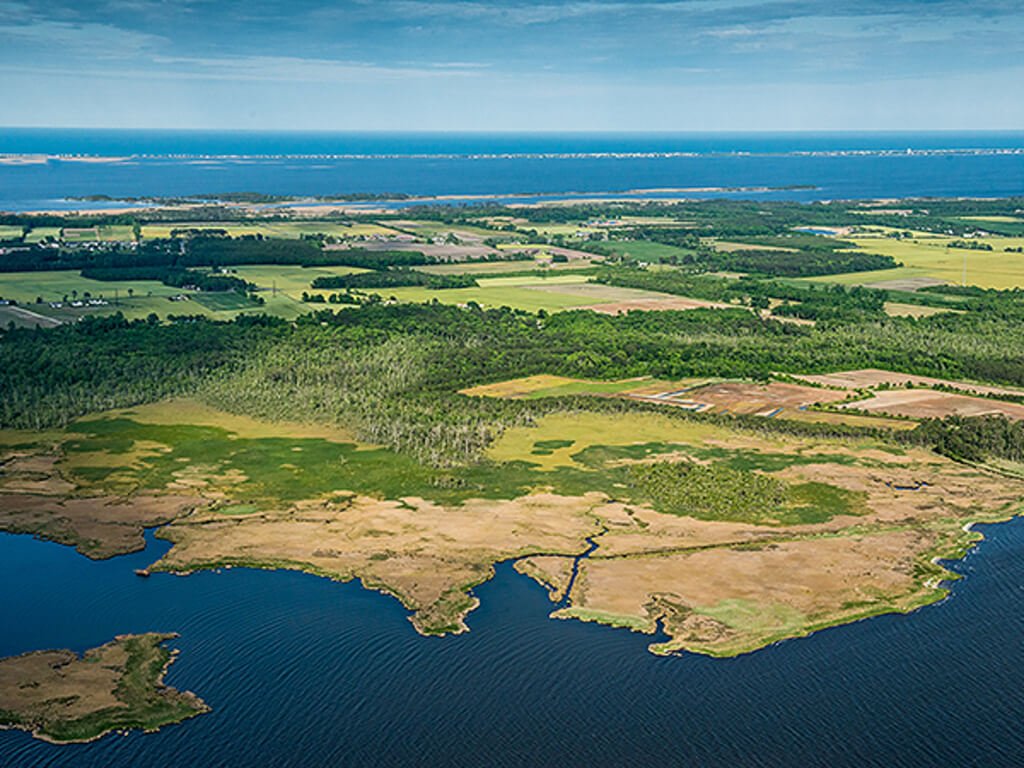 The Currituck Sound, the North Landing River, Back Bay, and Knotts Island Bay surround the remote island of Knotts Island.
The island is just south of the line with Virginia. The only way to get there is by ferry, which makes it a real quiet paradise.
The 9,503-acre Mackay Island National Wildlife Refuge is on Knotts Island. It is home to many different kinds of wildlife.
You can go climbing on the Charles Kuralt Trail, which will take you through tidal freshwater marshes and pine flatwoods where you can see some of the locals up close.
Currituck Banks Reserve is a great place to see beaches, sand dunes, and maritime woods. You can also climb to the top of the Currituck Beach Lighthouse.
If those kinds of outdoor activities aren't your thing, you can take a drive on Marsh Causeway, get a real taste of the island's fresh produce at Knotts Island Market, taste delicious fruit wines and pick your own apples and peaches at Martin Farm and Winery, and learn more about Knotts Island's history by visiting the Flyway Lodge, where Winston Churchill, President Dwight Eisenhower, and Nelson Rockefeller once stayed.
15. Island of Emerald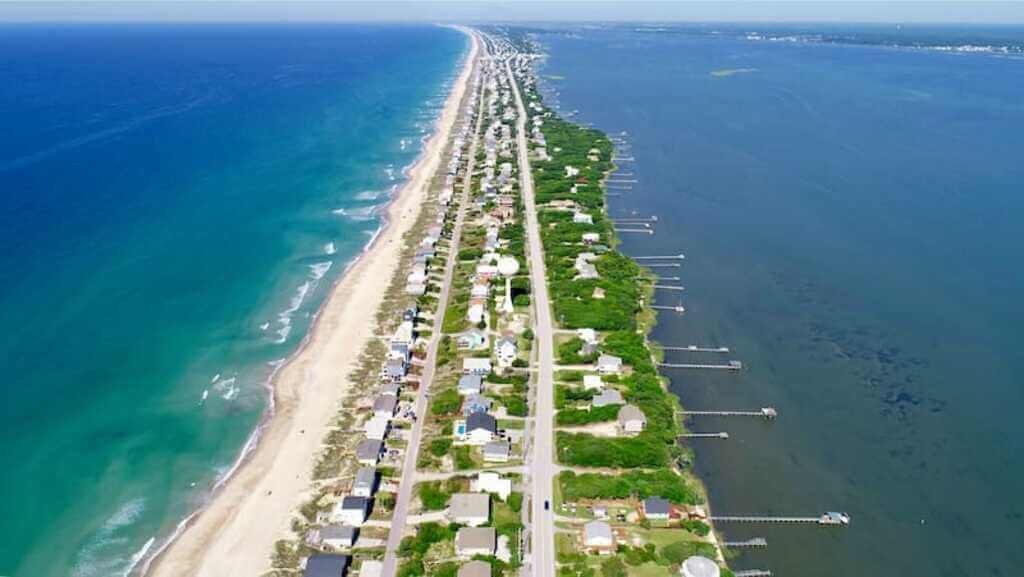 Emerald Isle is near Bogue Banks and Harkers Island on North Carolina's Crystal Coast.
The word "emerald" fits the name of the island because of how green it is.
Cars can take the Emerald Isle Causeway to get to Emerald Isle.
The island is surrounded by the Atlantic Ocean and the Bogue Sound, so you can swim, jet ski, kayak, canoe, raft, and even go deep-sea fishing.
One of the best things to do on the island is to ride your bike along the Emerald Isle Bike Path and look at the natural beauty of the island as you go.
There are a lot of different places to eat in Emerald Isle.
Gaffer's is a casual place with live music, and Kathryn's Bistro & Martini Bar is where you should go for a nice meal.
16. North Carolina's Pleasure Island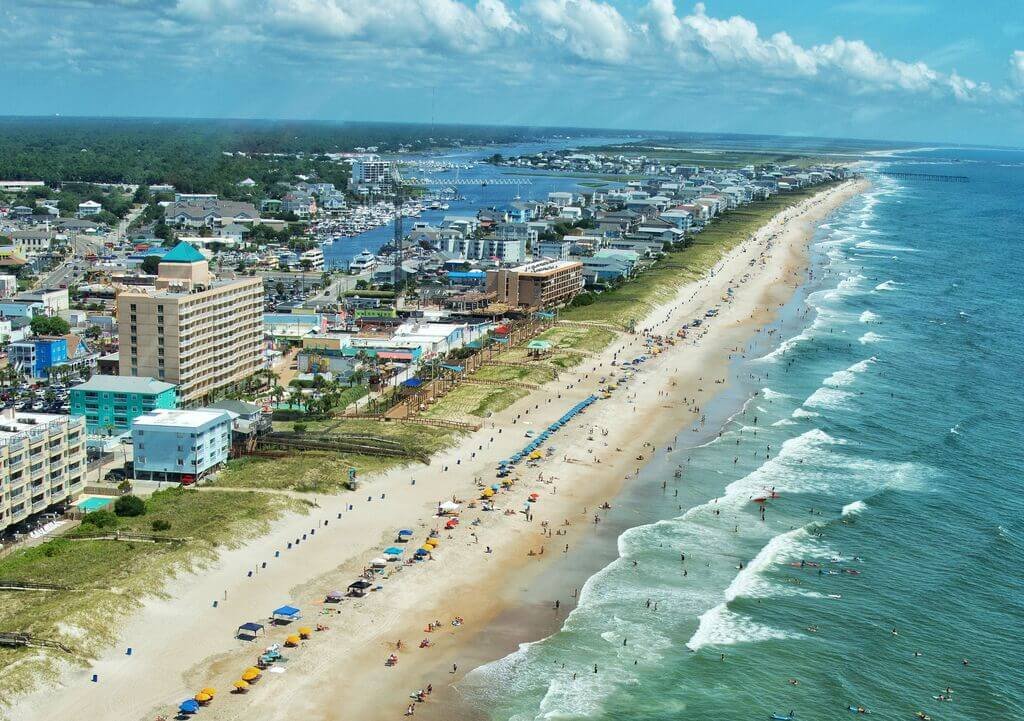 Before Snow's Cut was built in the 1930s to split the island from its peninsula on the mainland, Pleasure Island was called Federal Point. The island is home to the coastal cities of Kure and Carolina Beach, as well as the town of Wilmington Beach, which was added to the island.
These cities and town offer a range of unspoiled beaches and family-friendly activities. Budget Travel and Food and Wine magazines both picked the Carolina Beach Boardwalk as one of the top 10 boardwalks in the United States. The boardwalk has classic entertainment rides and arcade games.
The North Carolina Aquarium at Fort Fisher, the family-friendly Ocean Front Park, and the Kure Beach Fishing Pier, which is one of the longest fishing piers in the Atlantic, are also big draws.
17. The island of Lea-Hutaff
Even though the name is long, don't let it stop you from putting one of the most beautiful islands off the coast of North Carolina on your list of places to visit.
Lea-Hutaff is a real North Carolina barrier island. Like many others, it hasn't been built on and is home to many kinds of coastal plants and animals. Even though it can be hard to get there, we think that just adds to the sense of adventure and isolation. It also means that when you get there, you probably won't be surrounded by other people and can enjoy the stark beauty of the forest.
You can only get to Lea-Hutaff by boat, or you could even swim there! Our favorite thing about this island is that it used to be privately owned, but a few government agencies bought it so that wildlife can live there safely for many years to come.
18. The Island of Portsmouth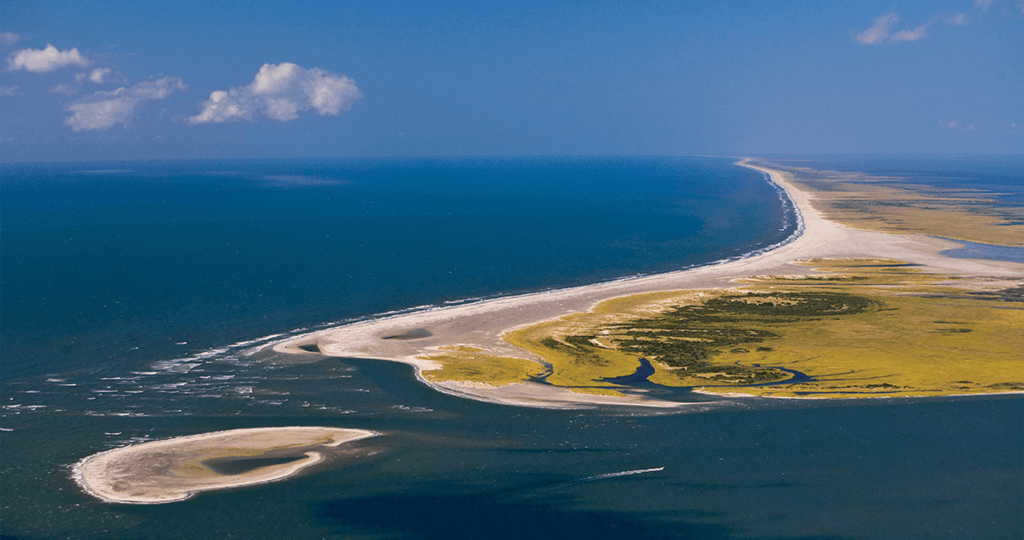 Portsmouth Island is the best place to go if you love the outdoors and would rather be in the middle of nature than in a 4-star hotel. On the island, there are many places to camp and many things to see and do.
There are ways to learn more about the interesting background of the Civil War. Shelling is another popular thing to do, and this part of the East Coast has some of the most beautiful seashells. With 13 miles of grassy beach, you can always lay out in the sun, swim, or fish.
19. Oak Island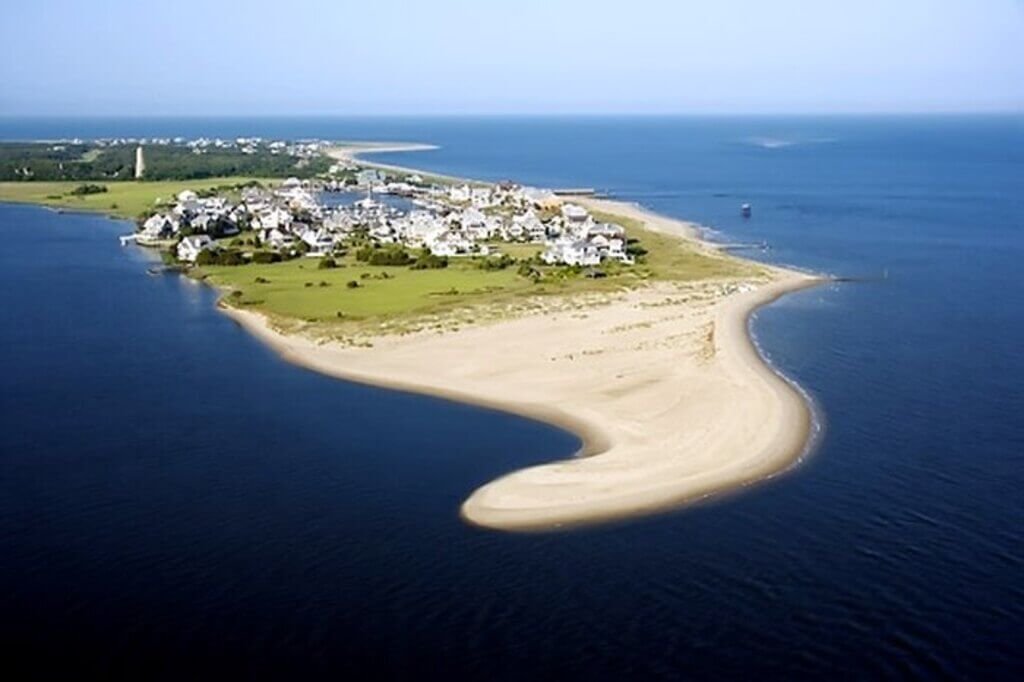 Oak Island is a barrier island in the southern part of North Carolina. It is 13 miles long and is home to the towns of Oak Island and Caswell Beach.
One of the best things about the islands is for sure the beautiful beaches. There are more than 60 public beach access places.
Oak Island Lighthouse, which was built in 1958 and is the most modern lighthouse in the state, is close to the beach and easy to get to.
Oak Island Golf Club in Caswell Beach is a great place to show off your competitive side. You can also go fishing with NautiGirl Charters or Fugitive Fishing Charters, paddleboard from Tidalwaves Kayak & Canoe Launch, and eat delicious seafood, steak, or tacos at Island Way or Koko Cabana.
Attractions for families on the Island include the Oak Island Nature Center and the Ocean Education Center, where you can learn about local plants and animals through a variety of exhibits, and the Oak Island Skate Park, where you can practice riding inline skates, bikes, and skateboards.
Make sure to go to the Oak Island Jungle Golf, Earth Day Festival, Farmers' & Artisans' Market, Christmas by the Sea Parade, and other events that happen every year.
20. Bogue Banks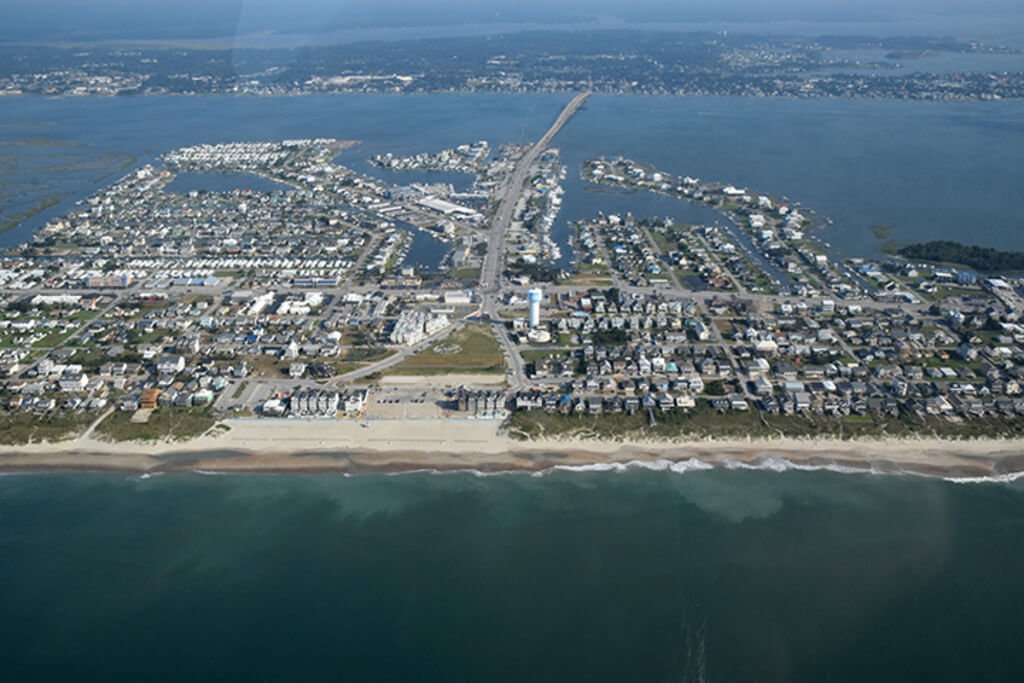 Bogue Banks is on North Carolina's Crystal Coast, near Beaufort. It has a lot of things to do.
Some of the best things to do in Bogue Banks are to hang out on the quiet beaches, fish from the Bogue Inlet Fishing Pier, or go on a deep sea cruise.
Fort Macon State Park and Emerald Isle Woods Park both have nature walks, and the North Carolina Aquarium at Pine Knoll Shores has a lot of sea life you can get to know.
If you want real fish, you should go to On The Rocks.
From Beaufort, you can drive to Bogue Banks by crossing the Atlantic Beach–Morehead City Bridge and going west on Fort Macon Road. 
Also Read:

Top 5 Most Romantic Places for Unconventional Dates in North America
Top 5 Most LGBT-Friendly Romantic Places in South America
21 Beautiful North Carolina Islands To Visit
21 Fun Things to Do in Wichita Falls, Texas
27 Best Things to Do in Fredericksburg in 2023
32 Things to Do in Stockton, California – 2023 Updated List
23 Best & Fun Things to Do in Eugene Oregon
Spitting Caves In Oahu: A Geological Wonder in Hawaii
9 Best USA and Canada Border Vacations to Visit With Family
29 Best Ghost Towns in California | 2023 Updated List