20+ Stunning Partial Balayage Ideas That Are Trending in 2023
The partial balayage is a modern classic with many variations. Whether you want delicate highlights or a bold contrast of hair strands, there is a solution for you. Continue reading for styling tips, tricks, and ideas for a stunning hair transformation!
A partial balayage is a freehand coloring technique in which highlights are applied to particular places rather than the entire head, typically the top layer or just around the face. Let's explore the most outstanding examples of this trend!
What is Partial Balayage?
Partial balayage means that only parts of the hair are lightened. We like to use Blondor Freelights to sweep the lightener through the top layer or sections that frame the face. This gives you a very subtle balayage look, and it also takes less time than coloring all the layers of hair.
Benefits of Partial Balayage Hair
There are many reasons why someone might want a partial balayage instead of a full one. One reason is that there isn't as much bleach, so your beautiful hair is less likely to get damaged. This makes it a good choice for people who have never colored their hair before but want to get that trendy look.
Less Expensive: Partial balayage vs full balayage won't burn a hole in your pocket. A partial balayage will usually cost between $100 and $200.

Since only a few parts of your hair will be highlighted, there is less chance of damage.

It looks more natural because you can still see your base color.

Low Maintenance: It's easy to take care of because new hair growth isn't as obvious. So this is another thing that might make you want to get partial balayage.
What is a Full balayage vs Partial
Source: styleseat.com
Getting a balayage is one of the best ways to change up your look.
But many women may not be as willing to try new things with their hair as some. Even more so for women with "virgin" hair that has never been bleached or treated.
So, if you're not sure about dying your whole head of hair, I'd suggest that you get partial balayage highlights instead.
It's a great option to think about if you want to change the way you look without getting a full makeover. Plus, partial balayage makes your hair look more natural. It's also better for your hair, if that's something you care about.
A partial balayage requires less time than a full balayage because it does not include applying highlights to all of your hair. A partial treatment may take approximately 45 minutes, and a full balayage could take up to three hours.

Although partial balayage highlights even less of your hair than complete balayage, it creates less bleach damage.

A complete balayage provides additional highlights and lighter spots throughout the top and bottom layers of hair.

A complete balayage may need touch-ups every 12 to 14 weeks. Due to the subtlety of a partial balayage, you may be able to go longer than 14 weeks between touch-ups.
Balayage Process
Here is how balayage hair is typically styled in a salon.
Your stylist will discuss the desired hair color with you and review inspiration photos.

They will section and apply hair color to your hair. After applying color, you must wait for it to process. Typically, you will sit beneath a blow dryer while your lightener processes.

Your stylist will rinse and possibly apply a conditioning treatment to your hair.

They will apply toner to your hair to achieve the desired color, then wash and condition it.

Your hair will then be cut and styled.
20+ Hottest Balayage Hair Ideas
Modern hair color and a contemporary hairstyle are the most effective means of maintaining a fashionable appearance. Deservingly, balayage is today's most popular customized hair color technique.
1. Coloring with Tiger Eyes
Source: hadviser.com
Gentle amber-chocolate "tiger eye" tints complement brown-haired ladies and brunettes with warm skin tones and brown, green, or hazel eyes. It is suitable for both long and short hair.
2. Long Waves and Caramel Balayage
Source: therighthairstyles.com
Long hair, tumbling curls, and caramel highlights are classic looks. A variety of lovely V-cut layers will add movement to locks while emphasizing the warm undertones that run throughout. Elegant and fashionable.
3. Balayage Blonde on Short Hair
Source: therighthairstyles.com
Ask your stylist for full, blended blonde highlights on brown hair for a very natural balayage effect. The deeper roots and underlayers of the hair offer a backdrop for the highlights to really pop. If your hair is naturally wavy, you can just let it air dry and add definition with a texturizing spray or cream.
4. Balayage Strawberry Blonde with White Highlights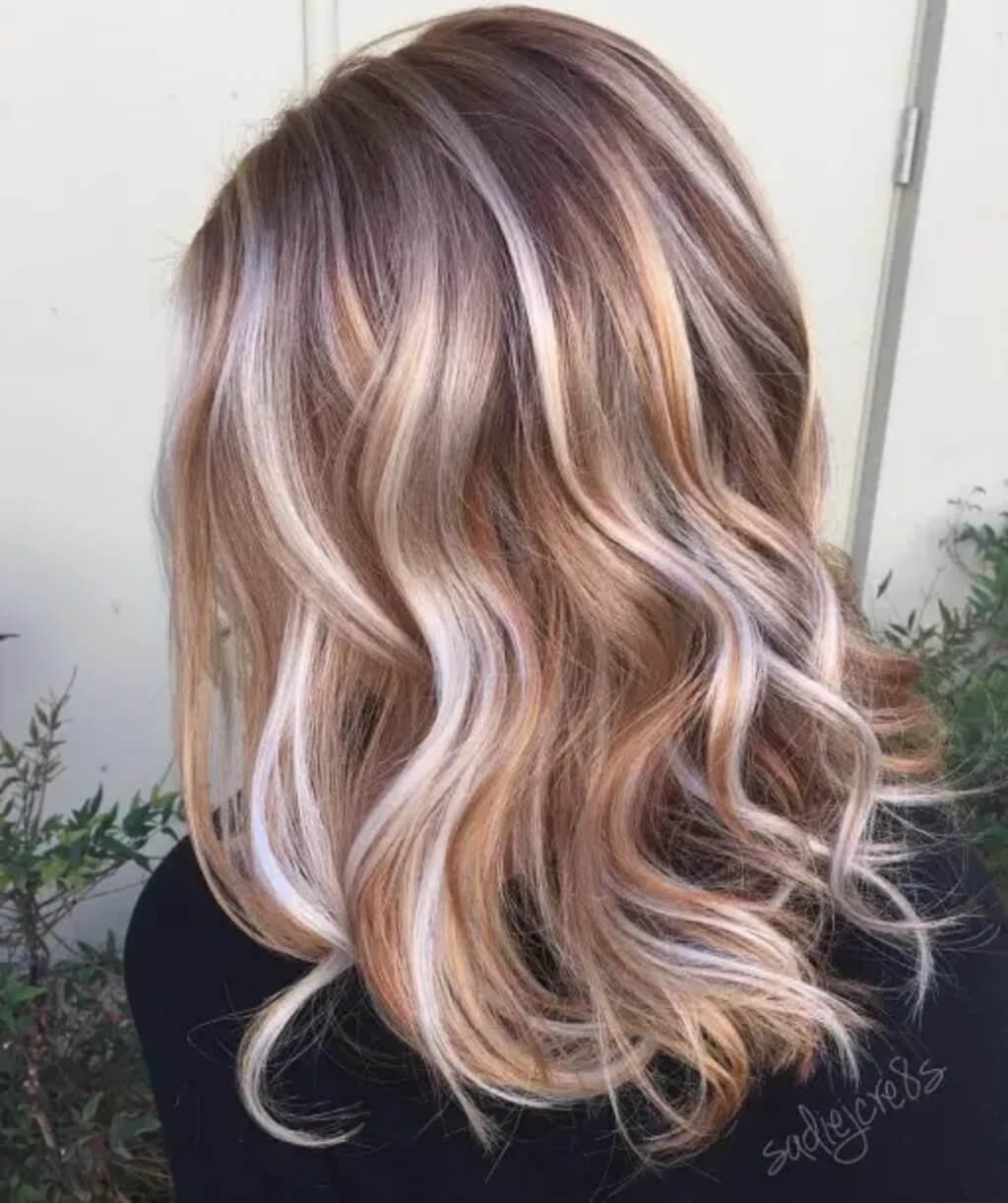 Source: hadviser.com
Warm and cool color combinations are popular. The image is completed and luxuriously styled with white blonde and strawberry blonde strands.
Also Read: 25 Trending Wolf Haircut Ideas to Try Out in 2023
5. Balayage Hair in Glossy Golden Bronde
Source: therighthairstyles.com
With flecks of golden bronde on the beautiful waves, the balayage hair looks stunning. Wear your hair wavy for special occasions or straight for a different look – this balayage will always make you look your best.
6. Long Bob Balayage Highlights
Source: therighthairstyles.com
Balayage is a popular hairstyle for short hair right now. To achieve the appearance, choose thicker highlights that frame the face and extend almost to the end. Any other highlights should begin a little lower down and at other spots.
7. Brunette Balayage Trend
Source: lovehairstyles.com
2023 is the year of brunette hair. Blondes were the most popular for years. Brown hair is equally lovely.
This warm-cool brunette mix is lovely. The colors merge so well that you can't tell it's not your natural hue. This sophisticated look is perfect with a long layered cut and flowing waves!
8. Balayage + Ombre = Memorable Look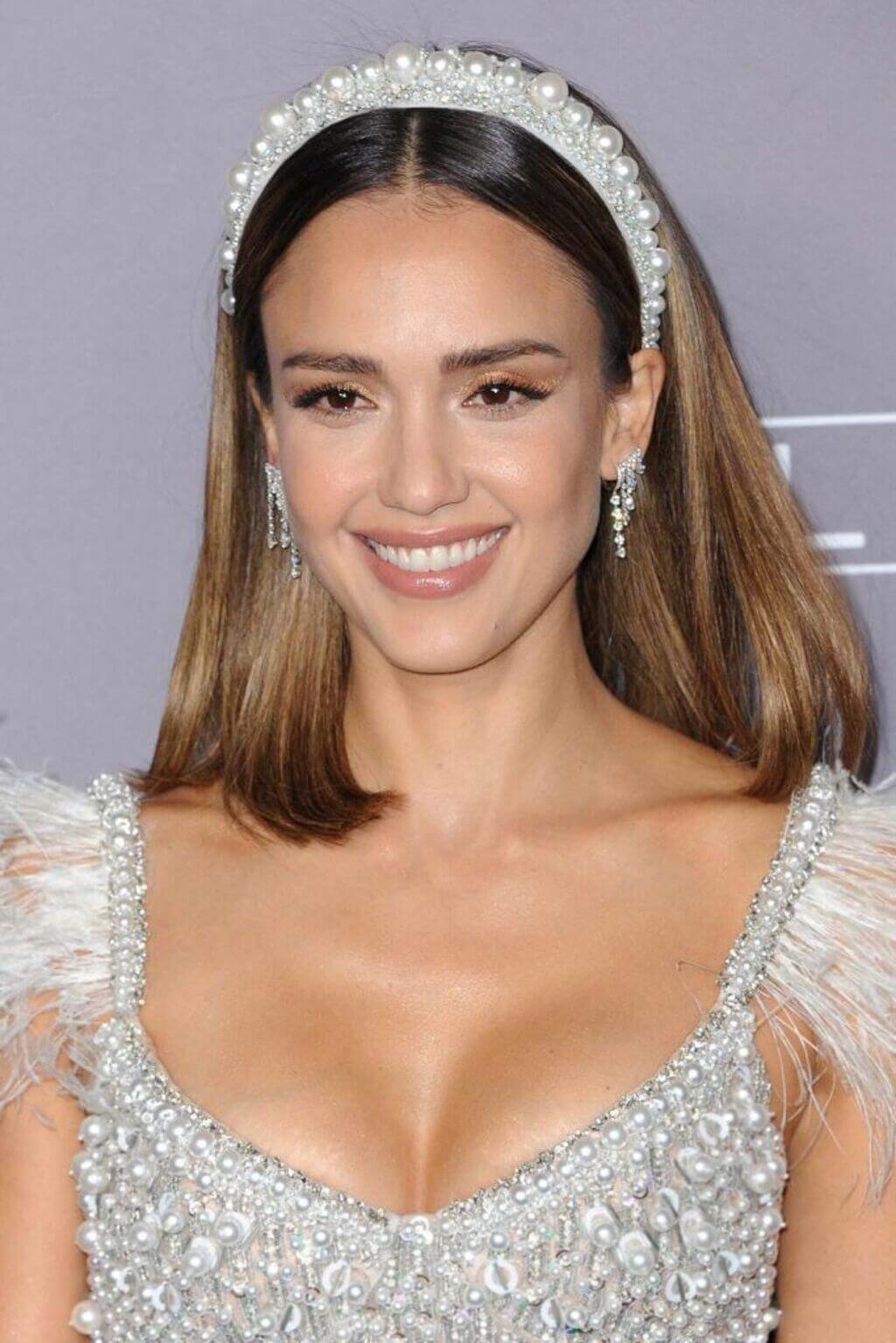 Source: lovehairstyles.com
Why not combine ombre and balayage if you're undecided? This dark-light brown combination is beautiful. The top has gorgeous balayage tones and the bottom has a soft honey-brown ombre fade.
9. Shoulder-Length Balayage
Source: hadviser.com
Balayage looks great on shorter hair. Caramel balayage with dark roots appears natural and appealing, like sun-burned hair.
10. Chocolate-tinged Brown
Source: lovehairstyles.com
This chocolate brown, chestnut brown, and honey brown mix is another great brown hair 2023 appearance. Lighter tones will shine in sunshine and add depth and texture to your hair. It will also shine your hair, making it look thicker and healthier.
11. Balayage by Sandy on Dark Hair
Source: hadviser.com
Partial balayage highlights in a sandy hue are reminiscent of the beautiful summer days you can see in the mirror. This delicate blonde tone is aristocratic and chic!
12. Hair with Subtle and Wavy Partial Balayage
Source: therighthairstyles.com
One thing to consider when deciding between a full balayage and a partial balayage is the impact you want your style to have. Are you attempting to be bold or understated? By avoiding the traditional balayage, you open the door to a more subtle, but still noticeable, change in your hairstyle.
13. Want Balayage on Straight Hair?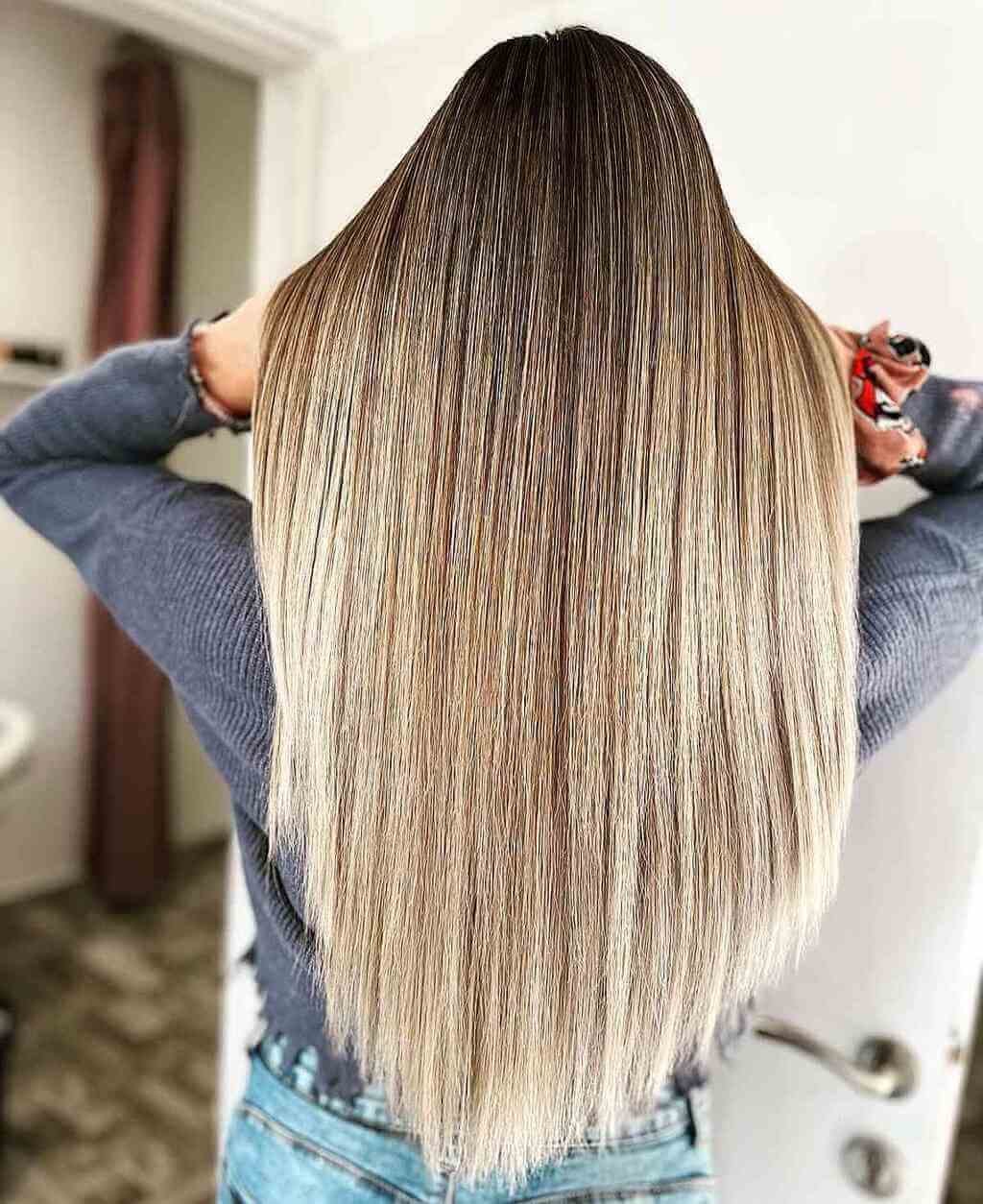 Source: latest-hairstyles.com
Do you adore your straight hair and wonder if a half-head balayage will suit you?
Check out this fantastic example of how the hair highlighting technique can transform your straight tresses.
This is a great way to style your hair if you prefer subtle and understated colouring.
14. Beach Blonde Look
Source: pinimg.com
A sandy-hued partial balayage conjures up images of warm summer days every time you look in the mirror. This delicate blonde colour exudes aristocratic elegance.
15. Partial Balayage That Looks Natural
Source: hadviser.com
This style clearly shows the main difference between partial and full balayage. Instead of taking the spotlight, notice how the partial highlights peek through the natural shade and create a natural sun-kissed hair effect.
16. Brunette with Highlights of Light Brown
Source: belletag.com
Highlights are a lovely way to add dimension to dark hair. If you prefer a more natural look or don't want to risk damaging your hair with too much bleach, the entry-level balayage gives you the best of both worlds. Simply lighten your strands a shade or two for a new look.
17. Partial Balayage of Buttery Blonde and Brunette Hair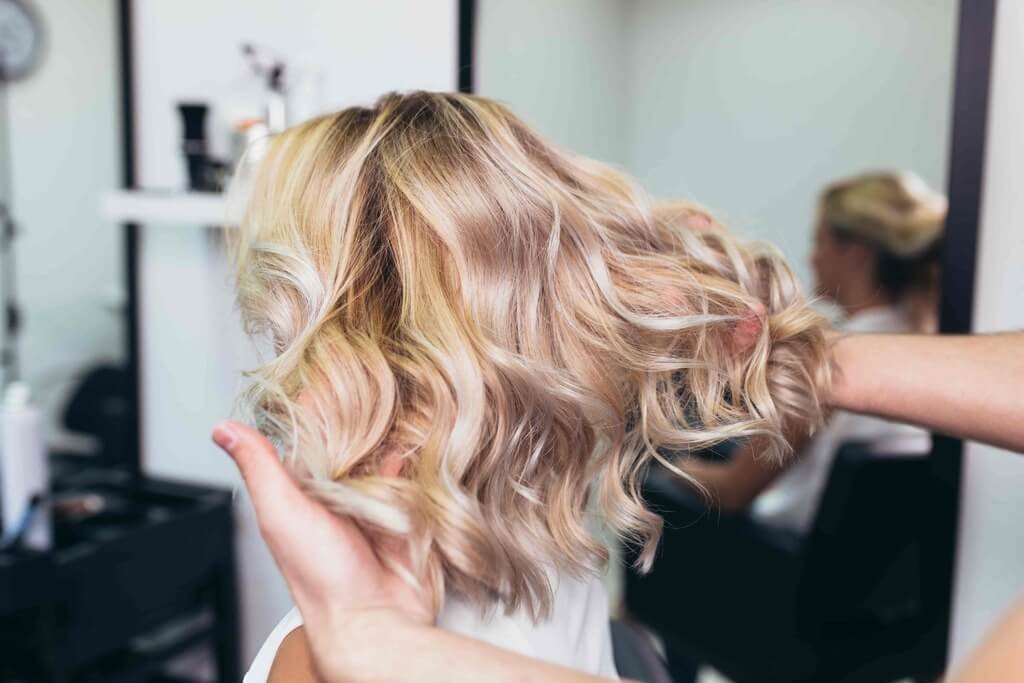 Source: johnfrieda.com
See how the buttery blonde colour enhances the complexion's radiance.
This beautiful colour is ideal for experimenting with lighter shades.
What's great about this colour is that it allows you to experiment with it without committing to colouring your entire head of hair.
Highlights can also draw attention to the colour of your eyes while adding dimension to your hair.
18. Hairstyle Transition from Black to Brunette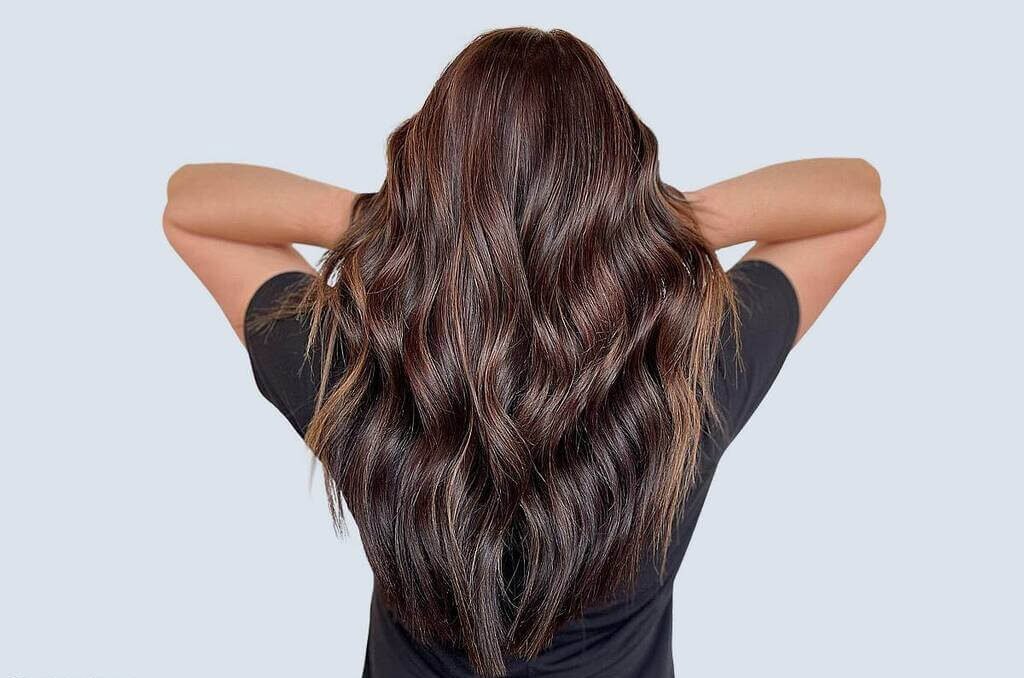 Source: latest-hairstyles.com
If blonde isn't your style, another brilliant idea is to add some reddish undertones to a deep black base. You can go for brighter, coppery highlights or keep the highlights closer to mahogany brown. It's an excellent way to style black hair with highlights.
19. Balayage with Creative Idea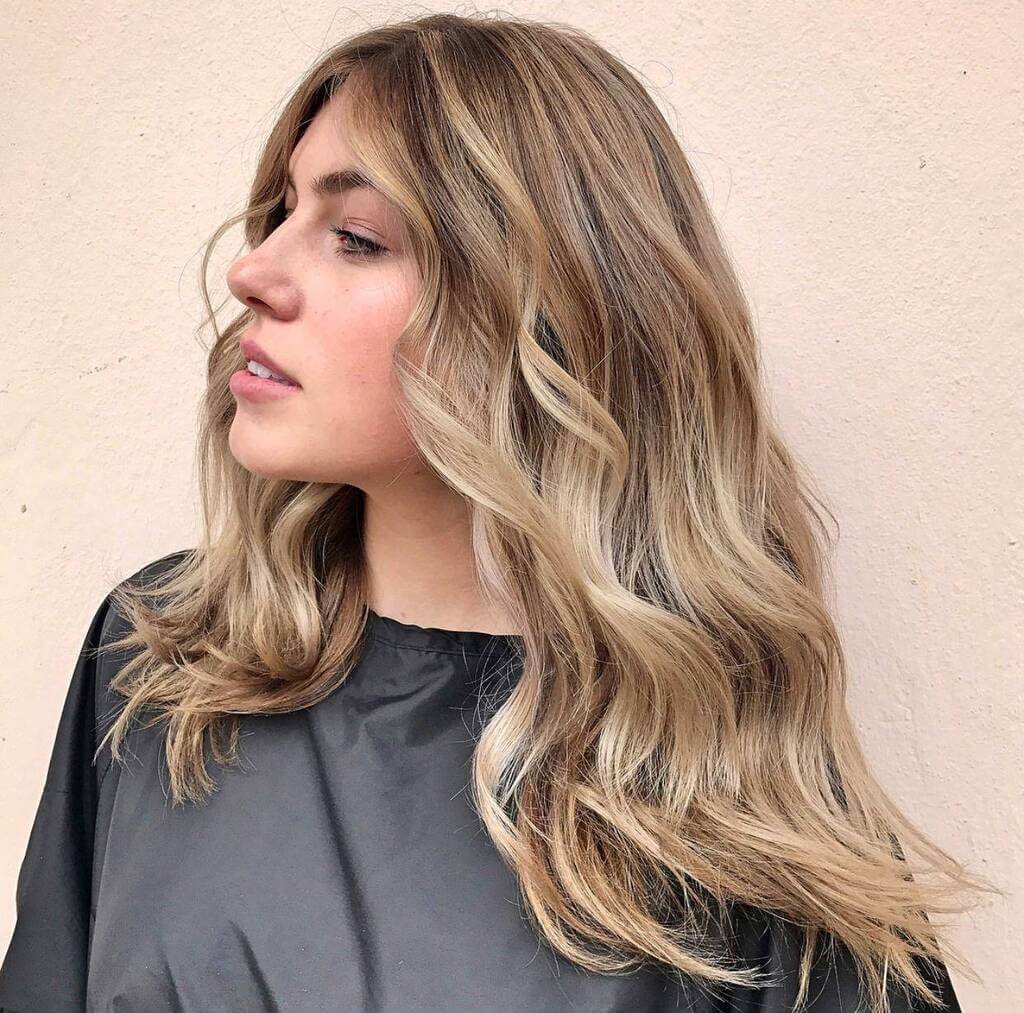 Source: avantgardesalonandspa.com
One of the most significant advantages of this style is that with the proper partial balayage placement, you can achieve an amazing dimensional look while minimising hair damage from bleaching. Come up with an idea for a unique look and enjoy the end result!
20. Soft Hair Painting on Brown Hair
Source: latest-hairstyles.com
When considering partial or full highlights, consider maintenance. With full highlights, you must ensure that your hair is moisturised and that everything looks natural as it grows out. If it's only partial, there won't be as much dye, and the lighter strands will look like sun-kissed locks when your tresses grow out.
21. Short Hair with Partial Balayage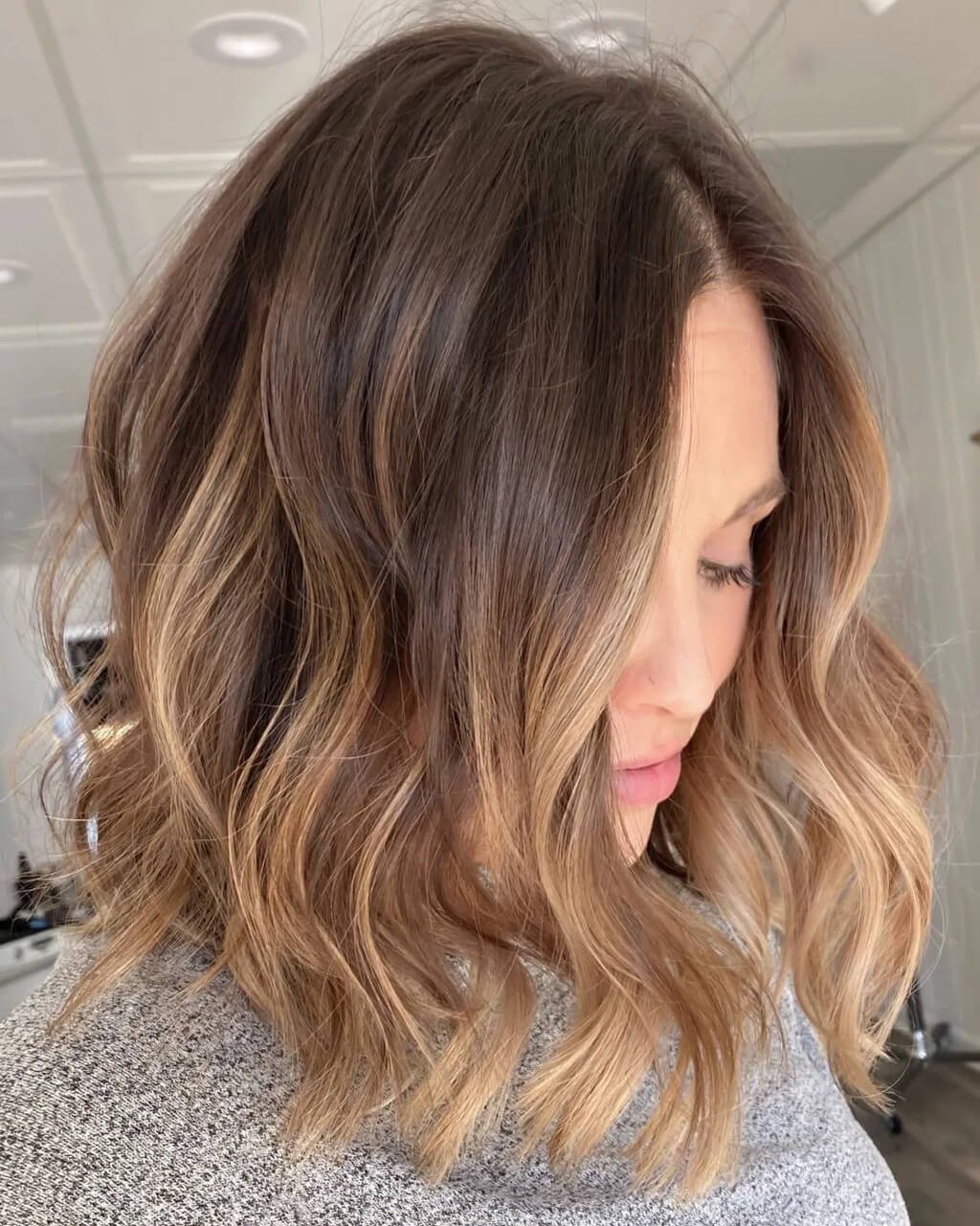 Source: hadviser.com
Take a look at this cool bob. It has layers that reveal different shades.
If you want to embrace the beautiful result of your hair, try this style. You may have to step outside of your comfort zone, but it will be worthwhile in the end.
This partial balayage on short hair will suit you perfectly.
22. Curls in Ashy Blonde
Source: latest-hairstyles.com
It's a great idea to add a lovely ashy hue to your balayage hairstyle. A great stylist's smooth transition between dark and light tones will make you the centre of attention.
23. Partial Balayage on Dark Hair with Curls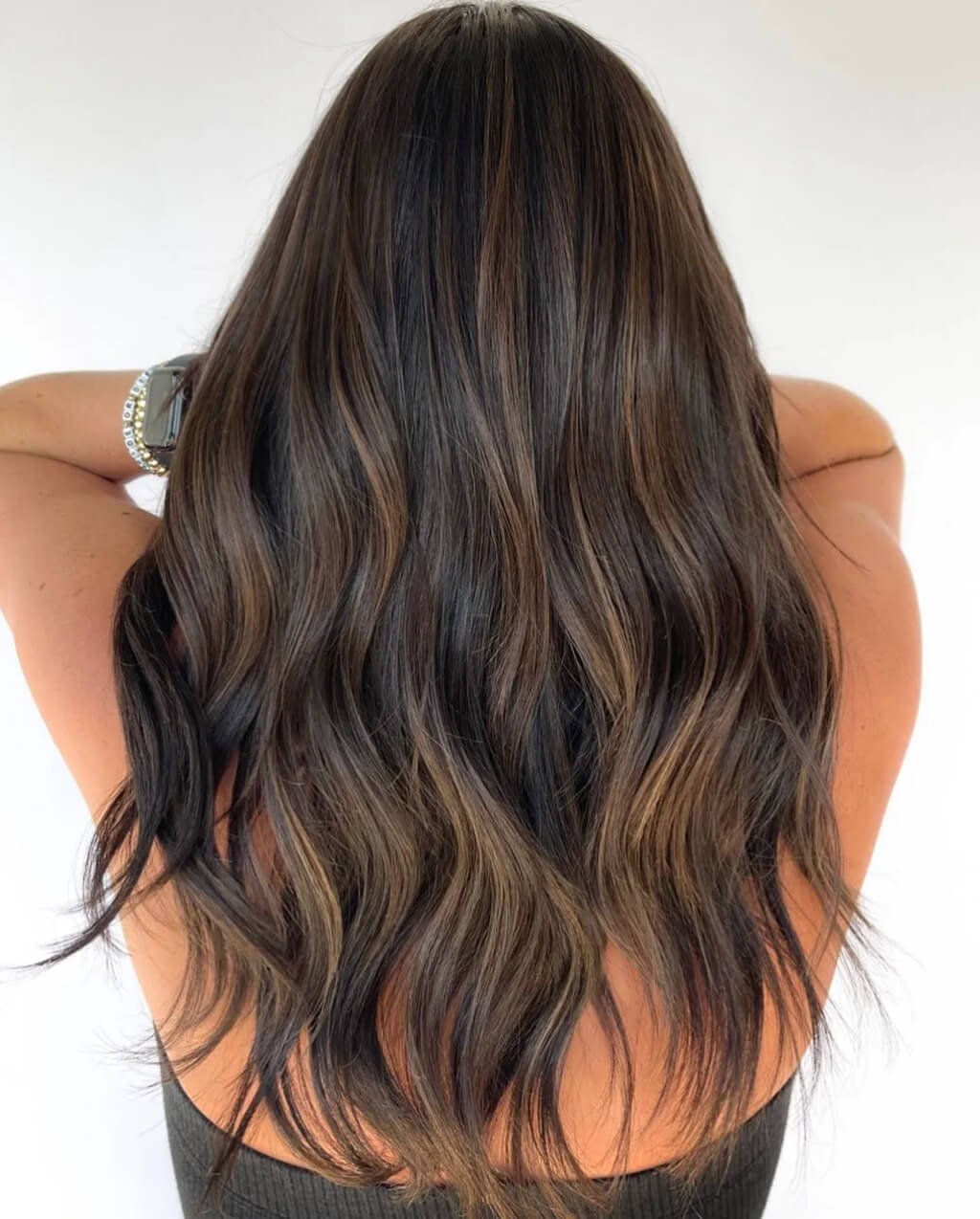 Source: hadviser.com
If you like to wear your hair curly, there are many balayage ideas for you. Isn't the variation with the subtle gradient from front to back adorable? It's a personal favourite of ours.
FAQs:
What is balayage?
Balayage is a hair coloring technique that involves painting highlights onto the hair in a sweeping motion, creating a natural-looking, sun-kissed effect. It is a French word that means "to sweep" or "to paint."
What is a partial balayage vs. full balayage?
A partial balayage involves highlighting only certain sections of the hair, usually the top layer or the front sections, while leaving the rest of the hair untouched. This creates a more subtle, natural look. A full balayage, on the other hand, involves highlighting the entire head of hair, from the roots to the ends.
How long does a partial balayage take?
The length of time it takes to complete a partial balayage will depend on various factors, such as the length and thickness of the hair, the desired result, and the stylist's experience. On average, a partial balayage can take anywhere from 1.5 to 3 hours to complete.
How long does a full balayage take?
Similarly, the length of time it takes to complete a full balayage will depend on various factors, such as the length and thickness of the hair, the desired result, and the stylist's experience. On average, a full balayage can take anywhere from 3 to 5 hours to complete.
For the latest fashion updates keep visiting Travel World Fashion.