What to Wear to a 90s Party? A Guide for Everyone
You're going to a 90s party and want to be the best dressed. So here comes the question of what to wear to a 90s party.
Just a quick tip. To get a feel for the styles of the 1990s, you can start by looking up famous singers, actors, and other actors, or you can look up movie and TV characters from that time.
In this article, I'll show you the best ways for couples, both male and female, to dress for a 90s party.
Each of the below 90s party looks is easy, existing, effortless to put together, and inexpensive.
Most thrift stores have great 90s party clothes that are cheap because they are used.
Easy, because all you need to know before you go shopping is what the 90s fashion trends were and what your best style is.
Without further ado, here are the best clothes from the 1990s to wear to a 90s party and look your best.
What to Wear to a 90s Party
Even though all 90s party clothes have to look like they came from the 90s, the best 90s party outfit for you depends on a number of things
There are 90s party clothes and styles for women, men, androgynous people, and even people who don't have a gender.
There are different types of 90s party clothes and styles for all body types, from long and tall to short and curvy.
When picking a great 90s costume party that will have the most impact, even the cut and colour of the hair matter.
So, if you're going to a 90s-themed party and need ideas for what to wear or just want to relive the decade of your youth, this article has a list of 20 cheap but effective 90s party outfits.
What to Wear for a 90s Party Female
Rebellious Schoolgirl Uniform of the 1990s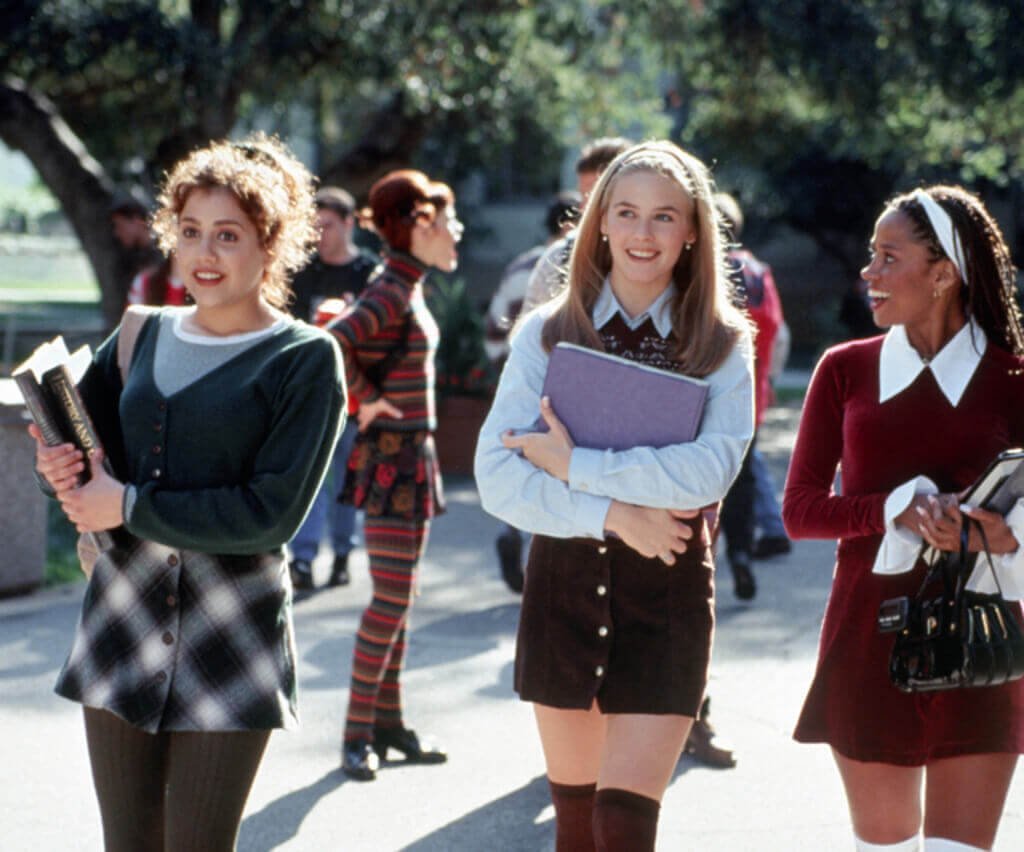 Source: cloudfront.net
As a teen girl in the 1990s, there weren't a lot of ways to show off your own style, so school became everyone's fashion show.
It was just as important to look like a peacock as it was to do well on your physics test and get the attention of the person you liked.
Here's a popular 90s party outfit: a black miniskirt and a white shirt with the sleeves rolled up and the buttons undone. The shirt should be cropped so that your belly button shows and you can see a little bit of your bra.
Add lots of baby barrette clips to your hair, a pair of black girl's straps, and knee-high white socks to finish off the look.
Short jeans and a Vest as a Top
Source: accentuate.io
Vests in the 1990s came in a wide range of materials, from leather to velour to silk. They were worn on their own, not as part of a suit, with skirts and jeans.
Go for a black velour vest, which you can easily find at a thrift store. Pair it with a fanny pack with a logo and a light blue denim skirt.
Finish off the look with black Converse shoes and white socks.
90s Plaid Sets
Source: laiamagazine.com
The plaid set is one of the most well-known 90s fashions, thanks to Cher Horowitz (Alicia Silverstone) and her famous yellow plaid blazer and skirt set from Clueless.
From fur-lined cardigans to slinky slip dresses, the cult classic sparked a lot of fashion trends that came to define the 90s.
But the plaid skirt set makes me miss the days when we had beepers, went to Blockbuster, and drank Snapple and Fruitopia.
The "plaid set" also looks great on curvy girls who are plus size.
Cropped Camo Top & Bottom from the 1990s
Destiny's Child-style camouflage is another popular 90s party costume for girls.Tina Knowles, Beyoncé's mother, was the band's official costume designer, so that's where the style comes from.
Tina was inspired by Motown, Grace Jones, and Queen Latifah when she made this look for Destiny's Child.
One of the best places to find a 90s Destiny's Child party outfit is on Depop. If you search for "CAMO," you'll find a lot of cargo pants and bodysuits that say they are "inspired" by Destiny's Child.
For a 90s party look that will make you stand out, don't forget your army-style boots and, if possible, a helmet.
Spice Girls' Clothes from the 90s
Source: r29static.com
Grunge and hip hop bands wore leather jackets, big knitted jumpers, pants with one leg rolled up, etc., which had a big impact on 90s fashion.
But of all the bands that influenced 90s fashion, the Spice Girls' Posh, Sporty, Scary, Ginger, and Baby looks were the most important.
In the 1990s, the British band brought back the platform shoe style of the 1970s.
No matter what you wear, whether it's cheetah print tights, the famous Union Jack minidress, or a pink slip dress with white knee-high socks, make sure you wear platform shoes to get the full 90s look.
What a female should wear to a 90s party- Celebrity Collection
1. Bandanna Shirts from the 1990s
Source: bravotv.com
In the 1990s, many women wore bandannas as tank tops. This is done by folding the bandanna in half diagonally and holding it to your chest. Then, tie it around your back in a tight knot. If you don't want to wear a bandanna by itself, look for a blue paisley-printed tank that looks like a bandanna. Jeans with a high waist or bell bottoms will finish off your look.
2. Rachael Green's Outfit from the '90s
Source: api.news
To look like this cool character from Friends, all you need is a short A-line skirt, tights or socks that stop just above the knee, and a white half-sleeved turtleneck. In the 1990s, this is what was in style. Don't forget the brown lipstick, either. Rachel Green's look isn't complete without her trademark brown lipstick from the 1990s!
3. The Look of Punk and Grunge in the 1990s
Source: pinimg.com
In the 1990s, the grunge subculture had a big impact on fashion and helped shape it. Draw ideas from celebrities like Drew Barrymore to make your own 90s-themed party clothes. Pair shorts or skirts with plaid patterns with sheer crop tops to make beautiful 90s club clothes.
Wear a leather jacket that comes to your waist. You can finish off your nineties grunge party outfit with a pair of combat boots or ankle boots. To finish off the look, put on a pair of fishnet or torn tights. To make the clothes stand out, go for dark lips and eyes.
4. Dresses that Reach the Ankle and have Chokers
Source: pinimg.com
To start, you can wear a maroon velvet dress with ankle boots to make your legs look longer. Not only does velvet fabric make you feel good, but it also makes you feel elegant. In the simple 90s outfits, this look was very popular.
Wear a simple, thin choker. The original look was all about being simple and not going overboard with accessories.
5. Cool Clothes for School
Do you remember how fancy the school uniforms in these movies were? I'm pretty sure that every single one of us tried to copy the look.
What was it about that look that was both seductive and innocent at the same time? Popular culture often borrowed these cute school uniforms, and they were very popular in the simple 90s outfits. The plaid school uniform, high socks, and straight hair became popular because of Clueless and other movies.
You can get this look by wearing a high-waisted skirt that falls above the knees, a shirt with full sleeves, and a sleeveless V-neck sweater over the shirt. You can wear a hairband or a hair belt to finish off the school look.
What Men Should Wear to a 90s Party
Here are the top 5 most popular 90s party outfits for men. These are great if you want to make a big impression at events, parties, and reunions with a 90s theme.
1. Tennis Set from the 1990s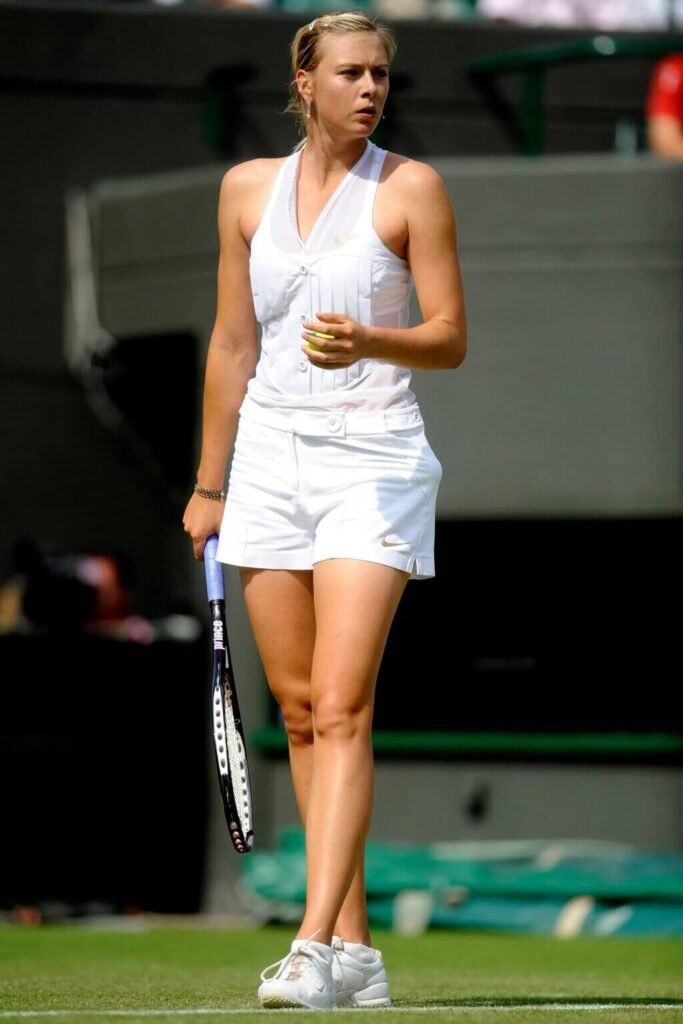 Source: allure.com
Tennis stars made thick headbands very popular in the 1990s, and they became a must-have hair accessory that was seen everywhere on the catwalk.
Headbands were everywhere, from movies and music videos to colleges where they were worn with preppy clothes.
For this beautiful 90s party outfit, you need long hair, a Nike or Head tennis polo shirt from the 90s, and acid-washed jeans.
Finish the look with a headband in the same color as the shirt and a pair of tennis shoes from the 1990s by FILA, Reebok, or Nike.
2. Hip Hop Style of the Nineties
Source: donnamoderna.com
When we think back to the 1990s, we remember that hip-hop style was all about bright colors and bucket hats. Think about the character Will Smith plays in Fresh Prince of Bel-Air. Everything was big and bulky, like dungarees, jackets, T-shirts, and hoodies that were too big. If you want to be really hip-hop, you could wear a reverse bandana to move more toward 90s theme party outfits.
3. Adidas Tracksuit and Shoes That Aren't Laced
Source: assets.com
Thanks to Run DMC's My Adidas commercial, this popular 90s party outfit was a huge hit back then.
The style of wearing clothes that were too big caught the attention of everyone, from college students to famous hip-hop artists who wanted to try a new look.
The best thing to wear is an Adidas suit with classic stripes in a dark colour and a pair of Adidas Superstars without laces in a different colour.
For maximum effect, add a large gold chain (or even two) and a classic black Fedora hat.
4. Outfits for a theme party with plaid patterns from the 1990s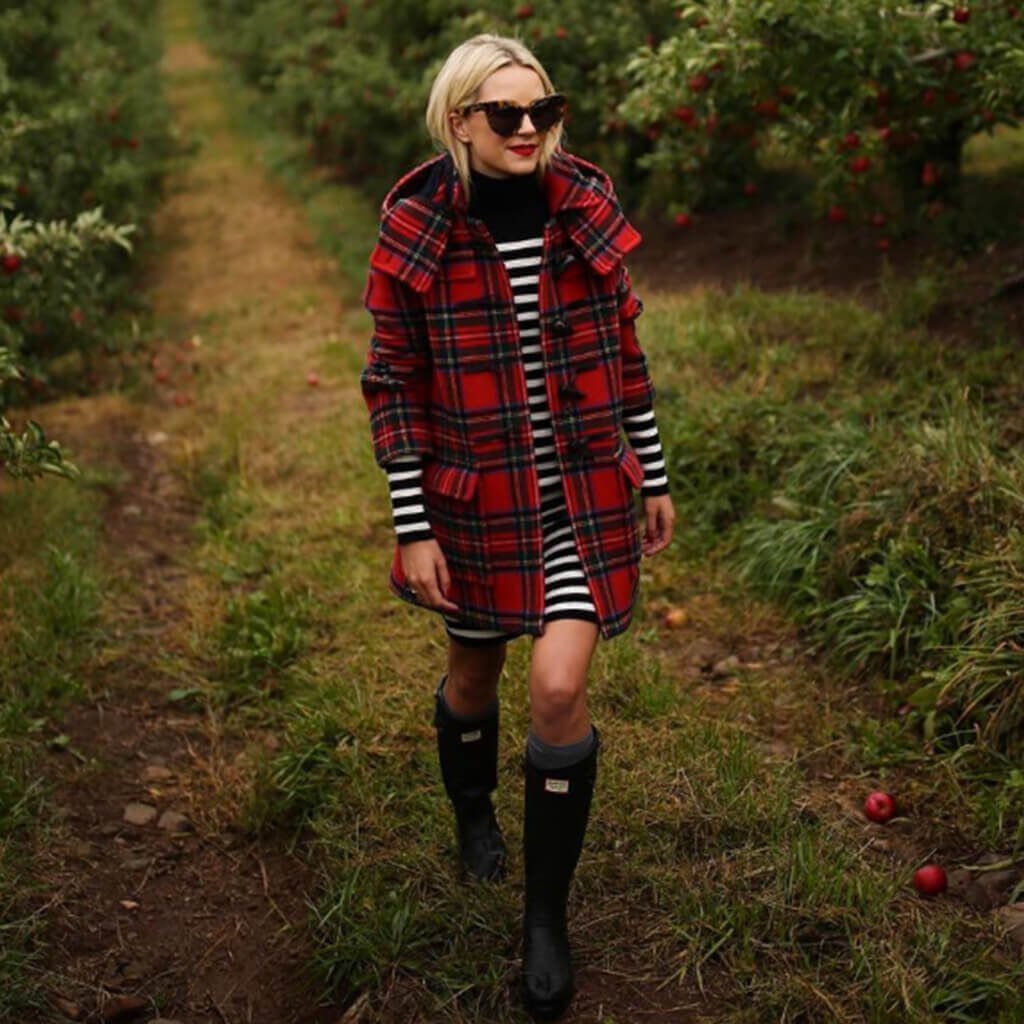 Source: static.more.com
These shirts with flannel patterns or big checks are still very popular. Pairing flannel shirts with jeans and t-shirts was popular at 90s-themed dress-up parties and is still popular now.
Fans of rock and pop culture liked to wear the big plaid shirts. They came in many colours and were often worn over t-shirts or just wrapped around the waist.
5. Rayon overalls and shirts with one strap down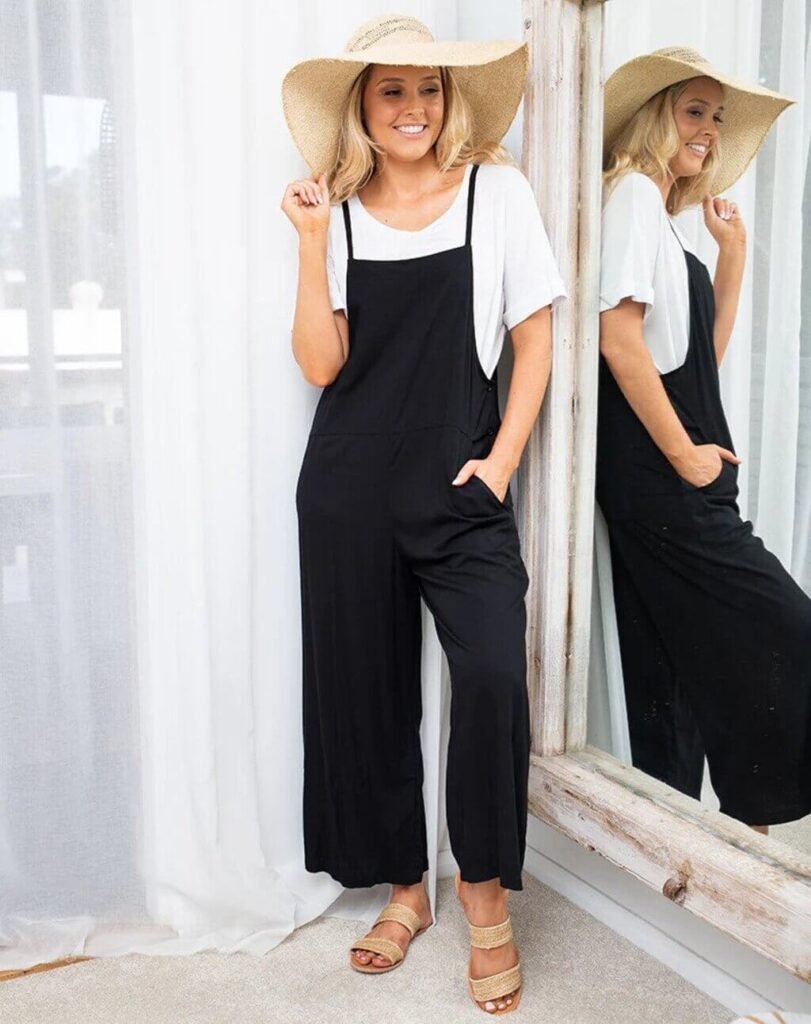 Source: shopify.com
In the 1990s, overalls were all the rage. Supermodels wore them on stage and in movies, and music videos showed them off.
But if you want to look like a classic 90s party-goer, you should wear your overalls with a rayon shirt and only one strap.
Some of the most popular (shirts) were printed with flowers and came in bright colours. Don't wear a plaid or denim shirt with this outfit, no matter what.
Finish off the look with a pair of basketball shoes that look like they came from the 1990s or a stylish pair of classic CAT "Second Shift Work" boots.
6. Dress up as a 90s boy band 90s-themed party
Source: nextluxury.com
In the 1990s, boybands were popular, and the clothes they wore made a point. Five, Take That, and East 17 were all from the UK, while NSYNC and Backstreet Boys were from the US.
Wear sneakers with a brand-name T-shirt. See more of Michael 84's advice on how to dress if you need a 90s-themed outfit for an event.
If you're going to a party with a 90s theme, these ideas will make you look like you just stepped out of the 90s. In the 1990s, clothes were all about being comfortable, looking good, and making a statement. You can do all of those things right here.
7. T-shirt under a blazer with rolled-up sleeves
Source: twimg.com
In the early 1990s, it was popular to wear blazers with sleeves rolled up and a T-shirt underneath.
The look was pushed by movie stars at the time. It was a smart casual style that could be worn to the office, out, or even on a casual dinner date.
Choose a white (one size up) jacket, a t-shirt in a different color, and a pair of light jeans or casual pants. They can be loose, tight, or cuffed.
Complete the look with a belt that matches the colour of the jacket and a pair of shoes, preferably "Chuck Taylors," penny loafers, or even suede leather Moccasin shoes with a fringed design.
8. 90s Grunge Flannel
In the 1990s, people liked both grunge and flannel. They have a lot of space, are comfortable, and will be a hit at the '90s fancy dress party. If you want to wear the flannel to the party, you might want to get jeans or torn jeans to go with it.
9. Turtleneck and jeans with a high waist (with Fanny Pack)
Source: blogspot.com
A classic piece of 90s fashion was a pair of high-waisted jeans and a turtleneck sweater.
Everyone wore it, but Steve Jobs's appearance at the "PC Forum" in 1991 made it a signature look of the 1990s.
But Dwayne Johnson – The Rock's outfit from 1996 is the perfect 90s party outfit, with high-waisted pants, platform sneakers, and lots of other accessories.
Pair your turtleneck with grey New Balance sneakers, a belt bag, and a jeans belt.
You should add as many silver accessories as possible, like a necklace, bracelet, and watch.
10. Leather coats from the '90s
Source: shopify.com
Most likely, we've seen men in movies wearing jackets and acting like bikers. Men's fashion seems to be coming back around to leather jackets, which are great for cold weather. In addition to the usual, the motorcycle jacket trend adds a little extra flair to this fashion trend.
Dressing up ideas for a 90s party as a couple
1. Britney and Justin's Outfits from the 1990s
Source: people.com
Britney Spears and Justin Timberlake were one of the most famous couples of the 1990s. This look is for you and your partner if you both like to try new things.
You can look like Britney by wearing a black top with a deep V-neck, blue jeans with bell-shaped bottoms, and a black metal choker.
Start with a light blue turtleneck shirt or sweater and blue jeans to get Justin's style.
2. Gwyneth and Brad's Outfits for a 90s Party
Source: eonline.com
Everything about Gwyneth and Brad was the same, from their clothes to their hairstyles. They often had the same cut and color on their bobs.
From 1994 to 1997, when they were a couple, they always looked like a 90s couple, wearing styles that are now standard for a 90s party theme.
This is also the easiest way for a white couple to dress in the 90s.
All you need is a striped V-neck sweater vest, a white t-shirt, chinos with a high waist, and converse (for him).
For her, a long boho-style dress in colors that match those of her partner and a pair of platform sandals.
Finish off this look for a 90s party with tiny, round sunglasses for both.
3. Ross and Rachel from the TV show Friends
Source: animatedtimes.com
If you still wondering about what to wear to a 90s party then check out Ross and Rachel were one of the most famous couples of the 1990s. They were known for their on-again, off-again love, and they also had great style.
For Rachel's look, wear a short black skirt with a central perk t-shirt and a denim shirt tied around the waist. A full-sleeved top, a grey miniskirt made of silk, and clear black tights would look just as good.
For Ross's look, he should wear cargo-style pants that are loose and a V-neck t-shirt. On top of that, he should wear a coat.
4. The 90s Party Outfits of Jennifer Lopez and Puff Daddy
Source: meredithcorp.io
Lopez dated Puff Daddy from 1999 to 2001. Combs says that those years were "a great time in my life."
This particular couple's 90s party outfit is good for people with dark skin who like hip-hop music.
Why dark-skin tone? Because white women's jeans, sneakers, sandals, tops, and accessories that look like diamonds look great against the skin.
Also, this style looks great when both people can do hip-hop moves at the same time.
5. Victoria and David Beckham's "Posh and Becks" 90s party outfits
Source: vice.com
Let's honour one of the most powerful and long-lasting celebrity couples of the 1990s and now. "Posh and Becks" got married in 1999 and are still going strong. The football god and the fashion queen have given us many ways to dress up over the years.
How to dress like these two? "David" only needs a Manchester United football shirt, black shorts, knee-high socks, and football shoes. Victoria likes to wear a black bodycon bandeau dress and heels with straps.
6. Johnny Depp and Kate Moss 90s Party Outfits
Source: assets.com
When Johnny Depp and Kate Moss met for the first time, she was a 20-year-old model who traveled the world, and he was a 31-year-old Hollywood A-lister who loved going to clubs.
In the 1990s, the couple's clothes showed how much they loved each other. Moss wore long, structured coats, and Depp wore his usual city look: a leather jacket, jeans, and a black and white t-shirt.
Oh, if you're playing Johnny, don't forget the double glasses. There's a pair on his head that I bet you didn't notice until now.
7. Dumb and Dumber's Lloyd Christmas and Harry Dune
Source: minutemediacdn.com
Lastly, Lloyd and Harry from the first Dumb and Dumber are one of our all-time favorite couple costumes. Those costumes will make you smile for a long time.
Start with light blue pants and a blazer with a white shirt inside to look like Harry. To top it all off, you can wear a light blue bow and a round, light blue hat.
Start with bright orange pants, a blazer, and a round hat to get the Llyod look going. You can wear a light orange shirt with a bright orange bow on top inside the blazer.
8. Will Smith and Jada Pinkett Smith 90s Party Outfits
Source: magazine.co.uk
Will Smith and Jada Pinkett Smith were the most fashionable people in the 1990s.
With their tiny sunglasses, boxy blazers, and lots of leather, the Smiths set the standard for how to dress in a way that still looks cool today.
At the "Devil in a Blue Dress" premiere, the Smiths looked great in their matching outfits.
Jada wears a blue Hawaiian-style dress that goes with Will's oversized striped suit and a white T-shirt. This goes against the movie's title.
9. Mayonnaise by Doug and Patti 90s Party Outfits
Source: pinimg.com
Kids who grew up in the 1990s will remember watching the cartoon teen try to win Patti Mayonnaise's love. Doug Funnie and Patti Mayonnaise are easy to dress up as, and they are also a lot of fun, nice, and bring back memories.
Doug's Look: Doug is wearing khaki-colored loose shorts, a white t-shirt with a roll-neck, and a green knit vest with a V-neck that he got at a thrift store. Put on a pair of red and white Chucks to finish.
Patti's look is finished off with blue cropped bell-bottom jeans, pink sneakers, and a light blue top with pink polka dots on the sleeves.
10. 90s Grunge Rock Couple Outfit
Source: futurecdn.net
Another power couple from the 1990s can give you ideas for a great 1990s party costume.
Love's overall style and way of dressing have been called "kinderwhore," but the look is easy to put together.
A white satin dress that is very long, a white pearl bracelet, and white pointed shoes with a low heels. All done.
His style is also simple and based on the classic grunge look.
From the bottom up Converse sneakers, ripped jeans, a long-sleeved sailor-style shirt with horizontal stripes, and oversized round glasses, preferably in red.
For a complete look, don't forget the matching suicide-bleached hairstyle and a milk bottle. The baby isn't a must.
FAQs on What to wear to a 90s party
1. What Was the Style in the 1990s?
What changed the way people dressed in the 1990s?
As music styles like grunge, hip-hop, and Britpop changed over the decade, jeans and shirts that aren't tucked in became the norm for casual wear. In the first half of the 1990s, grunge bands like Nirvana and Pearl Jam had a big impact on fashion.
2. What kind of jeans were worn a lot in the 1990s?
Before skinny jeans became so popular, flared and wide-leg styles were the most common. People liked these pants a lot in the 1990s because they were big and loose.
3. What kind of socks did people wear in the 1990s?
During the 1990s, if there was one thing everyone had, it was fancy feet, or more accurately, ankles. I'm not sure if any socks without scrunches or ruffles were made between 1990 and 2000. Any shoe from the '90s looked great with embellished socks that were crumpled or turned over.
4. What did people wear in the '90s?
People wore leather (or pleather) pants in black or red, fitted shirts, halter tops, cropped tanks, flared pants, and platform shoes. The color palette got lighter as it went from darker grunge tones to plum, navy, and red.
5. Which colors were most popular in the 1990s?
The years from 1990 to 1999. After 20 years of bright, rich colors, the grunge culture of the 1990s brought in a new era of darker, less bright colors. As flannel shirts, jeans, and combat boots became more popular, colors like dark plum, forest green, dark brown, black, and deep red started to show up.
Conclusion
If you use the 90s party outfit ideas in this article as a guide, you'll find it easy, cheap, and quick to put together your own 90s party costume.
Remember that the best 90s party outfit for you depends on your current style, age, haircut, and even skin tone.
Most 90s fashion pieces, like bowling shirts, flared jeans, skinny jeans, and even double denim, are not necessarily typical of that time.
Other 90s outfits include flannel shirts and leather blazers, which are more like the style of the 1980s.
But most importantly, the looks you choose must be typical of what celebrities wore in the 1990s.
So, if you're not sure what to wear to a 90s party, come back to this article for the best ideas.
For more fashion and travel-related articles visit Travel World Fashion.