10 Beautiful Beaches in Arizona 2023 | Lakes, Parks & Beaches
This year is the year to enjoy a relaxed and carefree day on the beach. Especially if you are tired of the quarantine period then this article Best beaches in Arizona is for you. This year is also the year to jump on a plane and fly off to a tropical paradise.
Right now, water, sun, and sand is very appealing. For those who need some post-lockdown relief, Arizona offers a surprising number of beachfront properties.
Communities are now open again across Arizona. It is still a good idea to avoid social distancing. Be patient. Some facilities might not be open completely. Some parks and beaches may require Temporary closures. So Before you go, make sure to call the office if you have any questions.
Now without any further delay let's go to the beach.
1. Buckskin Mountain State Park
Buckskin Mountain State Park is located on the Colorado River between Headgate Dam & Parker Dam. It is approximately 12 miles from Parker. It measures 18 miles in length, is very picturesque, and is full of wildlife.
The park is surrounded by beautiful scenery on both sides of the Colorado River. It offers breathtaking views, a variety of activities, such as basketball, volleyball, and boating.
The river is full of fish and it is ideal for swimming along its grassy shore. Anglers have the opportunity to catch large bass, smallmouth bass, and catfish. The campground has a restaurant, a children's playground, a boat ramp, and a store.
Buckskin Mountain is a beautiful section of a river that combines stony mountains with sparkling water. The beach is surrounded by a narrow strip of sandy shoreline, where swimming is allowed.
There is no lifeguard on duty at this beach, as it is at most Arizona beaches. You should swim at your own risk. Keep an eye on children. Overnighters will enjoy the shade of a campground, cabana site, and hiking trails.
More details:5476 State Route 95 Parker. $10 per vehicle 928-667-3232
Also Read: Olivine Pools Maui | Attraction & Safety Guide 2023
2. Centennial Beach, Yuma
Yuma has done a remarkable job of cleaning up its waterfront and rehabilitating in an effort to reconnect with the Colorado River. Gateway Park was a part of this development.
The park is located at the end of Madison Avenue and features picnic ramadas, a grassy area with playground equipment, fishing piers, and a sandy beach that gradually enters the water. The span, which is located under the Ocean-to-Ocean Bridge, provides shade and welcome shade.
Centennial Beach is in the West Wetlands. Centennial Beach created in 2014 using sand dug from the Colorado River.
The river runs through dense woods and under a canopy of cool shade. A small lake, picnic tables, and toilets are located above the beaches. Yuma River Tubing provides a one-hour float trip between the East and West Wetlands, starting at $10. https://www.yumarivertubing.com. 928-750-247.
3. Arizona Beach: Cattail Cove State Park
Cattail Cove State Park is located on Lake Havasu and covers over 2,000 acres. It's a popular spot for family outings all year.
It is 45 miles long, and it is a great spot for boaters and anglers looking to catch largemouth, striped, channel catfish, flathead, channel catfish, crappie, and bluegill.
Many hiking trails are approximately a mile long and most of them are easy and relaxing. March is the best month to hike, as wildflowers are at their peak.
The park has a sandy beach that is ideal for daily use, but you can also swim in the many small coves surrounding the lake.
Highway 95, Lake Havasu City (AZ 86405).
4.River Island State Park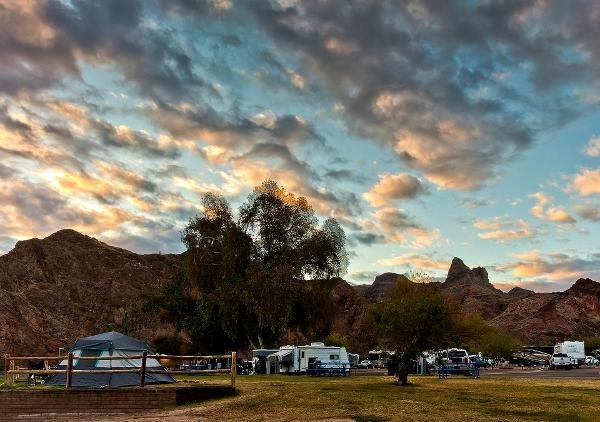 River Island State Park is located in a bowl at the foot of the stark mountains that rise from the riverbank. A small beach is located next to the boat ramp. The campground has a grassy lawn, which is ideal for tents.
The beach is surrounded by mesquite trees that provide shade. For stunning views, the Wedge Hill Trail is a short and scenic hike that climbs the rocky slopes.
More details:5200 SR 95 Parker. $10 per vehicle. Call 928-667-333386.
5. Lake Havasu State Park
Lake Havasu, which covers nearly 11,000 acres of Arizona's parks, is the largest. It's located in the middle of Lake Havasu City just upstream from London Bridge. This makes it the busiest.
Windsor Beach is the main attraction. It's a long stretch on white sand. The beach has a picnic area for day use. Here you will get 13 air-conditioned cabins and campsites for tents or RVs.
Boat and jet ski rentals are available from the park concessionaire, Wet Monkey Powersport Rentals (928-855-2022, https://www.wetmonkeyrentals.com). Be careful authorities may close the park occasionally to avoid overcrowding.
More details: 699 London Bridge Road, Lake Havasu City. $20 per vehicle on Fridays, Sundays, and Holidays; $15 for all other days. 928-855-27784
6. Lakes in Arizona: Lake Havasu Beaches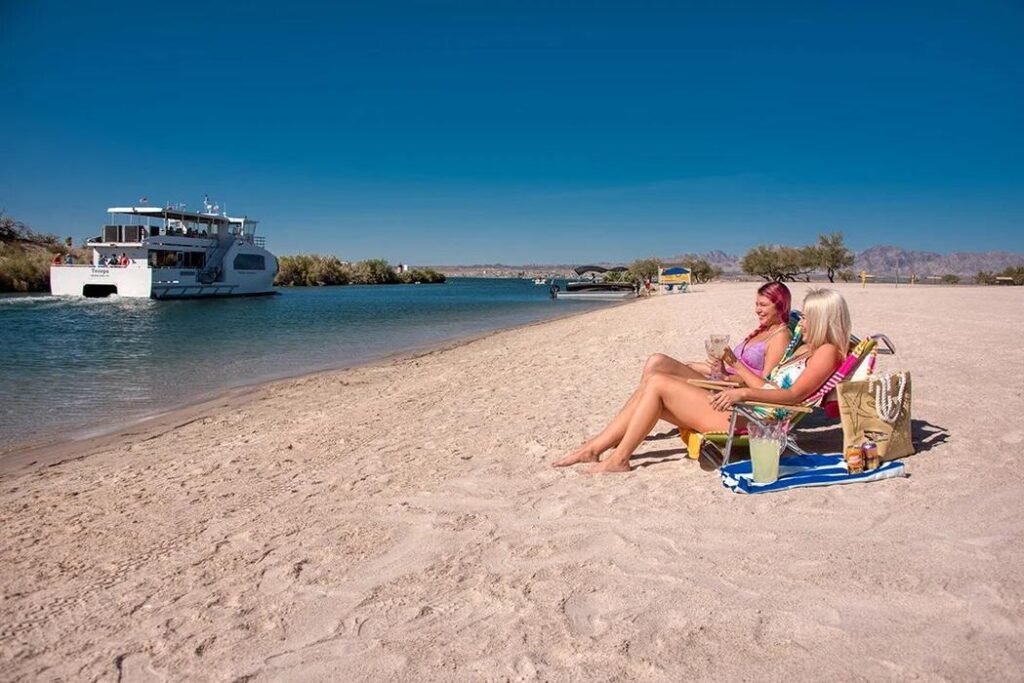 Many beautiful sandy beaches can be found around Lake Havasu, as well as the Colorado River shores. However, most beaches are only accessible by boat.
Skier's Island, a large rock that has a natural cove that is popular among waterskiers and wakeboarders. Bridgewater Channel is so popular among boaters that they have a weekend boat parade.
The "Sand Bar", a beautiful half-mile-long stretch of sandy beach that runs along the river, is the most sought-after local gathering spot. It is located approximately one mile north of Blankenship Bend.
Friendly Island (or Beaver Island) is about 4 miles away from the London Bridge. It has several beautiful, quiet beaches that are accessible by boat. Steamboat Cove, one of the most protected and quiet coves along the river, has a lovely stretch of sandy beach.
Three Dunes on Lake Havasu have some lovely beaches, as well as small coves that are great for bass and catfish fishing.
7.Best lakes in Arizona: Patagonia Lake State Park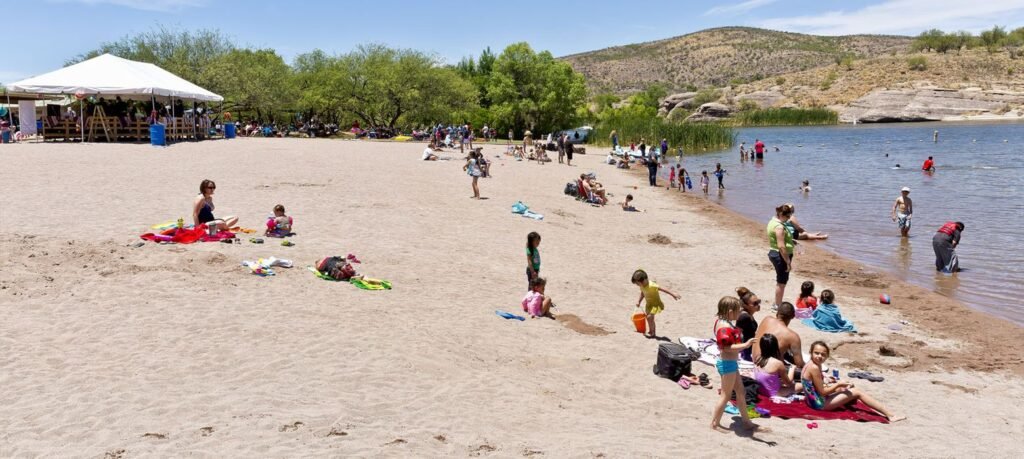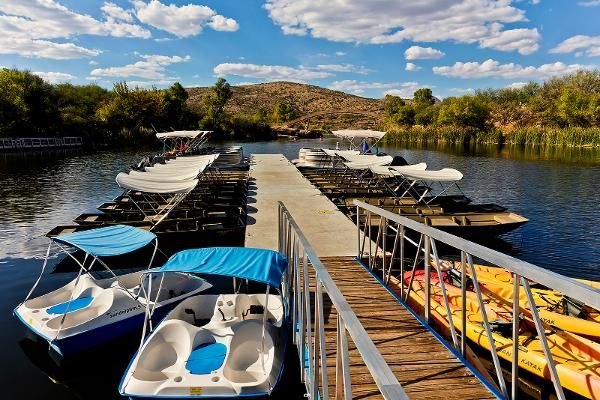 Patagonia Lake State Park was established in 1975. It is nestled among the rolling hills of South Arizona. You can see the white-tailed deer roaming freely in the hills, as well as the elegant great blue herons that nest on the shoreline at Lake Patagonia.
The park offers a beautiful beach, a boat ramp, and a campground. There is also a picnic area, tables, and grills, as well as a scenic creek hiking trail and a marina. The nearby Lakeside Market has a boat rental area. It is located in a beautiful spot overlooking the lake. This campground is full of anglers eager to catch trout, bass, bluegill, crappie, and catfish.
Water skiing is possible at the lake. The remnants of the New Mexico-Arizona railroad tracks can be found beneath the lake's deep waters. A nice trail runs along the creek and is an ideal spot to view many local birds, such as the canyon dove, vermilion flycatchers, Inca doves, and black vultures. Hope you will like this one from our beaches in Arizona list. you can always comment down.
400 Patagonia Lake Road. Patagonia (AZ 85624).
8. Roper Lake State Park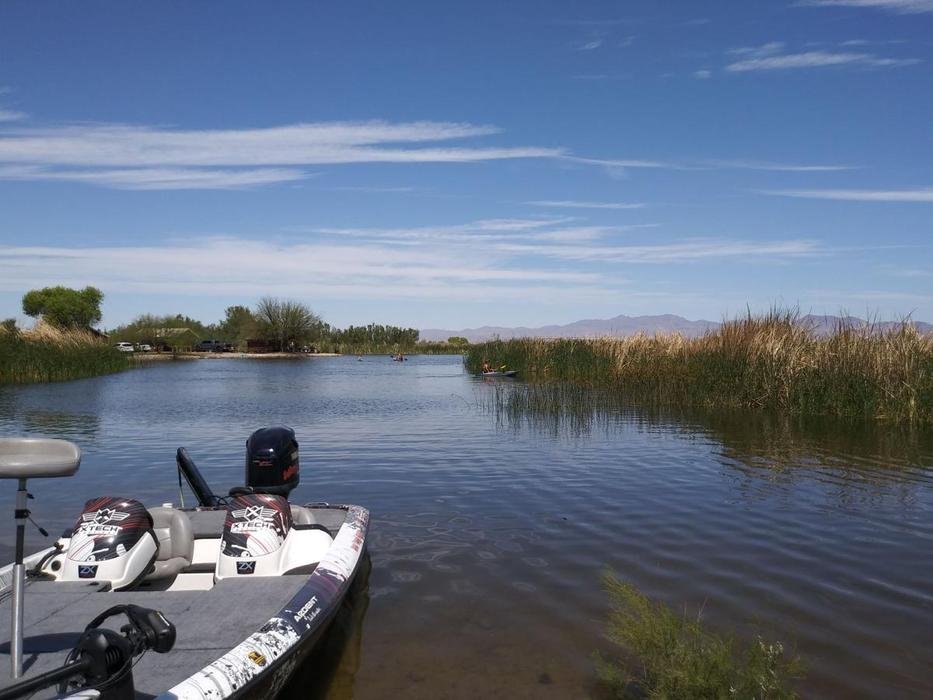 Roper Lake State Park is a popular spot for anglers. It has 5 miles of trails and cabins as well as a campground and picnic area.
Visitors can enjoy the views of Mount Graham from the 30-acre lake, which is located just south of Safford. They also have access to largemouth bass, channel catfish, and crappie fishing. Now people can enjoy a small swimming beach. But unfortunately, the natural hot tub made of natural stone and filled with mineral spring water is now permanently closed.
More details:101 E. Roper Lake Road Safford. $10 per vehicle Call 928-428-6760.
Website: https://azstateparks.com/roper-lake.
9. Arizona Beach: Wahweap Bay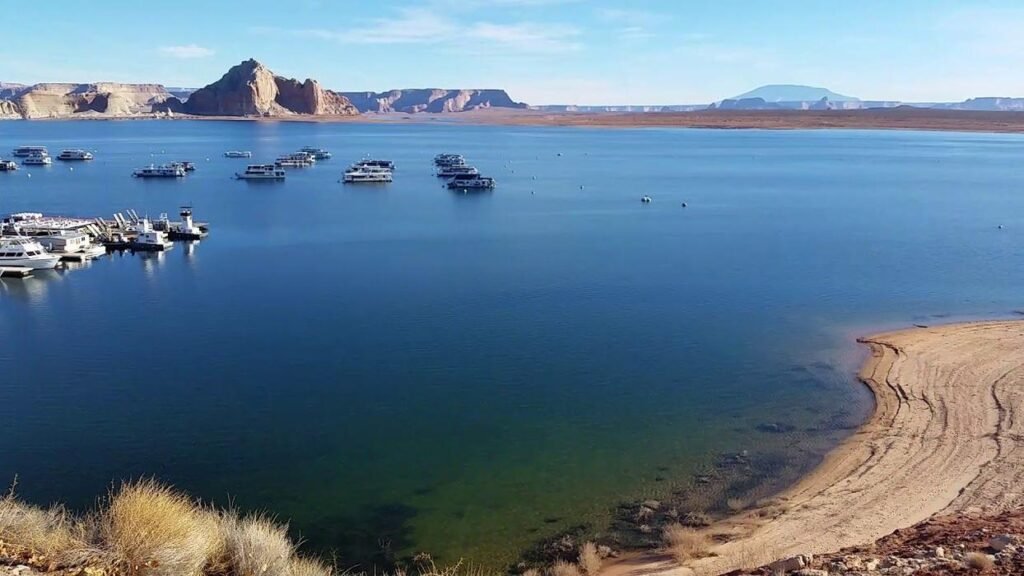 Wahweap Bay is the largest bay in Lake Powell. It is located close to Glen Canyon Dam, Page, Arizona, and the town. This bay is one of the most beautiful and popular among the many scenic lake bays.
It can get very crowded on weekends and holidays. People who love both boats and people who enjoy hiking trails and well-managed campgrounds never miss a chance to come here. The Wahweap Marina is available for boaters and can be found just a short distance from the road.
You should go around Glen Canyon Dam and Lone Rock Beach to find the majority campground. Hikers have the option to explore the bay through one of the many canyons.
Route 89 Page, AZ 86040
10. Lake Powell: Best Beaches in Arizona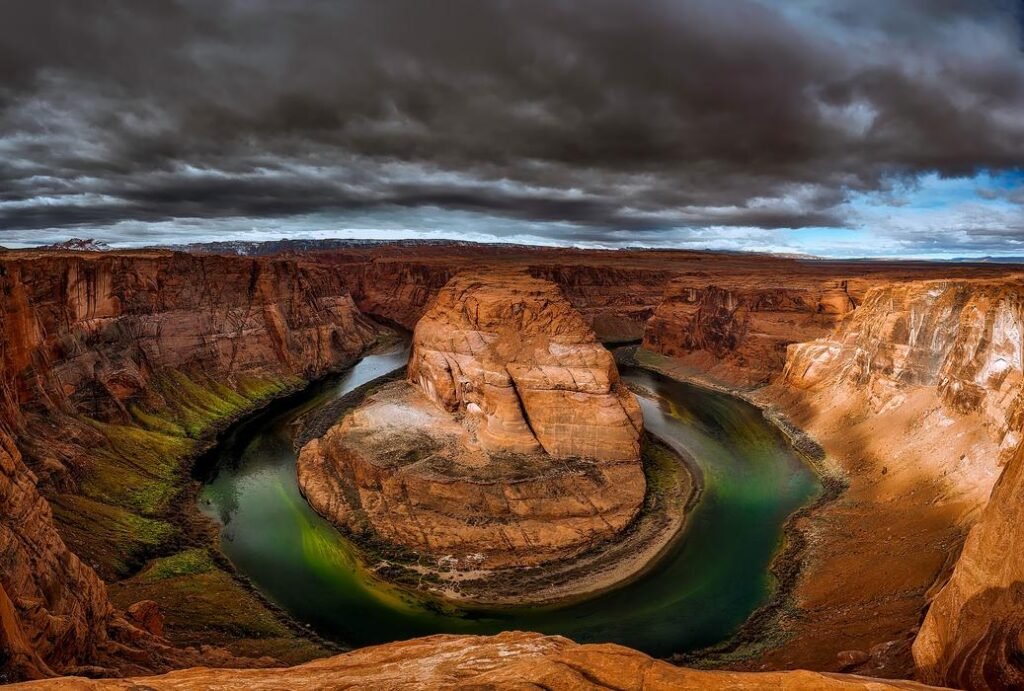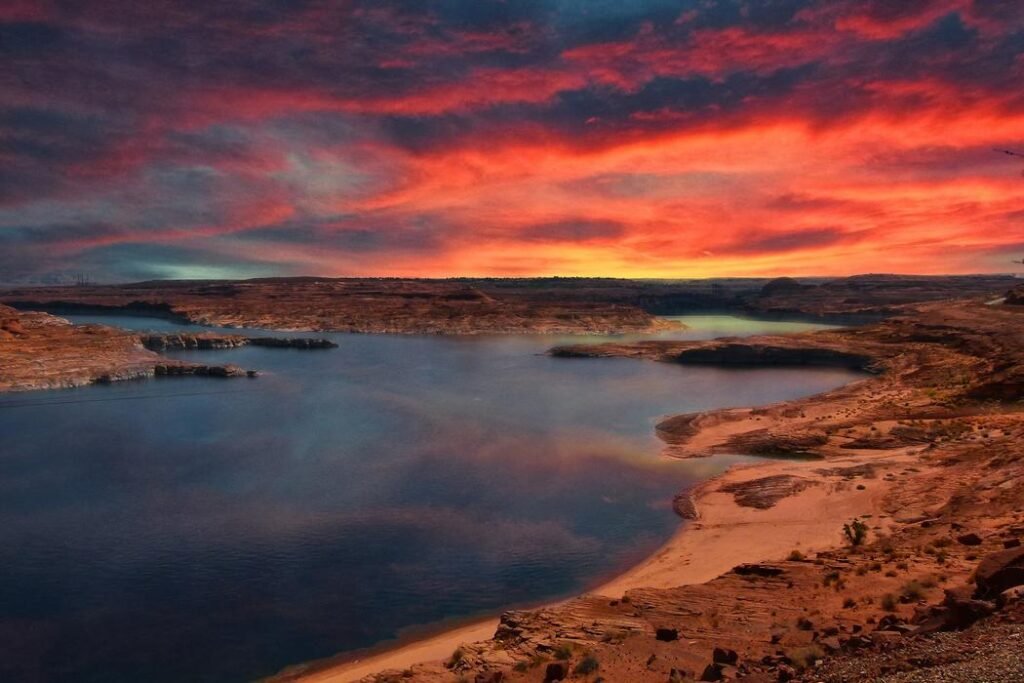 Lake Powell, a man-made reservoir located on the Colorado River in Utah (Arizona), United States. Millions of people visit this place annually. It is so beautiful that we could not stop ourselves putting it on our list of best beaches in Arizona.
Why is Lake Powell So Famous?
Lake Powell Named in honor of John Wesley Powell, a Civil War veteran who led an expedition in a wooden boat down the Colorado River. The Grand Canyon in 1869.
Rainbow Bridge National Monument is the most well-known site on Lake Powell. It is the world's largest natural bridge.
Are there alligators in Lake Powell Utah?
Yes, Park rangers arrived at the scene and confirmed that it was the nesting area for an American alligator.