Drop Fade Haircuts: 32 Awesome Haircuts Ideas
A drop fade haircut is a twist on the classic fade. It is similar to a skin fade in that the hair falls behind the ear, making an arc-shaped part. It starts at the temples and drops down behind the ears to the back. Most of the time, clippers are used to do this style. Compared to a standard fade, this type of fade gives a guy's haircut a new look.
With its neat and even curve, this popular fade looks best on men with round or square faces. It also gives you a smart look.
What is a Drop Fade Haircut?
A drop fade is the same as a regular fade, except that when you get to the ear, you continue the fade down towards the head and leave a little more length here.
The drop fade will improve your style without making you look too tough.
Styling Drop Fade Haircuts for Men
We've put together a list of the coolest drop fade haircuts so you can see how you can change up your look.
1. Drop Fade Curly Hair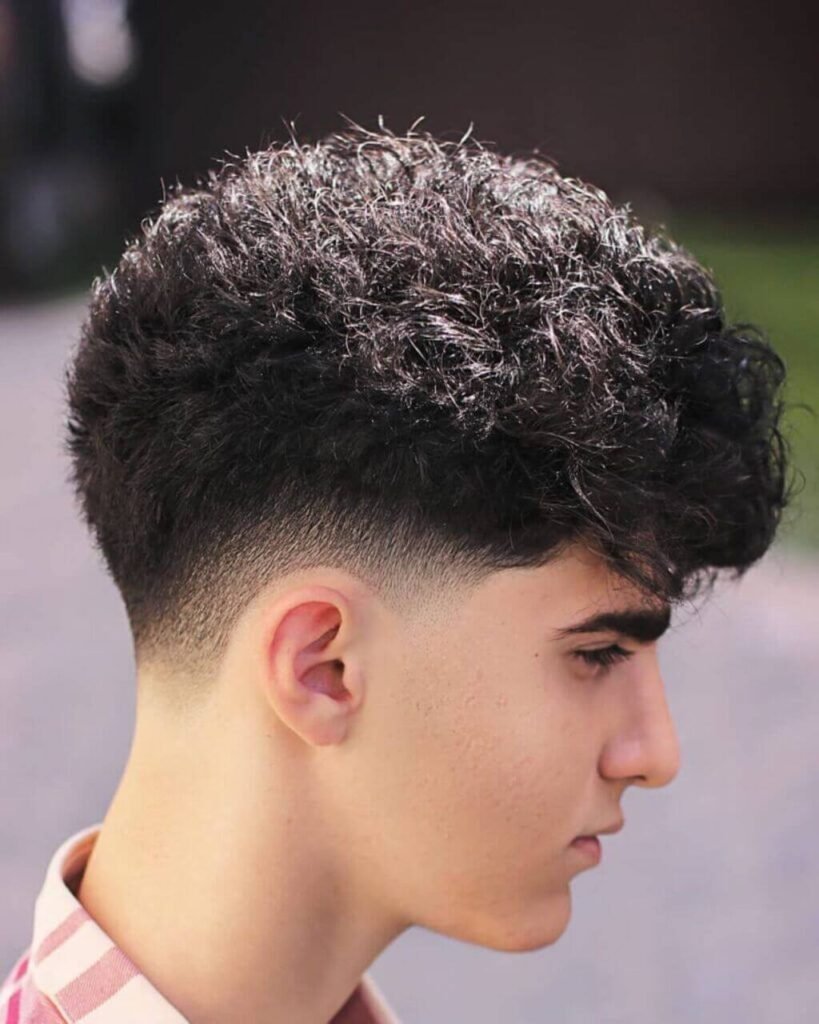 Your curly locks on top should be the centre of attention, and a drop fade around it does just that. The result of this mix is that your hair will feel softer. Also, wavy hair is usually heavier than straight hair, but the drop fade clears your sides, making you feel lighter. But there is no loss of style either. It's art to see the drop fade from the back and link to the curly hair.
2. Mid Drop Fade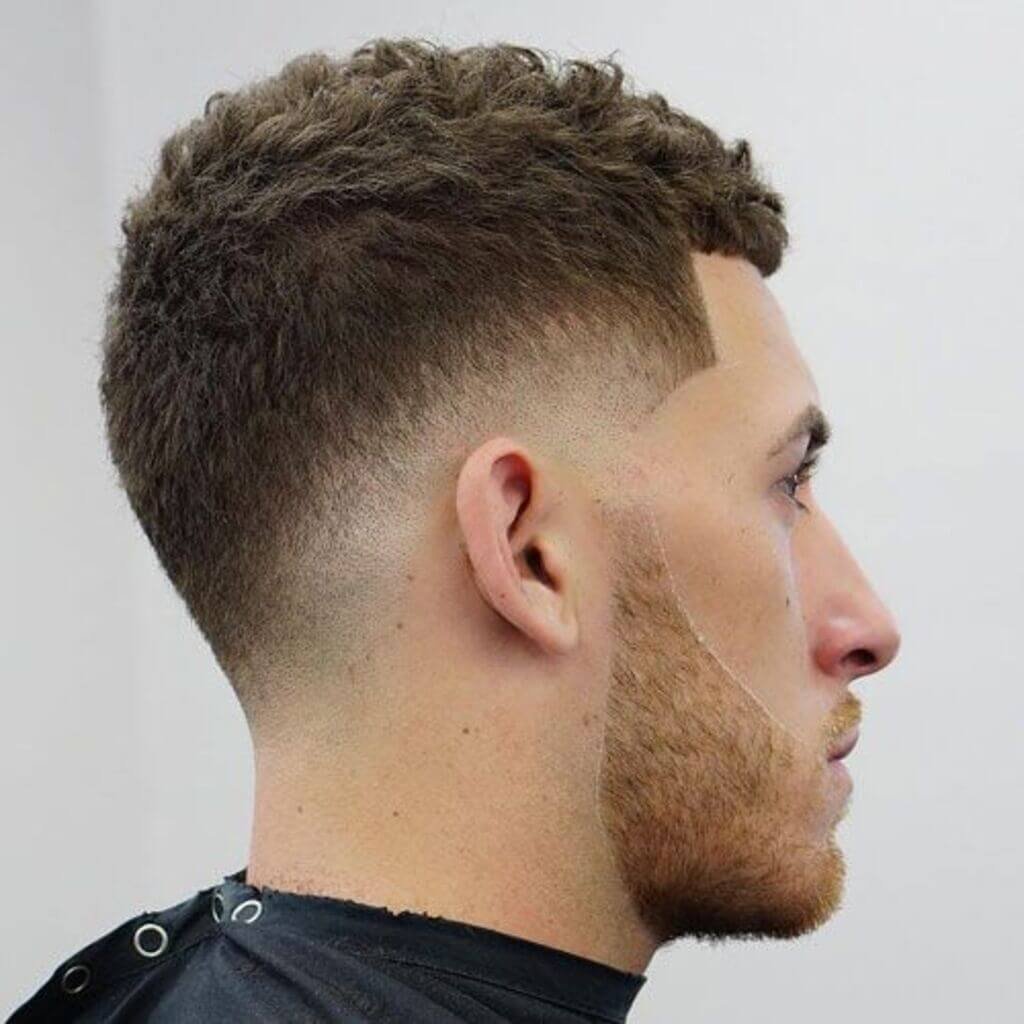 One of the coolest and most edgy hairstyles for guys is the drop fade. It looks like a curve and is fun and expressive. It falls low and behind the ear, making it easy to see. The cool thing about the drop fade is that you can change it to fit your style and play with proportions.
3. Drop Fade Cut Off Undercut
The drop fade and disconnected trim are made clear by the big difference in length between the sides and the top. The hair on the top is kept much longer than the hair on the sides. This makes a clear separation between the two layers. When you style your hair, blow-dry it all the way over to show off the cut.
4. High Drop Fade
Drop fade is a neat haircut, but when styled with different parts like this, it becomes one of the hottest looks you'll ever see. The slits and slightly dyed and pushed-back top make everything a little bit more stylish.
5. Low Drop Fade Haircut
Because of how slowly it changes, a low drop fade gives the idea of being smooth and blurry. That being said, your hairdo may sometimes be too soft and lack definition. So, a low fade on the sides is a great idea because it will give you the sharpness you want.
6. Drop Fade Black Men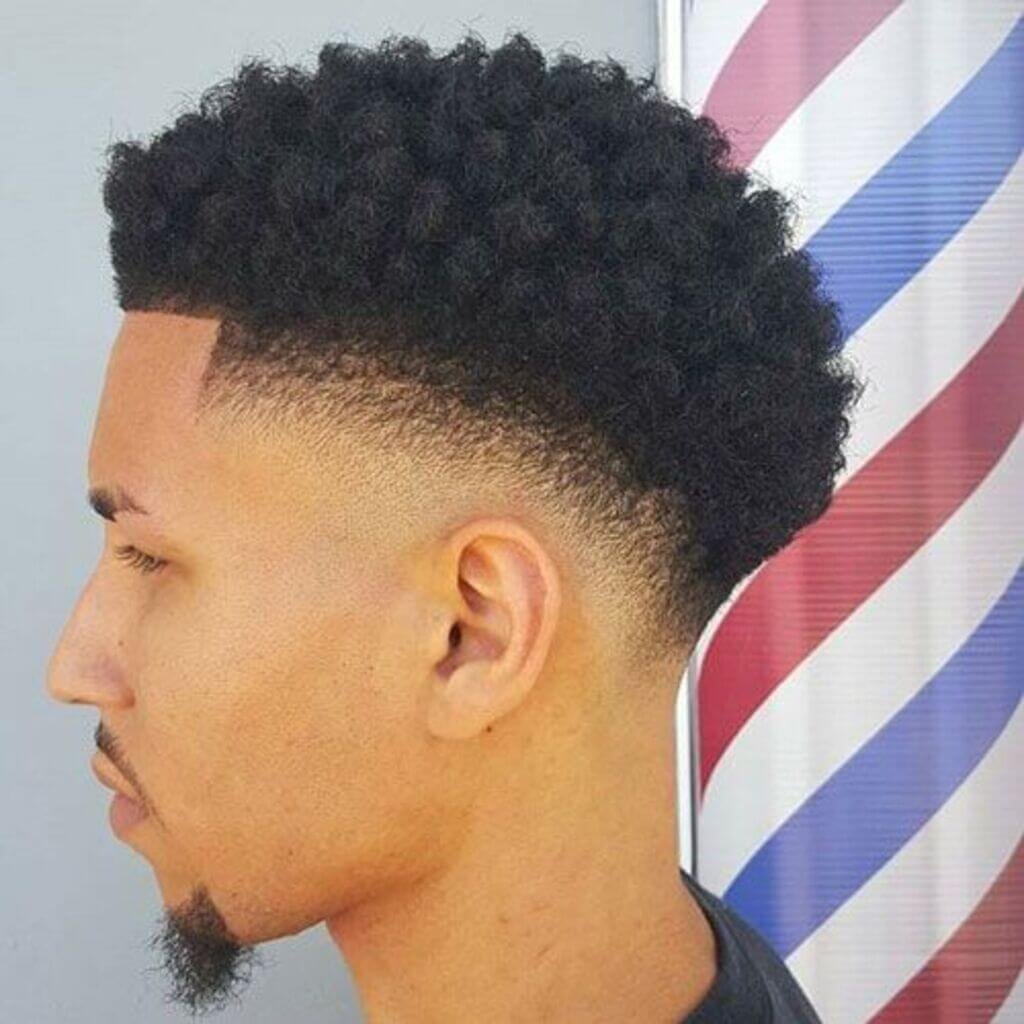 It looks like a flat top and a drop fade were meant to go together. This old-fashioned haircut gets a new look because of it. Even if your hair isn't naturally curly or stiff, you can still pull off a flat top hairstyle by teasing it.
7. Drop Fade Pompadour
Try the pompadour drop fade if you like styles that give your hair height and volume. This polished look takes the best parts of the ultra-cool retro hairstyles that were popular during the time of Elvis, but the refined low fade gives it a modern feel. The pompadour drop fade is a stylish all-arounder that will make you look good no matter what you're wearing, whether it's jeans or a suit.
Also Read:
Ja Morant Hair: A Ultimate Guide to His Famous Hairstyle
2 Strand Twist for Men Hairstyles Ideas [Top 30 types]
8. Faux Hawk With a Drop Fade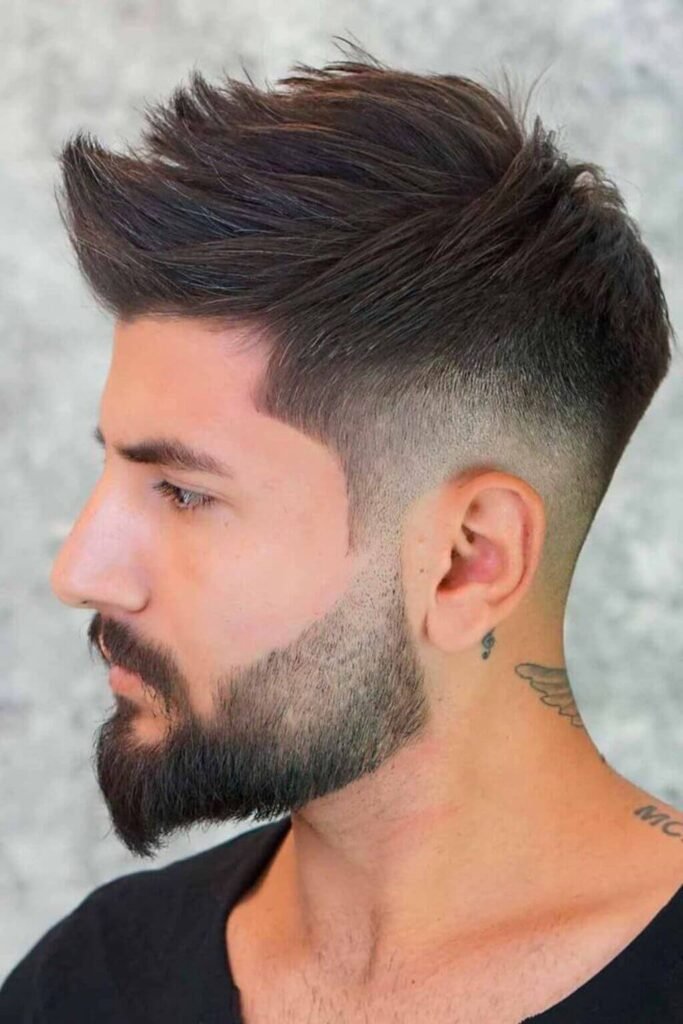 With this daring hairdo, it's less important to get a smooth blend up the sides and more important to get a clear contrast. This is helped by the drop fade, which does a lot of work to make the clear curve that edges the thicker texture above.
9. Chill Toss Top with Faded Skin
With this beautiful toss-up top and this clean drop fade, you have a great look. All of that looks fancy with those scars and that neat look.
10. Drop Fade Short
A drop cut will save the day for guys who like to put texture in their hair on top. Even if you make it crazy and messy, the fade will make it look good. So, you don't need to worry that your short haircut will look messy. With a drop fade, you're covered.
11. Drop Fade Slick Back
The slick back is a stylish hairstyle for busy 9-to-5 jobs or dressy social events. Adding a faded cut, like the drop fade, will quickly make this look more stylish and give it a more laid-back vibe at the same time.
People who like to grow facial hair can take this look a step further by adding the fade to their beard. Just keep fading down your cheeks and let it get longer and longer until it's the length of your bread.
12. With a drop fade and a spiky fringe
When you have thicker, more static hair, cutting a neat, angled high fade like this can work very well.
Here, the drop fade follows the way the hair is styled on top. It reaches its highest point near the front, where the hair is longer and the fringe is lifted, and then falls back as the head is cut shorter. It makes the whole look and shape look more consistent.
13. Drop Fade Taper Fade Afro with Twist
Afro hair and a drop fade go together like peanut butter and jelly. The precision of this fade brings back some of your hair's thickness while keeping the crown's original beauty. For a natural look, pair the drop fade with your tight, natural curls, or try twists for more defined swirls on top.
14. Long Hair Drop Fade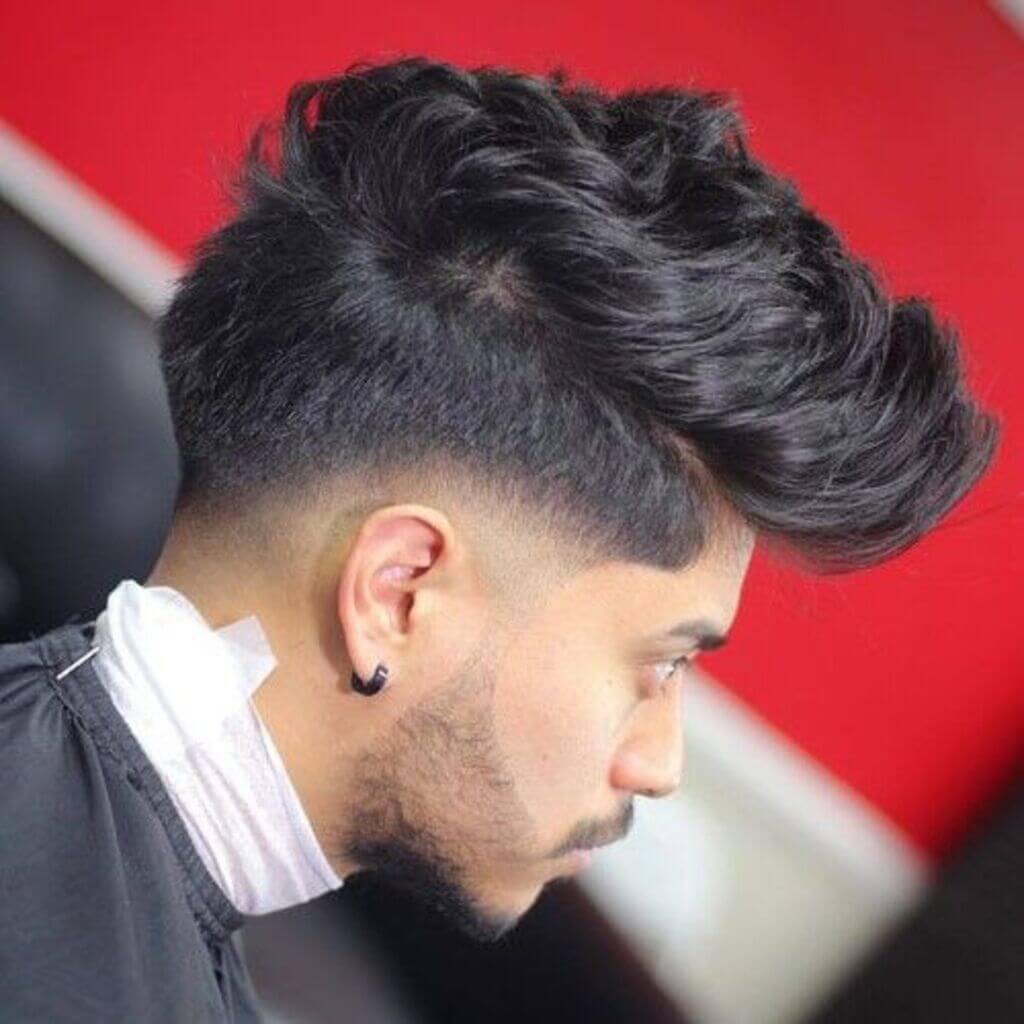 Men with long hair can look so good that they get everyone's attention. Long hair, on the other hand, can be hard to keep up.
If you want to keep your hair without all the trouble, try a drop fade. This style is easy to do but will make you look better and cost less to keep up.
15. Curly Top Mid Fade
People will always love short curls. Take a look at that hairdo as a whole: the top is full and the sides are thinned out. The temple is completely worn down, which draws attention to the crown volume on top.
16. Drop Fade Buzz Cut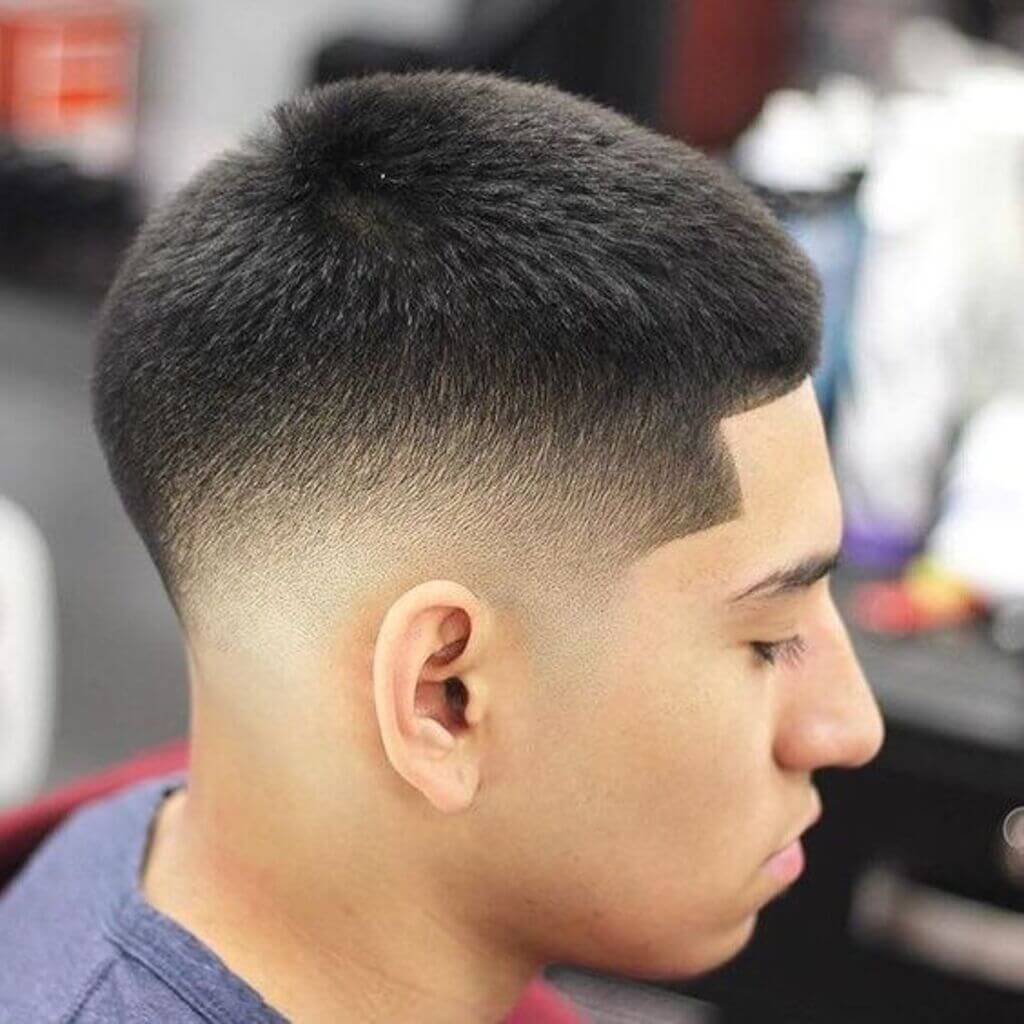 Mixing a classic buzz cut with a popular modern cut like a drop fade can't go wrong. It looks sharp and clean, and you can choose how strong of a fade you want. Change your buzz cut drop fade to a high skin fade on the sides and back for more contrast and colour.
17. Drop-Fade Top With Textured
Ask your barber to add more layers to the top of your hair for a more edgy drop fade. If your hair is usually straight, this will make it look like it has more volume and different textures. Even though this haircut isn't too hard to take care of, you will need to get used to a bit of a daily style routine. Just rub a little hair product between your hands and start pulling your hair into place.
18. Quiff with drop fade
When you cut a skin fade into thick, dark hair like this, it will make a big difference.
Here, the drop fade not only separates the sideburns from the hair on top and the bushy beard on the bottom, but also gives the back just the right amount of curve.
19. Crop Top Drop Fade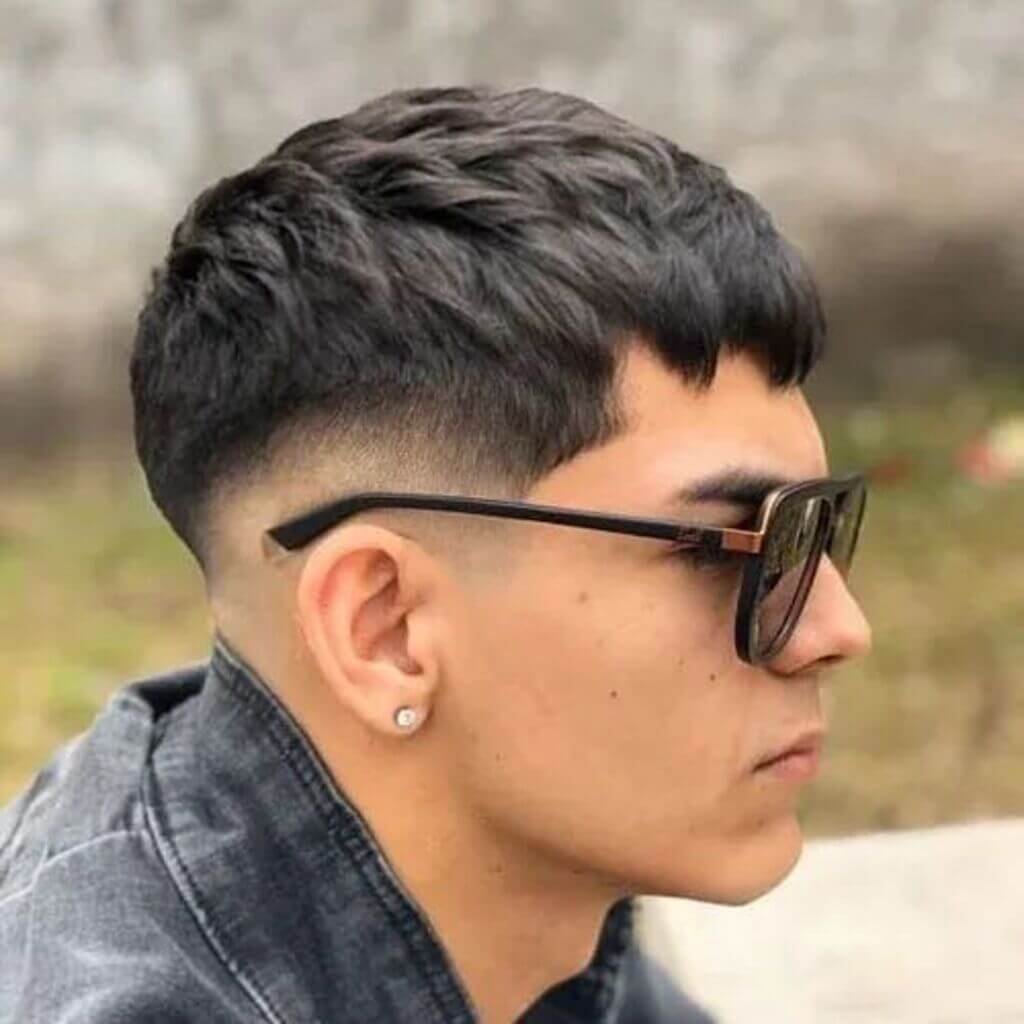 The Drop Crop Top is a great way to wear your hair if you want to show off your neck and shoulders. For this style, the back and sides of the hair are cut short while the top is left longer.
20. Drop Fade Dreads
If you want to wear drop dreads, you need to find a stylist who knows how to give you the look you want.
You'll also need to wash and care for your dreads on a daily basis. And finally, be ready for people who don't understand your unique style to stare and say things!
21. Bright Drop Fade with a Straight Top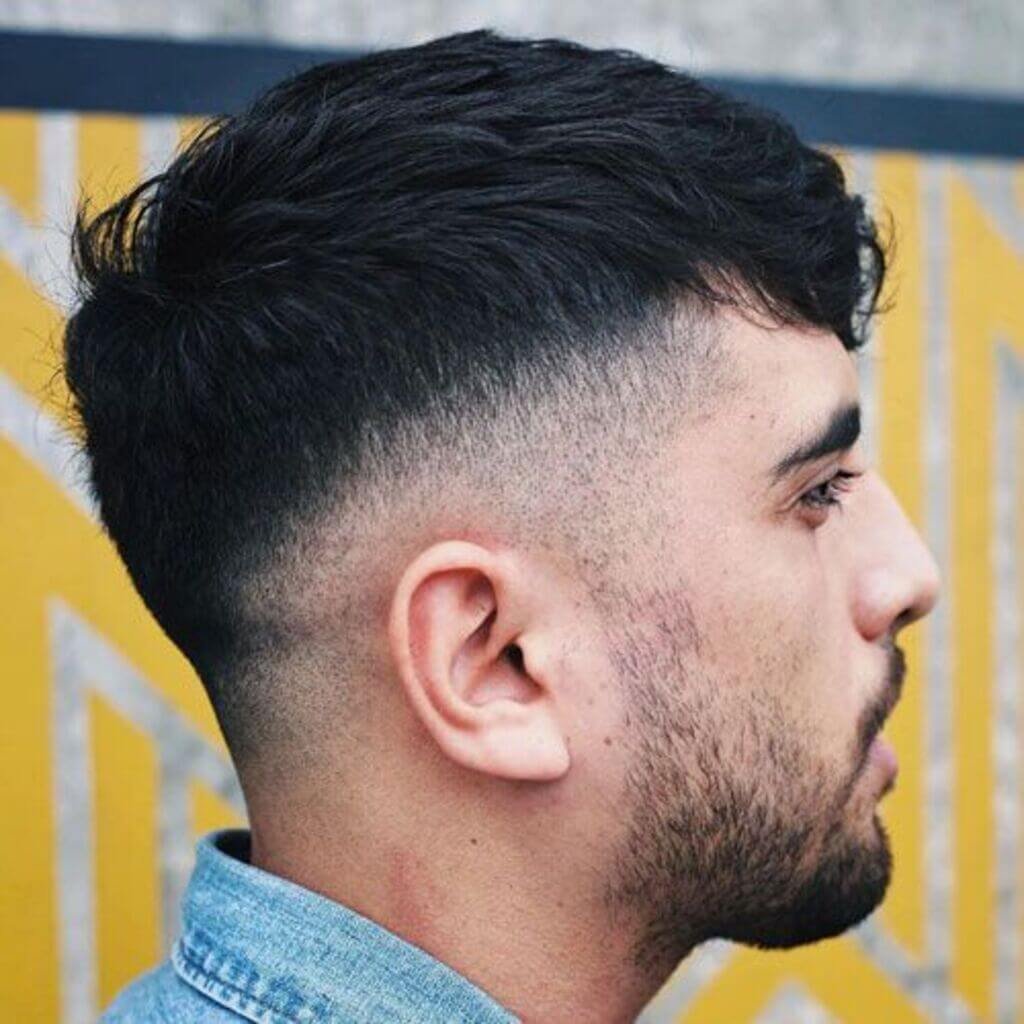 Most haircuts focus on the hair on top, but this one's main focus is on the fade. The fade is done well, and the look is finished off with a line up.
22. Straight Hair Drop Fade
Straight hair can sometimes lack shape and movement, but the right haircut can fix that. With a drop fade, your haircut will look sharp and different, so you won't have to do anything special to style it. The top can be styled however you want, from messy to smooth.
23. Drop, Fade, and Get Fringe
Try something new by drawing attention to your fringe. Choose a low drop fade around your ear and gradually longer hair on top to get this look. Your hair will be shortest in the back of your head and longest in the front. Then, you can let your fringe hang lightly over your brows or comb it back to add a little (or a lot) of height. This style is great for a laid-back look when you're not at work.
24. Short waves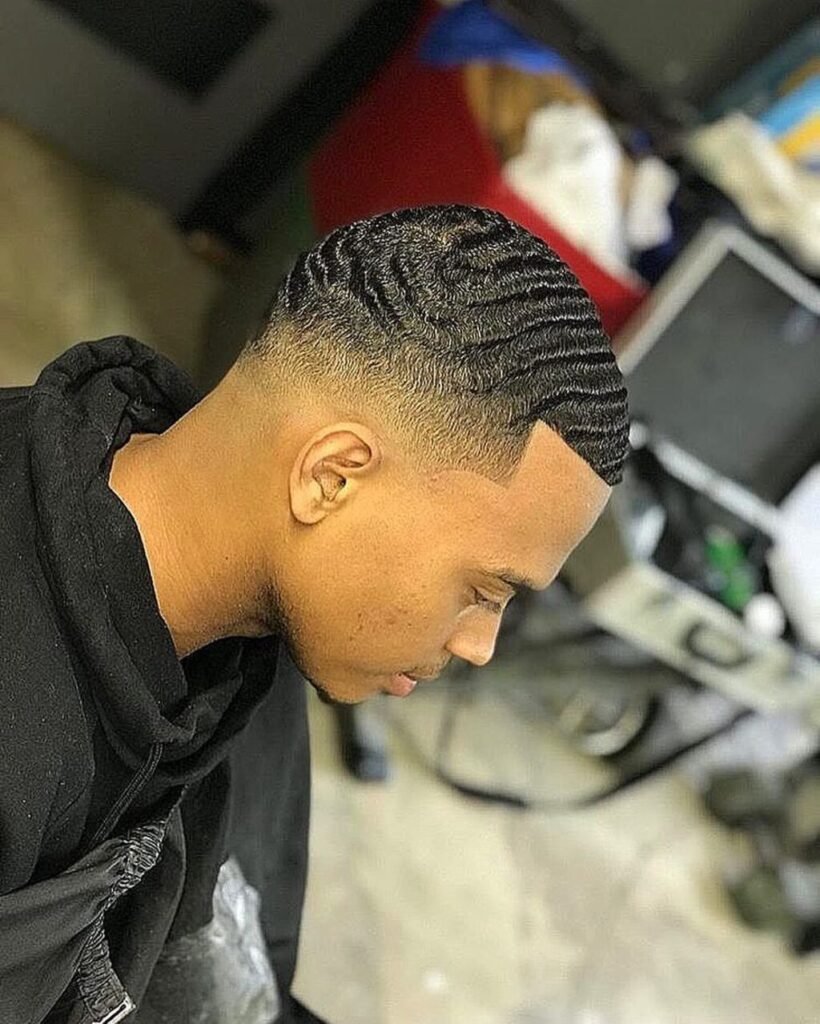 This style has short, tight waves going all the way across the top. The sharp, blended sides are a nice contrast to the texture on top, and they also separate the full beard on the bottom.
25. Regular Drop Fade
Most fade hairstyles are done in a style called "regular drop." It has a clean, sharp line down the side of the head that goes from the top of the head to the collar. This style can be worn with both short and long hair.
26. Drop-Fade with a Textured, Choppy Top
This hair cut has a tight drop fade that fades into a bald fade. For a more layered look, the hair on top is kept longer and messier. The front fringe is also kept a little longer so that it falls in front of the face.
27. Drop Out With Style
If you don't think a drop fade is enough, you can always add a hairstyle to it. It doesn't have to be complicated or too clever.
28. Flat Top Drop Fade
With this shaped-up drop fade style, the '90s are back in a big way. This flat-top haircut gets a modern update with the addition of an arched fade. Depending on the thickness of your hair, you can either buzz your natural curls into shape or lightly brush them out to make them taller.
29. Hair Bleached and Faded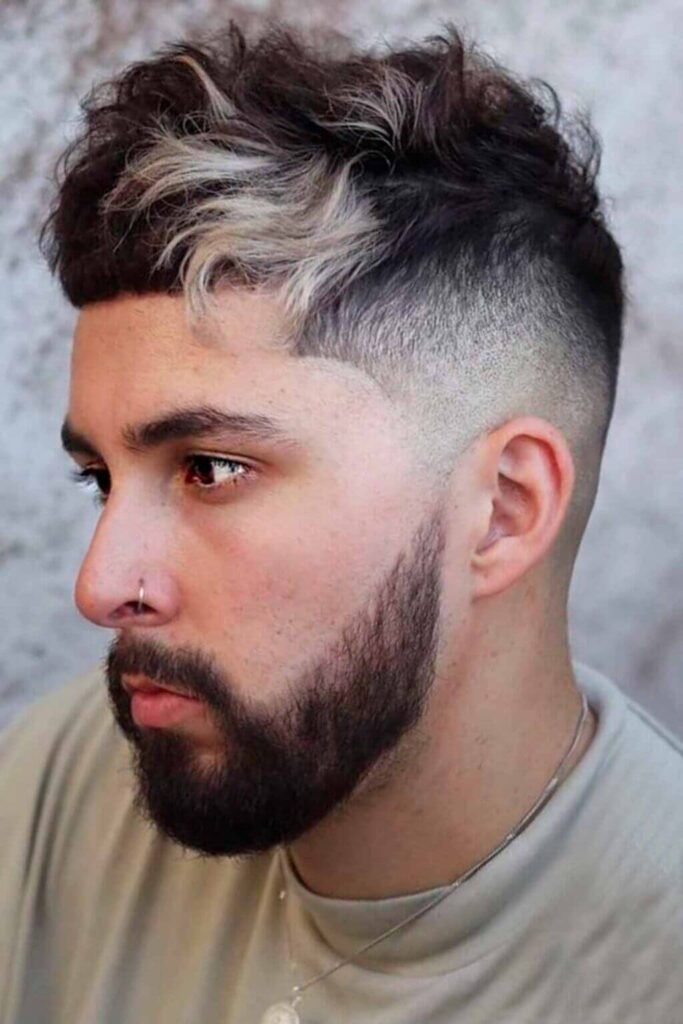 With a choppy, mid-length haircut like this, you want the texture and shaping to stand out, while the fade should be more of a background detail.
30. With a drop fade and a crew cut
Some guys might think that a crew cut sounds a little boring, but when you add a drop fade to it, it becomes something much more modern and unique.
Here, the faded part isn't very big, but it does a great job of separating the beard without taking away from the great shape up top.
31. Drop-fade Freeform Dreads
The freeform drop dreads hairstyle is one of a kind because it blends dreadlocks and fades. This style has dreadlocks that are long and flowing at the top and get shorter toward the back of the neck. This makes for a lively and eye-catching look.
The result is a great-looking, stylish, and modern haircut.
32. Drop Fade Tapered Dyed
If you want something a little more daring, try this one. With a dyed top and a shaped drop fade, this style is great for a man who likes to look good.
FAQs
How do you keep a drop fade going?
It's important to keep the area around your drop fade clean. Don't use items that can make your hair or scalp greasy. If you have to use something, wash your hair often and well.
Every four to six weeks, trim your hair to keep your drop fade in shape. Lastly, remember that drop fades need a little bit of care. Talk to your stylist about how to take care of your haircut the best way.
How Does the Drop Fade Work?
Most barbers, if not all, will be able to do the drop fade, but some of them might not know what it's called. Because of this, we suggest getting a picture of the kind of drop fade you want and showing it to your barber so you can get the most accurate drop fade haircut.
Who Would Like It?
Even though a drop fade haircut looks best on people with square or round faces, anyone can wear it. But people with long faces, like oval or rectangular, should be careful because a drop faded haircut can make it look like their faces are even longer. Also, a drop top fade will make your flat hair on the crown look bigger and fuller.
How does a low drop fade work?
One of the most common kinds of drop fade is a low drop fade. The barber will start to fade your hair just above your ear, which is lower on your head than a mid-fade, temp-fade, or high fade.
Conclusion:
Hope you will like our collection of Drop Fade Haircuts. If you want more content like this then keep visiting Travel World Fashion.