9 Fastest Roller Coasters in the World
Hello, thrill-seeker! Let's be clear: you want to ride every roller coaster, whether it's the tallest or the fastest. But what will pique your interest the most? A spectacular ride in 50 seconds or an average ride in 1 minute? What if we told you you could have them both? Let's take a look at 9 most thrilling and fastest roller coasters in the world.
The Fastest Roller Coasters In The World
1. Rossa Formula (Ferrari World Abu Dhabi)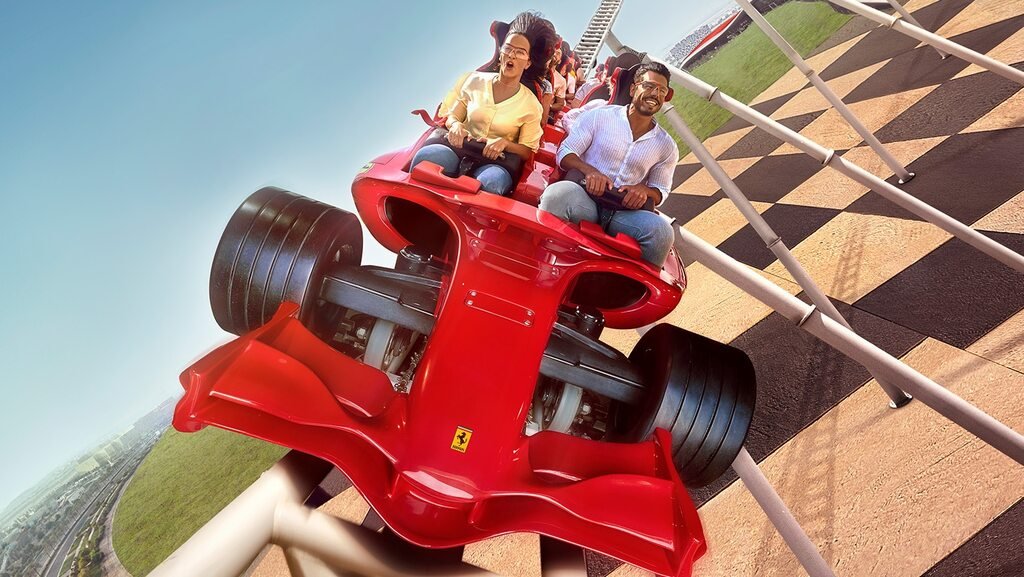 Source: myconnect.ae
Formula Rossa is an Intamin coaster that smashed world records when it was opened in November 2010, achieving top speeds of 149 miles per hour. 
The coaster's track was inspired by the Autodromo Nazionale Monza racetrack in Italy and is meant to imitate the experience of riding at high speeds inside a Formula One racing car. 
It reaches full speed within the first five seconds of launch, rushing down its 1.4-mile track, one of the world's longest steel coaster tracks. 
The entire ride lasts 92 seconds, and all riders must wear special safety eyewear to avoid contact with airborne items.
2. Kingda Ka(US)
Source: intamin.com
Kingda Ka is the world's tallest and second-fastest roller coasters in the world. It is at Six Flags Great Adventure in Jackson, New Jersey, US. 
A hydraulic launch mechanism sends Kingda Ka flying at 206 km/h (128 mph) in 3.5 seconds. When the train is started, it goes up the main top-hat tower until it is 456 feet high. 
Kingda Ka has a weight of 230kgs and is always themed as a mythical tiger. The sign station has a Nepalese look, and the bamboo around the line gives it a jungle feel.
In the Golden Kingdom part of the ride station, you can also hear jungle music everywhere.
3. Top Thrill Dragster (Cedar Point)
Source: themeparktourist.com
At its debut in May 2003, Top Thrill Dragster became the first coaster to surpass the 400-foot barrier. 
The Cedar Point amusement park in Sandusky, Ohio, which has earned the moniker "America's Roller Coast" for its sizable collection of world-class, record-breaking steel and wooden coasters, erected its 16th coaster, constructed by Stakotra. 
Within 3.8 seconds of launch, the coaster pushes riders to a top speed of 120 mph before reaching its peak height of 420 feet and sends them in a 270-degree spin. 
With the slogan "Race for the Sky," it simulates Top Fuel drag racing during its ride experience.
4. Falcon's Flight (Saudi Arabia)
Source: constructionweekonline.com
We've added a new ride to the list of the best roller coasters. But Falcon's Flight isn't supposed to open until 2023, so for now we won't rank it. 
The impressive ride is supposed to have a top speed of more than 155 mph (250 km/h) and the world's biggest drop at 525 feet. 
With a length of 4 kilometres (just under 2.5 miles) and a ride time of 3 minutes, it would break the record for the world's longest roller coaster. No matter the numbers, this is a ride that will go down in history.
5. Red Force (Spain)
Source: portaventuraworld.com
The fastest and tallest roller coaster in Europe is in the Ferrari Land of Spain. Named as Red Force and made of steel. It speeds up to its top speed in just 5 seconds and goes up the 367-foot hill.
The track of this roller coaster was inspired by the tracks of Kingda Ka and Top Thrill Dragster. Its Rosso Red colour shows that it's made by Ferrari. "Challenge the wind" is the ride's slogan, and we have to say that it does just that.
In 24 seconds, your heart will be in your throat.
6. Do-Dodonpa (Fuji-Q Highland)
Source: bosshunting.com.au
Do-Dodonpa is a 161-foot-tall roller coaster at Fujiyoshida, Japan's Fuji-Q Highland theme park. 
At its opening in December 2001, it was one of the fastest roller coasters in the world, beating the previous record held by Six Flags Magic Mountain's Superman. 
It also had the fastest acceleration of any steel coaster, reaching its top speed of 107 miles per hour in one and a half seconds, which lets riders feel a force of gravity of 3.3 Gs. 
The S&S Worldwide roller coaster has a theme that based on traditional Japanese music and culture and goes for 4,081 feet.
7. Superman: Escape from Krypton (US)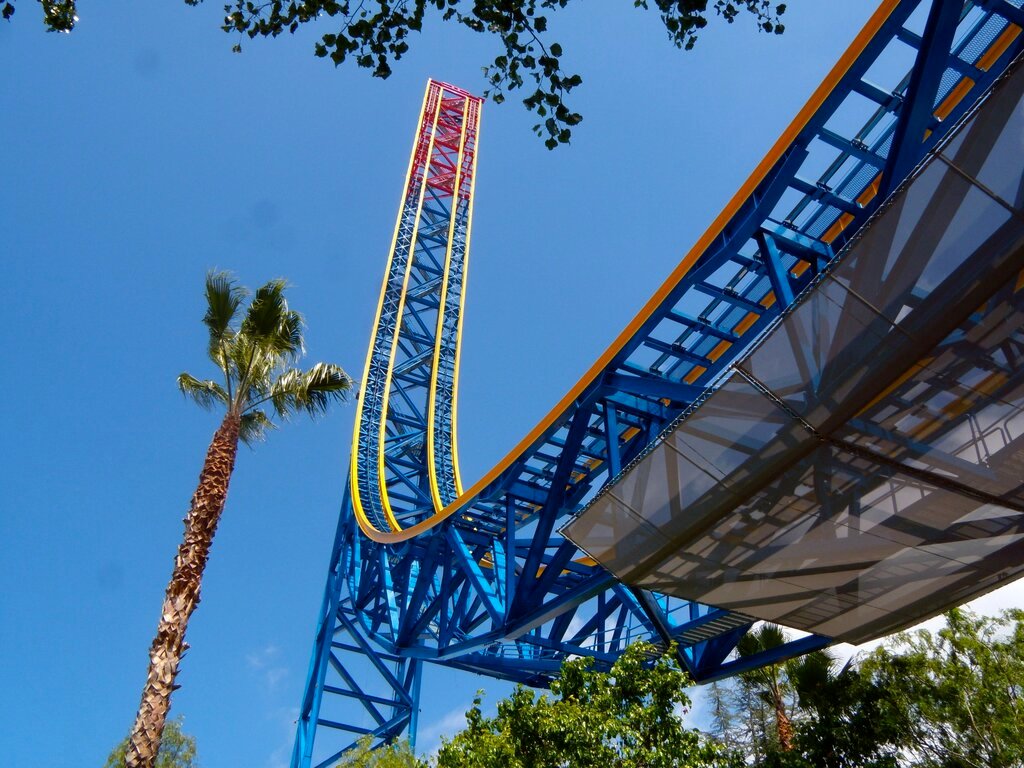 Source: nocookie.net
The tower in Superman: Escape from Krypton is a huge 415 feet high. It was the first roller coaster to reach 100 miles per hour. 
When it opened (Superman: The Escape) in 1997, it was the tallest and fastest coaster in the world. But when it was running, it rarely reached its theoretical top speed of 100 mph. 
The typical ride broke down a lot. Six Flags updated Superman in 2011 with new cars, which make it run higher and, presumably, faster. Also, there isn't as much downtime.
8. Fury 325 (U.S)
Source: arcpublishing.com
Fury 325 is one of the world's longest roller coasters. The coaster is 6602 feet long and is likewise located in the United States. It climbs a 325-foot hill and then drops with the greatest speed.
It only competes in Carowinds park, where there are a total of 13 roller coasters, the biggest of which is Fury 325. The quickest and longest of them all. Traditional cable climbing prefered, and you rush down with increasing heartbeats.
The roller holds all of the records. It has earned a spot on the world's fastest, tallest, and longest roller coaster in the world.
9. Steel Dragon 2000
Source: themeparkreview.com
Steel Dragon 2000, unlike the rides that come before it on the list of the world's fastest roller coasters, uses a typical lift hill (rising a remarkable 318 feet). It takes a long time to ascend the hill, but the result is a blistering 95 mph.
High Speed, Extreme Precautions
Riders put in danger on a high-speed roller coaster. As a result, proper safeguards are important for riders. The specified age, weight, height, and health maintained by the authorities. The rider should also observe the ride before embarking on a journey so that they know what to expect. The rider must always keep his body parts inside the ride to prevent accidents. The rider must also wear protective clothing and equipment to protect his or her body in the event of a fall or knock. To avoid preventable mishaps, the roller coaster must be properly maintained.
For more travel and fashion-related information visit Travel World Fashion.