30+ Cool Patchwork Tattoos Ideas To Get Inspired
What are patchwork tattoos? How to choose one for yourself? Cost of getting the tattoo? In our article, you will find all the answers to these queries.
Currently, patchwork tattoos are all the trend. Celebrities, rock icons, and even tattoo virgins are all jumping on the bandwagon. 
This tattooing technique is defined by the effortless mismatching of designs. The wearer is never required to commit to a sizable piece or a sleeve when adding to their body art.
What are Patchwork Tattoos?
Patchwork tattoos are a form of body art that combines numerous small, frequently unrelated designs on a single body part, such as the arm, leg, or back. These versions are available in a variety of designs, themes, and color schemes. The name derives from the appearance, which resembles a patchwork or quilt.
Patchwork tattoos offer a versatile option for anyone seeking to tattoo their arms and legs with either intricate or simplistic designs.
How Do You Get a Patchwork Tattoo?
A sleeve tattoo is the simplest method to get a patchwork idea. If you have a tattoo on your arm, add additional designs that you like. There are no particular guidelines for selecting the elements of a mosaic tattoo. It depends entirely on you.
If you don't have any arm tattoos, select a few of your favorite objects, present them to the tattoo artist, and get a mosaic design!
30+ Eye-catching Patchwork Tattoo Designs
If you are ready to go, continue scrolling as we have compiled a selection of the best patchwork tattoo designs for you!
1. Traditional Art Patchwork Tattoo
Traditional is all about transforming the body into a living work of art. You will dazzle with this traditional tattoo of an eagle and playing cards.
2. Patchwork Sleeve Tattoo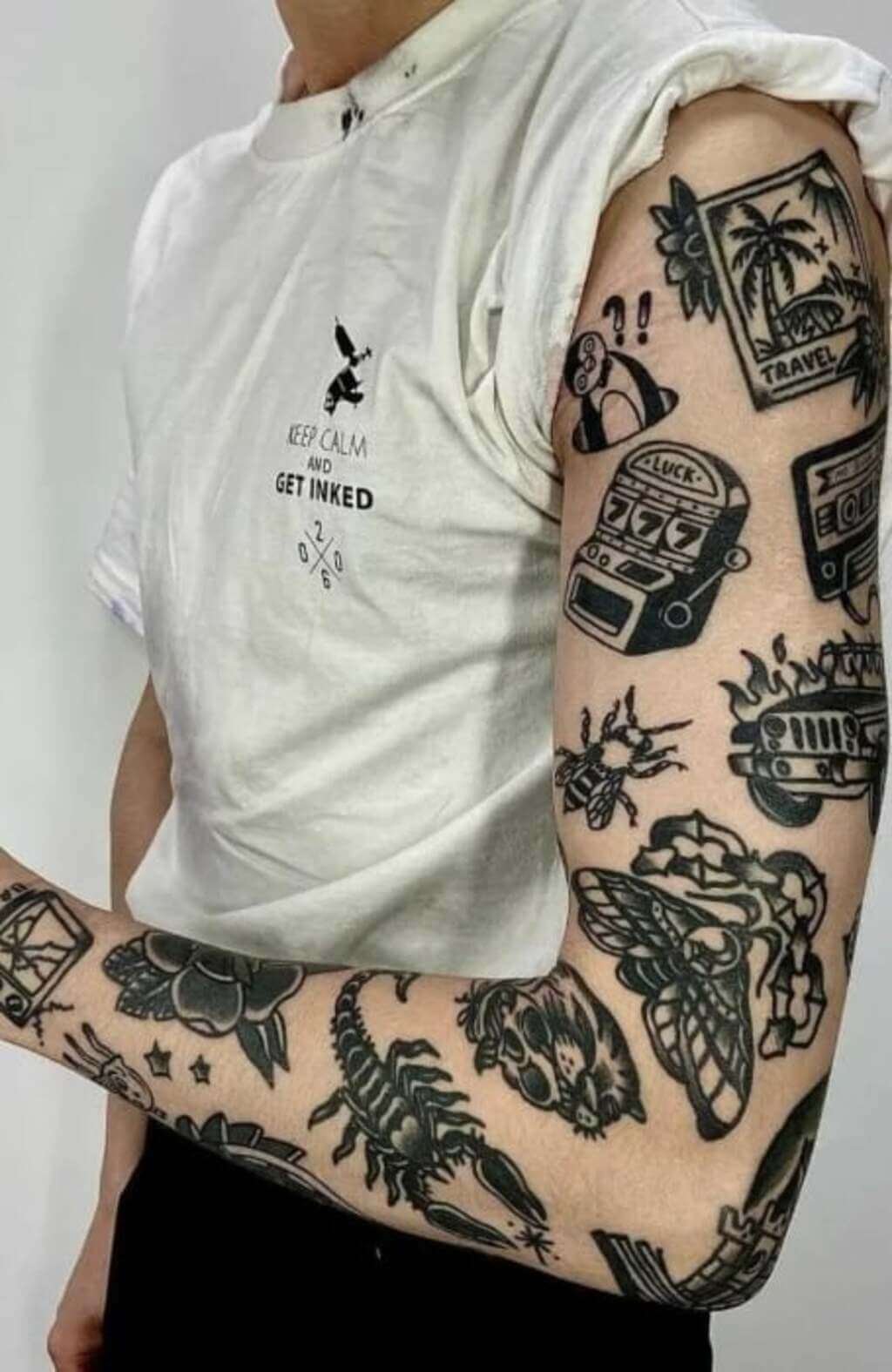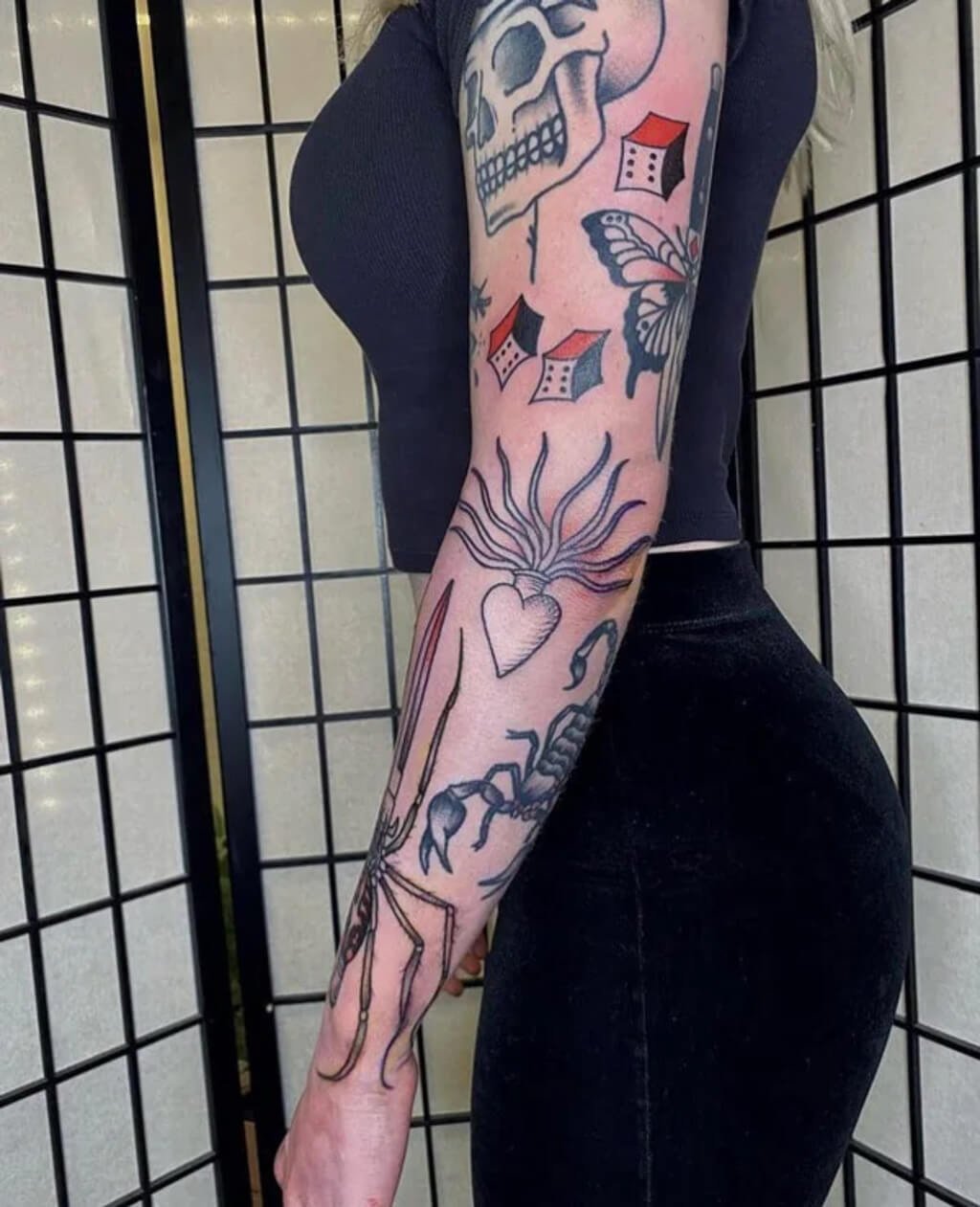 Sleeve tattoos are expressive and artistic. It is an excellent technique for expressing your passions and interests. The patchwork approach lets you effortlessly combine different photographs at various periods instead of having the complete sleeve design at once. This method is less expensive and provides you with more placement options for your artwork.
3. Tiger Tattoo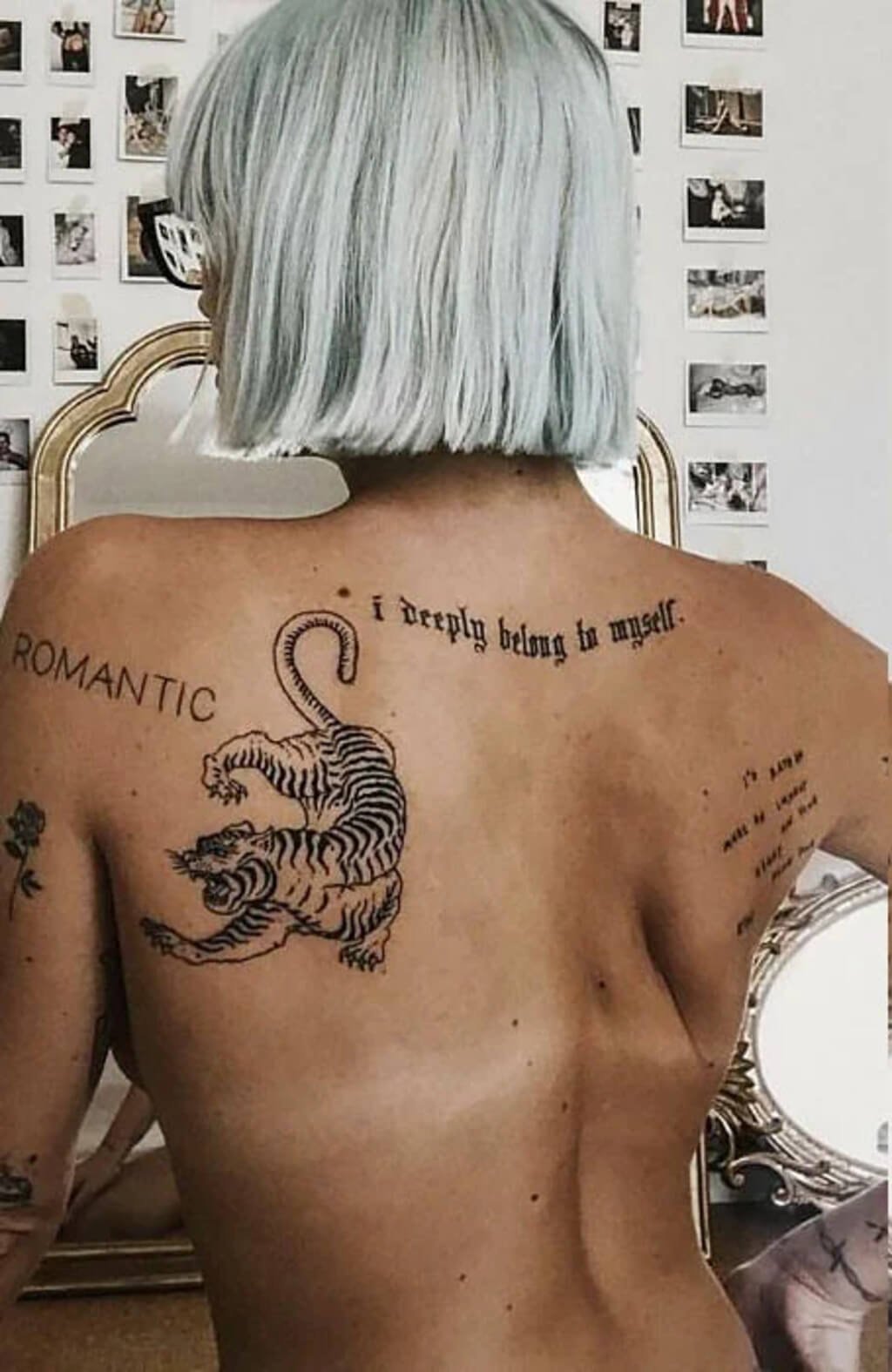 The tiger is depicted with traditional American-style mosaic tattoos. If you add it to your patchwork tattoo, its meanings will be as follows:
 Influence; Respect; Intelligence; Enthusiasm.
4. Patchwork Arm Tattoo Aesthetic
Arms are among the most common locations for Patchwork tattoos. Years can elapse between tattoo additions, or groups of tattoos can be added simultaneously. This allows the wearer to create a narrative through the patchwork by marking occasions or memories with designs. The arm is an ideal location for displaying profound designs.
5. Patchwork Half Sleeve Tattoos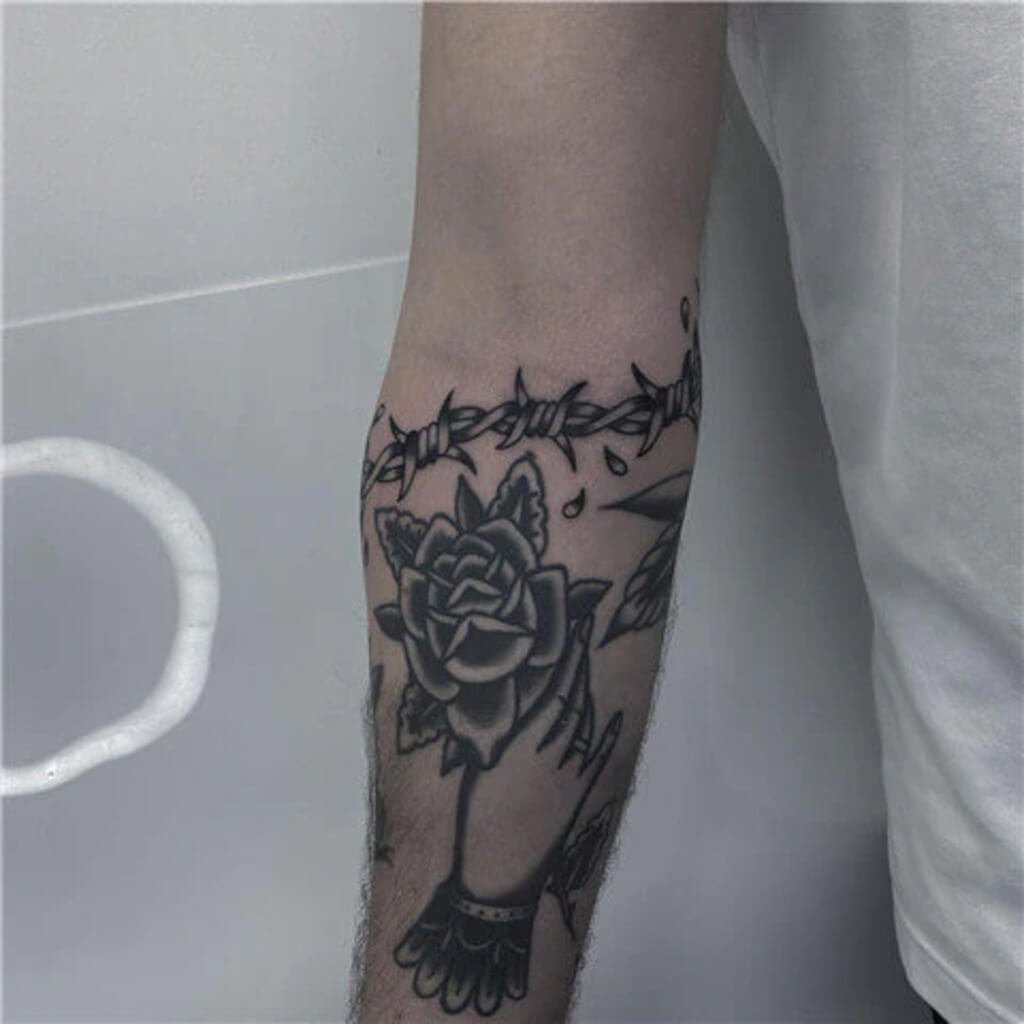 A half sleeve tattoo is a great option to a full sleeve because it gives you more freedom. You can easily hide your tattoos with clothes or show them off when you want to. Half sleeves cost less money as well. People who want to add different pictures and styles can use the patchwork style because they don't have to fit together perfectly.
6. Gothic Patchwork Tattoos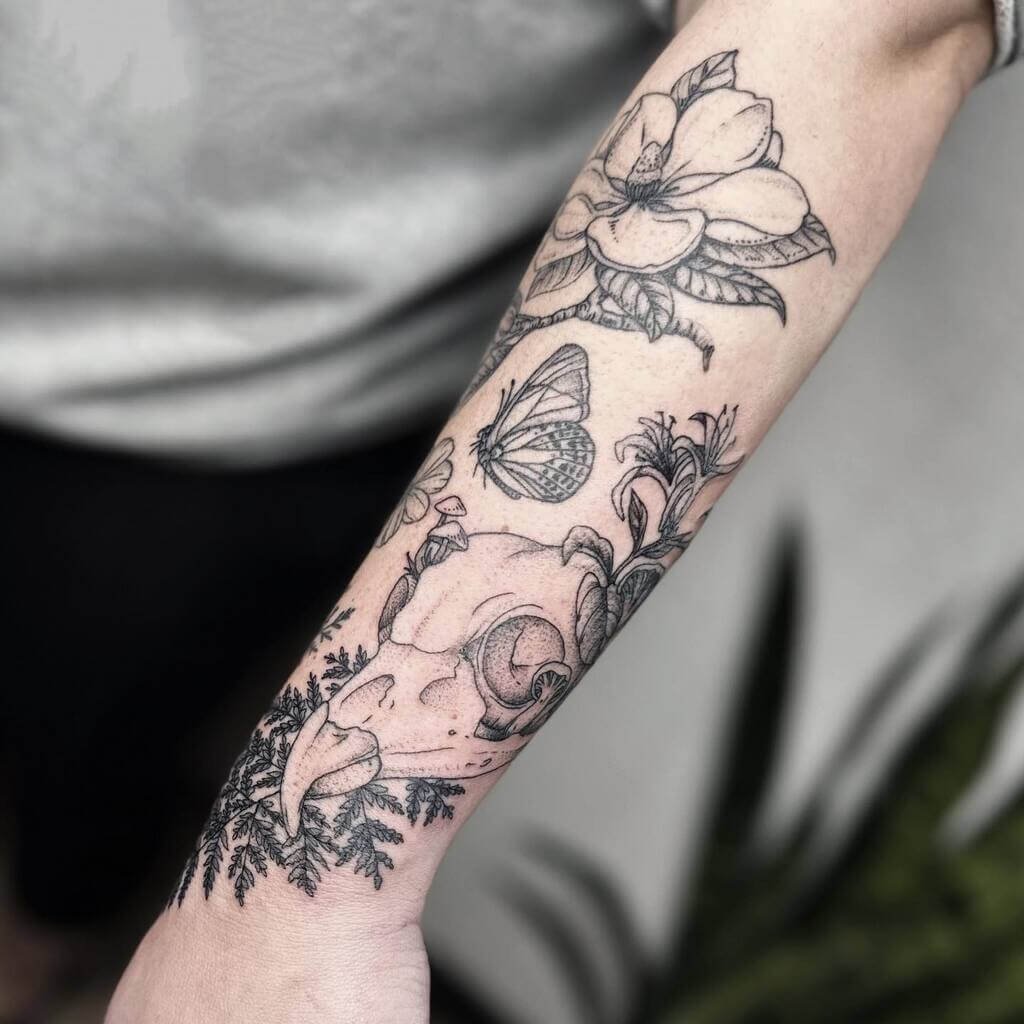 This tattoo is different and will make you stand out. It's a great choice for anyone who wants to get a tattoo that stands out from the rest but is still stylish and fun.
7. Patchwork Tattoo With Nature Theme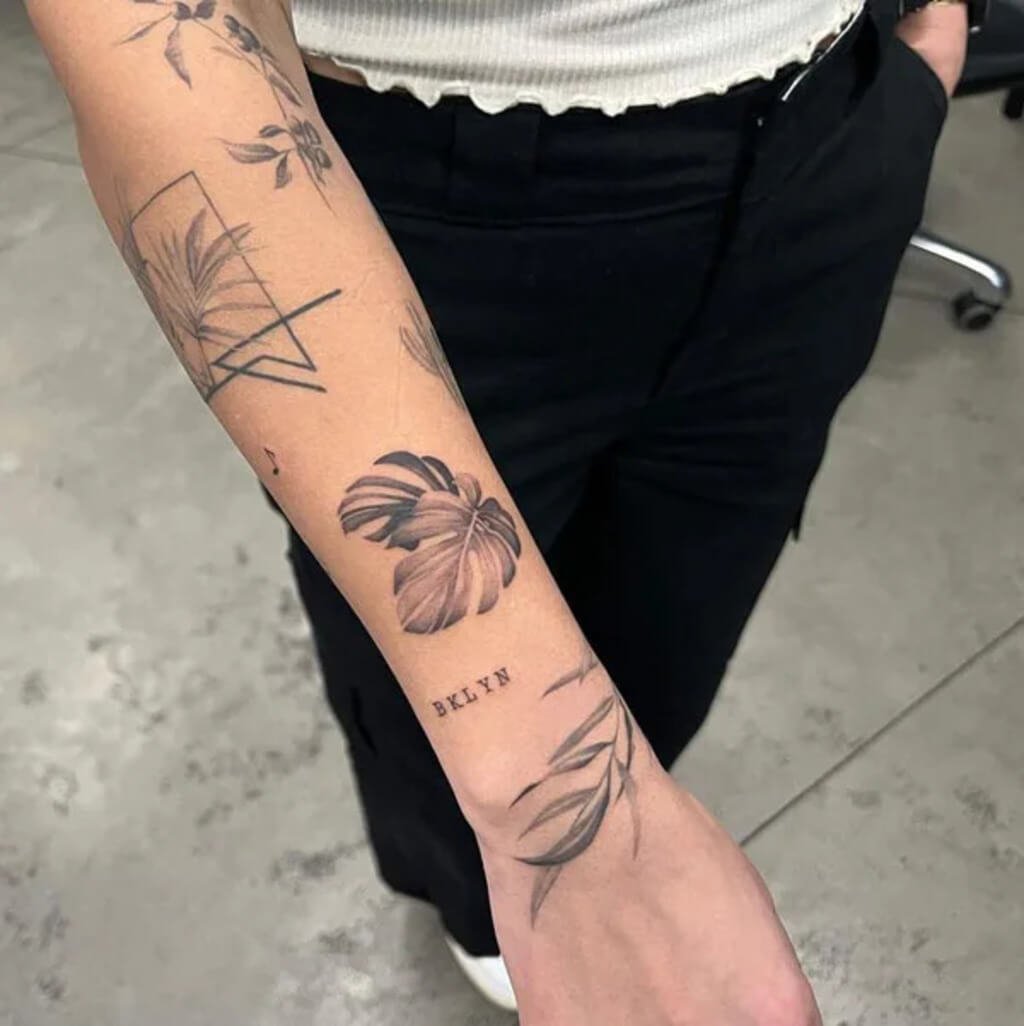 People usually get owl skull tattoos to reflect death or the afterlife, or to show that they are wise. If you want a patchwork tattoo, you can give it a natural look by adding flowers and butterflies.
8. Forearm Patchwork Tattoos
Another great place for body art is on the wrist. Forearm tattoos are versatile because they give you a lot of room to be creative with the pattern and are easy to show off. This is a great place to get important tattoos because they can be seen by a lot of people.
9. Minimalistic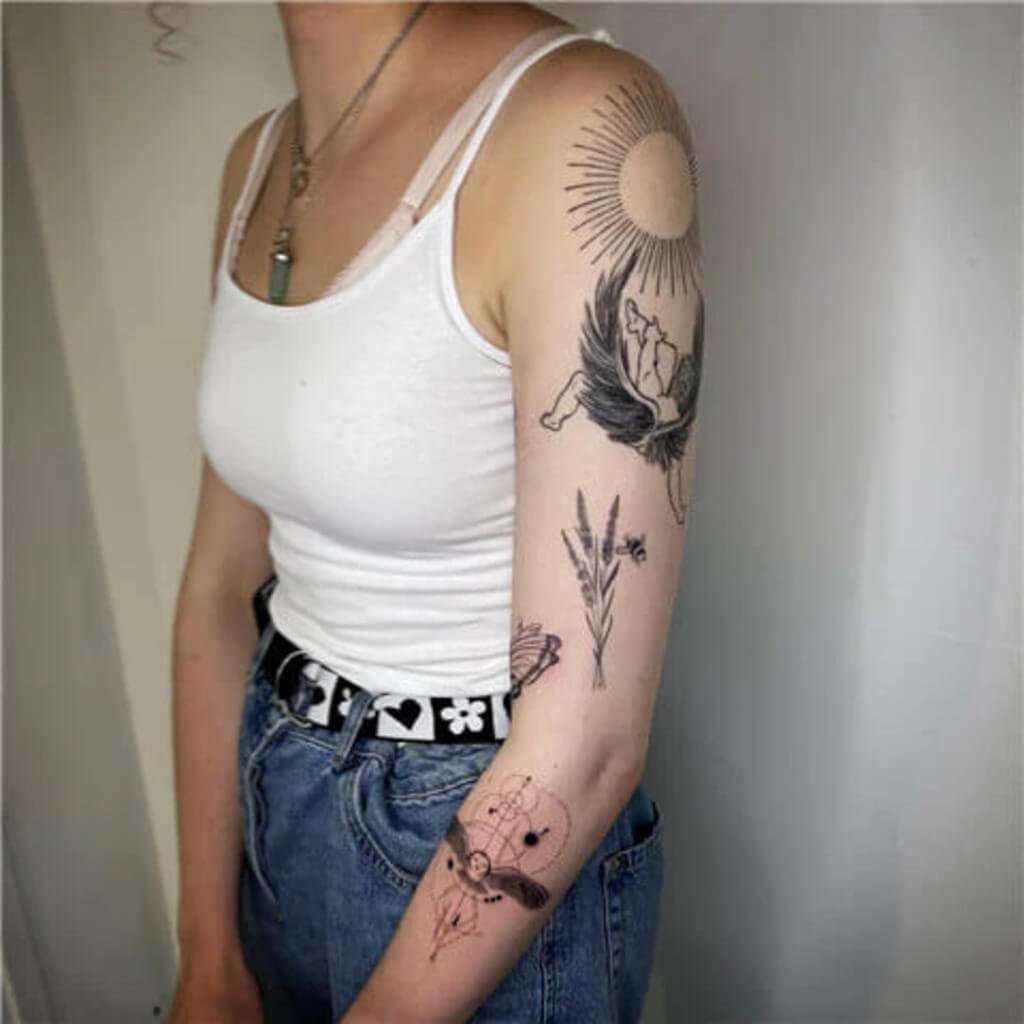 The smooth and clear edges of a minimalist tattoo are what make it stand out as a different style.
Also, simple patchwork patterns look cleaner and more put together. So, girls like these kinds of tattoos.
10. Patchwork Leg Sleeves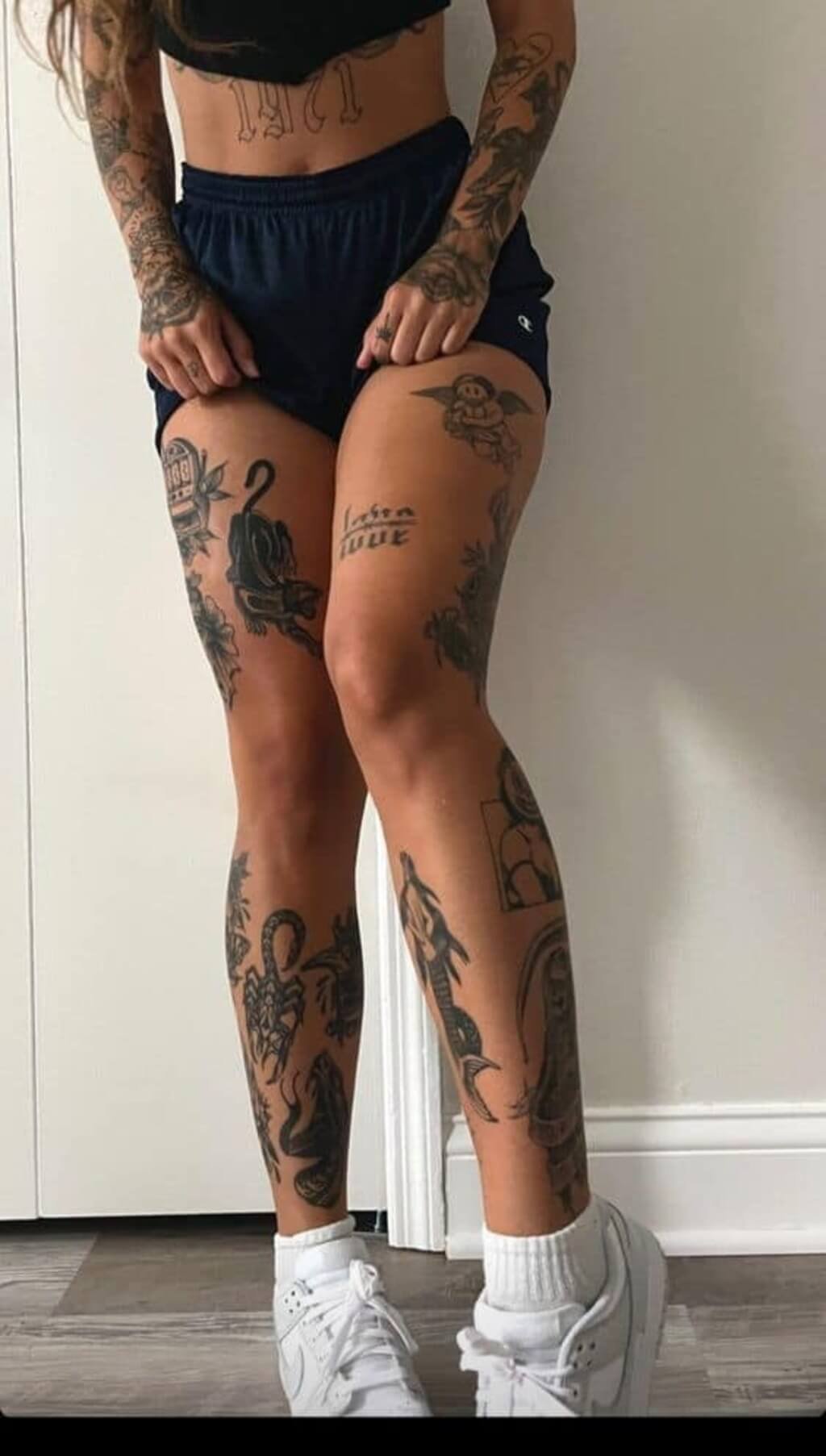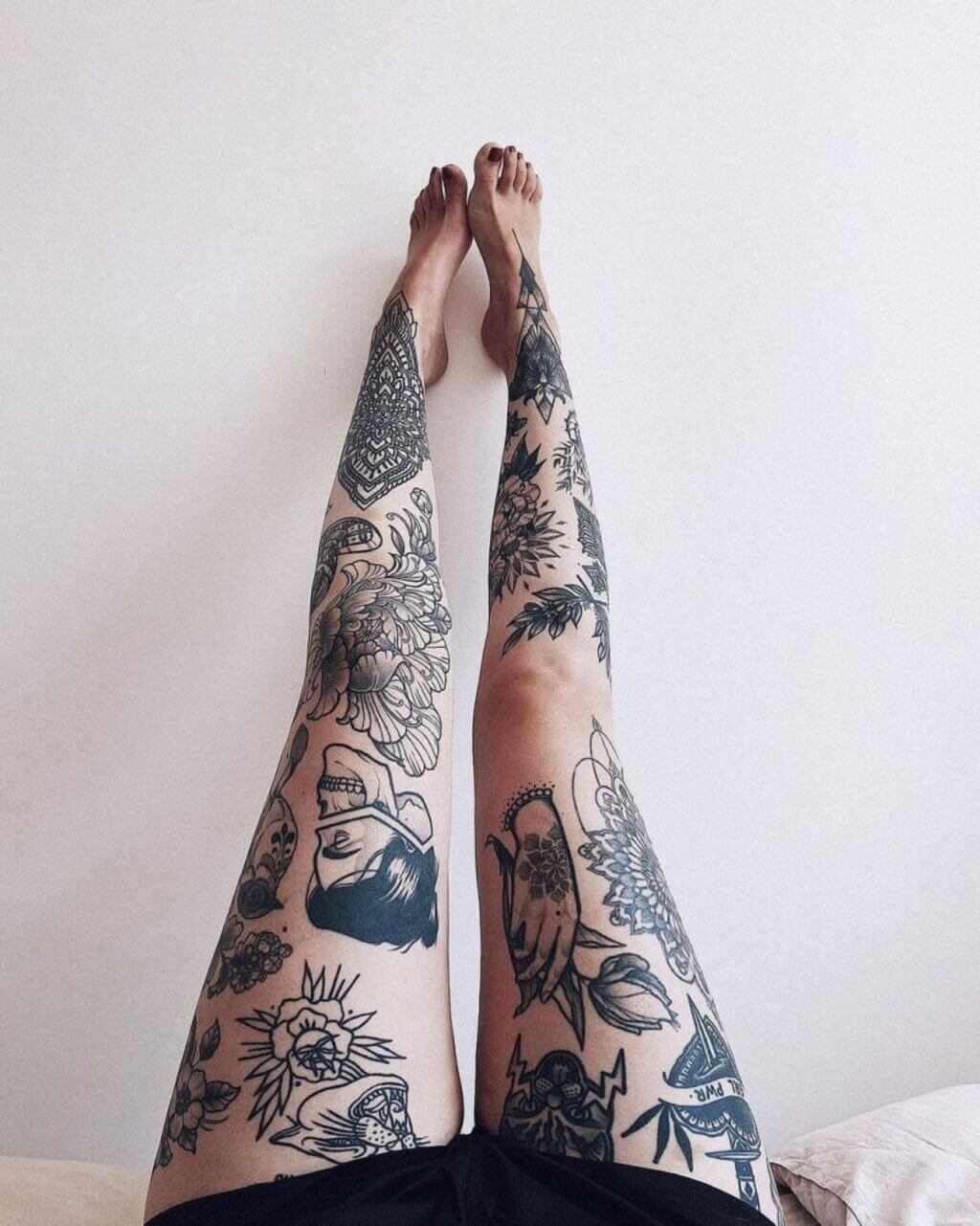 The legs are another great place to start putting together a small tattoo collection.
Since they are so tall, they give you more room to play with patterns than the arm does. They're also a great place for everything from big pictures to small patterns.
11. Quarter Sleeve Patchwork Tattoo 
As the name suggests, a quarter sleeve tattoo only covers a quarter of the arm. Most of the time, this is between the shoulder and the elbow. By putting the art on a smaller area, it is easier to hide. It will also hurt less and cost less money. People who want their pictures to stand out instead of mix together will like the patchwork style.
12. UFO and Aliens Tattoo Ideas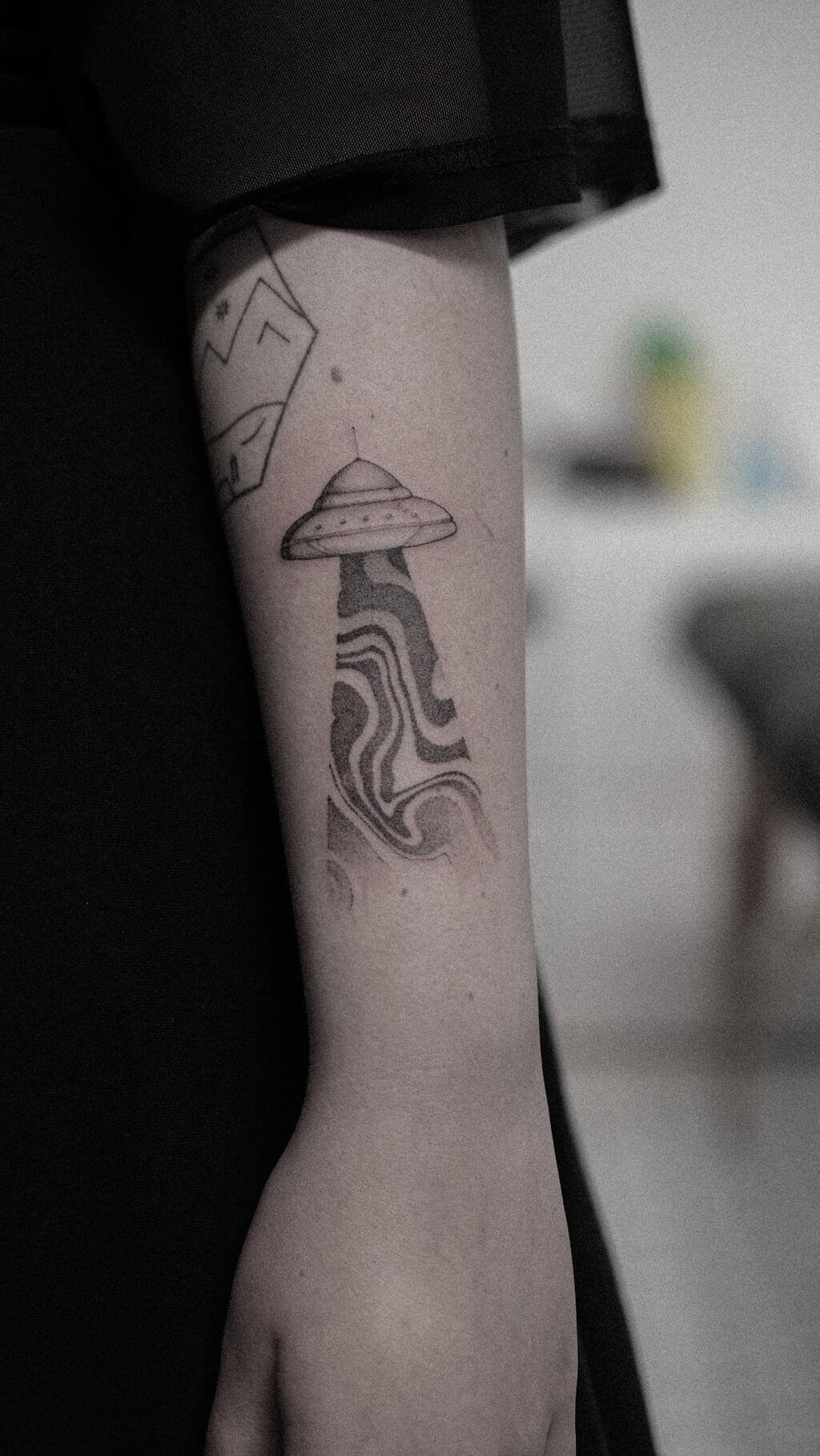 Do you believe in UFOs? Who cares? If you want to go crazy then UFO and Aliens designs are perfect for you.
13. Patchwork Tattoo on the Upper Body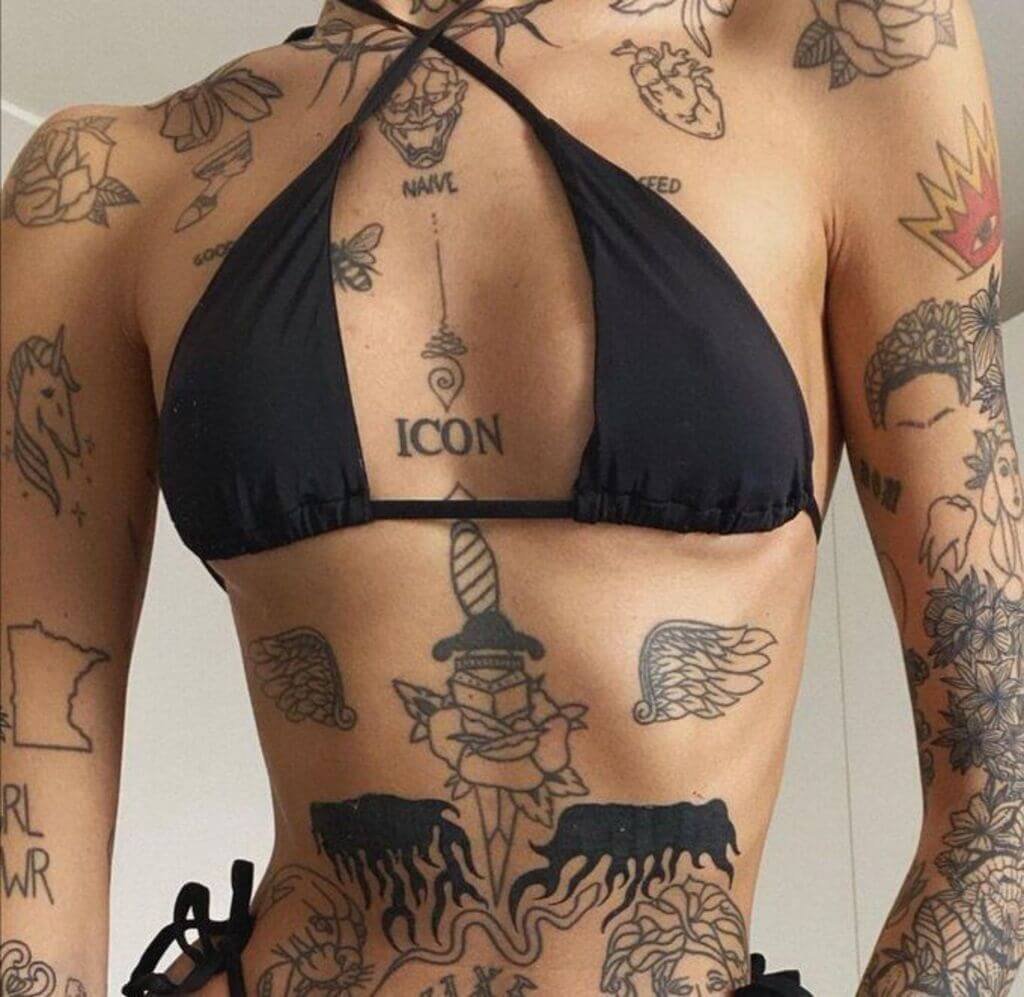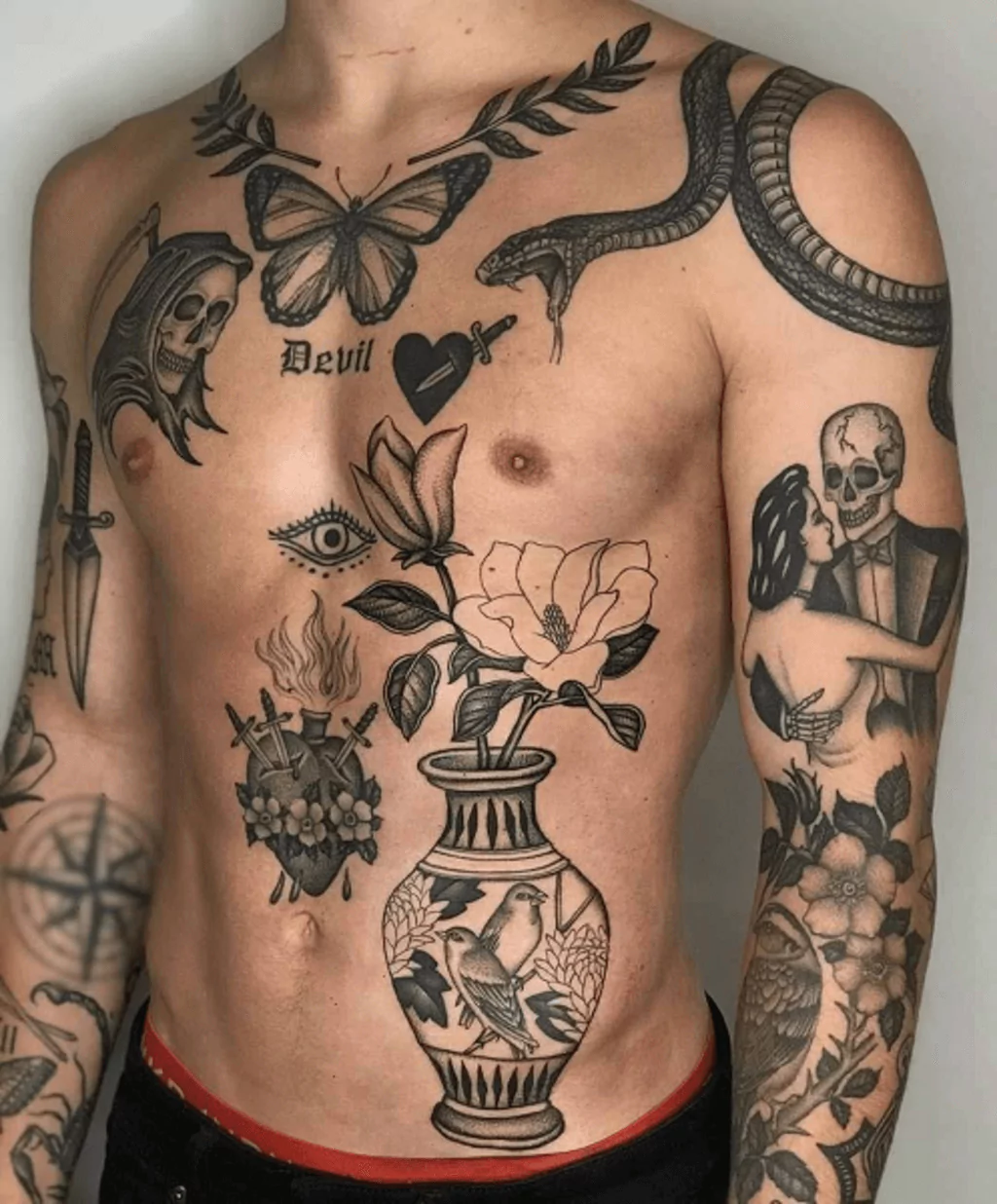 Do you want a gang patchwork tattoo to cover up your upper body? Depending on the tradition and history of the gang, a gang tattoo can mean a lot of different things.
13. Patchwork Tattoos on the Finger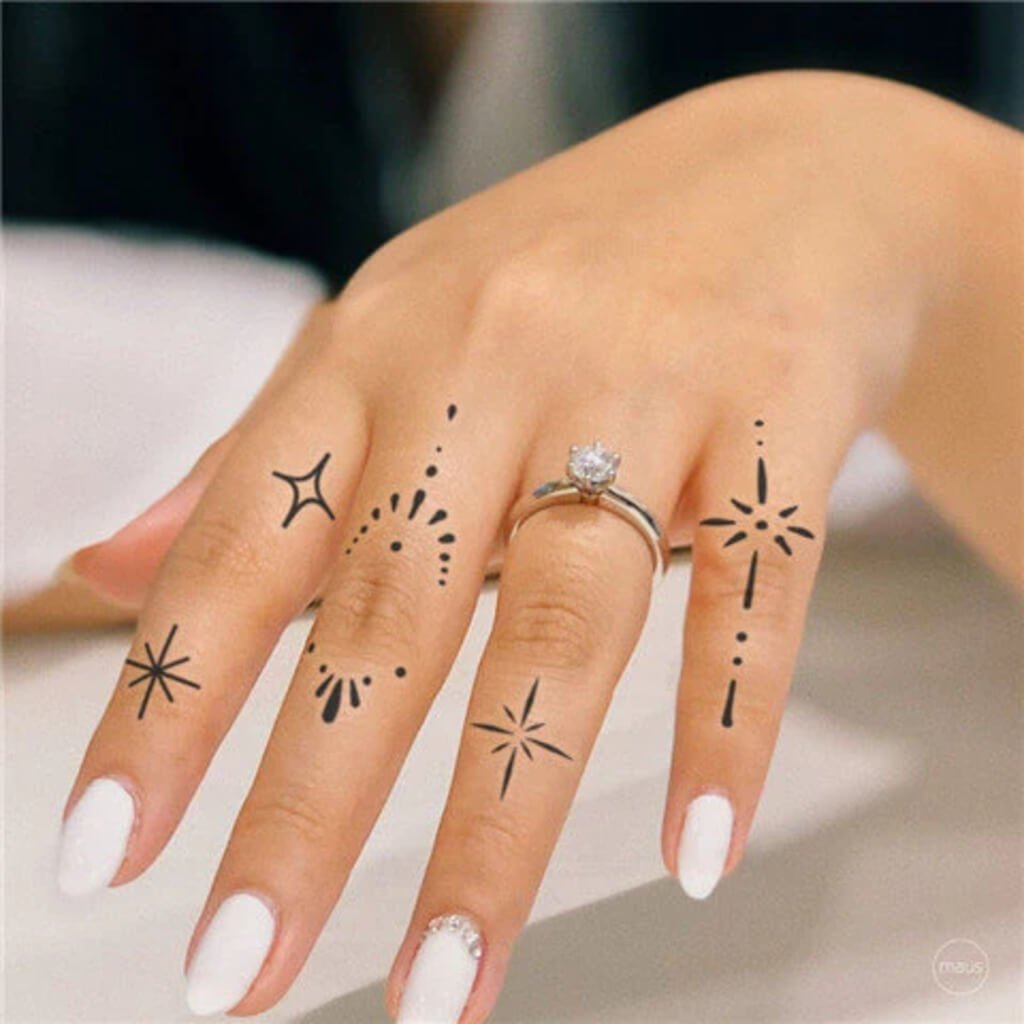 Finger tattoos are popular and cool. Because of the limited room, the designs are often small and simple, but you can put together several to make a patchwork look. Finger tattoos fade faster because fingers are used and exposed so often, but they are great for making a statement if you can stand the pain.
14. Patchwork Torso Tattoos
Patchwork tattoos are beautiful, that's not up for debate. Since they change all over the body in different ways, there is no limit to how far they can spread.
A patchwork arm can become a piece for the stomach or chest, or it can crawl up the neck.
15. Patchwork Tattoos on the Thighs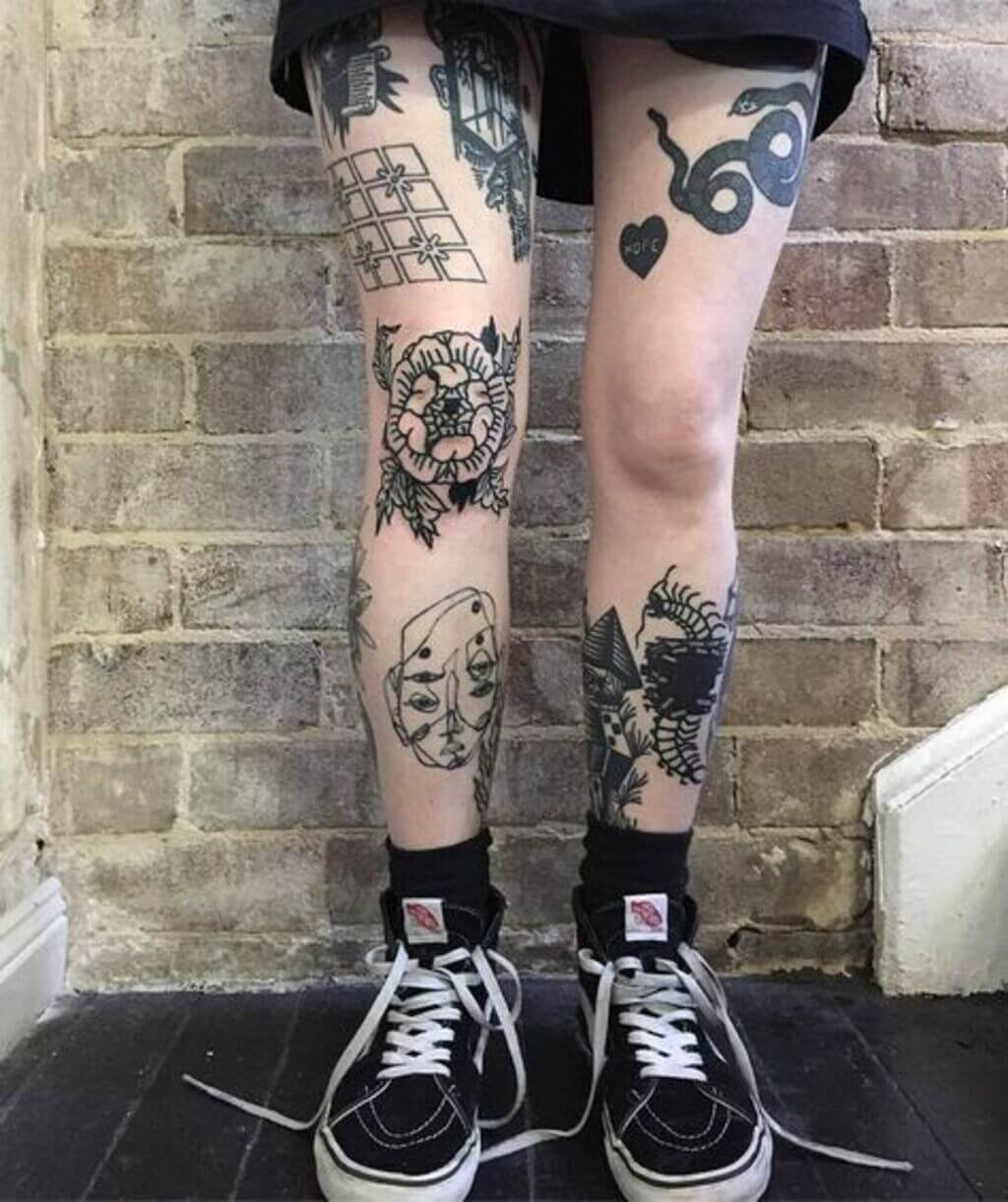 The sexy thigh tattoos are easy to cover with clothes, which makes it a more private place for body art that you can show off however you want. It's also big enough to fit more than one tattoo, so it's easy to make a beautiful patchwork effect.
You may also like: 51+ Sexy Thigh Tattoos For Women in 2023 [Top Picks]
16. Patchwork tattoo of Darth Vader
This is a very common and popular design choice for Star Wars fans, who love the idea of combining their love for the classic sci-fi series with their passion for tattoos.
17. Back Patchwork Tattoo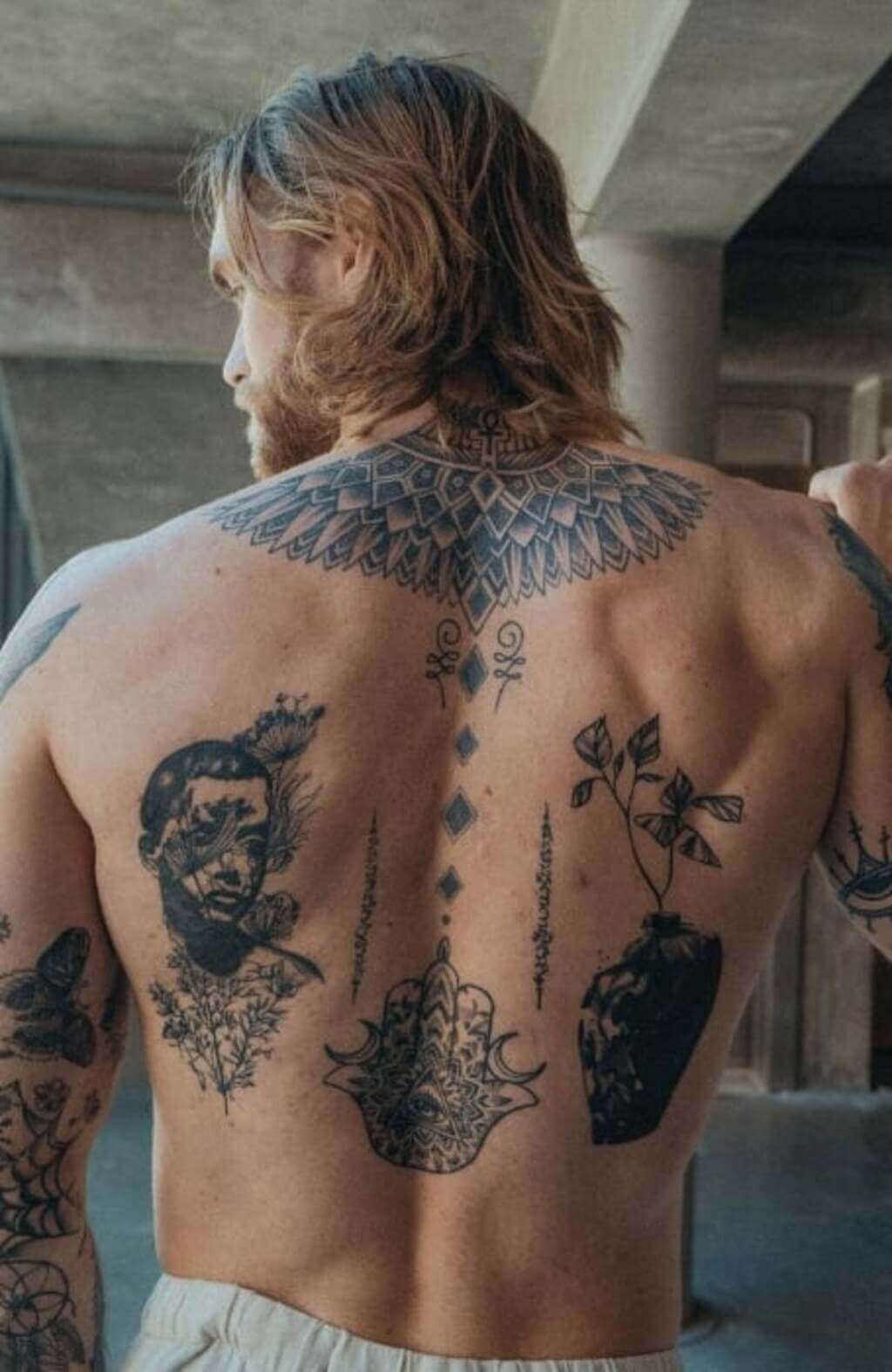 The tattoo designs in a patchwork pattern are spread out and then put back together. This is different from other methods, which often combine your artwork in a seamless way to make a finished result.
Patchwork tattoos, on the other hand, are meant to stand out, and the back is a great place for them because it allows for artistic expression. Back tattoos give you a lot of room to show off your unique style.
18. On The Belly
Patchwork tattoos on the stomach are often put together with tattoos on the chest to make a full upper-body image. This kind of outfit will look very good and help you show off your best features and hide your flaws.
19. Patchwork Tattoos With a Twist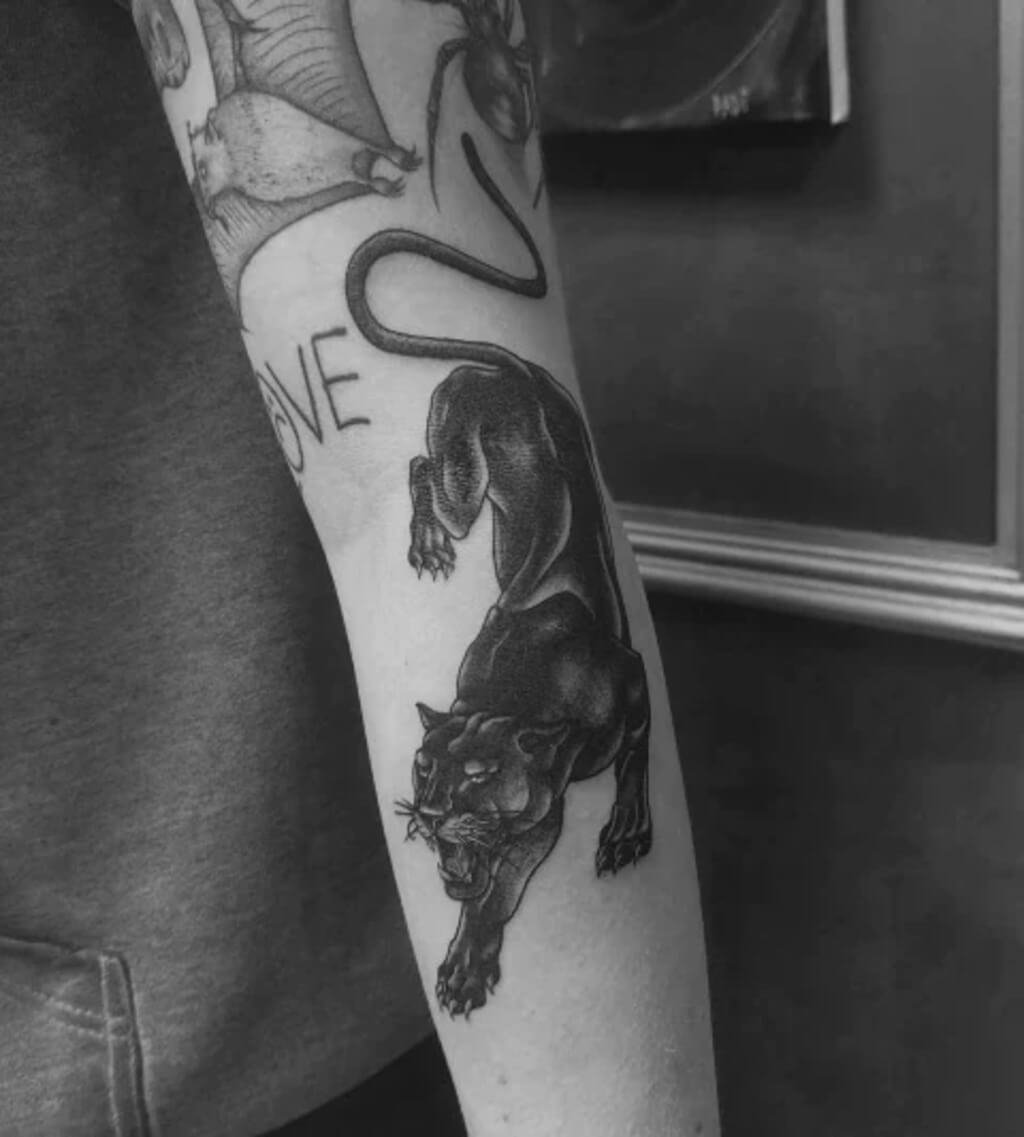 If you don't like how a patchwork tattoo looks but like the way it is made, you can use style to get the best of both worlds. Patchwork tattoos are easy to make look like they belong together. All you have to do is choose a style of art that ties the tattoos together or find the right artist to keep going back to.
20. Patchwork Tattoos on the Chest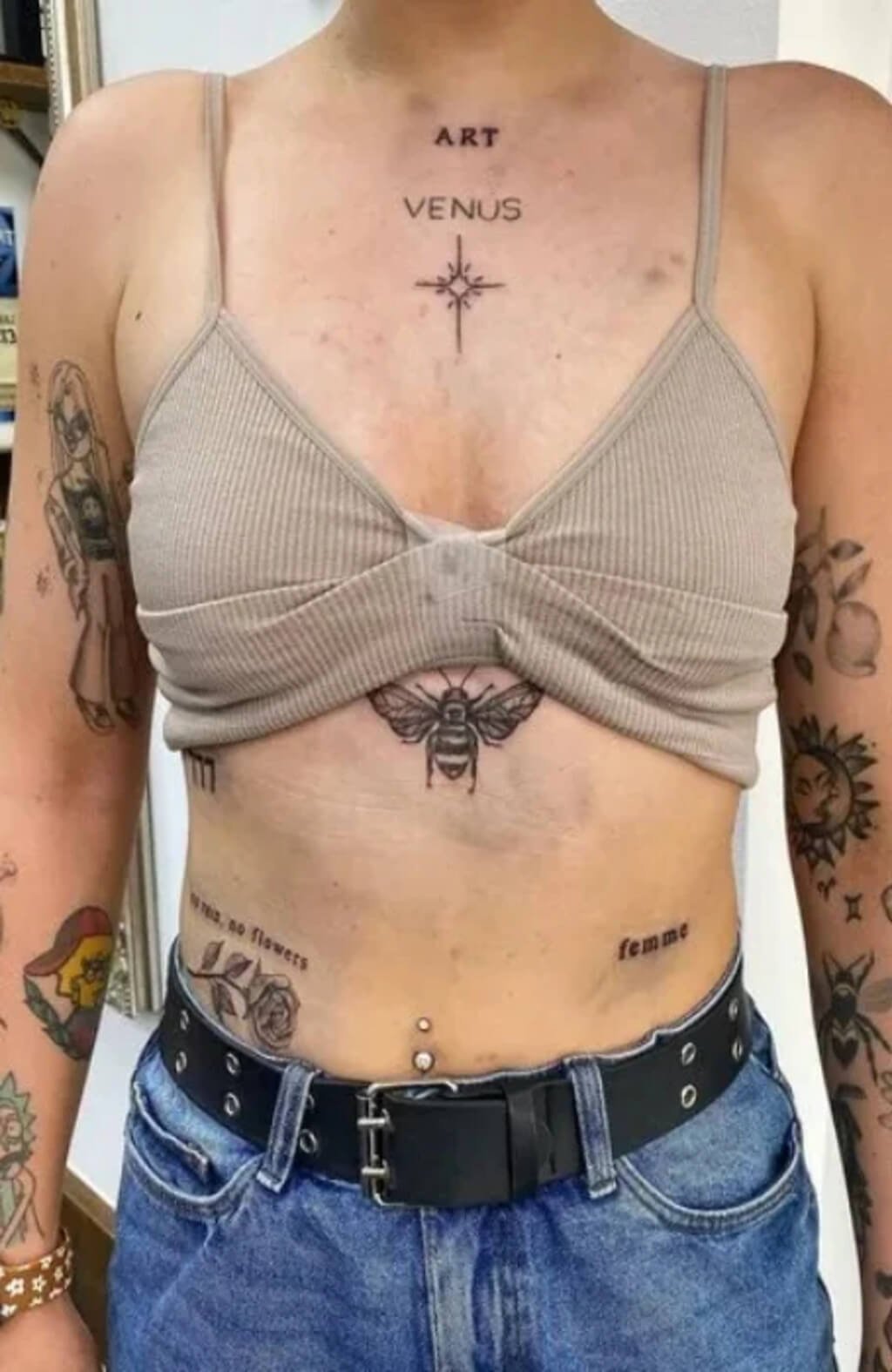 Because chest tattoos are one of the most painful places to get, they should only be used for important patterns. Because the area is sensitive and the skin is thin and close to the bone, chest tattoos are one of the most painful places to get a tattoo. But this is a great way to always have special ink close to your heart.
21. Traditional Black and Red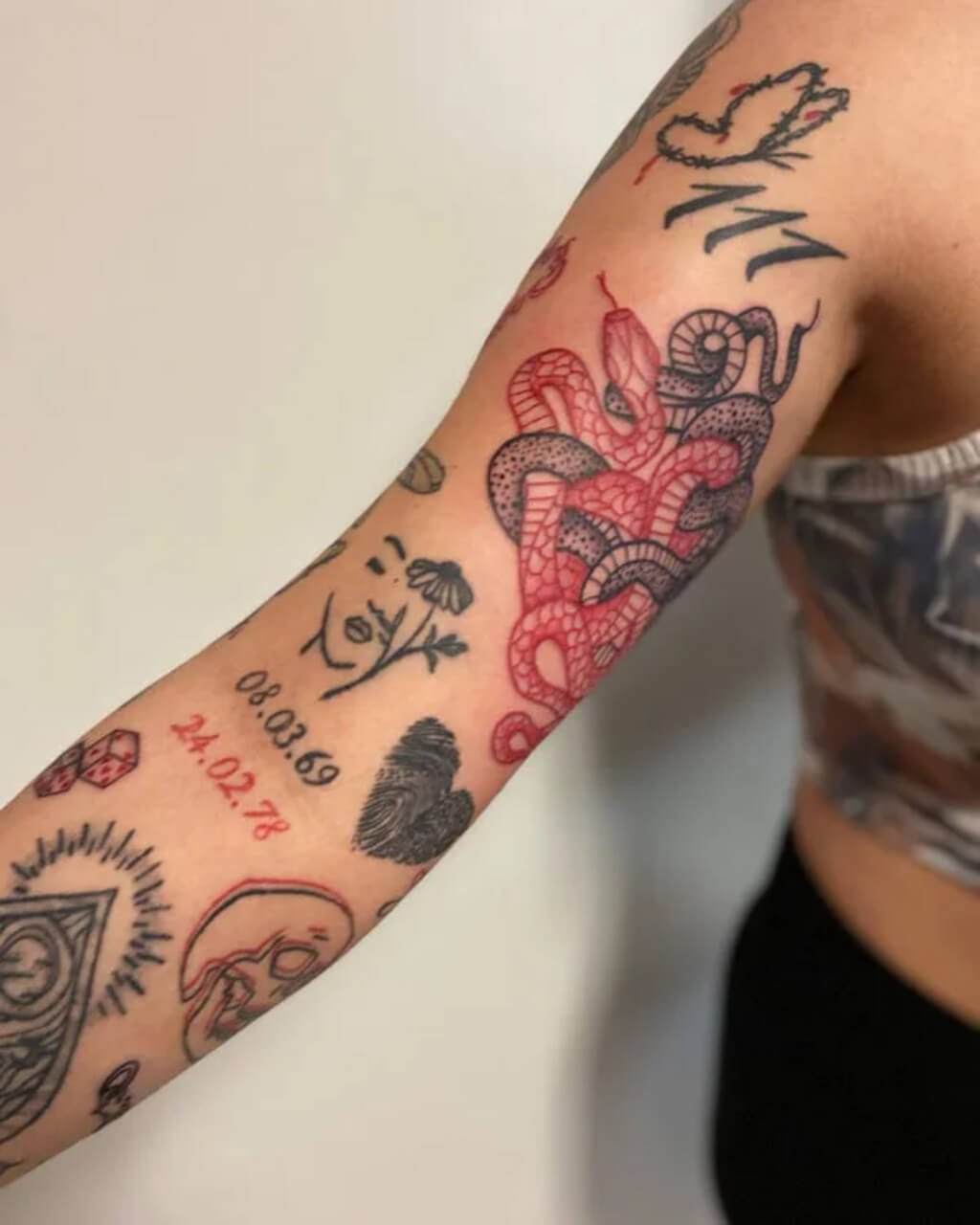 It's a great mix of classic and modern styles, and the design is one of a kind. You'll look really cool in a tiger, lady head, snake, or dragon.
22. Tattoos on Shoulder
The shoulder is one of the most popular places for tattoos. Your choice of tattoos can make that area feel even stronger and more powerful. Shoulders also offer flexibility and are easy to hide. Ink here can make your muscles look more defined and can make you look attractive and seductive.
23. Large Patchwork Tattoo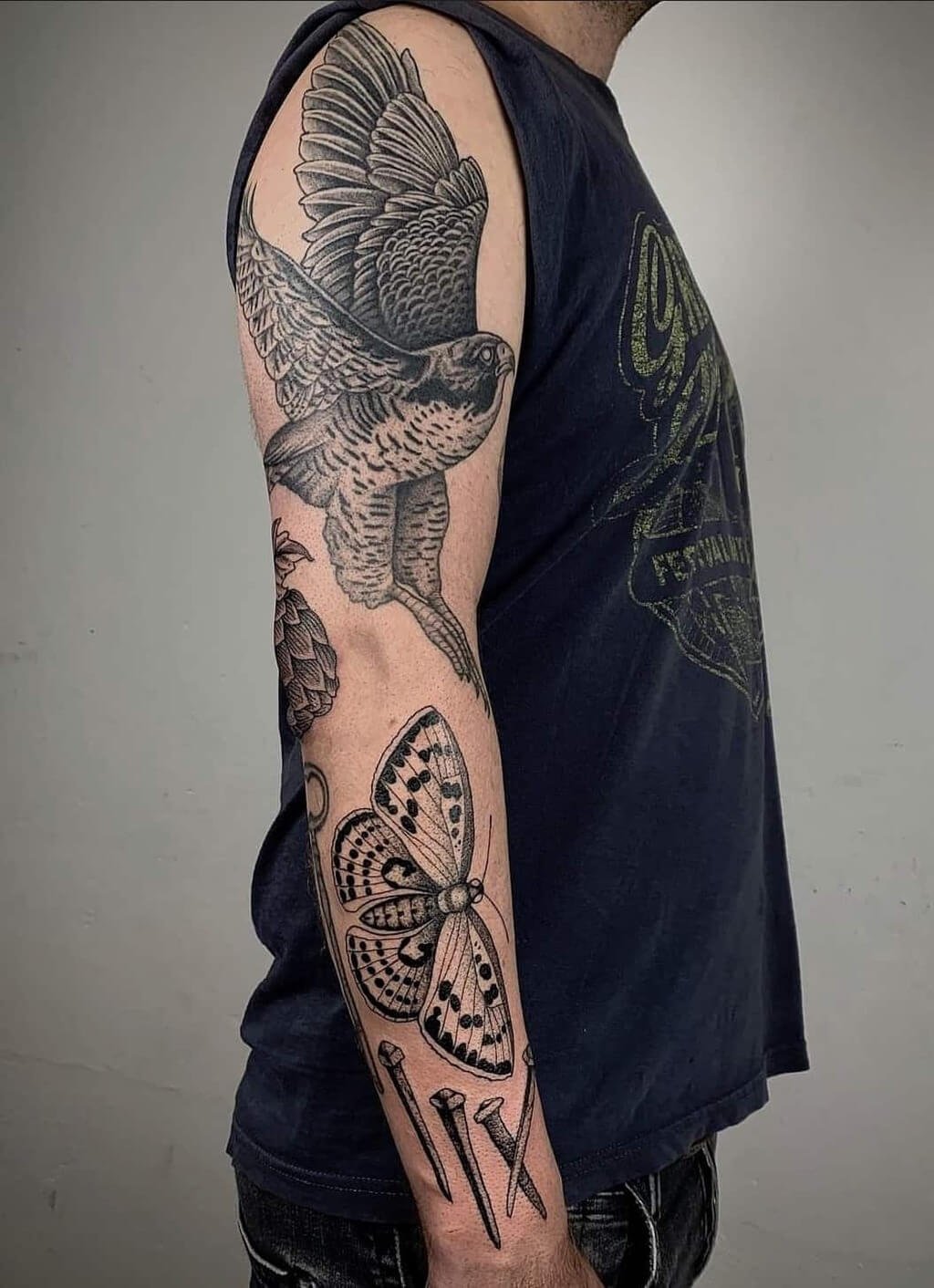 Patchwork tattoos are all about making them your own. Most of the time, these tattoos are made up of small to medium-sized pieces, but they can also be made up of bigger pieces.
By going this way, tattoo artists have more room to play and show off their skills, while the client still has the freedom to choose what they want on their body.
24. Simple Aesthetic Patchwork Tattoo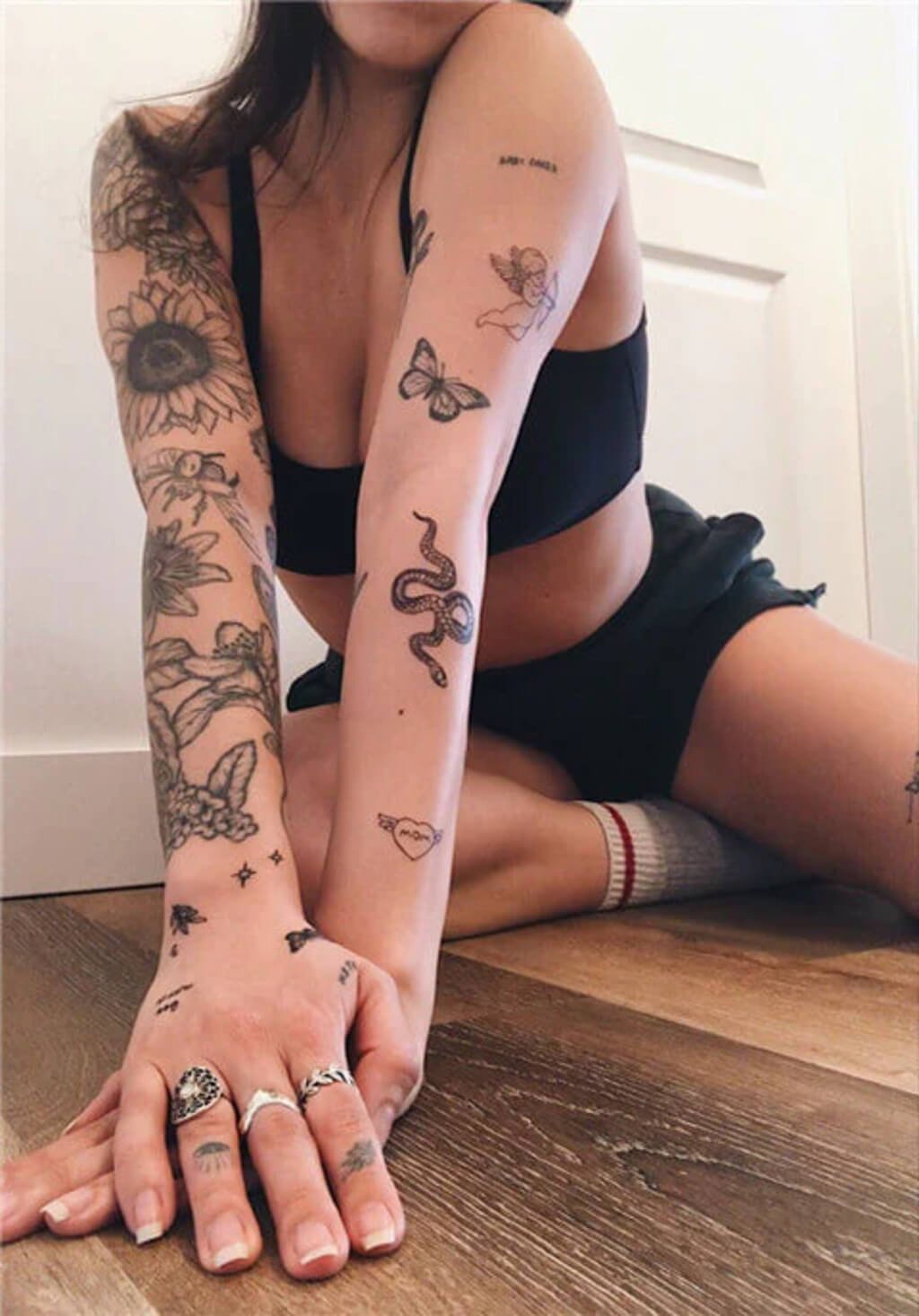 Patchwork tattoos can be simple or have a lot of design. Several tattoos are put together in this way, but there are spaces between them. So, each design can stand out and say something. Simple tattoos are great for people who like simple things and find beauty in their simplicity.
25. Geometric Patchwork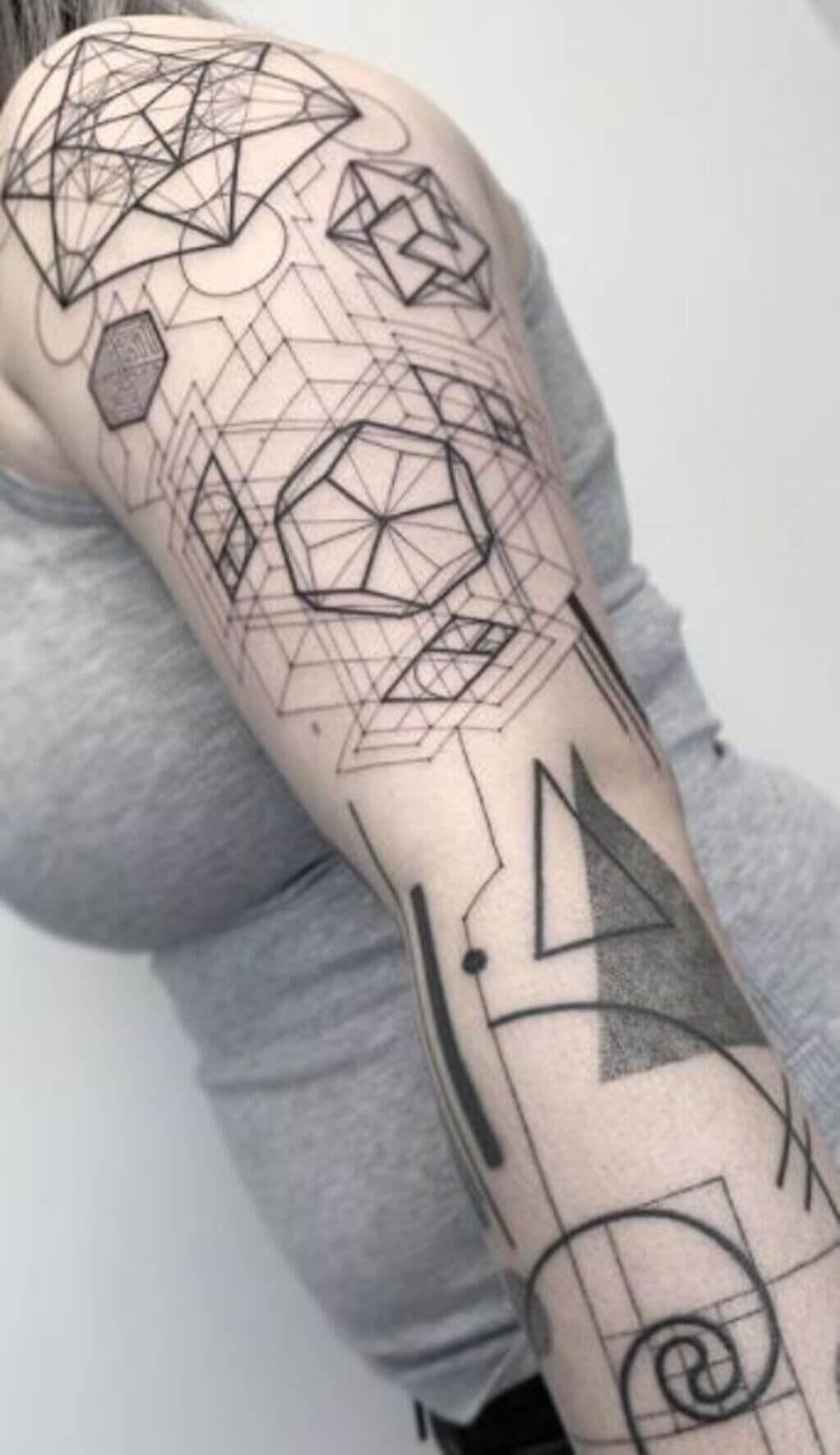 Since patchwork tattoos are often praised for their sharp edges and generally pleasing shapes, adding a geometric tattoo to your patchwork tattoo can be a great way to get the best results.
26. Tattoo with a Coffee Injection Patchwork
Coffee injection is a type of tattoo where the artist uses a syringe to shoot coffee into the skin, making a dark and gritty tattoo.
27. Cloth Patchwork Tattoos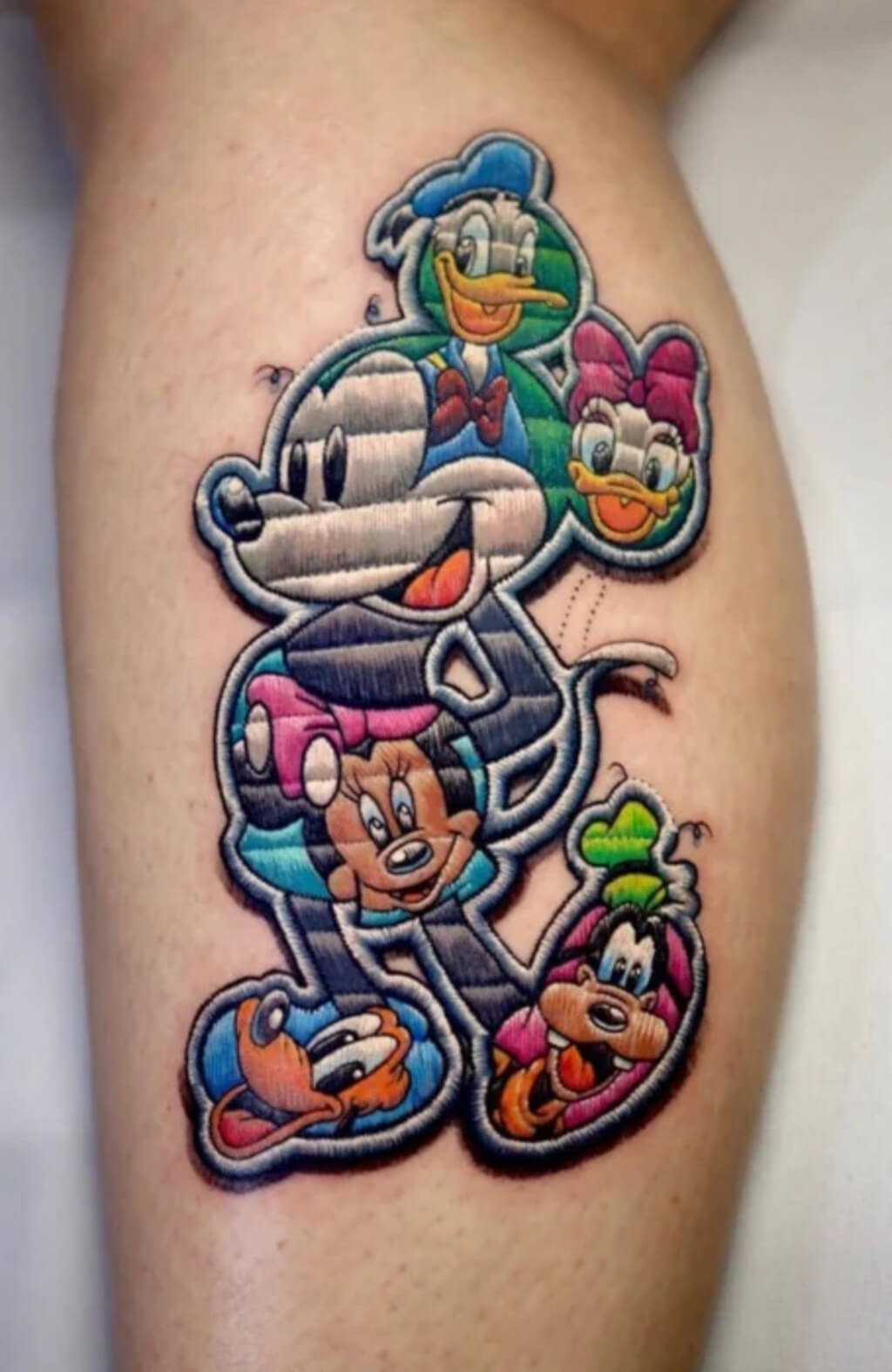 Cloth tattoos, also called embroidery tattoos, look like stitches made with a needle and thread on cloth. They are beautiful and full of detail, and often have a 3D part that makes it look like it was stitched to your skin. There are many options to choose from, and mixing them to make a patchwork look can be stunning.
28. Black Tattoos
Black ink is a great choice for patchwork tattoos because it can make the designs look more connected, even though there are places between them. Depending on what you like, the black ink art can be easy and minimal or it can have lots of details. Color can also fade faster than black ink.
29. Small Patchwork Tattoo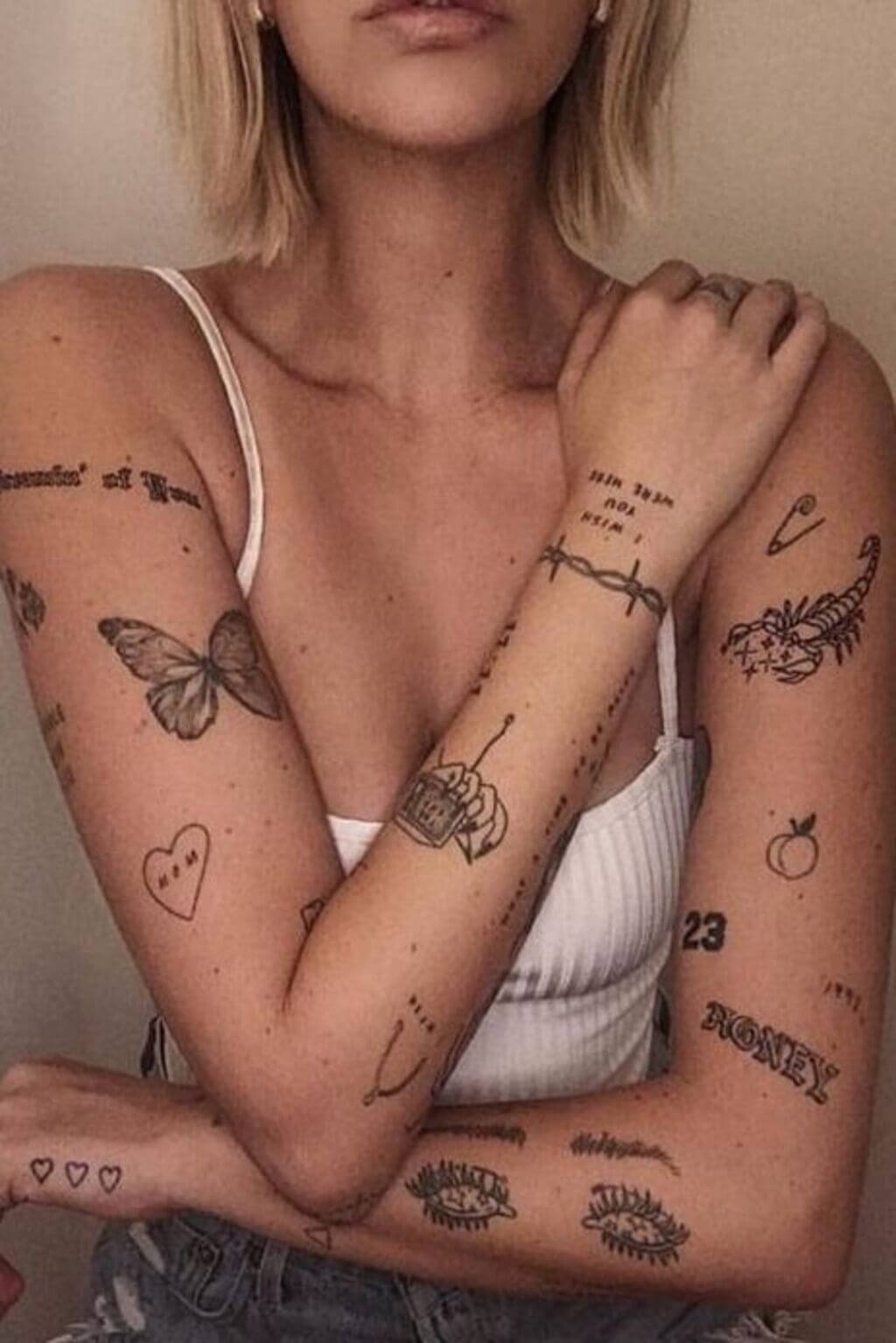 A patchwork tattoo doesn't always have to be large. In fact, a small patchwork tattoo can be enough if you only want to show it to a small group of people.
30. Rainbow Patchwork Tattoo
A rainbow tattoo is a piece of art that has a lot of different meanings, which might be why it's a popular part of patchwork tattoos.
If you choose this design, the soft colors of a rainbow will always be good enough to start a talk. But if you want to leave no room for mistakes, match the colors to your hobbies.
31. Patchwork tattoos with a Modern Twist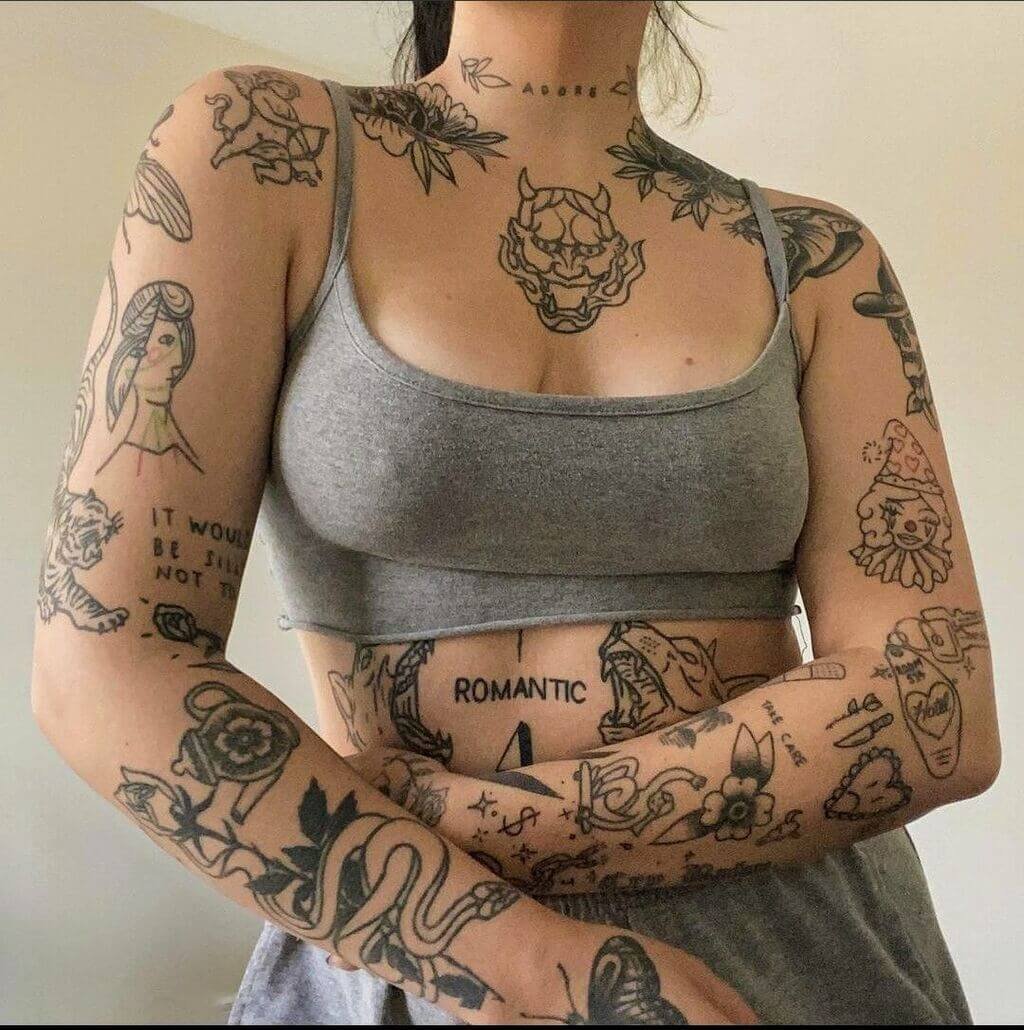 Neo-Traditional tattoos are like American Traditional tattoos, but the designs are more detailed and have more depth and character. The style has bold, thick lines and a small number of bright colors, which make each design stand out. Choose designs like flowers, ships, or mythical animals and put them together to make a patchwork look.
32. Angel Patchwork Tattoo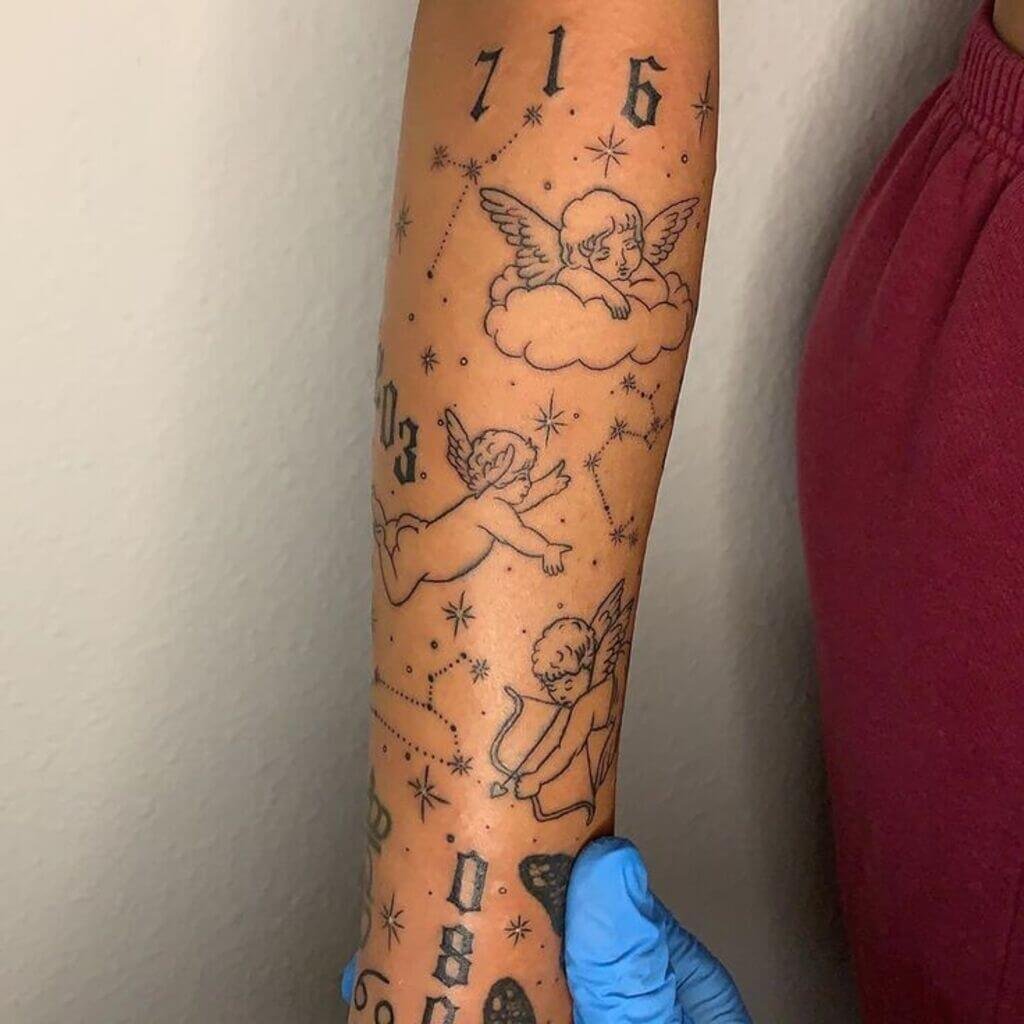 A patchwork tattoo with an angel on it is a sign that you are getting over your loss and sadness. Also, the stars are ready to make your tattoo shine.
You may also like: 444 Tattoo Meaning and Its Relationship with Angel
FAQs:
How should I start a patchwork tattoo on my arm?
It's easy to start a patchwork tattoo sleeve. Just start getting tattoos of styles you like. All done. After you've put a few tattoos where you want them, start filling in the empty spots with tattoos that fit the area. Then, there! You've begun your patchwork tattoo on your arm. Plus, patchwork tattoos look cool no matter how close together the tattoos are or how far apart they are.
How long does it take to get a patchwork tattoo?
Depending on the size and complexity of the pattern, patchwork tattoos may need more than one session to finish. If you're thinking about getting one, make sure to find a skilled artist who has done this kind of tattoo before. 
Be patient when creating your tattoo. Patchwork tattoos may take longer to finish, but they are beautiful works of art that are worth the wait.
How much does it cost to get a patchwork tattoo on your arm?
Most patchwork tattoos are medium or big, so they can cost more than the average. You can expect to pay between $840 and $4,850.
What kinds of tattoos work well for patchwork tattoos?
Patchwork tattoos can be done in many different ways, from traditional to neo-traditional to even new school. 
No matter what style they are, patchwork tattoos usually have a lot of different symbols, shapes, colours, and other elements that come together to make a beautiful design.
Conclusion
Once you've added the first few pieces to your Patchwork tattoo, you should start thinking about how to connect them. There are so many unique ways to fill in the empty space of a Patchwork tattoo, from pictures to fairy dust.
Remember, you don't have to do this. Patchwork tattoos don't have to follow any rules. It's up to the person who wears them whether or not the spots grow together. Please visit Travel World Fashion again for more tattoo-related content.