30+ Sexy Under Breast Tattoo Design Ideas for Women
Underboob or under breast tattoo ideas are gaining immense popularity among women today. From a tiny love heart to an intricate mandala, getting a tattoo under the breasts has become a popular choice.
If you are considering getting an underboob tattoo or are searching for ideas, you have come to the right place. This article will cover every aspect of underboob tattoos, including pain, cost, designs, aftercare, and more.
Considering Your Under Breast Tattoo on the Following Elements:
Finding the ideal placement for a tattoo is equally as important as choosing the right design. Consider getting an underboob tattoo of your choice.
Personality:
Choose an underboob tattoo symbol that best reflects your personality and disposition. Consider what you prefer rather than what others might say when expressing your fashion sense.
Favourite Icon:
You could base your tattoo design on a favourite celebrity, social media influencer, or any other individual. If you enjoy mimicking, feel free to do so. Simply add a twist to make it more unique.
Own Creation:
If you have an idea for a cool tattoo design but are unsure of how it will look on your skin, you should consult a tattoo artist. Once you've decided on the tattoo's final appearance, they can draw your design and the tattoo itself.
What Exactly Is an Under boob Tattoo?
An underboob tattoo is a tattoo that is located beneath your breast (s). If you want to broaden that definition, tattoos that wrap around the sternum, cleavage, side boob, and ribs—anything in the general chest area—could be included.
Best Under Breast Tattoo Designs
1. Adam's Creation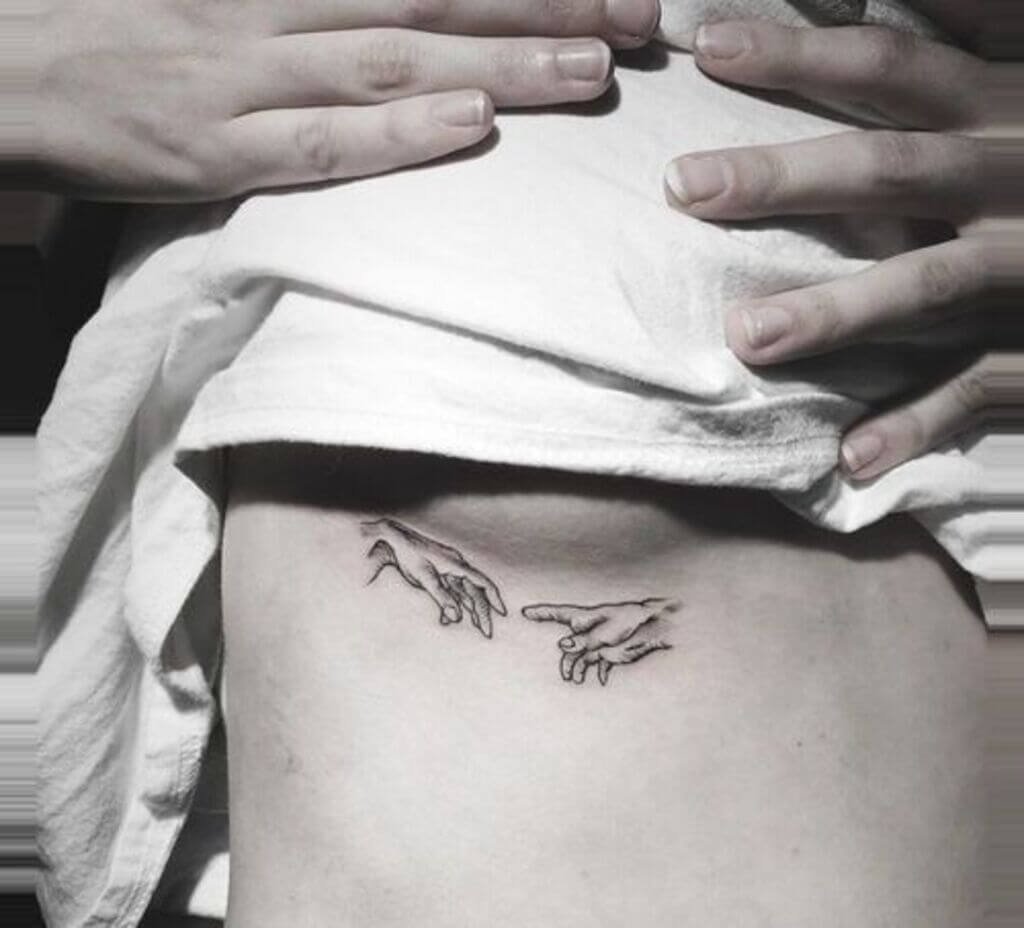 Source: amazonaws.com
This under breast tattoo is located just beneath one breast and is inspired by Michelangelo's famous Sistine Chapel. It depicts the Creation of Adam, one of many paintings on the Sistine Chapel's ceiling. It could be your personal ode to the artist.
2. Small Under Breast Tattoo
Source: thetrendspotter.net
Underboob body art is attractive, but it can be extremely painful, which is why many women prefer a smaller design. This decision is influenced by more than just the pain factor. Small tattoos are becoming more popular because they can appear dainty, are easily concealed by clothing, and are just as meaningful as larger pieces.
3. Tattoos of Sunflowers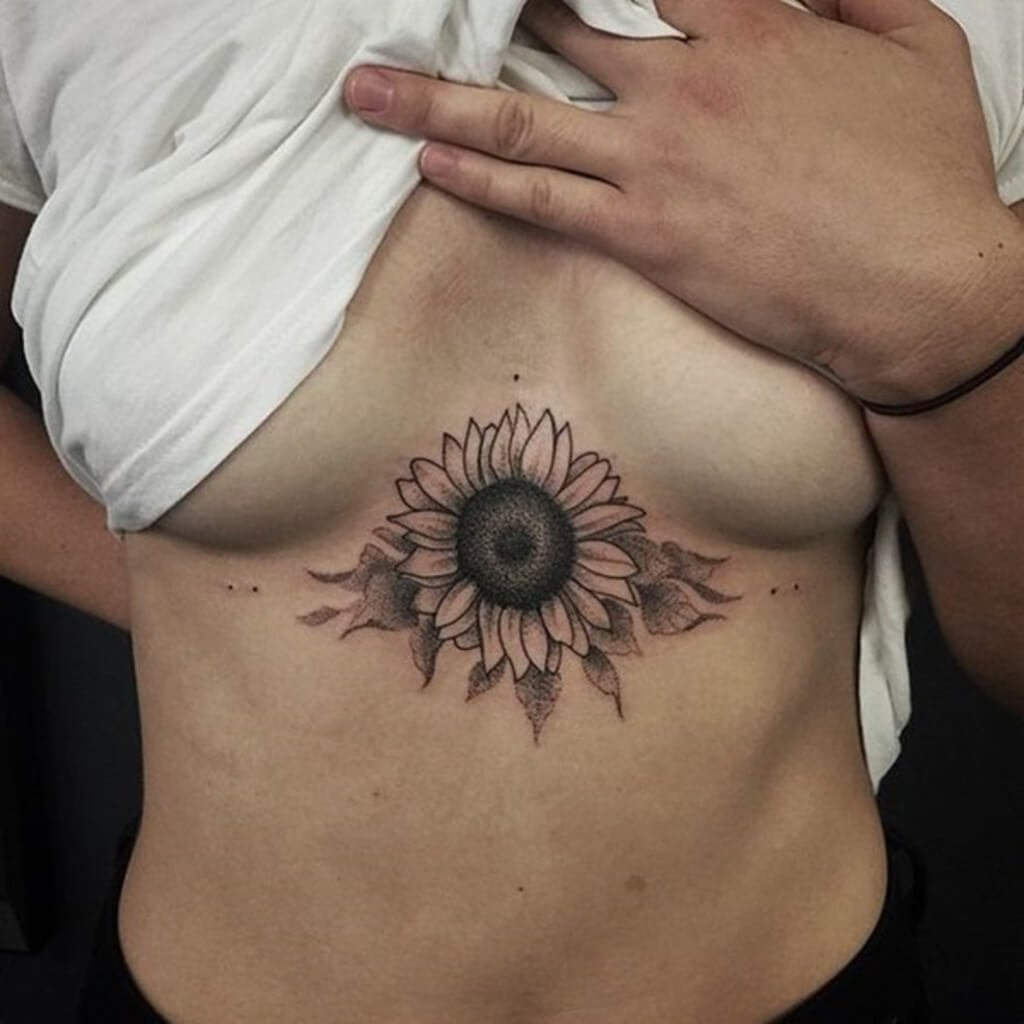 Source: worldoffemale.com
This is a detailed sunflower tattoo that you will undoubtedly enjoy.
4. Leafy Explorations
Source: amazonaws.com
With a leaf-based under boob tattoo, you'll be one step closer to nature. A leaf tattoo is always a safe bet. The delicate vines can be shaped and sized according to your preferences. These boob tattoos fit perfectly around the shape of the breasts and look fantastic.
5. Simple Under Boob Tattoo
Source: thetrendspotter.net
Simple tattoos have a certain allure, and they are ideal for someone who prefers a more laid-back approach to body art and wants to focus on the meaning behind their design. When you remove the design, you can think about the symbolism. Furthermore, because they are often devoid of excessive detail, colour, or shading, simple tattoos can be inked almost anywhere on the body.
6. Octopus Fashions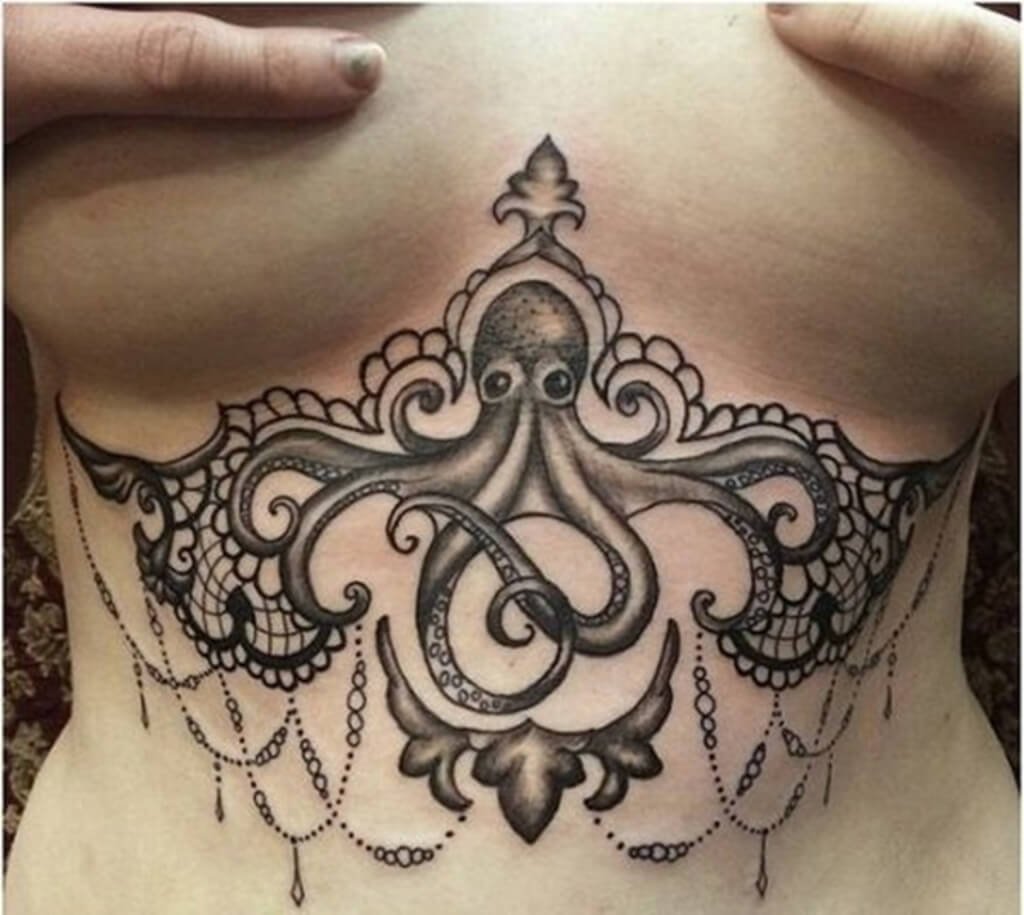 Source: worldoffemale.com
A great style like this includes an octopus and a chandelier. This is an absolutely stunning design.
7. Floral Designs for Under Boob Tattoos
Source: tattoomenow.com
The lotus and rose are probably the most popular floral designs. Lotus tattoos are frequently combined with mandalas on the sternum. A single rose tattoo between the cleavage is also popular.
8. Angel Wings Under Breast Tattoo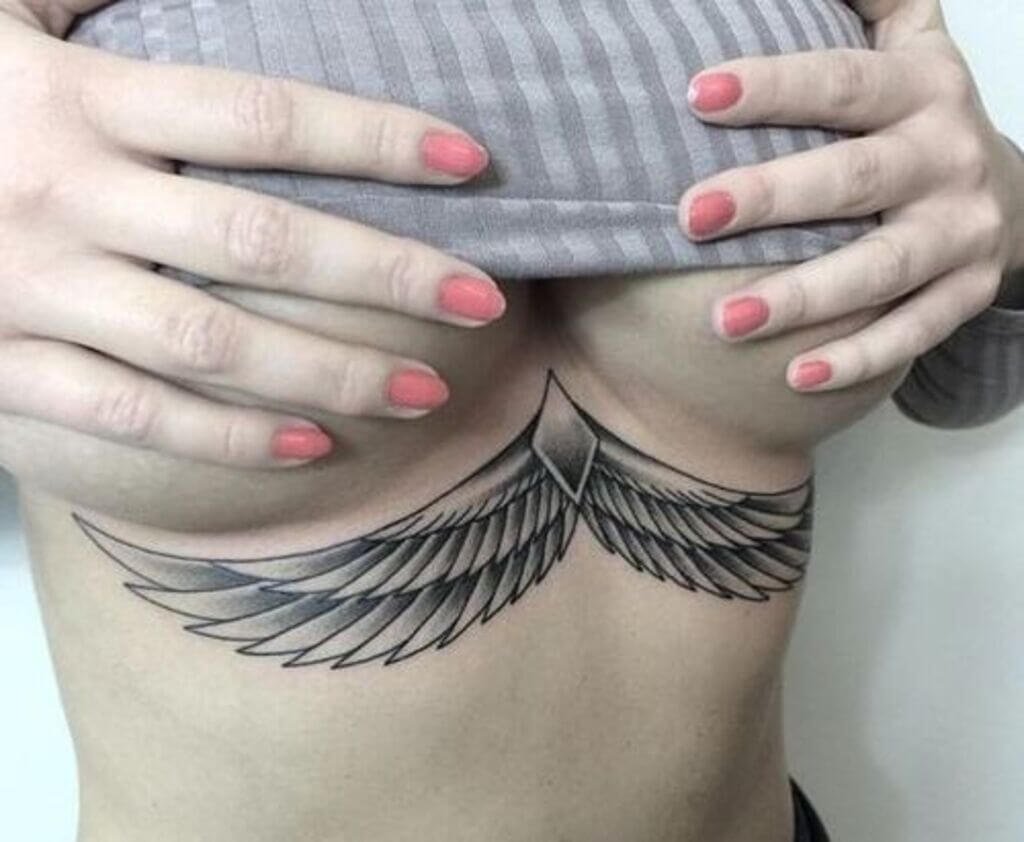 Source: amazonaws.com
Angel wings on the sternum are a popular underboob tattoo design. This is primarily due to their ability to fill empty space. This under boob tattoo is elegant and has a deep meaning behind it. Angel wings symbolise faith, protection, and bravery.
9. Rose Under Breast Tattoo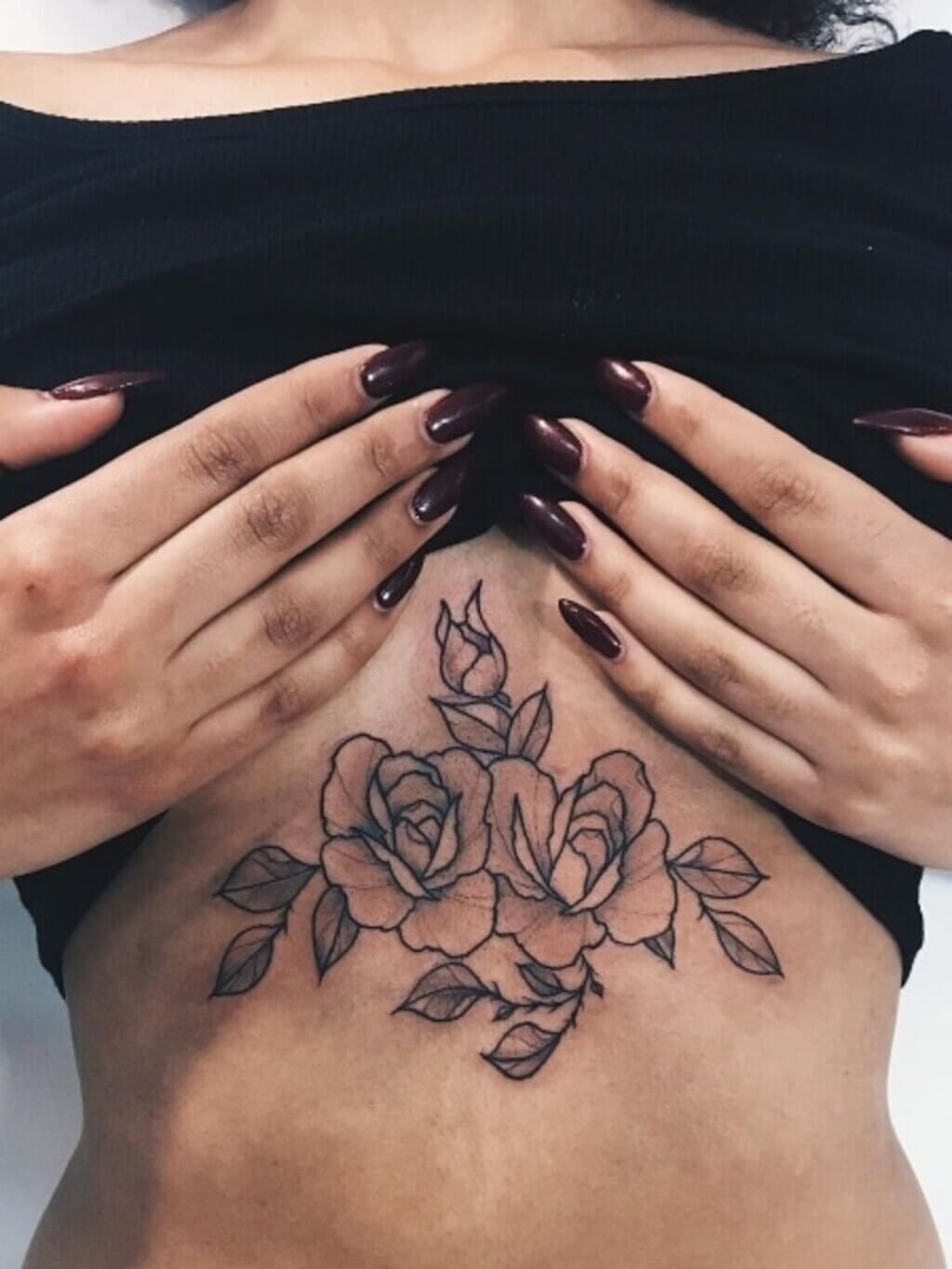 Source: thetrendspotter.net
A rose is a beautiful and symbolic flower that makes for interesting and meaningful body art. It is frequently associated with love, beauty, and new beginnings, but it is a remarkably versatile bloom that can take on different meanings depending on the colour you select.
For example, red is associated with passion and unending love, whereas black is associated with grief or personal loss. A rose tattoo can be inked alone, as a filler, or in conjunction with other images such as a clock, skull, or butterfly.
10. Under Breast Tattoo Jewelry Designs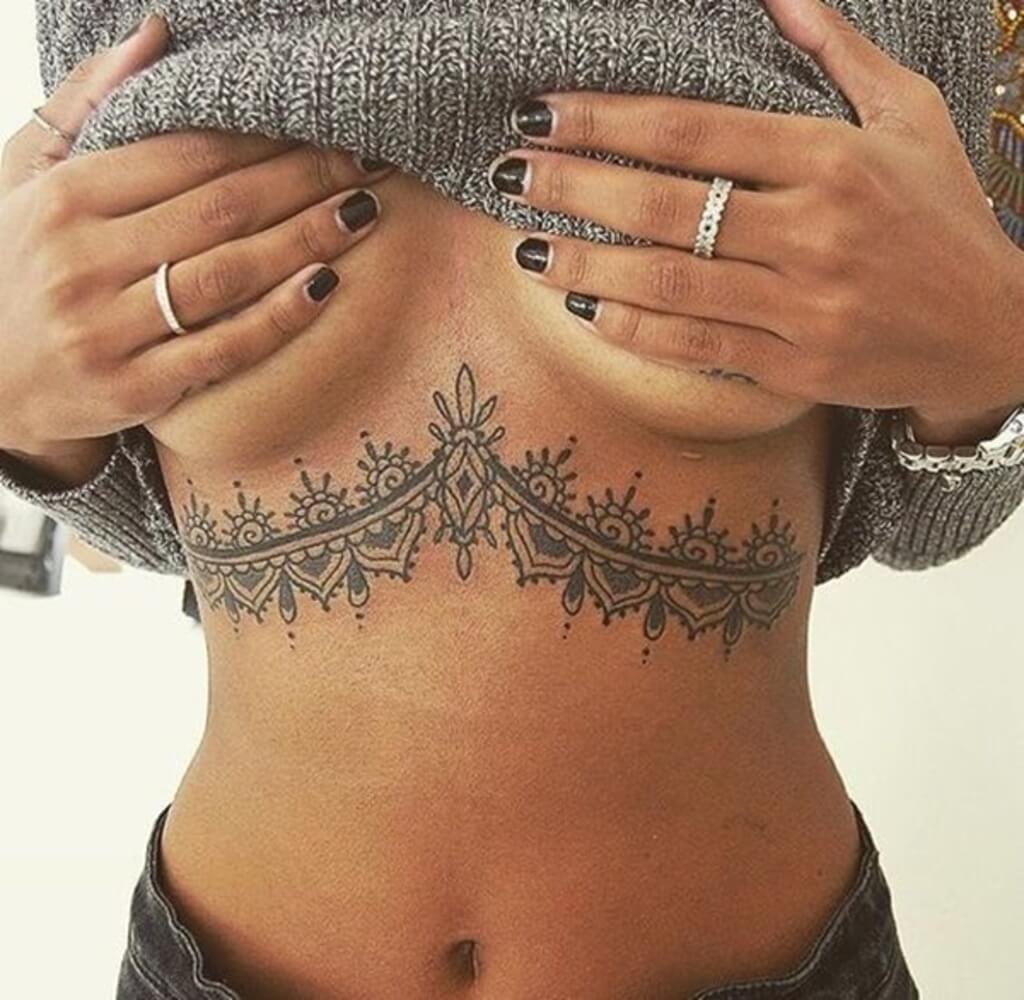 Source: worldoffemale.com
This is a showcasing style that accentuates your assets.
11. Mandala Tattoos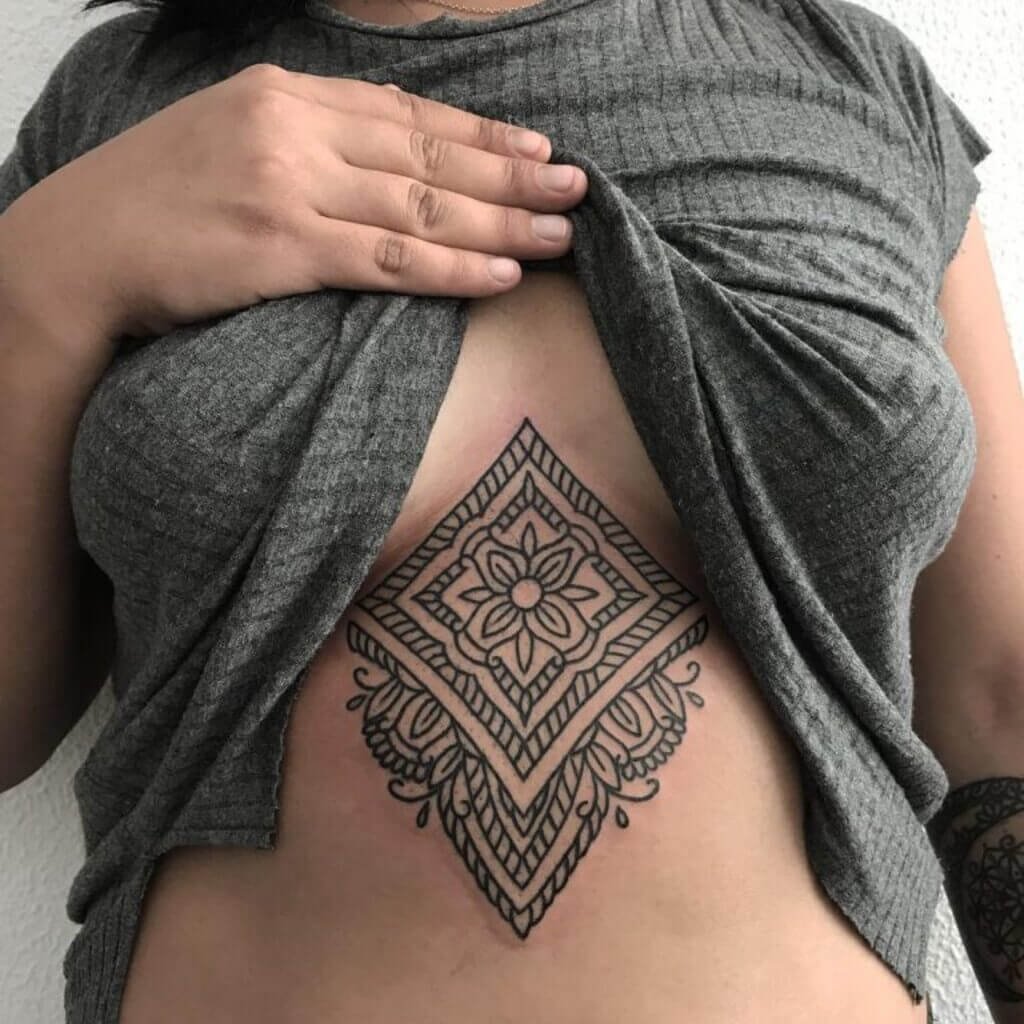 Source: tattoomenow.com
Aside from floral designs, mandalas are a popular choice for underboob tattoos. Mandalas are spiritual and ritual symbols that represent the universe in Hinduism and Buddhism.
12. Roses in Various Colors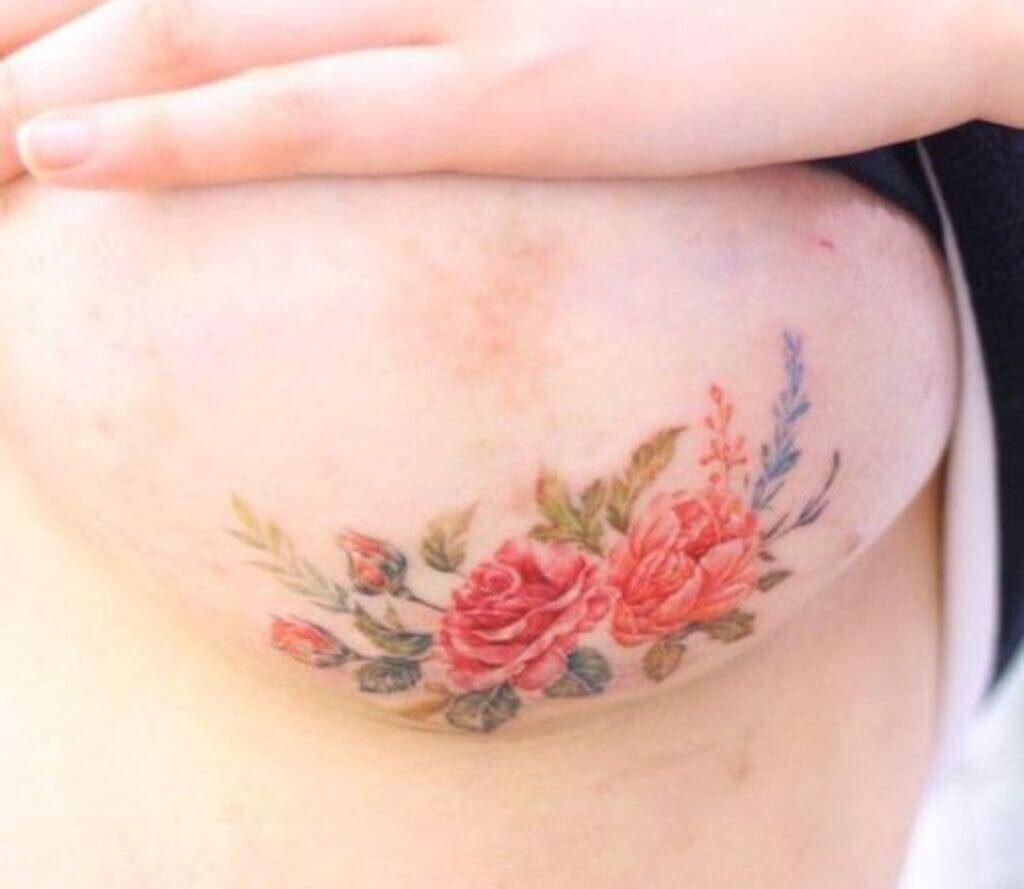 Source: amazonaws.com
Breast reconstruction tattoos have aided many women who have undergone mastectomy surgery. As a result, they have gained enormous popularity among women who have had to undergo this major life-altering surgery. It allows them to live a more confident life.
13. Lion Underboob Tattoo
Source: thetrendspotter.net
You probably don't want to ink the underboob or the sternum for the first time. However, if you are aware of the pain associated with tattooing and believe you can handle it in this sensitive area, there should be no reason to avoid getting a large tattoo. When tattooed here, it can make a statement and looks incredibly feminine and cool.
14. Animal Adoration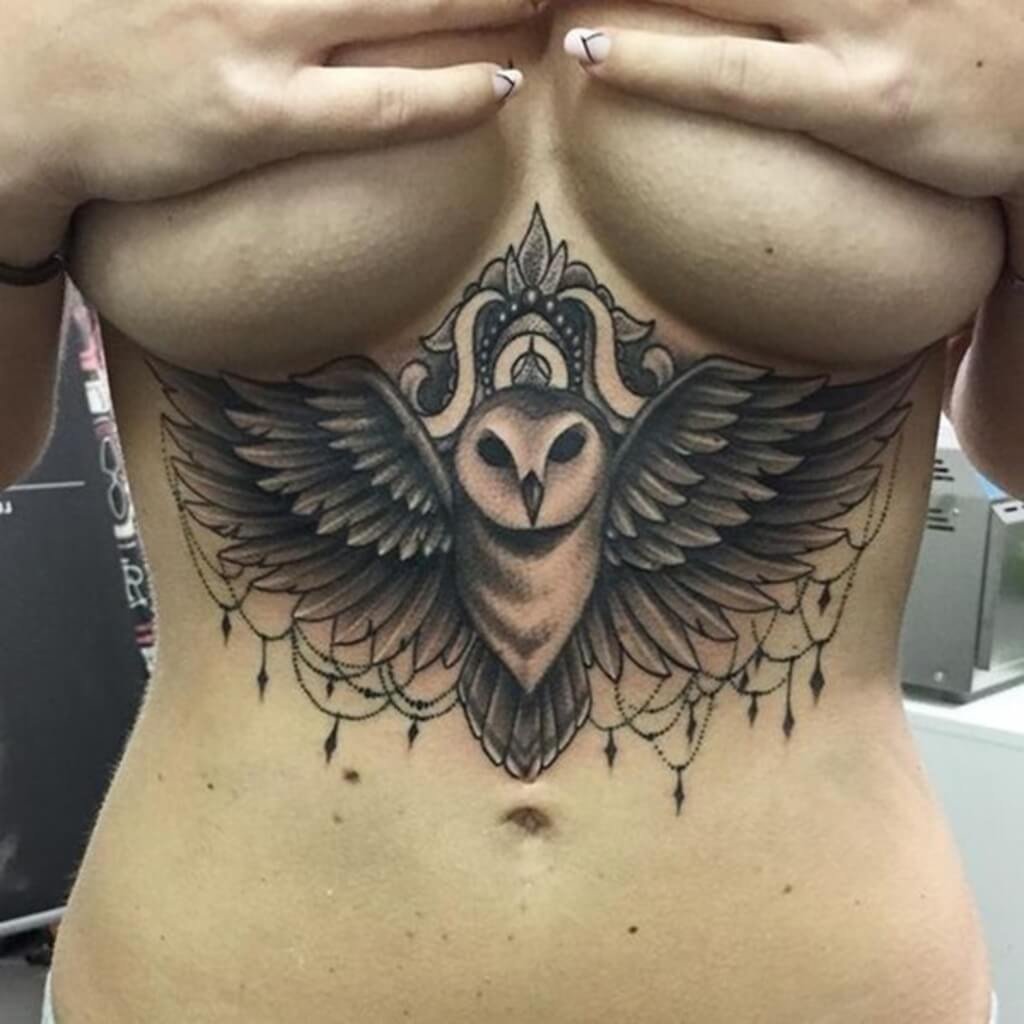 Source: worldoffemale.com
These chandelier designs are always sophisticated. Add some animals to the design, such as this owl, and you've got a cool new image.
15. Underboob Tattoos – Insects and Animals
Source: tattoomenow.com
On the sternum, the most common tattoos are snakes, owls, scarabs, and butterflies. They are frequently combined with flowers, mandalas, and other meaningful objects.
16. Snake Tattoo
Source: tattoomenow.com
This stunning snake under boob tattoo symbolises power, intelligence, and adaptability. Because a snake sheds its skin and emerges anew, it also represents rebirth. This is a tattoo design that can be inked in a variety of ways.
17. Tattoo of a Flower Underboob
Source: thetrendspotter.net
The underboob is one of the best places for a sexy tattoo. The reason for this is that the location is extremely intimate, making displaying it a very personal decision. It is also sensual and one of the most feminine and beautiful parts of a woman's body.
18. Simply Cool Designs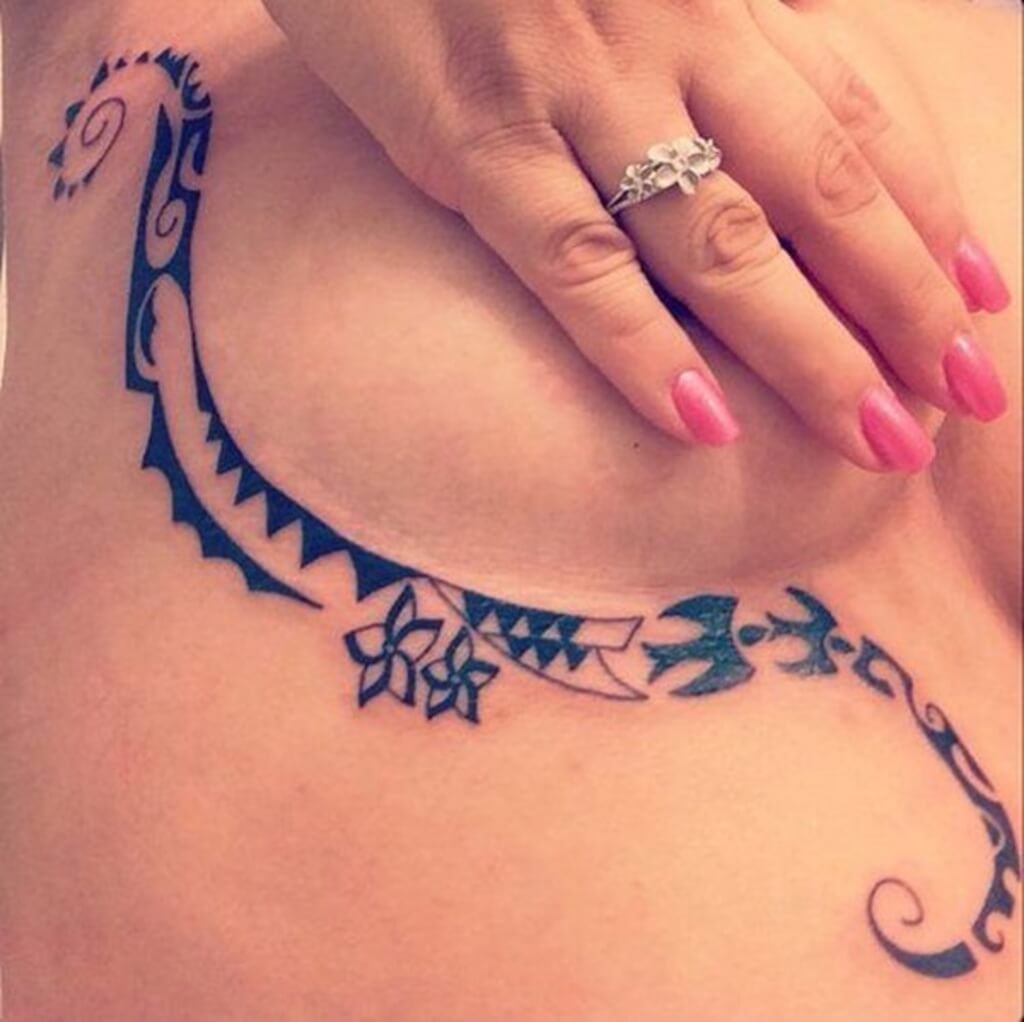 Source: worldoffemale.com
A simple style that complements your perfect curves.
19. Rib Underboob Tattoos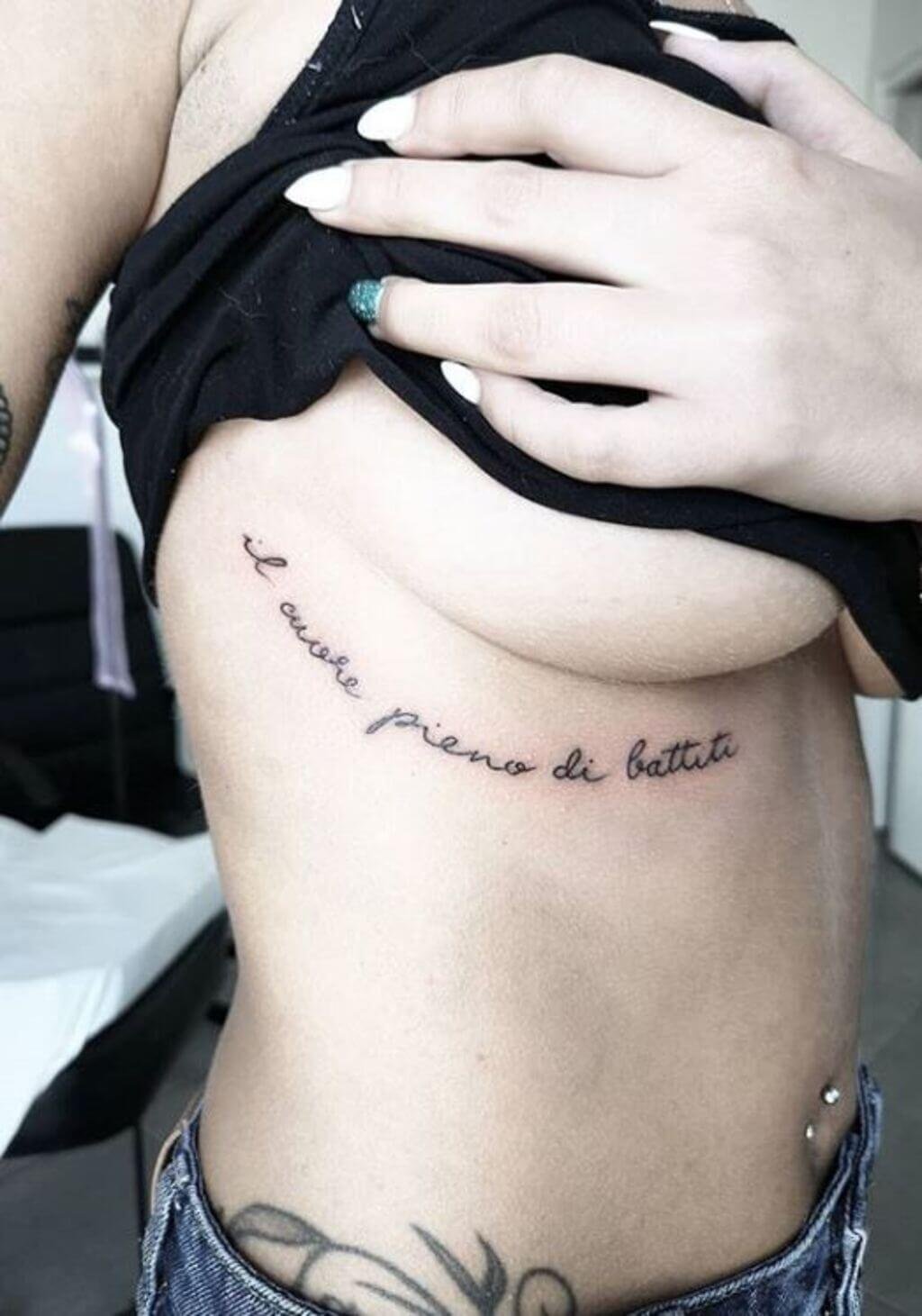 Source: tattoomenow.com
On the side, script and quote tattoos look great. However, floral and mandala designs look great on the rib under the breast.
20. Tattoo of Floral Underboob
Source: tattoomenow.com
If you don't want to fill up your sternum, try something like this, which features a floral vine inked under each breast. This underboob tattoo is adorable and artistic. It's a very elegant design to go with.
21. Simple Tattoo Ideas
Source: thetrendspotter.net
The simplest tattoos can be the most meaningful, and a word tattoo can be incredibly symbolic. Your chosen word could be the name of a loved one, someone who has passed away, or a word that speaks to you. Perhaps it is a reminder to be brave or strong.
22. Tribal Tattoos
Source: worldoffemale.com
This is a large tattoo that follows the contours of the body. You're going to adore this underboob tattoo.
23. Tattoo of a Mighty Bird
Source: amazonaws.com
If you want something that is both traditional and modern, consider getting swallow under breast tattoos. Swallows were popular among sailors because they believed the birds provided them with protection and good fortune at sea. The swallow under boob tattoo design can also be interpreted as freedom in modern times.
24. Tattoo Quote Underboob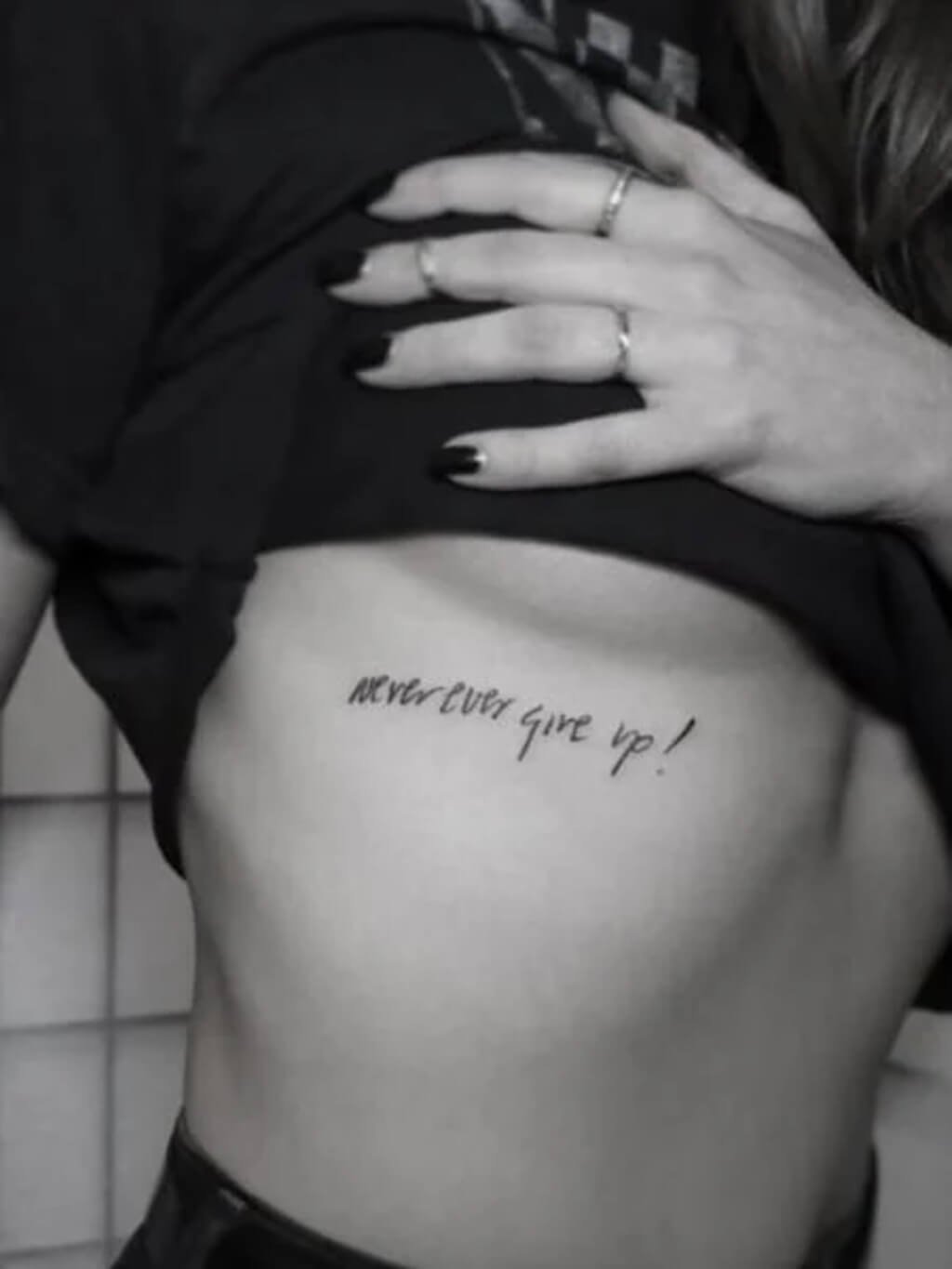 Source: thetrendspotter.net
If you want more than one word, a quote tattoo is a fantastic option for you. This could be a phrase that moves or inspires you and can come from anywhere; your favourite movie, a favourite lyric, or a poem that has stuck with you.
25. Interesting Designs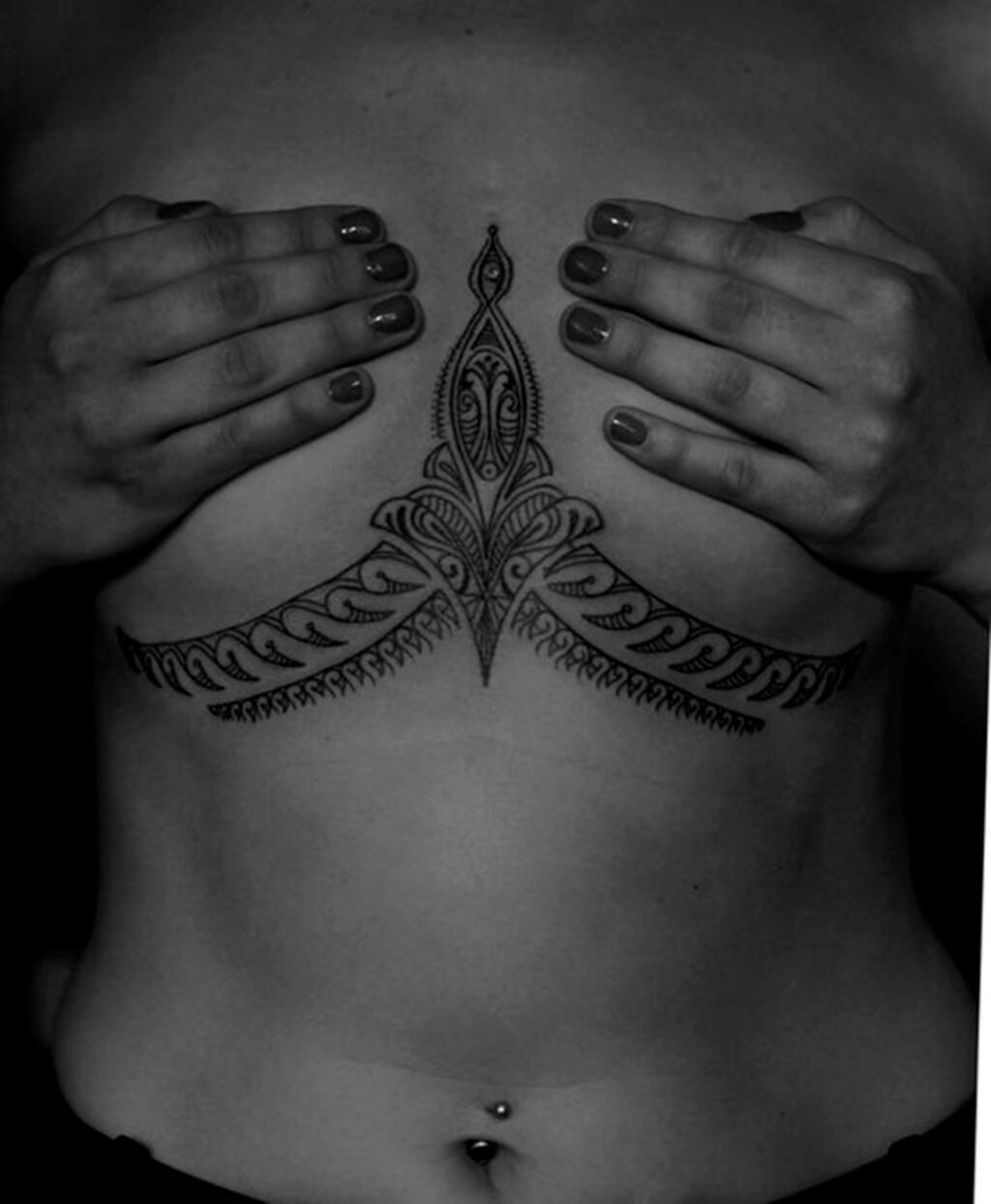 Source: worldoffemale.com
Amazing tattoos like this one are unquestionably cool. There are many options, and quote ink is great for women of all ages and looks great tattooed on the underboob.
26. Lotus Mandala
Source: amazonaws.com
The traditional mandala design inspired this lovely lotus under breast tattoo. Lotus symbolises not only beauty but also strength and peace. This is a lovely tattoo design for women that has grown in popularity over the years and is still popular today.
27. Unique Underboob Tattoo
Source: tattoomenow.com
There are common images that are symbolic and beautiful to consider when choosing your body art, but there are also unique tattoo options. These can be made specifically for you or have meaning that is important to you.
28. Feather Designs
Source: worldoffemale.com
This is a great style that sits in the center of the chest. It's a much smaller ink job. Before you meet with your tattoo artist, consider why you want this ink.
29. Watercolor Under Breast Tattoo
Source: amazonaws.com
Watercolor tattoos look especially lovely when they are floral watercolour tattoo designs. The delicate floral vines come to life when coloured in watercolour style. Do you enjoy art? Then you'll be the canvas for this stunning work of art.
30. Underboob Tattoo of Lavender 
Source: thetrendspotter.net
Because the shape of the sprig lends itself well to this area, a lavender tattoo is a popular choice for an under-the-boob piece. However, the plant represents purity and serenity, making it more than just a visually appealing choice.
The purple hues add to the overall beauty and symbolism of this design, and the colour is often associated with royalty and luxury.
31. Floral Designs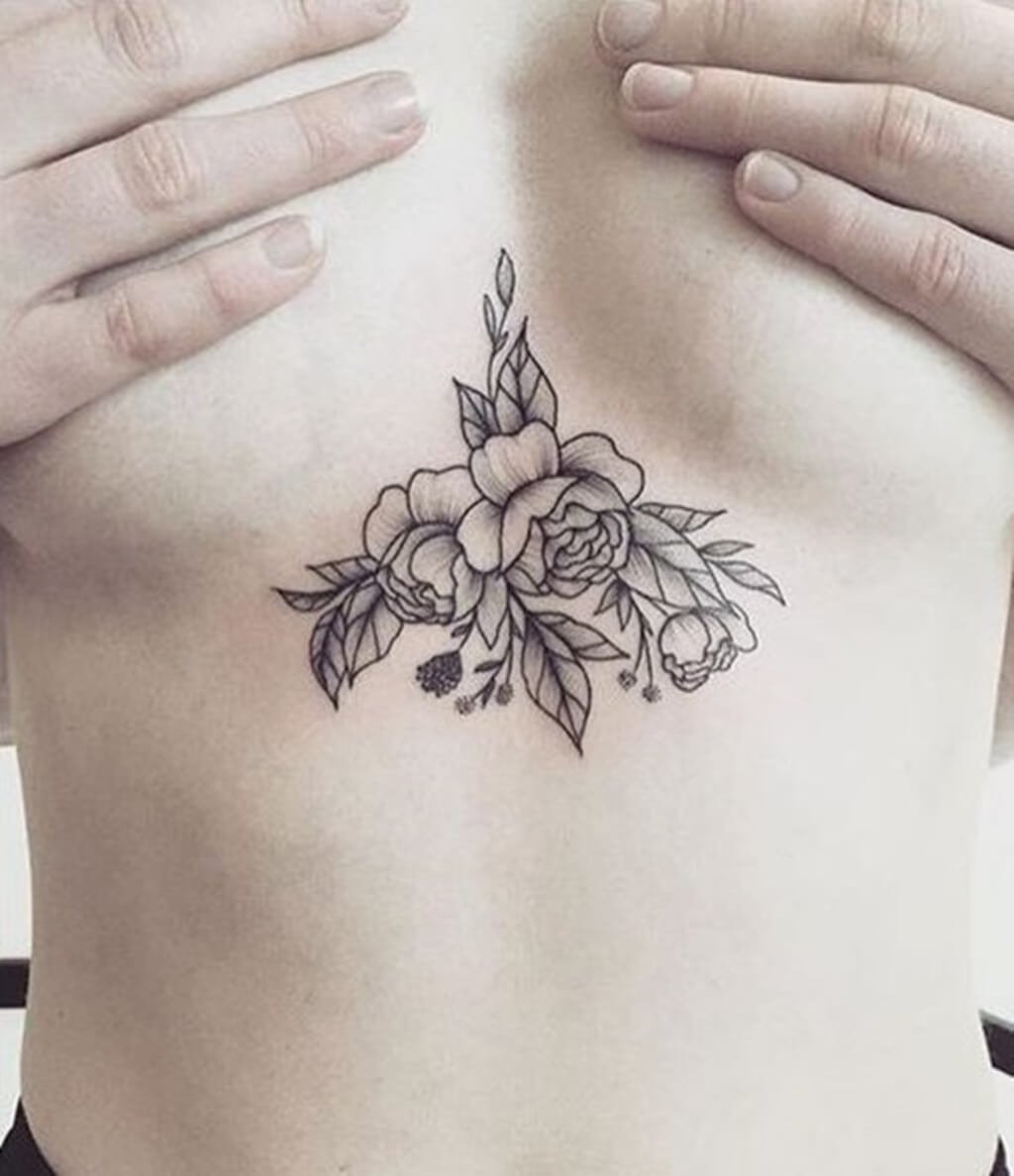 Source: worldoffemale.com
A great style like this one is very attractive. If you're looking for a floral-inspired look, this could be the style for you.
32. Mistletoe Under Boob Tattoo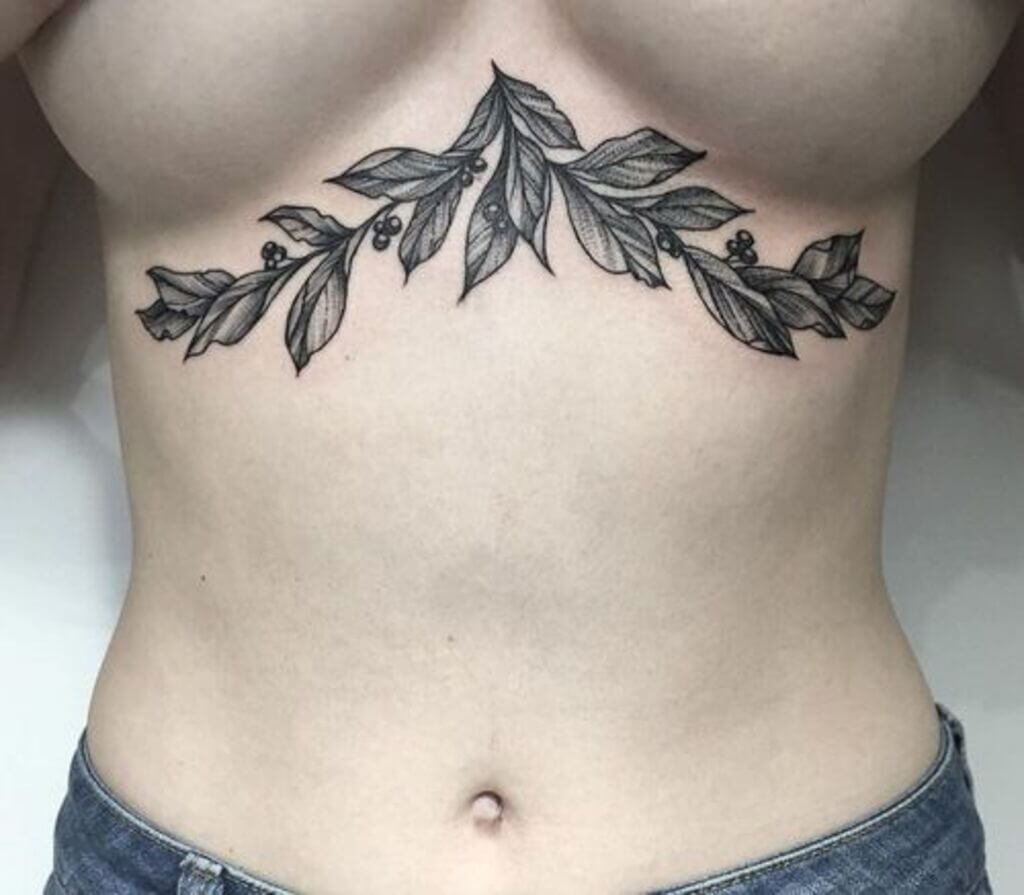 Source: amazonaws.com
Mistletoe isn't just for Christmas celebrations. They have far greater significance. These evergreen leaves are regarded as a symbol of hope, friendship, and growth. It is also a symbol of new life. It makes an excellent under boob tattoo design when inked hanging down on the sternum.
33. SuperCool Underboob Tattoo
Source: thetrendspotter.net
There are numerous designs to choose from, ranging from delicate and simple pieces to bold and bright statement pieces. When deciding what to get, consider why you want to be inked here in the first place, as well as what images or words mean to you. Your tattoo could be something you designed yourself.
Work with your tattoo artist to create a one-of-a-kind and fashionable piece that you will be proud of. If you show it off, it will almost certainly spark a conversation.
34. Tiny Under Breast Tattoo Design
Source: worldoffemale.com
A tiny tattoo like this is almost imperceptible. This summer, you're going to fall in love with a little butterfly. Consider how cute this tattoo would look in a bikini. Whatever you get inked on your underboob, it will most likely be a cool tattoo. This placement is unique in that it draws attention to one of the most intimate parts of a woman's body while also expressing femininity and sensuality.
35. Medusa Sternum Tattoo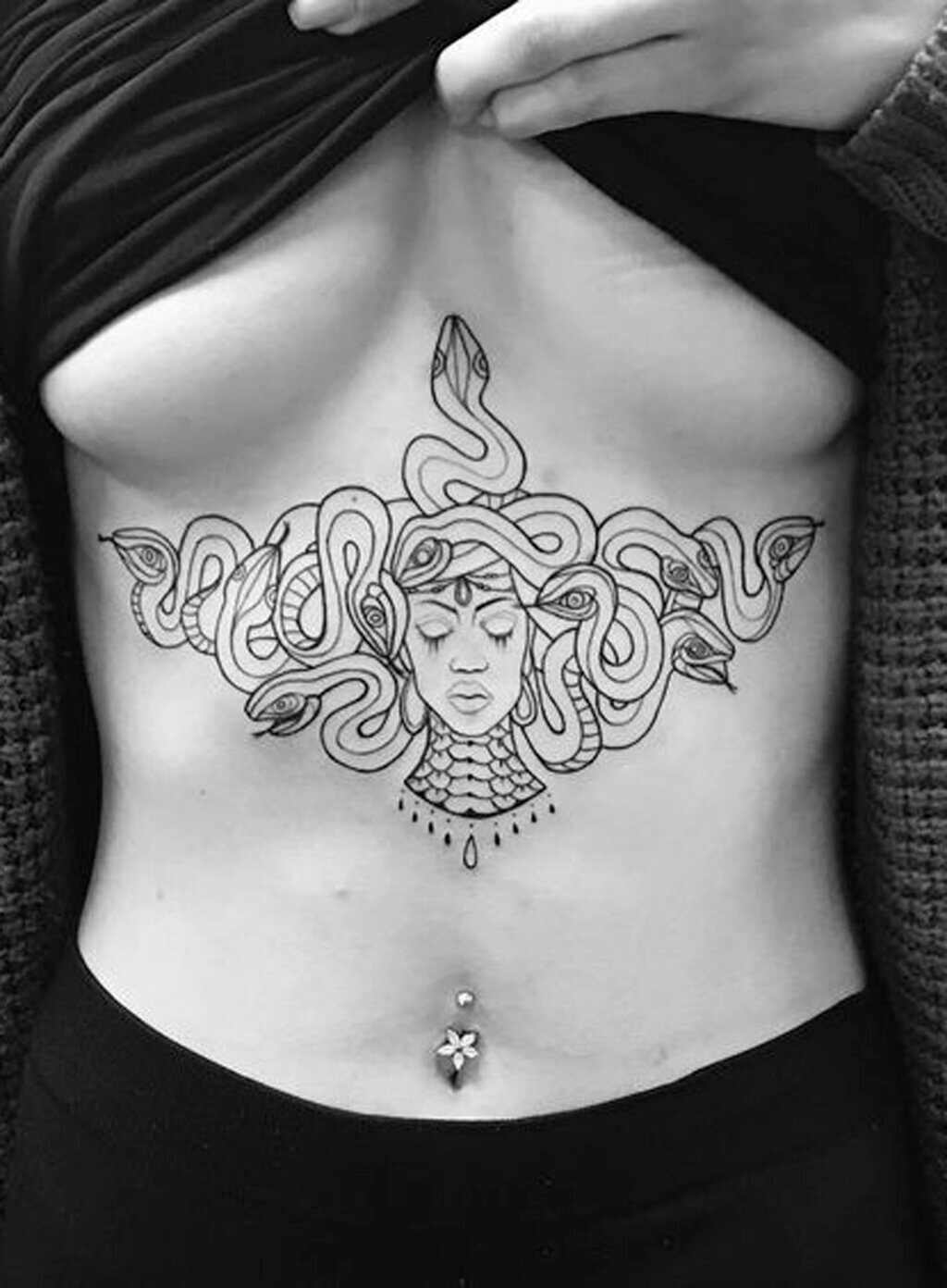 Source: tattoomenow.com
A Medusa tattoo is by far one of the most visually appealing and meaningful options for your sternum tattoo. Medusa tattoos are one-of-a-kind and symbolic of female power, transformation, and freedom. It is also linked to mystery, jealousy, and rebirth.
Medusa tattoo means cursed by the Goddess Athena, who turned her into a female monster, according to Greek mythology. Her snake hair and reptilian-like skin define her appearance.
FAQs:
What Is the Price of a Sternum Tattoo?
Tattoo prices are so variable that it's difficult to provide an accurate estimate. However, expect to pay a premium if you want art done in the sternum region.
Do Under boob Tattoos Cause Pain?
Yep. Because the underboob area is so sensitive, you can expect this one to hurt. The sternum and ribs are vulnerable areas. They have a reputation for being more painful to tattoo. The closer the skin is to the bones, the more painful it is to have that area tattooed.
How Long Does It Take to Heal an Under boob Tattoo?
Smaller tattoos heal more quickly than larger ones. If you follow the aftercare instructions below, your underboob tattoo will heal much faster, just like any other tattoo.
Make sure to keep the tattoo clean and free of dirt and grime. Rinse it with regular soap in a warm shower. Moisturize the tattoo on a daily basis, but don't overdo it. Allow time for your tattoo to breathe. If you wrap it during the day to protect it from dirt, make sure you take it off at night. Is it okay to wear a bra over my new tattoo?
If your tattoo is still fresh, you should avoid wearing a bra because it will rub or cause friction. This could cause the scabs or flakiness to rub off prematurely, fading the tattoo.
What Are the Terms for Under boob Tattoo?
Underboob tattoos are also known as under breast tattoos or sternum tattoos if they are located in the centre of the chest. When getting inked, the placement is often just as important as the design, so think about whether this is the best spot for you.
How Long Can I Wear a Bra After Getting a Sternum Tattoo?
You must wait at least four days after getting a sternum tattoo or any other piece that a bra would cover before wearing any bra. It would be helpful if you were prepared ahead of time and wore loose-fitting clothes that were easy to put on and take off. You also want to avoid friction while your tattoo heals, so wear a bikini top or something similar that is not too tight and is easy to remove in the coming weeks.
When Is the Best Time to Get an Under Breast Tattoo?
Plan your tattoo for the winter if possible, so you can wear big sweatshirts and sweaters instead of bras. Furthermore, it will give your tattoo enough time to heal so that you can show it off in the summer.
Can I Put my Under boob Tattoo on?
If you have a new tattoo, avoid sleeping directly on it or having it sit on the sheets because it may secrete a little bit. If you sleep on your stomach or side, try sleeping on your back for a few days to prevent the new tattoo from rubbing off on the sheets.
For more women fashion ideas visit Travel World Fashion.